Even though it's part of China, Hong Kong has a high level of autonomy. Handed back to China in 1997, after being a British colony, Hong Kong managed to build its own legal system, with rights such as freedom of assembly and free speech. Still, there are legitimate concerns when it comes to government surveillance. This is where we come to Virtual Private Network applications, which are the perfect solution for encryption and keep your private data safe. Keep on reading to learn more about the best VPN for Hong Kong.
Why Do You Need a VPN in Hong Kong?
Even though Hong Kong has some autonomy, we shouldn't forget that China still has the final say. We all know about the Great Firewall of China, which includes blocking foreign websites and censorship of numerous websites. During the latest couple of years, China has been tightening its grip on Hong Kong. As you can imagine, this also translates to the Web.
No one really knows the full extent of Chinese surveillance and the real power of controlling its Internet users. However, experts agree that a lot of data is being collected. We can only assume the same is happening in Hong Kong, which might not be as free as we think. That is why using a VPN shouldn't be on option. In case, this has become imperative in today's digital era.
5 Best VPN for Hong Kong – Top Recommendations!
Let's jump to what you really want to know. We are going to list our recommendations for the best VPN for Hong Kong – based on our objective findings. Please note that we've tested and used all of the following recommendations. For more information, make sure to read full reviews available on TechNadu.
Option #1: ExpressVPN
Overview
Supported Platforms
Windows, MacOS, Android, iOS, Web Browsers, Routers.
Pros
High polished VPN; Strong encryption; Breaks through any roadblock.
Cons
On the pricier side.
Visit
ExpressVPN
We start our list of the best VPN for Hong Kong with ExpressVPN. Being one of the top-rated VPNs for quite some time now, this is a bulletproof option for any Internet user in Hong Kong.
We'll start with ExpressVPN's highly polished UI. All it takes to encrypt your connection is to open the application (it's available on a wide range of platforms), connect to a server, and that's pretty much it. The application uses the standard 256-bit encryption, making sure your data doesn't leak. It's safe to say that this makes you invisible on the Web. Then, you can count on ExpressVPN to take you where you want to go. This includes previously blocked websites and Web services.
There are numerous other interesting features waiting. So, make sure to read TechNadu's review of ExpressVPN for more information.
Option #2: PrivateVPN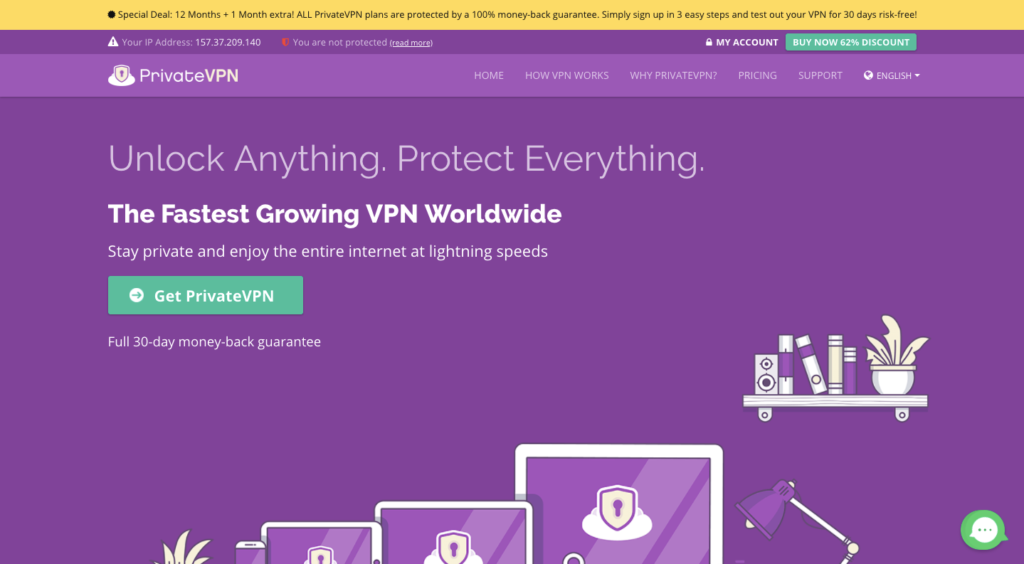 Overview
Supported Platforms
Windows, MacOS, Linux, Android, iOS, Routers.
Pros
No logs collected; Transparent VPN service; Reliable and fast performance.
Cons
Not the most polished UI.
Visit
PrivateVPN
Next on our list is PrivateVPN, which comes from Sweden. This is a relatively new VPN service that managed to attract a large user base in no time. Aside from tough encryption, PrivateVPN is very transparent about the way it handles your data.
This service takes great pride in the fact that it doesn't store your personal information. No matter how you use it (to browse the Web, stream media, or download torrents), government agencies won't be able to trace your Web activity. To make things even more secure, PrivateVPN features tools like IPv4 and IPv6 DNS leak protection. Last but not the least, it brings a large network of strategically placed servers around the world.
To learn more about what kind of protection you'll receive, please read our PrivateVPN review.
Option #3: IPVanish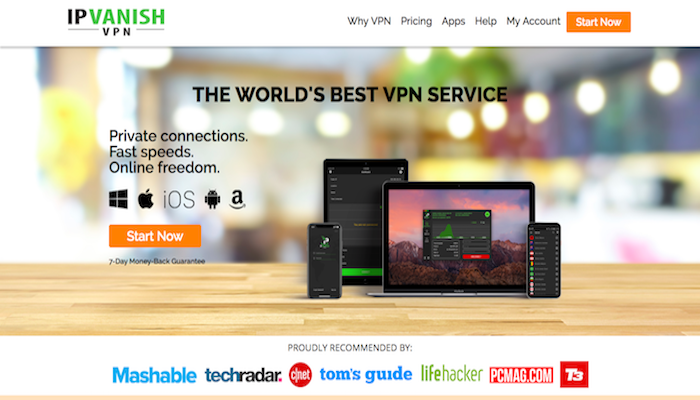 Overview
Supported Platforms
Windows, MacOS, Linux, Android, iOS, Windows Phone, Routers.
Pros
Broad system compatibility; Advanced encryption; Unlimited bandwidth.
Cons
Missing browser extensions.
Visit
IPVanish
IPVanish is an older player in this field and its platform compatibility proves that. Having native apps for a very wide range of devices (Windows Phone included), you can be sure that you'll be protected at all times. Still, this isn't where interesting features of this VPN end.
One of the most notable features of IPVanish is its network of servers. This company has managed to secure over 1,000 servers located in 60+ countries. It's safe to say that no matter to which country you want to connect to, you'll manage to connect without any issues. It's also worth noting that IPVanish employs the standard VPN encryption, making sure you get a new IP address every time you connect.
To get to learn all the pros and cons of this VPN service, go ahead and read our IPVanish review.
Option #4: NordVPN

Overview
Supported Platforms
Windows, MacOS, Android, iOS, Web Browsers.
Pros
Nicely designed UI; Great for beginners; Performs well; Double encryption.
Cons
Expect some throttling.
Visit
NordVPN
Our list of the best VPN for Hong Kong wouldn't be complete without NordVPN. Even though it looks simple on the outside, don't get fooled by its highly intuitive user interface. A lot of power hides within, and one unique feature as well.
First, you must know that NordVPN has a network of 3,000+ servers in 60+ countries. This gives you a much greater freedom when it comes to choosing the best server. In addition, this greatly helps with unblocking previously unavailable Web services. Then, there's something called DoubleVPN. Instead of encrypting your data once (which is usually more than enough), NordVPN has a dual layer of encryption – making it 110% impossible for someone to track you. Still, this means that some throttling is present.
Want to learn more about the dual layer of protection? If that's the case, you need to consult our in-depth review of NordVPN.
Option #5: CyberGhost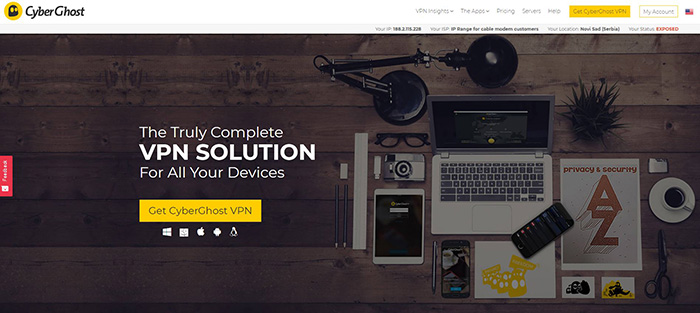 Overview
Supported Platforms
Windows, MacOS, Linux, iOS, Android.
Pros
No longs collected, whatsoever; Powerful encryption; Great for media streaming.
Cons
Customer support doesn't have live chat.
Visit
CyberGhost
The final option on our list of the best VPN for Hong Kong is CyberGhost. This is yet another new player that's been around for several years. This usually isn't much for a VPN to prove its worth – but we're confident that CyberGhost won't let you down.
The company clearly displays its intentions to keep your private data safe and sound. A single log isn't collected, and even this company doesn't know anything about your online activities. Needless to say, plenty of servers await placed in strategical locations. There's a number of these in the USA, which means that CyberGhost is a good option for media streaming. On top of that, this VPN is very affordable.
If you need more information on this VPN, you can find all you could possibly need in our CyberGhost review.
Best VPN for Hong Kong: Additional Considerations
No matter which VPN you select from our list, you can be sure that you've made the right decision. Still, we want you to know all there is to know about using a VPN in Hong Kong. So, keep on reading.
Internet Censorship in Hong Kong
During the last couple of years, Chinese authorities tried to block a number of hugely popular websites and succeeded in this intention. For example, Instagram was blocked in 2014, which sparked massive demonstrations in Hong Kong. In addition, Skype was also blocked in 2017, making it impossible to achieve long-distance calls free of charge. These are just a few prominent examples, and there are numerous others more.
The good news is that VPNs can resolve all these roadblocks. By changing your IP address, Web services will think you're in a different country and they'll make their services available. As you can see, VPNs are not optional here, they are a real necessity.
Are VPNs Legal in Hong Kong?
VPNs are legal in Hong Kong. Still, China is doing its best to regulate this IT area by issuing VPN licenses. Still, this doesn't mean that you have to use a government-approved VPN, which might not be as useful as you think. Our best advice is to check whether a VPN still operates in Hong Kong before making the final decision.
How to Get a Hong Kong VPN Address?
You should understand that you can use VPN beyond unblocking the Web. Chinese authorities are collecting a bunch of data about Internet users. You can use a VPN and connect to an IP address based in Hong Kong. This would mean that you'll keep on browsing the Web normally but your connection will be encrypted. In other words, no one will be able to collect your Web browsing data.
Should You Use a Chrome VPN in Hong Kong?
There is a wide selection of VPN extensions for browsers like Chrome and Firefox, and some of these come free of charge. You need to know that these are not true VPNs. Instead, they are simple proxies that can unblock certain websites. This means that they can't truly encrypt your connection, making them close to unusable.
We strongly recommend you to consider using a VPN application instead of browser extensions, to make sure you've taken all the right steps towards securing your privacy.
What's the Best Free Hong Kong VPN?
Finally, you probably already know that there's a number of free VPNs. These applications are claiming to work just like regular VPNs but you don't have to pay a single dollar. Without going deeper into this topic, you already know that there's must be a catch.
Free VPNs need to generate their revenue someone. They might serve ads as you browse the Web, which can be very annoying. Or, they might sell your data to third-party advertisers, which can be very dangerous. This would mean that they can collect your personal data, which beats their purpose in the first place.
Final Thoughts
Dear readers, this is where we conclude our article on the best VPN for Hong Kong. We did our best to answer all your questions. Still, if there's something else you want to know, please post a comment.
Finally, we'd like to ask you to share this article online and help us to spread the word about numerous benefits of using VPNs. Thanks!