We all know that South Africa has a troubled past. Consequences of this can be felt even to this day. However, South Africa is a modern multinational country today, following the current worldwide trends. With over half the country's population having access to the Web, this is an open call for the government to collect data for both good and ominous purposes. We want you to feel protected on the Web, which why we'll be talking about the best VPN for South Africa.
Why Do You Need a VPN in South Africa?
In case you didn't know, South Africa voted against the UN Resolution that propagated 'the promotion, protection, and enjoyment of human rights on the Internet.' This happened in 2016, when South Africa joined other countries like China, Russia, and Saudi Arabia. This isn't a good company when it comes to keeping the Web open.
Even though there isn't any publicly available information regarding the extent of data collection in this country, you should never trust others to take care of your privacy. Instead, you can take this matter into your hands by using a VPN. Aside from numerous other benefits, VPNs are the most effective way of making your Web connection encrypted. In other words, they make your online presence invisible.
5 Best VPN for South Africa – The Best Picks
We have done our homework to make sure we present you top-of-the-line VPNs. This means that our editorial team has tested each of the following recommendations. To get more information about each of those, make sure to read full reviews posted on TechNadu.
Option #1: ExpressVPN
First on our list of the best VPN for South Africa is ExpressVPN. This is a highly capable VPN service that brings the right balance between simplicity and complexity. This makes it suitable for a whole range of users, from inexperienced to highly experienced ones.
By becoming a subscriber to ExpressVPN, you get to use native applications on up to three devices. In other words, this VPN supports three simultaneous devices regardless of the platform you're using. You can count on the standard 256-bit encryption that makes sure you're untraceable on the Web. Finally, this company doesn't store any of your data, giving you a piece of mind.
We're sure you'd like to know more about this amazing VPN. So, go ahead and learn more by reading our review of ExpressVPN.
Option #2: NordVPN

If you're looking for a lightweight but very capable VPN, NordVPN should be an interesting option. It's interesting to note that this company is based in the Republic of Panama, which makes it out of the jurisdiction of major intelligence agencies.
You should know that NordVPN has a very interesting flagship feature that sets it apart from other VPNs. Using this software, your Web traffic can be encrypted twice. Even though this might be an overkill for average computer users, this is a good sign of how seriously this company takes your privacy. Needless to say, you can count on a huge network of servers to unblock just about any service on the Web.
For more information on how double encryption can be used, check out our NordVPN review.
Option #3: IPVanish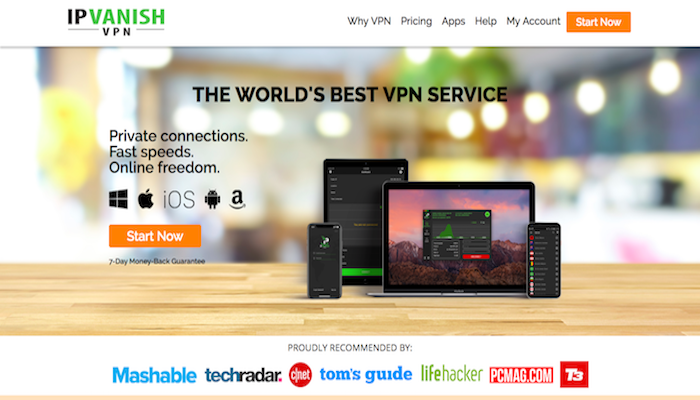 If you're looking for a familiar name in the world of VPN services, you shouldn't miss out on IPVanish. This one has been on the market for quite some time and managed to prove its worth and dedication to its customers.
One of the most notable features of IPVanish is its platform compatibility. Aside from hugely popular platforms, there are native apps for some lesser-used platforms like Windows Phone. No matter what kind of device you're using, you can count on the flawless performance and a huge variety of servers from all over the world. Finally, IPVanish employs the zero-logs policy, which means that the company doesn't store any of your data.
This isn't where you should stop researching about this capable VPN, so make sure to read our IPVanish review.
Option #4: CyberGhost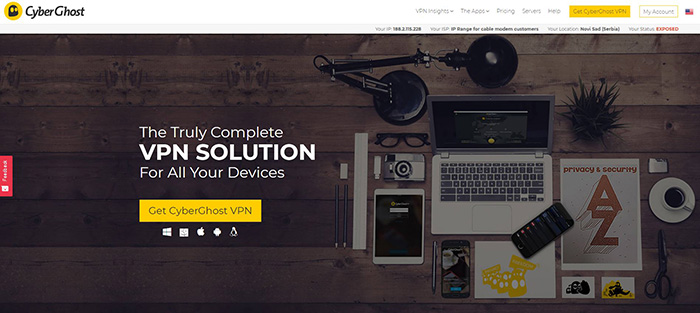 The current offer of available VPNs allows you to choose from dozens of amazing services. However, it's always interesting to check out newcomers. This is where CyberGhost comes into play, with numerous interesting and useful options.
One of the notable features of CyberGhost is its fast servers. This is especially handy if you plan on streaming movies and TV shows in HD or even 4K. If you have multiple Internet-connected devices in your household, you should know that you can use 5 connections at the same time. And needless to say, you can count on advanced security features that include a complete DNS and IP leak protections.
To learn more about pros and cons of this VPN, take a look at TechNadu's CyberGhost review.
Option #5: VyprVPN
Last but not the least when it comes to the best VPN for South Africa is VyprVPN. Based in Switzerland, this country hits all the right marks when it comes to your privacy and safety. Because of this country's neutral diplomatic position, you can be sure that your data will be kept safe.
We can't mention VyprVPN without mentioning its most prominent feature. Called Chameleon, this company has developed its own proprietary cloaking technology. By using a remote server and by encrypting your connection, in addition to other technologies, you become completely untraceable on the Web. Needless to say, you can use VyprVPN to break through any kind of content and unlock all kinds of services on the Web.
If you need more information about this VPN, you can get to learn about its features in our review of VyprVPN.
Best VPN for South Africa: Additional Considerations
You now know a bit about some of the best VPN options when it comes to South Africa. However, we want to take you one step further. Let's take a look at the current state of the Web in this country, as well as how a VPN can help you. Take a look.
Internet Filtering in South Africa
The good news is that under the current legal framework, South Africa is managing to keep the access to the Web unrestricted. This means that those who access the Web on their computers and mobile phones won't encounter any roadblocks. However, it should be noted that this could change soon.
In March 2017, Minister of State David Mahlobo said that social media should be regulated. As could have been expected, media freedom advocacy groups warned that this could endanger the freedom of speech in this country. Even if this happens, you can use a VPN to make sure you can browse the Web without any restrictions.
Video Streaming Access Restrictions
If you're a Web user in this country, you've probably noticed that the majority of popular services are available. This includes Netflix, Amazon Prime, and DSTV Now. However, the problem with these is that they offer local versions, which is a result of licensing rights. There's also a problem of using those accounts from abroad.
If you are a subscriber to any of these services, you have every right to take full advantage of it. To do this, you need a VPN that can unblock foreign libraries. That's how you can watch American Netflix, or even use services like Hulu, which aren't available in South Africa.
Is VPN Legal in South Africa?
You might be wondering if VPNs are legal to use since they allow you go beyond online roadblocks. At the moment, you need to know that the South African government is somewhat liberal when it comes to keeping the Web open. Therefore, it is perfectly legal to use a VPN in this country as there are no laws that forbid this action.
Should You Download Free VPN in South Africa?
You probably know that there are some free VPNs that promise to keep your data protected. They offer their services without you having to pay anything. As you can imagine, there is always a catch.
In terms of free VPNs, you can't expect the same level of performance and speed as with premium VPNs. In addition, there is the question of where your private data might end up. This is why we strongly recommend using a premium VPN, many of which are quite affordable.
Final Thoughts
That would be all when it comes to the best VPN for South Africa. In case you have any additional questions, don't hesitate to post a comment below. As always, we'll give our best to provide a timely response.
Finally, we would like to ask you to share this article online. This will help us to spread the word about numerous benefits of VPN applications. Thanks!