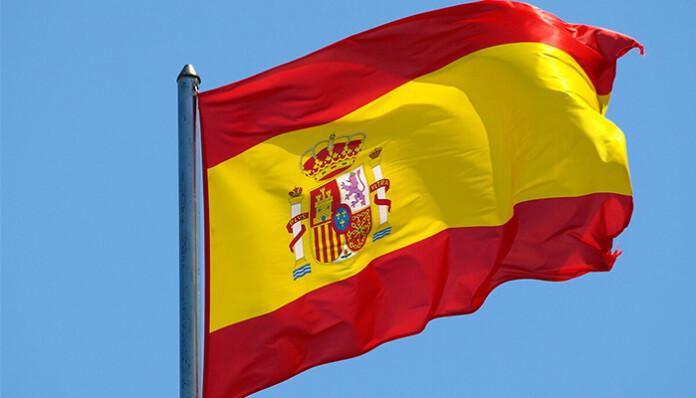 Spain is a highly developed country sharing the same laws with other members of the European Union. This means that digital surveillance and Internet censorship are present. This is what makes a VPN for Spain a great idea if you want to preserve your online anonymity. You've come to the right place since we'll be talking about the best VPN for Spain.
Why Do You Need a VPN in Spain?
Last autumn, Spain has shown its strength when it comes to controlling the Web. Prior to the referendum on Catalonian independence, there was the raid of the 'cat' top-level domain registry. Close to 150 websites were blocked in a single day. Also, the Pirate Bay has been blocked in the past in addition to a number of other torrenting websites.
Unless a website is completely taken off the Web, you can use a VPN to circumvent online censorship. The same applies to downloading torrents. Even though we understand that torrenting is usually associated with piracy, this isn't always the case. In fact, this is a very smart file-sharing method that can be used among friends of colleagues. So, there's no reason to give up on torrents – as long as your Web connection is properly protected with a help from a VPN application.
5 Best VPN for Spain – Top Recommendations!
All of the following recommendations come from our hands-on experience. We have tested each and every one of those to make sure they work as advertised. To learn more about each option, make sure to read a full review.
Option #1: ExpressVPN
Overview
Supported Platforms
Windows, MacOS, Android, iOS, Web Browsers, Routers.
Pros
Highly polished UI; Easy to use; A large server network; Strong encryption.
Cons
Pricey (but worth it).
Visit
ExpressVPN
Plenty of amazing things could be said about ExpressVPN. It's been around for quite some time and managed to prove itself over and over again. Also, this is one of the highest-ranking VPNs that we're sure you're going to love.
First, ExpressVPN offers native apps for all popular desktop and mobile platforms. Just install the app, use your credentials to sign-in, and you're ready to go. You won't find a complicated setup here. Connect to a server (and there are close to 100 locations) and your Web traffic becomes encrypted instantly. Using this VPN, you can visit censored or blocked websites, international versions of media streaming services, and download files anonymously. As you can see, ExpressVPN checks all the right boxes.
There's plenty more that you need to know about this VPN, so make sure to learn more about ExpressVPN.
Option #2: CyberGhost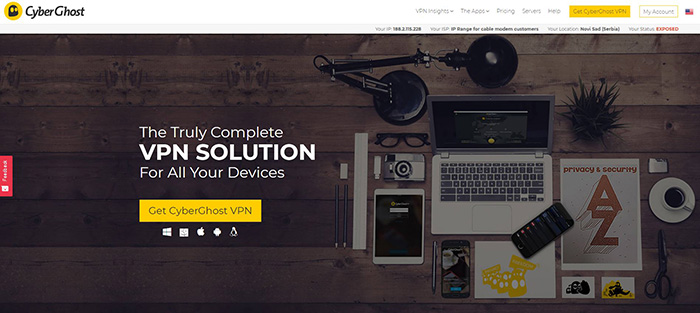 Overview
Supported Platforms
Windows, MacOS, Linux, iOS, Android.
Pros
User-friendly interface; Torrenting supported; Great performance.
Cons
Non-identifiable data logs.
Visit
CyberGhost
CyberGhost is based in Romania and does its best to preserve your data the proper way. A lot of advanced features can be found here, wrapped up in an easy-to-use UI.
If privacy transparency is important to you, you're going to love CyberGhost. This provider doesn't keep any data that can be used against you. They admit that some logs are being kept. However, these are non-identifiable logs, so there's nothing to worry about. Then, you can count on fast-performing servers that offer barely noticeable throttling. This means that using CyberGhost for media streaming and P2P file download should be a breeze.
We've barely scratched the surface here, so make sure to check out our CyberGhost review.
Option #3: Buffered VPN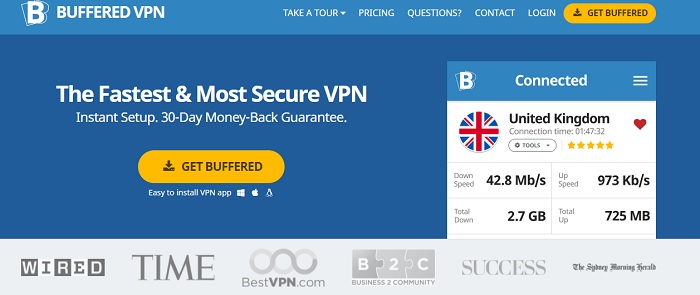 Overview
Supported Platforms
Windows, MacOS, Linux, Android, iOS.
Pros
Support for the OpenVPN; Fast performance; Great for streaming; Polished UI.
Cons
Some connection logs are kept.
Visit
Buffered VPN
Buffered VPN is perhaps the best known for its simple UI. No matter what platform you're using, you'll get a seamless experience. This is why we often recommend Buffered VPN to those who want something really simple but highly powerful as well.
Buffered VPN brings servers is around 40 locations, which isn't the biggest server network out there. Still, average VPN users will be more than covered by the current selection. There are many servers in the US, for those of you who wish to use Netflix, Hulu, and other US-based streaming services. Then, there's the OpenVPN encryption making Buffered compatible with just about any device out there. You can use this VPN on five devices at the same time, using a single encryption. And there's a very helpful 24/7 customer support.
To dive into the specifics, we strongly recommend you to read our review of Buffered VPN.
Option #4: PrivateVPN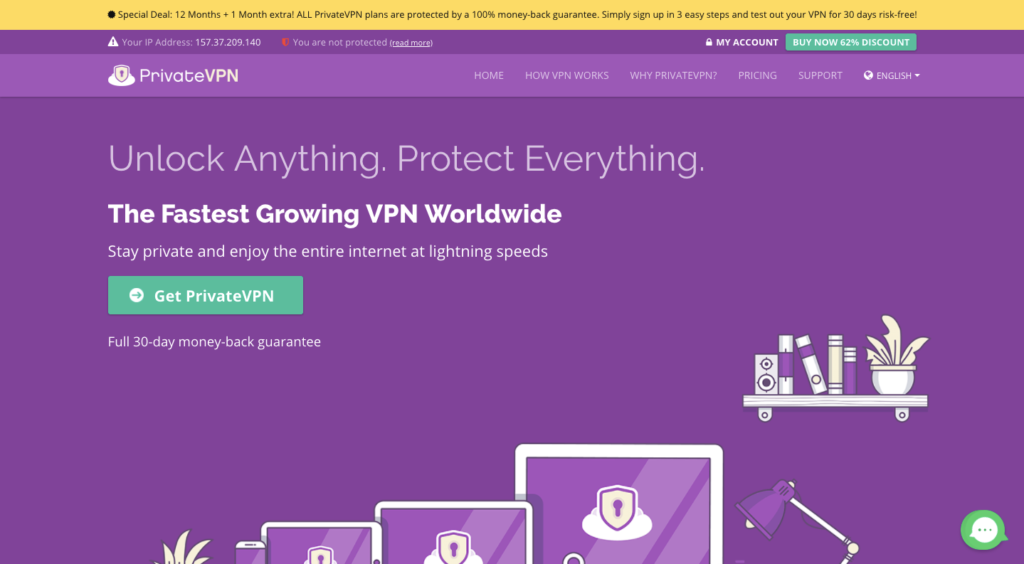 Overview
Supported Platforms
Windows, MacOS, Linux, Android, iOS, Routers.
Pros
Transparent privacy policies; No activity logs; Helpful customer support.
Cons
Not the most polished UI.
Visit
PrivateVPN
Just because PrivateVPN doesn't have the same age as other options on this list, this doesn't make it less valuable. In fact, PrivateVPN uses this to its own advantage. By knowing what the competition offers, this company can go a few steps ahead.
First and foremost, PrivateVPN takes great pride in its transparent policies. The company doesn't collect any of your data. Even if approached by government agencies, they won't have a single file to give. Then, there are numerous ways to contact PrivateVPN's staff and get help. And finally, this is a great option if you want to stream HD or 4K movies. This VPN unlocks 16 different Netflix regions, giving you unlimited options when it comes to streaming. Something very interesting, right?
To continue learning about this VPN, take a look at our PrivateVPN review.
Option #5: IPVanish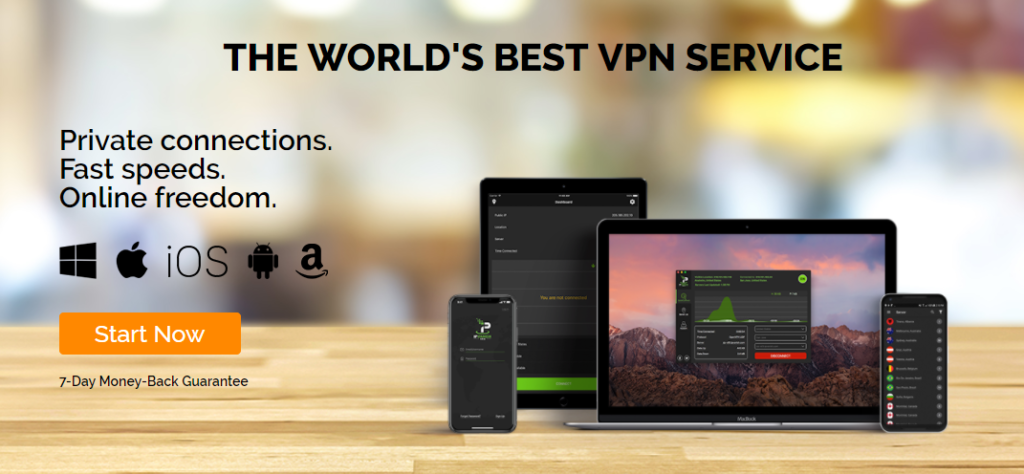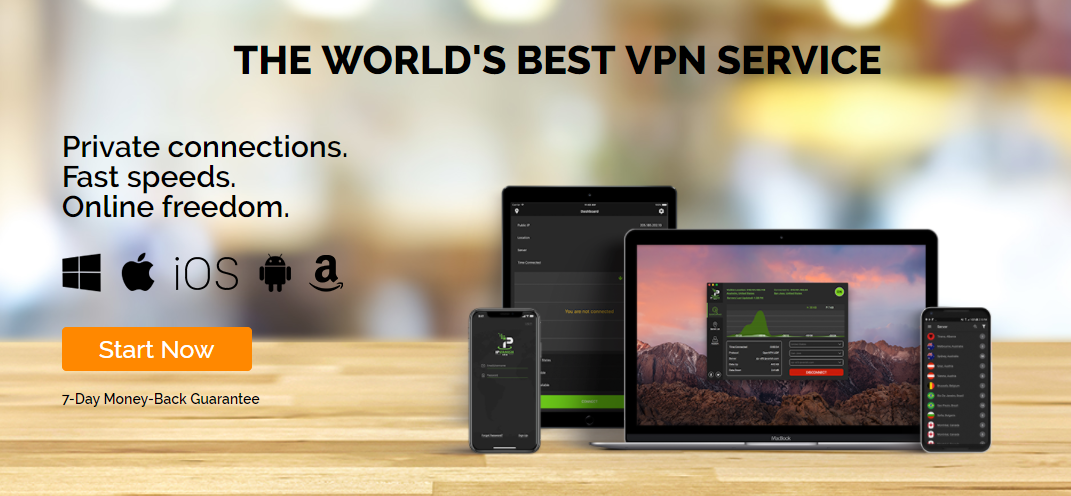 Overview
Supported Platforms
Windows, MacOS, Linux, Android, iOS, Windows Phone, Routers.
Pros
Trustworthy VPN; Tough encryption; Native apps across the board.
Cons
US-based.
Visit
IPVanish
We understand that some users don't need plenty of servers. However, there are advanced VPN users who need to be 'present' in dozens of countries with ease. This is where IPVanish comes into play.
Offering more than 1,000 servers located across 60+ countries, IPVanish comes with a huge server network. The company has been on the market for quite some time and knows how to expand its presence the right way. It uses a tough encryption to make sure your Internet service provider doesn't know anything about your online activities. And finally, it fully supports P2P traffic, making IPVanish an interesting option for torrent users.
If you're still not sure if this is the best VPN for Spain, read our IPVanish review where you'll get the needed details.
Best VPN for Spain – Additional Considerations
Knowing your options is always a good idea. However, there might be other questions on your mind as well. We'll try to answer the most common ones, so keep on reading.
What's the Best Netflix VPN for Spain?
Just like in other parts of the world, Netflix is the most popular streaming service in Spain. That's why many of you are wondering about which VPN in Spain should be used for Netflix?
The truth is that there are dozens of VPN providers out there. We have selected five of the best ones that bring the fastest performance. Knowing that Internet users in Spain have fast Web connection speeds, you won't make a mistake no matter which one you pick. The chances are that you'll get to use your 4K Netflix subscription up to its full extent. Learn more about how to access American Netflix from anywhere in the world.
Can You Download VPN APKs for Spain?
When talking about APKs, we talk about native Android apps. This should be an important aspect when picking a VPN because you want to protect all your devices.
All of our suggestions offer native Android apps. You can download these from the Google Play Store, sign-in using your subscription, and you're ready to go. What you also need to know is that you don't have to choose between an Android or PC connection. You can connect to the Web from several devices, using one subscription. The same applies to other platforms like MacOS and iOS.
How to Get an IP Address from Spain?
Using a VPN to overcome censorship and go 'outside' of Spain is only one possible use. Even if you don't want to overcome Web roadblocks, you can use a VPN to obtain an IP address from Spain. This allows your Web connection to be encrypted, making sure your ISP can't collect any personal data.
The only thing you need to pay attention to is to pick a VPN with servers in Spain. This shouldn't be a hard task since all of the most popular VPNs for Spain offer this option.
Commercial VPNs Vs. Free VPNs for Spain
Let's not forget to talk about free VPNs. Naturally, you feel tempted to pick this option and not to go for a commercial VPN. However, you might be putting your safety at risk if you decide to go down that road.
Free VPNs are known for serving ads as you browse the Web and selling your data to advertisers. Also, there are no guarantees that free VPNs will unblock all the websites and Web services you need. Your privacy is precious, and you shouldn't take any risks. This is why using a commercial VPN is the only way to go.
Take another look at our suggestions for the best VPN for Spain. You'll see that they are very affordable, especially long-term subscription plans.
Are There Any Free-Trial VPNs for Spain?
And finally, let's talk about free or promotional trials for VPNs. Articles like this one are of great help since VPNs don't offer free trials. Instead, they offer money-back guarantees. For example, ExpressVPN lets you test the service for 30 days. If you change your mind, you can easily cancel your subscription and have your money returned.
Please note that not all VPN offer 30 days of use with money-back guarantees. Some VPNs offer significantly shorter trials that can last for 3 or up to 7 days. Make sure to do your research before committing to a VPN.
Final Thoughts
Dear visitors and readers, this is the end of our article on the best VPN for Spain. If there's something else you'd like to know, feel free to post a comment below. We'll do our best to give you a timely response.
If you enjoyed reading this article, why not share it online? Thanks!