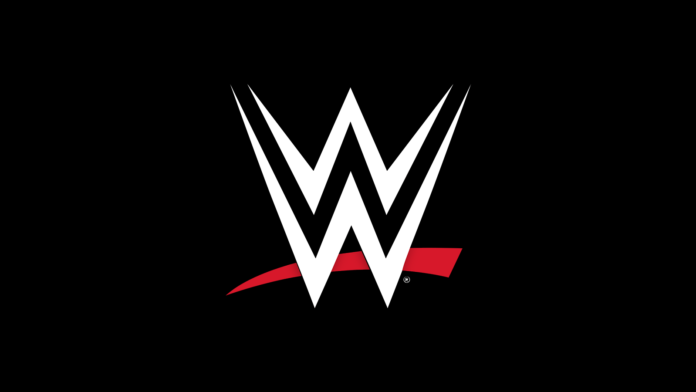 Even though the majority of Kodi users rely on this application to watch movies and live TV channels, this isn't where Kodi's functionality ends. Kodi can a powerful ally when it comes to sports-related content – and WWE in particular. As we previously wrote, you can find a number of highly capable and fully-working sports addons for Kodi. These can help you to watch international TV channels that bring broadcasts of live events and replays. However, it's always a good idea to find a niche addon that caters to your needs. After writing about boxing addons it's time to provide an overview of WWE addons. If you continue reading you'll get to learn about the very best WWE Kodi addons.
Long-term Kodi users know how hard it is to find fully-working Kodi addons as well as builds for Kodi. There are hundreds of choices out there, and you'll easily find something to watch in a matter of minutes. However, addons tend to disappear over time. This is why articles like this one can be helpful. As you are about to see, this article will show you several fully-working WWE Kodi addons, unlocking hundreds of hours of entertaining content. Let's jump right in.
Before getting started, we strictly recommend you to be safe while using Kodi. Therefore, we want you to read the We will be talking about software developed for Kodi – which is based on open-source code. However, the following software comes from unofficial third-parties. In addition, it is publicly available and free of charge. TechNadu doesn't claim any responsibility for how our readers decide to utilize the following software. Please note that we don't condone sharing pirated content and copyright infringement. TechNadu is not affiliated with the software mentioned in this article in no way. Make sure to carefully read the above-said disclaimer and ensure the proper use of the software.
disclaimer and WARNING notice found below.
Warning: Why you should ALWAYS USE a VPN with Kodi?
Here are the reasons that you should consider looking at it without SKIPPING.
Using ILLEGAL Kodi Addons are Dangerous without a VPN: Most of the Kodi users are installing the ILLEGAL Kodi addons on their system to access all the latest movies, TV shows, sports, music, and much more for FREE, than a legal Kodi addon where it has the least content in it. But do you know what? The video content on illegal addons is scraped and copyrighted material. If you are accessing them on Kodi, then your activities will be monitored by your ISP by tracking your IP and gives all the information to the government or companies if they request for it. This will land you in trouble. To stay away from this, you will have to connect to a VPN where it hides your identity by rotating your IP address while streaming Kodi content. This is how you will be safe from the prying eyes.
Bypass Geo-Restriction: As you probably know, some official addons like BBC iPlayer, NBC Sports, Hulu, IceFilms have geo-location restrictions. This also applies to other addons like Acestream which fetches the data from torrents. To unblock these restrictions, you will have to DEFINITELY use a VPN no matter what.
The above are the 2 reasons that forcing us to recommend a VPN to the Kodi users for safer streaming. In fact, after testing several VPNs for Kodi, we finally came up with a one non-stop solution and that is ExpressVPN, the top-rated Kodi VPN so far.
Limited Time Offer: For our TechNadu readers, there is a 49% OFF on ExpressVPN which includes 3 FREE Months in it.
So, here's what you want to know. Here are the 7 best WWE Kodi addons you'll find in 2019.
1. WWE Network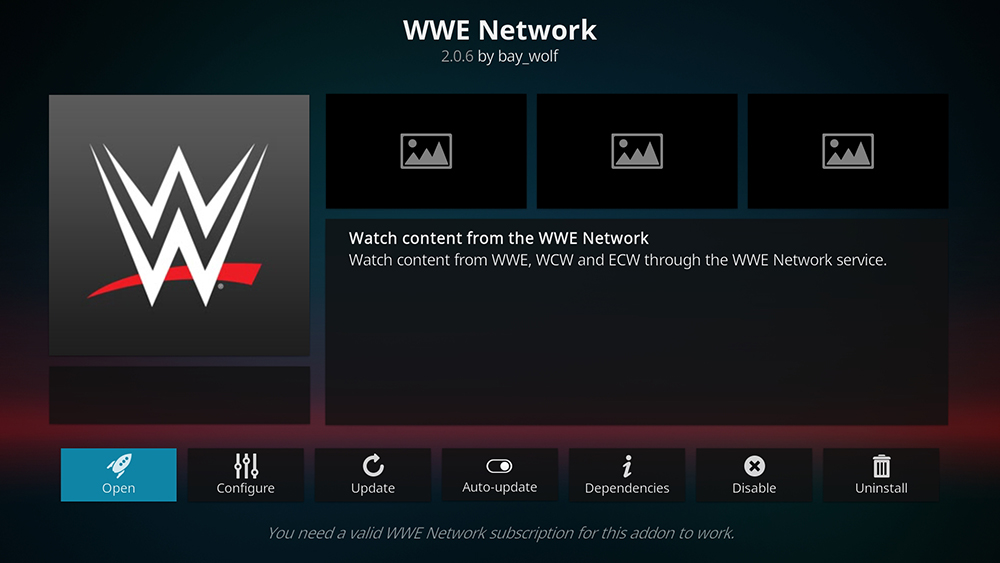 If you're into WWE, it's not a bad idea to invest in a subscription. As you can imagine, the most famous media streaming website that's all about wrestling is WWE Network. For $9.99 per month, you can unlock over 9,000 hours of on-demand programming.
What's unique about WWE Network is that it offers its own original content. You will get to watch TV series like Wrestlemania, Destruction of The Shield, WWE Ride Along, Stone Cold Podcasts, Best of WWE Hall of Fame, and many others. The good news is that you can use WWE Network on your Kodi as well by installing a third-party addon. Let's take a look at how this can be done:
Download WWE Network for Kodi to your computer. This will be a ZIP file that needs to stay in that file format. In other words, just download the file and don't do anything with it (do not unzip it);
Next, Open Kodi and go to Add-ons using the main menu;
Once inside the addons section, use the open box icon in the top-left corner;
Pick 'Install from Zip file';
Using a pop-up, navigate to the ZIP file you've previously downloaded. Once you find it, double-click on its name;
Wait until Kodi gives you a notification that WWE Network is installed and ready to be used.
After you finish installing WWE Network, this addon will be placed in the Addons section (Video Add-ons). Go ahead, find and launch it. As you'll see, you will be asked for your credentials. If you don't have an account at WWE Network, you can create one, free-of-charge for the first month. After that, you'll need to continue paying $9.99 on a monthly basis.
It is also worth knowing that you can use your WWE Network account outside of Kodi as well. You can use it on any device with Internet connectivity like your computer, smartphone, or tablet.
2. USTVnow
One of the best ways to watch American TV channels abroad is by using USTVnow. This is a specialized media streaming service, designed for US military and US citizens abroad. You can get started for free, which gives you access to 5 channels. However, getting a premium subscription lets you watch 23 channels, all of which are hugely popular across the USA.
Even though USTVnow doesn't have dozens of sports TV channels, you'll find a few select picks that air WWE-related content. The best thing is that you get to use the official USTVnow Kodi addon, which can be found in this application's official addon repository. This means that all you have to do is to launch Kodi and use its search functionality to find this addon.
3. Limitless
Limitless is an all-in-one addon that comes with various types of content. You'll find movies, TV shows, cartoons, live TV channels, and plenty more. And as you can guess, there's a section dedicated to sports.
Once you open the 'Sports' folder of the Limitless addon, you'll see a nicely categorized menu. At the bottom, click on 'WWE PPV Replays' with plenty of WWE-related video content. However, as you'll see once you install Limitless, it's recommended to use Real Debrid when playing these files.
If you'd like to give Limitless a try, make sure to use the following URL to install it: http://luxurywizard.space/luxury.
4. FightTube
Strangely enough, you won't find FightTube recommended often on Kodi-related websites (well, except on our website). Even though it isn't a hugely popular option, we think that FightTube deserves your full attention. If you're into WWE, UFC, and boxing – we don't have a single doubt whether you'll love this addon.
Upon opening FightTube, you'll see a nicely designed grid with 40+ content categories. Among these categories, you'll find those dedicated to 'WWE' and 'Impact Wrestling'. Both of these seem to be regularly updated, which means that there's plenty to watch.
If you'd like to learn how to install FightTube, make sure to click on the provided link and you'll open our step-by-step guide.
5. The Magic Dragon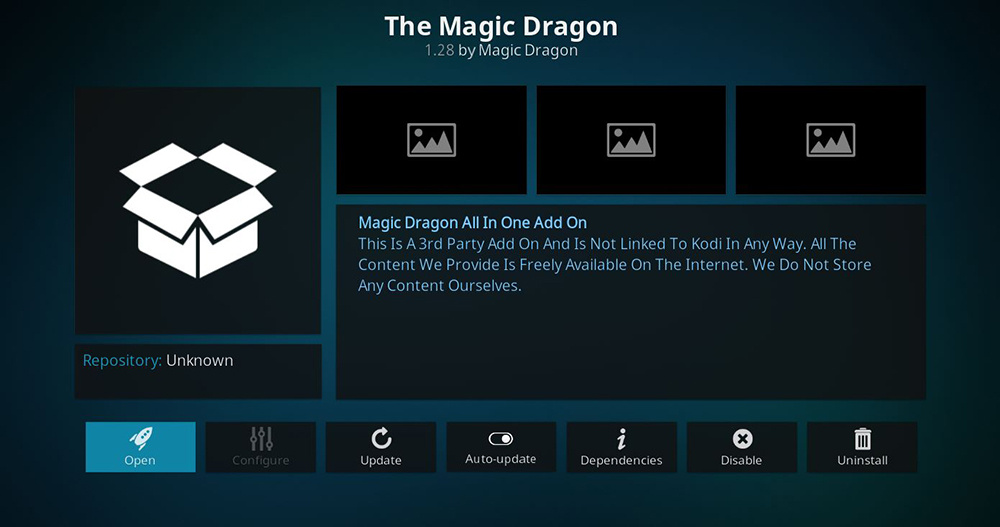 Quite recently, The Magic Dragon went through a rough patch. The developer of this addon got arrested in the UK, which forced the addon to go offline. However, it didn't take long for The Magic Dragon to resurface in a new repository.
Being an all-in-one addon, you'll find a huge variety of content here. There are movies, TV shows, music, radio stations, and there's a dedicated folder with sports-related content. In this folder, you'll find on-demand videos related to football, cricket, boxing, motorsports, and plenty more – with wrestling included as well. Once you open this folder, you'll see why The Magic Dragon is one of the best WWE Kodi addons right now.
We still need to tell you how to install The Magic Dragon. Well, we've prepared a dedicated guide, so make sure to click on the provided link.
6. Voodoo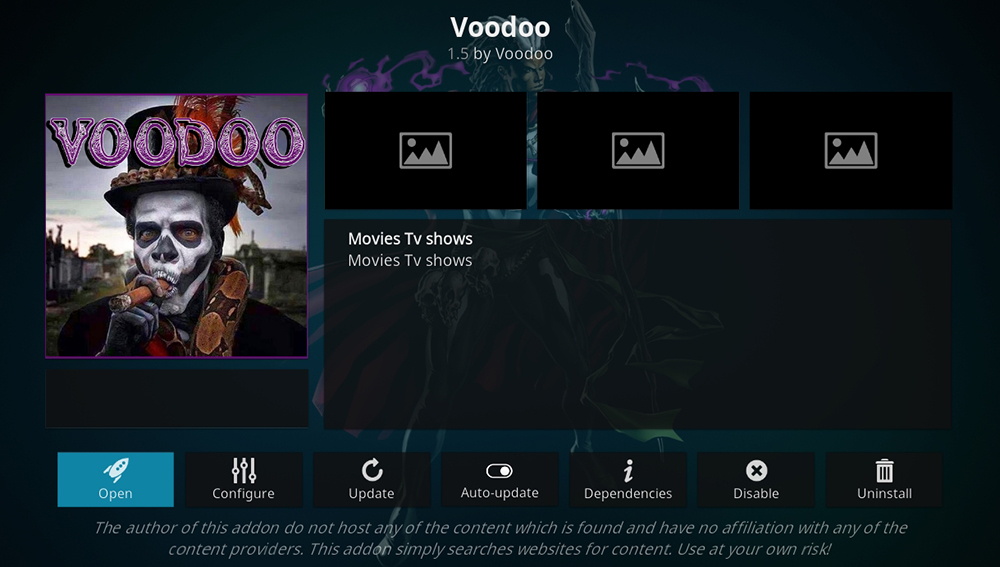 We wanted to include Voodo on our list of the WWE Kodi addons for one simple reason – it comes with an incredible array of live TV channels from all around the world. So, if you're into WWE, we're sure you'll find plenty of TV channels dedicated to wrestling. This can be quite hard to find if you're a cord-cutter, so Voodoo will be a worthy addition to your Kodi library.
To get to this addon's live TV channels, you need to open the 'Ghost IPTV' folder. This is where you'll find several repositories of live TV channels, with over 3,500 TV channels in total. Unfortunately, you'll need to search for your favorite TV networks manually – but installing and using Voodoo is still worth the effort.
You also need to know from where to install the Voodoo Kodi addon. So, here's the latest URL of its repository: https://goldengunrepo.github.io/install/me/.
7. cCloud TV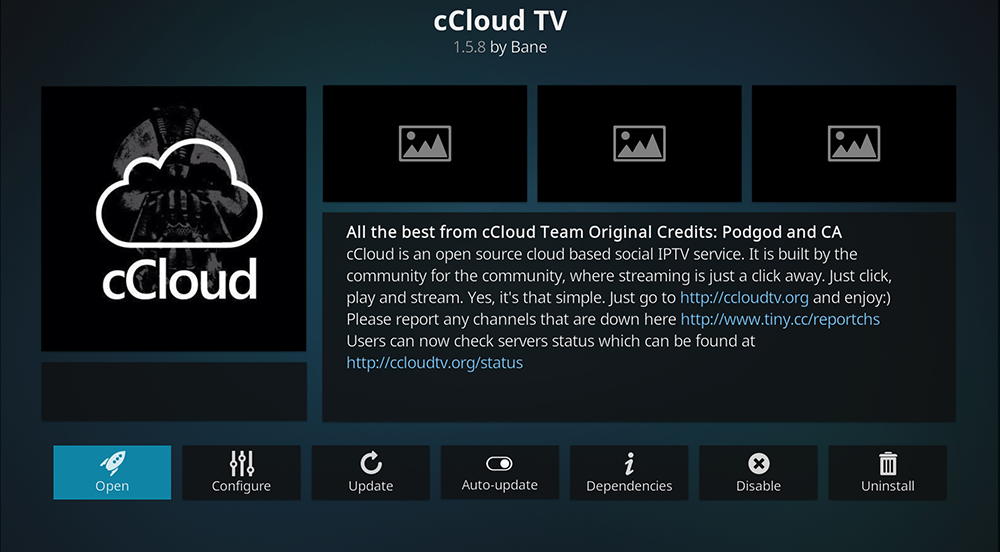 We'd like to conclude our list of the best WWE Kodi addons with cCloud TV. This is one of the widely used addons for watching live TV using Kodi. It brings thousands of TV channels from all across the globe – with very few dead links. Thanks to a recent update, cCloud TV now also offers on-demand movies and TV shows.
Even though this isn't a dedicated sports addon, it does have an excellent selection of sports TV channels. These can be found by going to the 'Sports' section from the addon's home screen. However, you won't find those channels organized into different categories. This means that you'll have to find WWE-related channels on your own. You can overcome this obstacle by searching for a specific WWE TV shows. Just launch the addon and use the search tool located on the home screen. Finally, learn how to install cCloud TV by using the provided link.
If you have any questions or suggestions, feel free to post a comment. We are dedicated to communicating with our readers, and we're always glad to help. Also, don't forget to follow TechNadu on Facebook and Twitter. Thanks!