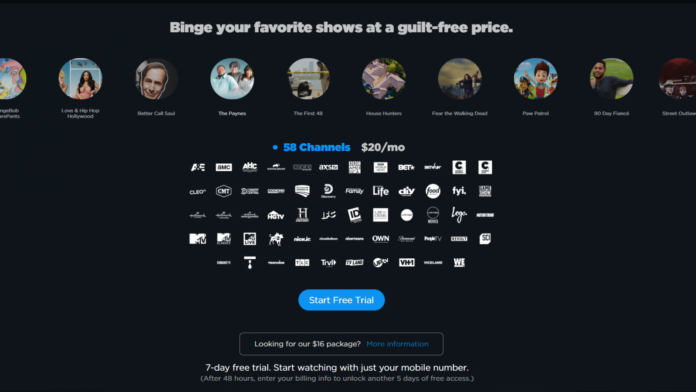 Philo drops $16/Mo bundle starting May 6.
Existing customers can keep their bundles and prices.
Philo is losing the $16 per month bundle and keeping only the $20 per month 58 Channel bundle from here on out. This isn't necessarily a major change like other live TV platforms have implemented in recent months, but it's still a change for Philo.
Given the small difference in price between the two bundles, it's safe to say that many subscribers had already picked the $20 per month bundle, even though the company won't share exact numbers about it.
As a side by side comparison, the more expensive bundle featured some extra channels – MTV Live, BET Her, Nicktoons, Logo, Cooking Channel, Destination America, Discovery Family Channel, Discovery Life Channel, and more.
Starting with May 6, 2019, new customers will only be able to join by picking the $20 per month bundle. Those who are already using Philo will get to keep their prices and their bundles, even getting to switch between bundles whenever they want, as long as their subscriptions are active.
"At Philo, we care deeply about creating the best TV experience possible at an affordable price. Since we launched 18 months ago, most of the other companies in our space have raised their prices, in some cases multiple times. We didn't want to do that. Still, when we looked at all of the costs of operating Philo—which increase over time—consolidating into a single $20 package was the best way for us to maintain the same offering we have today without raising prices for everyone, or having to cut back in places we strive to excel, like our customer support," explains Philo CEO Andrew McCollum.
Philo is one of the cheapest live TV platforms out there and even though it features far fewer channels than other similar services, it's easy to see why it's popular given the prices they ask for their bundles. The platform takes a "what you see is what you get approach" to offering this service, as it now features a single bundle of channels, no extra channel packs, no premium networks, and no add-ons.
What do you think of Philo's changes? Let us know by dropping a note in the comments section below and share the article online so others can find it too. Follow TechNadu on our socials – Facebook and Twitter – for more tech news, guides, reviews, and interviews.