VRV is a rather peculiar, or we should say - unique, media streaming service. It combines the best of anime, gaming, tech, and cartoons into a single app. However, the only problem is that VRV is not available globally. So, is there a way to watch VRV outside the US? Yes, there is!
To unblock VRV, you need a VPN application. Right now, that's the best way to overcome any geo-block imposed by VRV and other media streaming websites. And also, you can use a VPN not only to watch VRV but also to subscribe from outside the US. Here's all you need to know.
Where Is VRV Available?
Currently, VRV is available in the United States only, which has been the case since the streaming service's launch in November 2016. Also, we have to say that it's hard to imagine seeing VRV expand internationally since it has several independent content providers (therefore, international licensing is involved).
With that said, the only way to access VRV right now (if you're not in the United States) is by using a VPN - there simply is no other way. And speaking of VPNs, let's talk about how to use them to watch VRV from anywhere in the world.
How to Watch VRV Outside the US
So, to watch VRV outside the US in 2022, you need to do the following:
Step #1: Find the Best VPN to Unblock VRV
The only way to watch VRV outside the US is by using a VPN. However, you need a VPN capable of unblocking this streaming service reliably (across many different platforms). So, you must be careful about which one you'll pick.
So, far we've tested more than 60 VPN services (you can find all those reviews on our website). Without any doubt, the best VPN available right now is ExpressVPN. It can not only unblock VRV with ease but also works with Disney Plus, Discovery Plus, Prime Video, Netflix, Paramount Plus, fuboTV, and more. Therefore, it's definitely the right pick.
3,000+ VPN servers in 160 VPN server locations in 94 countries, 5 Simultaneous connections, Fast and stable connection, No activity logs or connection logs, No bandwidth limits, Strong encryption, 24/7 live chat support, and 30-day money-back guarantee.
Of course, you have some other options as well, as explained below in the segment on the best VPNs for VRV. So, make sure to pick a VPN, as you'll need to use it throughout this procedure. Keep in mind that we'll use ExpressVPN to explain the following steps.
Step #2: Get Your VPN Subscription
Having a VPN active in the background is mandatory for every step of this procedure. So, before you do anything else, proceed to subscribe to ExpressVPN.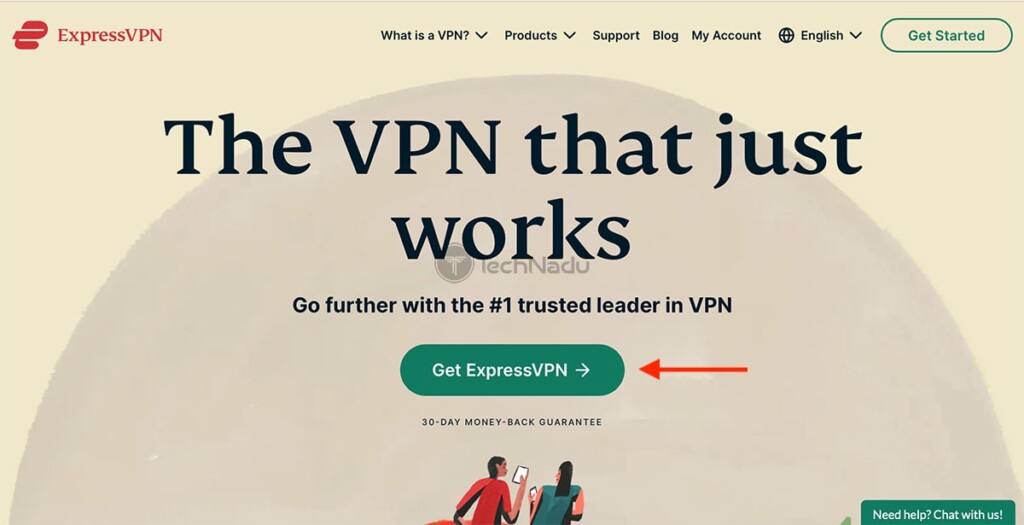 Once you land on ExpressVPN's website, select 'Get ExpressVPN.' A new page will open, asking you to pick a subscription first. Then, input your email address and pick a payment method. Fill out the required information and pay for your new ExpressVPN subscription.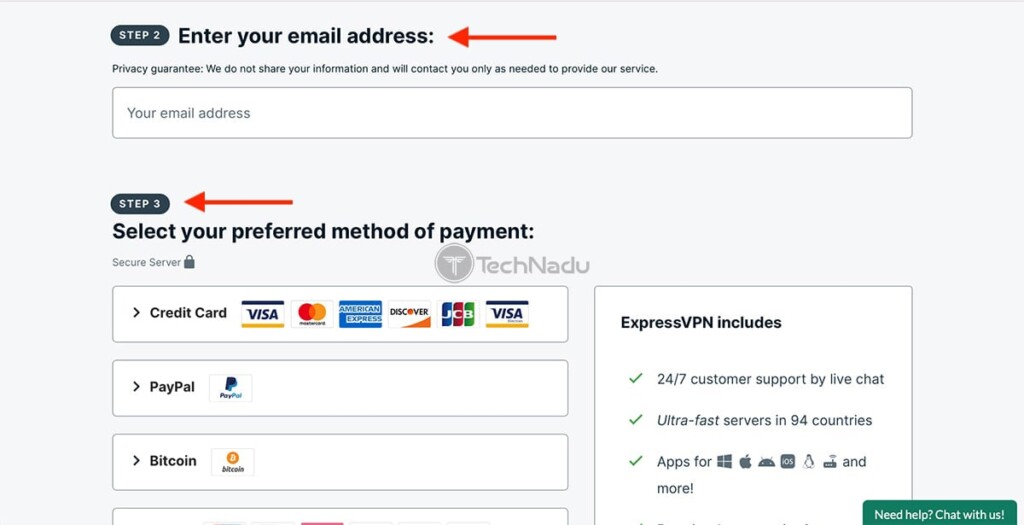 As soon as your payment is processed, ExpressVPN's team will send you a confirmation email. So, once your account gets activated, it's time to set up ExpressVPN on your device. To learn more, proceed to the next step.
Step #3: Download & Install the VPN on Your Device(s)
Getting started with ExpressVPN is incredibly easy. And also, know that this VPN has apps for pretty much any platform or device out there. So, if you want to learn how to download, install, and use ExpressVPN (covering all of its supported platforms), use the provided link.
If you want VRV's premium subscription (in addition to watching its free content), you'll need to subscribe to VRV using your Android device or your iPhone/iPad. So, you'll want to know how to set up ExpressVPN on Android or iOS/iPadOS. Once you subscribe to VRV, you'll get to use your account to access VRV on any other of its supported devices.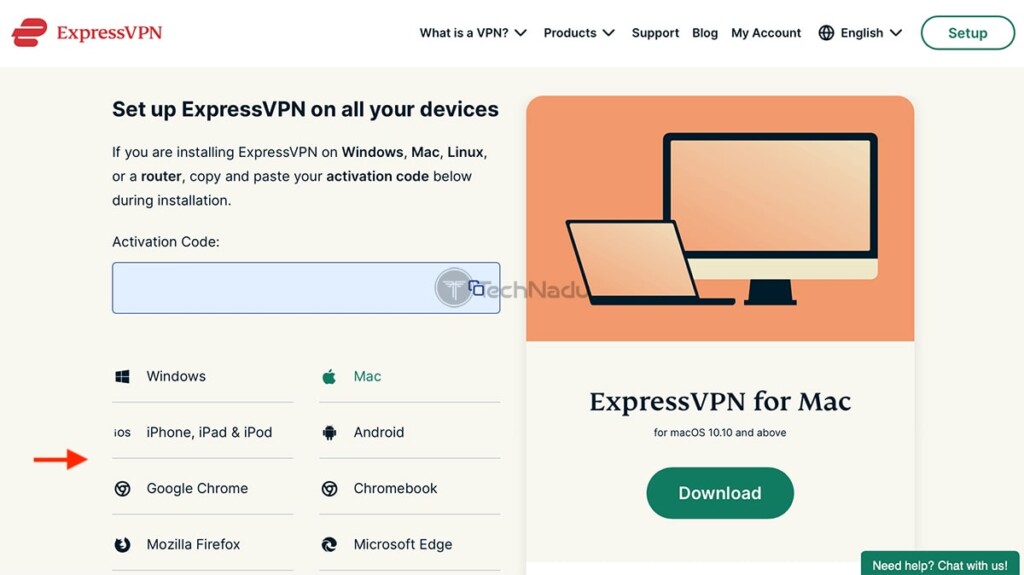 In general, installing ExpressVPN requires you to log in to your online dashboard (on the VPN's website) and download the required app(s) from there. Even if you've never used a VPN before, we're sure that you manage to set up ExpressVPN in no time.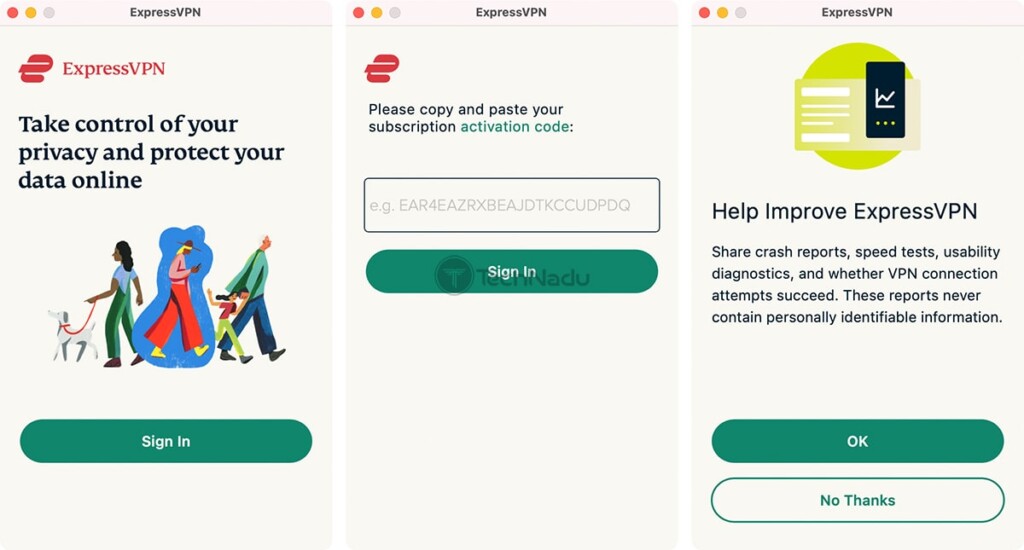 Lastly, don't forget to go through the initial setup as well. Once you install ExpressVPN, launch it, and then log in to your account (or use an ExpressVPN activation code). At this moment, you should be looking at ExpressVPN's home screen.
Step #4: Connect to a VPN Server in the US
As highlighted above, you can subscribe to VRV on your Android or iOS/iPadOS device. That means that now you need to use ExpressVPN to connect to a US server. To do that, go ahead and launch the ExpressVPN app on your smartphone or tablet.
Then, tap on the button just below the ON/OFF switch to reveal all ExpressVPN's servers. Once you select 'United States,' pick any server found in that country. If ExpressVPN doesn't connect you automatically, return to its home screen and use the ON/OFF switch to connect.
At this moment, ExpressVPN's interface (the upper half) should turn green. Also, the button below the ON/OFF switch should read: "Current Location: USA." If that's the case, feel free to proceed to the next step.
Step #5: Create a New (US) Google/Apple Account (And Log In)
Since VRV is available on the US versions of Google's Play Store and Apple's App Store, you need a Google account or an Apple ID set to 'United States.' If you already have one, feel free to proceed to the next step. However, if you have a non-US account, you'll need to create a new one to access VRV.
Start by getting a new Google account or a new Apple ID (while having the VPN active in the background). Apple will ask you for an address, so make sure to select 'United States' and enter any US address (here's an online US address generator, if you need help). Google won't ask you for an address, which is why it's imperative to use the VPN in the background.
Once you create a new account, you need to log into that account on your device. No matter if you have an Android or iOS device, that can be typically done via the Settings app. So, log out of your existing account and log in using the newly created account.
Step #6: Buy a Google/Apple Gift Card & Redeem It
To pay for VRV's subscription, you need to add funds to your Google/Apple account. By adding funds to your account, you can spend that money on VRV - avoiding being asked for a US payment method. So, here's what you need to do.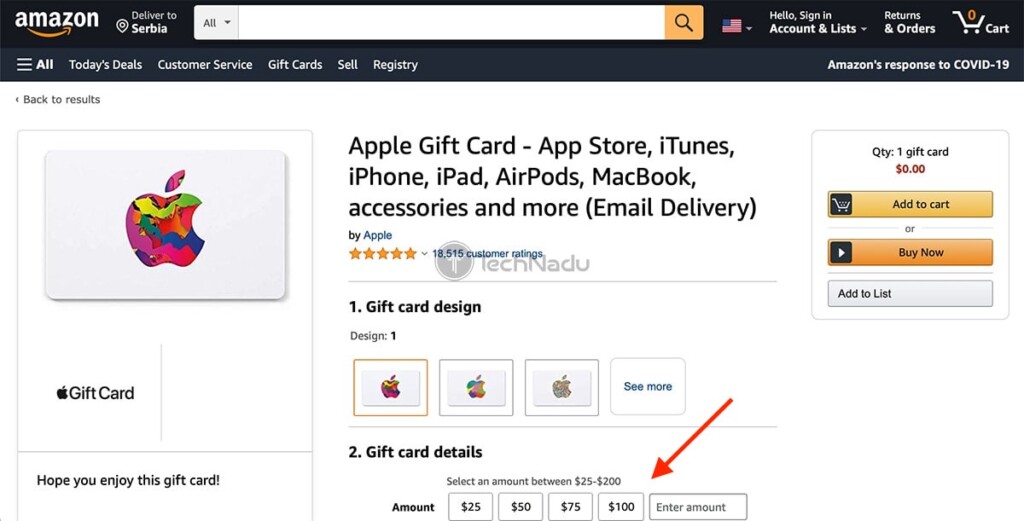 We recommend getting a Google Play Store or Apple gift card via Amazon. You can find those gift cards elsewhere on the Web, but make sure that they're for US-based accounts. Amazon's gift cards are delivered via email, and you can add any amount of money to your account. Still, make sure to have enough money to pay for the first month of your VRV subscription.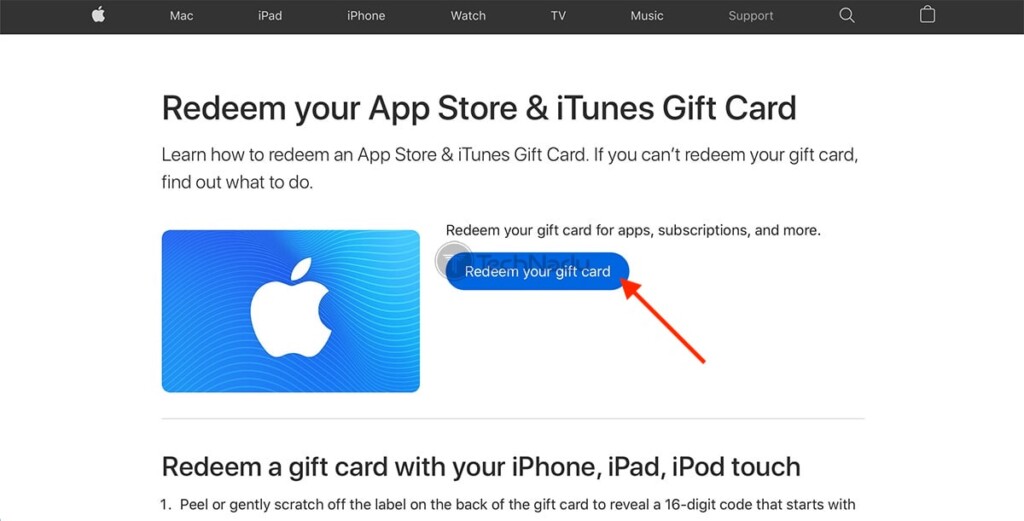 Once you receive your gift card, you'll need to activate it and transfer those funds to your Google/Apple account. So, here's how to redeem your Google gift card, as well as how to redeem your Apple gift card.
Step #7: Download VRV & Log In/Sign Up
Now, proceed to download the VRV app on your Android device or your iPhone or iPad. That is done by visiting the Play Store or iOS App Store and downloading VRV from there. Once again, we remind you to have ExpressVPN active in the background the entire time.
If you already have a VRV account, launch the app and tap on 'Settings' at the bottom. Then, select 'Sign In' and provide your credentials. If you have VRV's premium subscription, you will get access to your subscription without any limitations.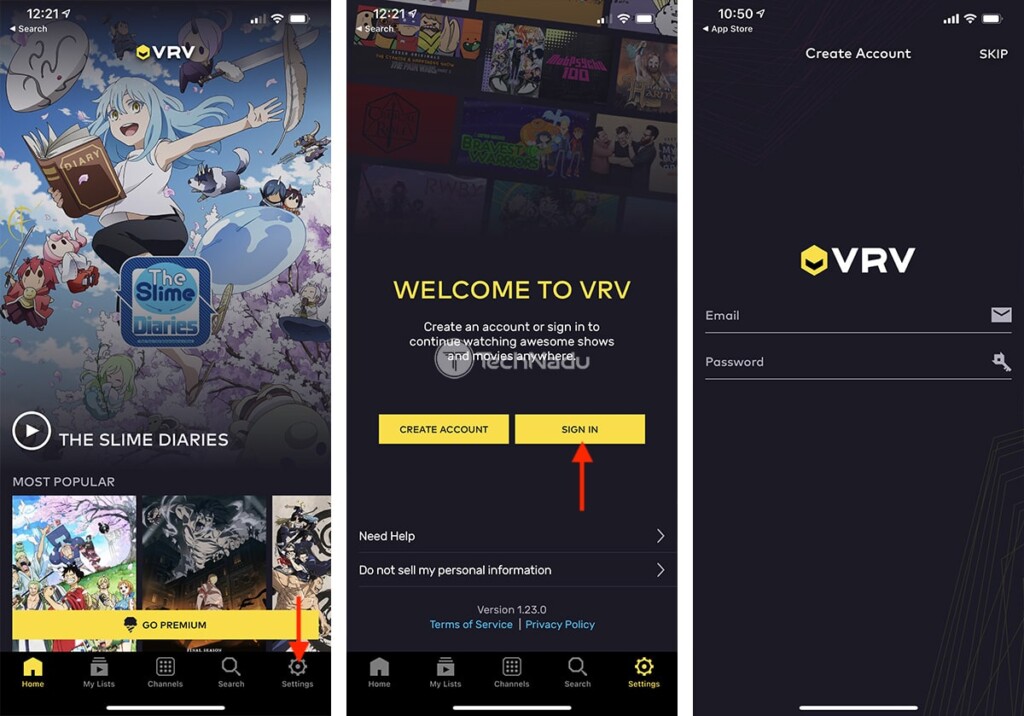 If you want to subscribe to 'VRV Premium,' tap on 'Go Premium' via the app's home screen. You'll be asked to create a new account, so make sure to enter your email and provide a password. After that, you will be offered to get a premium VRV subscription (so, click on 'Go Premium').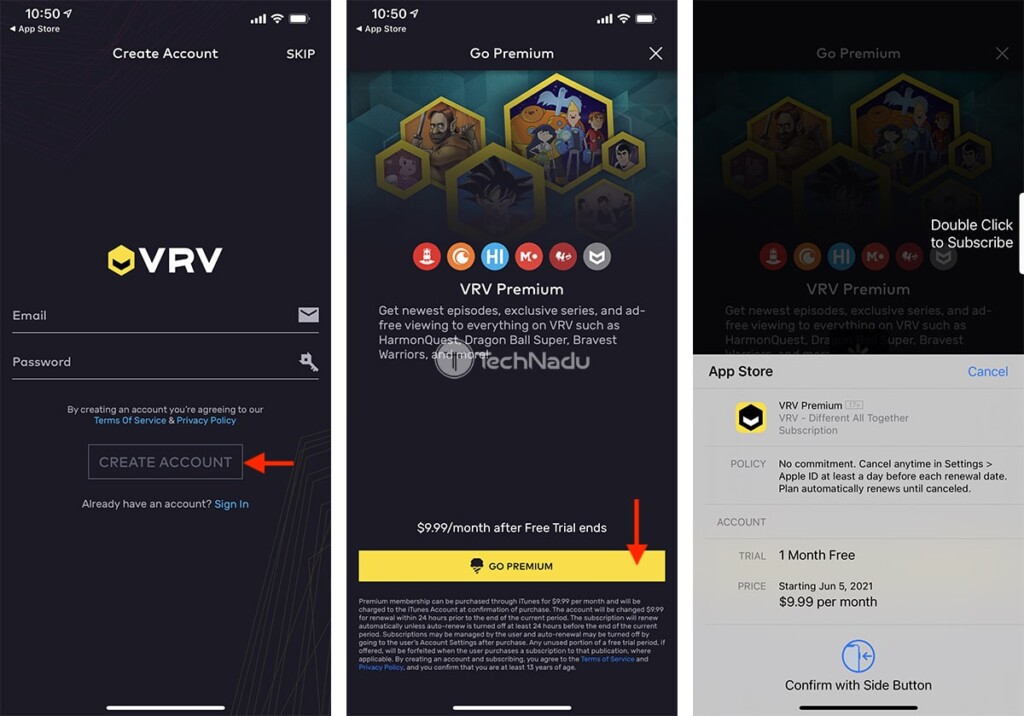 Finally, the VRV app will now ask you to authenticate your purchase. Remember that you need to have at least $9.99 on your account for this process to complete. It's true that you'll get a 1-month trial - but you still need $9.99 to activate it (you will be charged only after your trial period ends).
Step #8: Unblock VRV (Whenever You Want)
That's basically it! At this moment, you should have full and unrestricted access to VRV. However, to ensure that your experience is smooth, we have a few more tips.
Keep in mind that you can watch VRV outside the US - as long as you have ExpressVPN in the background. That means you first need to connect to a server in the US each time you want to unblock VRV. Nothing major will happen if you forget to do that, as VRV will simply block your access.
And lastly, know that ExpressVPN comes with unlimited bandwidth, supporting up to 5 simultaneous connections. So, you can now install VRV on other devices, unblock it via ExpressVPN, and enjoy watching it from any country in the world.
Best VPN for VRV
We spent dozens of hours stress-testing over 60 VPNs to see which ones work excellently with this site. According to our findings, these are the best 5 VPNs that can always unblock VRV outside the US.
1. ExpressVPN - Best Overall VPN
ExpressVPN comes in at number one, and for a good reason. It offers amazing speeds, a large server network, and unlimited bandwidth. Plus, its apps have a very user-friendly design, and you can install them on most devices. Not to mention you also get support for up to five simultaneous connections. So, everyone in your family can unblock VRV at the same time!
That's not all. ExpressVPN uses powerful encryption, so you won't need to worry about bandwidth throttling getting in the way of your fun. Also, the provider offers split tunneling - a nice feature that lets you optimize your VPN speeds when you watch VRV outside the US.
Other than that, you get 24/7 support through live chat. You shouldn't experience any issues unblocking VRV with ExpressVPN. But if you do, their support reps are just one message away and ready to help you (at any given moment).
What's more, ExpressVPN has a no-questions-asked 30-day money-back guarantee. It's so generous that you pretty much get a 30-day trial. If you're not happy with the service for any reason, you can always ask for your money back through live chat. You'll get it back in a few business days.
To find out more about ExpressVPN, please read our in-depth review.
2. NordVPN - Best for High-End Security
NordVPN offers everything you need for an enjoyable streaming experience - lighting-fast speeds, a large server network, unlimited data, and user-friendly, cross-platform compatible apps.
But on top of that, this VPN provider also offers excellent security features. You get high-end encryption, traffic obfuscation, access to a colocated network (servers that are owned and operated only by NordVPN), and Tor over VPN support.
Not only that, but you can also pair up your NordVPN subscription with two of their services: NordPass (a capable password manager) and NordLocker (secure file encryption). Finally, you get 24/7 support through live chat and a no-questions-asked 30-day refund policy.
All in all, NordVPN is the perfect way to watch VRV outside the US and really secure your data too. If you'd like to see the provider in action, check out our review.
From the start, it's obvious that CyberGhost VPN will offer you an enjoyable streaming experience. The provider offers unmetered data, thousands of high-speed servers, as well as apps with a clean and user-friendly UI.
You can even get a private dedicated IP address. With it, you no longer have to keep worrying that you might one day lose access to VRV because it detects and blocks your VPN's IP address.
So what makes CyberGhost VPN a "risk-free" buy?
Well, the fact that they offer a free 24-hour trial. That's plenty of time to test the VPN to see if it's the right fit for you. Plus, once you sign up, CyberGhost VPN will have your back with a 45-day money-back guarantee (if you pick a long-term subscription). That's even more time to decide whether or not this service is a good VRV unblocker.
In case you'd like to learn more about CyberGhost VPN, please read our review.
If the first thing you check when reading about VPNs is the number of servers, you'll definitely be happy with PIA. They have a downright gigantic server network - thousands of them in the US alone! So, finding a server that's close to your location and isn't overcrowded (to get optimal speeds) will be a walk in the park.
That's not the only highlight, though. With PIA, you also get top-notch security, decent speeds, unmetered data, and easy-to-use apps for most platforms. What's more, PIA supports up to ten simultaneous connections - and offers split tunneling too.
As for support, you can reach PIA's reps round-the-clock. And yes, you can do it through live chat. Also, when you buy a subscription, your payments are covered by a 30-day money-back guarantee.
Want to read more about PIA? Check out our review then!
Can VRV Block VPNs?
Yes, it can. Any site can do that, really. It just needs to use firewall-like mechanics to blacklist the VPN's IPs to no longer communicate with the website.
But we don't really think VRV bothers blocking VPNs - at least not the top providers.
Still, we have seen a few Reddit users complain about their VPNs not working with VRV. And we have experienced issues unblocking VRV with some of the providers we tested. The problems we experienced were mostly with free VPNs, so they're the ones that VRV likely targets.
What VPN Speeds Do You Need for VRV?
We couldn't find a support article about the minimum recommended speeds on VRV. However, some people experienced stuttering and buffering even with 60 Mbps speeds.
We never had any problems streaming content in 1080p. However, our tester is from Europe, was using a US server from ExpressVPN, and had around 170 Mbps download speeds and 140 Mbps upload speeds.
So, maybe anywhere over 70-80 Mbps should be enough to enjoy smooth HD streaming. It's likely that even slower speeds will be okay, but we can't say for sure. Please let us know in the comments what VPN speeds you had, and how your VRV streaming experience was like.
Also, if you need help improving your VPN speeds, check out this guide.
FAQs
What Is VRV?
VRV is an online streaming service where you can watch anime, live-action series, speculative fiction, and gaming-related content. It offers both free and paid content.
Is VRV Free?
Yes, VRV has a free plan, and it includes over 20,000 hours of content, which the platform updates regularly. The free service is ad-supported.
VRV also has a paid Premium subscription. With it, you get an ad-free experience, exclusive series, and more channels (like Rooster Teeth and Crunchyroll). The Premium subscription comes with a free 30-day trial.
What Devices Can You Watch VRV On?
You can watch VRV on your desktop through your Web browser. Also, you can use their apps on different platforms, as highlighted below.
iOS
Android
Apple TV
Android TV
Fire TV
Chromecast
Xbox
PlayStation
Roku (newer devices)
What Can You Watch on VRV?
Quite a lot of fun content. You can watch series like Attack on Titan, Happy Tree Friends, The Cyanide and Happiness Show, One Piece, Black Clover, and more.
Can Free VPNs Unblock VRV?
They might, but we'd lean towards "no." At least, in our tests, free VPNs didn't work with VRV. We also saw other users on Reddit saying they don't work.
If you do find one that unblocks VRV, please keep in mind you might get a sub-par experience due to slower speeds, bandwidth caps, and lack of support. If you really insist on using a free VPN, at least use our guide to find a reliable one.
How Much Data Does VRV Use?
Depending on how long the episode is and what quality you're using, you should expect to use anywhere between 250MB and 1GB. All the more reason to get a VPN with unlimited bandwidth (like the ones we recommended in this article).
Hopefully, you now know how to watch VRV from outside the US. In case you have any questions or doubts, make sure to post your comment below. And lastly, thank you for reading!