Almost every single day, we can read about data leaks that include passwords or stolen passwords surfacing on the dark Web. It seems that even Web browsers and password managers aren't safe, as these can leak sensitive data via software vulnerabilities. This is why you need to be extra careful when choosing when and where to store your passwords, payment information, and other types of sensitive data. Lucky for us, there's plenty of options out there, all promising to keep you private and safe on the Web. One such solution is NordPass, a recently released password manager that promises to change the way you interact with this type of software. To see whether or not this solution is worth investing in, we've spent quite some time testing it. So, we welcome you to our NordPass review!
Before we dive deeper, we'd like to introduce you to NordPass. The following table will show you some of its basic information, so make sure to check it out.
Overview
| | |
| --- | --- |
| Product Name | NordPass |
| Supported Platforms | Web browsers (Chrome, Firefox, Opera, Brave, Edge, Vivaldi), Windows, macOS, Linux, Android, and iOS. |
| Unique Features | Zero-knowledge architecture; High-end encryption; Storage for private notes and credit cards; Sharing of your private data. |
| Price | Free | Starts at $2.49/month (2-year subscription). |
| Visit | NordPass |
Don't have the time to read this entire review? Don't worry, we've prepared another table for those in a rush. Here's what we think about NordPass after having reviewed this password manager.
The Bottom Line
| | |
| --- | --- |
| Pros | Very simple to use; Fully automated; Strong encryption; Guaranteed privacy; Password checker/generator. |
| Cons | Not the best solution for advanced users; Still a very young service. |
| The Final Verdict | Despite its young age, NordPass shows a lot of promise and we recommend it to our readers – especially if you need a fully automated solution. |
| Our Score | 8.6/10 |
Finally, we're ready to dive deep into everything NordPass offers. So, join us for our full review of this password manager, and see whether this could be a solution that fits your needs.
NordPass – TechNadu's Hands-On Review
Before we continue, you should know that we've tested NordPass on a Windows 10 PC. Also, we've used Chrome to test this password manager. However, everything said in this article applies to other platforms and Web browsers, as this is primarily a Web-based solution. This means that it looks and feels the same across all of its supported platforms.
Background, Jurisdiction & Reputation
NordPass is a product of Tefincom, based in Panama. There are no reports of any vulnerabilities or anything similar related to this digital service/product. However, there were some past incidents with other products made by this company (nothing overly serious, though). Our Score: 8/10.
When choosing a password manager, you need to know a few things about its history. After all, you'll be trusting a company to handle your private data, no matter if it actually collects your data or not. So, we've done a background check on NordPass, and here's what you need to know.
Jurisdiction & Applicable Laws
In case the name of NordPass sounds familiar, you're not wrong. This product comes from a company called Tefincom, located in Panama. In addition, Tefincom is known for its VPN solution, called NordVPN. This is one of the top-rated and most popular VPNs right now, which you can read about in our NordVPN review. Despite some minor downsides, our editorial team recommends this VPN as it has proven to keep you safe and private on the Web. Then, there's a solution for encrypting your files, called NordLocker. This one helps you secure your sensitive files locally, without providing this company any access to your files (which is what applies to NordPass as well). To learn more about this software, we recommend reading our NordLocker review.
So, Tefincom has done a good job of choosing its jurisdiction. Panama is outside of the 5/9/14 Eyes Alliance, which means that major intelligence agencies will have a harder time getting to your data. Of course, using a VPN, file encryption solution, or password manager doesn't mean that you should do anything against your country's laws. However, it's good to know that this company did think about protecting your privacy is a comprehensive way.
Previous Data Leaks
NordPass was first announced in June 2019 and has been recently released. With this said, it's clear that no data leaks or any vulnerabilities can be connected to this password manager. This is still a very young digital service, so we'll need to wait for a bit to see how it performs in the real world.
It's also important to note that Tefincom does have some experience with vulnerabilities, exploitation, and hacking. Its NordVPN had been hacked in 2018 and there were reports on vulnerabilities that have been quickly plugged. However, NordVPN was also the recipient of prestigious awards and it's being regularly audited for any exploitable vulnerabilities. No critical user data was exposed in these previous incidents, which sounds reassuring. All in all, we think there's no reason not to trust Tefincom, as it comes with a reputation for truly caring about its customers.
Supported Platforms & Devices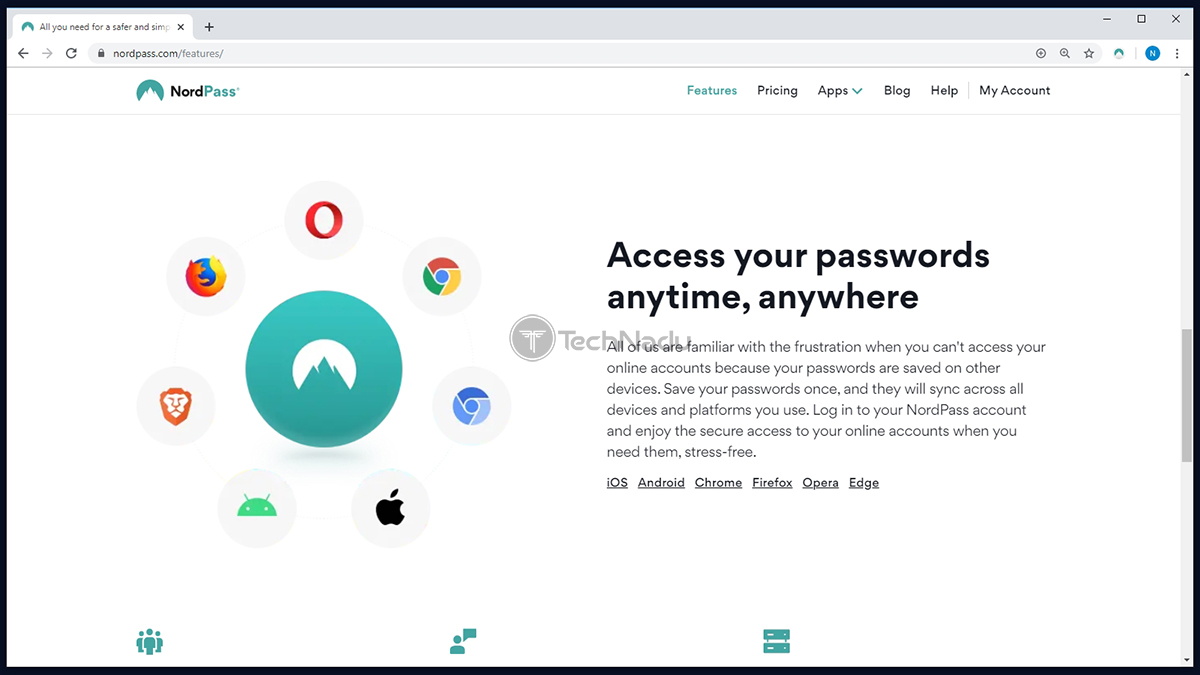 Strangely enough, NordPass isn't available for Safari. However, you can use this password manager on a whole lot of other Web browsers, in addition to popular desktop and mobile platforms. Our Score: 9/10.
You are probably wondering which platforms this password manager supports? To answer this question, check out the following table.
Platform Compatibility
| | |
| --- | --- |
| Desktop Platforms | Windows, macOS, Linux – background apps. |
| Mobile Platforms | Android, iOS. |
| Web Browsers | Chrome, Firefox, Opera, Brave, Edge, Vivaldi. |
The most important information here is that NordPass is primarily a Web-based solution. So, aside from having an Android or iOS app that is locally installed and used in a traditional way, you primarily use your Web browser to interact with NordPass. To learn more about how this all works and how to install different components of NordPass, make sure to read the following segment of our review (Installation & Initial Configuration).
We can see that practically all popular Web browsers are supported, which is a good thing. However, we can also see that Safari is missing from this list, which is a bit surprising. However, this doesn't mean that macOS users can't use NordPass. They simply need to use any Web browser that's not Safari.
The table above also shows that you can use NordPass on Windows, macOS, and Linux. However, these are not standalone applications. These are background applications needed to run Web browser extensions. And also, one more piece of information – you can sync NordPass on up to 6 devices if you go for its premium plan.
Installation & Initial Configuration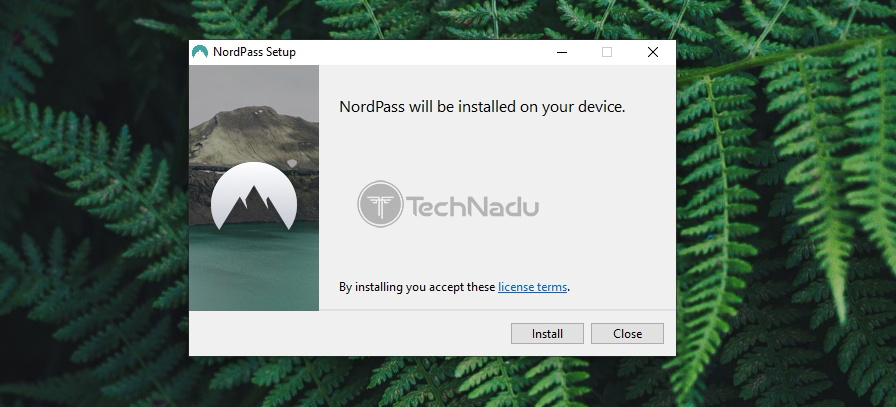 To install NordPass, you will need to install its extension. Then, you'll also install a background desktop application, and that's pretty much it. The entire procedure shouldn't take more than a few minutes of your time. Our Score: 9.5/10.
To get started with NordPass, you can choose one of two possible routes. You can sign-up for a free account with limited features or go ahead and get yourself a premium NordPass subscription (to use it without any limitations). Then, you can proceed to install any of its Web browser extensions (done via the NordPass website or by visiting your Web browser's store of extensions/add-ons).
As soon as the NordPass extension is installed, you will see a new page in your Web browser. You'll be asked to install a desktop application as well, which is done the traditional way. Depending on your operating system, you'll download a lightweight file and install it. Then, the application will run in the background. This means that you won't get a fully-featured application that you can locally use, which is the case with some other password managers.
To interact with this password manager, you will need to use your Web browser. The first time you initialize the extension, you will be asked to sign-in, provide a 6-digit code (that will arrive in your inbox), input your master password and that's about it.
User Interface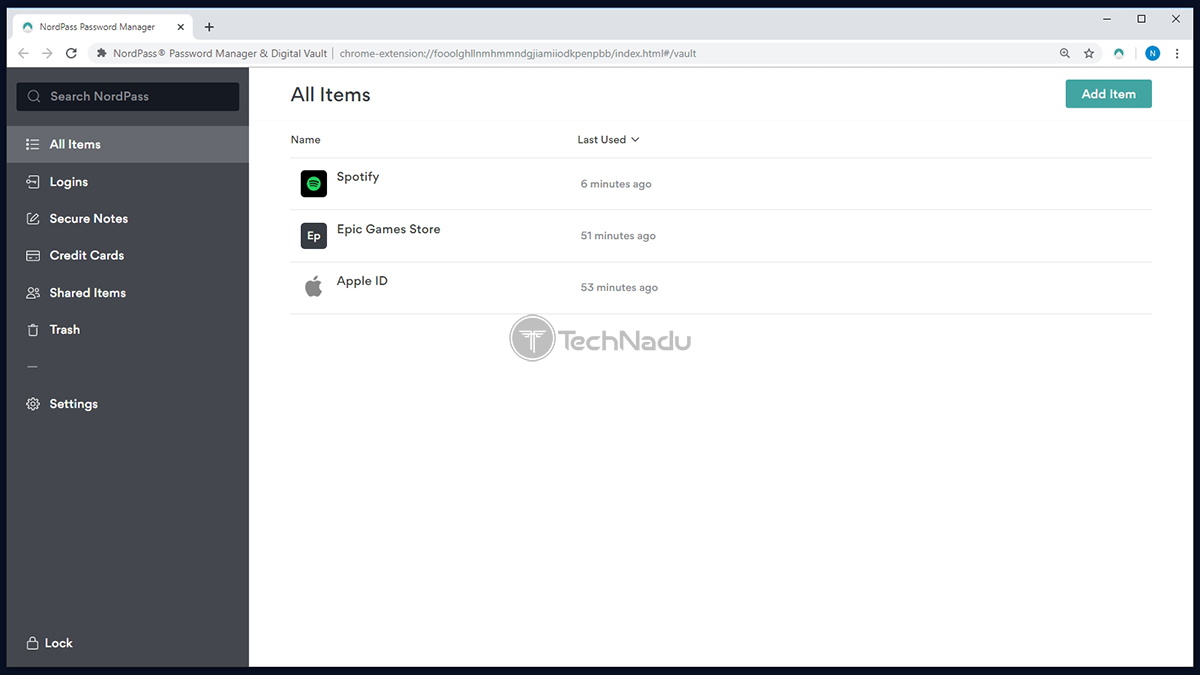 NordPass comes with a really simple UI – and it seems to be oriented toward inexperienced users who wish their password manager to be fully automated. Our Score: 7/10.
As you can see from the screenshots in this review, NordPass is a simple application (in terms of its UI, of course). On the left side of the screen, you will see different categories of files that can be stored. We're talking about logins, secure notes, and credit card information. Then, you will see shared items and your trash folder as well. We'll walk you through the process of inputting and using information in the following segment (Ease of Use).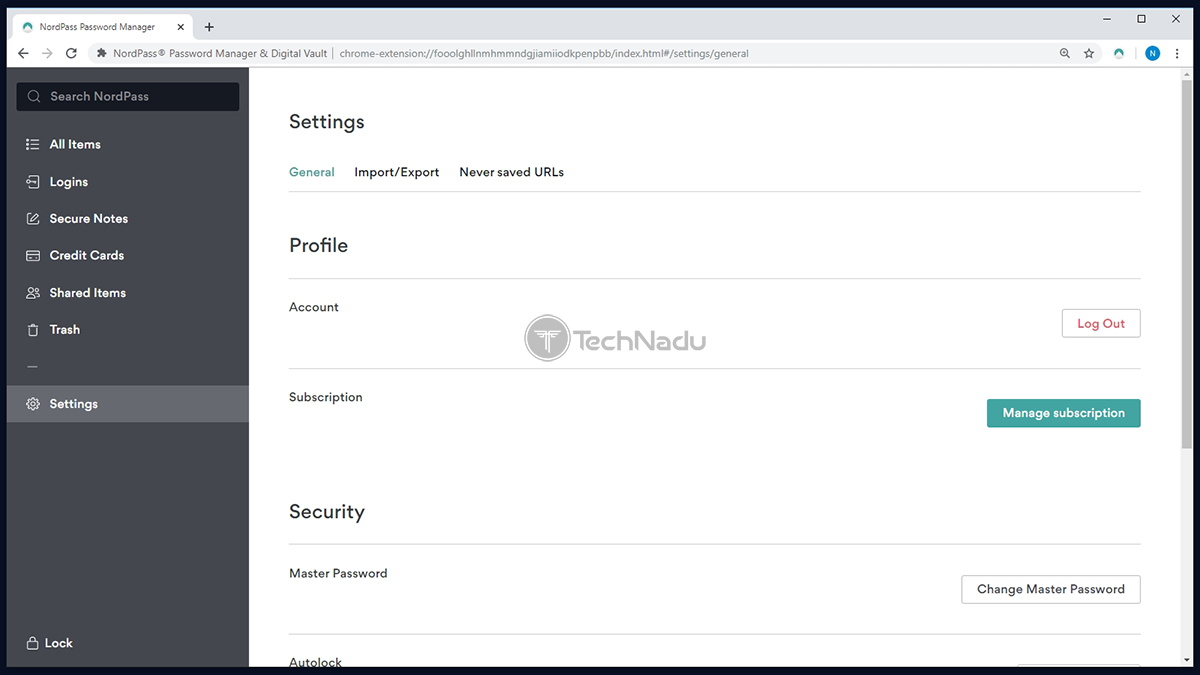 Among the options present on the left side of the screen, you will see the application's settings as well. This is where you can review your subscription information, change your master password and recovery code, enable 2FA, import your data from another password manager, and create a list of websites that you don't want NordPass to collect your data from.
In comparison to other password managers, we must say that NordPass won't blow you away. Modern password managers come with incredibly polished interfaces, suitable for both beginners and advanced users. NordPass is mostly oriented toward beginners and those who wish everything to be automated.
Ease of Use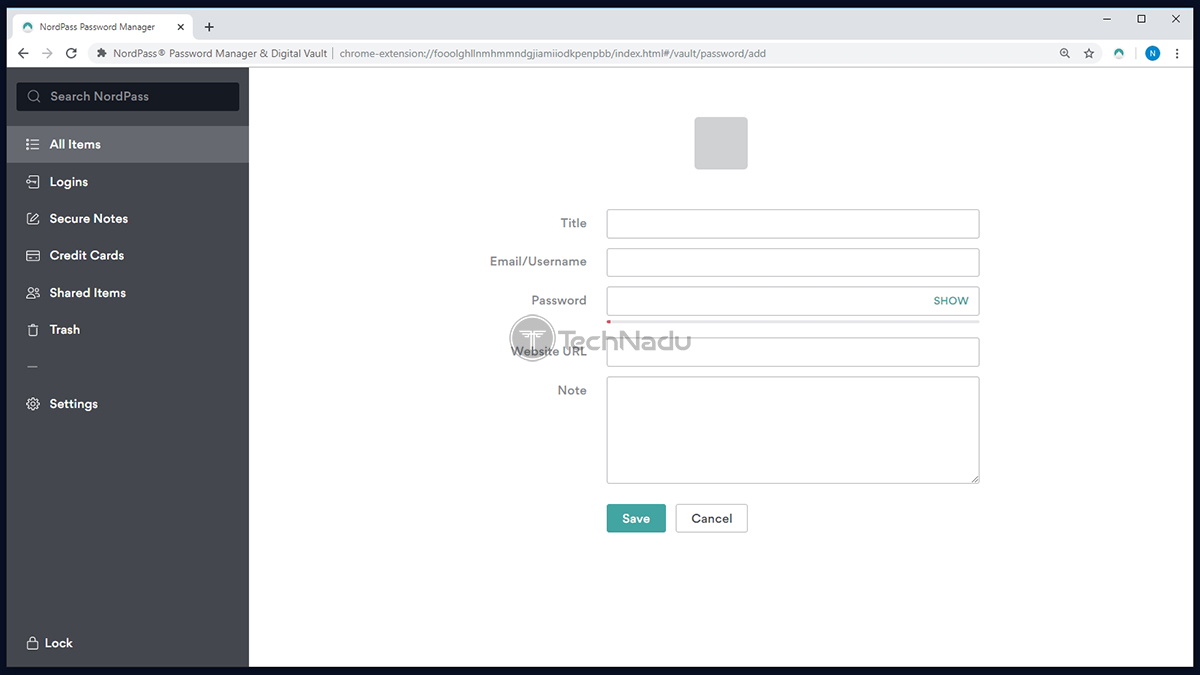 NordVPN is really easy to use – maybe even too easy. There are different ways to supply your information and then use it when filling out different Web forms. Our Score: 7.5/10.
Once you install NordPass, it's designed to run in the background. To populate it with your data, you can choose one of three possible ways. The first one is to import your information from another password manager or Web browser. This means that NordPass can import data from Chrome, Opera, Firefox, LastPass, 1Password, Dashlane, KeePass, Remembear, Keeper, and more.
In case you don't have anything to import, you can start from scratch by adding your credentials. Alternatively, you can just browse the Web normally, and NordPass will ask to save your usernames and passwords each time you try to log-in somewhere. If you decide to add credentials manually, you can click on 'Add Login' if you'd like to add your username and password. Then, input the required information and that's about it. The next time you try to log-in to the service you saved to NordPass, this process should be automated by the application.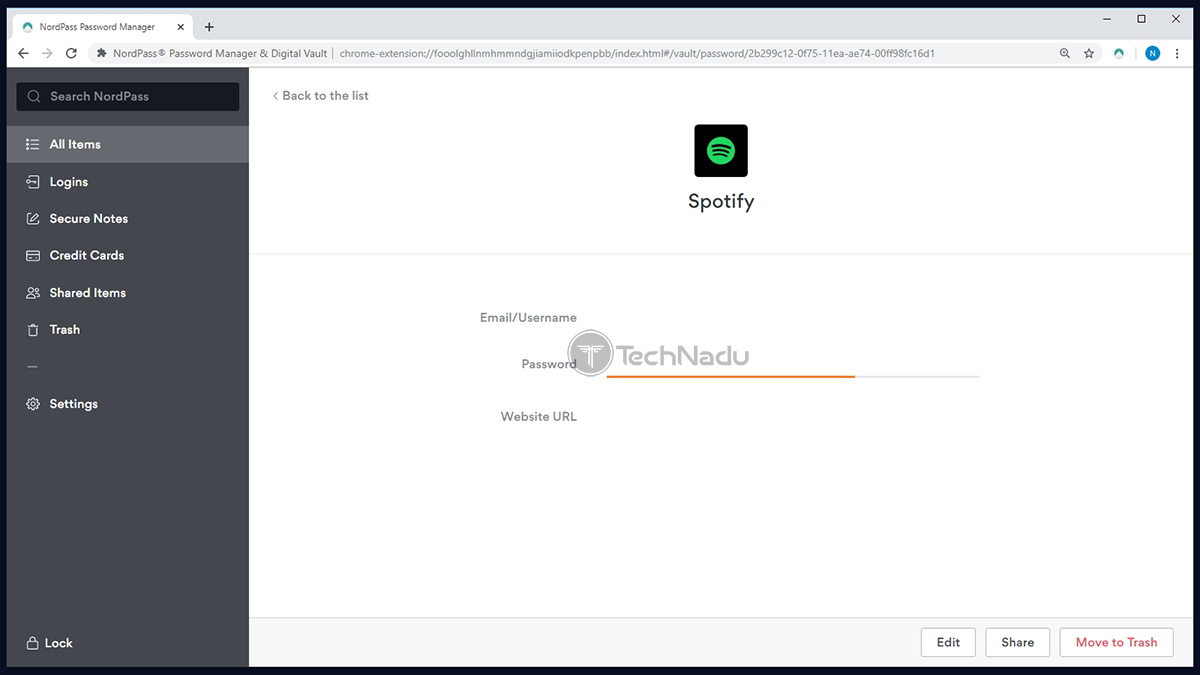 NordPass can also show you if you have a weak or strong password. In addition, it also helps you generate strong passwords. You can access this tool by clicking on the extension's icon. Once you create a strong password, you'll need to manually copy it and update your credentials. It would have been nice to see this process fully automated.
And finally, let's not forget that you can share your credentials, payment information, or private notes. Sharing is done via email but the recipient will need a NordPass account to open and access the shared information. That's because this data is encrypted in the background, so the end-user needs an account to be able to decrypt and read those files. And also, sharing items can be only done if you have a premium plan. However, anyone can receive shared items (you can use a free NordPass account for this purpose).
Security & Privacy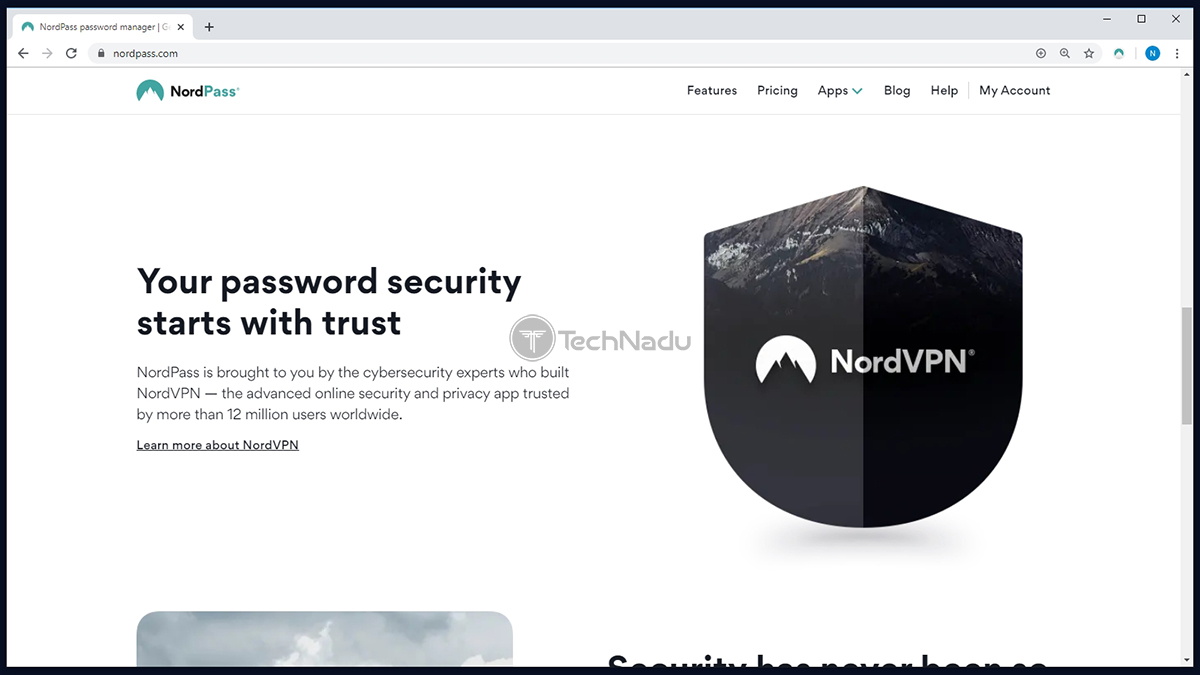 NordPass comes with a comprehensive set of measures to protect your private data. All your passwords, payment information, and private notes never leave your device unencrypted or visible to anyone else. Our Score: 10/10.
When using any password manager, you'll want to know how your private data is handled. In other words, you'll want to know if anything is collected and what kind of encryption is present. So, here's everything to know about NordPass in terms of security and privacy.
Privacy Policy
Before you sign-up for NordPass, you will see that its zero-knowledge architecture is highlighted among its features. This means that NordPass promises not to collect any of your personal data, which is crucial when using password managers.
After taking a deep look at this application's privacy policy, we think that NordPass stays true to its claims. However, you also need to know that some data is collected while using this digital service. We're talking about application diagnostics, usage statistics, device information, and device identifiers. All of this is anonymized data and it's used to improve the application's performance and resolve technical issues. Your usernames, password, or payment information is never collected.
Encryption & Technical Security
NordPass and NordLocker are based on the same set of technologies. Your data is secured via XChaCha20, which is technically superior to AES-256 (which is used by VPN applications mostly). Also, you should know that your data is encrypted locally. To sync between different devices, NordPass uses encrypted data – and it doesn't have the means to decrypt it. This is why NordPass is saying that they have a zero-knowledge architecture.
You should also know that NordPass doesn't have your master password (which is why it's crucial to store this password somewhere safe). This means that NordPass can never see your information. Instead, this online service sees a hashed result of your password – which is where the Argon2 algorithm comes into play. On top of all of this, you can use a wide variety of apps to set-up two-factor authentication.
The bottom line is that NordPass seems to be highly secure. There's no reason not to trust this password manager, and it looks that the company behind NordPass has put a lot of effort into creating a safe environment for your private data.
Customer Support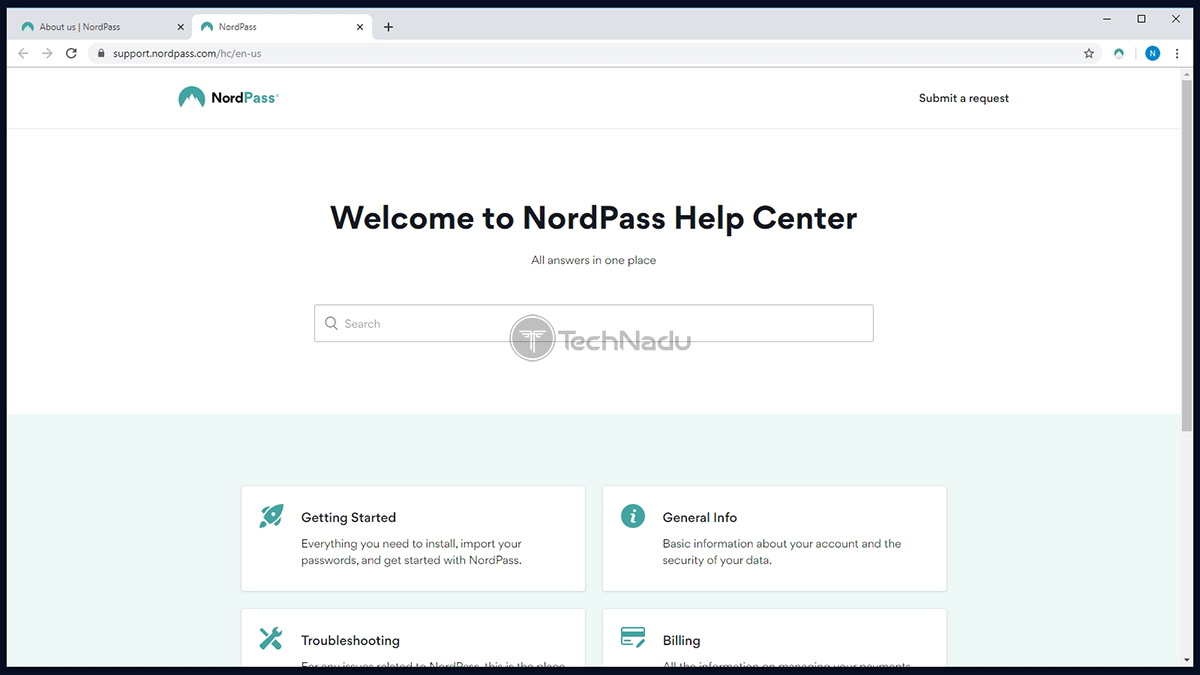 Sadly, there's no live chat here. However, you can count on 24/7 email support and there are resources available to learn more about using the application. Our Score: 9/10.
Unlike NordVPN, NordPass doesn't come with extensive customer support. Sadly, what's missing here is a live chat option, which means that you'll need to rely on email support. However, the good news is that NordPass' team seems to be highly responsive, and you should receive a response in a timely manner.
Then, there's also a nice set of articles and guides explaining different aspects of NordPass. We're not talking about dozens of articles – we're talking about a small group of articles instead. However, these really explain everything in detail. And considering that almost everything about NordPass is automated, there's little that can go wrong here. Based on our experience with NordVPN and NordLocker, we expect that the number of these articles will grow. There's also a chance that we'll see live chat being available in the near future.
Pricing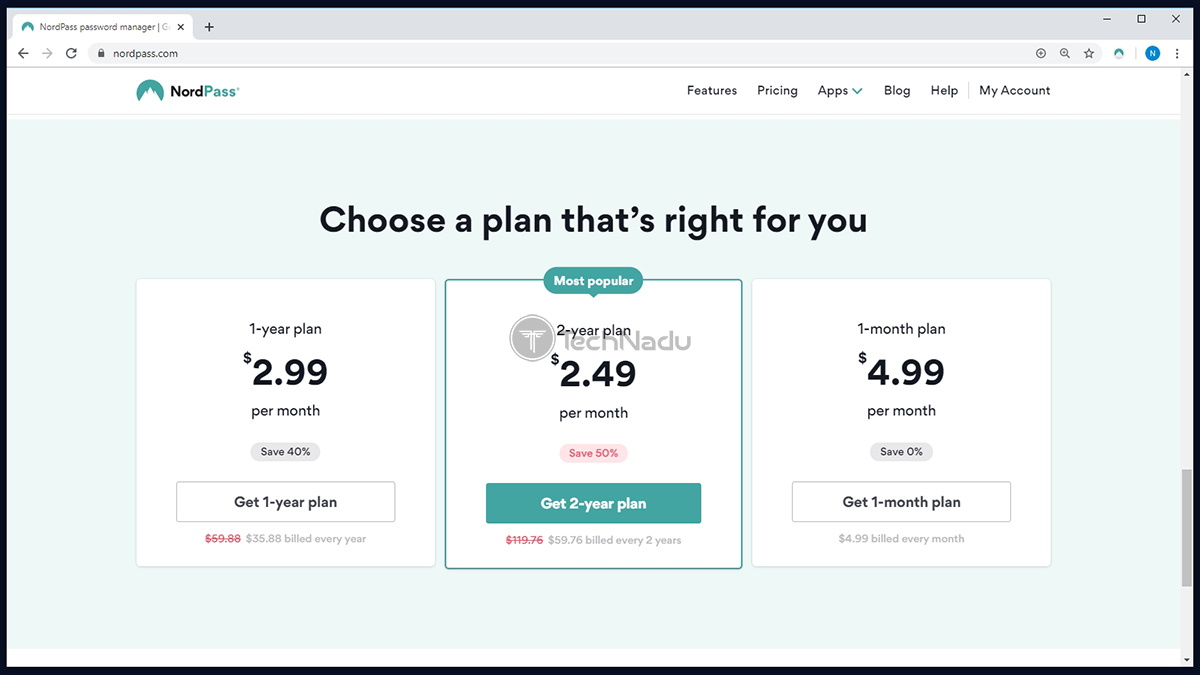 NordPass comes with a very enticing free plan. However, to fully unlock this password manager, you'll need to get a premium subscription – which can be very affordable, especially in the long-run. Our Score: 9/10.
As said earlier, you can use NordPass for free in a limited form. To unlock all of the options of this application, you'll need to get a paid subscription. There are three options right now, so check out the following table.
| | | | |
| --- | --- | --- | --- |
| | Total Price | Per Month | Savings |
| 1 Month | $4.99 | $4.99 | 0% |
| 1 Year | $35.88 | $2.99 | 40% |
| 2 Years | $59.76 | $2.49 | 50% |
We are happy to see that NordPass offers a way to save in the long run. This is done by choosing one of its long-term plans when subscribing to NordPass. If you decide to get its 2-year subscription, the price comes down from $4.99 to $2.49 per month – which means that you can save up to 50%.
Among other important information, please note that you'll get a 30-day money-back guarantee. In addition, you can pay by using a credit card, Amazon Pay, and crypto-currencies. Unfortunately, PayPal isn't on offer here.
Differentiating Free vs Paid
Next, let's take a look at what you'll get with NordPass' free plan. The following table will show you what kinds of features are available in free and premium plans.
| | | |
| --- | --- | --- |
| | Free Plan | Premium Plan |
| Number of Devices | 1 | 6 |
| Data Synchronization | NO | YES |
| Autofill | YES | YES |
| Autosave | YES | YES |
| Password Strength Checker | YES | YES |
| Password Generator | YES | YES |
| Data Sharing | NO | YES |
We can see that the free version of NordPass is quite generous. The main limitation here is that you can use it on a single device – which means that you can't sync your data between devices. In addition, you can't share your data by using a free account, even though you can receive data that someone else has shared with you. However, you'll get to save your passwords, notes, and payment information, as well as use helpful features like autofill, autosave, and more.
Do We Recommend NordPass?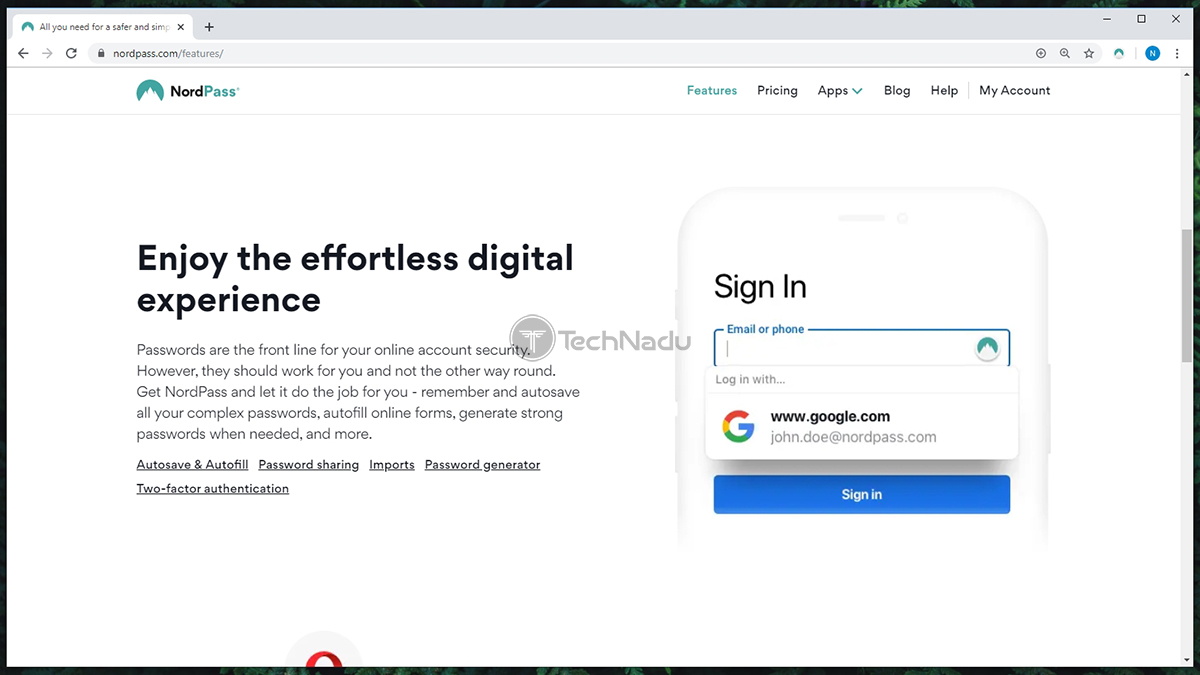 NordPass might not be the most powerful password manager out there. However, it comes with an affordable price paired with a compelling set of features. With this said, we believe that many of you will enjoy using NordPass and find it to be quite useful. Therefore, we strongly recommend at least trying its free version to get a taste of how this password manager works.
PROS: Simplistic in nature; Compelling set of features; High-end encryption; Zero-knowledge architecture; Stores password, payment information, and notes.
CONS: Not the most powerful option out there; Might not be the best option for advanced users.
OUR SCORE: 8.6 out of 10!
Interested in getting a NordPass subscription or learning more about this password manager? The link provided in this paragraph will take you to this application's website, where you can check out its features and get your subscription.
So, in case you've made it this far, why not share this article online? And also, you can follow TechNadu via our Facebook and Twitter pages. Thank you!