Today's comparison is all about two highly reputable VPN titans that have been on the market for a while now. As you can imagine, we're talking about Private Internet Access and TorGuard. Even though they managed to get similar scores in our reviews, they are two very distinctive VPNs, created for two different types of users. With this said, we'll help you discover which of these VPNs is aligned with your needs. So, welcome to our Private Internet Access vs TorGuard comparison.
Private Internet Access is a VPN service based in the USA, which is usually not a great way to start a conversation about a VPN. In this case, however, the clever folks at PIA have set up their technology in such a way that even the snoopy US government couldn't get logs out of them if they wanted to. TorGuard is a VPN with a great reputation among the geek elite. Also based in the USA, TorGuard started its life as an anonymous P2P VPN, but now it's a full-service VPN.
We evaluate VPNs along with a set of criteria, which we've listed in the following table. Here you can see how PIA and TorGuard each stack up in comparison to each other.
| | | |
| --- | --- | --- |
| | Private Internet Access | TorGuard |
| Jurisdiction | The USA. | The USA. |
| Logs | No data logging. | No data logging. |
| Number of Servers | 3,300+ servers in 30+ countries. | 3,000+ servers in 55+ countries. |
| Parallel Connections | 10 | 8 |
| Encryption Standards | AES-256; OpenVPN, PPTP, L2TP/IPsec. | AES-256; OpenVPN, PPTP, SSTP, L2TP, IKEv2. |
| Speed Reduction | 8%, on average. | 22%, on average. |
| P2P Support | YES | YES |
| Supported Platforms | Windows, macOS, Linux, Android, iOS, and more. | Windows, macOS, Linux, Android, iOS. |
| Visit | Private Internet Access | TorGuard |
Both of these VPNs have their own unique strengths and weaknesses. This is why we'll show scores for various aspects of these two VPN services, based on our reviews.
| | | |
| --- | --- | --- |
| | PIA | TorGuard |
| Jurisdiction, Reputation | 8.5/10 | 8/10 |
| Supported Platforms | 10/10 | 10/10 |
| Installation Process | 10/10 | 10/10 |
| Prominent Features | 8/10 | 9/10 |
| Server Count | 9/10 | 8.5/10 |
| Ease of Use | 9/10 | 7/10 |
| Media Streaming | 4/10 | 10/10 |
| Security & Privacy | 8/10 | 10/10 |
| Speed & Performance | 10/10 | 8/10 |
| Customer Support | 3/10 | 10/10 |
| Pricing | 8/10 | 8/10 |
| Overall Score | 8.0/10 | 9.0/10 |
Have you decided already? Well, either way, let's get down and dirty with the detailed comparison.
Private Internet Access vs TorGuard - The Ultimate Comparison!
Just like in their individual VPN reviews, we will be taking a close look at Private Internet Access and TorGuard. So, let's compare these two VPNs and see which one's better.
Background, Jurisdiction & Reputation
We'll start with the basics, by checking and comparing the background information we found on these two VPNs. So, let's see where they come from, as well as what that means for its users.
Private Internet Access: If you visit this VPN's website, you won't find aggressive marketing messages promoting its country of origin. That's because it comes from the USA, which isn't an ideal location for VPN-related businesses. This country is a core member of the 5-Eyes Alliance, after all. However, don't let this stop you from picking this VPN, as it has proven that it collects no logs.
TorGuard: Everything we said about PIA also stands for TorGuard. This is yet another US-based VPN service, which might be seen as an obstacle for privacy-conscious users. However, you should know that TorGuard has been on the market for a long time now - and there are no reports of this VPN collecting private data of its users and/or sharing it with third-parties.
Winner: Both of these are US-based VPNs, which isn't ideal. However, we're sure that you can trust both of these as they've proven their commitment to their users.
Supported Platforms & Devices
Next, let's take a look at platforms supported by these two VPNs. You should care about this since having a native application usually translates to easier installation and a more streamlined experience.
Private Internet Access: This VPN provider has done a great job of covering all currently popular platforms. This includes Windows, macOS, iOS, Android, and even Linux systems and some routers. In other words, almost every device that can run a VPN is found on this list. On top of that, one subscription covers 10 simultaneous connections, which is a really nice addition.
TorGuard: Speaking of native apps, TorGuard covers Windows, macOS, Linux, iOS, and Android. Since it's based on OpenVPN, you can also install it on a compatible router. If you find this process to be overly complicated, you can even buy a router already equipped with this VPN. And finally, you should know that TorGuard supports up to 8 simultaneous connections.
Winner: As you can see, it's very hard to find a clear winner here. Both of these VPNs are present on a whole range of devices. However, PIA supports up to 10 devices - giving it a competitive edge over TorGuard.
Installation & Initial Configuration
With so many native apps offered by both of these VPNs, you can expect a smooth installation, right? Well, that's usually the case - so continue to learn more about the installation process of these two VPNs.
Private Internet Access: Up until recently, PIA used to come with a somewhat complicated installation method that used Windows' Command Prompt. However, it now comes with an incredibly polished installation guide that's a joy to use. Even complete beginners won't have any problems - and everything comes already set-up as soon as you install the application.
TorGuard: Installing TorGuard on Windows couldn't be simpler. Once you have an active subscription, simply download the latest version of the software. Then, it's all smooth sailing from there. You'll get to use a familiar Installation Wizard that will extract and install the needed files. No bloatware or unexpected surprises. The same applies to other desktop and mobile platforms.
Winner: Once again, it's hard to decide which of these is a better option. What's important to say is that both PIA and TorGuard come with simple installation methods, suitable for beginners. Therefore, we'll call it a draw!
Prominent Features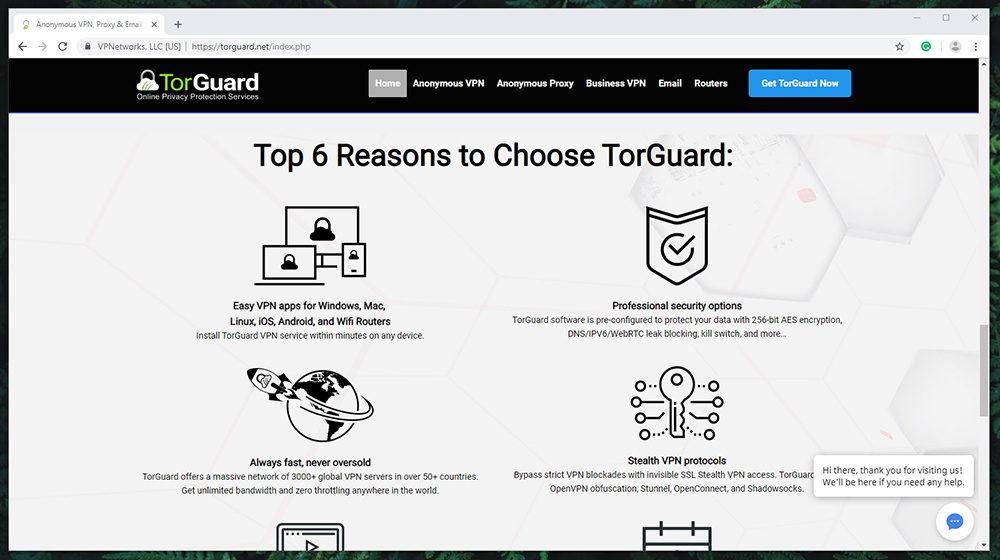 So, what kinds of features to expect from a reputable VPN? First of all, you can expect a tough VPN encryption, a selection of VPN protocols as well as other means of keeping you anonymous online. So, let's take a look at how PIA and TorGuard meet these requirements.
Private Internet Access: Aside from offering tough and highly secure encryption, PIA has several tricks up its sleeve. First of all, there's protection against advertisements, trackers, and malware. Next, this VPN provider offers multiple VPN gateways, which is great for accessing geo-restricted content. Also, this is a VPN service that fully supports P2P traffic. And finally, PIA now supports split-tunneling via desktop application, which is a welcome new feature.
TorGuard: As you can imagine, TorGuard comes with a standard set of features like tough encryption and similar. However, advanced features are where this VPN truly excels. First of all, it comes with stealth VPN technology that is built upon advanced firewalls. Then, you can take advantage of an optional dedicated IP. This is how you can access geo-restricted websites without a single problem. And finally, there's smart protection against malicious ads, kill-switch, and anti-malware as well.
Winner: The winner is clear in this round. Due to plenty of highly advanced and technical features, we think you're going to love what TorGuard has to offer.
Server Count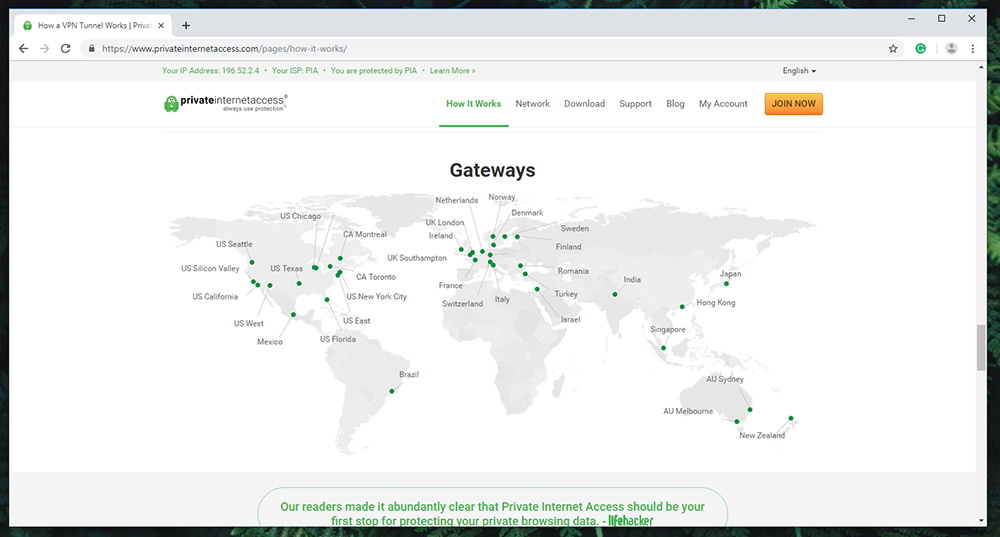 Next, let's check out the number of servers that PIA and TorGuard offer. For more information on this topic, check out our list of VPNs with the highest server count.
Private Internet Access: PIA comes with a huge server network of over 3,300+ servers spread across the globe. However, the main problem is that these servers are found in around 30 countries. This should be more than enough for average users who want to browse the Web securely. In case you need something more specific, like video streaming, you're out of luck (keep on reading to learn more about this).
TorGuard: TorGuard is one of the oldest VPNs on the market. This means that this company has had enough time to build a wide network. With over 3,000 servers found in more than 55 countries, you can be sure that you'll find the right solution every single time. On top of that, TorGuard lets you access streaming services, which is a huge benefit here.
Winner: Even though both of these have a similar number of servers, TorGuard offers more locations. Therefore, the winner of this category is clear.
Ease of Use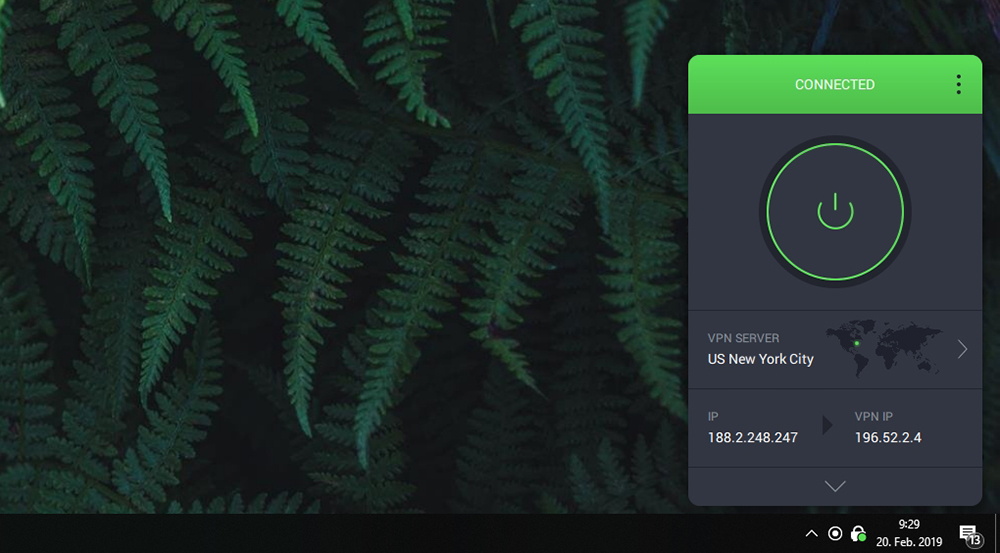 Next, let's see how easy to use are these two VPNs. Ideally, you want a simple interface without a lot of technical terms. Keep on reading our Private Internet Access vs TorGuard comparison.
Private Internet Access: This VPN provider has decided to adopt an interface that is smartphone-friendly. This means having access to a bunch of toggles. Before you connect to a remote server, you can fine-tune your connection. This means enabling or disabling different kinds of tools like data leak protection, kill switch, debugging, and more. Then, you pretty much rely on a drop-down menu found in your system tray. This isn't ideal but should be easy enough for newbies.
TorGuard: TorGuard has a more traditional client interface, but it does look like it belongs on Windows 98. The main problem is that TorGuard is absolutely filled with settings and jargon. You really need to be clued-up with the VPN-speak to get any mileage. So, in this case, it's a reluctant nod to PIA for being the lesser of two evils.
Winner: PIA is not perfect and it's only moderately easy to use, but compared to the complexity of TorGuard, it's heaven. 
Media Streaming & Torrenting Support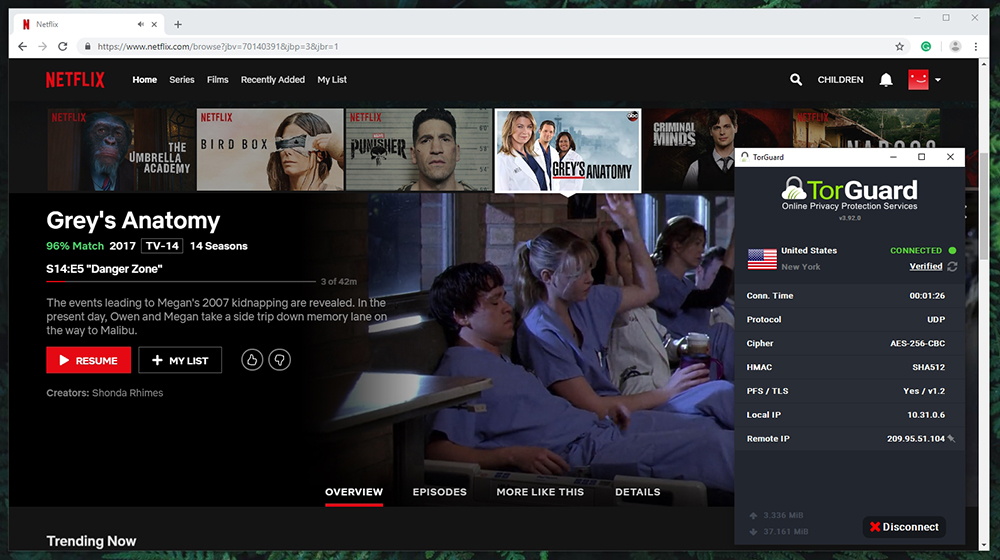 Now, let's see how well these two VPNs work with media streaming services. We've tested them thoroughly, so here's what you need to know.
Private Internet Access: As per our tests, this VPN can help you unblock the US version of Netflix - and that's about it. We've tried to unblock a number of other streaming platforms, but with no luck. And also, PIA supports P2P traffic - but make sure to stick to legal torrents only (after all, it comes from the USA).
TorGuard: What's important to be mentioned here is that TorGuard doesn't support streaming platforms on its own. For this purpose, you need to get a dedicated IP address (sold as an add-on). Thanks to these IPs, you'll get to unblock pretty any imagine streaming platform out there.
Winner: This category shows the biggest difference between Private Internet Access and TorGuard. There's only one solution for media streaming here, and that would be TorGuard.
Security & Privacy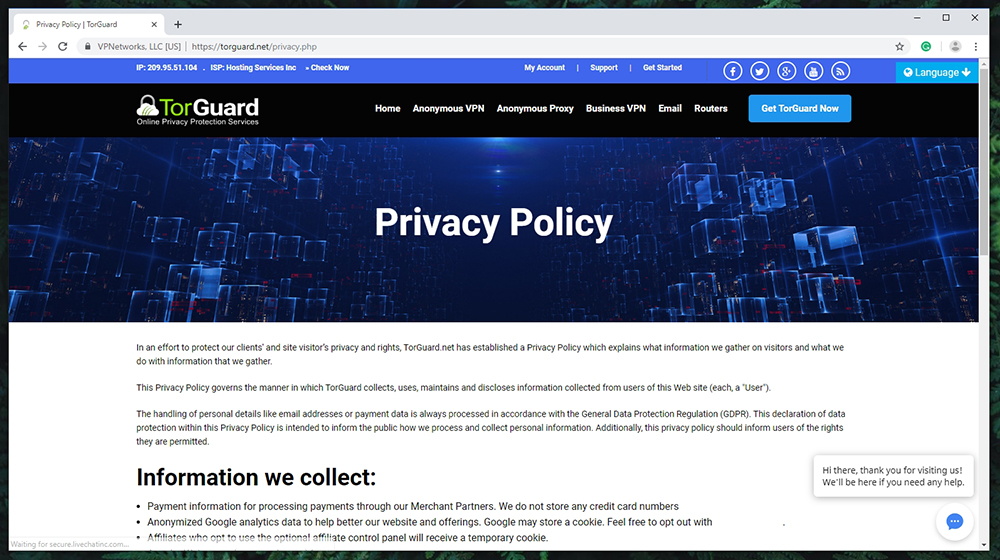 In case your primary reason for using a VPN is to keep your data safe, you must stick to VPNs with no-logs policies. So, here's what you need to know about Private Internet Access and TorGuard.
Private Internet Access: It's a little worrying whenever someone says that their VPN is actually based in the USA. While it isn't the worst thing, the Land of the Free has become a little heavy on the surveillance front. Oddly enough, after reading through PIA's policies and testimonials, we're not too worried about this. PIA actually explains how their technology is set up to make giving up user info impossible even if they wanted to. Which they don't. They also offer nice privacy and security features such as ad-blocking and will take anonymous payments in Bitcoin.
TorGuard: TorGuard is another beast entirely. This VPN is a power user's dream with a long list of protocols and ciphers to choose from. The best feature by far is their 'stealth' VPN server technology. If you use one of these servers, you'll get through both governmental and corporate intranet VPN blocking. This means TorGuard makes sure you have privacy even when the big boys actively don't want you to.
Winner: Both PIA and TorGuard offer excellent security and privacy, but in the end, it's TorGuard that takes it with just a little more flexibility and choice.
Speed & Performance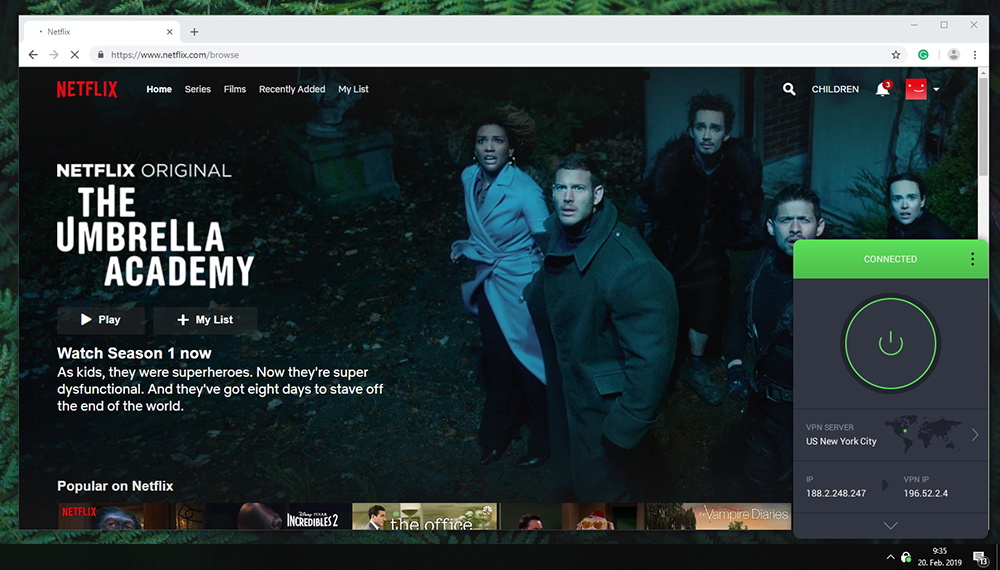 Even though it's nice to have all kinds of bells and whistles, they don't mean much unless a VPN performs admirably. So, let's take a look at what kind of throttling (if any) you can expect if you decide to go with PIA or TorGuard.
Private Internet Access: Our tests have shown that you can expect some throttling with PIA. However, this is in line with the best VPNs out there. In case you go with the nearest server, throttling will be minimal. Remote servers usually produce less than ideal results, even though this isn't a strict rule. If you need some concrete numbers, know that PIA throttled us by around 8%, on average.
TorGuard: We've done a round of speed tests when testing this VPN as well. It showed that it slowed us down by 22% on average. Even though this isn't a bad result, it's clear that PIA comes with better performance.
Winner: Private Internet Access is one of the VPNs with the fastest performance out there - and it clearly takes the win in this category.
Customer Service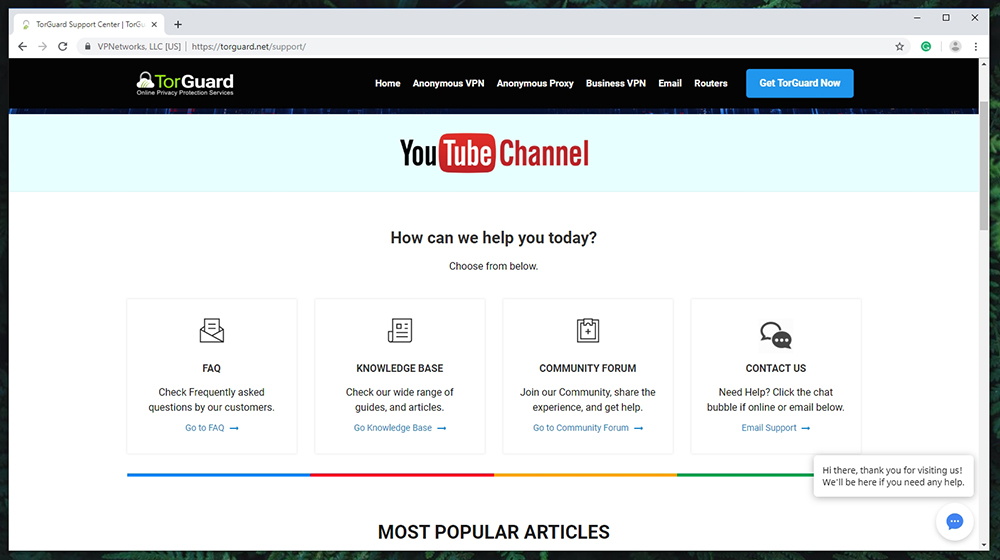 Even the most stable of applications face technical problems sometimes. This is when you'll be happy to have a support team watching your back. This is why our Private Internet Access vs TorGuard comparison comes with this category as well.
Private Internet Access: When a product comes in at a bargain price, you have to manage your expectations. While you can run a VPN that only does support via email-ticketing with just a few people, live help requires many warm bodies who want salaries for their troubles. PIA is really cheap, so the best you can hope for is a prompt response via email or finding the right information in the knowledge base.
TorGuard: TorGuard charges the average price that premium VPNs generally do. So, it would be surprising if they didn't offer live chat. That being said, we were forced to use live support because TorGuard itself is a pain to use unless you're a VPN pro. Nonetheless, TorGuard has better support and you get what you pay for in this case.
Winner: No live-chat and ho-hum self-help lets PIA down here and so, TorGuard takes the customer service crown.
Pricing
Last but not least, let's take a look at pricing plans these two VPNs offer. This is also going to be the final category of our PIA vs TorGuard comparison.
Private Internet Access: It could be said that PIA is a budget option. The truth is that PIA's competitiveness comes from its pricing plans. For only $6.95 per month, you can keep your Web connection safe and sound. Of course, the price goes down for larger upfront payments - bringing the price down to $3.49 per month for this VPN's two-year plan.
TorGuard: The regular monthly price for TorGuard is $9.99 per month which is the most expensive plan found here. If you decide to go for a yearly subscription, you'll need to pay only $59.99. Finally, there are numerous extra features that you can add, depending on your needs. These include personal IPs, 10Gbit premium network and more.
Winner: TorGuard might be a bit more expensive than PIA, but its impressive flexibility and customization wins the day.
Private Internet Access vs TorGuard - Which One Should You Pick?
Jeepers, that was one of the hairiest VPN matchups we've ever experienced. There's a good reason each of these VPNs scored high in their individual reviews. Taken on their own, there's very little to complain about. It's not so much that one is outright better than the other, but that they're for different types of people.
However, we feel like simply saying it's a draw is a big old cop-out, since head-to-head Private Internet Access does come off as the right product for average computer users. In case you're looking for a simple VPN that keeps your safe 100% of the time you're online, PIA should be your choice. In case you want something more technically challenging, make sure to take a better look at TorGuard.
Dear TechNadu readers and fans, this is where we end our Private Internet Access vs TorGuard comparison. Finally, why not share this article online if you found it to be helpful? And also, make sure to follow us on Facebook and Twitter. Thanks!