VPN services are a dime a dozen these days, but there are a select few that we personally trust — one of those being ProtonVPN. In this article, we will walk you through the process of creating a free account and accessing the ProtonVPN Free Trial.
When it comes to online privacy and security, much is said, but little is delivered. It is widely known that most VPNs and other security tools on the market are unreliable, failing to protect your data from prying eyes. ProtonVPN is developed by leading experts in the field of internet security – the team at ProtonMail - and provides exceptional services at no cost.
Features of ProtonVPN Free Account
The free plan of ProtonVPN comes loaded with a lot of features which are discussed below:
24 servers in 3 countries: ProtonVPN offers free servers in the United States, the Netherlands, and Japan. These are limited-functionality servers. However, users can connect up to three concurrent devices to the free servers. ProtonVPN's free service is actually an unlimited VPN with a cap on bandwidth. The free servers are ideal for users who don't need advanced features offered by ProtonVPN Plus servers, but still want to take advantage of the VPN's protection against cybercriminals and government surveillance.
1 VPN connection: ProtonVPN's free VPN tier allows the simultaneous use of one device, meaning you can connect only one device (e.g., your computer) at a time, and all other devices that you want to connect will have to disconnect from the VPN first. This is a major restriction, as the average person has a device for each activity — smartphone, tablet, desktop, laptop, and so on.
Medium speed: Free VPN servers can become congested and, therefore, slow. ProtonVPN's free service had an average of 2.3% higher latency than with no VPN connection. The service also had a lower upload rate with a VPN than without one. With ProtonVPN Free, we measured an average download speed of 47.4 Mbps and upload speed of 22.0 Mbps. That's 73 percent slower download speeds, and 37 percent slower upload speeds, than without the VPN.
Strict no-logs policy: Under Swiss law, ProtonVPN is not obligated to save any user connection logs, nor can they be forced to perform targeted logging on specific users. This allows them to ensure that your private browsing history does, in fact, stay private and cannot be disclosed to a third-party under any circumstances. Their policy applies to all our users irrespective of the subscription plan they choose.
Access blocked content: ProtonVPN protects your privacy with military grade encryption and allows you to bypass government censorship, protect yourself from hackers, and access blocked content & apps. 
You can read our ProtonVPN Review to learn more about these.
How to Create a Free ProtonVPN Account?
If you wish to create a ProtonVPN Account and enjoy the benefits of the ProtonVPN free trial, follow the steps given below: 
1. Go to the ProtonVPN official website. Once you land on the website, locate the "SIGNUP" button on the top right and click it.
2. You will be redirected to a new page with several pricing plans. Choose the free plan by clicking on the "GET FREE" button.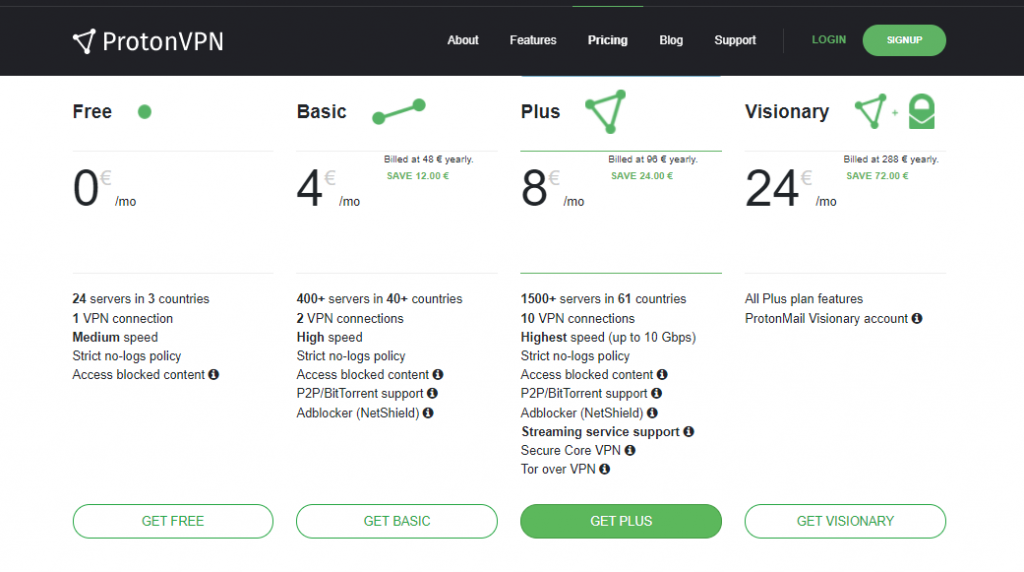 3. Once you do that, you will be redirected to a new page. Set up an account by creating a username and password. Also, enter your email address and then click on the "Create account" button.
4. You will then have to verify your account by entering a One-Time Password (OTP) sent to you via the email address or SMS. If you do not receive the code, check your spam folder or wait a few minutes before clicking the "Did not receive the code?" button to request another one.
5. Once you enter the six-digit code, you will be redirected to the downloads page, where you can select the client for your preferred platform (Android, iOS, Windows, macOS, GNU/Linux, Chromebook, or Android TV) and start using the ProtonVPN free tier.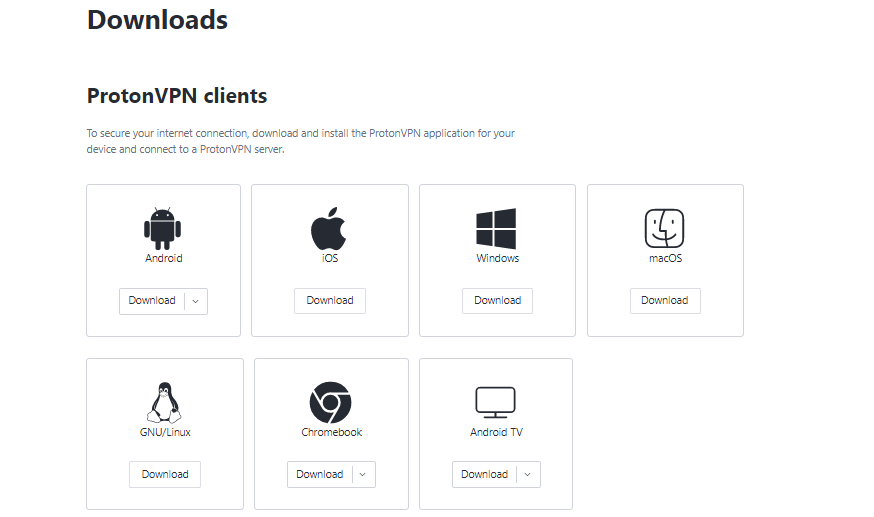 ProtonVPN is an impressive free VPN service. It has a solid range of features, including Secure Core servers for extra security, and no logs policy. 
If you want to get a feel for a VPN before you commit to it, ProtonVPN's free plan is ideal. Even if you're not planning on using ProtonVPN indefinitely, the free service makes a great trial or even a backup option. Once you get a hang of it, you can move on to the paid options, which too, are a total value for money.