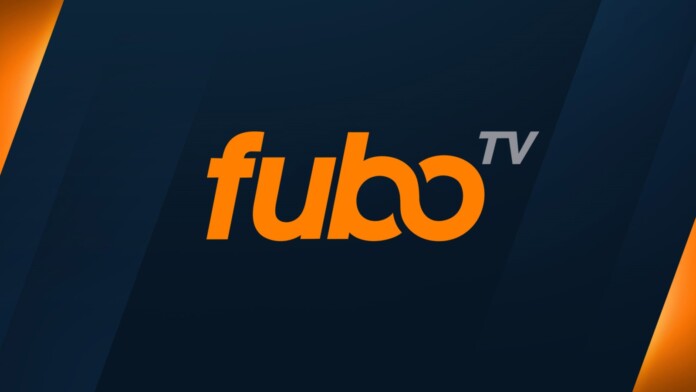 Having to be home to watch your favorite shows seems so counterintuitive in the days of mobile devices, in the days ruled by the Internet, and fuboTV agrees.
As cord cutting becomes more and more common nowadays, competition grows among OTT services, and fuboTV has managed to create a niche of its own by focusing on live sports.
fuboTV has launched three years ago and has managed to attract a fan base. Even though the main attraction of this platform is the hefty sports channel collection it offers, there are plenty of other channels there too.
Criteria
Details
Bundles
Four bundles – fubo, fubo Extra, fubo Latino, fubo Portuguese
Extra channels

fubo Cycling – 6 channels – $11.99/mo
International Sports Plus – 5 channels – $5.99/mo
Sports Plus – 20 channels – $8.99/mo
Adventure Plus – 6 channels – $4.99/mo
NBA League Pass – 30 channels – $28.99/mo
AMC Premiere – one channel – $4.99/mo
FX Plus – one channel – $5.99/mo
RAI Italia – one channel – $7.99/mo
Showtime – 9 channels – $10.99/mo
Portuguese Plus – 3 channels – $14.99/mo
Latino Plus – 10 channels – $7.99/mo

Some of the channels repeat themselves in these packages.

Customization

You can add premium channels
Cloud DVR Plus – Expands from 30 to 500 hours of recording space – $9.99/mo
Family Share – Expands from 2 to 3 simultaneous streams

Streaming Quality

20 Mbps required for best video quality

Devices

Chromecast, Roku, Apple TV, Android TV, Amazon Fire TV, iOS, Android, Chrome browser
No PlayStation or Xbox

Price

$34.99 for first month, $44.99/mo after that for fubo
$39.99 for first month, $49.99/mo after that for fubo Extra
$24.99/mo for fubo Latino
$19.99/mo for fubo Portugues

DVR
Yes, 30 hours included, expandable to 500 hours via extra feature; saved indefinitely or until deleted
Simultaneous screens
You can stream content on two screens simultaneously, expandable to three via extra feature
Rating
8/10
Visit
fuboTV
Availability

Much like most other OTT platforms out there, fuboTV only works in the United States. This means that you can travel anywhere across the United States and US territories and still get access to fuboTV. If you have a good VPN, like ExpressVPN, you can spoof your US IP and view the content you pay for even when you've flown across the Ocean, traveling the world.
Canadians are also lucky because there's a special package with a few channels they can subscribe to.
Channel Bundles
fuboTV offers a few bundles to pick from, but not too many so to drive you crazy trying to pick one. Our score: 9/10
So, fuboTV offers users a few options to pick from, each with a different price tag. Depending on what channels you want to watch and how much you're willing to spend each month, you can build up a pretty impressive package.
fubo – For $34.99 per month for the first month and $44.99 per month after that you can get access to over 91 channels – TNT, TBS, TruTV, TCM, Cartoon Network, CNN, CBS 2, Fox, NBC, Yes Network, SNY, MSG, MSG+, MSG2, MSG+2, FS1, NBC SN, NFL Network, NBA TV, BeIN Sports, PAC12 Networks, Univision TDN, A&E, AMC, BBC America, Bravo, E!, Food Network, Fox News, FX, HGTV, History, MSNBC, National Geographic, USA, BeIN Sports, CBS Sports Network, Big Ten Network, Golf Channel, Fox Deportes, FS2, Olympic Channel, Eleven Sports, FXM, FXX, Hallmark Channel, Hallmark Movies & Mysteries, IFC, Lifetime, Lifetime Movies, Nat Geo Wild, Oxygen, Sundance TV, SyFy, Univision, Telemundo, WLNY TV 10/55, Travel Channel, CBSN, CNBC, CNBC World, Cheddar, Fox Business, The Weather Channel, Local Now, Galavision, Universo, UniMas, TeleXitos, El Rey Network, Cozi TV, Fuse, Fusion, Fyi, Pop, Smithsonian Channel, Universal Kids, Viceland, WE tv, XITE, BeIN Sports 2-10, and fubo TV Network.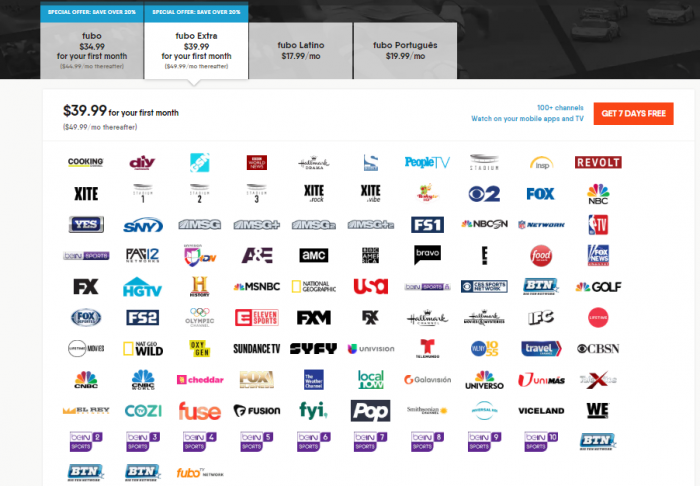 fubo Extra – For $39.99 for the first month and $49.99 per month after that, you can get access to over 100 channels – Cooking Channel, Diy Network, GSN, BBC World News, Hallmark Drama, Sony TV, People TV, Stadium, INSP, Revolt, XITE, Stadium 1 – 3, XITE Rock, XITE Vibe, and BabyTV HD, plus everything that's included in the fubu package.

fubo Latino – Another alternative is paying $24.99 per month for another series of channels, including in Spanish. The package contains beIN Sports, beIN Sports en Español, Univision TDN, Fox Deportes, Univision, Galavision, UniMas, GolTV Spanish, TyC Sports, BabyTV HD, Cine Sony, El Gourmet, Mas Chic, CNn en Espanol, Fox Life and Nat Geo Mundo.

fubo Portuguese – This package has only five channels, but it costs $19.99 per month – beIN Sports, beIN sports en Espanol, GolTV Spanish, RTP Internacional, and Benfica TV.
Customization Options
fuboTV comes with some options to customize your experience. Our score: 10/10
The whole point of cutting the cord and going for one of these platforms is the possibility to customize your package so that you watch only the things you really want to without paying for channels you're not interested in.
fubo Cycling – $11.99 per month will get you access to 6 more channels – fubo Cycling, Fox Soccer Plus, GolTV English, GolTV Spanish, TyC Sports, and Motorsport.tv.
International Sports Plus – $5.99 per month extra will get you another 5 channels – Fox Soccer Plus, GolTV English, GolTV Spanish, TyC Sports, and Motorsport.tv.
Sports Plus – For $8.99 per month, you can get 20 extra channels – RedZone NFL Network, Stadium, Sports Illustrated, GolTV English, GolTV Spanish, PAC 12 – Arizona, Bay Area, Los Angeles, Mountain, Oregon, Washington -, Fox College Sports – Atlantic, Central, Pacific -, FNTSY Sports Network, Fight Network, TyC Sports, Stadium 1 – 3.
Adventure Plus – Another 6 channels will cost you $4.99 per month – Outdoor Channel, Sportsman Channel, World Fishing Network, Outside.tv, MavTV, Motorsport.tv.
Showtime – For $10.99 per month you can get 9 channels in the Showtime collection – Showtime, Showtime – West, 2, Showcase, Extreme, Beyond, Next, Women, Family.
AMC Premiere – For $4.99 per month you'll get to watch your favorite AMC shows earliers than everyone else.
FX Plus – Another $5.99 per month will also get you access to FX+ without ads, so you'll get to enjoy a more relaxed experience.
Portuguese Plus – $14.99 per month will get you 3 new channels – GolTV Spanish, Benfica TV, and RTP Internacional.
RAI Italia – $7.99 per month will get you access to this important Italian channel that features a lot of important competitions.
Latino Plus – For $7.99 per month you can get ten extra channels – GolTV Spanish, TyC Sports, CNN en Espanol, BabyTV HD, Cine Sony, Fox Life, El Gourmet, Mas Chic, Nat Geo Mundo, and Nuetra Tele.
Cloud DVR Plus – $9.99 per month will expand the Cloud DVR space to 500 hours so you can record and save everything you want to watch later.
Family Share – $5.99 per month will allow you to stream on three different devices at the same time so that your whole family can watch whatever it is they like.
NBA League Pass – $28.99 per month gets you access to 30 channels belonging to each team in the league.
Supported Features

fuboTV comes packed with a few features that we're sure you'll enjoy. Our score: 8/10
fuboTV allows users to record any of their favorite shows straight into the cloud. The Cloud DVR feature that's included in every basic package allows users to record up to 30 hours and they can save those recordings indefinitely, or until deleted. This can be extended to up to 500 hours with the Cloud DVR Plus feature we mentioned above.
Also included in all packages is the ability to stream on two devices at the same time. This too can be expanded with another device by buying an extra feature called Family Share.
Another cool thing you can do if you have a fubo TV account is access the TV Everywhere apps for various websites and networks with the help of your credentials as long as the channel is included in your active subscription. You can, therefore, check out A&E Network, beIN Sports Connect, BTN2Go, Bravo Now, CBS, CBSN, CNBC, E!, Esquire TV Now, Fox Now, Fox Sports Go, FXNOW, FYI, Galavision, NBC Sports, Hallmark Channel Everywhere, History, Lifetime, MSG Go, MSNBC, Nat Geo TV, NBC, NBC Sports, Oxygen Now, Pac 12, Sprout Now, Syfy Now, Telemundo Deportes, UDN, UniMas, Univision, USA Now, Viceland, and Universo Now.
Streaming Quality
If you're going to watch TV on your computer, you'll need a great connection. Our score: 7/10
fubo TV, like any other OTT service, can only give you the streaming quality that the channel itself provides, which is usually 720p HD. But, if you're actually going to enjoy this video quality, you're also going to need to have a good Internet connection.
More specifically, fuboTV recommends users have at least 20 Mbps download speeds for a clear and consistent stream.
Supported Devices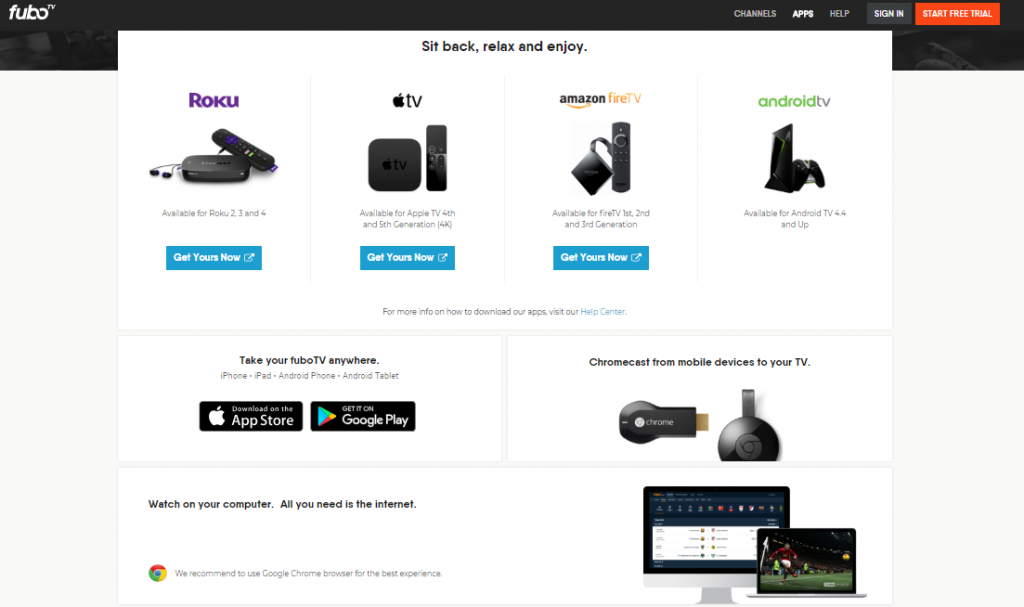 fuboTV allows users to watch content on loads of devices and we're sure yours is on the list. Our score: 5/10
Switching over to OTT platforms means you should be able to watch TV on any device you want. And that's pretty much the case with fuboTV, although there are some missing platforms too.
So, you can get fuboTV on Roku, Apple TV, Amazon Fire TV, or Android TV. You can also download apps for iPhone, iPad, Android tablets and smartphones. You can also enjoy the content on your non-smart TV if you have a Chromecast device.
Your computer is also on the list, as long as you use a browser, with fuboTV recommending Google Chrome for the best experience. fuboTV misses support for Xbox of PlayStation.
Usability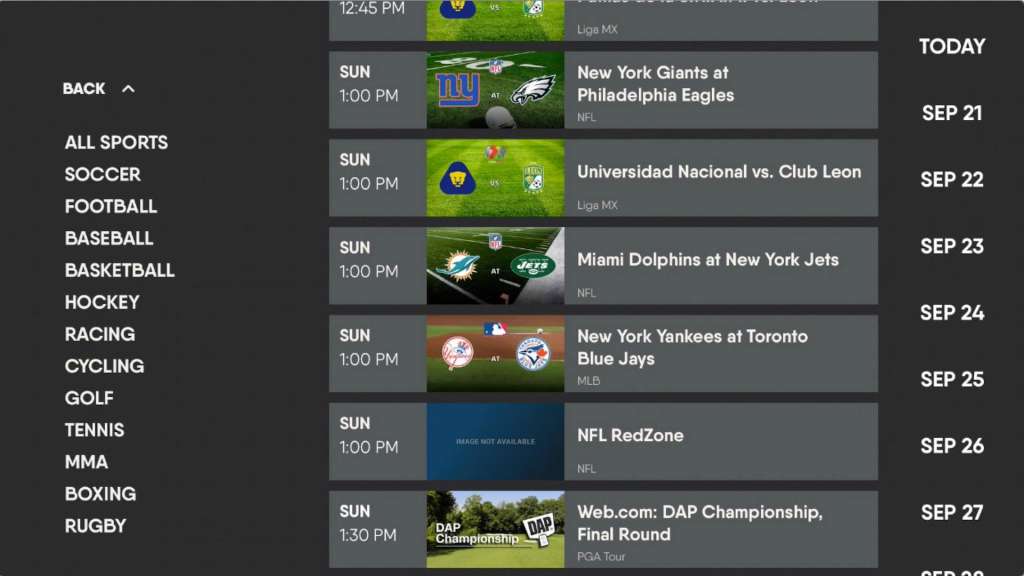 Figuring out how to use fuboTV only takes a few seconds. Our score: 9/10
From the fuboTV main screen, you can check out what's happening live on the channels included in your package, or check out the schedules for any them.
You can also check out channels by theme, view the most popular content, or enjoy featured videos. Since fuboTV allows users to record even content that had just aired, you would do good to also check the "recently aired" area.
The good and the bad
The world is painted in shades of gray as everything has both good and bad sides, and fuboTV is no different. So here's what we think are its strong and weak points.
The good
You can cancel anytime – Unlike cable, you won't have to talk in circles with some representative who's trying to convince you to stay.
Specific packages – fuboTV's extra packages are quite well built and contain specific channels dedicated to a certain theme.
The bad
No HBO, Cinemax, or Discovery – Some fan-favorite channels are missing both from the main packages and the extras list.
Low DVR – Sure, you can buy an extra feature to expand the DVR space, but the included space is of only 30 hours.
No gaming consoles – fuboTV doesn't work with any gaming consoles so you won't be able to use them.
Last words
We hope we've managed to help you get a clearer picture about fuboTV and make a decision about whether or not this is the right platform for you.
Please let us know what you think in the comments section below. Sharing the article on Facebook and Twitter would also be great, so others can find it too.