You gain several awesome perks by learning how to use a VPN to change your location on your iPhone. These include bypassing Internet censorship in countries like China, accessing exclusive content from abroad, as well as services from back home when you're traveling. Say, your home banking account.
How does it work? In short, your iPhone VPN masks your real IP address and assigns a new one based on the VPN server you select. Live in Europe but want to watch American Netflix on your iPhone? You'll need a US-based IP address to trick their servers into believing you're in the "correct" region.
That's what we'll be covering today, so scroll on for the details.
Fortunately, it doesn't take a tech wiz to start using a VPN on your iPhone. Many providers have user-friendly iOS VPN apps that will change your location in just a few taps.
1. Sign Up to an iPhone VPN Provider
Naturally, your first step is to actually subscribe to a quality iOS VPN provider. Don't know where to find a reliable one? One that will reliably unblock most streaming content out there and help you avoid Internet censorship? Look no further than our list of the best VPNs for iPhone. Seven different providers, full reviews (with speed tests!) included.
Thinking about getting a free iPhone VPN instead? Don't. Researchers have discovered that even among the top free VPNs for iPhone, 80% of them do not comply with Apple's data collection guidelines. What does that mean? Well, they basically collect your private information to sell on to shady third parties. After all, they need to fund their business somehow. "Free" isn't always as free as it seems.
If you want a quick recommendation of a VPN provider to try out, ExpressVPN is a top-tier choice that covers all the bases. Beginner-friendly interface, over 3,000 lightning-fast servers in 94 countries, and yes – it unblocks most services out there with ease. You can even try out ExpressVPN for 30 days risk-free by clicking the link.
We'll be using their app for the guide below, but the process is pretty much similar, no matter which VPN you go with in the end.
2. Download the VPN from the App Store
There are two ways you can go about this. The first one is to just download the VPN client from the App Store like you'd do with any other iOS app.
The second, safer way is to get the App Store link through the VPN provider's website instead. Why? Well, much like the Google Play Store, the App Store is brimming with fake apps. As such, it can't hurt to take precautions.
3. Open the VPN App and Log In
Once the app finishes downloading, tap Open on its App Store page (or open the app from your home screen).
Next, tap Sign In and input your VPN account details.
4. Dealing With App Permissions
You'll be asked if you want to save your password to the iCloud keychain. For security purposes, we don't recommend you do this – but it's entirely up to you. Tap Agree and Continue after you've made your choice.
Tap Continue on the "Set Up Your VPN" screen. You'll be prompted to allow ExpressVPN to add VPN configurations to your device.
Remember that ExpressVPN doesn't keep any logs of your activity, so the warning that your network activity is "monitored" is mostly there for Apple Guidelines purposes than anything else. You've already seen the prompt about what data they collect at the previous step.
Read more: Here's What VPN Services Won't Tell You About Their Connection & Usage Logs
In any case, tap OK or No Thanks when asked if you want to receive notifications from your VPN. Then proceed to the final step, where we actually get to see how to use VPN to change your location on your iPhone.
5. Choose a Server and Tap to Connect
By default, ExpressVPN (and other VPN apps) will include a "smart" location you can connect to. This location is optimized to certain criteria and may not always be the best choice.
To change your VPN location on your iPhone, tap on the Smart location button. You will see a list of other recommended locations, which usually includes the most common countries people use for streaming content online (such as the United States and the United Kingdom). That, and a local server for the best browsing speeds.
Tap on All to get a list of all the provider's locations, grouped by continent.
Tap on the region you wish to connect to, and the app will automatically establish the connection.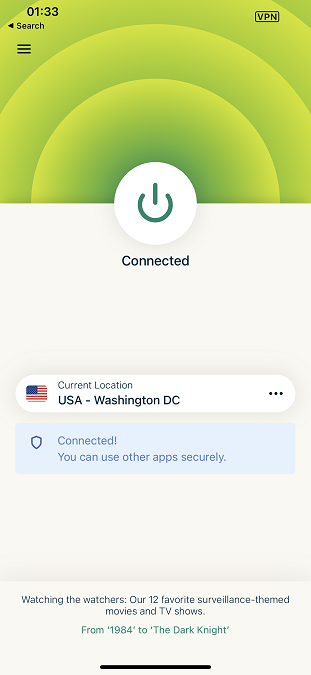 And there we go, that's how to use VPN to change location on iPhone. If you want to disconnect from the app, simply tap on the huge Power button (or "Disconnect" in other apps). This will revert your online location to your real-life one.
Any problems with the VPN setup or need other general info? Comment down below and we'll respond as soon as possible.