Throughout 2023, Surfshark has been busy adding tons of features to its offer, which now also gives you a private search engine, malware protection, anti-tracking systems, and new ways to scramble your personal data. That said, Surfshark remains one of the best VPNs, especially right now, as the Surfshark Black Friday deal cuts its price to an all-time low.
For a limited time, you can get started for only $1.99 per month if you need basic VPN protection. And if you need extra features (many of which are unique to Surfshark), you'll get to pay only $3.99 per month, save 80%, and receive 5 extra months on top. Sounds like a great Black Friday deal, doesn't it?
In this guide, we'll dive deep into the Surfshark Black Friday & Cyber Monday 2023 deal by explaining how much each of its subscription plans costs. We'll also explain what you'll get, how to save the most, and how to pick the plan with the biggest savings.
Surfshark Black Friday & Cyber Monday Deals 2023
You'll find Surfshark VPN's Black Friday deal across all its subscription plans. The lowest you can pay for a 1-year subscription plan is $3.99 per month. Going for a 2-year subscription will cost you only $1.99 per month. On top of that, Surfshark's 2-year plans come with 3 to 5 extra months added to your first billing period.
Let's go over the Surfshark Black Friday and Cyber Monday 2023 deals:
How to Get Surfshark's Black Friday Deal
To get Surfshark's Black Friday deal, you need to sign up using its website. Once you subscribe, you can access your dashboard and then download the VPN app. Use these steps:
1. Visit Surfshark's website using any Web browser on your PC, phone, or tablet.
2. Click on any of the 'Get Surfshark' buttons on the VPN's landing page.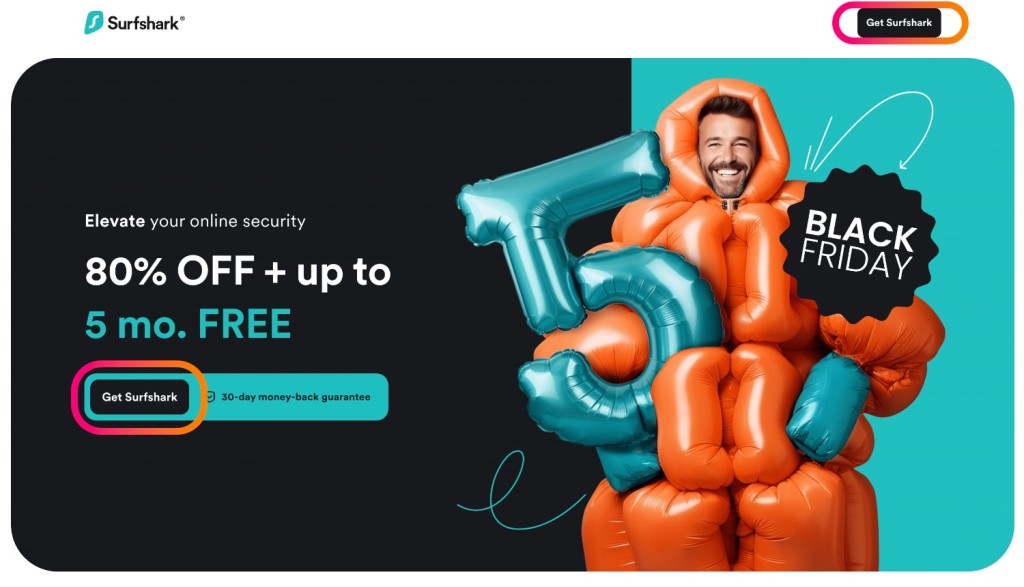 3. You'll now see the available Surfshark Black Friday VPN sales. Choose between the 12-month and 24-month plans, and then use the button below your chosen plan's name.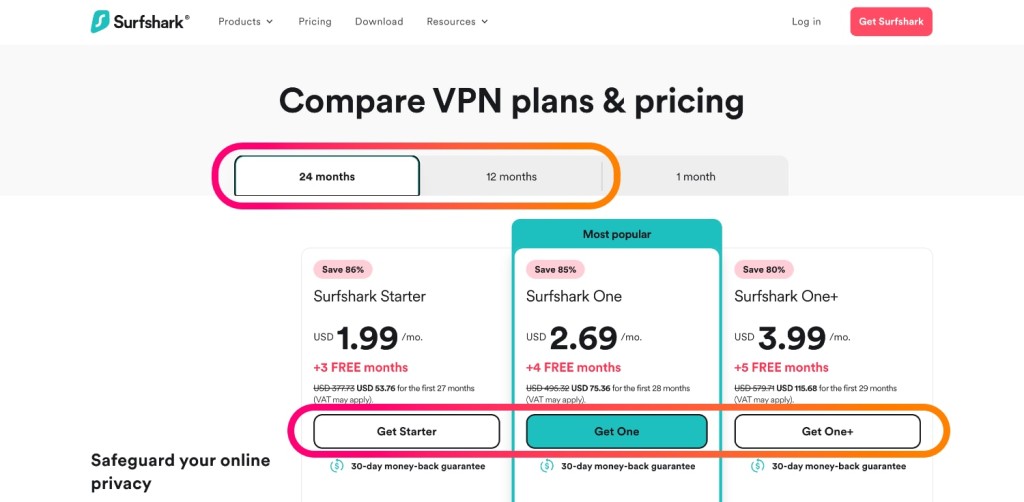 4. Provide your email address or use your Google/Apple account to sign up.

5. Choose a payment method (credit/debit card, PayPal, Google Pay, Amazon Pay, or crypto), provide the required information, and pay for the VPN.
6. Return to Surfshark's home page and click the 'Log In' button.

7. Provide your email address and password to access your Surfshark dashboard.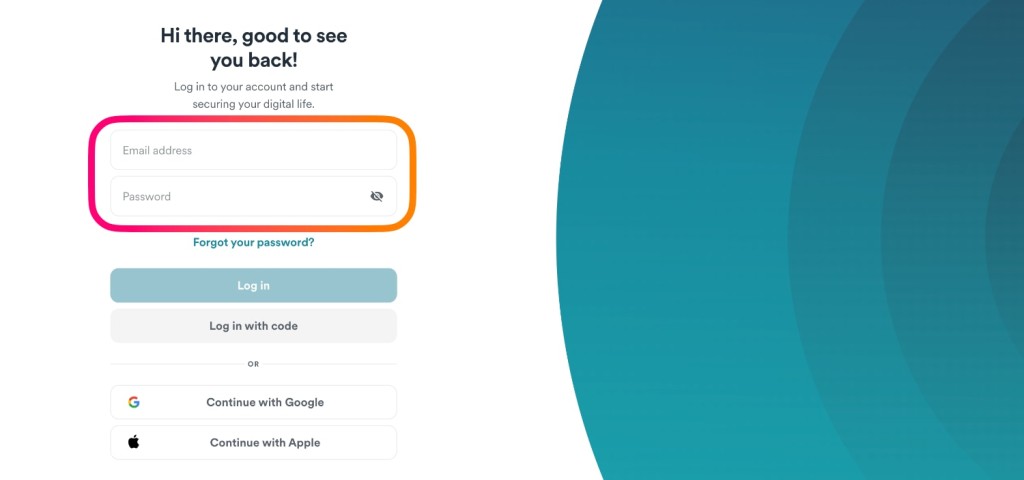 8. Go to Home > Apps & Extensions to download the Surfshark app for your device. Then, install the software like you would install any other application.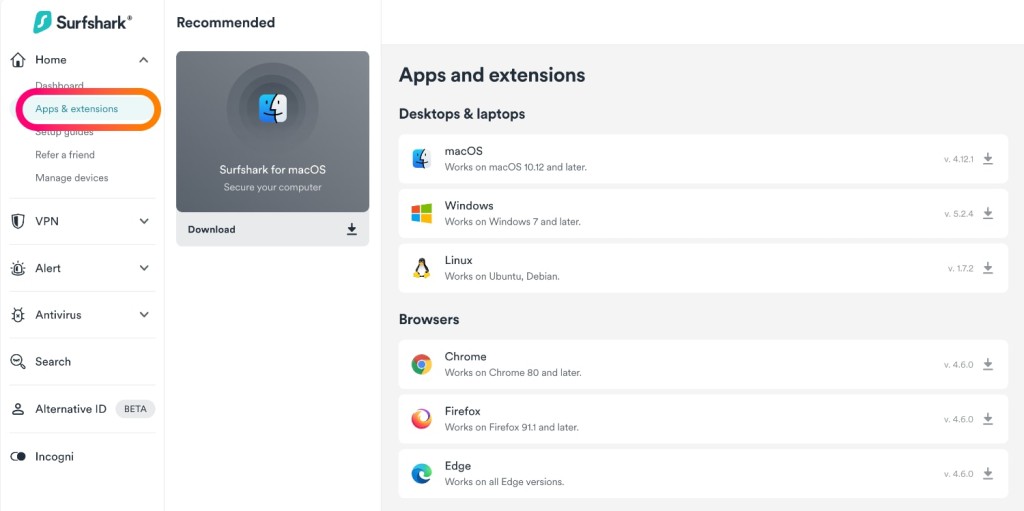 9. Launch Surfshark, and you'll once again asked for your credentials. Click 'Log In' or use your Apple/Google account based on what you initially used to sign up.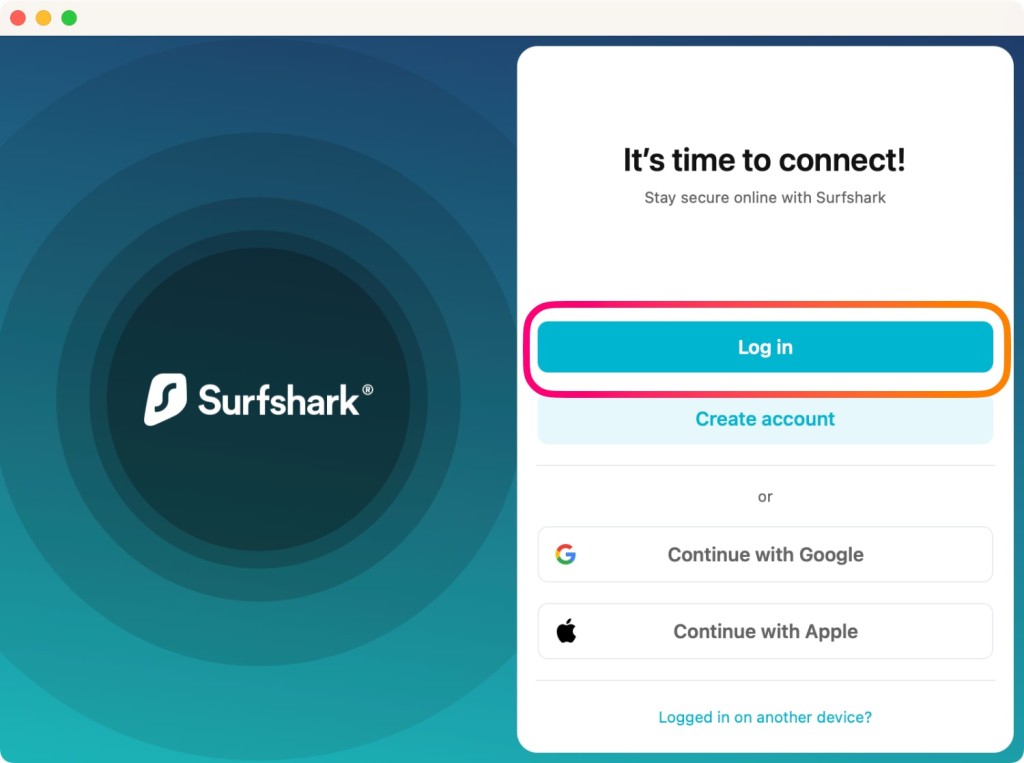 10. You are now free to pick any VPN server location, connect to it, and encrypt your data.
What's Included in Surfshark Subscription?
A subscription to Surfshark gives you access to an army of servers in 100 countries, high-end ways to protect your privacy, keep malware away, and more. Here's everything you can expect:
3,200+ Servers in 100 Countries: Surfshark features a sizable server network that lets you connect to 100 countries, helping you unblock the websites available in those regions. Also, having access to nearby servers, which is the case here, means you'll encounter ultra-fast speeds and minimal throttling.
Time-Proven VPN Protocols: This VPN is powered by OpenVPN and WireGuard, both of which have the power to make your online data disappear. OpenVPN is great for privacy, while WireGuard is an excellent choice for speed. There's also IKEv2, which is a fast and secure option for those using mobile devices.
Reliable Data Encryption: No matter which protocol you pick, Surfshark will pair it with high-end encryption. For example, OpenVPN is paired with AES-256 (stronger than AES-128), while WireGuard is paired with ChaCha20. Those encryption ciphers have the power to create ultra-strong data tunnels, which are impossible to intercept.
Unlimited Devices: Unlike most VPN providers, Surfshark doesn't impose any limitations on the number of simultaneous connections you can use. That means you can install this VPN on your computer, phone, tablet, streaming device, or router and then connect to different VPN servers from each device - without any fuss.
Strict No-Logs Policy: Surfshark has numerous independent audits under its belt, proving that its entire infrastructure is set up so that no data logging is involved. No matter what you do on the Web, you can be sure that not even Surfshark will know of your activities.
Camouflage Mode: Using this mode, you can instruct Surfshark to use obfuscation, which means it'll use smaller data packets. If you're in a country with heavy Internet censorship, you can use this mode to bypass even the toughest obstacles.
CleanWeb Feature: Surfshark's CleanWeb allows you to eliminate ads as you browse the Web. However, this feature also blocks pop-ups, alerts you of data breaches, and makes sure you stay away from malicious websites.
Surfshark Antivirus: Available through more comprehensive plans, Surfshark's antivirus is a dedicated malware-fighting tool for Windows, macOS, and Android. It's a lightweight antivirus app that works in the background at all times.
Surfshark Search: Available through Surfshark's One plans, this is a privacy-friendly tool that allows you to search the Web. Unlike Google, this search engine brings ad-free search results, there's no data tracking, and you can also get country-specific results.
Surfshark Alert: Surfshark's One plans also come with 'Alert,' which is a detection tool that warns you of data breaches related to your personal information. That way, you can act on time if your email address, credit card, or personal ID leaks on the Web.
Alternative ID: This add-on allows you to create alternative IDs, which means you'll avoid giving out your actual personal information to websites. As a result, you'll prevent your info from being collected and minimize the possibility of getting spam emails.
Which Surfshark Plan Offers the Black Friday Deal?
All 1-year and 2-year Surfshark plans are part of its Black Friday 2023 deal. The cheapest you can get Surfshark for is $1.99/month (2-year Starter Plan). However, Surfshark's 'One' plans come with extra features you might find useful. Here's more info.
If you plan on using just the VPN features, go for the 2-year Starter plan (86% OFF). If you want protection against malware and data breaches, pick the 2-year One plan (85% OFF). And if you want everything that Surfshark offers, pick the 2-year One+ plan (80% OFF).
Surfshark Cyber Monday Deal
The Surfshark Cyber Monday deal is a continuation of its Black Friday offer, which means you'll get to save up to 86% on its 2-year plans. That means you'll have a few extra days after this year's Black Friday to grab one of Surfshark's affordable subscription plans.
The lowest you can pay is $1.99 per month for the 2-year Surfshark Starter plan ($53.76 in total), which comes with 3 extra months added on top. That plan gives you access to Surfshark's VPN, ad-blocker, and cookie pop-up blocker.
The most affordable comprehensive plan is the 2-year Surfshark One+ plan, priced at $3.99 per month ($115.68 in total). It even gives you 5 months for free, added to your first billing period. You get a whole suite of features in this case, including tools to remove your data from websites.
Why Should I Buy Surfshark on Black Friday?
You should take advantage of Surfshark's Black Friday deal because you'll save tons of money while ensuring your privacy is well-protected on the Web. Here's a brief overview of what makes the Surfshark Black Friday deal so enticing:
Save a Lot of Money on Surfshark: This VPN's monthly prices can be quite steep, but you don't have to worry about that during the Black Friday season. For a limited time, you'll save 80% and more, which means you'll save hundreds of dollars in the long run.
Protect Your Privacy on the Internet: Let's not forget that Surfshark is here to encrypt your data and ensure no one sees what you do online. That means not even your Internet provider will know what you download or which websites you visit.
Take Control of Your Digital Personal Information: Surfshark can also alert you of data breaches that contain your credentials. If you change your password on time, you'll prevent hackers from reaching your account and stealing your sensitive information.
Save Money When Shopping Online: Since Surfshark has servers in 100 countries, you can quite easily reach markets with lower prices. That means your favorite online stores will show you lower prices, so you can save when shopping online.
Secure Your Digital Payments: It's true that online marketplaces typically employ secure channels to process your payments. However, it's never a good idea to trust any third party to take care of your data. You can do it yourself with the help of Surfshark.
Ensure Trackers & Malware Are Kept at Bay: Surfshark is an excellent tool to eliminate annoying ads when browsing the Web. On top of that, it will prevent trackers from working, and it can also scan for malware.
Final Thoughts
The Surfshark Black Friday 2023 deal brings a really compelling offer. If you act on time, you can save up to 86% and pay as little as $1.99 per month. For that price, you'll get Surfshark's 2-year plan with 3 months extra added to your first billing period. More importantly, you'll gain access to one of the top-rated VPNs in today's global market.
Of course, since Black Friday is just around the corner, there are plenty of other interesting VPN sales to check out. So, if you'd like to see more options, make sure to visit our central guide to the best Black Friday and Cyber Monday VPN deals.
That's all when it comes to the Surfshark VPN Black Friday 2023 deal. If you have anything to add, please do so using the comments section below. Thanks for reading!