Pluto TV is a really cool service if you want to watch live TV for free and even stream a bunch of content. Thankfully, if you want to change the channels on Pluto TV, that's an easy thing to do.
The Pluto TV interface is pretty straightforward, as you'll start streaming live TV as soon as you launch the platform. While the playback screen takes over the top area, the bottom area is where you can see the channel categories, the channels, and part of the ongoing schedule.
The categories on the side make it easier to switch between channels, especially if you're looking for networks that fall under the News section, Reality TV, Crime, or Entertainment, to name a few.
Then, you switch between the channels by simply scrolling between them. You'll find networks that you're familiar with from cable, like Smithsonian Channel, History, CBS Sports, Fox Sports, or CBSN. There are also specially-put together channels for Pluto TV, like Nick Pluto, or Nick Jr. Pluto, Narcos, CSI, Pluto TV Sports, and so on.
So, here's what you'll do in order to change channels on Pluto TV:
Launch Pluto TV on your device.
Scroll through the left-side category area and pick one.
Move your mouse a bit to the right and start scrolling through the available channels.
You'll see the channel's guide, so you'll know what's on. Tap on the desired channel and start watching.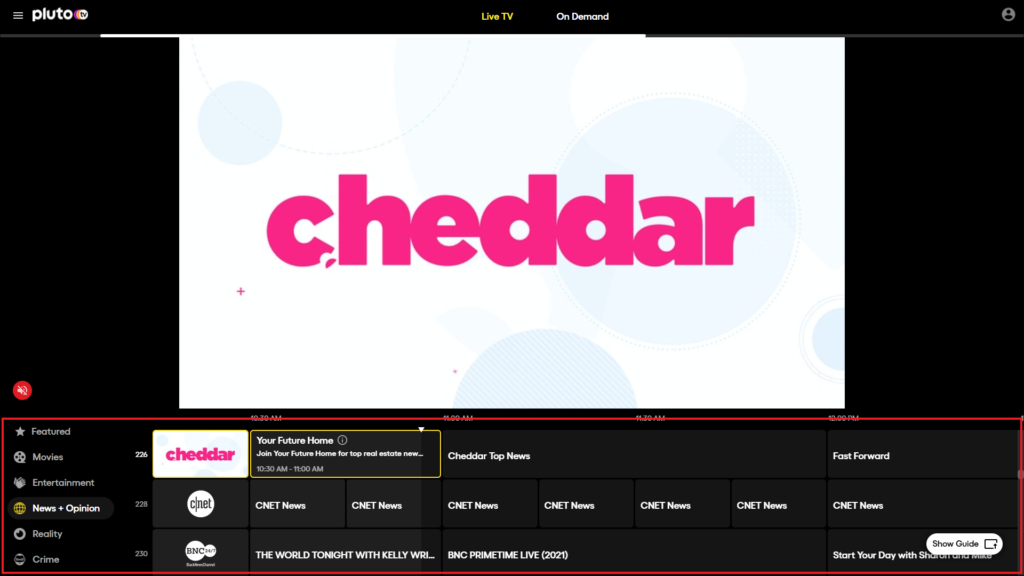 You can turn on captions, adjust how they are displayed, mute/unmute the video, make the whole video full screen, and even share a link to the content over Facebook or Twitter.
There you go. If you want to change the channel on Pluto TV, it's super easy to do.
You can also change channels while on mobile. When you start watching, you simply get to click on any of the channels you scroll through.
Similarly, on devices such as Roku, Apple TV, Smart TVs, or Chromecast, you'll use the remote to navigate the Channel Guide. Tap on the remote to choose your desired channel.