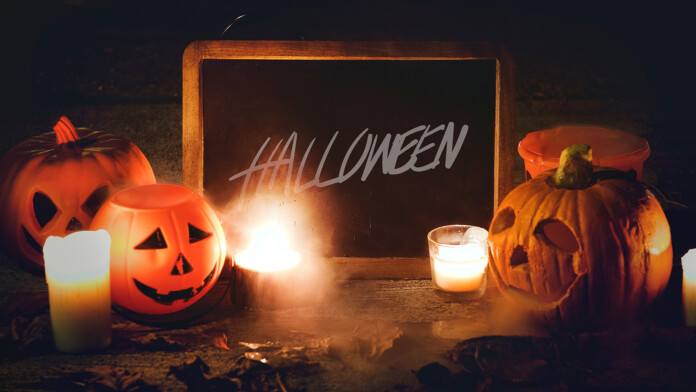 Costume parties aren't the only thing that Halloween is all about. This is also an amazing occasion to grab a great deal. And you can be sure that VPN providers have come up with something special this year. As we're always on the lookout for a good deal, we've compiled a list of the best very Halloween VPN deals for 2018. So, let's take a look.
Top 7 Best Halloween VPN Deals Available Right Now!
You already know that there are hundreds of VPN providers out there, which means that the competition is rough. This is why almost any reputable provider is currently offering an attractive deal, and we've checked dozens of the currently available ones. Here are 7 best Halloween VPN deals that you shouldn't miss.
1. ExpressVPN
It isn't by accident that we've placed ExpressVPN first on this list. This has been our editorial team's VPN of choice for a long time now, and it never managed to disappoint us. Even though this provider isn't one of the most affordable ones – this is the best time to grab its Halloween deal, buy the service at a very low price, and enjoy the numerous benefits it brings.
You can expect more than 2,000 servers and your Web data will be protected by the ExpressVPN's 256-bit encryption. In addition, it brings a whole range of VPN protocols, can unblock just about any website, and it's present on all currently popular platforms. There's really nothing not to like here. If you need more info, read our review of ExpressVPN.
2. NordVPN
In case you need a hugely powerful VPN that's also incredibly easy to use, NordVPN should be your pick. The most prominent feature of this provider is that it offers more than 5,000 servers and pretty much any corner of the world.
As talked about in our article on double VPNs, NordVPN uses two secure servers to manage your data. This means having double protection and double encryption. As a result, your data will truly be invisible to anyone on the Web but you. Despite its complex core, it brings a very simple and highly polished UI and also provides reliable speeds. If you want to dive deeper, here's our review of NordVPN.
3. IPVanish
Proudly recommended by the most respected security-related publications, IPVanish has been one of the most popular VPNs for a while now. Even though it's quite affordable on its own, it currently offers a very enticing Halloween deal that overlaps with its Cybersecurity Month deal.
First and foremost, IPVanish brings incredibly tough encryption that's practically uncrackable. There's a whole range of servers in different parts of the world, and this VPN makes sure you feel no throttling. Also, it can be used to unblock popular media streaming websites and allows torrenting. As you can see, this is a complete package that should meet your every need. To learn other details, check out our review of IPVanish.
4. PureVPN
In case you need a hugely powerful VPN that won't break your budget, you should definitely pay attention to PureVPN. This provider has proven its worth many times already and it's one of the oldest of its kind.
Aside from offering the standard set of features, PureVPN gives you access to 5 connections at the same time. There's also a powerful Kill Switch that prevents any data leaks if a secure connection drops. And there's even split tunneling included if you don't want all your applications to use a VPN connection. Learn more about this provider by reading our PureVPN review.
5. SaferVPN
We end our list of the best Halloween VPN deals with a brilliantly designed solution. SaferVPN is known for its stellar user ratings and highly polished UI.
As noted in our review of SaferVPN, this provider offers a sturdy foundation that should keep you well protected online. It's incredibly simple to use, making it a good choice for beginners. And it also unblocks all popular media streaming websites including Netflix and Hulu.
6. CyberGhost
Being one of the top-rated VPNs, CyberGhost is already used by millions of individuals around the world. It's mostly known for being very user-friendly and it doesn't keep any identifiable information.
Plenty could be said about this service. As noted in our review of CyberGhost, this provider brings an array of specialized servers for streaming, torrenting, gaming, Web browsing, and more. It offers thousands of servers around the world and an easy tool to pick the best one for your needs. CyberGhost is also known for its triple redundancy fiber structure, which makes it one of the most reliable VPNs on the market.
7. Hide Me
The final option on our list of the best Halloween VPN deals is a provider named Hide Me. This is a recognizable name in the world of VPNs, as it managed to receive favorable review scores all over the Web.
Hide Me takes good care of its three primary goals. It brings advanced security thanks to its 256-bit AES encryption. It uses a large number of secure servers to hide your real IP and get you a new virtual IP, which takes care of your privacy. And finally, it's useful for unblocking websites which gives you the complete liberty of Web browsing. If you'd like to know about other benefits, our review of Hide Me is the place to be.
What Else to Know About Halloween VPN Deals?
To make sure you understand all there is to know about VPN applications, we'll answer some commonly asked questions. So, keep on reading.
Why Using VPNs Has Become Imperative?
It would take us plenty of time to list numerous benefits that VPN applications bring. In general, they take care of your online privacy, keep your data encrypted, and they keep your online activity invisible to your ISP. This means that no one will know about what you do online and you'll exercise your right to privacy.
To learn more, we have a helpful guide to VPN applications. You might also want to take a look at how VPNs work.
When Do The Selected Halloween VPN Deals End?
In general, Halloween VPN deals end on October 31, 2018 – at midnight. This gives you plenty of time to read reviews and comparisons, and hopefully make up your mind about which one is the perfect choice for your needs.
Are There Any Black Friday 2018 Deals?
In case you miss your chance to find an amazing deal right now, don't worry. There's already a really nice selection of Black Friday VPN deals. If you visit the link we've provided, you will find 10 amazing deals that will help you save a lot of money, especially if you're interested in using a VPN in the long-term.
Final Thoughts
Dear readers, this is where we conclude our article on the best Halloween VPN deals of 2018. In case you have something to say or add, please use the comments section below. We'll do our best to provide a timely response.
If you made it this far, why not share this article online? And also, make sure to follow us on Facebook and Twitter to stay on top of the latest news. Thanks!