VyprVPN is a VPN service based in Switzerland that has been active since 2009. It's owned by Golden Frog, a company renowned for developing security solutions for individuals and businesses.
Luckily, VyprVPN is not a part of any international surveillance alliances, and it claims that it doesn't keep any user logs. We've also looked into past data leaks, and we didn't find any evidence of issues in that regard. This is all good news for users who are concerned about online privacy and safety.
VyprVPN also provides excellent security features, including a kill switch, DNS leak protection, and its proprietary Chameleon protocol. These features, combined with its network of 700 servers in 70 countries, make it a great option for torrenting, gaming, and streaming.
Before we delve deeper into our VyprVPN review, let's take a look at its key features in the table below:
| | |
| --- | --- |
| Jurisdiction | Switzerland |
| Logs | No logs (independently audited) |
| Servers | 700+ servers in 70 countries |
| Simultaneous Connections | 30 |
| Supported Devices | Windows, macOS, Android, iOS, Android TVs, routers |
| Features | Kill switch, DNS leak protection, 256-bit AES Encryption |
| Protocols | OpenVPN, PPTP, IKEv2, L2TP/IPsec, Chameleon |
| Supports | Streaming, torrenting, and gaming |
| Customer Support | Live chat, email support, knowledgebase, and FAQs |
| Price | From $5/month |
| Live Deal | 50% OFF (12 Months) |
| Our Score | 7.7 out of 10 |
For our reviews, we always test VPN services ourselves, so you can trust that our opinions are based on real-world usage. To learn more about our process, check out our guide on how we review VPNs. We keep our reviews up to date at all times, so you can be sure that you're getting the latest information on VyprVPN.
Overall, we were mildly impressed with VyprVPN's performance. While it's not the best VPN service on the market, it does offer some unique features, and it's a good option for those looking for a secure and private online experience. Keep reading to learn more about our experience using VyprVPN.
Background, Jurisdiction & Reputation
VyprVPN is taking significant steps to prioritize transparency in its operations by disclosing important information about its policies and practices. Additionally, they are deliberately distancing themselves from the 5-Eyes Alliance. Our Score: 8/10
If you're looking for a VPN, it's crucial to do your homework and learn about its history. Understanding where it comes from and whether it has a record of data leaks is key to determining its reliability. It's important to know if the VPN provider can be trusted and if they prioritize your data privacy. 
Where Is VyprVPN Based?
VyprVPN is based in Switzerland, a country with a reputation for a strong economy and impartial diplomacy. As a non-member of the EU, Switzerland's neutrality is an advantage for those concerned about data privacy. What's more, Switzerland is not associated with any intelligence alliances.
Interestingly enough, the owners of this VPN hail from the United States. Ron and Carolyn Yokubaitis founded Golden Frog, VyprVPN's parent company, in response to NSA's mass surveillance and data collection efforts. We do like a good background story. Ron and Carolyn have been involved with public Internet since its inception in 1994. They've been the owners and operators of one of the first 50 ISPs in the United States and plenty of other Internet-based businesses.
Did VyprVPN Leak Personal Data in the Past?
Despite VyprVPN's lack of direct involvement in any data leaks, it's important to note that the company has previously been linked to copyright infringement notices. Numerous users have reported receiving these notices, indicating that VyprVPN has monitored user activity and has been willing to cooperate with authorities. While this is a less-than-ideal situation, it's worth noting that VyprVPN has taken steps to address this issue.
In fact, the company has undergone an independent audit of its no-logs policy. The audit was conducted by Leviathan Security, which identified a few weaknesses that VyprVPN promptly addressed. As a result, there have been no recent reports of VyprVPN logging user activity. 
Overall, VyprVPN might not be the perfect option, but its commitment to improving its no-logs policy is commendable.
Is VyprVPN Safe?
Yes, we believe VyprVPN is a safe service. While there have been reports in the past of the company being linked to copyright infringement notices, VyprVPN has taken steps to address the issues and improve its no-logs policy. 
VyprVPN also offers a robust host of security features including AES 256-bit encryption, split tunneling, a kill switch, public Wi-Fi protection, a NAT firewall, server obfuscation, and DNS, IPv6, and WebRTC leak protection. The provider employs a solid variety of VPN connection protocols as well, which allows you to choose your level of encryption based on your needs.
Furthermore, VyprVPN's location in neutral Switzerland provides a sturdy foundation for VyprVPN's operations, which is reassuring. While VyprVPN's past association with copyright infringement notices is less than ideal, the company's no-logs policy improvements, along with its audit, make it a good enough option for those seeking a safe VPN.
Supported Platforms & Devices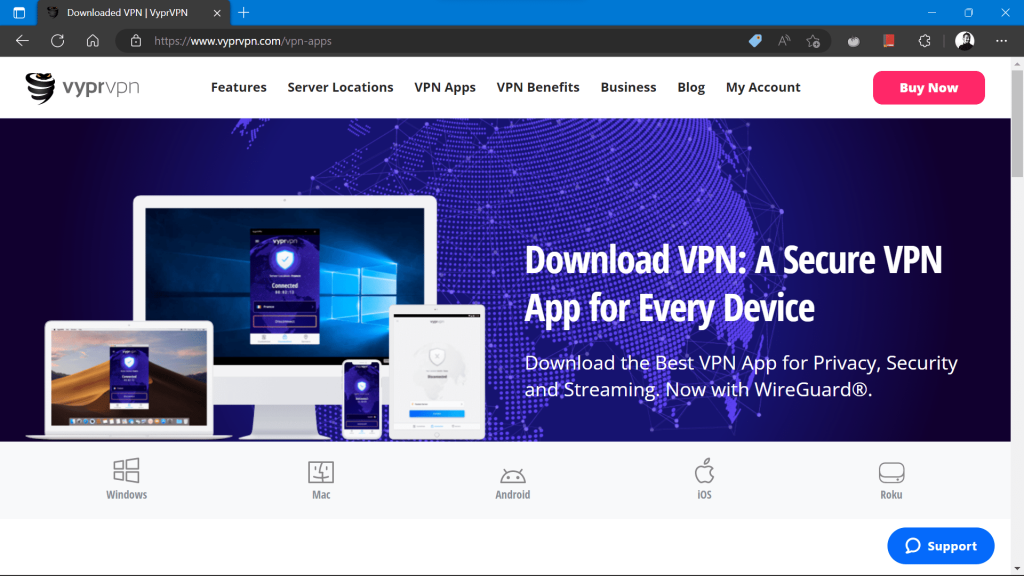 Though plenty of devices are supported (even some obscure ones), VyprVPN doesn't offer browser extensions. Since browser extensions will always be inferior to any native software, it's not a huge detractor. Our Score: 9.5/10
The best-case scenario is to find a VPN that supports all your devices and allows many simultaneous connections with a single subscription. Let's take a look at VyprVPN's device and platform compatibility.
| | |
| --- | --- |
| Desktop Platforms | Windows, macOS, Chrome OS, Linux |
| Mobile Platforms | Android, iOS |
| Web Browsers | None |
| Routers | Tomato, DD-WRT, OpenWRT, AsusWRT, AsusWRT-Merlin |
| Other Devices | Roku, Amazon Firestick, Anonabox, QNAP, Synology NAS, OpenELEC/Kodi, and more |
VyprVPN is compatible with a wide range of devices—all the major mobile and desktop platforms, including ChromeOS, are on the list. Support is also extended to streaming platforms such as Roku, Amazon Firestick, and Kodi. 
Browser extensions are not supported by VyprVPN, we don't see this as a major downside since these typically act as simple proxies. Installing a native app on your device is always preferred to encrypt all your incoming and outgoing traffic.
A single VyprVPN subscription allows for up to 30 simultaneous connections, despite the website advertising only 10 connections. We personally confirmed with a customer care representative that all their plans had been recently upgraded to support 30 connections, but the website hasn't been updated yet. 
Installation & Initial Configuration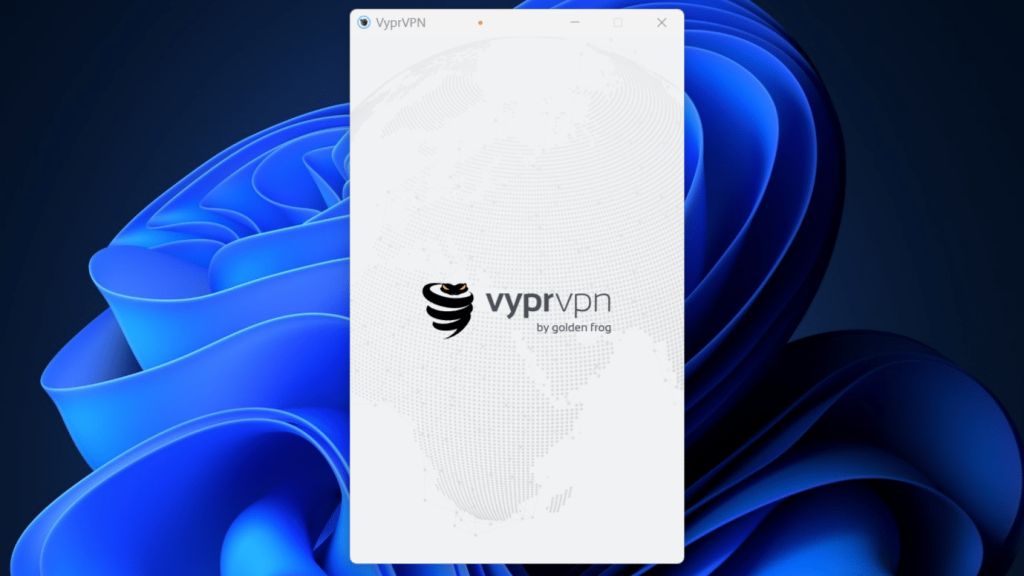 Downloading and installing VyprVPN is very easy. The application already comes optimized, but you can fine-tune it on your own as well. Our Score: 10/10
To get started with this VPN, you first need to sign up for a VyprVPN subscription. Once you select a subscription plan and enter your details, you'll set your user credentials. You can use them to log in to your Control Panel on the official website. From there, download VyprVPN's installation file for your device/platform.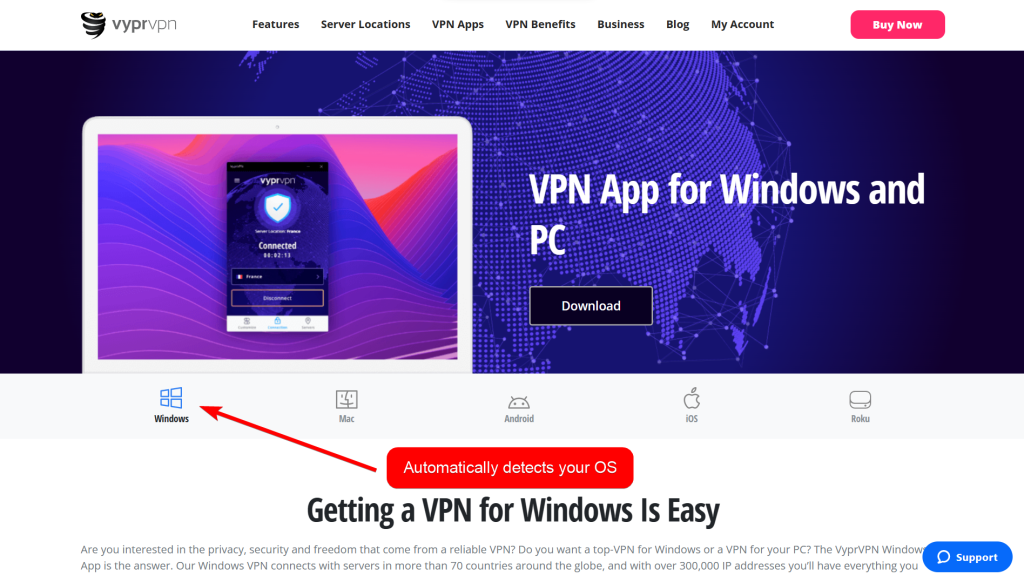 Installing VyprVPN on Windows is a simple process. All you need to do is download the app from the website and install it like any other Windows app. Once you finish the installation process, you will be directed to the login screen, where you can enter your credentials.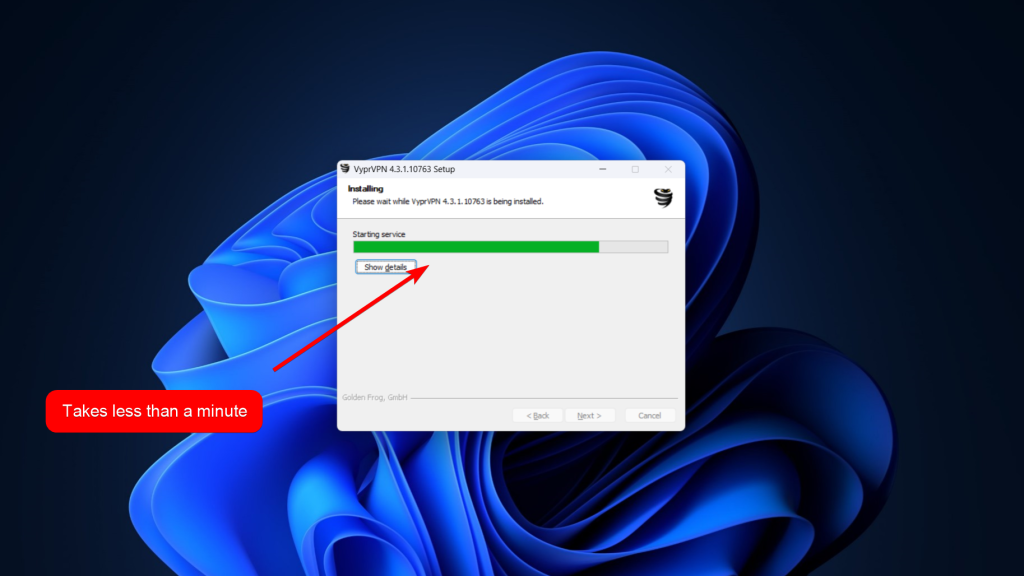 On macOS, you only need to drag and drop the VyprVPN app to your Applications folder. Once you have done that, open the application, login with your credentials, and it will be ready for use.
VyprVPN comes optimized, so there's no need for manual configuration. Of course, if you want to customize the application to your liking, you can. We'll discuss this in more detail later in this  VyprVPN/Golden Frog VPN review.
Prominent Features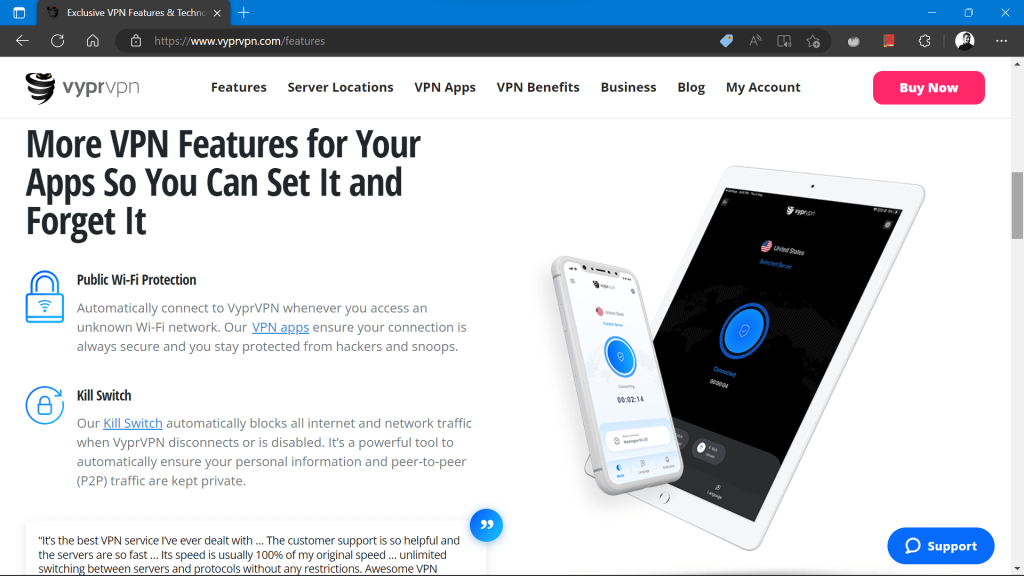 VyprVPN comes with a solid set of features, including some highly interesting proprietary technology. The only thing that's missing here is an ad blocker. Our Score: 9/10
There is a certain set of features that every reliable VPN needs to offer. So, let's take a look at how VyprVPN performs in this area.
DNS and IPv6 Leak Protection – VyprVPN's DNS and IPv6 leak protection features ensure that your DNS and IP are not leaked to any entity. This protects your location and identity. 
Split Tunneling – With the split tunneling feature, you can split your Internet traffic and connect to multiple server locations. This will allow you to stream various content libraries globally without affecting your regular Internet access.
Kill Switch – This feature blocks all Internet and network traffic automatically when the VyprVPN connection is disabled, ensuring your personal information and peer-to-peer (P2P) traffic remain private.
Public Wi-Fi Protection – The VPN app automatically connects to a VyprVPN server whenever you access an unknown Wi-Fi network, keeping your connection secure and protecting you from hackers and snoopers.
Unlimited Server Switches, Bandwidth, and Data – VyprVPN allows you to switch between servers as many times as you want without any restrictions. The service also enables you to use the Internet as much as you want without worrying about any bandwidth caps or data limits.
NAT Firewall – This feature provides an extra layer of security by blocking unauthorized inbound Internet traffic.
VyprVPN appears to be a capable VPN provider with strong leak protections and enhanced security features. However, the lack of an ad-blocker is notable, as many other VPNs have begun to offer this feature in the past year. 
While VyprVPN's encryption can keep digital trackers at bay, an ad-blocker would be a valuable addition to eliminate irritating ads.
Server Count & Infrastructure
Considering that top-rated VPNs offer 3,000 to 5,000 servers, VyprVPN's 700 servers won't impress anyone, but they can still get the job done. Our Score: 4.5/10
When it comes to developing its server network, VyprVPN is taking its time. Here's a handy overview of the basic information regarding its server count.
| | |
| --- | --- |
| Number of Servers | 700+ |
| Number of Locations | 70+ |
| Number of Countries | 70+ |
| Specific Cities Selection | Limited to the US and Australia |
| Unlimited Switching | YES |
With around 700 servers, VyprVPN offers a significantly smaller network than some of its biggest competitors, who offer more than 5,000 servers. Even though VyprVPN's servers seem to be strategically located, there are some VPNs that provide significantly better coverage. It's also worth noting that this VPN only allows you to connect to servers in specific cities in the USA and Australia, whereas many competitors allow you to select server locations in any countries they cover.
VyprVPN offers both physical and virtual servers, but when we contacted their customer support, they were unable to provide any further specifics. Instead, they informed us that they frequently rotate their servers to provide the best quality of service.
Even though VyprVPN doesn't have the biggest network of servers out there, it owns, engineers, and operates its entire infrastructure of VPN server clusters, whereas competitors often use third-party-hosted servers. This gives VyprVPN an advantage when it comes to speed and performance.
UI/UX Design & Ease of Use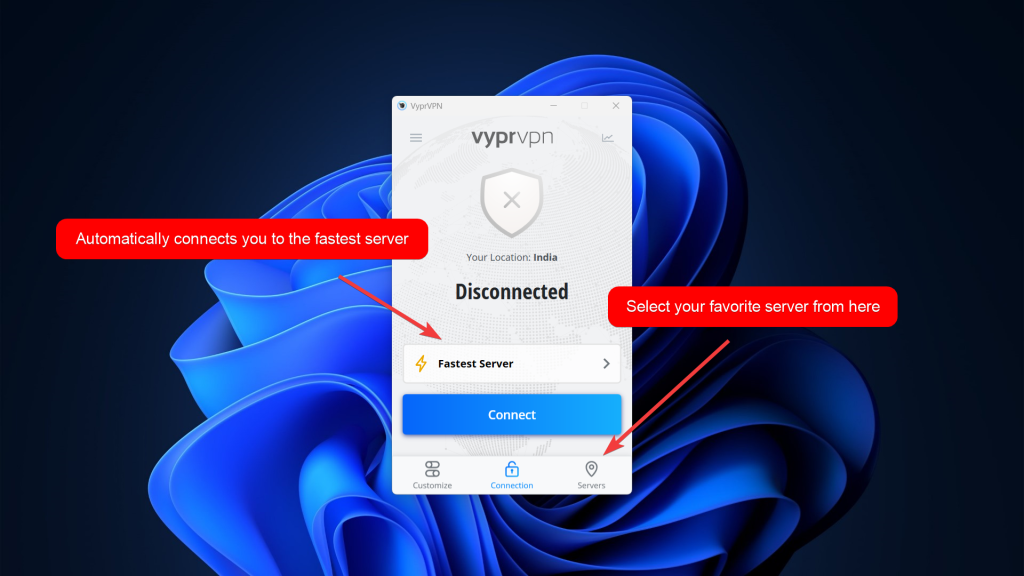 VyprVPN has started to update its UI across macOS, iOS, and Android with a fresh and modern design. Our Score: 9/10
As you can see from the screenshots, VyprVPN looks like a very simple application. Using its home "Connection" screen, you can quickly connect to the fastest server because it automatically checks your location to find the closest one. 
Now let's look at everything else the app has to offer:
Menu – The top-left corner of the application contains a hamburger menu that takes you to the login area. This is where you'll find your account details, support access, the VyprVPN blog, and an "About" section. The Account section displays your username, account type, and a link to your online dashboard. The Support section provides a "Help Center" option, bug reporting, and an area to contact customer support. The Blog section has a link to their official blog, and the About section displays the software's version, license list, and options for beta updates and feedback reporting.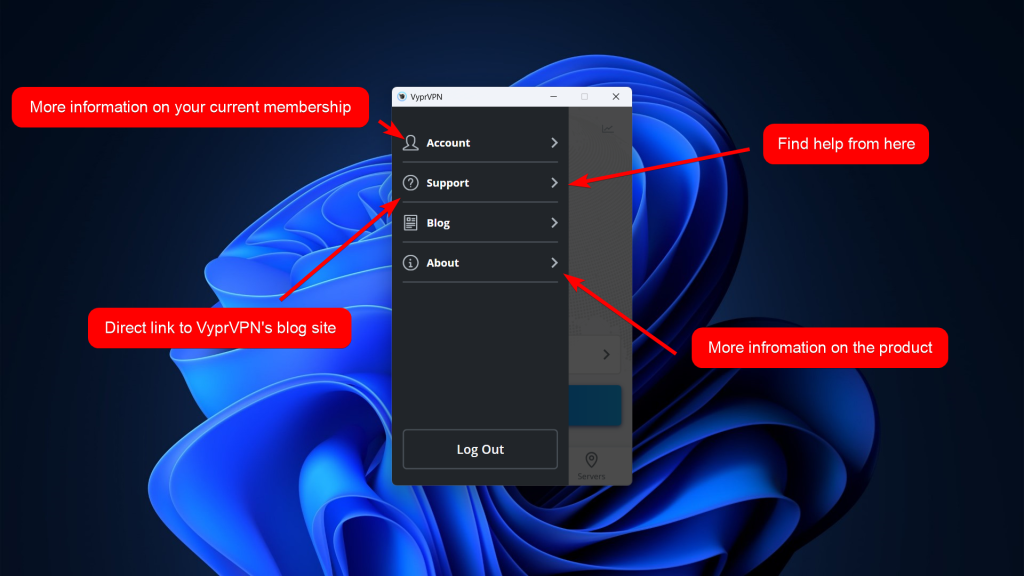 Customize – These settings include enabling the Public Wi-Fi Protection feature and the kill switch, choosing the VPN encryption protocol and DNS server, enabling automatic reconnection, and setting startup options. You can also enable notifications for connection activities and failures as well as select the TAP Network Adapter.
Servers – To view the available servers, navigate to the right side of the screen and click the "Servers" button located in the bottom menu. A lengthy list of servers will appear, which you can filter by country, region, and speed. You can also search for individual servers and create a list of your favorites. To connect to a server, simply double-click on it and VyprVPN will handle the rest.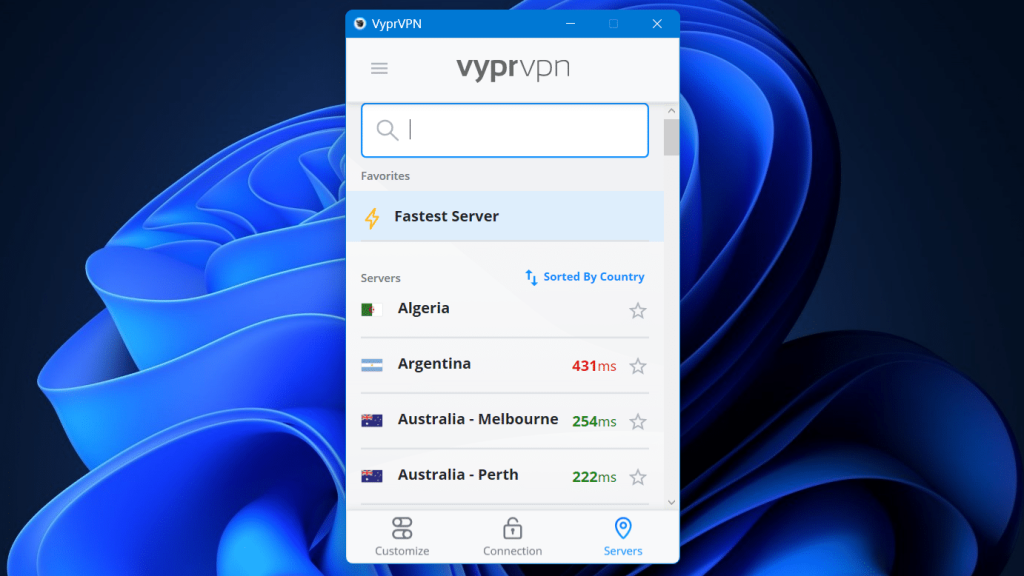 Overall, VyprVPN's user interface is simple, and it's easy to find all the necessary features. While the UI might be a little outdated for some devices and platforms, the provider is starting to roll out updates.
Media Streaming, Torrenting, and Gaming Support
VyprVPN easily unblocks Netflix and BBC iPlayer. Even though it supports P2P, there are reports of users receiving copyright infringement notices in the past. Our Score: 7/10
We're sure that many of you are interested in VyprVPN's media streaming support. After all, one of the most prominent features of every VPN is its ability to unblock popular websites. So, here's what you can expect from this provider.
| | |
| --- | --- |
| Netflix US | YES |
| Hulu | YES |
| BBC iPlayer | YES |
| Amazon Prime Video | YES |
| Disney Plus | YES |
| Torrenting (P2P) | YES (detects copyright infringement) |
| Gaming | YES |
VyprVPN is a solid choice for streaming fans. The VPN provider has proven to be reliable in unblocking Netflix (US and UK) and BBC iPlayer in our tests. Hulu and Amazon Prime Video are easily accessible as well. 
In addition, we found that VyprVPN supports P2P torrenting, as stated on their official website. However, there have been reports of VyprVPN users receiving copyright infringement notices in the past, indicating that the service is not immune to Hollywood studios' requests. 
Therefore, we highly recommend that you only torrent legal files. VyprVPN claims to be a zero-logs VPN, which is reassuring when it comes to P2P, but we still strongly advise you to avoid potentially problematic files.
VyprVPN also offers strong gaming support. Its WireGuard protocol provides fast performance and lower ping times, which is crucial for online gaming. Additionally, VyprVPN boasts a server network spanning a wide number of countries, allowing gamers the opportunity to connect to servers in many different locations to access geo-specific game content.
If you're looking to reduce lag, bypass geo-restrictions, and protect your online activities, VyprVPN is a good option.
Security & Privacy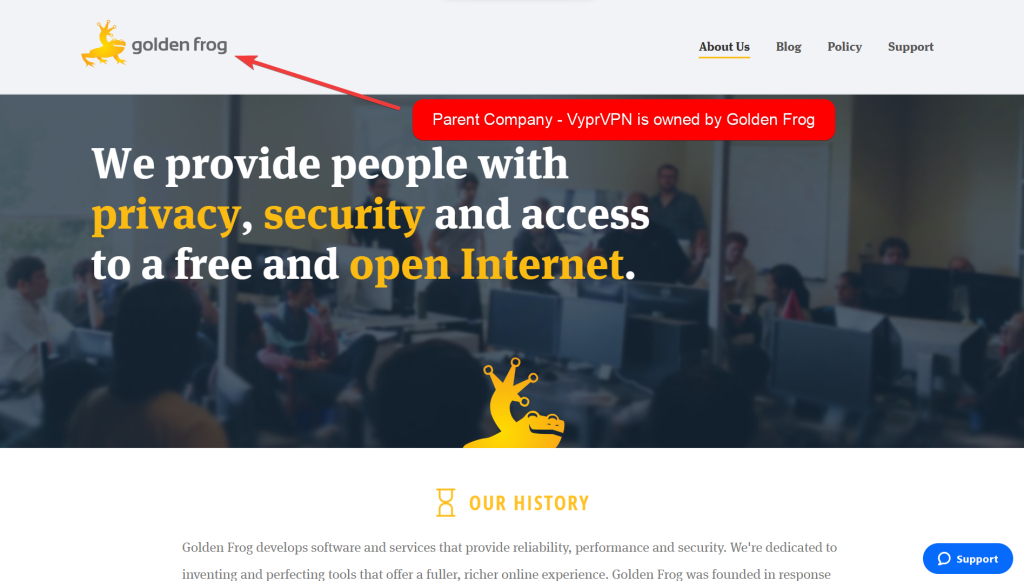 Even though VyprVPN is an audited service and has a fairly strong privacy policy, there are still some indiscretions in the past. Our Score: 7/10
Earlier in this article, we talked about VyprVPN's past and reputation. Now, we are going to take a closer look at the way this VPN keeps you safe online, and whether you should feel comfortable providing access to your data.
VyprVPN Protocols 
VyprVPN offers a range of encryptions depending on the VPN protocol you select. The service supports 6 protocols—OpenVPN, WireGuard, IKEv2, L2TP, PPTP, and Chameleon—each of which comes with different pros and cons. 
| | | | | | | |
| --- | --- | --- | --- | --- | --- | --- |
| | OpenVPN | WireGuard | IKEv2 | L2TP/IPsec | PPTP | Chameleon |
| Windows | YES | YES | NO | YES | NO | YES |
| macOS | YES | YES | YES | NO | NO | YES |
| Linux | YES | NO | NO | YES | YES | YES |
| iOS | YES | YES | YES | NO | NO | YES |
| Android | YES | YES | NO | NO | NO | YES |
| Routers | YES | NO | NO | NO | YES | NO |
It's important to note that some protocols are platform-specific. Here's a breakdown of their features and best use cases:
OpenVPN – This protocol is a secure and flexible option that supports various levels of encryption, including 128-bit and 256-bit AES. OpenVPN provides the widest compatibility and is supported on most operating systems, including Windows, macOS, iOS, Linux, Android, and routers. 
WireGuard – This protocol provides 256-bit encryption and is supported on most operating systems, including Windows, macOS, iOS, and Android. WireGuard is a secure choice for users who want fast speeds and need to use a VPN on multiple devices.
IKEv2 – IKEv2 is a newer protocol that boasts impressive speed and performance. It's ideal for mobile devices, especially if you're interested in streaming online media. You can take advantage of VyprVPN's support for IKEv2 on macOS and iOS.
LT2P/IPsec – L2TP is an older protocol that has been around for many years. Although it's more secure than its predecessor, PPTP, it's not as secure as newer protocols like OpenVPN. It's typically combined with IPsec for encryption purposes. Despite its limitations, VyprVPN still offers L2TP/IPsec on Windows and Linux.
PPTP – This protocol offers 128-bit encryption and is supported on Linux and some routers. PPTP is a popular choice for users who need a fast connection and do not require the highest level of security.
Chameleon – This is VyprVPN's proprietary protocol, which provides the highest level of encryption and is designed to bypass throttling and VPN blocking. Chameleon is supported on most operating systems, including Windows, macOS, Linux, iOS, and Android.
In conclusion, it's important to choose the right VPN protocol for your specific needs. OpenVPN is the most versatile option overall and is compatible with the most operating systems. 
Does VyprVPN Keep Logs? 
The answer to the question of whether VyprVPN keeps logs or not is nuanced. VyprVPN has marketed itself as a "zero-logs" VPN for a long time. However, this claim has been challenged by users who have pointed out that the VPN has been collecting their virtual IP address, connection start and stop times, and total number of bytes used. Although this may not be a serious concern, it certainly contradicts the claim of being a zero-logs VPN.
Additionally, as previously mentioned, numerous reports have surfaced about VyprVPN users receiving copyright infringement notices. To address these concerns, VyprVPN underwent an independent audit and updated its privacy policy. The latest privacy policy clearly states that the company does not collect any logs or DNS requests.
Overall, VyprVPN has not been very transparent about its data collection practices. Although the company claims to have never taken advantage of personal data, the fact that it collected it at all raises concerns. The latest privacy policy revision is a step in the right direction, but it remains to be seen if VyprVPN will become a true zero-logs VPN.
Does VyprVPN Leak/Expose Your Private Data?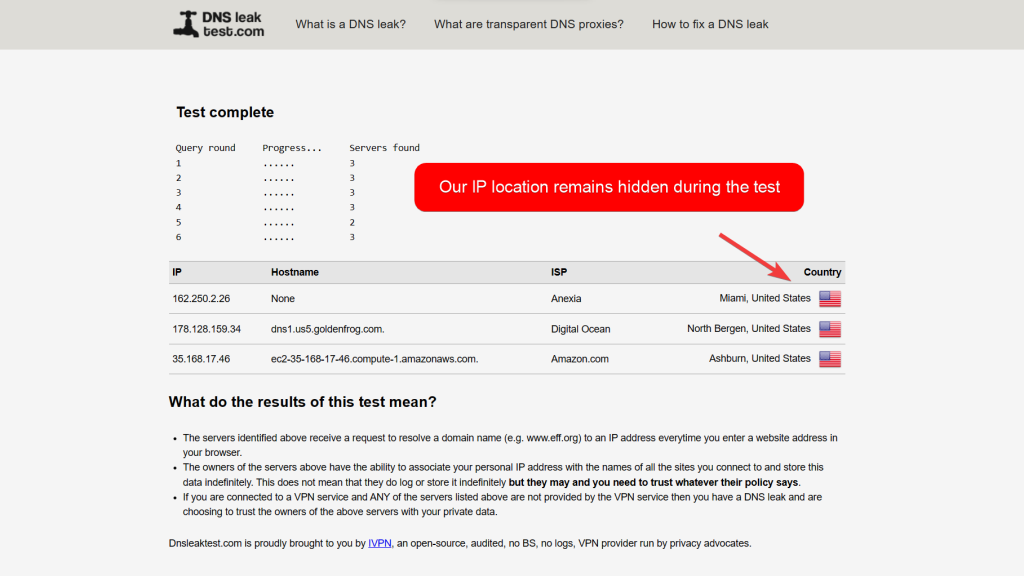 To determine whether VyprVPN exposes your data, we ran a DNS leak test. This checks what information third-party websites see when we visit them. If the VPN is secure, they should see only what the VyprVPN server shows them, which should never reveal our true IP address or location.
As part of our test, we first used VyprVPN to connect to a server in Germany. Once the connection was made, we ran a DNS leak test. As you can see from the image above, the website identified that we were "located" in Germany, and it confirmed that all our traffic was routed through VyprVPN's servers. This means our true information was hidden, and there was no data leakage.
Speed & Performance
Our tests indicated VyprVPN can throttle your connection by around 35%. This isn't a bad result, but it's not as impressive as what you can usually expect from top VPN providers. Our Score: 7.5/10
To evaluate VyprVPN's performance, we connected to multiple servers and conducted a speed test after each connection. Then, we compiled the results and analyzed how much the VPN affects our Internet connection, as using a VPN can often lead to speed reductions.
We started by measuring the baseline speed of our Internet connection without a VPN running. We are located in Asia and tested this VPN on a 100 Mbps connection. As the results show, we clocked 105.25 Mbps for downloads and 113.56 Mbps for uploads. From that starting point, we used VyprVPN to connect to six servers around the world: 
Italy Server – The results for the Italy server showed a mild decrease in download speed, with 79.26 Mbps recorded, which represents a 25% reduction in speed. The upload speed for the Italy server showed a much more significant drop to 3.64 Mbps.
UK Server – The UK server performed better than the Italy server, with a download speed of 89.75 Mbps and an upload speed of 5.42 Mbps, representing a speed reduction of 15%. This is the best result we observed, making it suitable for most online activities, including streaming videos and browsing the web.
US Server – During our tests, the US server performed the worst by far, with a download speed of only 4.61 Mbps and an upload speed of 3.34 Mbps. That's a massive 96% drop in download speed, which is not ideal for streaming or downloading large files.
Canada Server – The Canada server performed much better than the US server, with a download speed of 82.86 Mbps and an upload speed of 3.51 Mbps. The speed reduction was only 20%, which is acceptable for most users.
India Server – The India server produced a download speed of 63.85 Mbps and an upload speed of 1.83 Mbps. This 39% speed reduction is decent but not great. If you started with a lower baseline speed, this might drop too low to be useful for much more than simple browsing.
Australia Server – The Australia server had a download speed of 61.70 Mbps and an upload speed of 1.78 Mbps, with a speed reduction of 41%. These results are similar to the India server and are not ideal for demanding online activities.
| | | | |
| --- | --- | --- | --- |
| | Download Speed | Upload Speed | Speed Reduction |
| Baseline | 105.25 Mbps | 113.56 Mbps | 0% |
| Italy | 79.26 Mbps | 3.64 Mbps | 25% |
| UK | 89.75 Mbps | 5.42 Mbps | 15% |
| US | 4.61 Mbps | 3.34 Mbps | 96% |
| Canada | 82.86 Mbps | 3.51 Mbps | 20% |
| India | 63.85 Mbps | 1.83 Mbps | 39% |
| Australia | 61.70 Mbps | 1.78 Mbps | 41% |
Overall, VyprVPN provides decent speeds for most of its servers, but there are a few exceptions. The US server performed very poorly, and the India and Australia servers were also below average. In general, keep in mind that the closer you are physically located to a server, the better speeds you'll enjoy. In our opinion, VyprVPN is a good VPN service for everyday use but, depending on which server you choose, it may not be suitable for online activities that require fast Internet connections.
Customer Support
VyprVPN's customer support is top-notch. They offer multiple support channels including live chat, which is very helpful. Our Score: 8/10
VPNs are powered by advanced technology that might produce technical problems at times. This is why you need a VPN provider with helpful customer support. Let's take a look at how VyprVPN can assist you with any questions or issues.
Live Chat Support – Thankfully, VyprVPN offers multiple methods of support, including live chat, which comes in very handy. We reached out to their customer service team several times and didn't have to wait long to get a response. In fact, they've even followed up with us via email within the hour to ensure that our issue was resolved.
FAQs – VyprVPN's FAQ section is a real goldmine of information, with over 50 common questions answered in detail. We found that their answers were well-written and linked to related articles, which made finding a solution a breeze.
Troubleshooting – If you encounter a technical problem, you'll want a VPN provider that has a helpful troubleshooting section. Fortunately, VyprVPN's troubleshooting page is quite elaborate and provides you with plenty of information to help you fix your issue.
Support Tickets – If you can't find the answer to your problem on their website, you can always submit a support ticket. We're happy to report that VyprVPN has a quick turnaround time, with most tickets answered within 48 hours.
Overall, we're impressed with VyprVPN's commitment to customer support. They really go above and beyond to make sure their customers are satisfied, and their service is running smoothly.
Pricing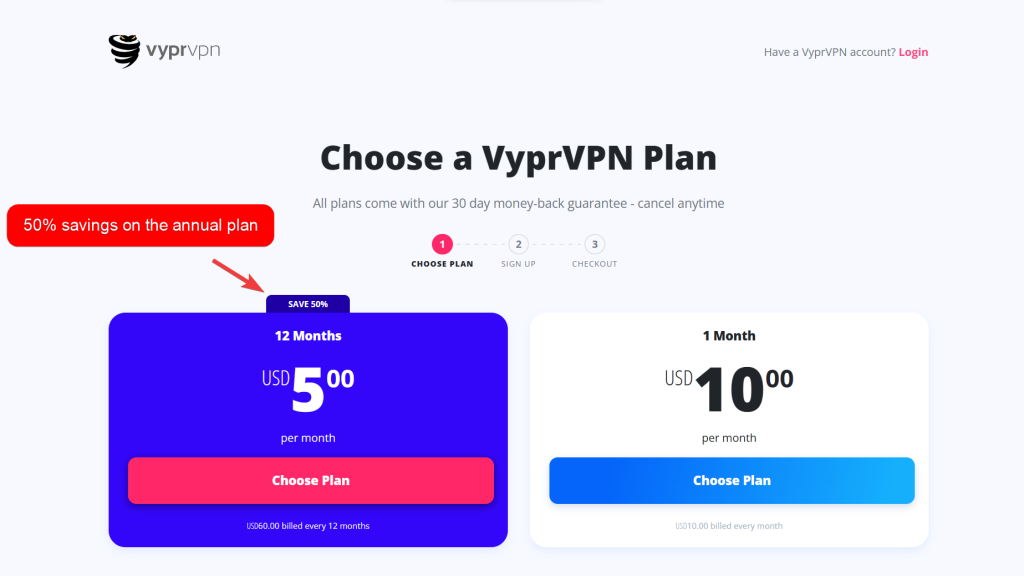 While VyprVPN's monthly plan is pricey, there is also an annual plan that can save you 50% in the long run. Our Score: 5/10 
VyprVPN provides its users with two subscription plans: a monthly plan and a 1-year plan. Some users may be dissatisfied with the limited options and have to choose between paying a higher monthly price or committing to a full year in advance. To see if the annual plan is worth it, let's explore the cost of each option. 
How Much Is VyprVPN?
VyprVPN offers different pricing plans to cater to various needs and budgets. Here is the current pricing scheme so you can choose the plan that suits you best:
1-Month Plan – The monthly plan is more flexible, allowing users to pay on a monthly basis with no long-term commitment. However, at the cost of $10 per month, it is relatively expensive compared to other providers.
1-Year Plan – The annual plan, on the other hand, offers a much better deal, costing just $60 for the year. That breaks down to $5 per month, which is 50% cheaper compared to the monthly plan. While the annual plan requires a bigger upfront payment, it is a good choice for users who plan on using the VPN for an extended period. Plus, VyprVPN offers a 30-day money-back guarantee if you want to test their services risk free.
Additionally, some users may be disappointed that VyprVPN does not offer more options for anonymous payment, as cryptocurrencies are not currently accepted. Users can pay for a subscription with a credit card, PayPal, or UnionPay. However, unlike some other top VPN providers, VyprVPN does not offer a free month with its longer subscription.
Is VyprVPN Free?
No, VyprVPN is not a free service. Although the company used to provide a 3-day free trial in the past, it is no longer available. However, as previously mentioned, VyprVPN offers a 30-day money-back guarantee, so you can still try out the VPN for an entire month. If you are not satisfied with it, you can get a full refund. 
Final Thoughts
VyprVPN did relatively well during our tests, offering fast and secure connections. Their applications are user-friendly and reliable, and the live chat support is a helpful feature for setting up the app as well as tackling errors. However, VyprVPN is still lacking in some areas. For example, their server network is much smaller than that of many competitors.
In recent years, VyprVPN has made a few updates to its policies to improve user privacy. This is clearly a step in the right direction, but their lack of consistent transparency about their data collection practices might make some users hesitant.
Overall, if you are looking for a fast and reliable VPN service, VyprVPN could be a good choice. That said, there are other VPNs available with better features, iron-clad no-logs policies, and more plans to choose from.
PROS
Audited no-logs policy
Compatible with many devices
30 simultaneous connections
User-friendly apps
Chameleon protocol for obfuscation
Capable of unblocking streaming services
Good for gaming
High-speed, stable connections
Strong encryption protocols
WebRTC leak protection
Live chat customer support
CONS
Small server fleet
Inconsistent data collection transparency
Does not accept cryptocurrency payments
Above-average pricing
Fewer features than other VPNs
FAQ
What Is VyprVPN?
VyprVPN is a Swiss-based VPN service that offers users online privacy and security by encrypting their Internet traffic and protecting their IP addresses.
Is VyprVPN Good for Torrenting?
Yes, we believe VyprVPN is good for torrenting thanks to its no-logs policy and strong security features. That said, there have been user reports in the past of receiving copyright infringement notices. So, even though they have since been audited and strengthened their privacy policies, you should still proceed with caution.