When you start to research about VyprVPN, you'll see plenty of interesting information online. Even though it often comes up among top-rated VPNs, there are some polarizing opinions about this VPN service. And if you take a look at VyprVPN's website, you'll see a long list of attractive features that make you want to sign-up instantly. After all, this VPN provider is saying that it has over two million customers, so it must be hugely capable, right? Well, let's answer that question by taking a deep look at its features. Welcome to our hands-on review of VyprVPN!
We are going to slowly introduce you to this VPN service. First, take a look at the table found below to learn some basic information about VyprVPN.
We understand that many of you are interested in media streaming. That's why we test each VPN and its capability to unblock the world's most popular media streaming websites. Here's what you need to know about VyprVPN.
And finally, we also understand that some of you don't want to read this entire review. For those TechNadu visitors, we've prepared a table with our conclusions. So, take a look.
We're now ready to dive deep into VyprVPN and uncover everything there is to know about this VPN provider. So, let's get started with our full VyprVPN review.
VyprVPN – TechNadu's Hands-On Review
If you keep on reading, you'll first learn about VyprVPN's background and reputation. Then, we'll show you how to install and use this application, how well it performs, can it unblock Netflix and plenty more. To learn more about this procedure, here's how we review VPNs.
And also, one more note. We've tested the latest available version of VyprVPN (3.0.3) on our macOS computer. However, everything said below applies to other applications offered by this VPN service.
Background, Jurisdiction & Reputation
VyprVPN is doing its best to be as transparent as possible and it's away from the 5 Eyes Alliance. However, this is a result of unfortunate indiscretions from the past, which are (fortunately) no longer applicable to this VPN. Our Score: 8/10.
Perhaps you're not aware of how important it is to learn about your VPN's background. You need to know where it comes from, and if there were any alarming data leaks in the past. After all, this will tell you how trustworthy a certain VPN is, and whether it will keep your data protected.
Jurisdiction & Applicable Laws
VyprVPN comes from Switzerland, which provides a sturdy base for its operations. This country is known for its highly advanced economy and neutral diplomatic stance towards other countries. This means that even though it's located in the middle of Europe, it's not a member of the European Union. Furthermore, Switzerland doesn't have anything to do with the 5/9/14 Eyes Alliance.
Interestingly enough, the owners of this VPN come from the United States. Ron and Carolyn Yokubaitis have founded this company in response to NSA's mass surveillance and data collection. Furthermore, Ron and Carolyn have been involved with the Web since 1994. They've been the owners of one of the first 50 ISPs in the United States and plenty of other Web-based companies.
Previous Data Leaks
Even though VyprVPN has never been directly connected to a data leak, something similar has happened before. You can find hundreds of reports online made by VyprVPN users saying that they've received copyright infringement notices. This means that VyprVPN has been recording their activity - and this provider was more than willing to assist the authorities.
It's also worth noting that VyprVPN has recently done an independent audit of its no-logs service. A company called Leviathan Security has done a comprehensive audit of VyprVPN in an effort to uncover any weak spots. Several of those were discovered and VyprVPN has fixed all of them in the meantime. In other words, you won't find any new reports about this VPN logging its users' activity. However, that stain from the past still remains.
Supported Platforms & Devices
Even though plenty of devices are supported (even some obscure ones), VyprVPN doesn't bring Web browser extensions (which will always be inferior to any native software, by the way). Our Score: 9.5/10.
The best-case scenario is to find a VPN that supports all your devices. This gives you an option to protect all your devices at once, and you also need to pay attention to how many devices you can use within a single subscription.
VyprVPN is compatible with a really wide range of devices. Needless to say, all of the currently popular desktop and mobile devices are on the list. However, it's interesting to note that VyprVPN extends its supports to brands and devices such as Blackberry, Boxee, and Anonabox. If you use any of these brands, then VyprVPN has a huge advantage over its competitors.
As you can see, Web browser extensions are not supported by this VPN. However, this isn't a major downside since these typically act as simple proxies. This means that you can install a native app on your device and encrypt all your incoming and outgoing traffic. Chromebooks are supported through (via manual configuration).
In addition, know that a single subscription gives you up to 5 simultaneous connections. This wasn't always the case in the past, and we're happy to see VyprVPN listening to its users and increasing this limit lately.
Installation & Initial Configuration
Downloading and installing VyprVPN is very easy. The application already comes optimized, even though you can fine-tune it on your own as well. Our Score: 10/10.
To get started with this VPN, you first need to sign up for VyprVPN. Once you select a subscription plan and enter your details, you'll get your user credentials. You can use this to log in to your Control Panel, on the official website. From there, download VyprVPN's installer file for your device/platform.
On Windows, the installation process is very straightforward. You will be asked to install a TAP driver to make sure everything's set, and VyprVPN will finish the rest of the procedure. In the end, you'll see the application's login page, where you can enter your credentials once more. On macOS, you need to drag-and-drop VyprVPN to your Applications folder, and that's about it. Open the application, log-in, and it's ready for use.
It's good to know that VyprVPN already comes optimized, so there's no need to go through manual configuration. Of course, if you want to fine-tune this application to your liking, this is entirely possible. We'll talk about how this is done in a segment called 'Ease of Use'.
Prominent Features
VyprVPN comes with a highly interesting set of features and even comes with proprietary technology. The only thing that's missing here is an ad-blocker. Our Score: 9/10.
There is a certain set of features that every reliable VPN needs to meet. So, let's take a look at how VyprVPN performs in this area.
By taking a look at its features, we conclude that VyprVPN knows what it's doing. This looks like a very capable VPN provider with the required data leak protections in place. And you'll also get unlimited use in every possible way.
Previously, this VPN offered two separate subscription plans (with different sets of features). However, this is no longer the case. You have a single subscription type today, giving you full access to all of this VPN's features. This means that you'll also get this VPN's Chameleon protocol, which is something you won't find elsewhere.
The only thing that's missing here is an ad-blocker, which is something that a wide range of VPNs has started to offer in the last year or so. Even though VyprVPN's encryption will keep any digital trackers away, it would be nice-to-have a tool that eliminates annoying ads.
Server Count
Considering that top-rated VPNs bring 3,000 to 5,000 servers, VyprVPN and its 700 servers won't impress anyone (but they can still get the job done). Our Score: 4.5/10.
When it comes to developing its server network, VyprVPN is taking its time. Here's a handy overview of the basic information regarding its server count.
With around 700 secure servers, VyprVPN offers significantly fewer servers than some of its biggest competitors (that offer more than 5,000 servers right now). And even though this company's servers seem to be strategically located, there are some VPNs that provide significantly better coverage. It's also worth noting that this VPN allows you to connect to specific cities only in the USA and Australia, which should do the job of unblocking certain region-restricted services.
Even though VyprVPN doesn't have the biggest network of servers out there, it owns its entire network. According to the company's website, this gives VyprVPN an upper hand when it comes to speed and performance, which we'll test soon.
Ease of Use
VyprVPN has started to update its UI across macOS, iOS, and Android with a fresh and highly modern design. Windows users should get the new UI soon. Our Score: 9/10.
Now, it's time to check this VPN's appearance and ease of use. As you can see from the screenshots, VyprVPN looks like a very simple application. Using its home screen, you can quickly connect to the nearest server, as this VPN checks your location and gets you the closest (and the fastest) server automatically. However, you can also dive into this application by using a set of icons (buttons) at the bottom of the screen.
On the right, the first button is called 'Customize' - and this is where you can fine-tune this VPN's settings. For example, this VPN can help you automatically secure public Wi-Fi networks and block malicious websites. Then, you can enable its split-tunneling and kill-switch. And finally, you can choose a VPN protocol, allow the application to launch on your system's startup, and more.
Then, you can check the available servers on the left (using the bottom-placed menu). Click on the 'Servers' button, and you'll see a sizeable list of servers, which can be filtered in different ways. You can sort these by their country, region, and speed. Besides, you can also search for individual servers and make a list of your favorites. Double-click on any of these and VyprVPN will do the rest.
And finally, you will see a hamburger button in the top-left corner. This is where you can log-in to your account, check the application's support and VyprVPN's blog (which takes you to its website).
Update (June 2019): VyprVPN has announced that a new major version of its application has started rolling out across all the supported platforms. In case you're an iOS, Android, or macOS user, you can already download VyprVPN 3.0, which brings a greatly simplified interface, easier server switching, and a smoother experience overall. This means that VyprVPN has taken a new direction, and we're excited to see how the version 3.0 will look like on Windows. Once it becomes widely available, we'll make sure to update this review.
Media Streaming & Torrenting Support
VyprVPN supports Netflix and BBC iPlayer. And even though it supports P2P as well, there are reports of users receiving copyright infringement notices. Our Score: 5/10.
We're sure that many of you are interested in media streaming. After all, one of the most prominent features of every VPN is its ability to unblock popular websites. So, here's what you can expect from VyprVPN.
If you contact VyprVPN, they'll tell you that you can unblock websites like Netflix US, Hulu, and more. However, our tests show that you can use VyprVPN to unblock Netflix (US and UK) and BBC iPlayer, and that's it.
We've tried numerous servers to unblock Hulu and Amazon Prime Video – and none of those worked. So, we returned to VyprVPN's customer support and asked them about this situation. Upon giving us a new set of instructions, we've tried once again – but failed. This is when a customer support agent told us that some service might not work all the time, and they can't provide additional information.
We've also found interesting information regarding torrenting via VyprVPN. The official website clearly states that this company fully supports P2P – and this is true, in theory. However, there are numerous reports online of VyprVPN users receiving copyright infringement notices. This means that VyprVPN isn't immune to the requests made by Hollywood studios – so we strongly recommend you keep your torrenting legal. And of course, this VPN is now a no-logs VPN, which sounds reassuring when it comes to P2P. Nonetheless, we would strongly advise you to avoid potentially problematic files.
Security & Privacy
Even though VyprVPN has recently performed an audit and revised its privacy policy – there are still some indiscretions in the past. Our Score: 7/10.
Earlier in this article, we talked about VyprVPN's past and reputation. Now, we are going to take a closer look at the way this VPN keeps you safe online, and whether you should feel comfortable providing access to your data.
Support Encryption Protocols
Depending on a selected VPN protocol, VyprVPN can let you choose between 128-bit, 160-bit, and 256-bit AES encryption. In this aspect, we can say that it brings the most reliable type of encryption out there. You should also know that by using 256-bit encryption, you can be sure that no one will manage to take advantage of your data.
When it comes to supported VPN protocols, we have the following ones: PPTP, L2TP, OpenVPN, and Chameleon. It's also worth knowing that certain protocols are reserved for specific platforms. For example, you can use PPTP on Windows and routers only. OpenVPN brings the widest compatibility but it's important to know that VyprVPN for iOS is not compatible with OpenVPN and Chameleon.
Logging Policy
VyprVPN has had a 'zero logs' policy VPN for a long time now. However, as numerous cybersecurity experts and users pointed out, this VPN collected certain types of data, including your virtual IP address, connection start and stop time, and the total number of bytes used. This is nothing serious but it is also far from 'zero logs'.
We also have to say that there we numerous reports about VyprVPN users receiving copyright infringement notices. Thinking that this VPN doesn't collect personal data or doesn't know what you do online, many users turn to torrenting. As it turned out, VyprVPN was under attack for copyright infringement and felt free to reveal those who turned to this type of illegal activity.
However, a big change happened no too long ago. VyprVPN went through an independent audit and revised not only its systems but its privacy policy as well. The new privacy policy once again says that this company doesn't collect any logs or DNS requests. The information that has been collected in the past is no longer collected. Theoretically, this means that torrenting should be safe now – but we still recommend you stay on the safe side of the law.
All in all, VyprVPN isn't the most transparent VPN out there. It never took advantage of personal data that they've been collecting – but they were still collecting that data, nonetheless. We're encouraged by its latest privacy policy revision, but only the time will tell whether this VPN has become a true 'zero logs' VPN.
DNS Leak Test
Lastly, we are going to check whether VyprVPN leaks any of your personal data. In other words, we'll check what third-party websites see when we visit them. They should see only what VyprVPN shows them, which should never be our true information.
So, we used VyprVPN to connect to a server in Germany. Once the connection was made, we ran a DNS leak test. As you can see from the image above, the website identified us coming from Germany and it showed that all our traffic is routed via VyprVPN's servers. This means that our true information remains hidden – so, no data leaks here.
Speed & Performance
As our tests have shown, VyprVPN can throttle your connection by around 35%. This isn't a bad result but it's below what you can usually expect. Our Score: 7.5/10.
We are going to check VyprVPN's performance by connecting to several of its servers. Each time we connect, we'll run a speed test. Finally, we'll put all those numbers in a table and calculate by how much this VPN throttles our Web connection.

We start by measuring the speed of our Web connection, without a VPN running. As the results are showing, we have 148.39 Mbps for downloads and 9.66 Mbps for uploads. This is our starting point, and we'll first use VyprVPN to connect to a nearby server.
We've decided to let VyprVPN select the fastest server on its own. We're located in Europe, and VyprVPN has connected to a server in a neighboring country. This is where we got 123.72 Mbps for downloads and 8.86 for uploads.

Finally, we've also wanted to test a remote server, located in the USA. After all, US-based servers are usually quite popular as they are used to unblock media streaming services. VyprVPN throttled our Web connection down to 68.21 Mbps for downloads and 7.78 Mbps for uploads.
On average, VyprVPN made our connection slower by around 35%. We can see that this VPN is saying that it's the fastest VPN on the market – but as it turns out, this isn't quite true. Some of the best VPNs out there can throttle your connection by around 15% to 20%. As you can see, VyprVPN can't compete with those.
Customer Support
VyprVPN's customer support is somewhat basic. There are numerous support channels available but many of them can be confusing and even misleading. Our Score: 5/10.
VPNs are powered by advanced technology that might produce technical problems at times. This is why you need a VPN provider with helpful customer support. Let's take a look at how VyprVPN can help in case of any questions or troubles.
Live Chat Support: Thankfully, VyprVPN offers live chat on its website. We've used it several times, without having to wait for an agent for too long. In some cases, they couldn't give us a solution straight away – but we got an email reply from them within one hour.
FAQs: VyprVPN has prepared an FAQ section where you can find answers to common questions. There are over 50 questions answered, which you'll surely find helpful.
Troubleshooting: When you encounter a problem, you want a helpful troubleshooting section that can provide at least some insight into a possible solution. VyprVPN's troubleshooting page is quite basic and even provides some misleading information. For example, there's an article on how to unblock BBC iPlayer – which we weren't able to do (even after trying out all of VyprVPN's UK-based servers).
Support Tickets: In case you can't find a solution on the official website, your best bet is to submit a support ticket. VyprVPN should be able to respond in one to two days, which is fairly quick.
All in all, VyprVPN is willing to assist you in case of any questions. However, numerous improvements could be made to their customer support system. Most importantly, their support agents aren't always helpful and can be even misleading at times.
To give you an example, we've contacted VyprVPN after not being able to unblock Hulu and Amazon Prime Video. First, we were redirected to a short article explaining how this is done. We've checked that one and returned to the support agent assigned to us. He tried to come up with another solution, which didn't work either – and even told us that VyprVPN unblocks various websites with ease and that their systems are operational. We've tried another solution, and once again filed. Finally, we've been told that there might be a temporary problem and that VyprVPN can't guarantee that all websites can be unblocked at all times.
Pricing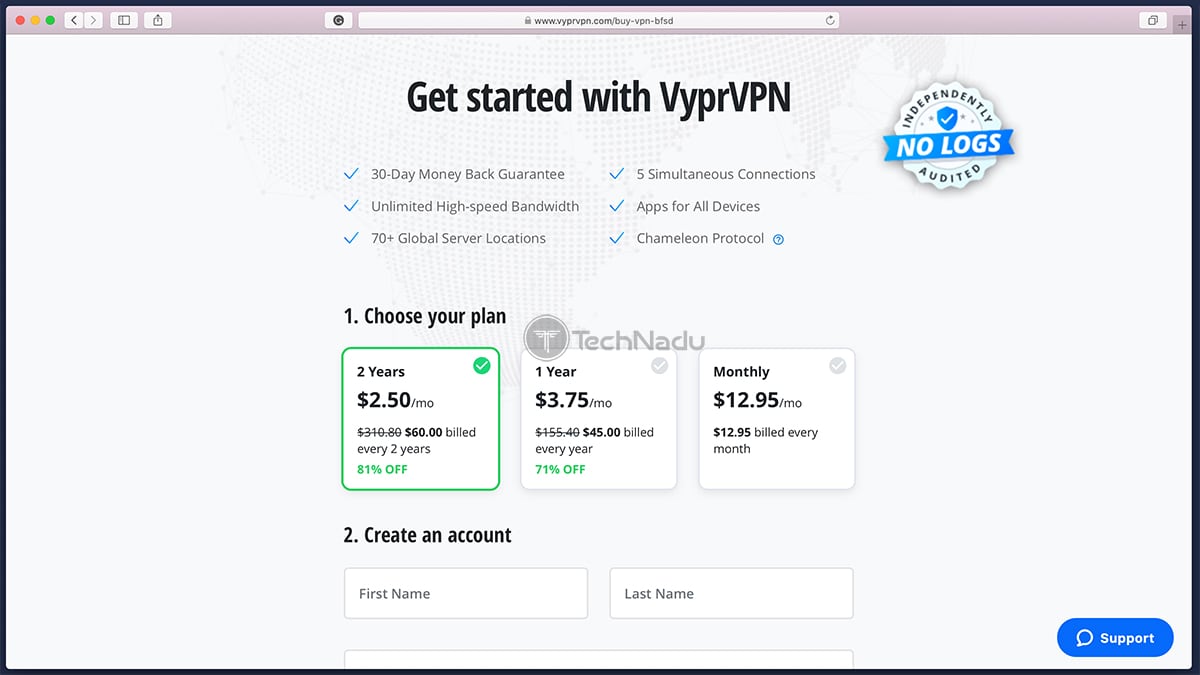 Even though VyprVPN comes with a high-priced monthly plan, it also comes with additional subscription plans that help you save plenty in the long-run. Our Score: 7/10. 
So, how much do you need to pay for this VPN service? Check out the table below to review its current pricing scheme.
It's evident that VyprVPN's monthly plan is quite expensive – especially considering everything we said in this article. However, its annual plan provides plenty of value. You can become a VyprVPN subscriber for $3.75 per month if you decide to go for the annual plan, which makes this VPN a highly interesting option. And there's also a 2-year plan, which definitely seems like a big commitment. However, it brings this VPN's price down to $2.50 per month - which does seem like a good deal.
Among other information, it's important to note that you can pay via credit cards, PayPal, or UnionPay. Sadly, cryptocurrencies are not on offer right now, so there's no way to pay anonymously. And also, please note that VyprVPN comes with a 30-day money-back guarantee, which seems generous enough.
Do We Recommend VyprVPN?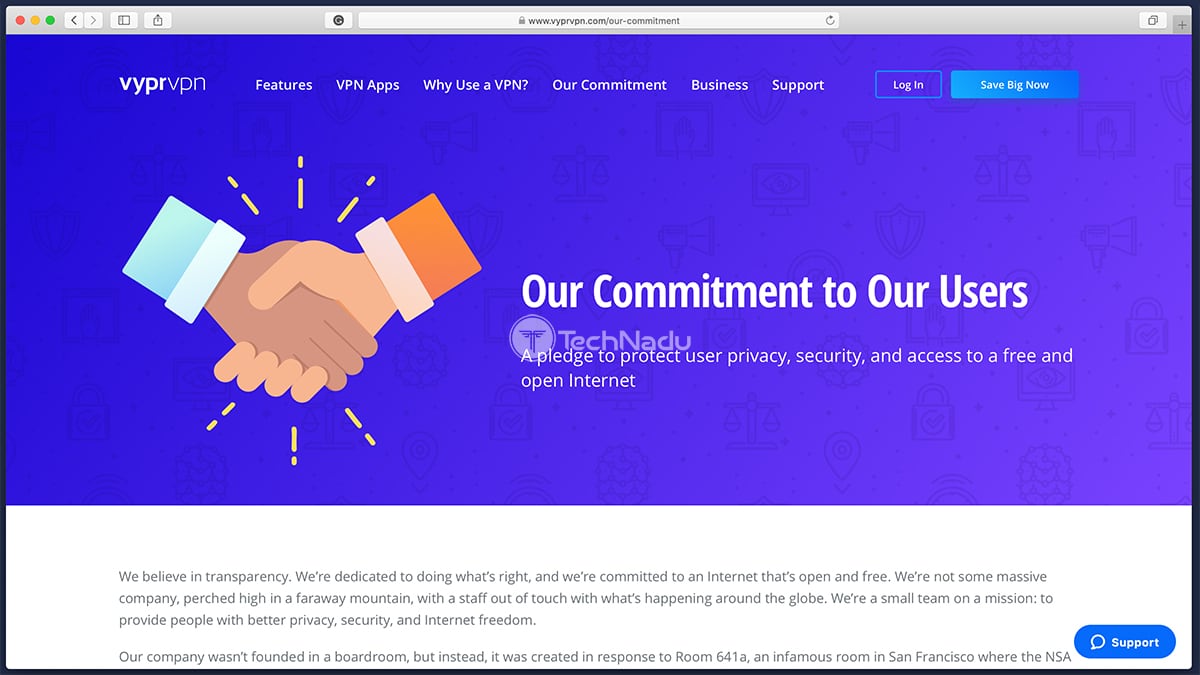 On the one hand, VyprVPN does its job well. It comes with strong encryption and capable VPN protocols. On top of that, it appears to be doing its best to keep your private data safe. There's also its recently improved privacy policy. However, it can't unblock a number of popular websites, comes with a problematic past, and you can't rely on it for torrenting.
PROS: Wide platform/device compatibility; Proprietary VPN protocol; Can unblock VPN-related government blocks; A sizeable server network.
CONS: Can't unblock popular website (aside from Netflix and iPlayer); Not the fastest VPN out there; Problematic past.
OUR SCORE: 7.4 out of 10!
At the moment, we can recommend VyprVPN to those who expect a standard set of privacy-related features. This includes a set of strong protocols and incredibly strong protection. As such, this could be a good fit if you want to unblock government-imposed VPN blocks. If that's something you need, make sure to subscribe to VyprVPN today!