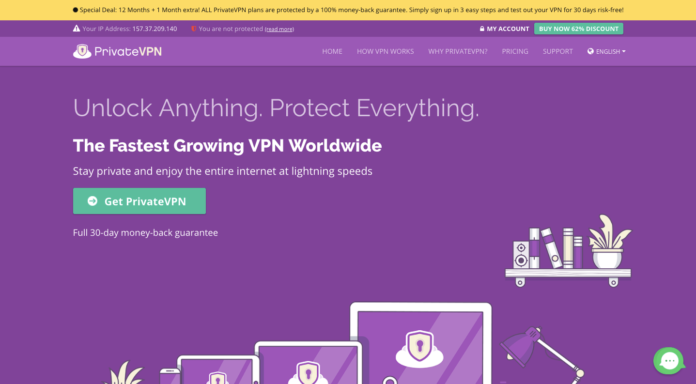 VPN tools are now some of the most popular software the world over. With growing concerns worldwide about internet security, people are increasingly resorting to VPN services to stay safe online. Here's our review of the PrivateVPN tool.
VPNs work by cloaking the real IP addresses of users so that their identity is untraceable online. VPNs create a secure tunnel that encrypts all of the user's data online.
The following table summarizes the main features of the software.
Criteria
Details
Prominent Features
IP hiding; Fast connection;
Data encryption; Auto-Reconnection;
Easy to use; No traffic logs
Number of Servers
80+ servers in 56 countries
Logging Policy
No traffic logs maintained
Encryption Standards
AES 256 encryption, OpenVPN,
IPsec/L2TP, PPTP, IKEv2
Privacy
DNS Leak Protection
Speed
390 Kbps (baseline: 280 Kbps);
710 Kbps with US server
Device Support
Windows, MacOS, iOS, Android
Number of Devices
6
Price
$8.21
Our Score
8.8/10
Visit
PrivateVPN
A common use of VPN software is in unblocking geo-restricted content such as US original Netflix series and Hulu content. The table below presents the results of our tests with these services. With Kodi, while there's no unblocking required, however, it is important to ensure that your data is not leaked to the ISP.
| Streaming Service | Result |
| --- | --- |
| Netflix | YES – W/ provides designated server |
| Hulu | YES – W/ provides designated server |
| Kodi | YES |
It must also be noted that the use of VPN tools to unblock restricted content is a somewhat uncertain zone, for VPNs that currently function today might suddenly stop working tomorrow.
It's now time to see the major pros and cons of the PrivateVPN software.
Criteria
PrivateVPN
Pros

Easy to use
AES 256 Encryption
Unlocks geo-restricted content
Keeps no logs
Fast connection

Cons

Lack of very deep customization
and additional features
Lack of some advanced tools
Let's now proceed for an in-depth review of the PrivateVPN software.
PrivateVPN — Review
PrivateVPN is one of the most popular VPN tools in the market today. The following is a detailed analysis of this software based on our extensive tests right from installation procedures through speed tests and privacy configurations. We tested PrivateVPN version 2.3.5 (51) on MacOS High Sierra.
Supported Devices
PrivateVPN can be downloaded on a number of different OS platforms. Our Score: 10/10.
PrivateVPN can be downloaded on a variety of OS platform including Windows, MacOS, iOS, and Android. The availability of applications for all different OS platforms adds to the accessibility of the tool for users.
The software can be used with 6 simultaneous connections, unlike many other VPN which limit the number of devices to 5.
Installation & Setup
PrivateVPN is easy to install on your favorite device and takes minutes to set up. Our Score: 10/10.
You can begin by visiting the official website of PrivateVPN and clicking on the 'Downloads' section. Alternatively, you can log in to your account by using the login credentials and download the app for your OS.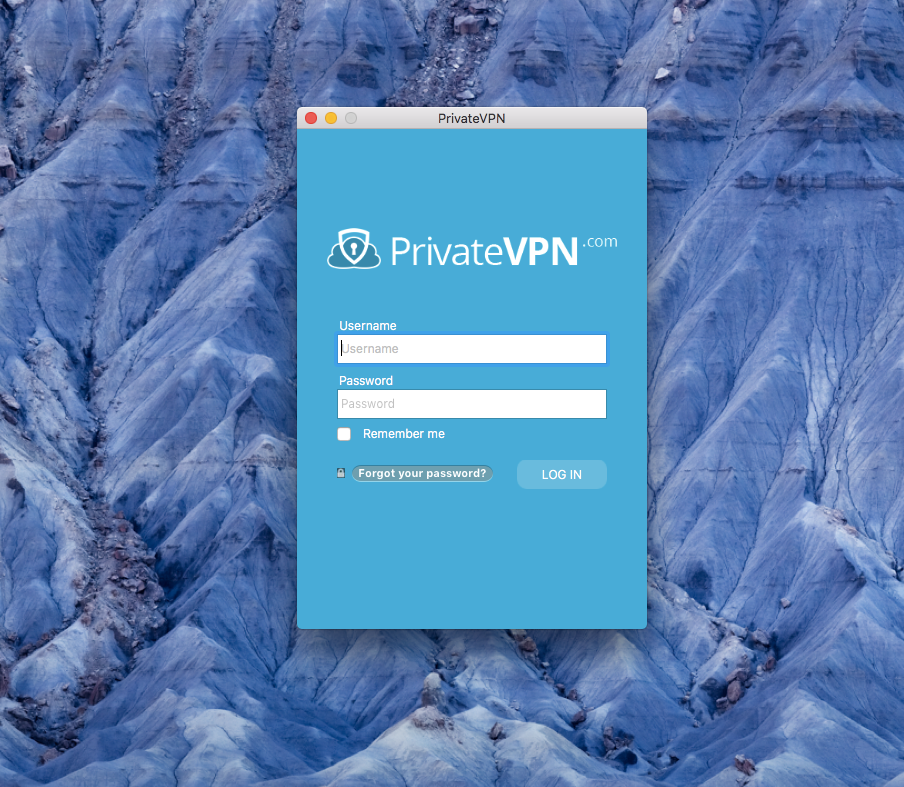 PrivateVPN would greet you with a login screen upon double-clicking the installation file. Enter your credentials and you should be good to go.
Prominent Features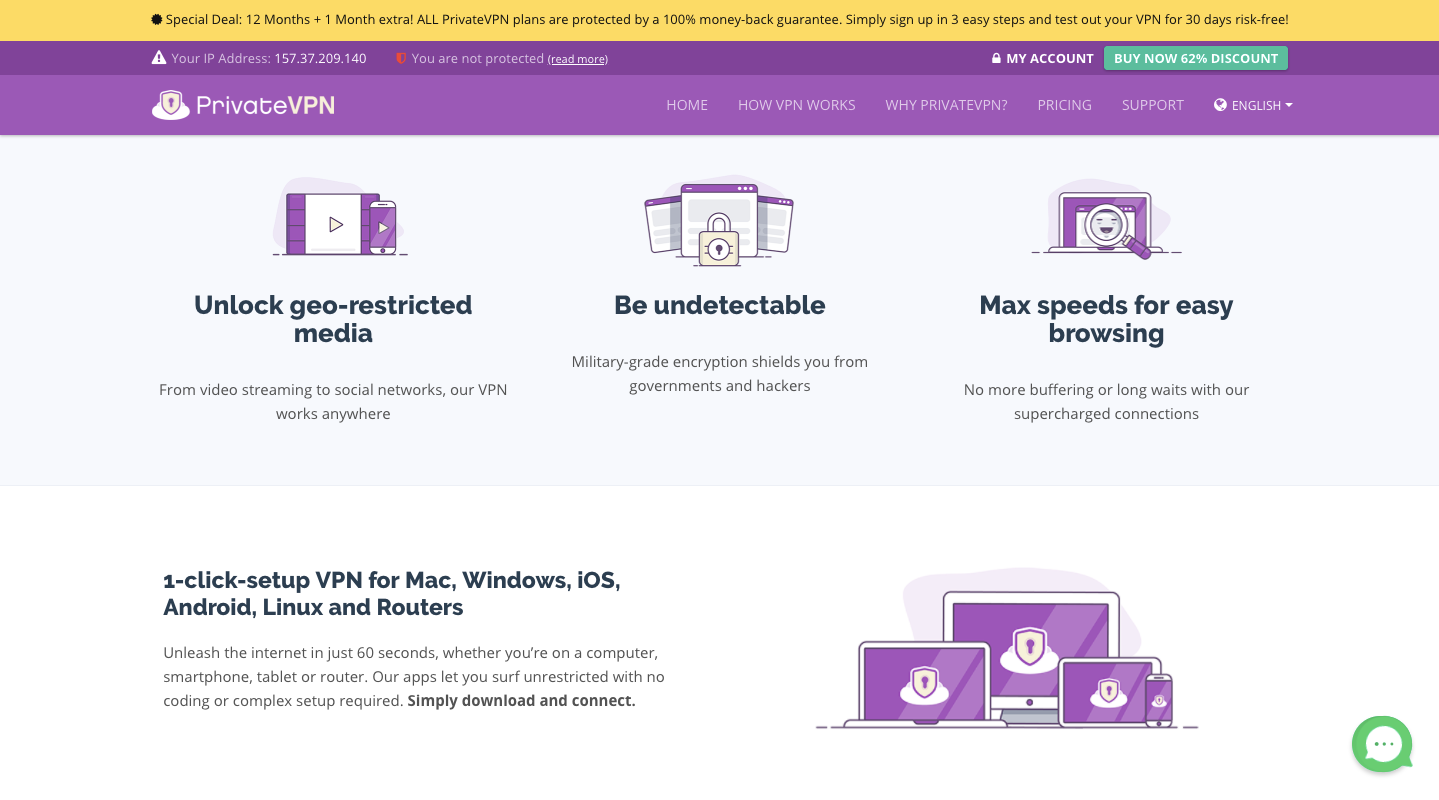 PrivateVPN offers a number of important features to end users. Our Score: 8/10.
PrivateVPN provides several features to appeal to a diverse audience including both beginners and advanced users. The app unlocks geo-restricted data for starters, allowing video streaming and use of social networks across boundaries. It allows users to be undetectable so they can browse the internet with confidence without ever being traced by prying eyes.
The software also provides for Max speed for easy browsing, providing supercharged connections. The 1-click setup feature for various devices makes it easy to install and use.
Ease of Use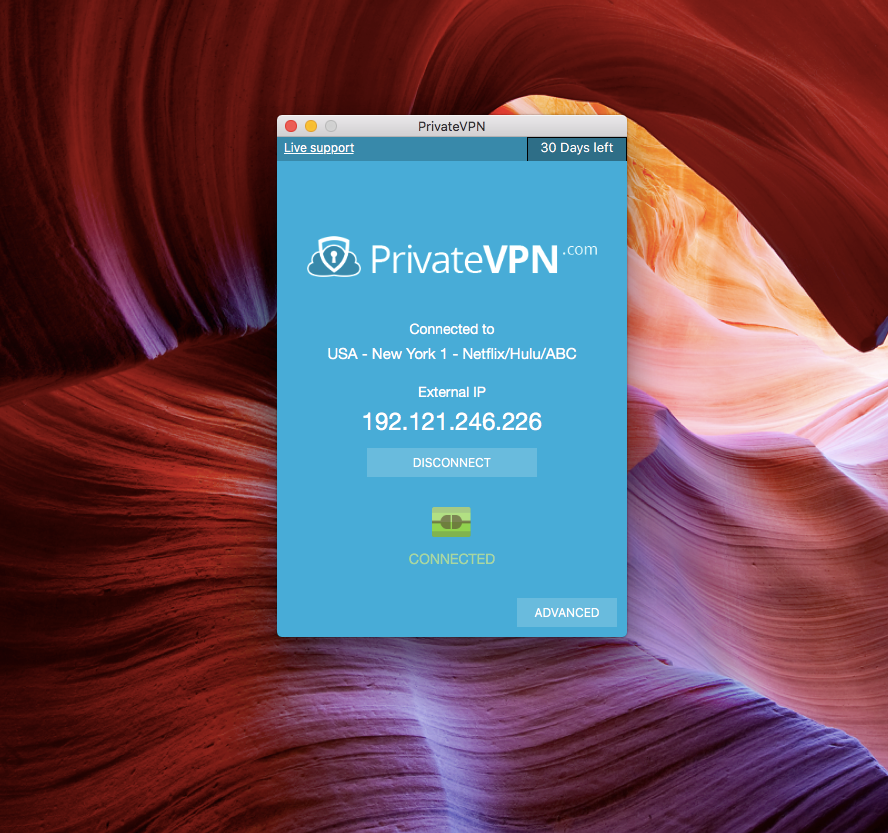 PrivateVPN is very easy to use and takes minutes to get familiar with. Our Score: 10/10.
PrivateVPN with its intuitive UI is very easy to use. The user can switch between the easy and advanced modes with a click on the 'Advanced' button on the bottom. The following is how the advanced dashboard looks. You can choose the server from the 'Connection Type' dropdown menu and the encryption type and connection type as well.
The settings section is where you can configure the software for your use.
You can set up the VPN to connect automatically after connection failure and start automatically on system startup.
Server Locations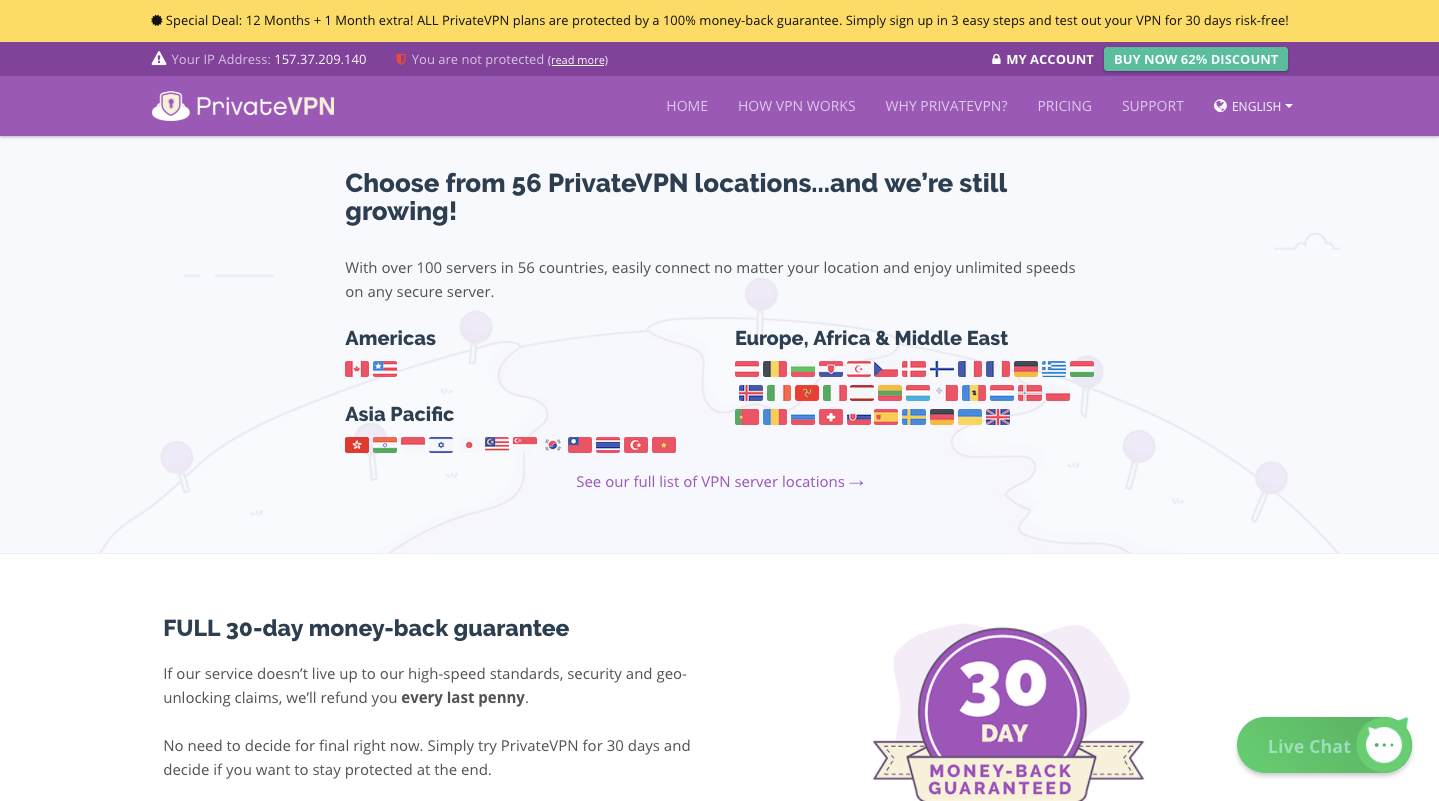 PrivateVPN has a moderately wide network of servers. Our Score: 7/10.
The software is supported by a network of nearly 80+ servers in 56 countries around the world, which is lesser in comparison to many of its peers. However, what is more important is to have a few high-performing servers rather than a flurry of non-performing servers across the world.
The choice of servers is an important one for it determines the overall system performance and connection speed.
Speed
PrivateVPN relies on a High-Quality Network (HQN) and performs well in speed tests. Our Score:8/10.
When it comes to speed, PrivateVPN performs well in our speed tests. It is important to note that the tests should only be used as a basic guide since they heavily depend on the network conditions present at the time of testing, which fluctuate widely.
Let's first conduct a baseline test with the VPN turned off. We tested on Netflix's fasts service since speedtest.net flagged latency errors during uploads.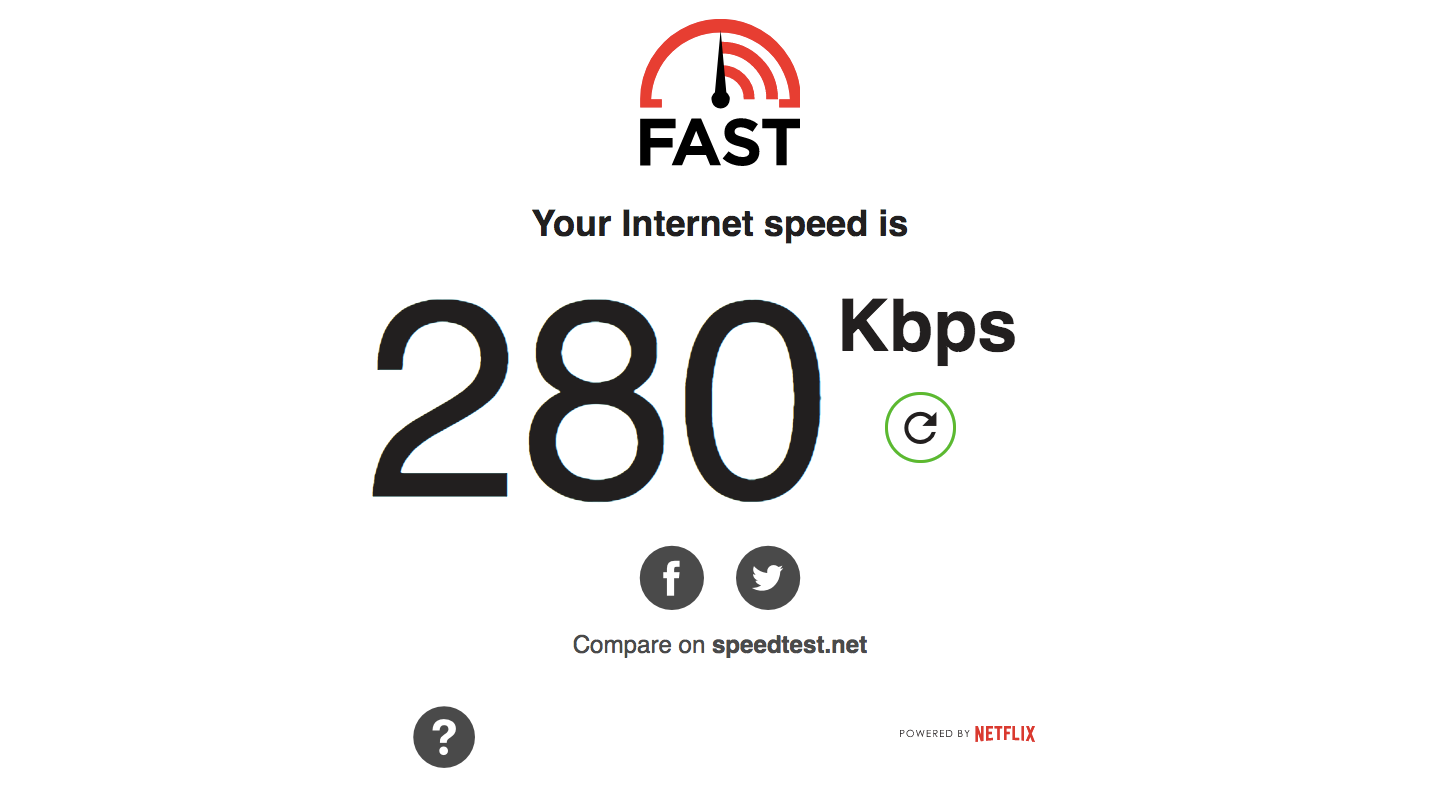 It's now time to turn the VPN on and switch to a non-US server.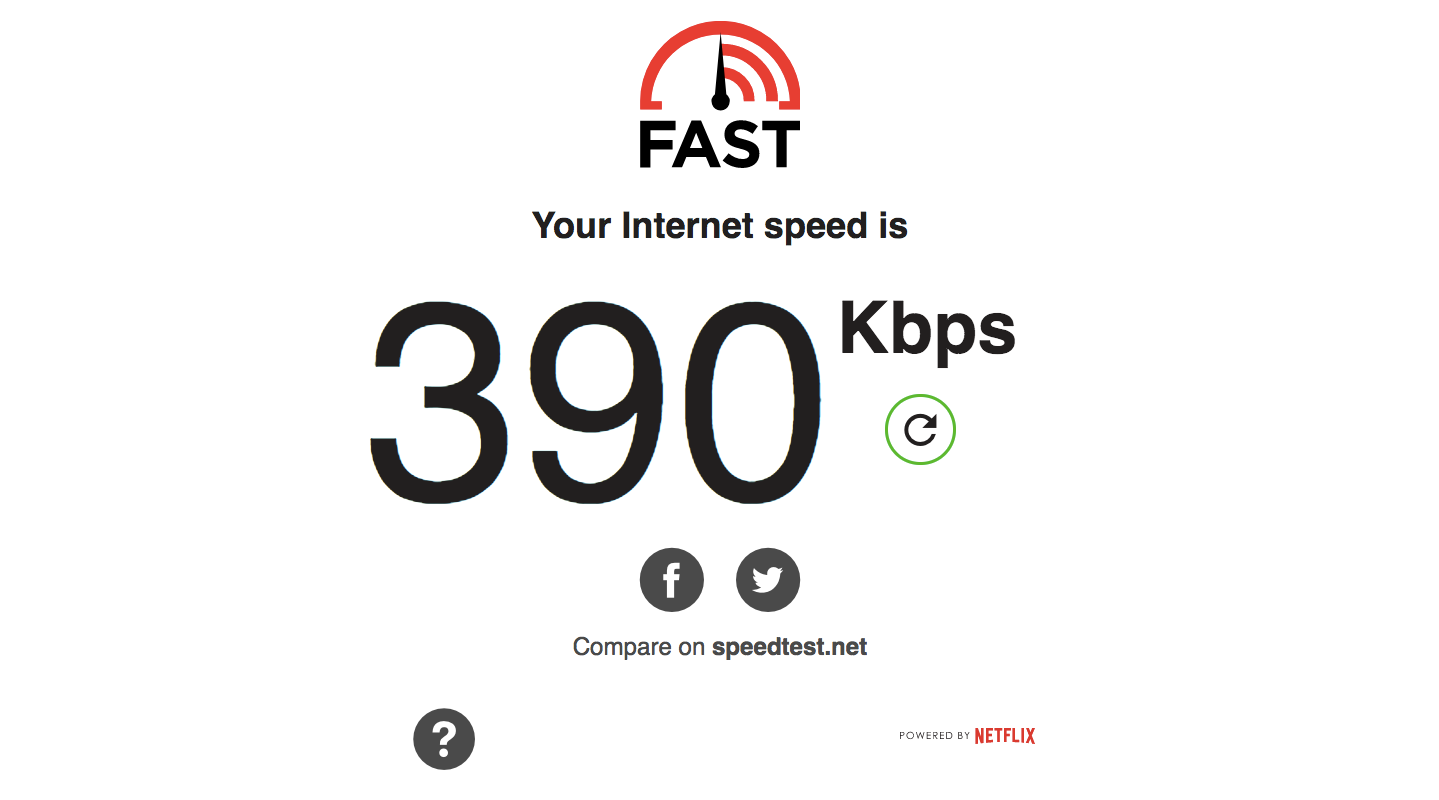 Finally, let's switch to a US server, particularly the streaming server designated for Netflix and run the speed tests again. Surprise, surprise!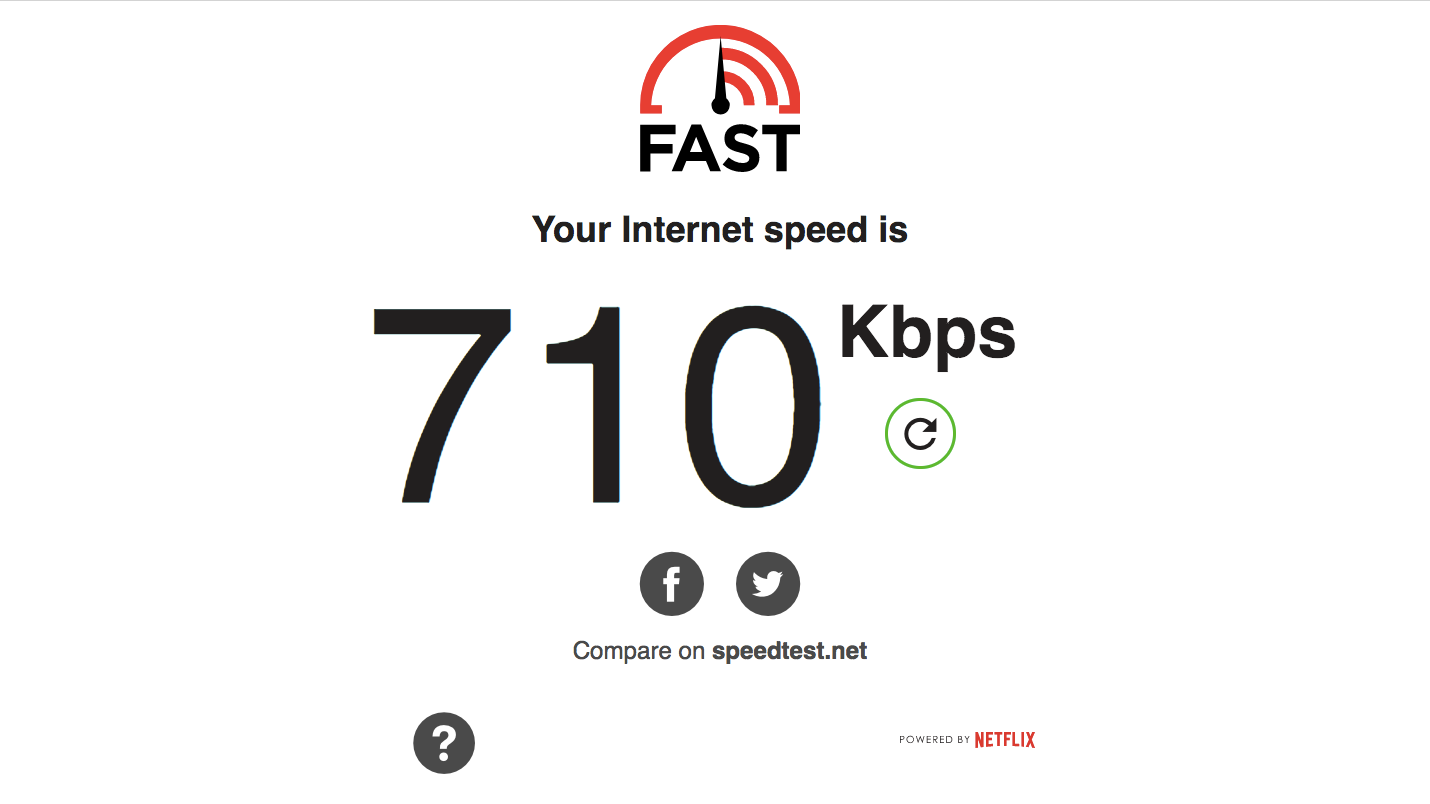 The VPN boosts speeds, which is great. Overall, the speed and performance is amazing.
Security & Privacy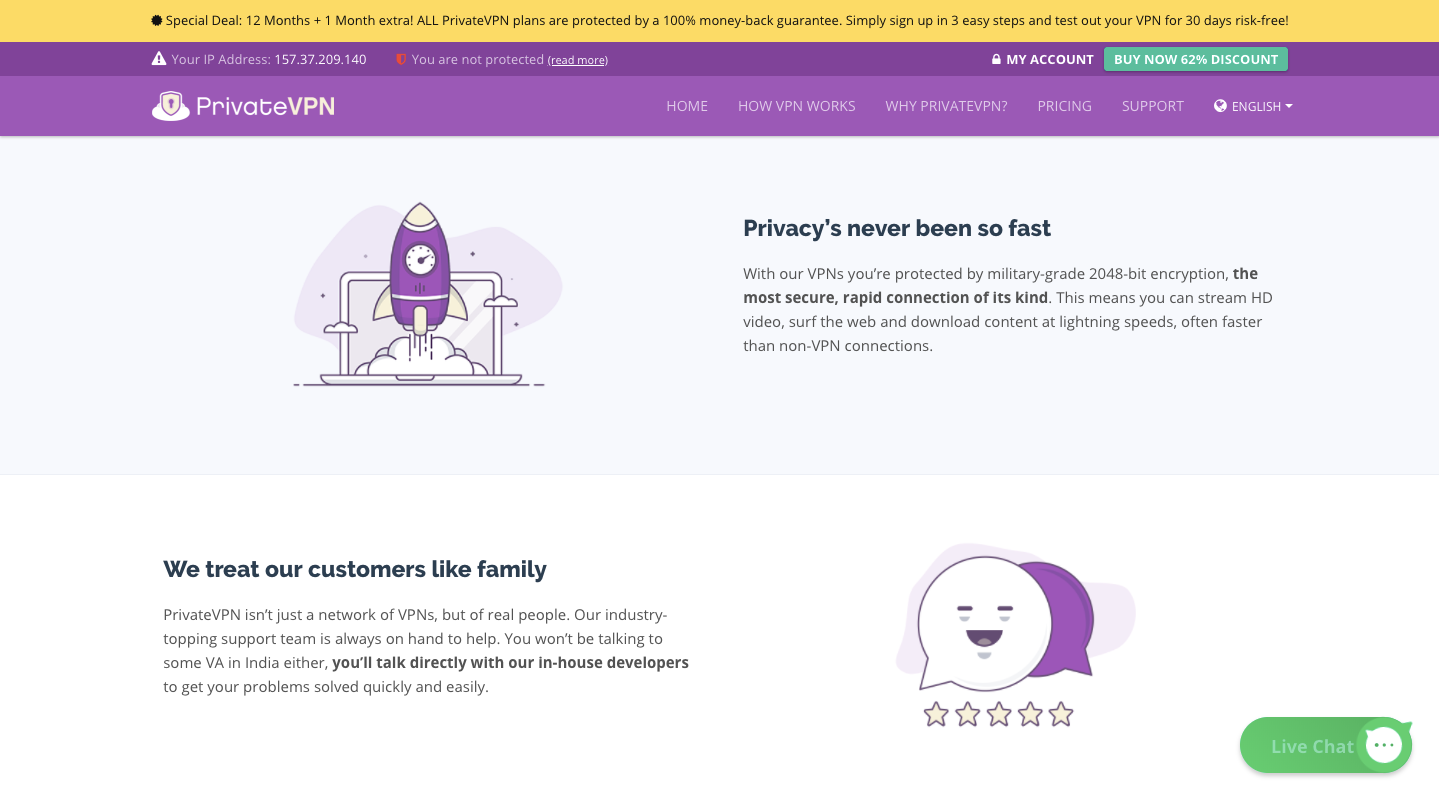 PrivateVPN features a number of exciting privacy and security features. Our Score: 8/10.
PrivateVPN hosts great features including the connection guard, which automatically shuts down certain applications when the connection drops and resumes them later on re-establishment of connectivity.
Encryption
PrivateVPN uses AES-256 encryption. It also supports the cipher Blowfish 128-bit encryption.
Logging
PrivateVPN does not store any data logs whatsoever. This means users can browse the internet with a peace of mind- the VPN tool isn't tracking their moves or browsing activity.
DNS Leaks
Many VPN tools can accidentally leak DNS data. Let's see how PrivateVPN fares in the DNS leak test.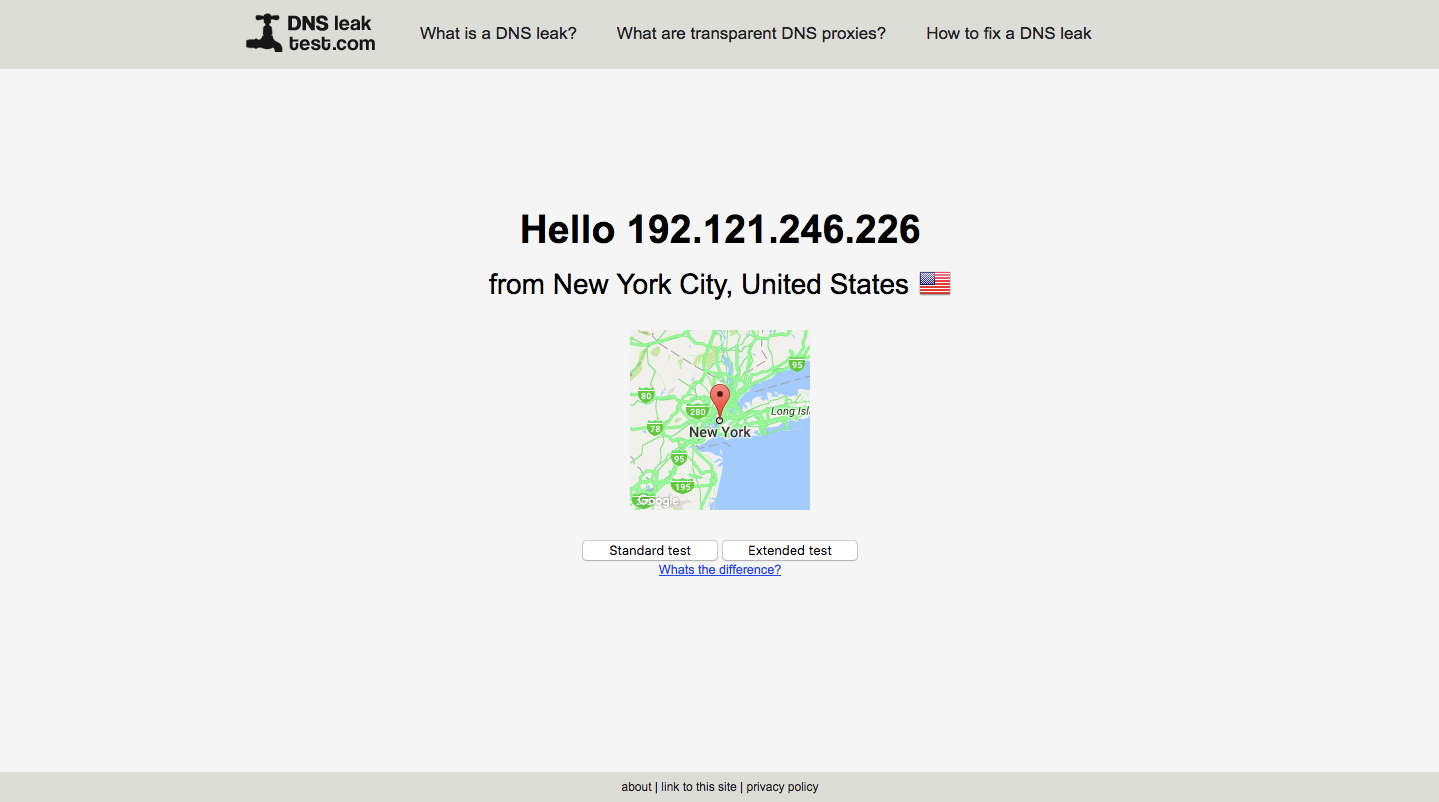 The result is clear: the software does a commendable job of effectively cloaking our IP address.
Customer Service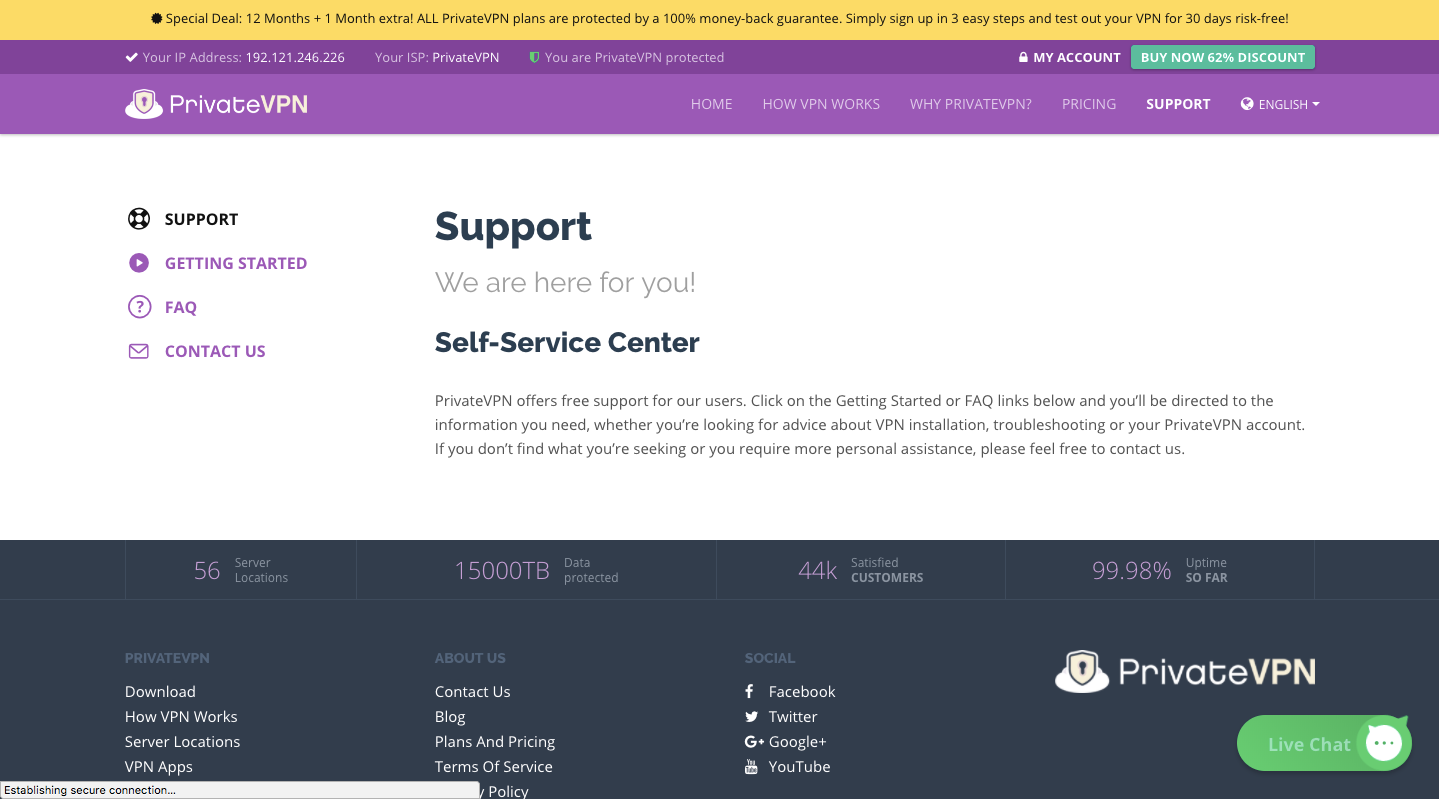 PrivateVPN has one of the best customer support services in the market. Our Score: 10/10.
Many customer service agents simply beat around the bush without actually addressing the issue at hand. Not with PrivateVPN. Their customer service is exceptionally friendly and provides to-the-point answers to your queries.
We contacted live support via the chat functionality and got our queries addressed within seconds. Kudos to the team!
Pricing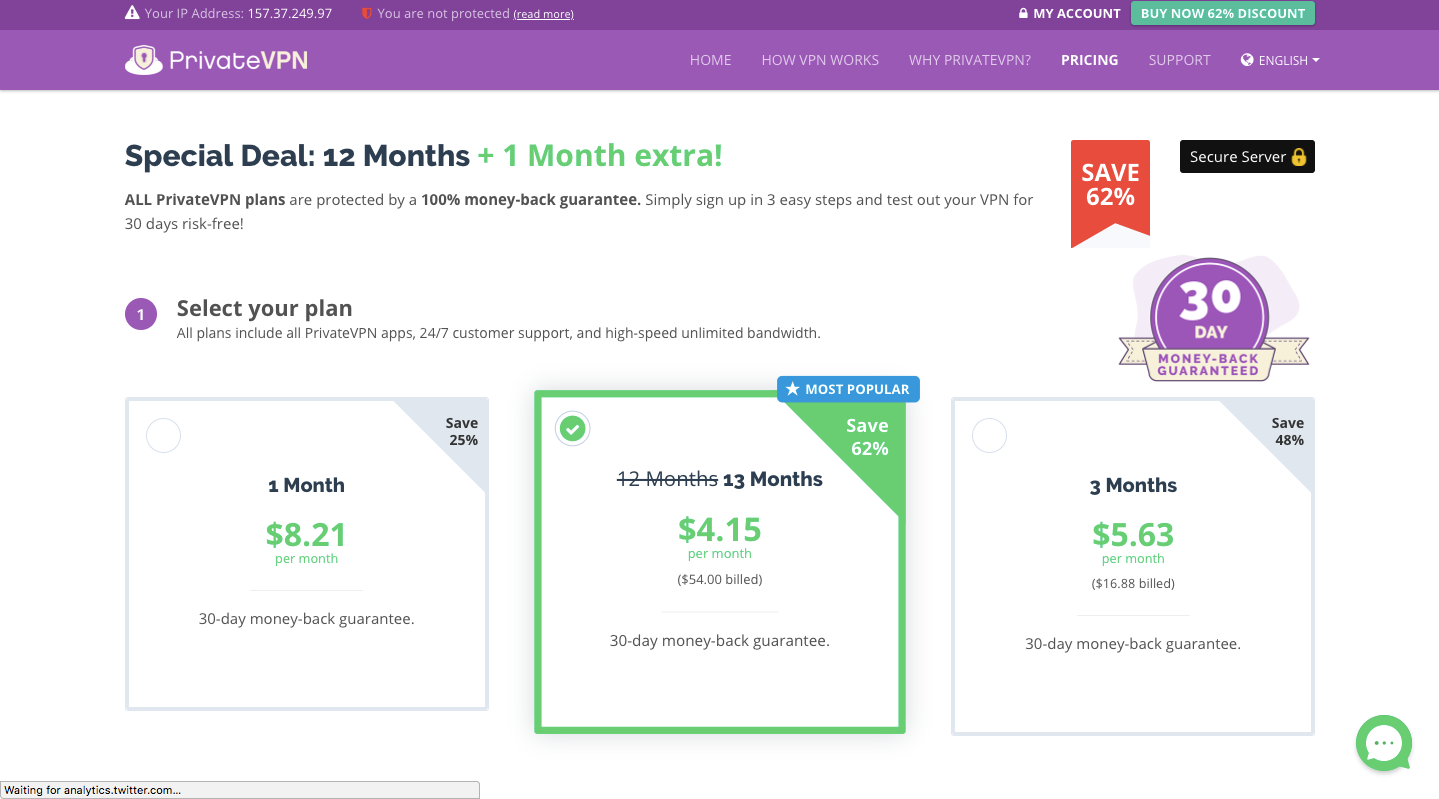 PrivateVPN offers three main pricing plans to choose from. Our Score: 8/10.
PrivateVPN is moderately priced with many of its peers charging higher prices and many charging lower amounts. Here are the three pricing plans on offer:
We highly recommend choosing a monthly plan for VPNs since servers that work for specific purposes such as unblocking geo-restricted content can quickly fall out of function in a few months as streaming services continually block new IPs.
The Verdict
PrivateVPN is a fast and lightweight VPN application available for all popular OS platforms.
Who Should Use This VPN? Those looking out for an easy to set up and use VPN which is fast and unblocks Netflix and Hulu geo-restricted content with designated servers
Who Should Not Use This VPN? Those seeking a low-priced VPN service for advanced users seeking very deep levels of customization
Final Verdict: 8.8 out of 10!
Buy PrivateVPN
If you wish to purchase the tool, head to the official PrivateVPN website and buy a subscription plan.
Final Thoughts
PrivateVPN is a fast VPN tool that combines powerful features including auto-reconnect and connection guard with basic VPN functionality. It is available for download on all popular OS platforms and is easy to set up and use.
With this, we complete our review of PrivateVPN. We sincerely hope you've found the review helpful- please consider sharing the article on your social media networks.
Please leave us a comment should you like to share your thoughts- we are all ears!