By taking a look at PrivateVPN's website, we can see that it promotes a very enticing offer. This VPN service claims to bring strong encryption protocols without collecting your private data – while letting you enjoy the Web at 'lightning speeds'. So, we are going to put PrivateVPN through a series of tests and see if all those claims are true. With this said, we wish you a warm welcome to our PrivateVPN review!
First, we are going to introduce you to this VPN service. Take a look at the table found below and you'll get to know some basic (but pretty important) facts. Let's begin.
Quick Facts
Jurisdiction
Sweden (EU)
Logs
No logs, whatsoever
Number of Servers
60 countries, 150+ servers
Parallel Connections
6
Encryption Standards
AES-256; OpenVPN (TCP/UDP), L2TP, IPSec, IKEv2
Speed Reduction
22% on average
P2P Support
YES
Live Chat Support
YES (but not 24/7)
Supported Platforms
Windows, macOS, iOS, Android, Linux, and routers
Price
Starts at $3.82/month
The following table will let you know if PrivateVPN can unblock popular media streaming websites. So, let's take a look.
Media Streaming Support
American Netflix
YES
Hulu
YES
BBC iPlayer
NO
Amazon Prime Video
YES
Kodi
YES
And before we jump to our hands-on review, here have one more table for you. This one presents our findings after having tested this VPN provider. Therefore, you'll surely find it helpful if you don't have the time to read this entire article.
The Bottom Line
Pros
Broad platform compatibility; Strong encryption; No data collection; Numerous VPN protocols; Unblocks popular websites.
Cons
Old-fashioned UI; A small number of servers.
The Final Verdict
Despite a few flaws, PrivateVPN provides plenty of interesting and highly capable features, and it comes with solid performance.
Our Score
8.5/10
We're now ready to proceed with our full review. We are going to present our findings after having spent some time testing PrivateVPN. So, keep on reading to learn everything that you need to know.
PrivateVPN – TechNadu's Hands-On Review
Just like we do with every VPN review, we'll take a deep look at PrivateVPN. This begins with inspecting its background and reputation. Then, we'll show you how to install this VPN, how to use it, and what to expect. You can learn more about these individual aspects of this article in our central explanation of how we review VPNs.
Background, Jurisdiction & Reputation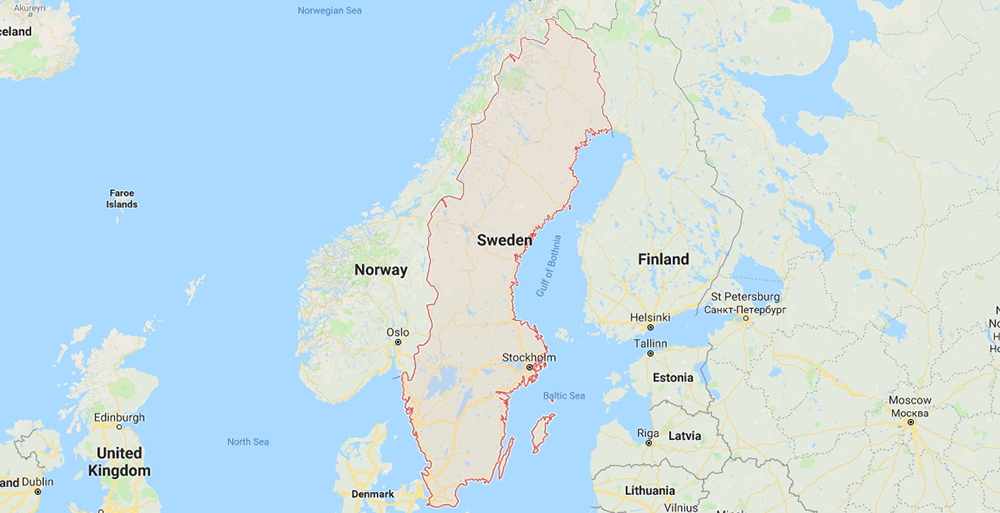 Even though PrivateVPN comes from Sweden, it doesn't collect any personal data. It also doesn't have any data leaks in its past. Our Score: 10/10.
To be comfortable using a VPN, you must be comfortable with the way it treats your private data. The best case possible is to use a VPN that doesn't collect your data – and it should also come free of any data leaks in the past.
Jurisdiction & Applicable Laws
The most important thing to know is the fact that PrivateVPN is based in Sweden and run by a company called 'Privat Kommunikation Sverige AB'. This county, even though it's a member of the European Union, has its own data retention laws. So, we wanted to find out how's it possible for this VPN not to collect any data (as it says on the website)?
We've talked to the company's representatives about this issue. They've confirmed that they're located in Sweden – which provides a safe haven for their operations. It appears as they've found a legal loophole which made it possible not to collect personal data in order to protect their customers. You see, Sweden has somewhat polarizing laws when it comes to this. On the one hand, it forces online entities to collect and store personal information. On the other hand, this is a highly proactive country when it comes to personal data. Its citizens enjoy an added layer of protection, unlike in the rest of the European Union.
As it was proven before (we'll talk about this in the next segment), PrivateVPN truly doesn't store any logs. Even if someone comes for your data, they won't be able to provide anything of importance.
Previous Data Leaks
You will be happy to know that PrivateVPN stays true to its 'no-logs' policy. There aren't any data leaks in the past that would prove that this VPN provider stores data that could identify its users. With this said, it's important to note that PrivateVPN is one of the rare VPNs with no privacy-related scandals in the past.
All in all, it seems like PrivateVPN is one of the trustworthy VPNs, which has become a rare thing in today's market – at least until proven otherwise.
Supported Platforms & Devices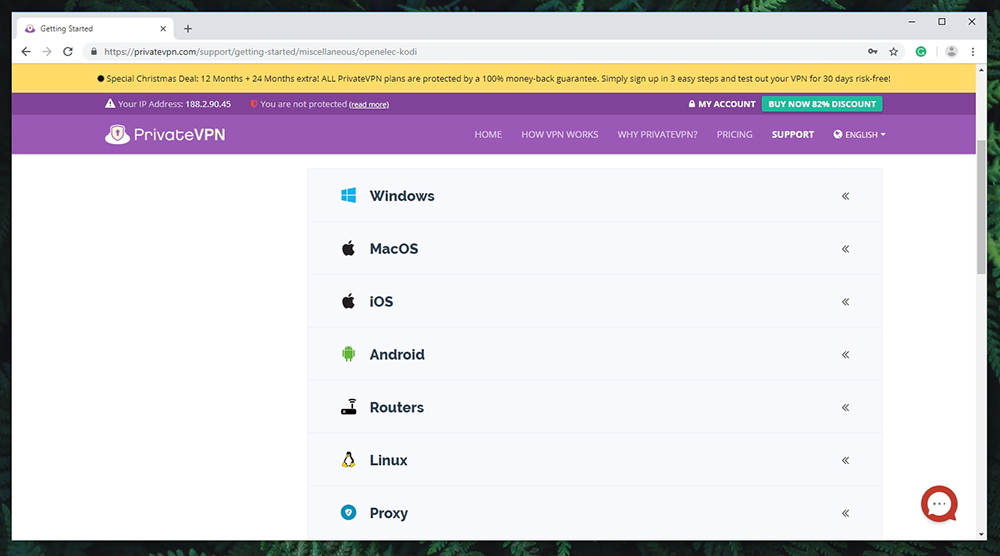 When it comes to PrivateVPN's platform and device support, you'll find that Web browsers are missing. Other than that, you should be covered well. Our Score: 9/10.
First, we are going to show you a handy table with all the supported devices listed. So, here's how PrivateVPN ranks in terms of desktop and mobile platforms, as well as other VPN-compatible devices.
Platform Compatibility
Desktop Platforms
Windows, macOS, Linux, Chromebooks.
Mobile Platforms
Android, iOS.
Web Browsers
None.
Routers
DD-WRT, Tomato and other VPN-compatible routers.
Other Devices
Raspberry Pi, Amazon Fire OS.
By taking a look at the above, it's clear that PrivateVPN's coverage of devices is good. Almost every popular desktop and mobile platform is on the list, and routers are included as well. However, you won't find one thing here – Web browser extensions. However, we can't think of this as a major drawback, since browser extensions usually serve as proxies. To use a VPN up to its full advantage, you need a native app – and this is where PrivateVPN truly shines.
You should also know that PrivateVPN lets you connect up to 6 devices at the same time, which is plenty. Of course, installing it on a router counts as one device – no matter how many devices you connect to that router.
Installation & Initial Configuration
To get started with PrivateVPN, all you need is to download its installer, run it – and you'll have the VPN fully prepared under a minute. It's that simple. Our Score: 10/10.
Of course, everything starts by signing up for PrivateVPN. Once you pick a plan and finalize the purchase, you'll have your username and password. These are used to log in to your account on the VPN's official website.
Download the installer to your computer, run it by double-clicking on it, and the installation process will start. You'll have to accept the terms of use, select where you want the application to be installed, and that's about it. Once the installation is done, you'll need to restart your PC. After that, log in with your credentials and you're good to go.
Prominent Features
PrivateVPN has done a nice job of offering total security to its customers. The only thing that's missing is an ad-blocker, which isn't a major drawback. Our Score: 9/10.
In our every VPN review, we like to present a series of features that every highly capable VPN needs to have. This gives us a nice overview that's helpful when comparing different options.
VPN Features Checklist
DNS Leak Protection
YES
IPv6 Leak Protection
YES
Kill-Switch
YES
Ad-Blocker, Anti-Malware
NO
Unlimited Server Switches
YES
Unlimited Bandwidth
YES
Unlimited Data
YES
It's evident that PrivateVPN has covered the basics quite well. When you connect to one of its VPN servers, you'll immediately get DNS and IPv4/IPv6 leak protection. Of course, your data will be encrypted with AES-256 in addition to numerous VPN protocols. It's also worth mentioning that PrivateVPN doesn't come with any limitations. No matter which subscription plan you pick, you can use it with no data limitations or restrictions.
The only thing that's missing here is an ad-blocker. More advanced VPNs offer this kind of tool to eliminate any potential tracking online, as digital ads are known to contain different kinds of trackers. Still, this doesn't mean that PrivateVPN doesn't provide total protection for your data.
Server Count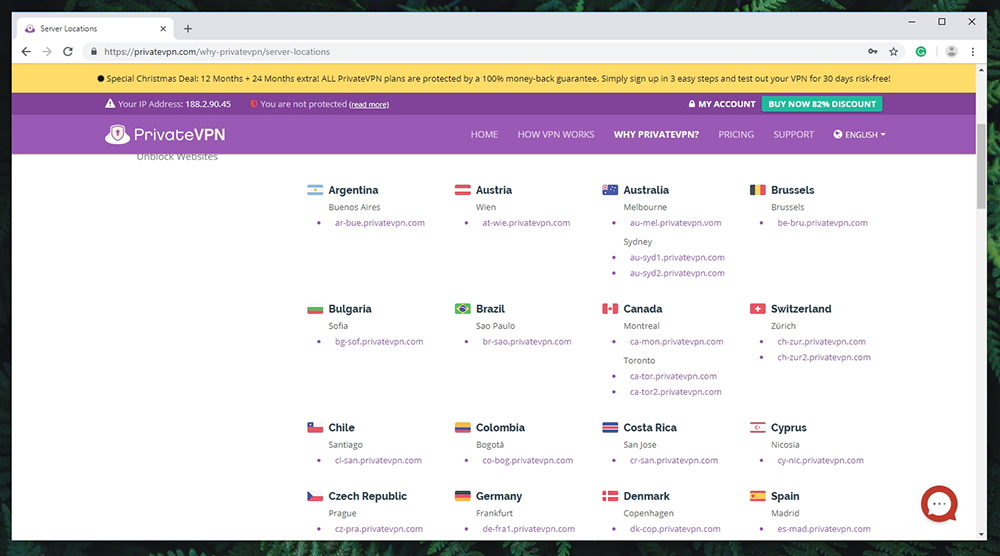 PrivateVPN brings only 150+ servers, which is actually one of the smallest VPN server networks out there. Our Score: 2.5/10.
We check each VPN's server network to see how many secure servers they offer, as well as where they're located. Here's what you need to know about PrivateVPN's network.
Server Count Info
Number of Servers
150+
Number of Locations
90+
Number of Countries
60
Specific Cities Selection
YES
Unlimited Switching
YES
At the moment, PrivateVPN offers a bit over 150 VPN servers spread around the world. We have to say that this isn't much, considering that the most powerful VPNs bring from 3,000 to 5,500+ servers. This ensures smooth performance and the ability to use all kinds of specialized servers. With this said, it's clear that PrivateVPN is on the 'lower' end of the spectrum.
However, we still think that average home users could be perfectly happy with what PrivateVPN offers. We only hope that this company will manage to answer to its growing user base by adding plenty more servers, to accommodate all of its users.
Ease of Use
Even though it's far from being the most polished VPN, PrivateVPN comes with a simple (albeit old-fashioned) interface. Our Score: 8/10.
We are now going to take a look at how PrivateVPN looks like, and how easy it is to use. After all, you want something simple yet powerful enough to give you complete freedom of the way you browse the Web.
Once you launch PrivateVPN for the first time, you'll actually see its 'Simple' interface. It consists of a drop-down menu where all the servers can be found. You select a server, click on 'Connect' and you're ready to go. However, PrivateVPN knows that there are numerous advanced users who want to use this software, and they've built an 'Advanced' version as well. When you click on the 'Advanced' button, you'll see the application's expanded interface.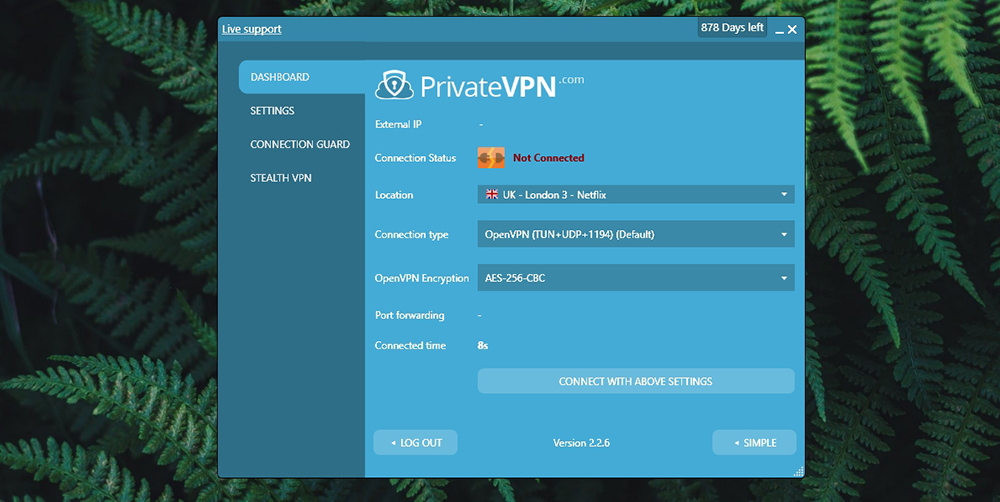 Once we enter the 'Advanced' view, PrivateVPN starts to look like a fully-featured VPN application. On the left side of the screen, you will see four tabs used to control the entire application. So, we will take a closer look at each of those:
Dashboard: This is where you'll spend the majority of your time. You can select a server, for starters. Based on the selected server, you can choose two additional options. First, you select the desired VPN protocol (with OpenVPN being the most commonly used one). And you can also select a level of encryption from AES-128 up to AES-256 (GCM or CBC). When you click on 'Connect', you'll see your external IP address, port forwarding setup, and connected time.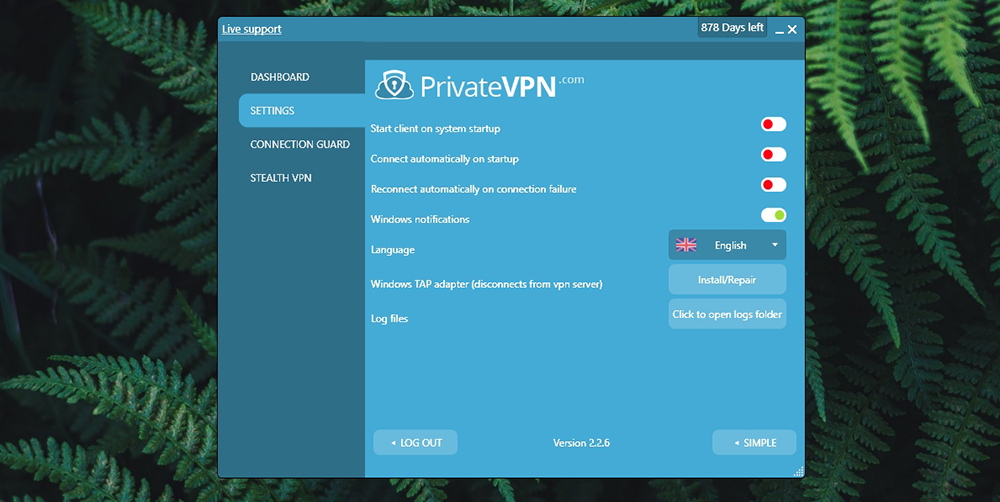 Settings: PrivateVPN keeps its settings at a minimum. You can decide if you'd like to auto-start the application on system startup. And if you decide to do so, you can instruct PrivateVPN to connect to a secure server automatically. Then, you can also enable/disable notifications, decide whether you want to reconnect on connection failure, repair Windows TAP driver, and see log files. Remember that log files are useful when contacting customer support, so this is where you'll find them.
Connection Guard: Now, here's a very interesting set of options. We highly recommend you to enable IPv6 and DNS leak protection. Also, you should enable the application's kill-switch which prevents your data from leaking if a secure connection drops. Then, you can use something called 'Application Guard'. You can decide which applications you want to keep protected at all times. If a secure connection drops, those applications will automatically shut down.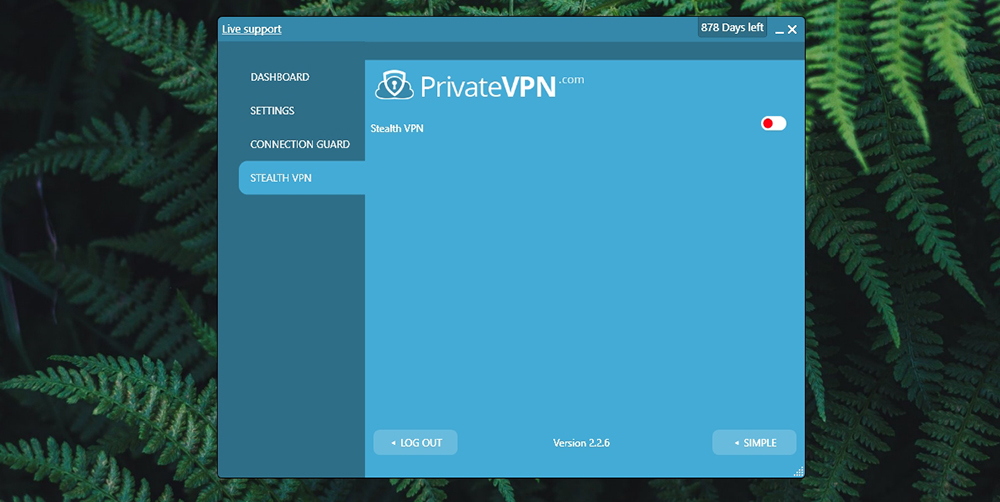 Stealth VPN: In countries where VPN blocks are in place, you can instruct PrivateVPN to use advanced techniques to break through those barriers. This is useful in countries like China, for example. You can use L2TP as your VPN protocol of choice and then enable the 'Stealth VPN' mode. With this done, PrivateVPN will able to go over the Great Firewall of China.
All in all, PrivateVPN comes with a simple UI. However, having a simple UI isn't enough in today's overcrowded market. There are VPNs that are not only simple – but also look amazing on various devices, including large-screen monitors. With this said, we hope to see PrivateVPN more polished and much more attractive in the future.
Media Streaming & Torrenting Support
Aside from unblocking BBC iPlayer, PrivateVPN is your answer to unblocking popular media streaming websites. Our Score: 8/10.
We test each VPN to see if it can unblock popular streaming website outside the USA. We think of this as a highly important aspect of VPNs, as many individuals primarily use them for unblocking websites.
Media Streaming & Torrenting Support
Netflix US
YES
Hulu
YES
BBC iPlayer
NO
Amazon Prime Video
YES
Torrenting (P2P)
YES
Unblocking popular media streaming websites is easy with PrivateVPN. When selecting a server, you'll see which ones are capable of unblocking certain websites. In the USA, you can unblock Netflix, Hulu, and Amazon Prime Video (you need to use a VPN to set up a US account first). Using servers in the UK, you can unblock Netflix and Sky. And some servers in India can unblock services like Hotstar.
Even though PrivateVPN says that they can unblock BBC iPlayer outside the UK, this isn't the case. We've tested all 7 of its UK-based servers and they were unable to unblock this service.
Let's not forget to say that PrivateVPN supports torrenting. You are free to use all of its servers to download torrent files, using a torrent client of your choice. There are no limitations here or data caps.
Security & Privacy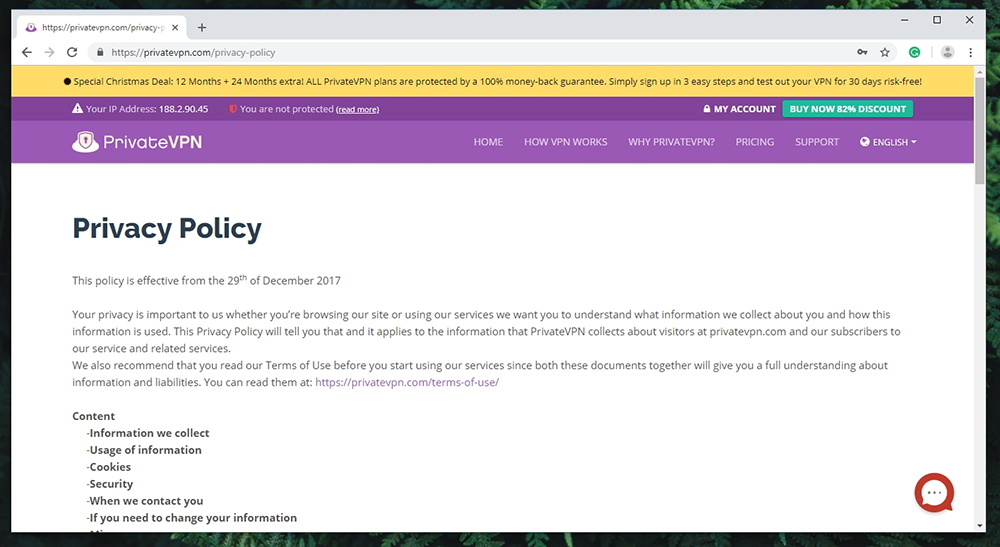 It's safe to say that you can trust PrivateVPN to keep your personal data strongly encrypted and hidden from anyone else on the Web. Our Score: 10/10.
To investigate what kind of security and data protection you can expect, we'll look at three areas of PrivateVPN. First, we'll talk about the application's encryption protocols. Then, we'll check out its logging policy and do a DNS leak test.
Supported Encryption Protocols
Just like any capable VPN, PrivateVPN is doing its best to hide your real identity. This VPN takes all your data and encrypts it, which keeps your data private from third-parties. This is done via AES-256 encryption which is the industry standard.
Then, you should know that PrivateVPN uses a wide range of VPN protocols. This includes OpenVPN (with TCP/UDP), L2TP, IPsec, PPTP, and IKEv2. All of these come with its strengths and weaknesses, with OpenVPN being the most commonly used one.
Logging Policy
PrivateVPN is taking your privacy very seriously, and it comes with a 'no-logs' policy. This means that none of your personal data is recorded on the servers, and the company doesn't know what you actually do online.
What's important to note is that PrivateVPN has never been linked to a privacy-related scandal or data leak. Since they don't collect any data, they can't reply to requests made by third-parties. Even if they receive a request to investigate a user, all they can see are encrypted numerical values. However, they haven't received any court orders to date.
DNS Leak Test
Finally, it's also important to know if this VPN leaks your sensitive data. This can be seen by running a DNS leak test – which inspects VPNs for their capability to keep your real data deeply hidden. So, let's take a look at how PrivateVPN scores.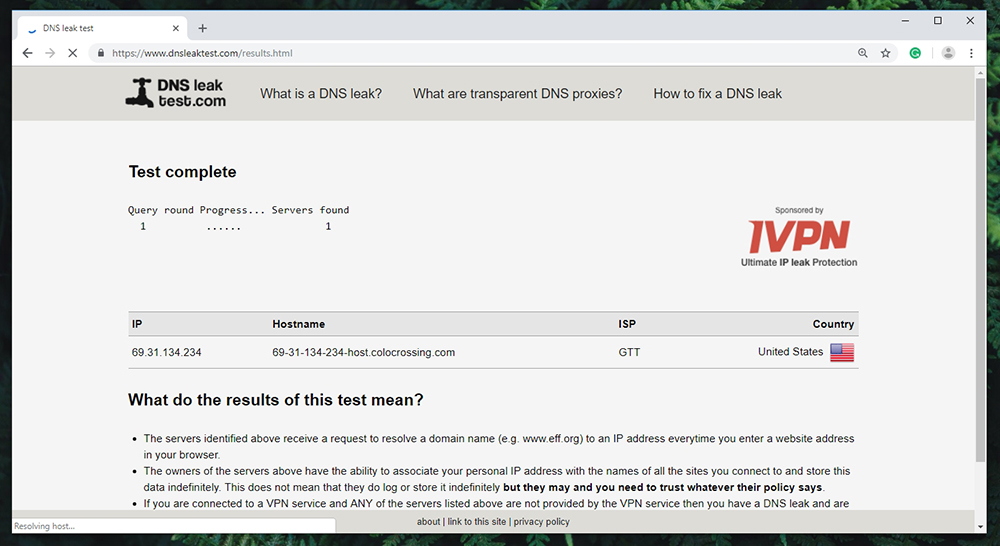 After connecting to a server in the USA, we've decided to run a DNS leak test. And according to the results we've received, websites can only see PrivateVPN's information. This means that third-parties will see a remote DNS server and our virtual IP address – which means that your personal data is kept safe.
Speed & Performance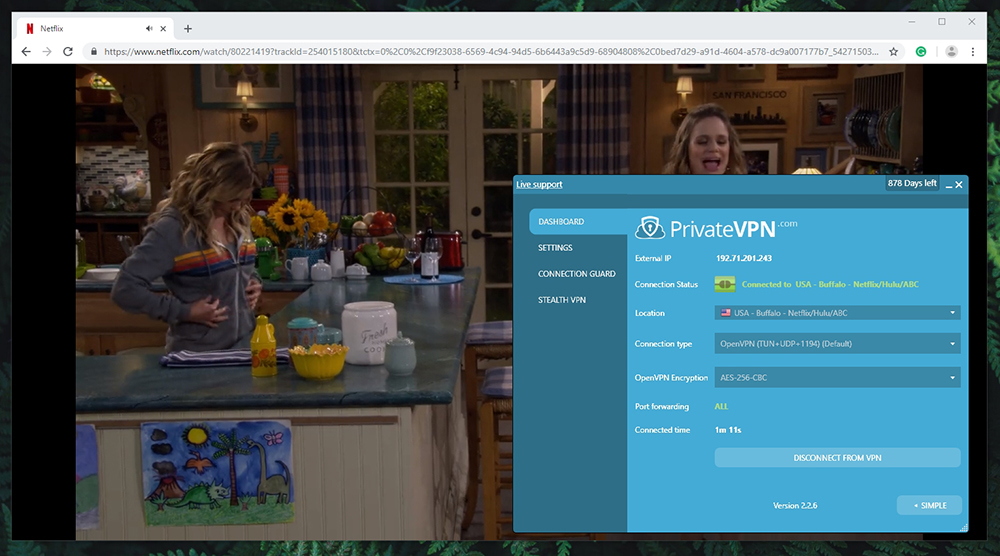 With a speed reduction of around 22%, PrivateVPN is one of the better performing VPNs out there. Our Score: 8.5/10.
Now, we are going to check the performance of PrivateVPN. This means connecting to several servers based on their geographical location and testing their speeds. We'll first start by checking the speed of your 'naked' Web connection so that we get our baseline data.

First, we've checked the speed of our Web connection without using a VPN. We got 147.86 Mbps for downloads and 9.73 Mbps for uploads. We are going to use these numbers to calculate the potential speed reduction caused by PrivateVPN.

As always, we start with a nearby server. We're located in Europe and PrivateVPN has offered us a server found in a neighboring country. After connecting to that server, we ran a speed test. Finally, we got 133.33 Mbps for downloads and 8.98 Mbps for uploads.

Finally, we've wanted to connect to a remote server, which in our case is located in the USA. We've picked a server capable of unblocking media streaming websites, as these are hugely popular across any VPN provider. We got 97.10 Mbps for downloads and 5.54 for uploads.
| | | | |
| --- | --- | --- | --- |
| | Download Speed | Upload Speed | Speed Reduction |
| Baseline Speed | 147.86 Mbps | 9.73 Mbps | 0% |
| Nearby Server | 133.33 Mbps | 8.89 Mbps | 9.8% |
| Remote Server | 97.10 Mbps | 5.54 Mbps | 34.3% |
After checking both nearby and remote servers, we can say that PrivateVPN throttled our connection by around 22% on average. You should know that every VPN will slow down your Web connection up to some point, and this reduction is usually around 20% for the best VPNs out there. So, PrivateVPN is on the 'upper' part of this spectrum.
Customer Support
PrivateVPN offers various ways to get help and have your questions answered. However, even though it offers live chat support, it isn't offered 24/7. Our Score: 9/10.
In case of any questions or doubts regarding PrivateVPN, you can turn to its official website. That's where you'll find a dedicated support section, with numerous resources available. So, here's what you can expect:
Live Chat Support: The company offers live-chat support, located in the bottom-right corner of the website. However, we've noticed that this option is not enabled 24/7. More often, you'll be able to send a message and have the company respond to you via email.
Installation Guides: PrivateVPN also offers a series of nicely written installation guides for pretty much every supported platform. There are also videos that make this process as simple as it could possibly be.
Frequently Asked Questions: PrivateVPN has done a good job of coming up with commonly asked questions and providing additional support. Instead of listing hundreds of questions as is usually the case, they've kept this FAQ section on-point and concise.
Support Tickets: And finally, there's the traditional method of customer support. You can send an email to this VPN's tech support team. On average, you can expect them to reply within one day.
All in all, it's good to know that PrivateVPN has your back in case of any questions. It would be nice to see a 24/7 live chat support, which is perhaps the only drawback to this entire customer support system.
Pricing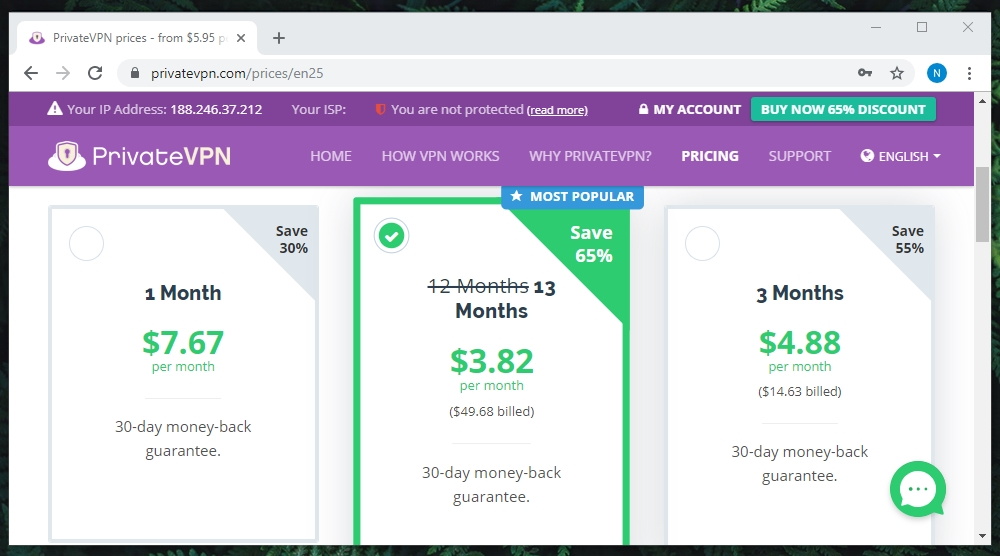 PrivateVPN often comes up with special promotions that bring its price down in a dramatic way, making this VPN one of the most affordable options. Our Score: 9/10.
Just like the majority of VPN providers, PrivateVPN offers three subscription plans. All of those bring the same feature set. The only difference is in their duration and the total price. And also, it's worth noting that these are often discounted.
| | | | |
| --- | --- | --- | --- |
| Subscription Plan | Total Price | Per Month | Savings |
| 1-Month Plan | $7.67 | $7.67 | 30% |
| 3-Months Plan | $14.63 | $4.88 | 55% |
| 1-Year Plan | $49.68 | $3.82 | 65% |
If we take a look at its most comprehensive plan, PrivateVPN comes down to $3.82 per month. And also, you get one additional month of use – so, 13 months of use in total. The majority of top-rated VPNs are priced between $6.00 and $7.00 if you go for their annual plans. Therefore, we conclude that PrivateVPN comes with an attractive price.
It's also worth noting that this provider offers frequent discounts, especially during certain holidays. At times, the price of its annual subscription can go as low as $2.00 per month – which then makes PrivateVPN one of the best deals around. So, make sure to check the latest PrivateVPN's promotions.
Finally, let's not forget to mention that you can pay via credit cards, PayPal, and even Bitcoin. And all of its subscription plans come with 30-day money-back guarantees.
Do We Recommend PrivateVPN?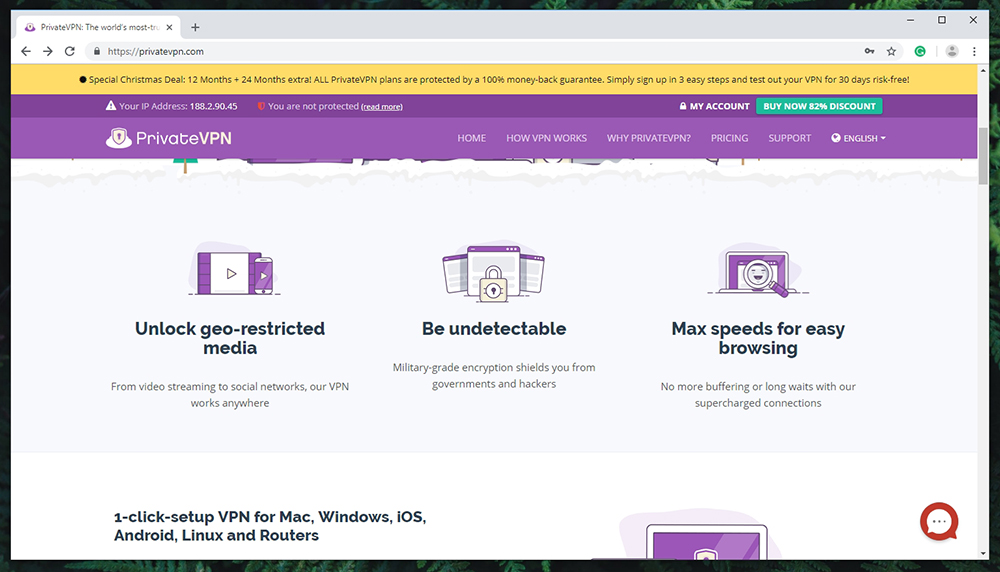 PrivateVPN shows a lot of promise. This isn't a perfect VPN service – but it also exceeds our expectations in some aspects. An ideal customer of this VPN would be someone who wants to browse the Web safely or unblock certain websites. More advanced users will be left wanting for more comprehensive options and more servers, which is something that PrivateVPN doesn't offer at the moment.
PROS: Flawless reputation; Easy installation; No data logs; 100% secure and safe to use; Unblocks popular websites; Good performance.
CONS: A somewhat outdated UI design; Relatively small server network.
OUR SCORE: 8.5 out of 10!
We can conclude that average home users are going to love everything that PrivateVPN offers. It's easy to use, unblocks websites, and comes with amazing customer support. If you see yourself using this VPN, make sure to check it out and subscribe to PrivateVPN straight away.
Finally, we'd like to ask you to share this article online. And to stay on top of the latest VPN-related news, don't forget to follow TechNadu on Facebook and Twitter. Thanks!