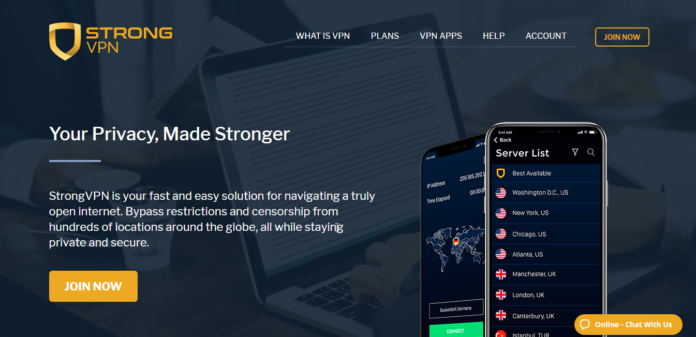 Here's our review of StrongVPN, one of the fastest VPN tools in the market today. VPN tools have increasingly become more and more widely used owing to the increasing concerns over online security. A VPN is a software that, at its very basic, will cloak your IP address, lending your device a virtual identity. This is a powerful way to browse the internet staying away from prying eyes.
Consider the encryption phenomenon in a VPN for instance. A VPN will create a secure tunnel, providing a protected conduit for your data to flow through. The table below lists the most important features of StrongVPN.
Criteria
Details
Prominent Features
Easy to use; Extremely fast;
Encryption; Variety of VPN protocols;
Zero logging
Number of Servers
650+ Servers in 20+ countries
Logging Policy
Does not log user activity
Encryption Standards
256-bit encryption, OpenVPN,
IKEv2, L2TP, SSTP, PPTP
Privacy
IP cloaking, zero logging
Speed
3.99 Mbps download speed (baseline: 4.06 Mbps).
3.37 Mbps (US Server)
Device Support
Windows, Mac, Linux, iOS, Android, Routers,
Kodi
Number of Devices
Installation on unlimited devices,
connect up to 10 at a time
Price
$10
Our Score
9.6/10
Visit
StrongVPN
One of the most common questions when it comes to StrongVPN is if they will unblock geo-restricted content on streaming services such as Netflix and Hulu. The following table summarizes the results of our tests with the StrongVPN tool. Some servers are known to unblock content including original US Netflix series, however, it is highly recommended to test the servers at your end since this is a particularly grey area when it comes to VPN operations: IPs that work today might suddenly stop working tomorrow.
| Streaming Service | Result |
| --- | --- |
| Netflix | YES |
| Hulu | YES |
| Kodi | YES |
StrongVPN has more than 650 servers across the world, and, needless to say, the choice of the server is an important one. Choose your server carefully to unlock the content you wish to view and for the best online performance. Overall, we noted that the StrongVPN tool performs great as far as the network speeds are concerned.
The following table lists the most important pros and cons of the software:
Criteria
StrongVPN
Pros

Very easy to use
Works with Netflix and Hulu
Fast performance
Allows execution on 10 devices
at a time

Cons

A bit expensive
Lacks very deep levels of
customization
Lacks many advanced features
With this, we complete a basic overview of the StrongVPN software. The following is an in-depth review of this tool based on our extensive tests and will help you make the final decision about whether this is the right tool for your devices.
StrongVPN Review
We tested the version 2.0.4.0-9445f47 of StrongVPN on a Windows 10 machine and present the results of our test below. The tests included everything from installation and setup to speed and security tests along with an examination of the software UI and ease of use. So, here goes the detailed review.
Supported Devices
StrongVPN is supported on a number of different OS platforms. Our Score: 10/10.
StrongVPN can be installed on a number of OS platforms without a problem: Windows, MacOS, Linux, iOS devices, Android devices, routers, etc- they can all use StrongVPN without any hassles.
The software can be installed on an unlimited number of devices but you will only be able to run it on 10 devices at a time for only 10 simultaneous connections are supported.
Installation & Setup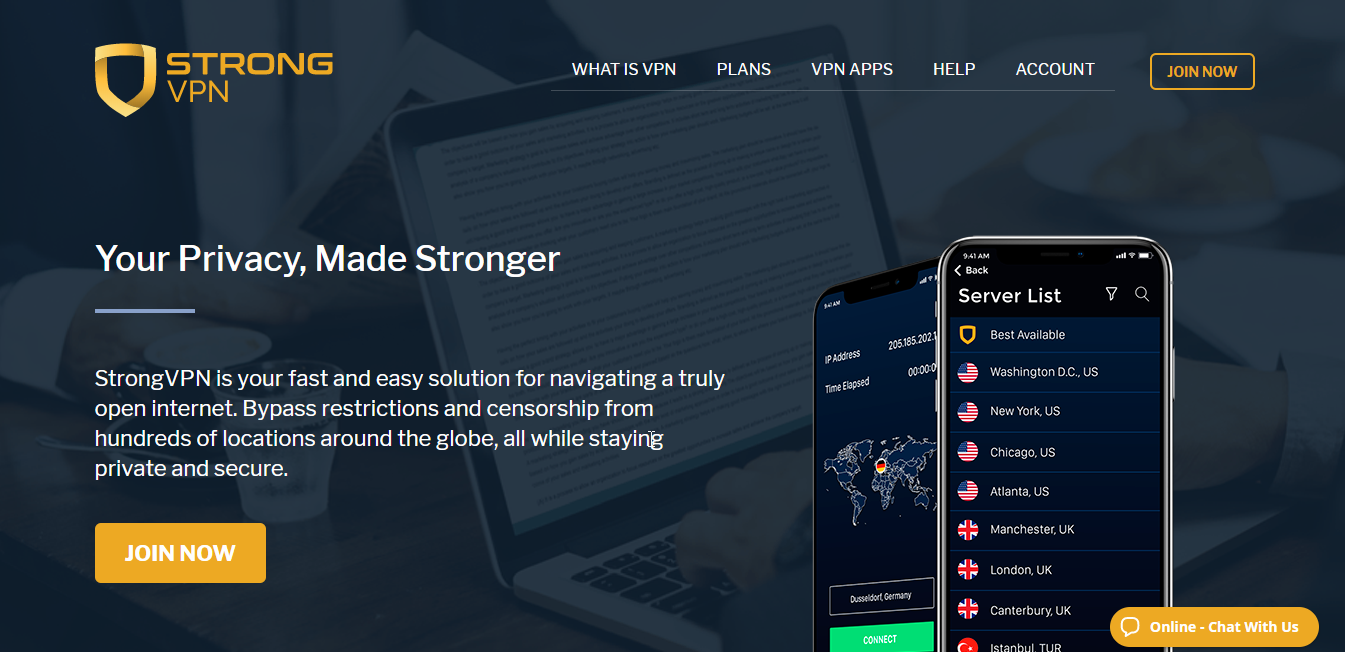 StrongVPN installation process is easy and takes a few minutes to complete. Our score: 10/10.
StrongVPN can be installed in a very straightforward manner. The installation process is easy to follow and takes a few minutes at the most to complete. We begin by heading straight to the official website of the software and downloading the app from the 'VPN apps' section.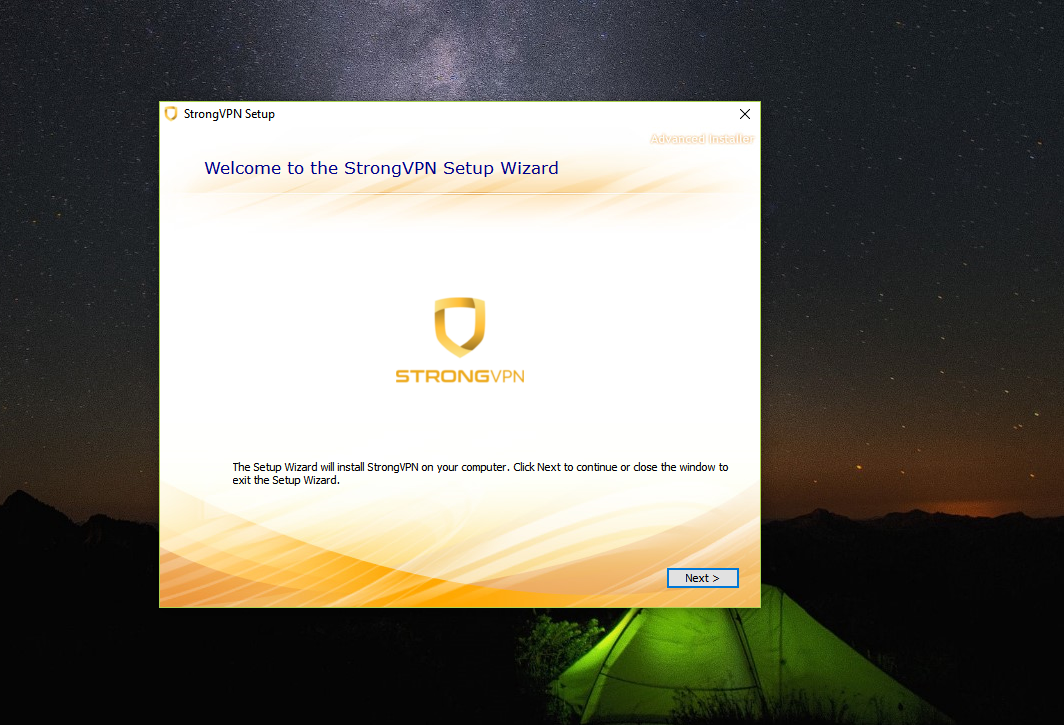 Double-click the installer file to initiate the installation process. You'll be asked to agree to the terms of agreement and choose the installation directory, after which you should be good to go.
Once extraction is complete, you'll be able to see the login screen.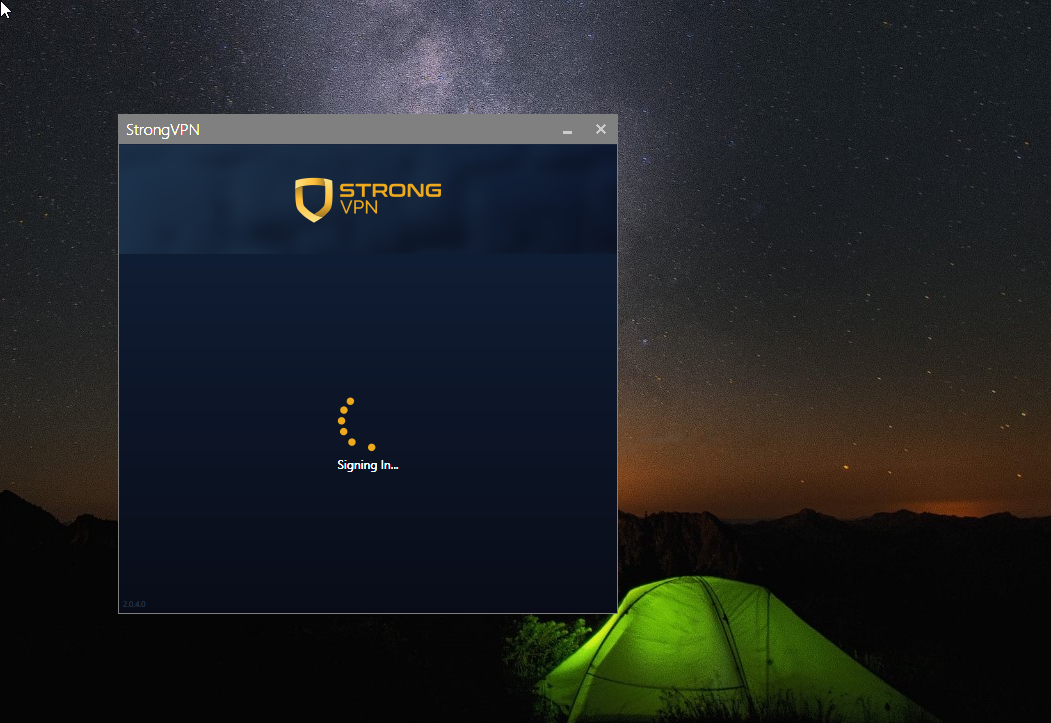 Enter your existing login credentials and log in, or, if you do not possess a subscription, sign up for a new set of credentials and you'll be up and running.
Once you enter your login credentials, the installation would be complete and you could now begin using the software. We found that a tray icon also appears, which is a convenient way of accessing the application.
Prominent Features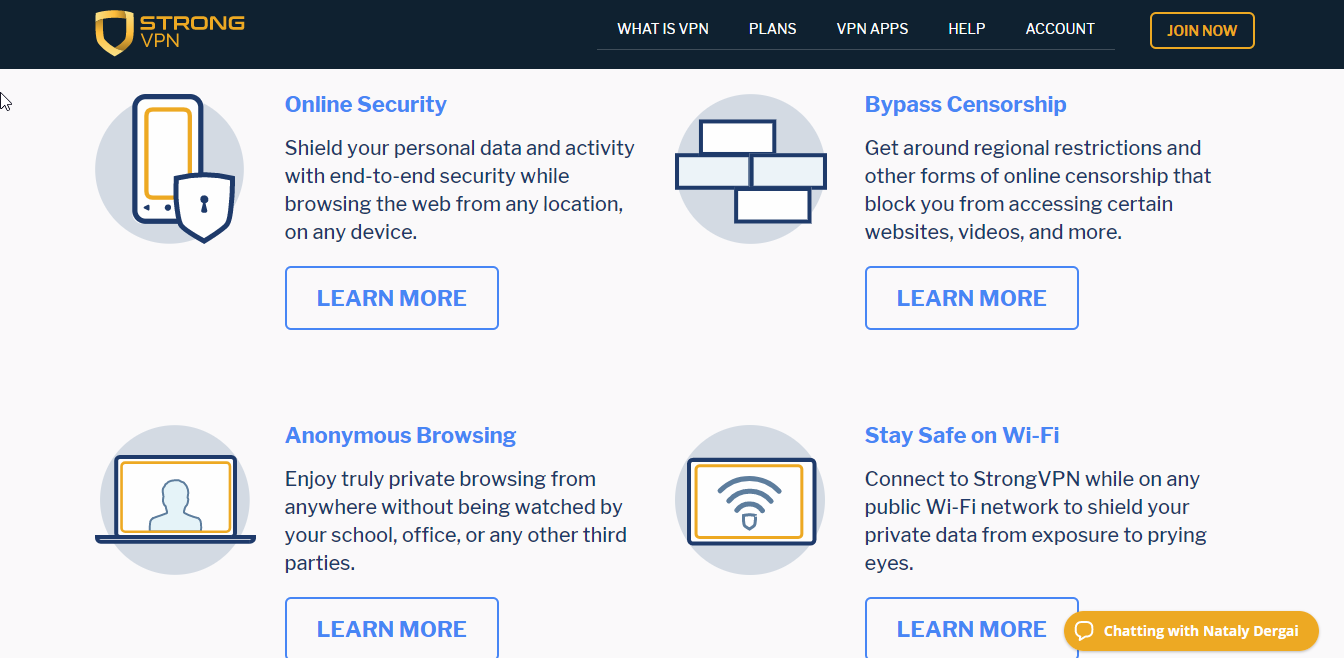 StrongVPN has a number of exciting features on board but lacks some advanced controls. Our Score: 9/10.
When it comes to the features included in the package, StrongVPN boasts all important features you'd expect in a basic VPN tool.
You'll notice the Kill Switch feature, which automatically shuts off all internet connectivity when it detects that the VPN connection has failed in order to prevent accidental data leaks.
The improved server network ensures optimal performance, while anonymous browsing effectively cloaks your IP address so your activities remain untraceable online with a virtual IP.
Bypass censorship feature allows users to watch their favorite content on streaming services such as Netflix, which might be otherwise censored in their country. This also includes other blocked websites and portals not otherwise accessible without a VPN.
Ease of Use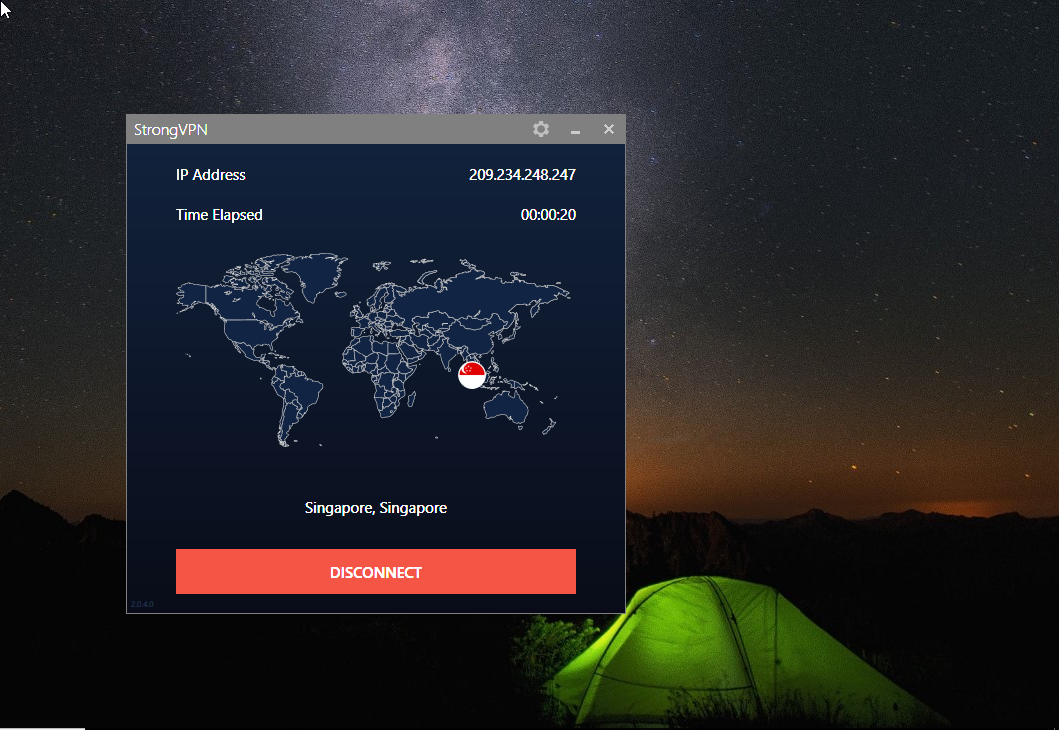 StrongVPN is easy to use with its intuitive UI. Our Score: 10/10.
StrongVPN boasts a cleanly laid out user interface which is easy to navigate and find your way around. All main controls are placed on the dashboard while the options button organizes all settings and other configuration controls. The auto-server select function is great if you quickly wish to turn the VPN service active without having to choose any server in particular. This quickly connect functionality is immensely useful in finding the best available server at a particular moment in time.
The connection process is fast- once you click on the connect button, connection merely takes a few seconds to complete. Disconnection is almost instantaneous, as with other VPN. You can head to the 'Settings' screen should you wish to fine-tune controls.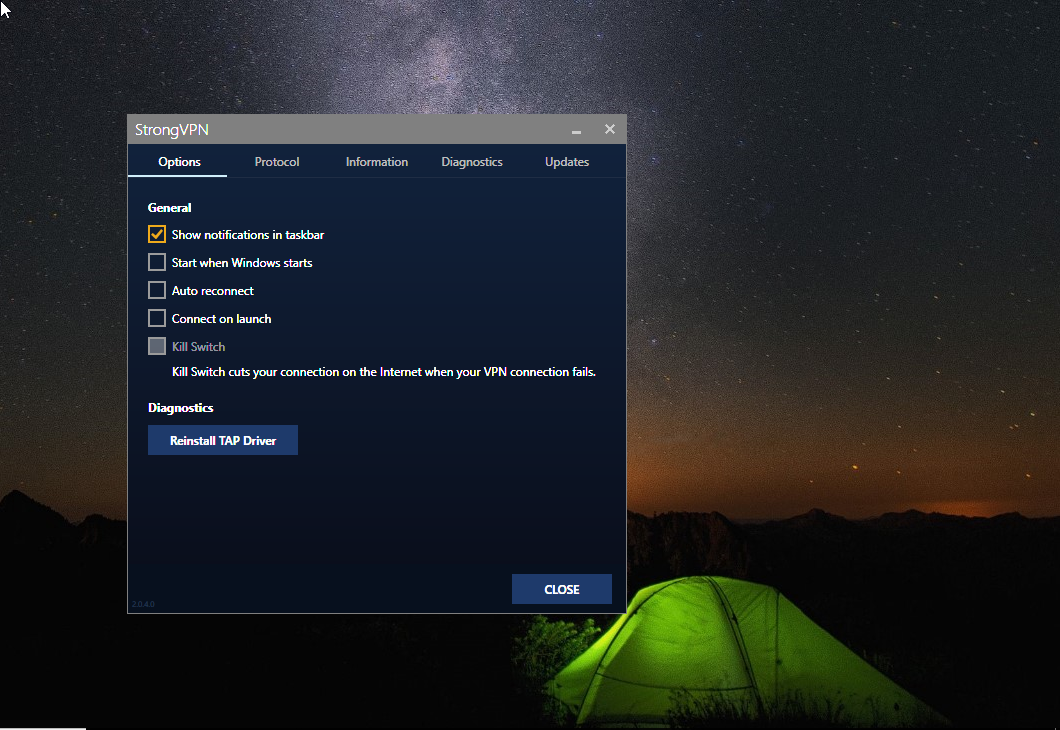 As you will note, the levels of customization are not very deep, though, The 'Protocol' section lists the VPN protocols you can use when connecting to the network. We found that the VPN protocol is set to "IKEv2" by default and highly recommend changing it to OpenVPN for maximal security online. While both use 256-bit encryption, OpenVPN is highly recommended being considered the most secure VPN protocols. IKEv2, on the other hand, provides fast speeds. Once internet connectivity is lost, IKEv2 automatically seeks to re-establish connectivity and might be a preferred protocol for mobile users.
OpenVPN, in contrast, is advisable for use on desktops and laptops since it affords the maximal security and is highly customizable.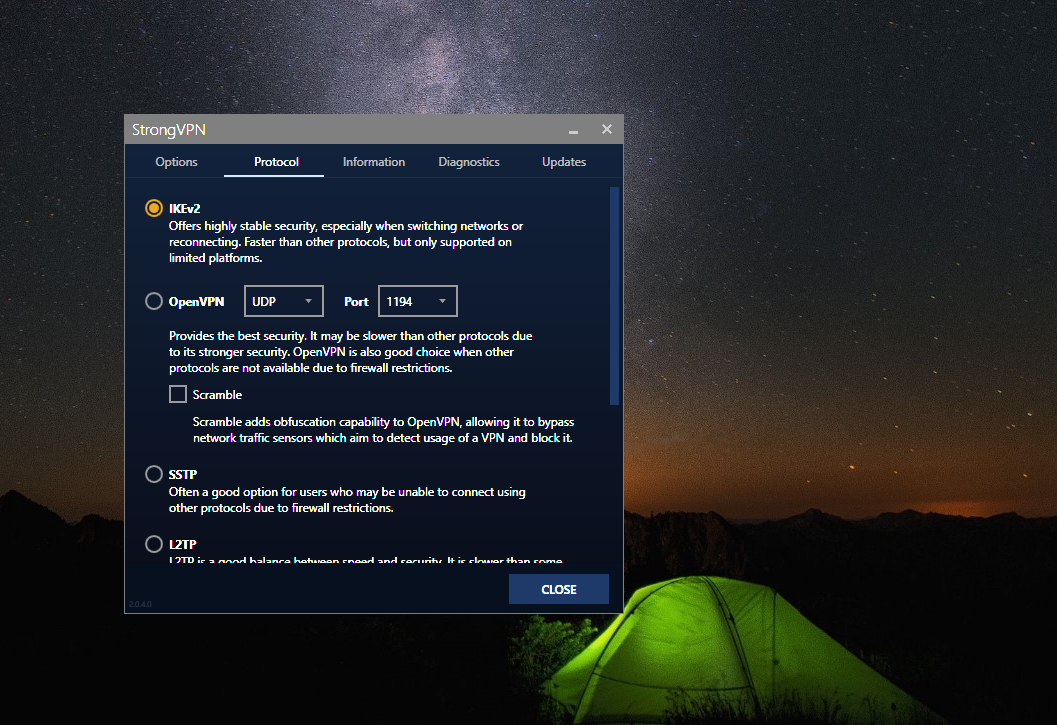 Overall, the interface is minimalistic and easy to use and you shouldn't find any problems making sense of the controls listed on the UI.
Server Locations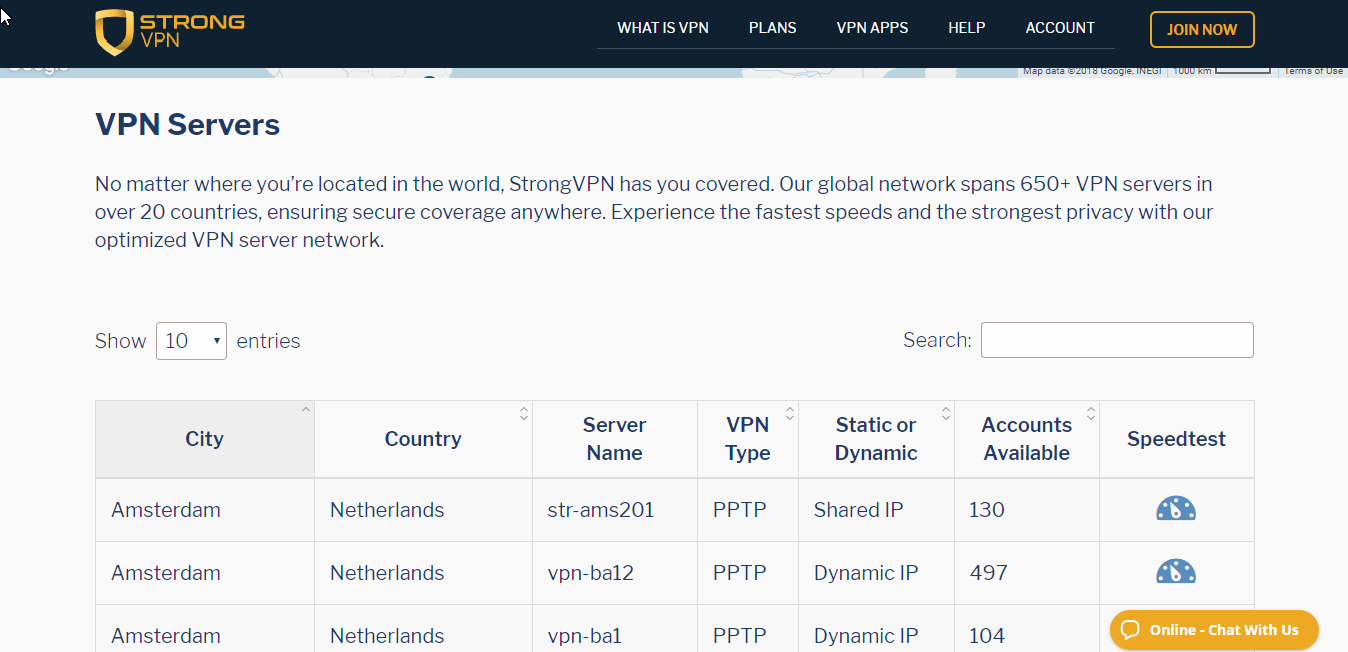 StrongVPN has a moderate network of 650+ servers in more than 20 countries around the world. Our Score: 8/10.
StrongVPN does not have the largest server network of all VPNs but it still retains a sizeable amount of servers. More importantly, these servers are well-optimized, as our speed tests reveal in a later section.
The choice of servers is an important one since a server has an important bearing on your network's overall performance.
One of the best features available in the tool is the ability to choose the 'best available server', which usually returns the best network performance.
Speed
StrongVPN claims to have lightning fast speeds and they aren't joking. Our Score: 10/10.
Speed is one area in which StrongVPN has hardly any parallels. No matter which VPN protocol you use, the speed tests always reveal how StrongVPN is the king of them all when it comes to network performance. You'll hardly actually notice you're running a VPN with StrongVPN in place- it's that fast.
Let's put StrongVPN through some real-world speed tests so you can see for yourself. We start with the baseline tests to obtain a reference value of how the network is performing at the moment (VPN off).
So, our network os moderately performing at the moment. Let's now choose the best available server and run the speed tests again.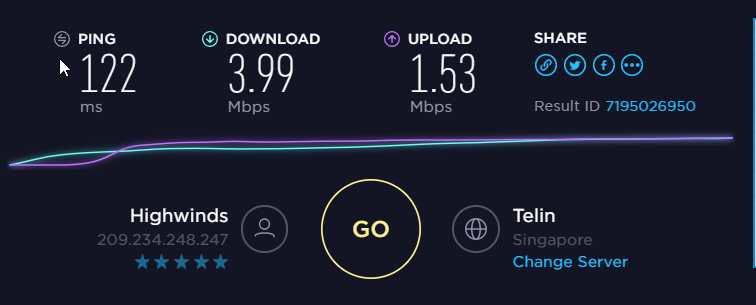 Amazing, isn't it? The tool hardly throttles the speed! Let's switch over to a US server and rerun the tests for a comparison.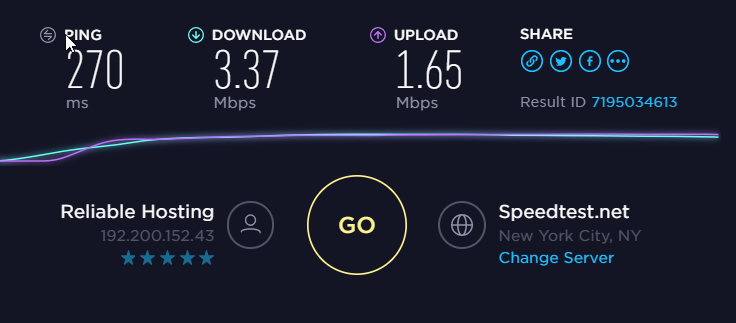 StrongVPN Speed Test US server again, almost the same. The verdict is clear: StrongVPN is indeed one of the fastest VPN tools on the market today. And it earns its title, without a doubt.
It is important to note that speed test results are dependent on the state of the network at the time of testing, which keeps fluctuating and the results must thus be considered as such, in the light of this fact.
Security & Privacy
StrongVPN has powerful security and privacy features too. Our Score: 9/10.
With each test, we redefine the way we perceive the security and privacy tests, for many VPNs continue to improve with newer updates. StrongVPN offers a number of security and privacy features commonly found in other VPNs. Let's see these features in greater detail.
Encryption
StrongVPN supports 256-bit encryption with the OpenVPN protocol. There are also PPTP (128-bit encryption) and L2TP (256-bit encryption) to choose from. The encryption levels vary with the choice of VPN protocols used.
Logging
StrongVPN has a strict no-logs policy. No data logs of any user activity are ever maintained, which ensures your browsing activity online is completely secure.
DNS Leaks
StrongVPN performs well in DNS Leak Tests too. DNS leaks are a common phenomenon with VPN software, which can leak DNS data accidentally. Let's see the test results with StrongVPN.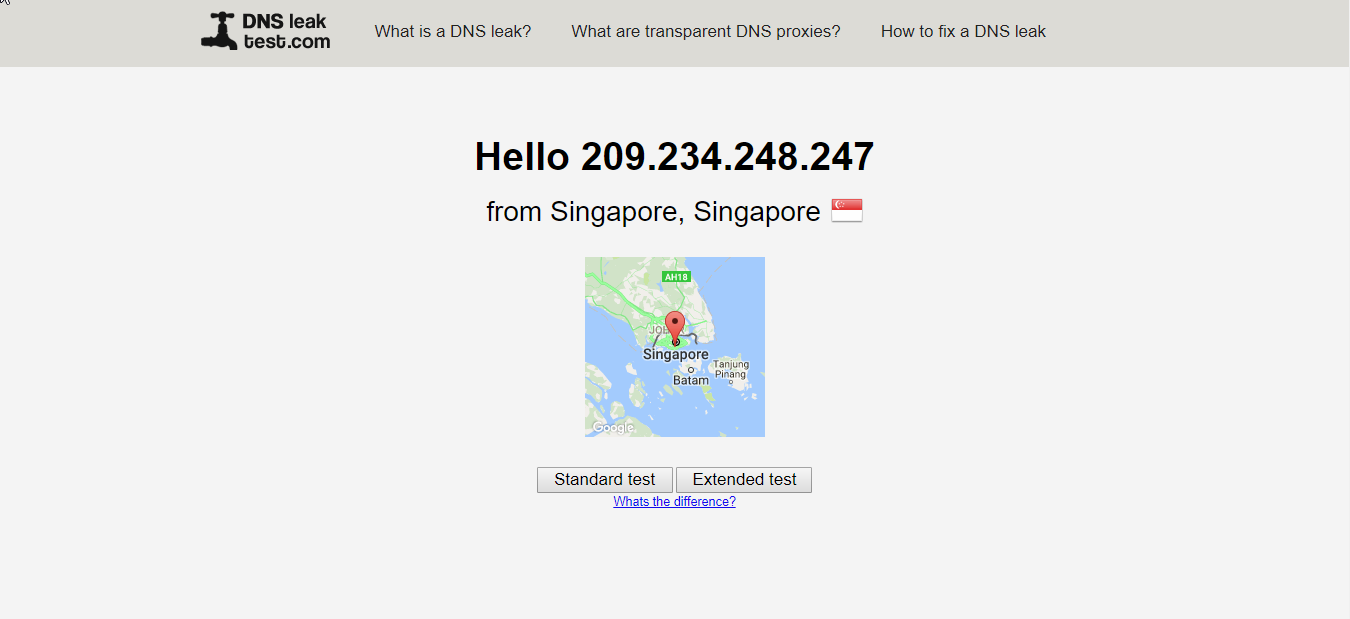 We aren't based in Singapore, which means StrongVPN is cloaking our IP effectively, passing the DNS Leak Test.
Customer Service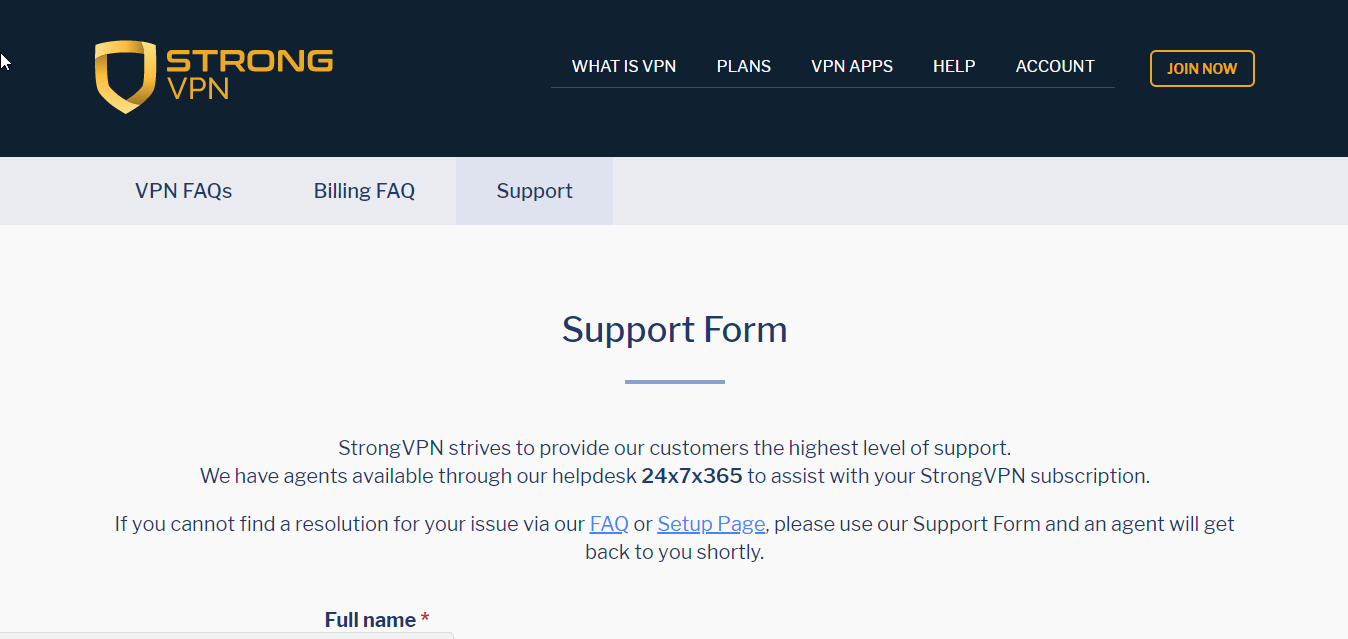 StrongVPN has an exceptional customer service. Our Score: 10/10.
StrongVPN has a very friendly customer service. There's live chat functionality as well, which is often lacking in other VPN packages. The customer support response is near instantaneous.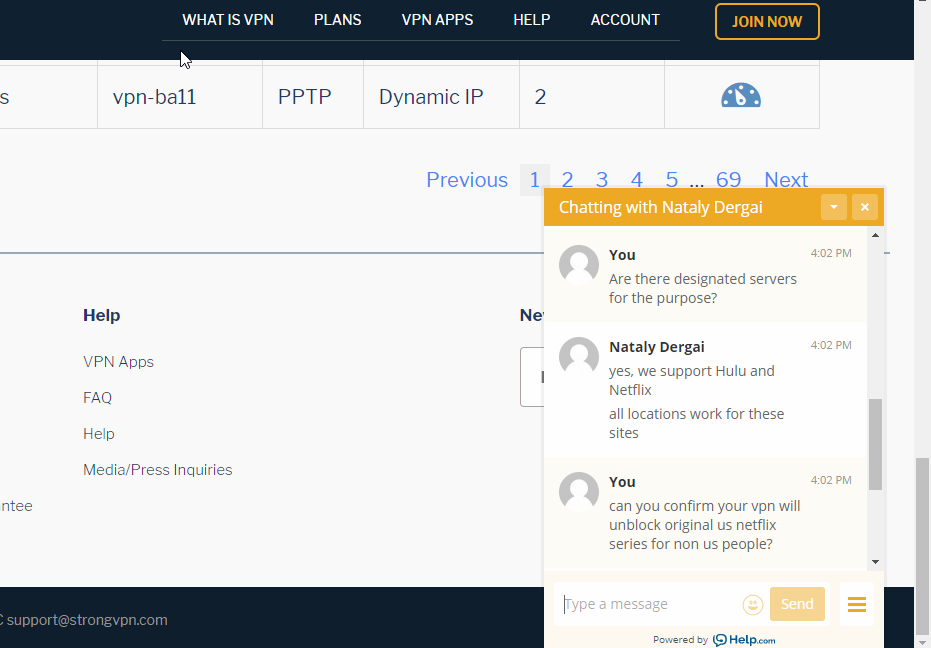 We contacted the support team with a query and received their response within seconds. The support is indeed commendable- few VPNs can boast of a support team so responsive.
Pricing
There are two main pricing plans to choose from. Our Score: 10/10.
StrongVPN has two main pricing plans that come with a 7-days money back guarantee:
While the 12-months plan might seem more appealing, the monthly plan is highly recommended for a software like VPN, which operates in a sensitive area where services can quickly change. Unblocking geo-restricted content is one such area, for instance, where IPs continually become banned.
The Verdict
StrongVPN is one of the fastest VPN tools out there. It is extremely easy to use and will serve a number of purposes for a secure browsing experience online.
Who Should Use This VPN? Those seeking nothing but the fastest VPN which is easy to use and sports an adequate level of security and privacy.
Who Should Not Use This VPN? StrongVPN is not the best choice for those seeking an advanced VPN with deep levels of customization.
PROS: Ultra-fast, easy to use, adequate security and privacy features
CONS: A bit pricier than its competitors, lacks advanced features and deep levels of customization
Final Verdict: 9.6 out of 10!
Buy StrongVPN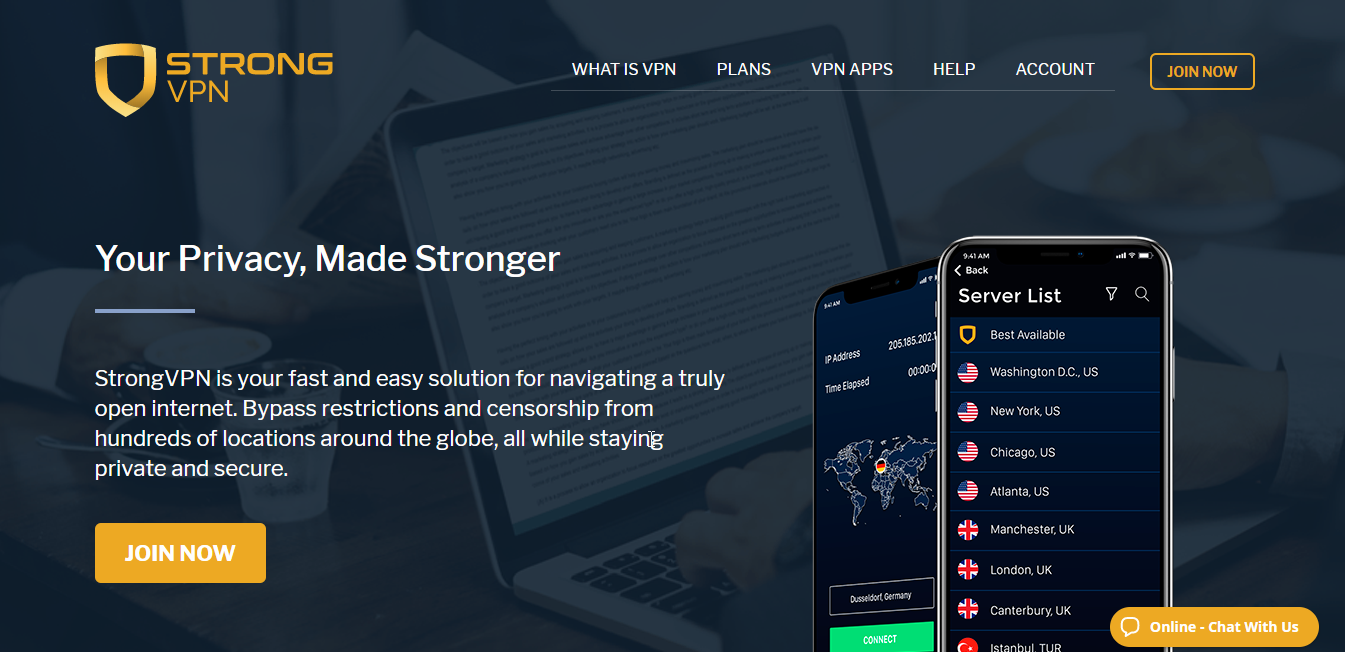 If you've decided to go for this software, head straight to the StrongVPN official website and purchase the plan that best suits you today. You won't be disappointed when you notice the blazing speed of this tool!
Final Thoughts
StrongVPN is an ultra-fast VPN that surprises with its superior performance, which is simply matchless. It's indeed the strongest in this area, putting all its competitors to dust. The tool has powerful features including automatic server selection, which gets you up and running with the VPN service in no time if you're short on time. Just click the button and you're good to go.
With this, we complete our review and we sincerely hope you've found it useful. Please feel free to share the review with friends and family in your social circles. As they say, security works best when we all stay protected!
Please feel free to leave us a comment should you have any queries and we'll get back to you soon.