The majority of Internet users aren't aware of dangers lurking around every corner. In fact, close to 200,000 new malware samples are captured every single day. On top of that, more than 4,000 ransomware attacks are targeting worldwide Internet users on a daily basis. You might be thinking that you're doing your best to keep yourself protected and that you'll be one of the lucky ones to avoid numerous online dangers. However, you also know that it's always better to stay safe than sorry. However, what can do you keep yourself protected? What is the most effective tool for this purpose?
This is where VPN (Virtual Private Network) applications come into play. Often seen as complicated and hard to set up, VPNs are surrounded by numerous misconceptions. In fact, most VPNs aren't only easy to use and they also come with numerous surprising features and benefits. Therefore, let's take a few moments to introduce you to this amazing technology.
A reliable and user-friendly VPN application could be your biggest ally when browsing the Web. No matter if you download a lot of files, watch a lot of YouTube videos, or chat over Skype, a good VPN can make all these experiences a lot of better. Here are some of the perks:
First and foremost, VPNs keep you protected online. When you launch a VPN application and power it on, your Internet connection becomes encrypted. This makes that no one can track your browsing and this applies to your ISP (Internet Service Provider), government agencies, and hackers as well;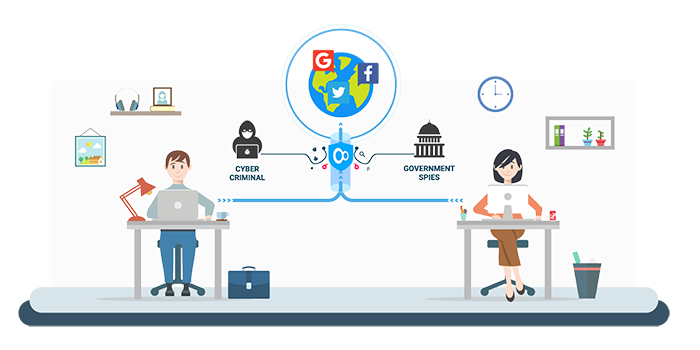 VPNs can help you visit blocked websites, which includes media streaming services as well. Can you watch Netflix in your country? If you can, you probably know that your local Netflix offers a lot less content than the American Netflix. Thanks to VPN applications, you can use the American Netflix, which also applies to pretty much any other popular streaming service.
Take action today, and make sure to keep your Web browsing private! Thanks to VPN Unlimited's bulletproof service and an amazing deal we offer, you can keep yourself protected for life with a one-time $39.99 offer. You won't find any hidden fees here, or any kinds of limitations. For the price currently offered, you can buy a lifetime license to one of the best VPN applications.
First, let's start by saying that VPN Unlimited was PC Mag's top-rated VPN for 2017. It has also received first-prize awards from Laptop Review PRO and Software Informer. And, there are numerous reasons for this – all of which are putting VPN Unlimited ahead of its competition. Here are some of the perks you'll receive:
VPN Unlimited has a network of 70+ server locations across the entire world. Connect to any of these, and overcome any censorships of geo-restrictions;
You will get to use VPN Unlimited without any limitations. This deal comes with unlimited traffic bandwidth and unlimited high-speed connection;
We also shouldn't forget that VPN Unlimited can be used on up to 5 devices – at the same time! Delete existing devices at any times, and add new ones up to 5 in total;
Last but not the least, you will get to use VPN Unlimited on a wide range of devices. This includes Windows, Mac, Linux, iOS, Android, and plenty of Web browser extensions.
It has never been a better time to take advantage of this amazing offer. VPN Unlimited's $39.99 offer includes support for up to 5 devices. You can extend this deal to 10 devices ($55.95), 25 devices ($95.99) or 100 devices ($199.99). There's even a simple 3-year plan ($29.99) if you don't want a lifetime commitment.