If you like to binge-watch TV shows, you're going to love everything about The CW and CW Seed. Those two come completely free of charge (if you're in the United States), and they offer full seasons of TV shows (thousands of hours of content). With that said, we will show you how to unblock The CW outside the US - using a VPN service. Here's all you need to know.
Where Is The CW Available?
The CW Television Network is available across the United States. It's also available in Canada and Mexico through affiliate TV stations located near the American border. Therefore, it doesn't come as a surprise that The CW (the network's website and media streaming service) operates in the United States of America only.
The situation is the same with CW Seed. Even though it acts as a standalone streaming service and has a separate domain, its core concept isn't much different from The CW. This is actually good news, as you can use the same set of "tools" to unblock and watch both The CW and CW Seed outside the US - and we'll show you how!
How to Watch The CW Outside the US
No matter if you want to access The CW or CW Seed (or both) outside the US, you will need to go through the following steps:
Step #1: Find the Best VPN for The CW
You will be happy to know that The CW isn't that hard to unblock outside the US. However, you will need a capable VPN that won't let you down. A VPN suitable for The CW should come with plenty of servers in the US, provide fast and stable speeds, and protect your privacy - and we know exactly which one to recommend.
At the moment, our top recommendation would be ExpressVPN. After spending quite some time with over 60 VPN services (reviewing them from the inside out), we've concluded that ExpressVPN is the only option that checks all the right boxes - especially if you want to watch The CW outside the US.
3,000+ VPN servers in 160 VPN server locations in 94 countries, 5 Simultaneous connections, Fast and stable connection, No activity logs or connection logs, No bandwidth limits, Strong encryption, 24/7 live chat support, and 30-day money-back guarantee.
Of course, other options await as well. If you want to explore other VPNs trying to find the one that fits your budget and needs, we got your back. Scroll down for our list of the best VPNs for The CW and CW Seed.
Step #2: Get Your VPN Subscription
Now, it's time to get your VPN subscription. If you want to listen to our advice, go ahead and subscribe to ExpressVPN. You can become a VPN subscriber in no more than a couple of minutes, so here's what exactly you need to do.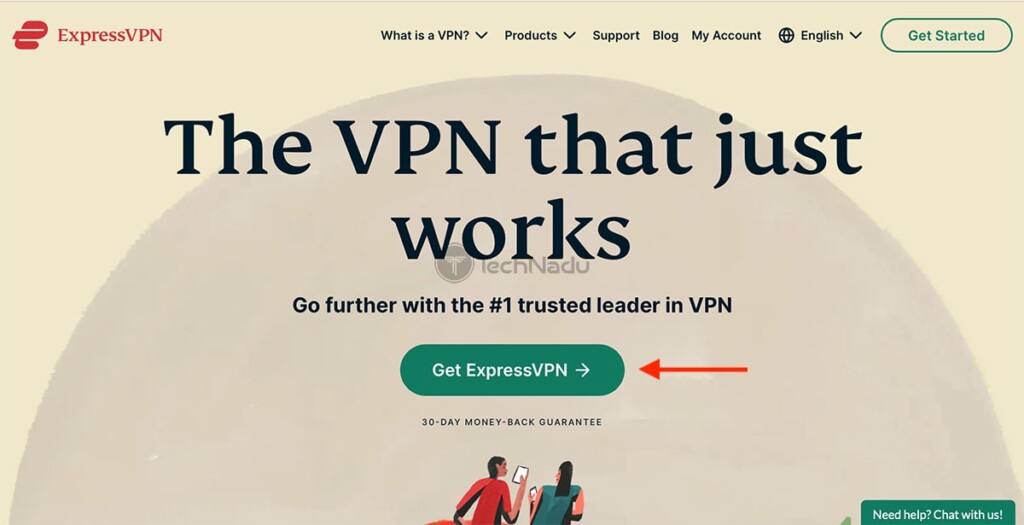 Once you land on ExpressVPN's website, click on the button labeled 'Get ExpressVPN.' Then, pick a subscription. Know that ExpressVPN's long-term subscriptions come with big savings, so take your time to review the currently available plans.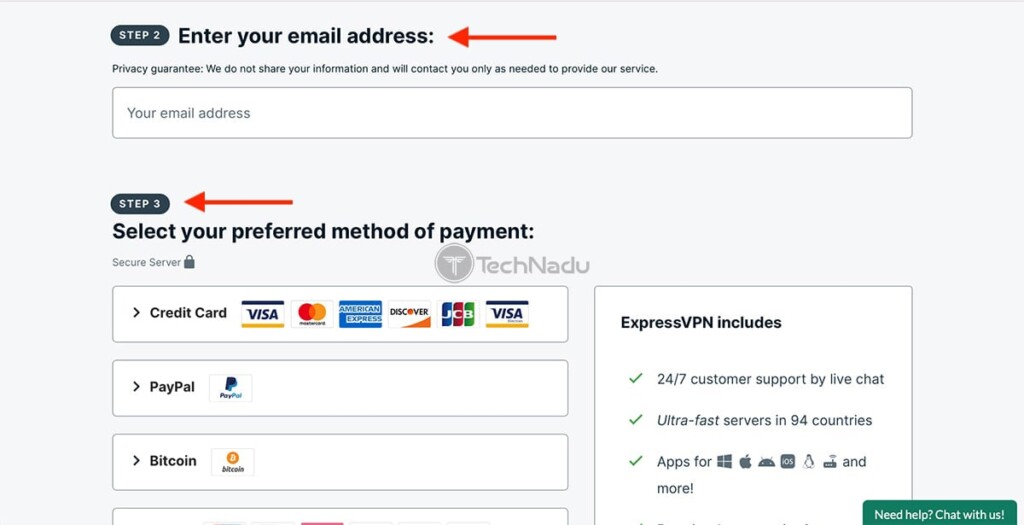 Now, provide your email address and select your preferred method of payment. As soon as you pay for your subscription, a confirmation email should reach your inbox. That means that you now have an active VPN subscription, ready for you to take full advantage of ExpressVPN.
Step #3: Download & Install the VPN on Your Device(s)
Before you start to watch The CW outside the US, you have to think about something else first. Know that you'll always need to have ExpressVPN active in the background as long as you plan to stream The CW or CW Seed. In other words, you need to download the VPN on any device(s) you'll use to stream media.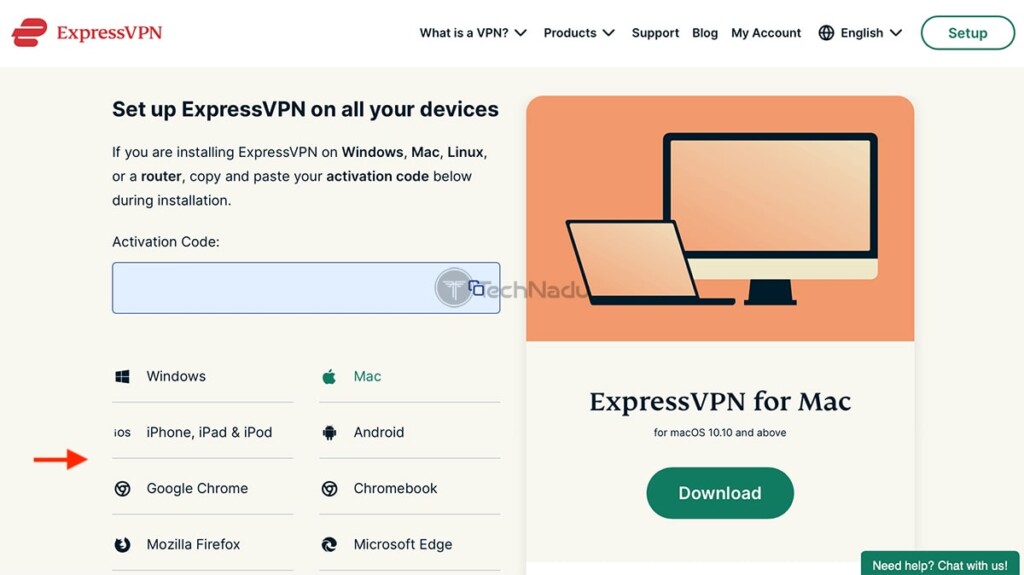 One of the reasons why we recommend ExpressVPN is due to its wide compatibility with many devices. So, here's how exactly to download, install, and use ExpressVPN on all of its supported platforms. Make sure to use the provided link.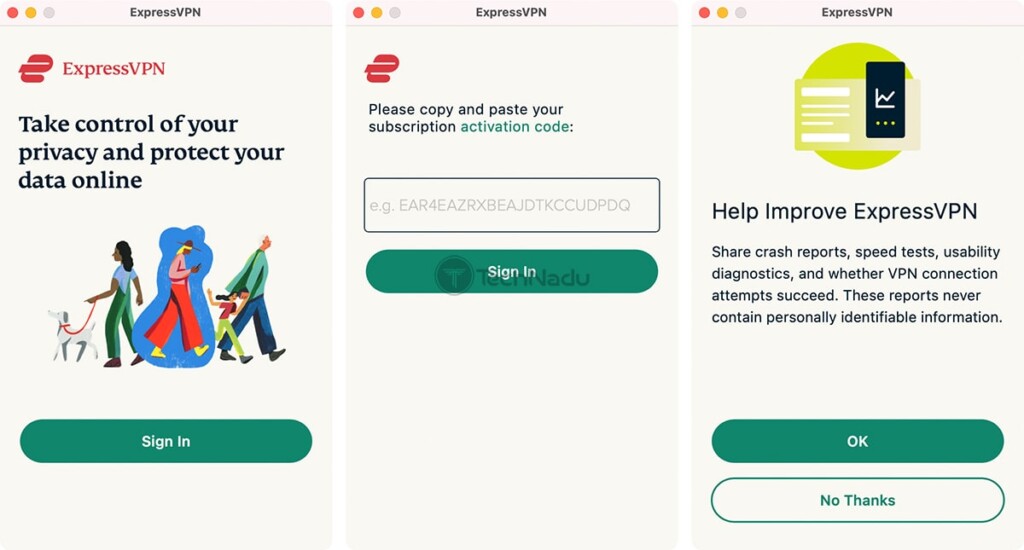 Once you install ExpressVPN, make sure to have the VPN ready for use. That means you have to launch it (for the first time) and then go through its initial setup. You'll need to log in to your account and ensure that you're looking at ExpressVPN's home screen right now.
Step #4: Connect to a VPN Server in the US
Since The CW and CW Seed are available in the United States only, the only way to unblock those is by getting a US IP address. That is done by connecting to a server in that country, using ExpressVPN's interface.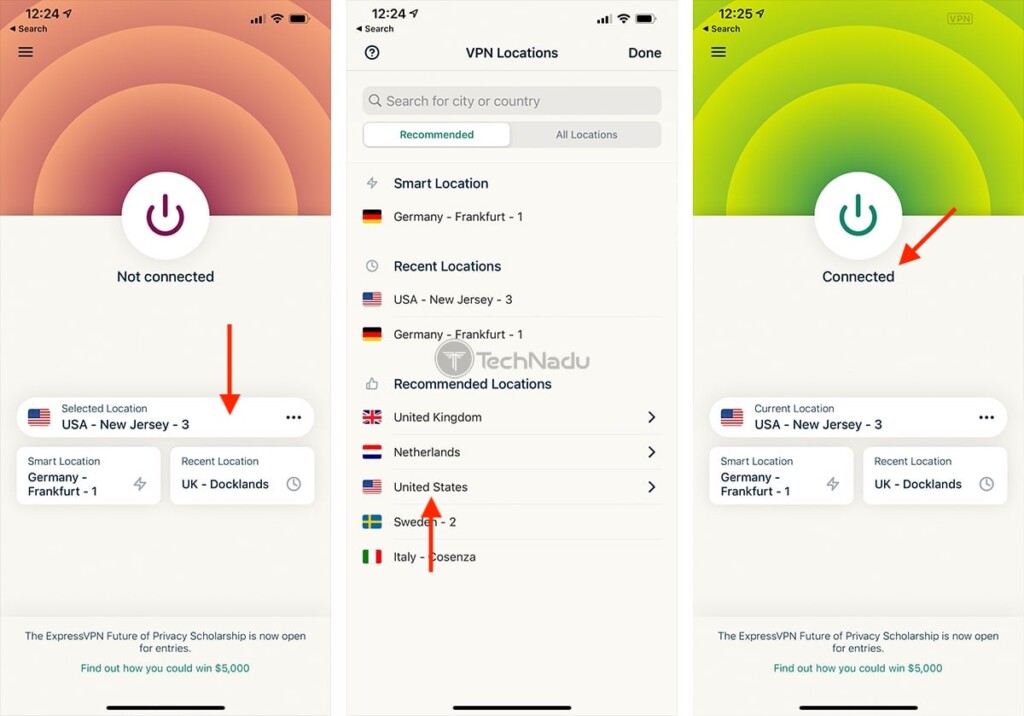 So, make sure to click on the button found below the prominent ON/OFF switch (on the VPN's home screen). This will open a new window, letting you see all of the available servers. Pick 'United States,' and then select any server found in that country.
ExpressVPN should now connect you automatically. If that doesn't happen, click on the ON/OFF switch. Wait until ExpressVPN's interface turns green, which means you're connected to the chosen VPN server now. It's time for the next step.
Step #5: Download The CW & CW Seed Apps
There are several ways to access and watch The CW outside the US, and that applies to CW Seed as well. The most straightforward way is to use a Web browser to visit The CW or CW Seed (you can use that option on any platform or device).
In case you use a smartphone, tablet, or media streaming device, you can also use CW's apps. With that said, you can download The CW on iOS/iPadOS, Android, and Amazon Fire. And then, you can also download CW Seed on iOS/iPadOS, Android, and Amazon Fire.
To access The CW and CW Seed apps, you don't have to register for an account. Therefore, as soon as you download those to your device(s), they'll be ready for use. You have just one more step, so let's finalize this procedure.
Step #6: Launch & Unblock The CW & CW Seed
Finally, it's time to start watching The CW and CW Seed - even from outside the US. To do that, we need to remind you that you must be connected to a US server right now. In other words, ExpressVPN's interface (the top half) should be green.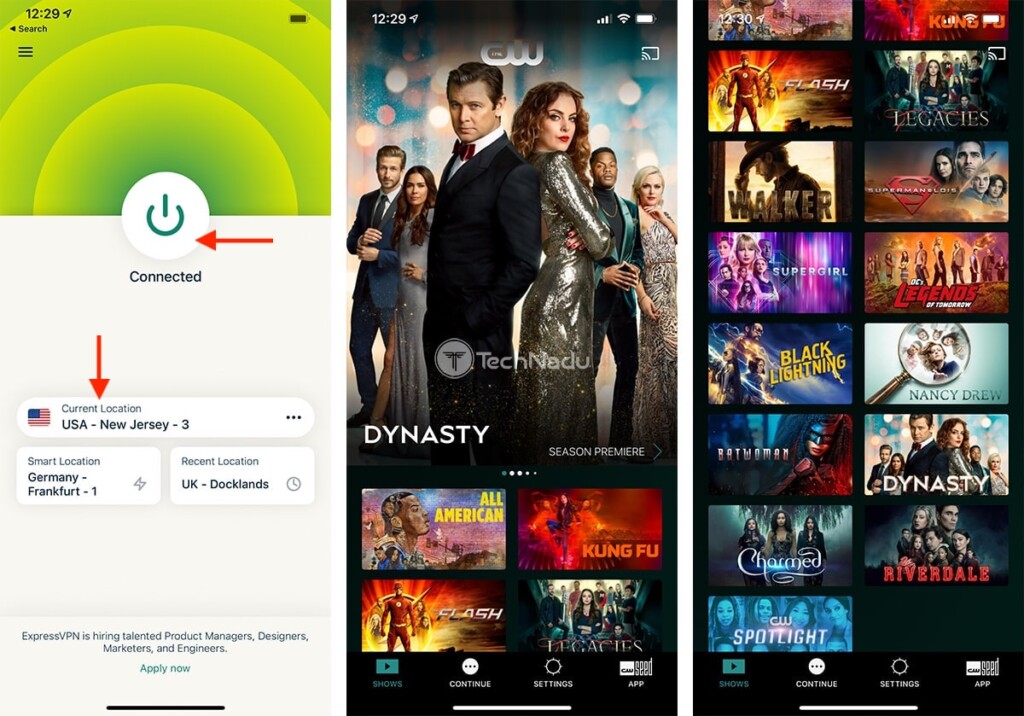 Lastly, access The CW or CW Seed (via its websites or dedicated apps). Instead of seeing an error message, you'll have full access to these streaming services. Start playing any title, and after a few commercials, the chosen video will begin to play. That's it!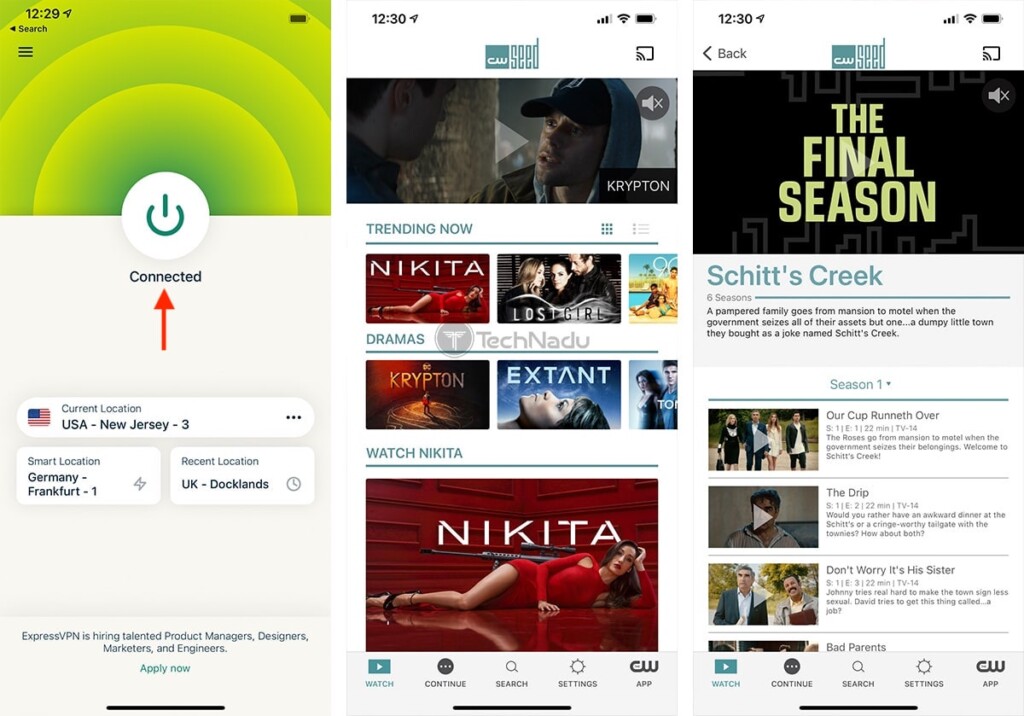 Best VPN for The CW & CW Seed
After rigorously testing over 60 providers, we finally found the best 5 VPNs that let you watch The CW outside the US without any issues:
1. ExpressVPN - Most Versatile VPN for The CW
One of the most popular providers on the market, ExpressVPN, offers you the perfect streaming experience thanks to its high speeds, large server network, and unlimited bandwidth. What's more, you also get a split tunneling feature, which lets you fine-tune your VPN speeds when watching content on The CW.
But that's not all. ExpressVPN also lets you use their service on up to five devices at the same time. So you can binge your favorite series anywhere you want in your home without having to keep signing out of your account on other devices.
Oh, and the apps are cross-platform compatible and come with a very polished and user-friendly UI. Really, it doesn't matter if you never used a VPN until now. You'll have a very easy time getting the hang of how everything works.
And if you experience any problems (you probably won't), you can always count on ExpressVPN for help. Their support reps are available 24/7 through live chat and are always professional and friendly.
Finally, when you get an ExpressVPN subscription, you pretty much buy with no risk since they have a no-questions-asked 30-day refund policy. If, for any reason, you're not happy with the service within the first 30 days, you can ask for your money back through live chat.
Want to learn more about this first-rate provider? Check out our in-depth review, then.
2. NordVPN - Best for High-End Privacy
NordVPN has beginner-friendly apps for pretty much all platforms, a huge number of servers, unmetered data, and support for up to six parallel connections. Also, a recent study confirmed that this provider offers the best speeds and performance.
Plus, NordVPN offers round-the-clock support through live chat and a generous 30-day money-back guarantee. All in all, you have everything you need to have fun unblocking and streaming content on The CW.
But NordVPN isn't just good at unblocking geo-restricted sites. The provider also excels at offering top-notch security.
For starters, NordVPN actually lets you obfuscate your traffic. That comes in handy if your government has an issue with VPNs or if your ISP likes to throttle VPN traffic. Also, this provider has dedicated Tor over VPN servers, meaning you can enjoy even more privacy.
What's more, NordVPN recently made a shift towards running a colocated network. That pretty much means the servers are under their ownership and control. And finally, you can add two bonus services when signing up for NordVPN - NordLocker (a file encryption platform) and NordPass (a powerful password manager).
So if you're looking for a way to watch The CW outside the US and also secure important files at the same time, you can't go wrong with NordVPN.
To learn more about this provider, please read our hands-on review.
CyberGhost VPN will definitely offer you the perfect streaming experience. With this provider, you get tons of high-speed servers, no data limits, 24/7 live chat support, intuitive apps that work on most devices, and up to seven parallel connections.
What's more, if you want to unblock other sites (like Netflix, Hulu, or Sling TV), CyberGhost VPN is the right tool for the job. Unlike other providers, they have dedicated streaming servers that refresh their IPs more often. So, they unblock popular streaming websites more efficiently.
But what really makes CyberGhost VPN a great option for those of you who are on the fence about getting a VPN is the free trial. You can install their app free of charge and test-drive it for 24 hours to see if it's what you're looking for.
But the perks don't stop there! Once you decide to sign up for CyberGhost VPN, your purchases will be covered by a 45-day refund policy (if you pick long-term plans).
If you'd like to find out more about CyberGhost VPN, follow this link to read our review.
If you want to unblock The CW with a US VPN, PIA is an excellent choice. They have thousands of servers in that region alone! Finding one that's not overcrowded and is close to your current geo-location (so that you get optimal speeds) will be easy-peasy.
Furthermore, PIA offers unlimited data, user-friendly apps for most platforms, split tunneling, and reliable encryption. Oh, and with PIA, you can use the VPN on up to ten devices at the same time.
Other than that, you can take advantage of 24/7 support (live chat is available for existing users) and a no-questions-asked 30-day money-back guarantee.
In case you'd like to see how well the VPN performs, please read our PIA review.
5. Surfshark - Best for Sharing VPN Subscriptions
VPNs aren't really expensive if you get long-term subscriptions. Still, many of you probably want to save even more money if possible.
Well, with Surfshark, you can easily do that by sharing your subscription with a few friends, family members, or work colleagues! The provider supports unlimited parallel connections, meaning you can use their service on as many devices as you want.
And Surfshark will definitely offer you an enjoyable unblocking experience. Despite being new on the market, the provider already offers everything other top VPNs do: unmetered data, user-friendly apps on all devices, powerful encryption, and 24/7 support through live chat. They even throw in obfuscated servers, which is great for your privacy.
And to top it all off, Surfshark offers a 30-day money-back guarantee.
To find out more about them, please read our in-depth review.
How Do VPNs Let You Watch The CW & CW Seed Outside the US?
VPNs basically "trick" The CW (and other sites) into thinking you're in a different country. They do that by hiding your IP address from the site and only letting it see the VPN's IP.
Why the focus on your IP?
Well, because it actually reveals a lot of data about you - particularly what country and city you are from. So, if The CW only sees the VPN's IP address, it will think your traffic is coming from a country matching it (the US if you use a US-based VPN server).
Can The CW Block VPNs?
No, we don't think so. We haven't seen anyone experiencing that. To be honest, The CW has pretty weak geo-blocking in place since even free VPNs unblock it (which doesn't mean you should use a free VPN, as you'll get limited bandwidth and slow performance).
FAQ
What Is The CW?
Formed as a joint venture between Warner Bros. Entertainment and the CBS Corporation, The CW is an online streaming site where you can catch up on the latest episodes of hit TV series.
Where Is The CW Available?
The site and all the content available on it are only available to people in the US. The company only signed licensing agreements for that region, so they need to geo-block their content to make sure people in other countries can't see it.
Can You Watch The CW for Free?
Yes, as far as we know, the service is free of charge. The CW gets its revenue from ads. And you'll definitely see lots of ads - we even saw four one after the other in the middle of an episode of Batwoman.
Some online articles say you need to have an account to use the site. But we were able to watch content on The CW without signing up. The app descriptions on Google Play and iTunes also say that no subscriptions are needed.
What Devices Can You Watch The CW On?
The site works on most Web browsers, though it seems that Chrome or Firefox work better than Opera sometimes.
Other than that, the site has apps for different platforms:
Roku
Apple TV
iOS
Android
Android TV
AirPlay
Chromecast
Amazon Fire
Amazon Fire TV
Xbox One
Windows
What Can You Watch on The CW?
The CW has tons of awesome TV series you can watch, like Batwoman, Coroner, Nancy Drew, Whose Line Is It Anyway, In The Dark, Riverdale, The Flash, and much more.
Will a Free VPN Unblock The CW?
It might. As long as it hides your IP address and makes it seem like you're from the US, you shouldn't get the geo-blocking message.
Just keep in mind that free VPNs offer less enjoyable streaming due to slower speeds, capped bandwidth, and less support. If you'd still like to use one, make sure you use our guide to find a reliable service.
Can You Unblock The CW With a Proxy?
Yes, proxies should work too. As long as you use a US proxy server, you should be able to unblock The CW.
Keep in mind proxies offer weaker encryption (if any) than VPNs. So, your privacy won't be as safe, and you won't be able to stop your ISP from throttling your bandwidth.
Will Your VPN Speeds Be Good Enough for The CW?
Yes, they should be more than enough - even if you have slow speeds, to begin with (20-30 Mbps). According to this support article from The CW, you should enjoy smooth streaming as long as you have at least 1 Mbps bandwidth or higher.
If you do experience slowdowns, please use our guide to improve your speeds.
That would be all on how to watch The CW and CW Seed outside the US. In case you have any questions, make sure to use the comments section below. And lastly, thanks for reading!