Want to binge some Start Trek content on CBS All Access while traveling abroad? Sounds good, but whoops, what's this? It seems like the service won't work well outside the US (you can't use it or watch all the content you want). Quite a bummer, right?
Well, don't worry. We'll show you how to watch CBS All Access outside the US in this quick guide. And we'll also answer some relevant questions too.
How to Watch CBS All Access Outside the US in Just 5 Steps
Step 1 – Pick one of the VPNs listed below, and sign up with it. We personally love using ExpressVPN.
Step 2 – Next, download the right VPN app for your device.
Step 3 – Install the app, run it, and connect to a US server.
Step 4 – Go to CBS All Access, and log into your account or sign in with your cable provider.
Step 5 – Start watching whatever you want!
5 Best VPN to Unblock CBS All Access Outside US
We spent hours testing over 60 VPN providers, checked the results, did the math, and finally came to the conclusion that these are the best five VPNs that can unblock CBS All Access outside the US:
1. ExpressVPN – Best CBS Unblocker By Far
What's not to love about ExpressVPN?
The provider offers very fast speeds, unmetered data, strong encryption (so no more bandwidth throttling), and extremely user-friendly apps. They're so user-friendly that we're willing to bet even your grandma will get the hang of them in no time!
Plus, ExpressVPN's apps work on the most popular platforms (Windows, macOS, Linux, iOS, Android – you name it!). Not only that, but the provider also supports up to five simultaneous connections. So you can binge CBS All Access on multiple devices at the same time.
And here's another cool thing – ExpressVPN offers split tunneling. That's a feature that lets you choose which traffic gets encrypted and which gets left outside the VPN tunnel. Basically, you can configure ExpressVPN to only route CBS All Access traffic. That's a smart way to optimize your VPN speeds.
Finally, if you encounter any issues, you can always reach ExpressVPN's support reps on live chat 24/7. They were always very helpful and friendly when we talked with them. Oh, and when you buy a subscription, your purchase is covered by a no-questions asked 30-day refund policy.
If you'd like to learn more about ExpressVPN, please read our review.
2. CyberGhost VPN – Most Risk-Free Streaming Option
From the start, it's obvious that CyberGhost VPN offers smooth and enjoyable streaming. They have high-speed servers (and lots of them), unlimited bandwidth, and easy-to-use apps that are available for most devices.
They even have a CBS-optimized streaming server. Since CBS All Access is linked to CBS, there's a chance the server is optimized for it as well. That means the platform might be less likely to detect that you're using a VPN (the server refreshes its IPs more often).
What's more, CyberGhost VPN offers private dedicated IPs to boot. If you get one, you'll be the only one using it. That's another way to prevent CBS All Access from detecting your VPN usage. The site won't detect multiple sign-ins from the same IP, after all.
As for what makes this provider "risk-free," it's the fact that they offer a 45-day money-back guarantee (for long-term plans) and a free one-day trial.
And, of course, if you experience any issues unblocking CBS All Access with CyberGhost VPN, you can always turn to their support reps for help. They're available 24/7 through live chat.
Want to read more about this provider? Then check out our CyberGhost VPN review.
3. Surfshark – Best Multi-Device Unblocker for CBS All Access
Despite being a pretty new provider on the market, Surfshark has what it takes to be among the top: unmetered data, tons of fast servers, cross-platform compatible apps with a nice UI, and powerful security.
But here's where Surfshark really shines – the number of parallel connections. Or the lack of it, to be exact. With this VPN, you get support for unlimited simultaneous connections.
Yes, that basically means you can use the service on as many devices as you want. And you can share a subscription with as many people as you want to save money.
Oh, and like all the providers on this list, Surfshark offers round-the-clock support through live chat. That, and a no-questions asked 30-day money-back guarantee.
To see this VPN provider in action, please read our in-depth review.
4. Private Internet Access – Best Option If You Want a Huge Server Network
PIA definitely has the biggest server count we have seen so far. They have thousands of servers in the US alone! Safe to say, it'll be easy to find one that's not overcrowded and is relatively near your current geo-location (to enjoy smoother speeds).
Besides that, PIA also offers fast speeds, unlimited bandwidth, and user-friendly apps for pretty much all platforms. And you get split tunneling too, so you can easily optimize your VPN speeds.
Furthermore, PIA allows up to ten simultaneous connections. Everyone in your family or house should have no problem unblocking CBS All Access (or other sites) with just one subscription.
As for support, their reps are available 24/7. And yes, you can reach them through live chat, though that option is only available to existing customers. Also, you get a 30-day refund policy too.
In case you'd like to learn more about PIA, please read our hands-on review.
5. NordVPN – Best Way to Unblock CBS All Access & Get High-End Security
NordVPN offers enjoyable streaming thanks to its lighting-fast speeds, large server network, easy-to-use apps, and unmetered bandwidth.
But this provider really excels at securing data. On top of unblocking CBS All Access, NordVPN can also offer you powerful security features. It has top-notch encryption, but that's just the start!
To really protect your online privacy, NordVPN also provides OpenVPN traffic obfuscation, support for Tor over VPN traffic, and access to a colocated network. What's more, you can pair your NordVPN subscription with two of their services: NordLocker (a file encryption service) and NordPass (a reliable password manager).
And to top it all off, you also get 24/7 support through live chat, and a generous 30-day refund policy.
If you'd like to find out more about NordVPN, please follow this link to read our review.
How Do VPNs Unblock CBS All Access?
CBS All Access uses your IP address to detect your geo-location (since it tells the site what country and city you are from). The site sees your IP whenever you visit it. It's in the conection requests your browser sends whenever you hit Enter after typing the website's address in the URL bar.
A VPN lets you unblock CBS All Access by intercepting and forwarding your traffic to the website. Basically, the VPN server you connect to will act as a middleman between you and CBS All Access.
Due to that, CBS site will think your traffic is coming from the VPN server. Since the server is in the US, CBS All Access will see a US IP address (so, a US geo-location). That "tricks" the site into thinking you're connecting to it from the US.
And since CBS All Access will think you're physically in the US, it will whitelist your access. That means you'll be able to watch anything you want, no matter where you are in the world.
Can You Sign Up for CBS All Access Outside the US with a VPN?
Maybe, but it's not going to be easy. It's not enough to just have an US IP. CBS All Access will also ask for a verified US payment method – either credit card or PayPal.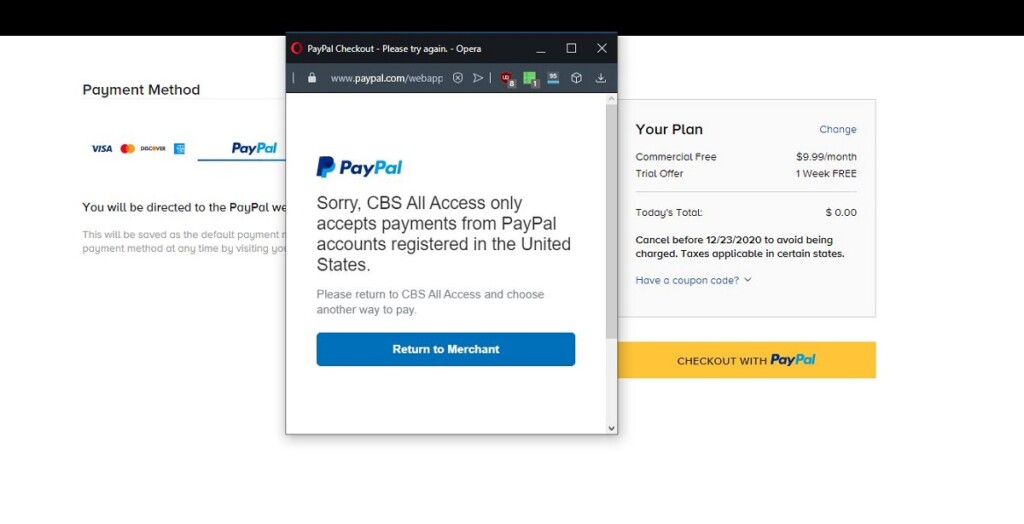 While you could register a new PayPal account while using a US VPN server, it's not really worth it. You'll also need a US phone number to verify it. Plus, you'll probably have to share various documents with PayPal for them to lift the initial restrictions off your account.
Based on our research and experience, the best ways to pay for CBS All Access outside the US is to try these methods:
Use a virtual debit card – US Unlocked is a pretty decent service since it offers valid billing and shipping addresses.
Buy a CBS All Access gift card – You can get one from Walmart or Best Buy. Once you pay for the gift card, you'll get an email with the gift code. Just head to CBS All Access and redeem it. We suggest buying it off of Best Buy since the recent reviews for the gift card on Walmart say it doesn't work.
Set up new iTunes and Google Play accounts – Some Reddit users said they managed to create CBS All Access accounts by setting up new iTunes and Google Play accounts registered in the US (with a US VPN server). Then, they added gift card funds to their accounts (through an Apple Gift Card or Google Play gift code). Lastly, they purchased a CBS All Access subscription through the app store (iTunes or Google Play).
IMPORTANT
Make sure you stay connected to a US VPN server while trying any of the methods we mentioned (from start to finish). Also, only log into your CBS All Access account while connected to said server.
Also, if you can't buy an Apple Gift Card off of Apple's site, you could try finding US iTunes gift cards on G2A.
Can CBS All Access Block VPNs?
Yes, not all VPNs are actually able to unblock the site. Of course, that doesn't mean CBS All Access can block all VPNs, but it can detect some – particularly those that don't refresh their IPs fast enough.
We don't know how the platform can detect VPNs, but they probably use geo-location services (like IP2Location) and automated scripts that block IPs from data centers or known VPNs.
If you use the VPNs in this article, you shouldn't have any problems. But keep in mind not all US servers can unblock CBS All Access. If you're using one and it doesn't work, please contact the provider's support reps, and ask them to tell you which server to use. They need to keep them a secret to avoid them getting blacklisted, after all.
Also, try clearing your browser's cache and cookies, and using incognito/private mode before you access CBS All Access with a VPN. That way, tracking cookies can't accidentally reveal your geo-location.
Will Your VPN Speeds Be Good Enough for CBS All Access?
Yes, you really shouldn't experience any serious slowdowns. Even if you have slow speeds (like 15-20 Mbps), you should still be able to enjoy smooth streaming on CBS All Access. According to most reviews, that the site only requires minimum speeds:
| | |
| --- | --- |
| Download Speeds | Context |
| Over 800 Kbps | Stream on mobile devices |
| Over 1.5 Mbps | Stream live TV or on-demand videos |
| Over 4 Mbps | Stream Big Brother Live feeds |
Pretty decent
If you'd like to optimize your VPN speeds, though, please use our handy guide.
FAQ
Here's a list of common questions we saw people asking about CBS All Access, VPNs, and how to watch CBS All Access outside the US.
The tl;dr Version
Alright, so here's how to watch CBS All Access outside the US – just use a US VPN server from a provider like ExpressVPN! The site will think your traffic is coming from the US, so you'll be able to stream all the content you want.
If you found this article helpful, we'd really appreciate it if you'd share it on social media or let us know what you thought of it in the comments below. Oh, and don't forget to follow us on Facebook and Twitter for the latest updates. Thanks!