Astrill VPN is an excellent VPN service renowned for its ability to bypass the Great Firewall of China. It offers speedy and secure connections and is compatible with US Netflix. Headquartered in the Seychelles Islands, Astrill VPN isn't a member of the Eyes Alliances, so it's not required to share any user personal information with the government.
Astrill has a strict no-logging policy but tracks sensitive information, such as IP address and device type, during active sessions. However, this information is permanently deleted once you disconnect from the VPN's server. 
Regarding security, Astrill is a secure option for online browsing, using an AES-256 encryption cipher and four tunneling protocols. Its impressive security package includes a kill switch, port forwarding, and leak protection. Also, there has been no history of data leaks on Astrill VPN.
Astrill also boasts an extensive, all-physical server network that spans various locations. With VPN servers strategically located in 113 cities across 57 countries, users enjoy lightning-fast service no matter where they are. 
Check the table below for a quick summary of what you need to know about Astrill VPN.
| | |
| --- | --- |
| Jurisdiction | Seychelles. |
| Logs | No logs. |
| Servers | 300 in 57 countries. |
| Simultaneous Connections | 5. |
| Supported Devices | Linux, macOS, Windows, Android, iOS, and routers. |
| Features | Kill switch, port forwarding, IPV6 leak protection, dedicated IPs, port scan, and DNS leak protection. |
| Protocols | OpenVPN, Stealth VPN, OpenWeb, and WireGuard. |
| Supports | Netflix, Disney+, Torrenting, Gaming, and more. |
| Customer Support | Email, 24/7 live chat, Astrill Wiki, video tutorials, and FAQs |
| Price | From $12.50/month. |
| Live Deal | 58% OFF (2-year plan) |
| Our Score | 7.6 out of 10. |
This comprehensive Astrill VPN review will cover important information, such as the VPN's jurisdiction, prominent features, security measures, ease of use, and everything else you need to know about the service. 
If you're curious about our hands-on approach to testing VPN providers, you can check out our guide on how we review VPN services. With that said, let's dive into this review of Astrill VPN. 
Background, Jurisdiction & Reputation
Astrill VPN is from Seychelles, outside the 14 Eyes data-sharing alliance group. It's also free of any past accusations regarding data logging or leaking personal information. Our Score: 10/10
Before we start telling you about this VPN's features and UI design, we'll start with its background. Here's where Astrill VPN comes from and what that means for its users.
Where Is Astrill VPN Based?
Astrill VPN is based in Seychelles, where it delivers exceptional service globally. It's one of the oldest VPN services available and was established in 2009 to meet the growing demand for online privacy and security.
You might be surprised that Astrill comes from Seychelles, but there's a strong reason behind this decision. VPNs handle plenty of personal data, and it's imperative to use a solution that doesn't expose you to third parties. That's why VPNs that come from countries that aren't members of the 14 Eyes Alliance are usually seen as a better option for VPN users.
Did Astrill VPN Leak Personal Data in the Past?
No, Astrill VPN has no record of past data leaks or any other controversial accusations. We also found that Astrill is free of any problematic accusations. There are no (credible) reports of this VPN leaking any data, collecting your personal data, or sharing (or selling) that data with third parties. Considering that it's been around for over a decade, we must admit that Astrill VPN makes a positive first impression.
Supported Platforms & Devices
Astrill VPN supports the most popular platforms, leaving users to rely on manual configuration for 'additional' devices. Our Score: 6.5/10
In the following table, you'll find which platforms Astrill VPN supports. Please note that we'll only list native applications offered by this VPN, which usually provide the easiest way to secure your Web connection.
| | |
| --- | --- |
| Desktop Platforms | macOS, Windows, Linux. |
| Mobile Platforms | iOS and Android. |
| Web Browsers | N/A. |
| Routers | DD-WRT, Tomato, and ASUS Merlin. |
| Other Devices | N/A. |
Astrill VPN provides applications for major platforms and devices, including the less popular Linux operating system. While no browser extensions are available, Astrill VPN can be installed on select routers to provide network-wide protection. Additionally, Astrill VPN offers installation instructions for all supported devices and platforms, making it more user-friendly.
Astrill also offers VPN routers that come pre-installed with Astrill VPN and are ready to use immediately. Please note that the Astrill VPN app is only compatible with DD-WRT, Tomato, and ASUS Merlin routers. However, the DD-WRT router must have a minimum of 8MB flash memory. Finally, while Astrill VPN functions similarly across each platform it supports, it's worth noting that not all features are available on every app.
Installation & Initial Configuration
The installation process is simple and quick. With a focus on simplicity and efficiency, Astrill VPN streamlines the installation process, allowing you to set up and start using the VPN within minutes. Our Score: 8/10
The first step is to subscribe to Astrill VPN on its official website, choose a payment plan, and then download and install the Astrill VPN app on your device. You can then log in after confirming your payment.
From there, you'll see a series of applications you can download. Astrill is a lightweight application, so you'll manage to download the installation file almost instantly. We've tried this software on Windows, and we were prompted to restart our PC before launching the application.
Prominent Features
Astrill VPN is one of the most feature-rich VPNs. It has many high-end features, making even the most demanding users happy. Our Score: 10/10
With our comprehensive evaluation, we have thoroughly examined this VPN and compiled essential information about its standout features. Here's what you need to know.
Smart Mode: Astrill VPN enables you to use the service without leaving any trace that you're using a VPN for government-monitored websites. This feature provides users with advanced stealth and security, making it highly challenging for ISPs and authorities to detect. 
Kill Switch: Even though Astrill VPN is reliable, your connection may drop, which risks your data being exposed during reconnection. During these temporary lapses, a kill switch blocks all Internet activity until your connection is restored. 
Dedicated IPs: For the best experience and increased anonymity, you can try a dedicated IP. You also get better browsing and streaming speeds and much lower lags, buffers, and overall performance.
VPN Sharing: If you have multiple devices on your network, you can share your PC's VPN connection to protect them. It offers complete protection for all your devices, such as other laptops, tablets, smartphones, routers, smart TVs, gaming consoles, and TV boxes. 
Ad Blocker: This VPN also blocks irritating pop-ups and harmful ads that may contain malware. Hence, you can browse smoothly without interruption when the VPN is turned on. 
Application Filter: If Smart Mode isn't enough, Astrill VPN offers the Application Filter feature, which is their version of split tunneling. With this feature, you can use the VPN only with specific applications like Messenger, Skype, torrent clients, or eBanking and not for general browsing. You may also prefer to tunnel everything and exclude certain apps from the VPN. Astrill VPN offers you the flexibility to choose from three modes: Tunnel only selected apps, Tunnel all apps, or Exclude selected app modes.
Port Forwarding: This feature lets you redirect local LAN connections to an external device or the Internet and vice versa. Its key benefit lies in the extra speed you get when gaming or torrenting. 
Astrill VPN utilizes a technique where traffic is forwarded to a VPN's IP and then directed back to your device, maintaining the barrier between your device and the server. Dedicated IP addresses are best for forwarding all ports, while only a single pre-selected port can be forwarded on standard servers. If the risks of port forwarding outweigh the benefits for you, the feature can be disabled altogether.
Server Count & Infrastructure
Even though it doesn't bring an extremely high number of servers, Astrill's 300 servers are present in 57 countries and 113 locations. Our Score: 7/10
We've checked how many servers this VPN brings and in how many countries and locations it's present. Here's what you need to know about its expansive network:
| | |
| --- | --- |
| Number of Servers | 300+ |
| Number of Locations | 113 |
| Number of Countries | 57 |
| Specific Cities Selection | YES |
| Unlimited Switching | YES |
As noted earlier, Astrill VPN has been on the market for over a decade. It means it has had plenty of time to develop its server network. Right now, it has 113 server locations across 57 different countries.
We have to say that some VPNs come with a significantly larger server count, such as ExpressVPN and NordVPN, for example. These two bring about 3,000 to 5,000 servers. ExpressVPN is present in 90+ countries, and NordVPN slightly supersedes Astrill by being present in 60 countries. 
In other words, Astrill comes with rich coverage by bringing servers across numerous countries, although we would've liked to see its server count go a bit higher.
UI/UX Design & Ease of Use
Even though Astrill doesn't have the most polished UI, it has plenty of interesting options, tooltips, and other ways to get informed about its features. Our Score: 5/10
As soon as you open Astrill VPN, you'll see its somewhat outdated UI. Many of today's hugely popular VPNs bring highly polished interfaces that are perfectly suitable for beginners. Astrill VPN doesn't leave a positive first impression, but that doesn't mean it's hard to use. 
Setting up Astrill VPN during our test was simple, and the user interface was intuitive and easy to navigate. The primary interface consists of a huge on/off toggle for connecting and disconnecting from the VPN. Choosing a server from a drop-down menu only takes a few clicks. 
However, the app's window is very small, showing only a few server options at a time. There are a couple of window size-related constraints, but navigating the server dropdown menu is one of the most obvious ones. The small window works fine for most other settings, such as user interface options and protocol selection. A larger window for in-app speed tests pops up to show you more details. 
Overall, navigating the Settings menu was relatively easy, and tooltips appear when hovering over specific options to describe their function.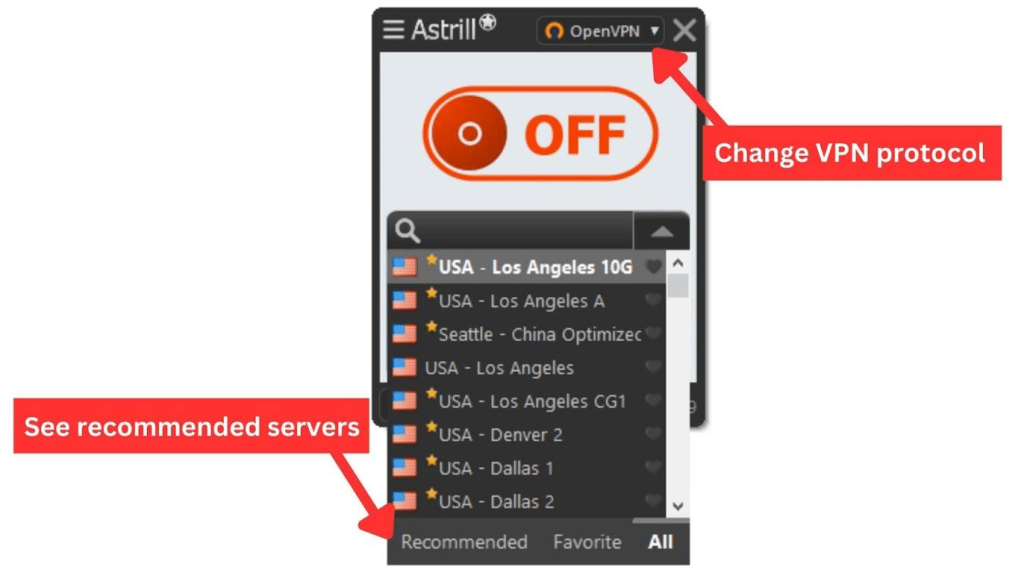 The home screen of Astrill VPN comes with a main ON/OFF switch, which is used to connect to a secure server or disconnect from one. Then, you'll see a dropdown menu that lets you pick a server. Here, you can choose from 'Recommended,' 'Favorite,' and 'All' – pretty self-explanatory. 
In addition, there's a search field, so you can start typing the name of the server, its city, or country of origin. Once you find a server and connect to it, Astrill VPN will show you real-time stats and a small graph.
To get 'behind the scenes' and explore additional options, click the 'hamburger' button in the top-left corner. However, this menu changes depending on which VPN protocol you select – which can be done in the top-right corner. We've chosen OpenVPN, and here are the options you can find in this protocol:
User Interface: Unfortunately, there isn't much to tinker with here. You can display a tray icon, use a 'big servers' menu, and ensure Astrill VPN always stays on top of other windows.
OpenVPN Options: You can choose from two modes of OpenVPN (UDP or TCP), and you can also select a port, MTU size, and type of encryption.
Application / Site Filter: You can decide which websites or applications you'd like to tunnel through the VPN. For example, you can filter international websites, specific applications, and more.
Port Forwarding: This feature can directly route inbound traffic to specific devices on your internal network and vice versa. Hence, you can bypass the limits imposed by your LAN's firewall. Competitive gamers and users who seed torrents will find port forwarding useful, although it takes some effort to set up. 
VPN Sharing: Astrill VPN lets you quickly transform your device into a VPN gateway. You can connect other devices to your computer and share your VPN connection anywhere.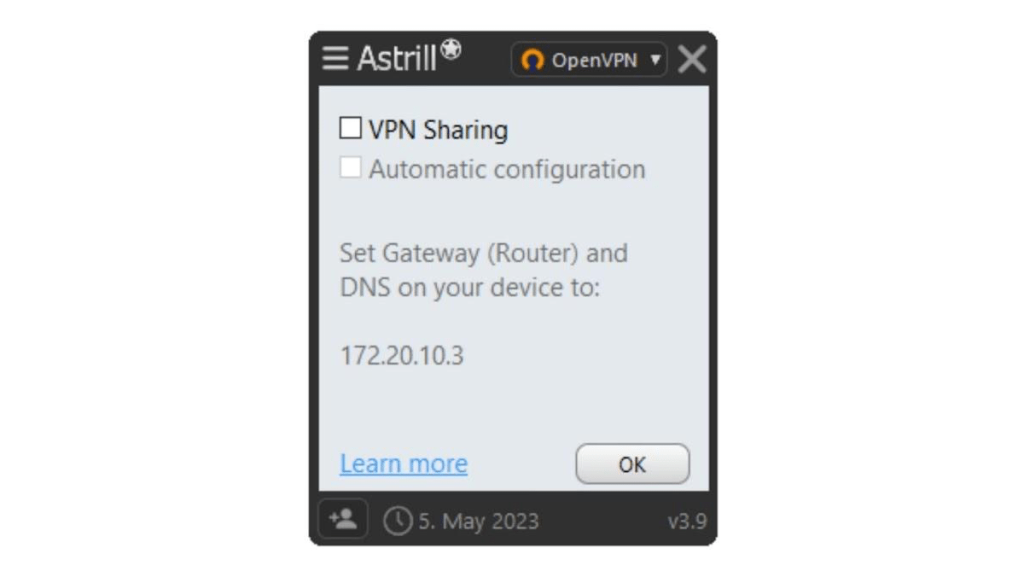 DNS / Proxy Settings: This VPN allows you to set up custom DNS and proxy addresses, including anything related to these two options.
App Guard: This feature can prevent specific applications on your device from accessing the Internet unless the VPN is activated. Guarded applications will only run if Astrill VPN is on.
Privacy: We highly recommend enabling the application's kill switch and protecting yourself from data leaks, including DNS, IPv6, and WebRTC IP leaks.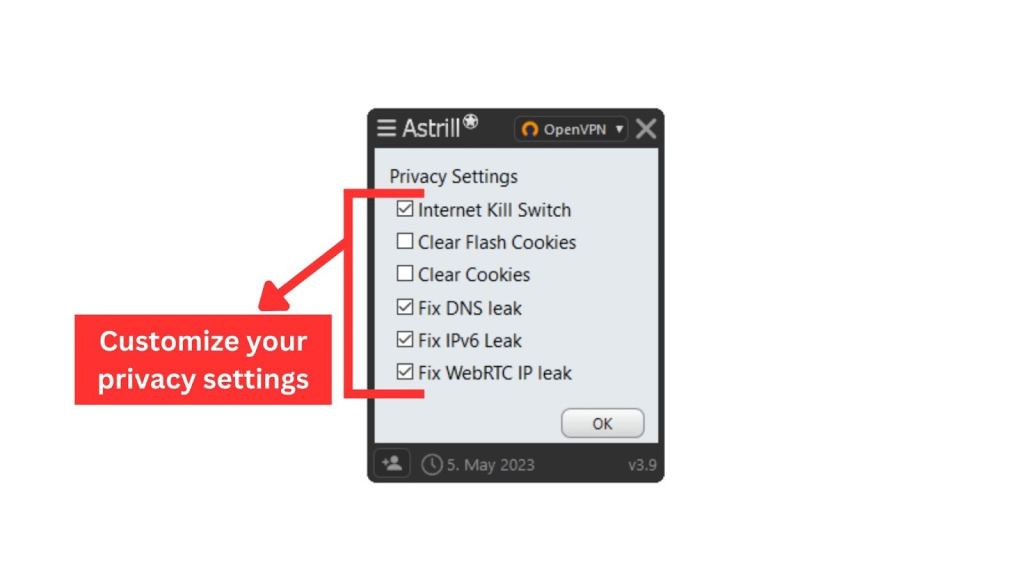 Speed Test: Astrill provides a handy tool for checking the speed and ping of its servers, even before you connect to any. You can also batch-test multiple servers so you can pick the fastest one quickly.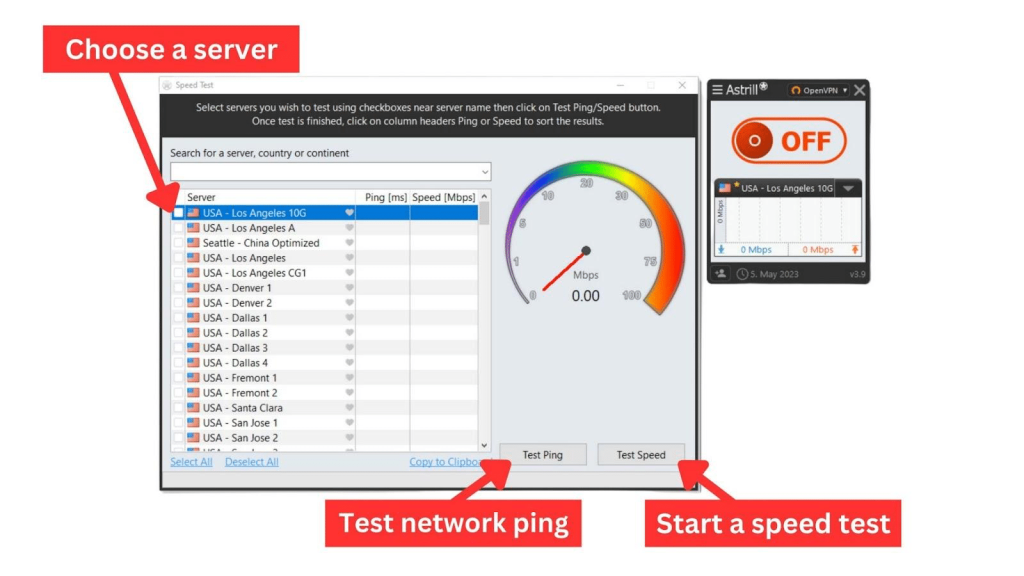 Help: This menu item gives you access to various help-related resources. You'll find handy tips, a router installation wizard, and more.
Media Streaming, Torrenting, and Gaming Support 
Astrill unblocks Netflix – but the same can't be said for other popular media streaming services. Also, it supports gaming and P2P traffic via numerous specialized servers. Our Score: 6/10
So, can Astrill VPN unblock Netflix? Can it be used to unblock other popular media streaming services? Well, we've done a round of streaming tests, and here are the results.
| | |
| --- | --- |
| Netflix US | YES |
| Hulu | NO |
| Disney+ | YES/NO |
| HBO Max | YES/NO |
| BBC iPlayer | NO |
| Amazon Prime Video | NO |
| Torrenting (P2P) | YES |
During our tests, we unblocked the US version of Netflix, but other platforms posed problems. It was difficult to get servers that worked for services like Disney+ and HBO Max. This is probably due to the platforms recognizing and blocking some Astrill servers. We couldn't unblock other platforms like Hulu and Amazon Prime Video at all. And sadly, we weren't able to unblock BBC iPlayer even though we tried all of the available UK-based servers and VPN protocols.
Regarding torrenting, you should know that Astrill VPN has a sizable list of servers, including P2P servers, that allow this kind of Web activity. These servers have a little start icon next to their names, so you'll easily recognize them. It also supports port forwarding for faster seeding and peering speeds.
Astrill VPN supports gaming, and it has the speeds you would need to download, play, and update games. However, its high ping was a major drawback that affected our gaming experience. A split second can make all the difference in competitive games like Call of Duty: Warzone. If you only play for leisure, you can game on Astrill VPN without any issues. 
Security & Privacy
When it comes to the available VPN protocols, Astrill VPN stands out as one of the most robust options on the market. It also utilizes high-end encryption and keeps no PII data. Our Score: 10/10
In this segment, we'll explore this VPN's encryption techniques and VPN protocols. Their primary purposes are to safeguard your private data, so let's see how Astrill VPN handles that task. 
Astrill VPN Protocols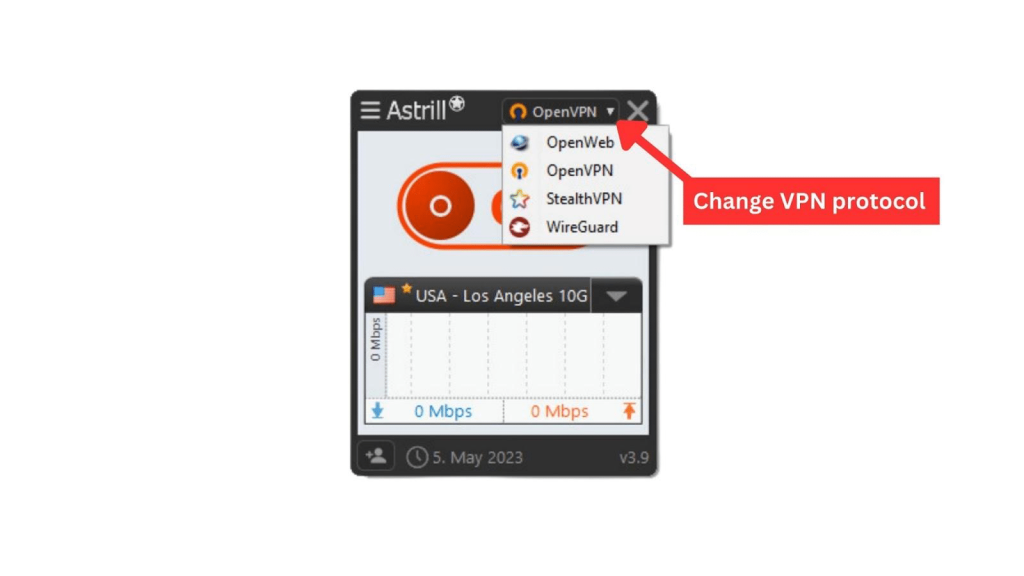 Astrill VPN offers four different VPN protocols:
OpenWeb: Astrill developed its proprietary protocol, OpenWeb, in 2009. This protocol is built on TCP and is secured using multiple authentication and encryption layers. OpenWeb is lightweight and performs well even in regions with high censorship levels. Given the protocol's similarities to standard website browsing, it is challenging to identify it using deep packet inspection (DPI). Its traffic is encrypted with the well-recognized industry standard, AES-256.
Stealth VPN: Astrill has also developed a proprietary protocol called StealthVPN, which builds on the features of OpenVPN and adds an extra layer of obfuscation to the traffic. This upgrade makes it highly effective against automated firewall systems that attempt to block VPN traffic. Unlike OpenWeb, StealthVPN can work with UDP and TCP modes and is only accessible through Astrill's official VPN software. It provides heightened security and exceptional stability, maintaining the connection throughout the session.
WireGuard: This VPN protocol delivers speed and robust security while being easy to use. It employs sophisticated cryptography and is modeled to be quicker and easier to use than conventional protocols like IPSec and OpenVPN. WireGuard protocol uses advanced cryptographic tools such as the Noise protocol framework, HKDF, ChaCha20, Curve25519, and more.
OpenVPN: Consider this protocol when cross-platform compatibility is important. It can operate over either UDP for quick speeds or TCP for enhanced security and stability. However, because OpenVPN traffic isn't obscured, it can be identified by automated firewall systems, leading to frequent blocking and throttling. For instance, it's frequently restricted in China.
| | | | | |
| --- | --- | --- | --- | --- |
| | OpenWeb | Stealth VPN | WireGuard | OpenVPN |
| Windows | YES | YES | YES | YES |
| macOS | YES | YES | YES | YES |
| Linux | YES | YES | YES | YES |
| iOS | YES | NO | YES | YES |
| Android  | YES | YES | YES | YES |
| Router | NO | YES | NO | YES |
Does Astrill VPN Keep Logs?
No, Astrill VPN doesn't collect any user logs. Astrill says it brings a no-logs policy, meaning it collects no personally identifiable information. In practice, this means that some data is being collected after all. However, there hasn't been an independent audit of this provider. We've looked closely at its privacy policy, and here's what we've discovered.
Astrill collects plenty of data about your currently active session, including your IP address, connection timestamp, device type, and more. However, this information is deleted when you disconnect from the VPN. Also, this VPN keeps the information related to your previous 20 sessions, including timestamps, country of origin, device type, connection time, and the Astrill client version. Again, no PII data is ever collected – and your IP address is away from this VPN's servers.
Nevertheless, Astrill is still a trustworthy option. In case you didn't know, every VPN needs to collect some types of information to provide its services, like your username, password, payment method, and other similar details.
Does Astrill VPN Leak/Expose Your Private Data?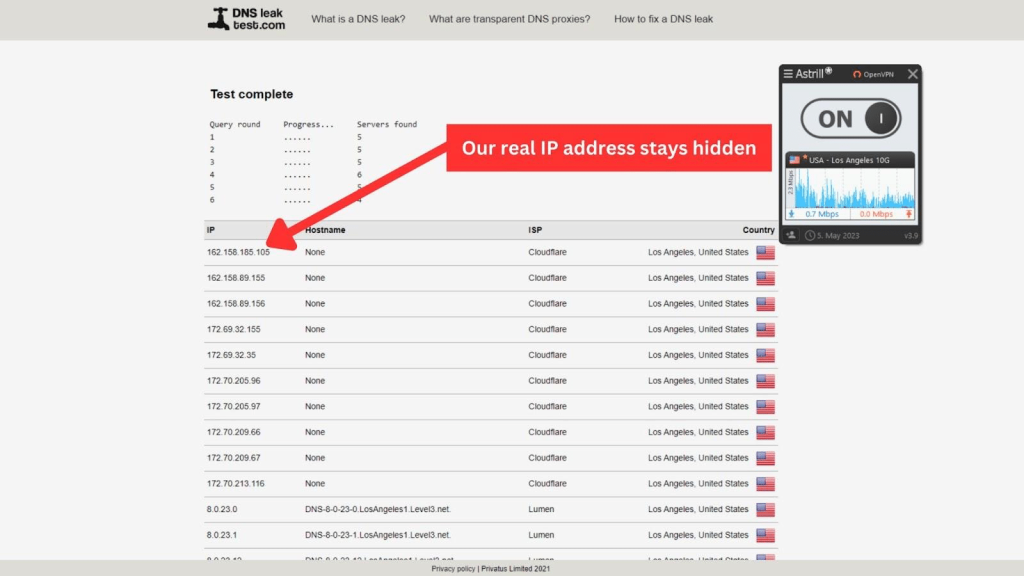 No, Astrill VPN doesn't leak private data. As you can see from the image above, no DNS leaks were detected. Astrill VPN is doing an excellent job of hiding your identity – and it only shows your virtual information, including your IP address, hostname, country of origin, and other similar info.
Speed & Performance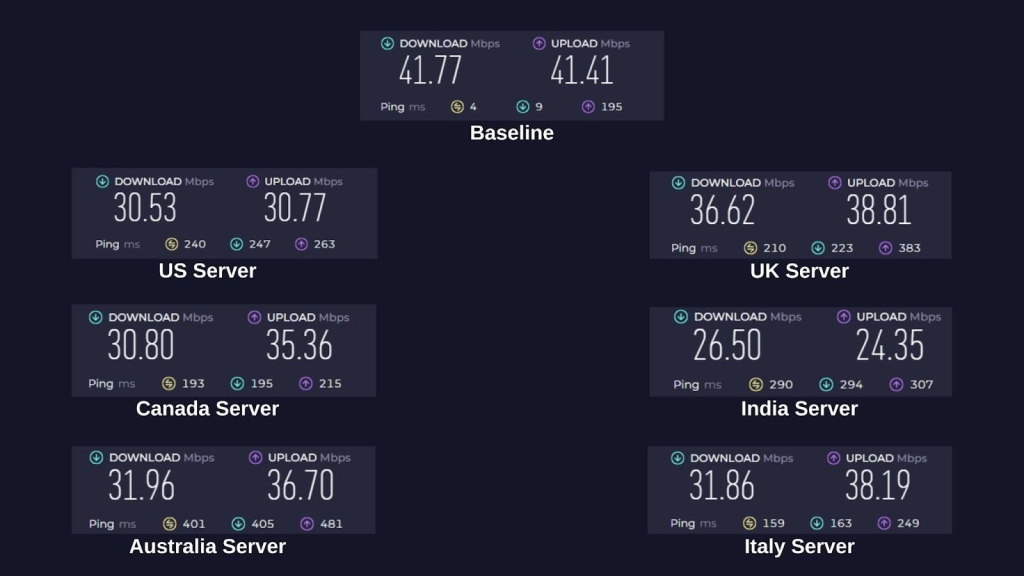 We found Astrill VPN's speed great for all sorts of Internet activity, from browsing to streaming and torrenting on nearby and faraway servers. Our Score: 9/10
We conducted a performance and speed assessment of Astrill VPN by measuring the speed of its servers across different locations, both near and far. To have a reference point for comparison, we first measured our Internet connection speed without using the VPN.
Our baseline speed test results showed a download speed of 41.77 Mbps and an upload speed of 41.41 Mbps. We anticipated a decrease in speed due to VPNs' encryption and security protocols. Additionally, the speed generally decreases as the distance between the server and the user increases. Therefore, selecting servers located nearby is recommended to improve performance.
Italy Server: We connected to an Italian server and noticed a significant reduction in download speed. Our connection speeds dropped (31.86 Mbps for downloads and 38.19 Mbps for uploads), which is quite noticeable.
UK Server (London): Our testing process commenced by connecting to the UK (London) server, which was nearby. We got 36.62 Mbps for downloads and 38.81 Mbps for uploads. The download speed dropped by only 12.3%, which isn't bad given the encryption and security protocols VPNs use.
USA Server (New York): We conducted multiple tests on the New York server and found that the download speed peaked at 30.53 Mbps (-26.9%) while the upload speed peaked at 30.77 Mbps. However, we could still browse and stream smoothly at these speeds.
Canada Server (Montreal): We recorded similar results after connecting to a server in Canada (Montreal). The download speed decreased by 26.3% to reach 30.80 Mbps, while the upload speed decreased to 35.36 Mbps.
India Server (Chennai): The server in India (Chennai) has one of the highest pings, which indicates a remote server, so we anticipated a considerable decline in speed. As expected, the download speed drastically reduced to 26.50 Mbps (-36.6%), while the upload speed was even lower at 24.35 Mbps.
Australia Server (Sydney): The most remote location where we conducted a speed test was Australia (Sydney). The download speed was reduced to 31.96 Mbps (-23.5%), while the upload speed dropped to 36.70 Mbps.
| | | | |
| --- | --- | --- | --- |
| | Download Speed | Upload Speed | Speed Reduction |
| Baseline Speed | 41.77 Mbps | 41.41 Mbps | 0% |
| Italy  | 31.86 Mbps | 38.19 Mbps | 23.7% |
| UK (London) | 36.62 Mbps | 38.81 Mbps | 12.3% |
| USA (New York) | 30.53 Mbps | 30.77 Mbps | 26.9% |
| Canada (Montreal) | 30.80 Mbps | 35.36 Mbps | 26.3% |
| India (Chennai) | 26.50 Mbps | 24.35 Mbps | 36.6% |
| Australia (Sydney) | 31.96 Mbps | 36.70 Mbps | 23.5% |
Overall, Astrill VPN performed similarly to high-end VPNs, with an average speed reduction of 24.9% across the servers we tested. Nearby servers performed excellently, and faraway server speeds were good enough for most online activities. Combined with its solid leak test and unblocking results, we can trust Astrill VPN to access, stream, and download content globally. 
Customer Support
Astrill VPN offers numerous communication channels, including live chat. You'll also find FAQs, video tutorials, setup manuals, and more. Our Score: 9/10
Astrill has a nicely designed website with a dedicated section containing help-related resources. You'll find setup manuals, frequently asked questions, and video tutorials here. Of course, there are other ways to get help – especially if you want to resolve your issue promptly.
FAQ: This helps you answer commonly asked questions about the VPN. You can check here to see if your question(s) might have been answered before contacting live support.
Live Support: You can talk to the company's representative live (when they're not overly busy). We used this option several times and managed to speak to someone after waiting a few minutes. 
Contact Form: No one was 'there' even after waiting more than 30 minutes when we turned in the contact form. You can use this contact form to explain the problem you're having, and someone should respond to you within 24 hours.
Video Tutorials: The website's video tutorials and the comprehensive Astrill Wiki are valuable resources. The wiki contains instructions for port forwarding configuration,  manual router installation, and using Astrill's various VPN protocols.
Setup Manuals: Astrill offers a wiki section packed with setup and installation instructions for all types of devices, including routers. The setup manuals also cover troubleshooting the VPN and FAQs.  
Overall, this provider's customer support is great. The customer service representative we connected with answered all our questions. If you get stuck using the service or have a problem, you can depend on them. 
Pricing
Undoubtedly, Astrill VPN is one of the least affordable VPNs out there. It does bring plenty of high-end features, but this still doesn't justify its high price. Our Score 3/10
Although Astrill is a decent VPN service, it's expensive. Even top VPN services like ExpressVPN aren't as expensive as Astrill VPN. Aside from its subscription fee, you still have to pay extra for a "VIP Add-on" to access premium services like Multi-hop.
All Astrill VPN subscription plans offer the same benefits, including 24/7 customer support and ultra-fast VPN servers in 57 countries. You can connect across 5 devices at once and enjoy unlimited bandwidth & server switches. You also get OpenVPN, Stealth VPN, OpenWeb, and WireGuard encryption protocols. The only difference among the subscription plans is the price and savings you get for longer plans.
Here's how much you'll need to pay on Astrill VPN:
1-Month Plan: The monthly subscription plan from Astrill costs $30, and you'll pay the same amount every month while your account remains active.
1-Year Plan: Astrill's 1-year subscription plan reduces the monthly cost to $15, for a total charge of $180 every twelve months. While this option allows for a 50% savings compared to Astrill's monthly plan, you must pay the entire amount upfront.
2-Year Plan: This subscription plan offers a significant discount, at $12.50 per month, allowing you to save 58% compared to Astrill's monthly plan. You'll be billed $300 every two years.
Notably, Astrill VPN offers three additional features at a premium price. For $5.00 per month, users can obtain a private IP address, while a "VIP" add-on, costing $10.00 per month, is available for clients in Asia and gamers who require lower latency. 
Sadly, Astrill doesn't offer a money-back guarantee. Once a purchase is made on their website, all sales are considered final, and refunds aren't possible. Regarding payments, Astrill supports various payment methods such as credit cards, PayPal, UnionPay, AliPay, and more. Bitcoin is also accepted as a payment method.
Final Thoughts
Astrill VPN offers a good VPN service with support for certain streaming platforms. It allows torrenting, operates from a privacy-friendly location, and provides decent customer support. It's also great for hiding torrenting activity from your ISP while offering P2P-optimized servers and a fast download bitrate. 
The primary advantage of Astrill VPN is its ability to bypass strict censorship and website blocks effectively. However, we believe it may not be worth the price for users who don't require regular access to censored content.
Although Astrill VPN has some fantastic features, it's quite expensive, and other functions are only accessible to VIP users at an additional cost. Considering so many excellent VPNs are available on the market today, the highest-priced option may not always be the best choice. However, you can subscribe to Astrill VPN if you want to try it out yourself.
PROS
Unblocks Netflix.
Bypasses China's Great Firewall.
Great customer support.
No DNS leaks.
P2P- and torrenting-compatible.
5 simultaneous connections.
Multiple customer support options.
Excellent VPN speeds.
Active kill switch.
Split tunneling.
CONS
No money-back guarantee.
No free trial.
Quite expensive.
Outdated user interface.
Limited number of servers.
FAQ
What Is Astrill VPN?
Astrill VPN is an excellent VPN service headquartered in the Seychelles Islands that's renowned for its ability to bypass the Great Firewall of China. It offers speedy and secure connections and is compatible with US Netflix. 
Does Astrill Still Work in China?
Yes, Astrill VPN still works in China. It's one of the few VPN services that still effectively bypass the Great Firewall of China, granting users in the country access to geo-restricted content and websites. 
How Much Does Astrill Cost?
The monthly subscription for Astrill VPN starts at $12.50.
Does Astrill VPN Have a Free Trial?
No, Astrill VPN doesn't offer a free trial. It previously offered a 7-day free trial for Android devices, but it has been discontinued. 
How to Download Astrill in China?
You can download Astrill VPN's .apk file in China by visiting the Download section on their website, choosing Operating System, and clicking the Download Astrill VPN button.
Does Astrill Work with Netflix?
Yes, Astrill VPN works perfectly with Netflix.