Some time ago, Astrill VPN came under the spotlight due to its ability to unblock the Great Firewall of China. This is certainly no easy feat, so any VPN that manages to help users in China to break through numerous censorship measures can be an instant success. However, unblocking websites and staying on top of the latest anti-VPN measures is something that not many VPNs offer. So, can you still trust Astrill VPN to keep you hidden on the Web? Can it unblock Netflix and other popular websites/services? What kinds of technologies does it use to safeguard your private data? Let's find out – welcome to our full and hands-on review of Astrill VPN!
To get started, we'll first introduce you to this VPN service. You'll find three tables in this introductory segment, with the first one bringing a series of quick facts.
We understand that many of you are interested in media streaming. So, the big question is – can Astrill VPN unblock Netflix and other popular streaming platforms? Well, we've done a round of tests and here are the results.
And finally, we have one more table. Not many of you will have the time to read this entire article. This is why we've prepared one more table, with our (post-review) highlights. So, here are the most prominent pros and cons to using Astrill VPN.
Now, were ready to dive into our full Astrill VPN review. Make sure to stay with us until the end of this article, and you'll learn all there's to know about this VPN service. So, let's get started, shall we?
Astrill VPN – TechNadu's Hands-On Review
We'll follow our usual, uniform structure for this review. This means reviewing individual aspects of Astrill VPN, which will lead us to the final score of this review. To learn more about this process, here's how we review VPNs.
Background, Jurisdiction & Reputation
Astrill VPN comes from Seychelles. Also, it comes free of any accusations in the past regarding data logging or leaking personal information. Our Score: 10/10.
Before we start telling you about this VPN's features and UI design, we'll start with its background. Here's where Astrill VPN comes from and what that means for its users.
Jurisdiction & Applicable Laws
Astrill VPN is one of the oldest VPNs of its kind. It launched back in 2009 as a response, as its official website claims, to an ever-growing need for online privacy. This VPN is a product of Astrill Systems Corp, based in Seychelles and it's still operating from this country.
You might be surprised to know that Astrill comes from Seychelles, but there's a strong reason behind this decision. VPNs handle plenty of personal data and it's imperative to use a solution that doesn't expose you to third parties. That's why VPNs that come from countries that are not members of the 14 Eyes Alliance are usually seen as a better option for VPN users.
Previous Data Leaks
We're pleased to report that Astrill comes free of any problematic accusations. There are no (credible) reports of this VPN leaking any data, collecting your personal data, or sharing (or selling) that data with third parties. Considering that it's been around for a decade now, we do have to admit that Astrill VPN leaves a positive first impression.
Supported Platforms & Devices
Astrill VPN supports the most popular platforms out there - leaving its users to rely on manual configuration for 'additional' devices. Our Score: 6.5/10. 
In the following table, you'll find which platforms are supported by Astrill VPN. Please note that we'll only list native applications offered by this VPN, which usually provide the easiest way to secure your Web connection.
As you can see, Astrill VPN covers the most popular platforms out there, both desktop and mobile. However, it's also worth noting that you can configure this VPN manually on plenty of additional devices. For example, users of Blackberry or Windows phones can still use this VPN – even though they won't find an official application. The same applies to users of Chromebook computers.
Let's also not forget to mention that Astrill VPN is compatible with plenty of VPN-compatible routers. There are handy guides on how to install this VPN on your router, which will take a single 'empty slot' of your subscription. This will leave you with 4 more slots for other devices, so you can use Astrill even on the go.
In terms of what's missing here, you won't find any Web browser extensions. Also, it would be helpful to have official apps offered by this VPN for media streaming devices. If you're skilled enough, there's a chance to 'sideload' this VPN's Android app on an Android TV device. However, nothing can replace a fully featured native app.
Installation & Initial Configuration
Strangely enough, you need to verify your account via your phone number (which is seen as a big obstacle for privacy-conscious users). Other than that, the process of installation is simple and quick to do. Our Score: 7/10.
Getting started with this VPN requires subscribing to Astrill VPN first. You can either go for its free trial (which lasts for 7 days) or you go ahead and get a premium subscription. Either way, you'll need to supply your name, email address, and create a password. Strangely enough, Astrill VPN requires your phone number to verify your identity, which is something we don't see often.
Once you verify your account, you'll be able to log-in on the official website. From there, you'll see a series of applications that you can download. Astrill is a lightweight application, so you'll manage to download the installation file almost instantly. We've tried this software on our Windows 10 PC, where the installer asked us to restart our PC before launching the application.
Prominent Features
Astrill VPN is one of the most feature-rich VPNs. It comes with plenty of high-end features, which will make even the most demanding users happy. Our Score: 10/10.
You're surely wondering what kinds of features this VPN provides. We've taken a close look at this application, so here's what you need to know.
We have to admit that Astrill VPN is one of the most feature-rich VPNs out there. Aside from offering the standard set of features, this VPN excels in the area of advanced options. For example, there's a Smart Mode which lets you use the VPN for international websites (while using your real IP for local websites). There are also filters that let you choose which websites and applications can use the VPN connection.
It's also important to note that Astrill VPN offers a 'Multi-Hop' functionality. You can use it to route your traffic through two secure servers, not just one. This might be overkill for average home users – but it's good to know that you can achieve such level of privacy.
Finally, it's worth noting that Astrill VPN features a whole slate of protocols. Among the standard ones, you'll find some proprietary protocols as well – called OpenWeb and StealthVPN. These are designed to battle incredibly strong anti-VPN measures, and this is one of the reasons why and how Astrill manages to work in China as well.
Server Count
Even though it doesn't bring an extremely high number of servers, Astrill's servers are present in 60 countries and 115+ locations. Our Score: 7/10.
We've checked how many servers this VPN brings, in how many countries and locations. So, here's what you need to know.
As noted earlier, Astrill VPN has been on the market for a decade now. This means that it has had plenty of time to develop its server network. Right now, it offers more than 360 servers across 64 different countries.
We have to say that some VPNs come with a significantly larger server count, such as ExpressVPN and NordVPN, for example. These two bring from 3,000 to 5,000 servers. However, even though ExpressVPN is present in 90+ countries, NordVPN matches Astrill by being present in 60 countries as well. In other words, Astrill comes with rich coverage by bringing servers across numerous countries, even though we would've liked to see its server count being a bit higher.
Ease of Use
Even though Astrill doesn't have the most polished UI, it comes with plenty of interesting options, tooltips, and additional ways to get informed about its features. Our Score: 9/10.
As soon as you open Astrill VPN, you'll see its somewhat outdated UI. Many of today's hugely popular VPNs bring highly polished interfaces, perfectly suitable for beginners. However, we have to say that Astrill VPN doesn't really leave a positive first impression, but that doesn't mean that it's hard to use. Let's go over its UI to see what kinds of features you can find, and where.
The home screen of Astrill VPN comes with a prominent ON/OFF switch, used to connect to a secure server or disconnect from one. Then, you'll see a dropdown menu which lets you pick a server. Here, you can choose from 'recommended', 'favorite', and 'all' – pretty self-explanatory. In addition, there's a search field, so you can start typing the name of the server, its city, or country of origin. Once you find a server and connect to it, Astrill VPN will show you real-time stats and a small graph.
To get 'behind the scenes' and explore additional options, you need to click on the 'hamburger' button in the top-left corner. However, this menu changes depending on which VPN protocol you select – which can be done in the top-right corner. We've selected OpenVPN, and here's what kind of a 'hamburger' menu can be found here:
User Interface: Unfortunately, there isn't much to tinker with here. You can choose to display a tray icon, use a 'big servers' menu, and make sure Astrill VPN always stays on top of other windows.
OpenVPN Options: You can choose from two modes of OpenVPN (UDP or TCP), and you can also choose a port, MTU size, and type of encryption.
Application / Site Filter: You can decide which websites or applications you'd like to tunnel through the VPN. For example, you can choose to filter international websites, specific applications, and more.
VPN Sharing: Astrill VPN allows you to easily transform your device into a VPN gateway. This means that you can connect other devices to your computer and share your VPN connection anywhere.
DNS / Proxy Settings: This VPN gives you the option to set up custom DNS and proxy addresses, including anything else related to these two options.
App Guard: In case you'd like to prevent certain applications from using the Web without enabling the VPN first, this is where you can do that. Simply add those applications to this list and they will be blocked unless the VPN is running.
Privacy: We highly recommend you to enable the application's kill switch, as well as to protect yourself from various types of data leaks, including DNS, IPv6, and WebRTC IP leak.
Speed Test: Astrill provides a handy tool for checking the speed of its servers, even before you connect to any. This gives you a clear idea of what to expect prior to choosing a server.
Help: Lastly, this menu item gives you access to various help-related resources. You'll find handy tips, a router installation wizard, and more.
Media Streaming & Torrenting Support
Astrill unblocks Netflix – but the same can't be said for other popular media streaming services. Also, it supports P2P traffic via numerous specialized servers. Our Score: 6/10.
So, can Astrill VPN unblock Netflix? Can it be used to unblock other popular media streaming services? Well, we've done a round of speed tests, and here are the results.
During our tests, we managed to unblock the US version of Netflix without any issues. When it comes to Hulu and Amazon Prime Video – these two services can be quite tricky to unblock. We managed to unblock them in certain instances, and we weren't always successful in this endeavor. And sadly, we weren't able to unblock BBC iPlayer even though we tried all of the available UK-based servers and all of the available VPN protocols. This is why we recommend taking advantage of this VPN's 7-day trial, so you can know what kind of streaming-related options you can count on.
In terms of torrenting, you should know that Astrill VPN comes with a sizeable list of servers that allow this kind of Web activity. These servers have a little start icon next to their name, so you'll easily recognize those.
Security & Privacy
Astrill VPN is one of the strongest VPNs out there in terms of the available VPN protocols. It also utilizes high-end encryption and keeps no PII data. Our Score: 10/10.
In this segment, we'll explore this VPN's encryption techniques and VPN protocols. The main purpose of those is to safeguard your private data, so let's see how Astrill VPN handles that task.
Supported Encryption Protocols
Depending on your platform of choice, Astrill VPN comes with a huge array of VPN protocols and encryption types. In terms of the available protocols, you'll find OpenVPN, StealthVPN, Wireguard, OpenVPN, OpenConnect, Cisco IPsec, IKEv2/IPsec, L2TP/IPsec, SSTP, and PPTP. This is most probably the largest list we've encountered so far. And when it comes to encryption, you can count on up to AES-256, Blowfish-448, Cast-512, Camellia-256, and more. All of these are ultra-secure encryption techniques, which makes us sure that your private data will be protected at all times.
Logging Policy
Astrill VPN is saying that it brings a no-logs policy, which means that it collects no personally identifiable information. In practice, this means that some data is being collected, after all. We've taken a close look at its privacy policy, and here's what we've discovered.
Astrill collects plenty of data about your currently active session, including your IP address, connection timestamp, device type, and more. However, this information is deleted as soon as you disconnect from the VPN. Also, this VPN keeps the information related to your previous 20 sessions including timestamps, your country of origin, device type, connection time, and Astrill client version. Against, no PII data is ever collected – and your IP address is away from this VPN's servers.
Even though some logging is happening, Astrill seems like a trustworthy option. In case you didn't know, every VPN needs to collect some types of information for the sole purpose of providing its services, like your username, password, payment method, and similar.
DNS Leak Test
As you can see from the image above, no DNS leaks were detected. Astrill VPN is doing a good job of hiding your identity – and it shows your virtual information only, including your IP address, hostname, country of origin, and similar.
Speed & Performance
Astrill VPN seems to be a highly optimized VPN solution, bringing incredibly fast speeds and reliable performance. Our Score: 9/10.
Does Astrill VPN throttle the speed of your Web connection, and by how much? Well, we've done a round of speed tests, so here's what you can expect.
We've first done a round of speed tests of our 'naked' Web connection. This includes checking the speed of our Web connection without having this VPN enabled or running in the background. As you can see from the screenshot, we got 147.79 Mbps for downloads and 11.05 for uploads.
Then, we connected to a server recommended by Astrill VPN. We're located in central Europe and got connected to a server in Germany. We managed to get 123.28 Mbps for downloads and 16.01 Mbps for uploads.
And finally, we also checked a remote server. In our case, that was a server in New York. As per the speed test results, we got 122.71 Mbps for downloads and 14.08 Mbps for uploads. Interestingly enough, Astrill managed to increase our upload speed, indicating that there's some ISP-related throttling going on with our Web connection.
On average, this VPN slowed us down by close to 17%. We have to say that we're pleasantly surprised by this result, and it's worth noting that our upload speed has increased as a result of using Astrill VPN.
Customer Support
Astrill VPN offers numerous communication channels, including live chat. You'll also find FAQs, video tutorial, setup manual, and more. Our Score: 9/10.
Astrill VPN comes with a nicely designed website, where you'll find a dedicated section containing help-related resources. This is where you'll find setup manuals, frequently asked questions, and video tutorials. Of course, there are other ways to get help – especially if you want to resolve your issue in a timely manner.
First of all, you can talk to the company's representative live (when they're not overly busy). We used this option several times and managed to talk to someone after waiting for a few minutes. In one instance, no one was 'there' even after waiting for more than 30 minutes, which is when we turned to a contact form. You can use this contact form to explain the problem you're having, and someone should respond to you within 24 hours.
Pricing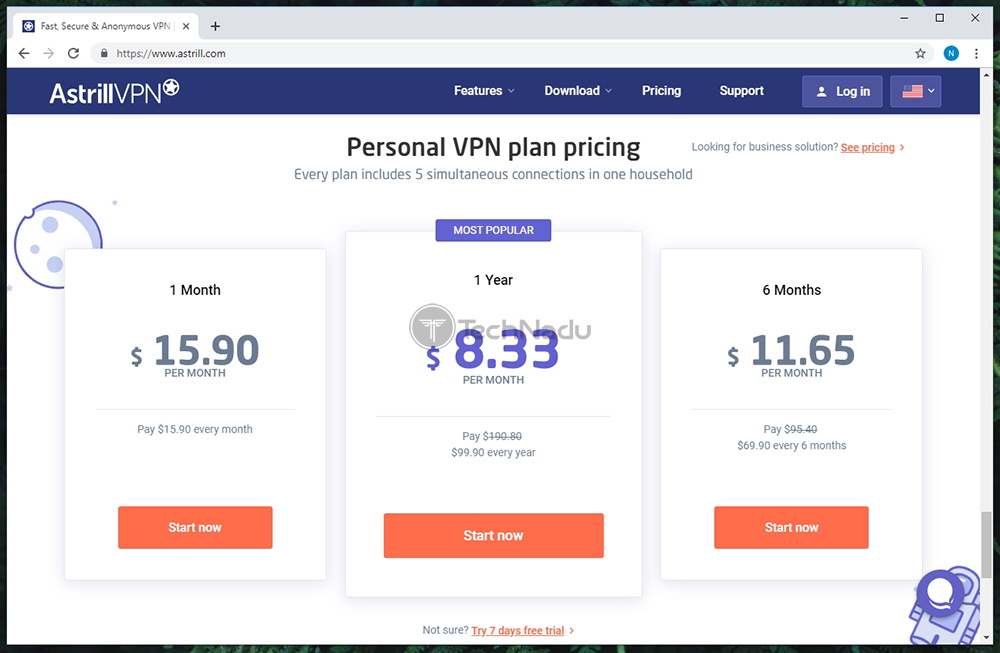 Without any doubt, Astrill VPN is one of the least affordable VPNs out there. It does bring plenty of high-end features, but this still doesn't justify its high price. Our Score: 3/10.
Right now, you'll get to choose from three subscription plans. So, here's a handy table explaining how much each of those plan cost, and how much you can save.
We have to say that Astrill is one of the most expensive (if not the most expensive) VPNs we've encountered so far. Even if you subscribe to Astrill VPN via its annual plan, you'll need to pay $99.90 – which brings the price down to $8.33 per month. In general, top-rated VPNs are priced at around $5.50 to $7.00 per month (via their annual plans), so you can see how expensive this VPN is. However, let's not forget to mention that there's a 7-day free trial, so you can still test-drive this VPN before buying it.
It's also worth mentioning that there are three extra features, premium-priced. You can get a private IP address for $5.00 per month, or a 'VIP' addon for $10.00 per month (used by clients in Asia and gamers who need reduced latency). Astrill VPN also sells pre-configured routers, starting at $39.00.
When it comes to payments, Astrill supports a wide range of payment processing gateways. You can pay via credit cards, PayPal, UnionPay, AliPay, and more. Even Bitcoin in on the offer.
Do We Recommend Astrill VPN?
Despite its high price, it's easy to recommend Astrill VPN. This is perhaps one of the most capable VPNs out there, bringing tons of high-end features. We're sure that advanced users are going to love this VPN, as well as those who seek total online anonymity. If money isn't an issue – you should strongly consider getting this VPN's subscription.
PROS: Incredibly strong VPN protocols; Ultra-strong encryption; No PII logging; Based in Seychelles; Unblocks Netflix; Helpful customer support.
CONS: Somewhat outdated UI; Requires your phone number during sign-up; High priced.
OUR SCORE: 7.9 out of 10!
If you'd like to learn more about this VPN or if you'd like to subscribe to Astrill VPN – make sure use the provided link. It'll take you to this VPN's website, where you'll find all the information you need.
In case you liked this review, we'd like to ask you to share it on the Web. And to stay on top of the latest VPN-related coverage, don't forget to follow us on Facebook and Twitter.