ESPN+ has been on the rise lately. It now has more than 22 million subscribers who flock to the streaming service to keep up with the latest UFC, baseball, college basketball, and football news, videos, and live games. So, it's not a surprise that many from outside the United States want to access it. On top of that, many are looking for a way to bypass blackouts. That's why we're here - to guide you through finding the best VPN for ESPN Plus based on our hands-on tests.
Right off the bat, we'll say that ESPN uses anti-VPN technology, which means it's not easy to bypass its geo-restrictions. Very few VPNs work with ESPN Plus and most VPNs that do work often come with slow speeds that make media streaming a painful experience.
On top of that, it's worth noting that ESPN+ is only available for viewers in the US or those with US IP addresses. And even in the US, you could be in a blackout zone for a game broadcast and receive a message similar to the one below that states: "We are unable to play this video at the moment. Please try again later."

This is why you need a reliable VPN for ESPN Plus to watch games regardless of where the games are happening or where you might be, in the United States or abroad.
For this guide, we have tested dozens of major VPNs to find the best ESPN Plus VPN services. So, without further ado, let's learn how to set up a VPN service and go through the best options available at present.
How to Watch ESPN Plus with a VPN from Anywhere
To use a VPN with ESPN Plus, you need to install your chosen VPN and connect to a server in the United States. Here are the exact steps you need to take:
Pick a VPN that works with ESPN+ (our recommendation is ExpressVPN).
Subscribe to your chosen VPN and then, download and install its app.
Launch the VPN. Access your subscription by logging in.
Connect to any server in the United States. 
Navigate to the ESPN+ website and log in to your account. That's it!
As you can imagine, the crucial step is to connect to a VPN server in the United States. So, if you wish to unblock and watch ESPN+ from abroad, any US-based server will do the job. However, if you want to bypass blackouts, you need a server outside your region within the US.
Best VPN for ESPN Plus
In order to watch ESPN+, you need a US-based IP address. This means the best ESPN Plus VPN should have a sizable server foot in the country with a strong set of unblocking features. It is also a good idea to opt for a service that has native applications across all platforms alongside fast performance. On top of that, ensure your VPN supports enough simultaneous connections to cover all your devices.
Our recommendations are based on the above-mentioned factors. If you are ready to dive deep into them, let's get to it! These are the 5 best VPN services for ESPN Plus:
Currently, ExpressVPN comes as the best VPN for ESPN Plus. This is the only VPN that checks all the right boxes without overcomplicating things. ExpressVPN is simple and very effective for streaming ESPN Plus from any country globally.
ESPN Plus comes with apps for practically any device - while being available on the Web as well. The same applies to ExpressVPN, as it offers polished software for any computer, smartphone, tablet, media streaming device, and more. It also gives you 5 simultaneous connections, which isn't the most generous offer but should get the job done. 
It also comes with over 3,000 servers found in 90+ countries. Many of those are located across the United States, and they all come optimized for streaming. Since you'll get access to multiple protocols (including ExpressVPN's Lightway), you can count on fast speeds even when using highly remote servers. You won't find something like that elsewhere.
It doesn't come as a surprise that ExpressVPN plays well with ESPN+. It helps you bypass blackouts in an instant. Also, it unblocks ESPN+ from outside the US. We've been using it for quite a while now, without any issues at any point.
PROS
Highly polished interface.
Certified no-logs policy.
High-end encryption.
Bulletproof VPN protocols.
24/7-available live chat support.
CONS
No in-depth customization.
Our next contender for the best VPN for ESPN Plus is NordVPN. Being a hugely popular VPN, you already know that plenty is on offer. However, after testing (and re-testing) NordVPN, we're happy to recommend it to privacy-conscientious users. So, let's see why. 
Like other recommendations in this guide, NordVPN brings a whole slate of apps. They cover any device or platform imaginable, and they do a great job overall. We're big fans of NordVPN's interface design, which has become very modern and refined lately. You also get up to 6 simultaneous connections, so you can access ESPN+ from any device at any moment.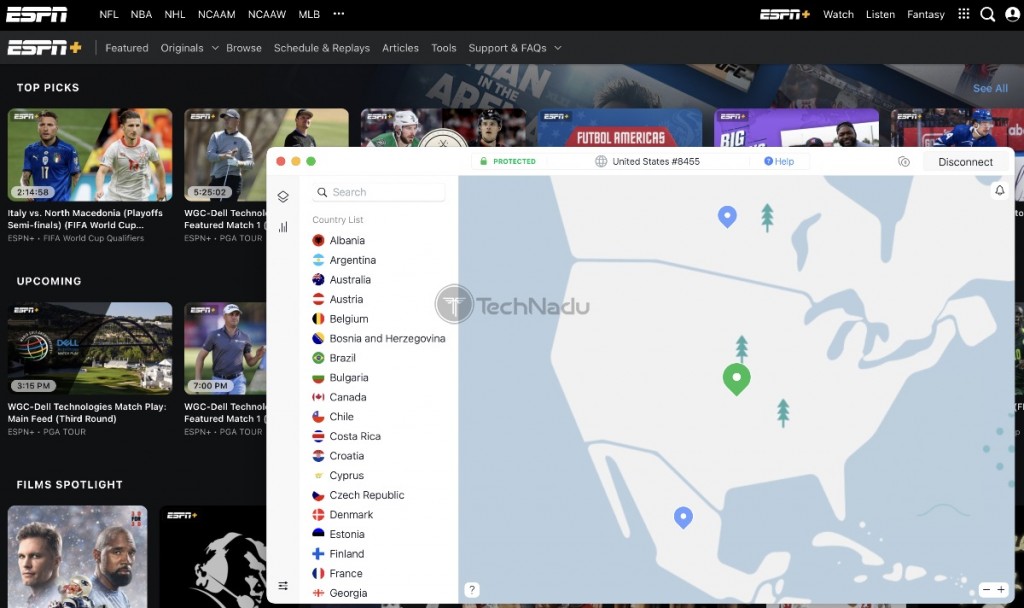 NordVPN has 5,000+ servers, but those are scattered across around 60 countries. So, NordVPN is a bit behind its competitors in terms of its coverage. Still, that doesn't matter for ESPN+ subscribers, as tons of servers are found in various parts of the US. More importantly, NordVPN comes with highly optimized servers, so even long-range VPN connections work effortlessly.
We also have to note that NordVPN doesn't label its servers as optimized for streaming. However, based on our experience, any US-based server works with ESPN Plus. We managed to use those to bypass blackouts and access the streaming service from abroad. On top of that, those connections can be tweaked as NordVPN has several robust protocols, all of which are coupled with high-end encryption.
PROS
Polished UI and UX design.
High-end encryption.
Certified no-logs policy.
Specialized servers on offer.
24/7-available live chat support.
CONS
Not the most extensive server reach.
CyberGhost VPN is an all-in-one ESPN Plus VPN service that can do just about anything. However, it emphasizes media streaming, as it's capable of unblocking even some niche platforms. Of course, unblocking ESPN+ is not even the slightest problem for this VPN. 
In terms of its availability, CyberGhost VPN offers a massive range of apps. They all come with a uniform design, very easy to understand and use. Of course, we're talking about native software here, which means getting started is a very quick process. On top of that, you get 7 simultaneous connections, which seems generous enough.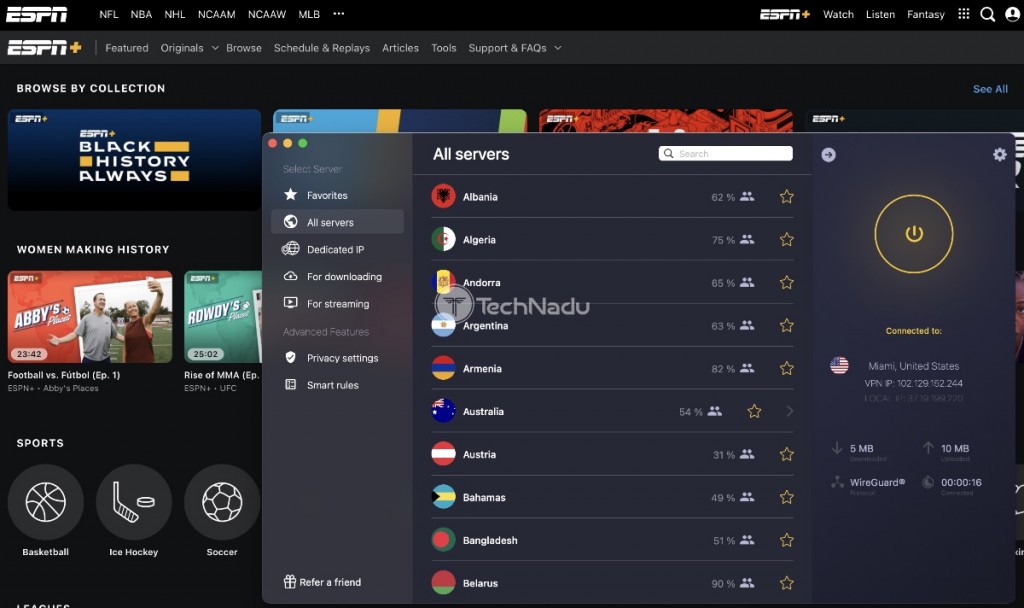 Another strong suit of this VPN is its server network. You get more than 8,500 servers found across 90+ countries. That means your options for acquiring IP addresses from other countries and unblocking websites are practically endless. Aside from media streaming servers, there are specialized servers for torrenting and gaming. 
We've had plenty of luck unblocking ESPN+ using CyberGhost VPN. It offers a specialized server just for ESPN+, so unblocking it is a one-step process. However, even this VPN's standard servers do a good job, which means bypassing region-based blackouts is possible. And if you use any other streaming services, we're confident CyberGhost will also unblock those.
PROS
Native software across the board.
Ultra-secure VPN protocols.
Extra-wide server network.
Dedicated IPs are available.
24/7-available live chat support.
CONS
Requires speed-related optimizations.
High-end features are priced extra.
It's true that Surfshark is the youngest VPN brand you'll find in this guide. However, we're convinced it's one of the best VPN for ESPN Plus. That's because it brings a rare combination of simplicity and complexity. Surfshark is really simple to use (it's fully automated) and has a whole slate of advanced features.
Getting started with Surfshark takes only a couple of moments. Once you subscribe, you can access your (highly polished) online dashboard. Download its apps, log in, connect to a server in the US, and you're ready to watch ESPN Plus. And if you're willing to fine-tune your connection, Surfshark's settings panel plainly explains every feature.
We'd also like to mention that Surfshark comes with unlimited simultaneous connections. It also has 3,200+ servers in 90+ countries. Many of those are found in the US in various places (from San Francisco all the way to New York). That makes this VPN suitable for bypassing ESPN Plus blackouts, done without a hitch.
We also managed to use Surfshark to unblock ESPN+ from outside the US. And if you're a subscriber to other streaming services, this VPN will also unblock those. It's a one-click VPN solution that works every time, as it features advanced obfuscation that can bypass even the most rigorous anti-VPN mechanisms.
PROS
Incredibly simple to use.
Unlimited simultaneous connections.
High-end protocols and encryption.
Very fast and stable performance.
24/7-available live chat support.
CONS
Can take a while to connect.
Our list of the best ESPN+ VPN services wouldn't be complete without a budget-friendly pick. Called Ivacy, this VPN comes with plenty of value overall, especially if you're looking for a long-term subscription. Since Ivacy has been around for quite a while (upgrading its service over time), investing in the long term comes without any risks.
As you can expect, Ivacy covers various platforms and devices – and it brings native software across the board. Its apps aren't the best-looking, but they are easy to manage. Most importantly, they run quite well, requiring minimal resources. On top of that, you get 10 simultaneous connections, which we're sure is more than you'll need.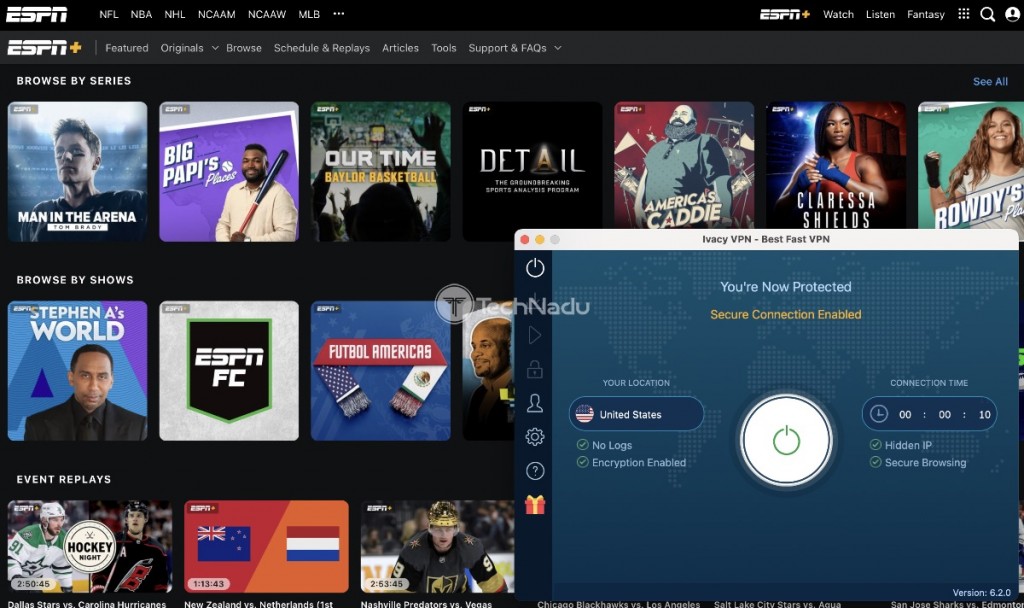 In terms of its server network, you get around 3,500 servers in 60+ countries. So, not the most extensive network out there. However, Ivacy comes with a range of US-based servers. It even offers servers specialized for streaming, but you won't find ESPN+ there. Still, ESPN+ is easy to unblock using Ivacy via practically all its standard US-based servers.
You should also know that Ivacy comes with solid VPN protocols. However, it doesn't feature the latest (and the fastest) protocols, such as WireGuard. That means you can expect Ivacy to slow down your Web connection. No fine-tuning is available, so you need to have a relatively fast Web connection to use this VPN.
PROS
Certified no-logs policy.
Specialized servers on offer.
Wide selection of VPN protocols.
10 simultaneous connections.
24/7-available live chat support.
CONS
Fully featured on Windows and Android only.
Slower than its competitors. 
Why Do You Need a VPN for ESPN Plus? 
You need an ESPN+ VPN if you want to bypass blackouts, access the streaming service from abroad, and protect your privacy. Here's what VPNs can do:
Bypass ESPN+ Blackouts: The most effective way to bypass sports blackouts is by using a VPN. You want to make it look like you're somewhere else (in the United States in the case of ESPN+), which is done by connecting to a VPN server outside of your region. Therefore, a VPN will help you take full advantage of your ESPN+ subscription.
Access ESPN+ From Outside the USA: If you want to access ESPN+ outside the US, you need a VPN with plenty of servers in that country, promising fast and streaming-friendly speeds. So, if you're traveling abroad, there's no need to give up on this streaming service. On top of that, you can even subscribe to ESPN+ from outside of its supported region. 
Safeguard Your Digital Privacy: Let's not forget that VPNs are primarily made for digital privacy and security. They route your traffic through secure VPN tunnels, preventing digital trackers from following you around. In this day and age, you'll want to protect your privacy, making VPNs a powerful ally. 
ESPN+ Not Working with a VPN? – Use These Troubleshooting Steps!
Even though any capable ESPN Plus VPN should work smoothly, technical issues may sometimes arise. So, if ESPN+ doesn't work with your VPN, you can try the following steps: 
Ensure Your VPN Works with ESPN Plus: Not all VPNs work with ESPN+, so you need to be sure that you're using a compatible one. Any VPN from this guide gets the job done (we tested them ourselves). So, if you use some other VPN, it's worth checking whether it says it's compatible with ESPN's media streaming platform.
Switch to a Different VPN Server: It's not unusual for a VPN server to get overcrowded, which can downgrade its overall performance. Luckily for you, there typically are dozens (if not hundreds) of servers scattered across different locations in the US. So, you should try turning to your VPN app's interface and switching to another VPN server.
Switch to a Different VPN Protocol: No matter which VPN you use, there's probably more than a single protocol on board. Today, we have access to various VPN protocols, and each of them comes with a different type of encryption (affecting the way your data is handled). So, visit your VPN's settings and try another protocol.
Delete Your Device's Cache Data: If you use a Web browser to stream ESPN+, know that cache files are stored on your data, pointing to your actual location. So, by clearing your browser's cookies and cache, you can force ESPN+ to reread your location (while you're connected to a VPN). That's how you can trick the streaming platform into thinking you're elsewhere.
Try Using Incognito/Private Mode: If clearing your browser's cache doesn't help, try using its Incognito mode (also known as Private or In-Private). That mode prevents ESPN+ from storing cache or residual data, forcing it to turn to your VPN metadata. In other words, you'll make it easier for ESPN+ to read your VPN location. 
Talk to Your VPN: If nothing else helps, turn to your VPN. Some VPNs (like ExpressVPN) even offer live chat support, typically available 24/7. And if live chat isn't on offer, you can also check tutorials, guides, and other troubleshooting-related information.
For additional tips, turn to our central guide that explains why your VPN doesn't work. You can also check our guide to resolving VPN error codes.
Final Thoughts
In today's world, a fast server network is as much critical to streaming as online security and privacy. That is why we recommend ExpressVPN - our top-rated ESPN Plus VPN for private streaming. You can't go wrong with it, considering its standout features and excellent streaming capabilities.
Keep in mind that we keep updating our VPN guides as the trends change. However, if you want to explore more options now beyond our recommended VPNs, you can check our central guide on the best VPN for live sports streaming. For a more comprehensive look, here's our list of the best VPN services overall.
FAQ
Is It Legal to Use a VPN with ESPN Plus?
Yes, it's legal to use a VPN when watching ESPN Plus. Of course, that applies to countries where VPNs are not restricted in any legal sense.
In other words, you won't be breaking any laws if you use a VPN alongside ESPN+. Still, it's essential to understand that using a VPN might be against ESPN Plus' rules (but you won't face any legal consequences for using a VPN).
In What Countries Is ESPN+ Available?
ESPN+ is only available for US viewers. Apart from the US, the service could only be accessed through a reliable VPN service.
Can I Subscribe to ESPN+ from Outside the US?
Yes, you can subscribe to ESPN+ from outside the US. You need a VPN with US-based servers capable of unblocking ESPN+ to make that happen. 
There are several ways to get an ESPN Plus subscription, depending on the platform(s) you use. For more information, here's our guide to watching ESPN+ outside the US.
Does ESPN+ Have Blackout Restrictions?
Yes, ESPN+ imposes blackout restrictions for online viewers based on the IP address from which they are accessing the service.
Games broadcasts also face the same blackouts, due to which you may not be able to stream live videos of your favorite games. However, you can access the service using any of the US servers via our recommended VPNs.
How Do I Get Around ESPN+ Blackouts?
To get around ESPN+ blackouts, you need a VPN app that offers servers in multiple locations across the United States. 
More precisely, you need to connect to a VPN server in a location where the game you want to watch is available (via ESPN+). The streaming service will read your new location, thinking you're somewhere else. It's as simple as that.
Does ESPN+ Offer a Free Trial?
No, ESPN+ does not offer a free trial. You will have to pay for the service from the get-go.
However, you do get an option to have a low-rate monthly subscription and the ability to cancel it anytime you want.
What's the Fastest VPN for Streaming ESPN Plus?
As per our tests, the fastest VPN for streaming ESPN Plus is ExpressVPN. It comes with high-speed performance, achievable without any fine-tuning.
Does ExpressVPN Work with ESPN+?
Does NordVPN Work with ESPN+?
Yes, NordVPN works with ESPN+. The service connects up to 6 devices simultaneously and has some of the fastest US servers on the market to securely stream games on ESPN+.
Does Surfshark Work with ESPN+?
Yes, Surfshark works with ESPN+, and it works pretty well. We've tested a range of its US-based servers, all of which were able to unblock ESPN Plus.
What's the Best VPN for Unblocking ESPN+?
The best VPN for unblocking and streaming ESPN+ is ExpressVPN. That's the only VPN that checks all the right boxes, as per our tests. You can try it risk-free for up to 30 days!
Can I Use a Free VPN to Watch ESPN Plus?
Unfortunately, no. That's because free VPNs come with limited bandwidth, making them unsuitable for streaming online media.
If you're willing to accept those harsh restrictions, check our guide to the best free VPN services. Still, it really is worth investing in a paid VPN, so here are the best VPN deals.
So, this is where we end our guide to the best ESPN+ VPN services. If you have any questions, you can share them using the comments section below. Thank you for reading!