As you surely know, BBC iPlayer is available in the United Kingdom only. However, you've also heard that millions of people around the world use this media streaming service. So, how's that possible? Can you watch BBC iPlayer from abroad – and for free? The answer is – yes, and we're about to show you how that's done.
To access iPlayer from abroad, you need to make it look like you're in the United Kingdom. For that to happen, you must use a VPN. Still, not every VPN will do the job. That's where our team comes into play, as we've tested more than 60 VPNs so far. And also, we've been using iPlayer from abroad for years now.
So, let's waste no more precious time. Here's everything you need to know about watching iPlayer from outside the United Kingdom.
Do You Need a VPN to Watch BBC iPlayer from Abroad? 
Yes, the only way to watch BBC iPlayer from abroad is by using a VPN service. Aside from being the easiest method, that's also the most effective method available.
Keep in mind that iPlayer checks your location based on your IP. That's how it can detect whether you come from outside the UK. In that case, you will see the following message: "BBC iPlayer only works in the UK. Sorry, it's due to rights issues." That's where your access to the media streaming service will be blocked.
Since the trick is to change your IP address, you can use a VPN. You need one with servers in the UK. Once you connect to those servers, your original IP address (assigned by your Internet provider) will be replaced with a British IP. That gives you unrestricted access to iPlayer.
Of course, you'll want to know about the best VPNs for iPlayer. With that said, know that we've done plenty of research and hands-on testing. That's how we came to the conclusion that ExpressVPN is your best option right now.
ExpressVPN works every single time, without any issues. It can unblock iPlayer on practically any device, and it's also easy to use. In fact, it's so straightforward that even first-time VPN users won't have a single problem. Try ExpressVPN Risk-Free, for 30 days.
How to Watch BBC iPlayer from Abroad for FREE?
To watch BBC iPlayer from abroad for free, you need to use your VPN and connect to a server in the United Kingdom. That's done in the following way:
Subscribe to powerful iPlayer VPN, such as ExpressVPN.
Download and then install ExpressVPN on your device.
Launch the VPN app. Log in to your account.
Connect to any server found in the United Kingdom.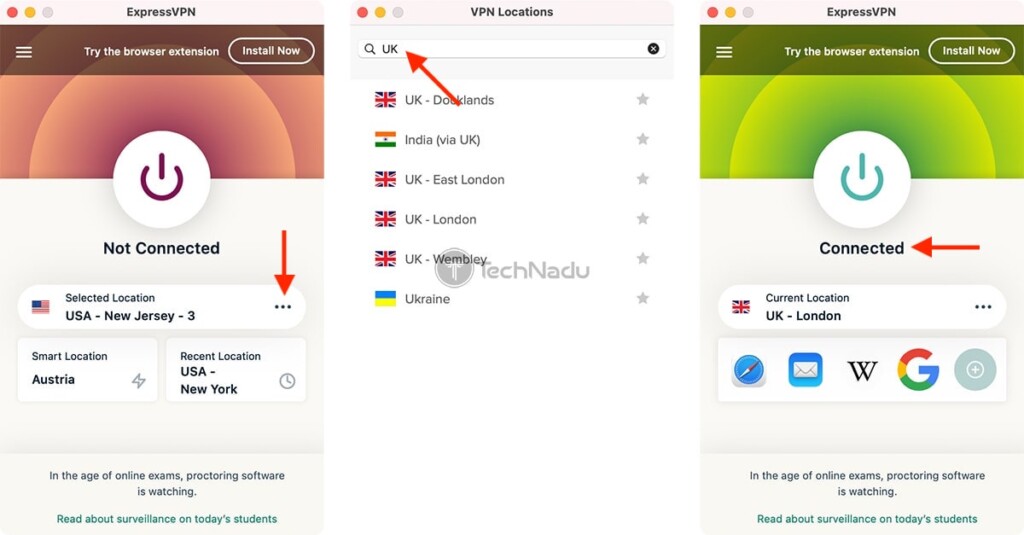 Access your BBC account by logging in (or create a new one).
Select any movie or TV show and press 'Play.'
When asked if you have a TV license, confirm that you do.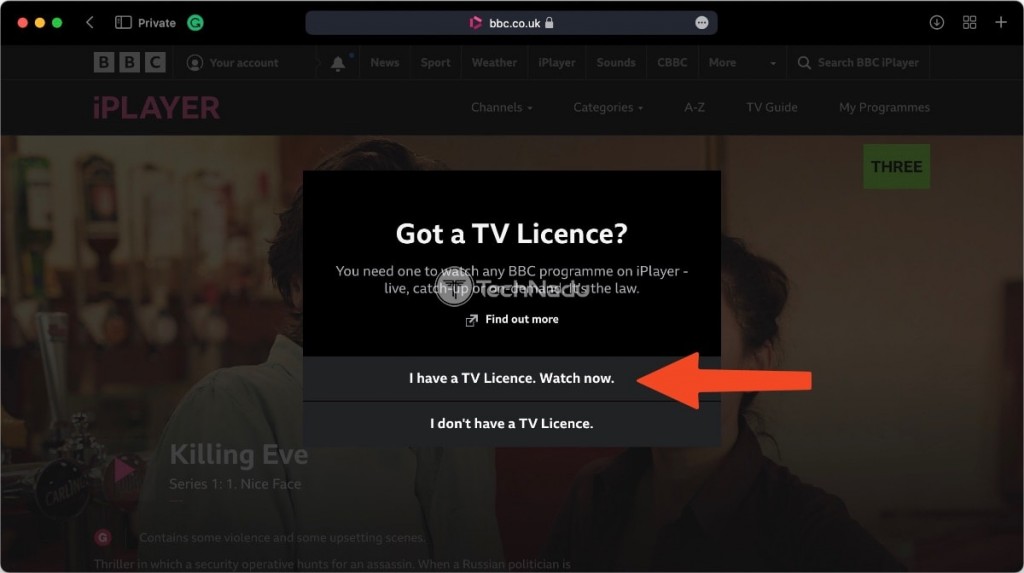 Decide whether you'd like to use iPlayer's parental controls.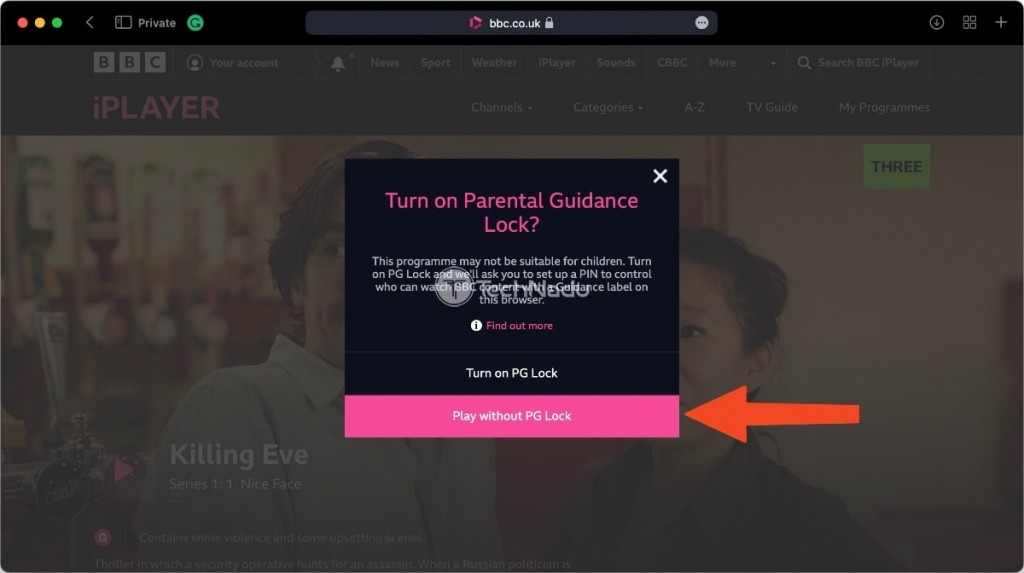 Your chosen title will now begin streaming. Enjoy!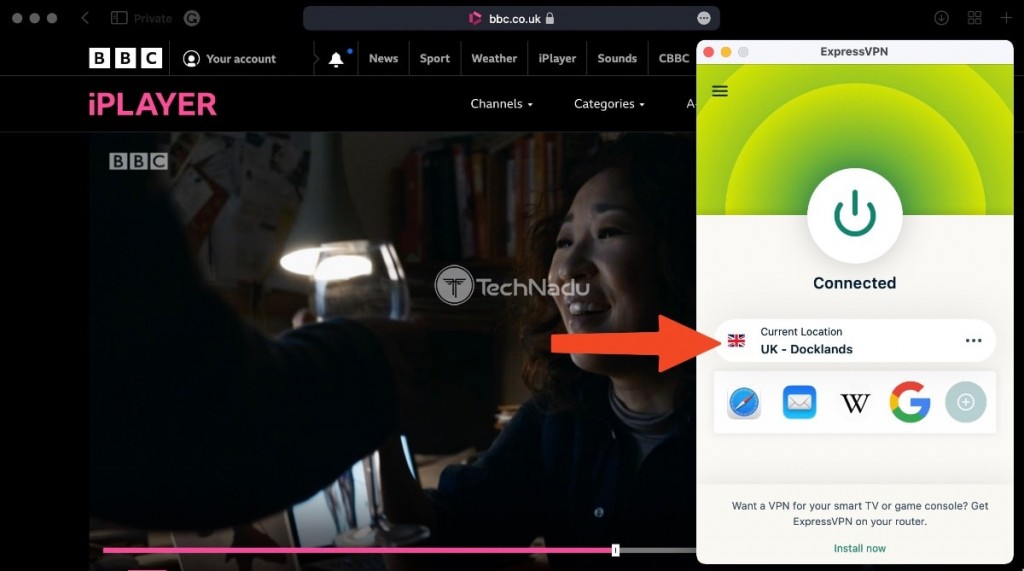 We gave you instructions on watching BBC iPlayer from abroad using any Web browser. That would be the easiest way to combine your VPN with iPlayer. In other words, that method works on any computer, smartphone, or tablet. 
However, iPlayer also offers apps for various types of devices. To learn more about how to access those, here's how to download the iPlayer app from outside the UK.
What Can You Watch on BBC iPlayer? 
BBC iPlayer comes with various types of content, including live TV channels, movies, TV shows, documentaries, and even sports-related content.
Many use iPlayer to watch BBC channels from abroad, which can be done live. With that said, iPlayer gives you access to the following video and audio streams: BBC One, BBC Two, BBC Three, BBC Four, CBBC, CBeebies, BBC News, BBC Scotland, S4C, BBC Parliament, Radio 1, and BBC Alba.
Of course, on-demand content is there as well. In terms of BBC's productions, the following TV shows are currently popular: Killing Eve, Peaky Blinders, The Tourist, Top Gear, EastEnders, and Doctor Who. There are also plenty of US TV shows, such as Gossip Girl, I May Destroy You, and Pretty Little Liars.
And lastly, when it comes to movies, our recommendation is to check out the following titles (all of which are critically-acclaimed): Game Night, The King's Speech, Gloria Bell, Misbehavior, Memento, Suburbicon, and Booksmart.
Can't Access BBC iPlayer from Abroad Using a VPN? – Try This!
We've come up with a series of actions for when you can't access BBC iPlayer from abroad, even while using a VPN. So, you'll want to try the following:
Connect to a Different VPN Server: It's true that VPN servers can get overcrowded, which reduces their overall performance. That's why VPNs typically offer dozens of servers in a single location, letting you avoid performance bottlenecks. With that said, you'll first want to try connecting to a different VPN server located in the UK.
Connect Using a Different Protocol: Every VPN has at least a couple of VPN protocols. Based on our experience, OpenVPN works best for watching BBC iPlayer from abroad. There's also WireGuard, a relatively new protocol. However, we'd like to highlight ExpressVPN's Lightway, which unblocks websites while bringing lightning-fast speeds.
Remove Cache Data: Online services like iPlayer store cookies and cache data on your device, which helps with their performance. However, that data might point to your actual location. So, if you can't unblock iPlayer even while using a VPN, it's worth trying removing cookies and other files from your Web browser. 
Use Incognito/Private Mode: Sometimes, your Web browser needs to be instructed not to use its cache and history. That's done using Incognito mode, also known as Private and InPrivate. You need to use that mode alongside your VPN to push iPlayer to read your UK IP address. We recommend doing a Google search based on your Web browser's name for more information.
Turn to Your VPN for Assistance: Finally, remember that you can always turn to your VPN for additional support. One of the reasons we recommend ExpressVPN is its 24/7-available live chat support. That means your questions will be answered quickly and without much fuss.
If you'd like to continue trying other possible solutions, head to our VPN troubleshooting guide. You can also check our guide to fixing VPN error codes, useful in cases when a particular error prevents your VPN from working. 
FAQ
Is BBC iPlayer Available Abroad?
No, iPlayer isn't available abroad. In other words, it's not available outside the United Kingdom – unless you use a VPN service.
We'll also add that nothing beats a VPN in terms of unblocking iPlayer. The Internet is filled with all kinds of solutions, but all of them are short-lived. 
Is BBC iPlayer Free to Watch?
Yes, iPlayer is free to watch. However, that's because those who already pay for a UK TV license also pay for iPlayer and other BBC-branded services.
How Can I Watch BBC iPlayer Outside the UK?
You can watch BBC iPlayer outside the UK via a VPN app, such as ExpressVPN. That's our #1 recommendation and the best option you have right now.
ExpressVPN comes first on our list of the best VPNs overall. That really is a very capable VPN that bypasses any Internet roadblock. So, using ExpressVPN to unblock iPlayer is a no-hassle procedure that works every single time.
Is It Illegal to Watch iPlayer Abroad Using a VPN?
No, it's not illegal to watch iPlayer using a VPN. That's because VPNs are legal in most countries, so you have every right to pick any commercially available one.
However, keep in mind that iPlayer requires you to have a UK TV license. Since you'll be accessing the streaming service without one, that's against iPlayer's Terms of Use. 
It's important to note that no one has ever been prosecuted or punished (in any legal way or sense) for watching iPlayer from outside the UK. 
That would be all on how to watch BBC iPlayer from abroad for free. We're here if you have any questions – so, make sure to use the comments section below. Thank you for reading!