To make the most of your money, you'll want to invest in a long-term VPN plan. Therefore, taking advantage of a trial account comes with many benefits. And, yes - we're here to help you explore those benefits by highlighting the best 7-day free trial VPNs available.
Keep in mind that you'll find 10 VPN services below, and all of them offer 7-day trials that don't require you to pay anything (they truly cost you $0). However, in some cases, you'll find those trials available on mobile devices (Android and iOS) only.
What's important to be said here is the following. Some (free) VPN trials require your payment information (via your Google or Apple account) - but they won't charge you unless you decide to stick to those VPNs.
Therefore, we strongly recommend reading the fine print and canceling your account on time if you decide not to become a subscriber. And even if you forget to do that, you can always count on money-back guarantees. In other words, you have nothing to lose.
How to Get a 7-Day VPN Free Trial?
There are many ways to activate and download your 7-day free VPN trial, so we'll show you a general guide. Here are the steps you need to take:
Pick any 7-day VPN trial you'll find just below. We recommend ExpressVPN's trial.
Use the provided links to get to your chosen VPN's website.
If you're on a phone, use links that lead to Apple's or Google's app store.
In case you need to sign up, make sure to do so. Otherwise, download the VPN app.
Once you install the VPN app, launch it. If asked for credentials, sign up.
You'll now have full access to your chosen VPN - for up to 7 days!
7-Day Free Trial VPNs
Ready to jump right in? If you are - these are the 10 best VPNs with a 7-day free trial:
1. ExpressVPN - Best VPN Overall
ExpressVPN is, without any doubt, the best VPN you'll find available today. It comes with a set of robust and incredibly powerful features, you can use it on about any device, and this VPN can go over even the toughest Internet roadblocks.
With this said, we believe that ExpressVPN is what many of you are looking for, so don't forget to check our detailed and hands-on ExpressVPN review.
When it comes to desktop platforms, you can use ExpressVPN on Windows, macOS, Linux, and more. However, there isn't a free trial available on those platforms (you can still count on the VPN's 30-day money-back guarantees, though).
So, the only option is to get this VPN with the best deal available right now.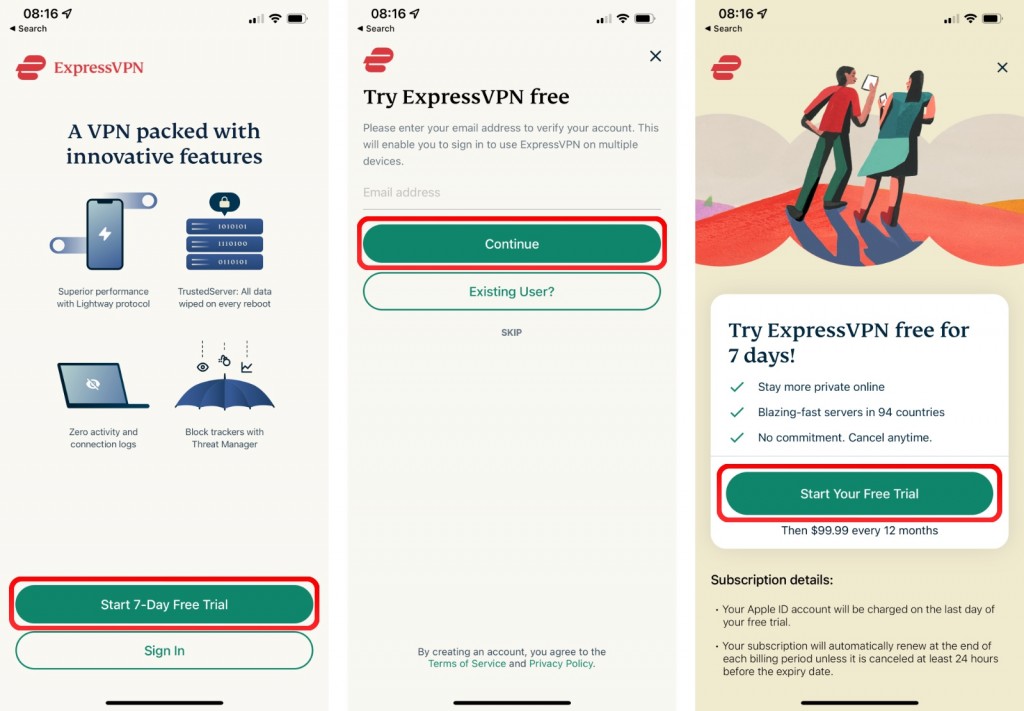 That means the VPN's free trial covers mobile devices only - iOS and Android. Download the app from its respective app store, and you'll get to sign-up for a 7-day trial - after which you'll be charged based on the selected subscription plan.
2. NordVPN - Best for High-End Encryption & Privacy
If you're looking for an easy-to-use yet incredibly powerful VPN free trial for 7 days, NordVPN should be your pick. The reason this VPN is so popular is that it offers a series of sophisticated and advanced features.
However, you won't find an overly complex interface here, as everything is optimized for average home users. Make sure to learn more by checking our hands-on NordVPN review.
When it comes to NordVPN's free trial, that offer applies to Android and iOS. Up until a year ago, this VPN offered a free trial on all platforms - but ended that offer due to widespread abuse.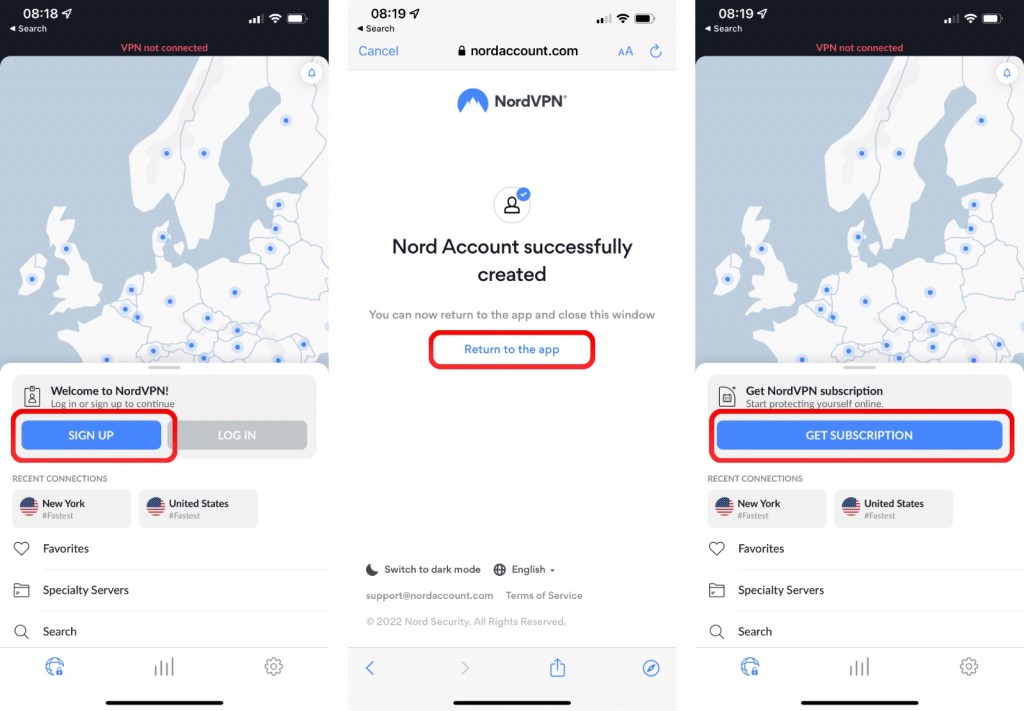 So if you visit its website, you can sign-up and then count on the VPN's 30-day money-back guarantee. However, the VPN's Android and iOS apps allow you to sign-up for a 7-day trial, after which you'll be charged based on the selected subscription plan.
3. CyberGhost VPN - Best for Cross-Platform Support
Based in Romania, CyberGhost brings thousands of servers around the world. Many of these are optimized for certain online activities like Web browsing, gaming, torrenting, and streaming. That's precisely what makes CyberGhost one of the most versatile VPNs out there.
Furthermore, our team has described this VPN in our CyberGhost VPN review as being highly user-friendly. We believe that both inexperienced and highly experienced users will feel right at home with this provider.
If you decide to test CyberGhost, know that you'll find a 7-day trial on mobile devices (including Android and iOS). You can also try CyberGhost VPN on desktop operating systems, but you'll only get a 24-hour trial.
We wished to see this period extended a bit, but this should still give you plenty of time to try out different servers and check out how this VPN behaves.
4. Surfshark - Best for Media Streaming
Even though Surfshark is perhaps the youngest VPN on this list, it has many things going for it. This is a highly capable all-around VPN service, suitable for a wide range of uses.
You get a highly polished interface (with apps present on many platforms), an unlimited number of connections, more than 3,000 servers capable of unblocking websites, and plenty more. Learn more about these features via our Surfshark review.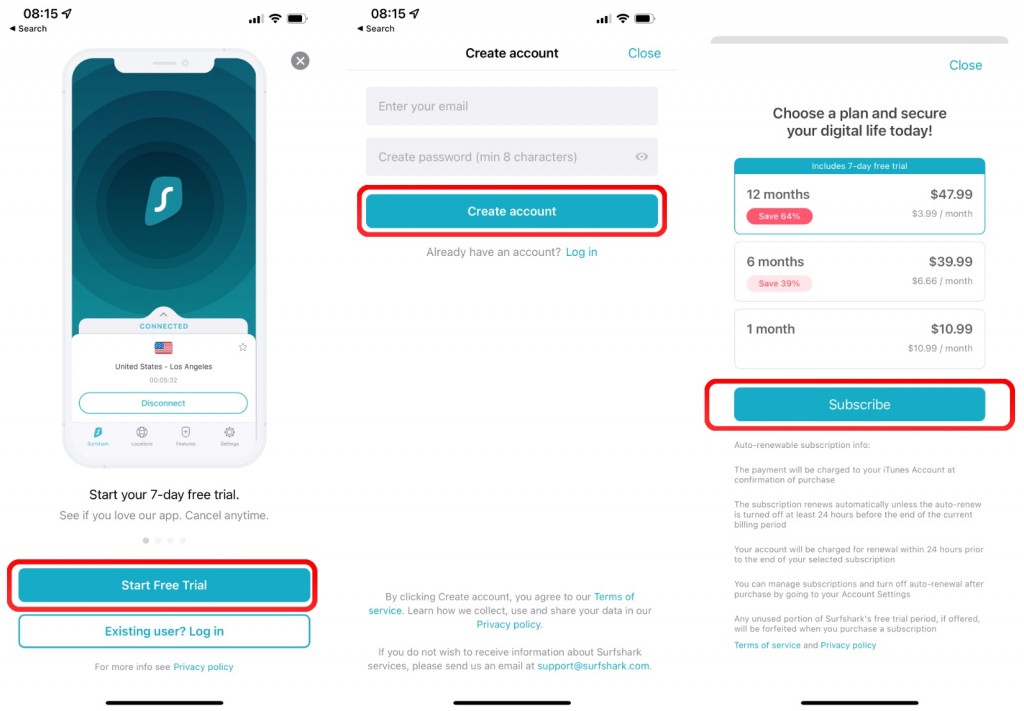 Just like ExpressVPN and NordVPN, Surfshark has decided to offer a 7-day trial on mobile devices only. It means you can download its Android or iOS app, select a plan that you'd like to use, and your trial will begin immediately. You'll be charged only after the trial ends, giving you plenty of time to test this VPN service thoroughly.
5. ZenMate VPN - Best for First-Time VPN Users
ZenMate comes from Germany and has been on a steady rise during the last year (after Kape Technologies acquired it). Today, this VPN offers servers in many locations, has a strict no-logs policy, brings software for numerous platforms, and plenty more.
As noted in our Zenmate VPN review, there's plenty to like about this VPN provider, which is definitely worth your time and money.
It's worth knowing that ZenMate VPN comes with a 7-day trial, which applies to all its desktop and mobile applications. Once you confirm your email (no payment information is necessary), you'll get to use the VPN with absolutely no limitations.
However, keep in mind that you'll be charged on Android and iOS once the trial is over.
6. Hotspot Shield - Best One-Click VPN Service
Hotspot Shield is a reputable VPN brand that tries to do it all at once. However, where it excels is privacy protection. It's backed by modern protocols, offers up to 5 simultaneous connections, and works on practically any device.
We also recommend Hotspot Shield for media streaming, as it works with a range of popular streaming services. For example, you can unblock Netflix, Hulu, and Disney+. Find more info in our hands-on Hotspot Shield review.
When it comes to its 7-day trial, it comes free of charge. However, Hotspot Shield will ask for your payment information (your credit card or PayPal), which means you'll be charged once the trial ends. More precisely, the VPN will activate its monthly plan, priced at $12.99/month.
To avoid getting charged, make sure to cancel your subscription before your trial ends. Still, even if you forget to do that, Hotspot Shield offers a 45-day money-back guarantee.
Avast SecureLine VPN doesn't have the same age as some other VPNs in this article, but we're sure that average home users are going to love it, nonetheless.
It comes with a simple and attractive interface, doesn't collect any of your data, and ranks high in protecting against any leaks. To learn more, here's our Avast SecureLine VPN review.
You should also know that Avast is generous when it comes to its free trials. You can take advantage of its 7-day free trial - covering all the devices supported by this VPN.
Keep in mind that you'll need to provide some personal information on mobile devices, as you'll need to agree to a subscription plan first (which means that you'll be automatically charged once the trial ends).
On desktop platforms, there's no need to input any financial (payment) information.
8. AVG Secure VPN - Best Fully-Automated VPN
In many ways, this recommendation is similar to the previous one. AVG is a well-known cyber-security company, so it's not surprising to see it offering a VPN solution. However, although it comes from a globally known brand, AVG Secure VPN is a relatively small VPN - which should still be more than enough for average home users.
To test-drive this VPN, all you need to do is download the app from its official website. You don't have to supply any information. Simply download and install the application and activate your 7-day free trial.
If you decide to test-drive this VPN on your mobile device, you'll need to pick a subscription plan, and you'll be automatically charged once the trial is over (unless you cancel your subscription 24 hours before the trial ends).
9. HMA (HideMyAss VPN) - Best if You Need Plenty of Servers
Yes, HideMyAss (now known as HMA) does have a funny name – but this is where any comedic elements about this VPN stop. This is one of the VPNs with the highest number of servers in the world, giving you the ability to connect to pretty much any country.
Also, it's present on all popular devices, provides 24/7 support, and brings military-grade encryption. For more information, check our HideMyAss review.
If you decide to get this 7-day VPN trial, we recommend going through the VPN's official site. As you'll see, HMA will ask for your payment information, and you'll automatically switch to the VPN's annual plan once your trial is done.
So, to avoid being charged, make sure to cancel your subscription at least 24 hours before the trial ends.
10. TorGuard - Best If You're Switching from Another VPN
TorGuard perhaps isn't the most user-friendly VPN, but it's one of the most capable ones. You will get to customize your VPN connection by fine-tuning even its smallest aspects. Aside from that, you'll get a streaming IP address, port forwarding for torrenting, as well as a range of protocols that keep your sensitive data private.
To learn more about this VPN, head over to our TorGuard review. However, if you'd like to test it, know that TorGuard has a unique offer that applies to those switching from another VPN.

If you send an email to freshstart@torguard.net and attach a document proving that you've canceled your previous subscription, TorGuard will give you a 7-day trial account. That's an excellent way to test-drive the VPN with no restrictions.
In case you're not using some other VPN, there's another way to test TorGuard for up to 7 days. You can sign up for its "standard" trial, which requires your payment information. You won't be charged before your trial ends, and you'll get full access to TorGuard for 7 days.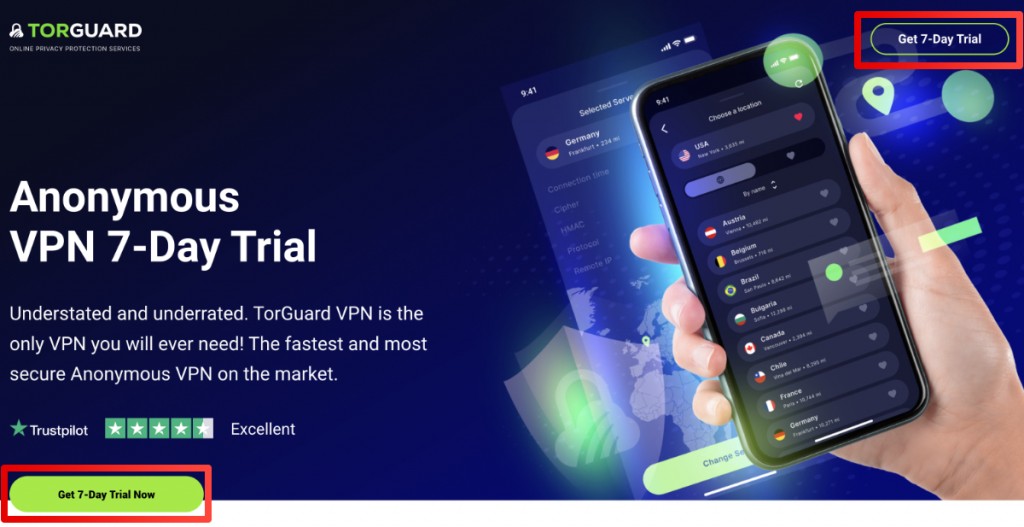 What's the Difference Between a 7-Day Trial and a 30-day Money-Back Guarantee?
A 7-day VPN trial lets you test-drive your chosen VPN without paying anything. However, that's not the case with 30-day money-back guarantees, which kick in after you pay.
So, it all comes down to whether you're willing to pay from the get-go or if you'd like to test your chosen VPN without paying anything upfront. In that sense, both of those are risk-free options, but using a 7-day free VPN trial does appear to be a more attractive option for most users.
Also, when it comes to money-back guarantees, make sure to read the fine print. Reputable VPNs come with 30-day 'no questions asked' guarantees, which means you reserve every right to change your mind and get your money back.
Can I Use a 7-Day VPN Trial More Than Once?
No, you can't use 7-day VPN trials more than once. That's exactly why VPNs often ask for your payment information, which helps them register those who decide to sign up.
In rare cases, VPNs can offer 7-day trials without asking for payment information. Those trials are typically limited to desktop platforms only, such as Windows and macOS. In those cases, your IP address is registered as well as other metadata, to prevent misuse.
With that said, we must admit that having 7 days to test any VPN service seems like an exceptionally good deal. That's plenty of time to test-drive all kinds of features, which should help you decide whether to spend your money.
Can I Get a 7-Day Free VPN Trial Without a Credit Card?
In most cases, no. However, there's a very small group of VPNs (Avast SecureLine VPN and AVG Secure VPN) that come with VPN 7-day trials, no credit card needed.
Both of those VPN trials are limited to desktop devices only (Windows and macOS). You activate them by downloading the respective VPN apps from their websites. Once you install and launch the VPN, your IP address and other metadata will automatically register.
So, that means no personal information is needed, as you won't need even to sign up for a free account. When your 7-day trial ends, the software you've installed will deactivate.
Can I Get a VPN 7-Day Trial on All Devices?
In most cases, yes - you can get a 7-day VPN trial on all devices. However, there are also VPNs that offer trials only for mobile or desktop devices, so pay attention to the fine print.
For example, ExpressVPN and NordVPN come with 7-day trials accessible only via their iOS and Android apps. You download any of those two VPN apps on your phone, launch them, and sign up for a trial. You'll also need to agree to a subscription plan, which means you'll be charged once your trial ends.
However, since you'll get an unrestricted account, you can try ExpressVPN and NordVPN on your computer as well (as you'll have fully working credentials during your 7-day trial).
What Are the Limitations of a 7-Day Free Trial VPN?
In general, you'll encounter very few limitations during your 7-day free trial VPN. The biggest limiting factor is that you'll get to test some VPNs on specific platforms only.
As you can see above, a few VPNs give you access to all their apps, letting you test them on Windows, macOS, iOS/iPadOS, and Android. In most cases, you'll be limited to either mobile devices or desktop platforms. So, take your pick based on the platform you use primarily.
Of course, that's not a major downside, as you'll get unlimited access to all your VPN's features, and that includes all its protocols, server fleet, and more. You'll also get unlimited speed and bandwidth, so you get an idea of what to expect in terms of performance.
Final Thoughts
Having 7 days to test-drive a VPN is an excellent way to try multiple options and find a VPN that works for you. With that said, we recommend going with ExpressVPN's free trial, as that's the best VPN overall available right now.
If you wish to check other options, here's our central guide to the best VPN trials. Then, here are the best VPN trials with no credit card required, as well as 30-day VPN trials (use the provided link to check if any are available at the moment).
This is where we conclude our guide to the best free 7-day trial VPNs. If you have any questions, post your comment below. And of course, make sure to share this article online. Thanks!