Established in 2012, TorGuard is a privacy-focused VPN based in Orlando, Florida. The catch is, being based in the US binds it to play by American rules, including the Foreign Intelligence Surveillance Act (FISA), opening the door for government snooping. This could turn into trouble for users' privacy.
The US is also part of the Five Eyes intelligence club, a group of countries that work together to collect and share sensitive information. But, make no mistake, TorGuard VPN is a powerhouse in the security arena and provides top-notch protection for both personal and business use.
To start off, Torguard has a vast array of servers that leave the competition in the dust. Then, WireGuard delivers top-notch performance, while OpenVPN operates smoothly with consistent results. There's also a lot of fine-tuning available, making TorGuard VPN an excellent pick for advanced users. 
Regarding its privacy policy, Torguard claims that it does not collect or log data. There has been no audit to verify the claim, but the VPN does offer plenty of technical features for privacy and security, such as stealth and obfuscation technologies, manual control of encryption, WebRTC and IPv6 leak protection, and yes, a kill switch. 
To kick things off, we're going to highlight the key features of this VPN. The table below will give you an overview of some of TorGuard's standout points.
Jurisdiction
United States of America
Logs
No data logging
Servers
3,000+ servers in 50+ countries
Simultaneous Connections
x8 Standard
x12 Pro
x30 Premium
Supported Devices
Windows, macOS, Linux, Android, iOS, Web browsers, and routers
Features
Port forwarding, dedicated IPs, internal encrypted DNS
Protocols
OpenVPN / WireGuard / IKEv2 / L2TP/ IPsec
Supports
Netflix, Disney+, Hulu, streaming, torrenting, and gaming
Customer Support
Email, knowledge base, FAQs, and community forum
Price
From $3.88/month (3-year plan)
Live Deal
50% OFF (annual plans)
Our Score
8.2 out of 10
Our Torguard review will cover the company's background, its privacy and security features, its performance, as well as its suitability for different types of activities, like streaming, torrenting, and gaming. 
We'll also examine how TorGuard VPN compares to other VPNs on the market (especially to the best VPN services). To learn more about our process of reviewing VPNs, visit our in-depth guide on how we review VPN services. 
And now, let's get started with our TorGuard review!
Background, Jurisdiction & Reputation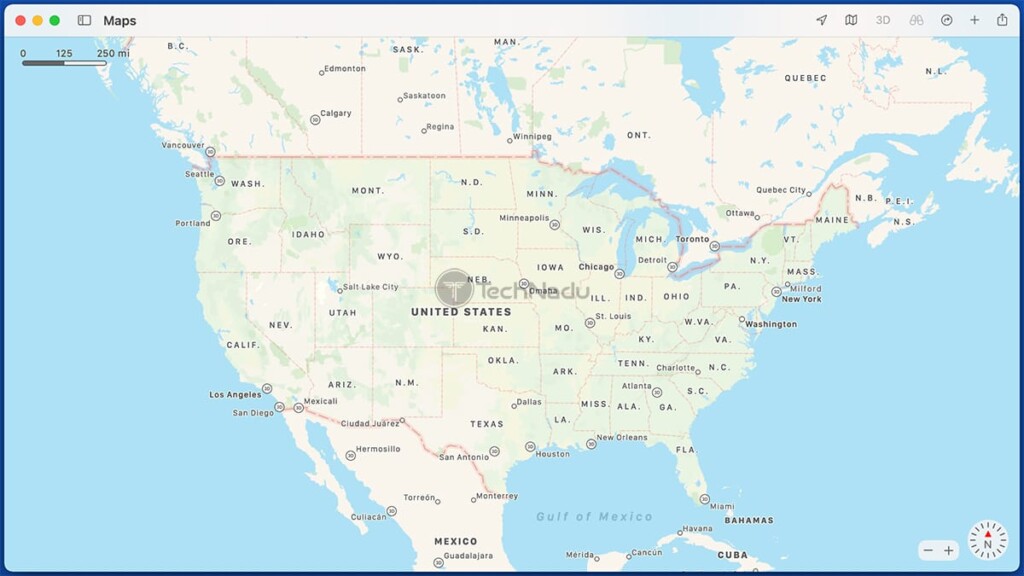 TorGuard comes from the USA, which isn't ideal. However, they've proven they know how to keep your online privacy and anonymity intact. Our Score: 8/10
Before you pick a VPN service, you must know a thing or two about its parent company, as that has further implications that affect your privacy. So, let's talk about TorGuard's country of origin and its parent company.
Where Does ToGuard Come From?
As you can check by visiting TorGuard's website, finding the location of its headquarters (or the name of its parent company) isn't exactly straightforward. That's always a red flag and usually means that the VPN comes from a less-than-ideal country for this type of business. That said, know that TorGuard comes from Orlando, Florida (the United States). Also, it's a product of a company called VPNetworks LLC.
VPNetworks LLC is owned by a parent company called Data Protection Services LLC. All those business entities are founded and still run by Benjamin Van Pelt, the owner of Private Router LLC (focusing on selling pre-flashed VPN routers) and PrivateMail (an encrypted email and cloud storage service).
Therefore, it's good to know that TorGuard isn't owned by a multinational corporation if that's something you see as beneficial. In that sense, TorGuard is an independent VPN. Still, keep in mind that this VPN comes from the USA, so let's see why that's important.
In case you didn't know, the USA is one of the founding members of the 5-Eyes Alliance. And we hope that we don't have to tell you about the highly publicized mass surveillance done by this country. As you can see, that puts TorGuard in a problematic situation. Still, that doesn't mean that you can't trust this VPN, as there are ways for TorGuard to avoid collecting data.
Did TorGuard Leak Private Data In the Past?
In 2019, an interesting report started circulating on the Web about a breach that reportedly happened in 2017, affecting VPNs such as NordVPN, TorGuard, and VikingVPN. That report turned out to be accurate after being acknowledged by the affected VPNs.
As explained by TorGuard, that was an isolated incident in which an individual gained access to a secure server used by TorGuard and hosted by a third party. However, since this VPN uses secure PKI management, the primary CA key remained protected. In other words, even though TorGuard went through a breach in 2017, no sensitive information was exposed.
With that said, we're happy to report that TorGuard was never involved in any data leaks. Also, there are no reports of this VPN collecting user information or allowing third parties to track individual users. Since the VPN is more than a decade-old service, all of that sounds reassuring.
Is TorGuard Safe?
Yes, TorGuard appears to be 100% safe. This VPN was never connected to malware or any malicious actions whatsoever. So, you don't have to worry whether TorGuard will take advantage of your trust and digital privacy.
As noted above, this VPN comes from the US, which is a reason for concern. However, since it comes with a pristine reputation, there's no reason to believe that TorGuard isn't safe.
Supported Platforms & Devices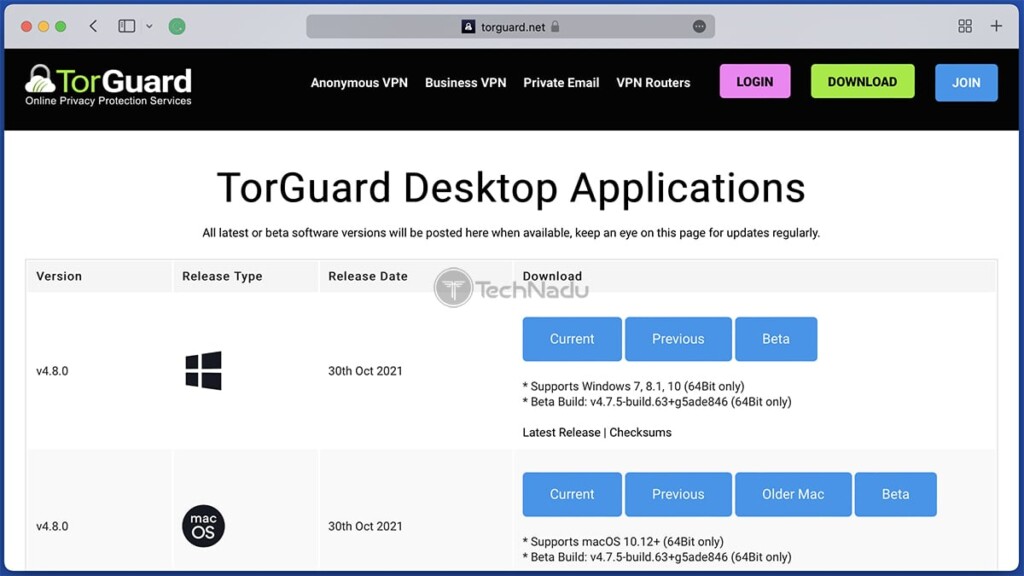 You can use TorGuard on a wide range of desktop and mobile platforms - via native apps. The same applies to media streaming devices and compatible routers. Our Score: 10/10
VPNs usually offer several simultaneous connections, protecting many devices at once. That said, let's see on what devices you can use this VPN and whether it offers native apps or you need to configure it manually.
Platform Compatibility
| | |
| --- | --- |
| Desktop Platforms | Windows, macOS, Linux. |
| Mobile Platforms | Android, iOS. |
| Web Browser | Google Chrome, Mozilla Firefox, Microsoft Edge. |
| Routers | DD-WRT, Tomato, and other compatible units. |
| Other Devices | Kindle, Fire TV (Firestick), Android TV. |
We can see that TorGuard has done a great job supporting just about every popular platform out there. When it comes to desktop platforms, you can count on Windows, macOS, and Linux (Ubuntu, Fedora, Redhat, CentOS, Arch Linux, and more). And there are also Android and iOS (including iPadOS) apps for when you're on the go.
Aside from supporting Web browser extensions (Firefox, Edge, and Chrome), you can also use TorGuard on compatible VPN routers. To make that installation process as simple as possible, you can use router setup tools. Once installed on a router, you can connect pretty much any other device and get TorGuard's protection.
And finally, TorGuard also supports media streaming devices powered by platforms like Android TV and Fire TV. We're talking about TorGuard's native apps here, which means that unblocking new streaming apps is achievable quite easily.
Before we conclude this segment, you should also know that TorGuard comes with support for 8 simultaneous connections in its "basic" plans. If you need support for more connections, this VPN also offers plans that allow up to 30 simultaneous connections.
Installation & Initial Configuration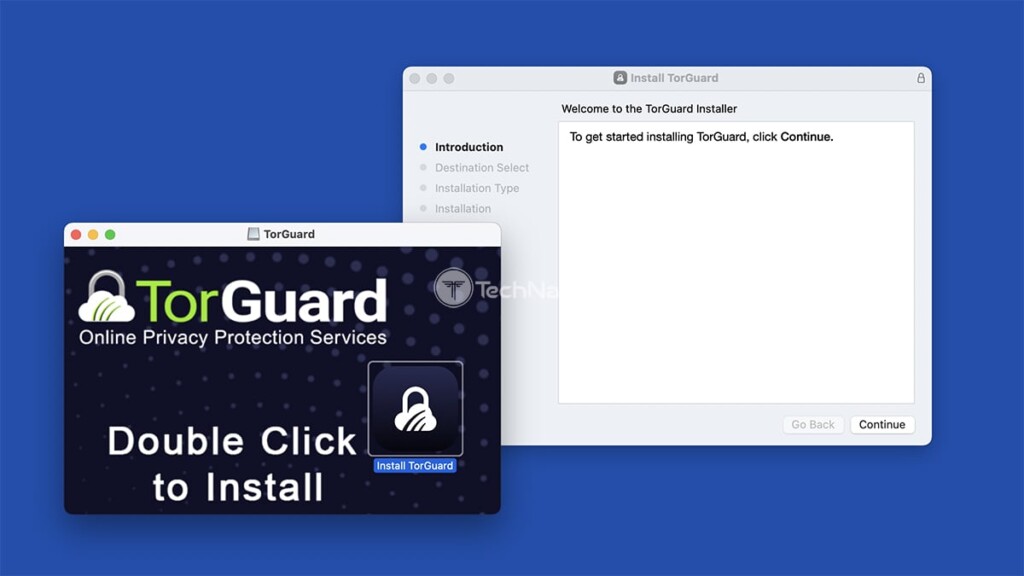 You can get started with TorGuard in a matter of minutes. Download the app from TorGuard's site, install it, and you're good to go. This seems like a simple procedure overall. Our Score: 9/10
The first step is to buy a TorGuard subscription, which will get you a username and password. Once you sign up, TorGuard will send you several emails, which seems a bit unnecessary. So, make sure to inspect your inbox and pay attention to any critical info found there.
Then, log in to your account using TorGuard's website. Once you do so, your subscription's overview will appear. That's also where you can download TorGuard's apps, nicely organized into a table, presenting their supported platforms and devices.
When it comes to installing TorGuard's VPN apps, you won't find any obstacles there. Even if you have never installed any VPN application before, you won't have a hard time with this one either. With that said, even complete beginners should be covered well.
Prominent Features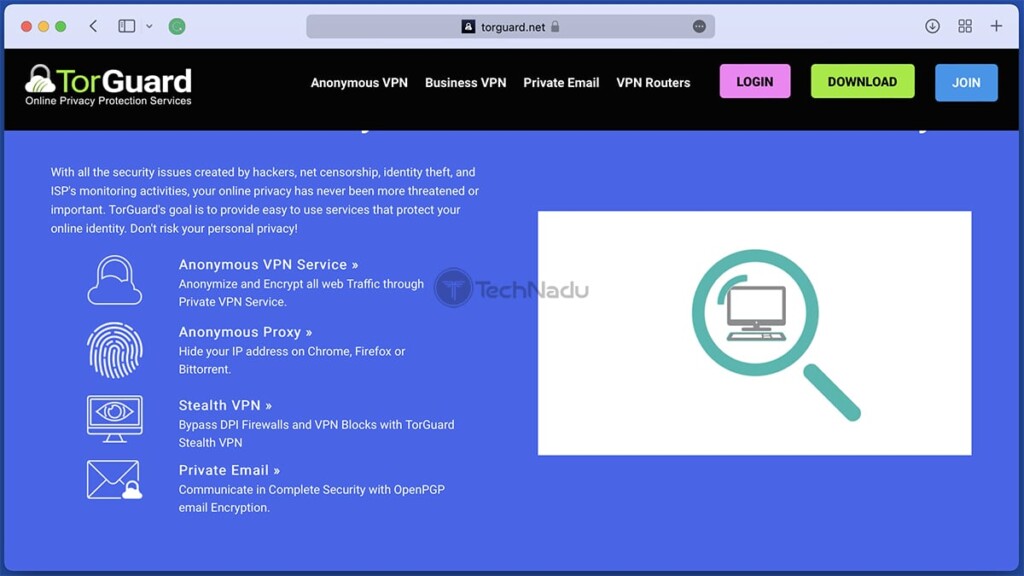 TorGuard is offering just about any feature you would expect from a powerful VPN. However, there's no split tunneling here, which is a downside. Our Score: 8.5/10
After spending quite some time testing VPNs, we've come up with a set of features that every capable VPN should offer. We consider these to be the essential features that provide some space for more advanced aspects as well.
| | |
| --- | --- |
| DNS Leak Protection | YES |
| IPv6 Leak Protection | YES |
| Kill Switch | YES |
| Split Tunneling | YES (Android only) |
| Dedicated/Static IPs | YES |
| Ad-Blocker, Anti-Malware | YES |
| Unlimited Server Switches | YES |
| Unlimited Bandwidth | YES |
| Unlimited Data | YES |
It's evident that TorGuard meets close to all our expectations. To keep your identity protected online, it offers both DNS and IPv6 leak protection. As you can imagine, TorGuard also blocks other types of data leaks (including WebRTC leaks), as it's capable of creating an incredibly secure VPN tunnel. That happens automatically (and those features are enabled by default) without you having to tinker with the VPN's settings.
When it comes to more advanced features, TorGuard offers a kill switch across platforms like Windows, macOS, Android, and iOS. The VPN's kill switch allows for some customization on desktop platforms, letting you create a list of "high-risk" apps. You can enter the names of processes or applications you want to be terminated, and you can test your kill switch rules before activating them.
We're also happy to say that TorGuard provides DNS servers specifically built to remove ads, and you can choose whether you want to use those or not. The application comes with granular control over every feature that it offers, giving you plenty of freedom.
Let's also not forget to mention that TorGuard offers dedicated/static IP addresses. However, unlike other VPNs, this one allows you to pick a streaming IP ($7.99/month) or a residential IP ($13.99/month). You can use those to unblock streaming services or visit websites that are available in certain countries only.
And lastly, we were surprised to see that split tunneling is available on Android only. There are ways to get this feature on other platforms if you aren't afraid to tinker, as some workarounds are available. Still, TorGuard's native apps are missing that feature.
Server Count & Infrastructure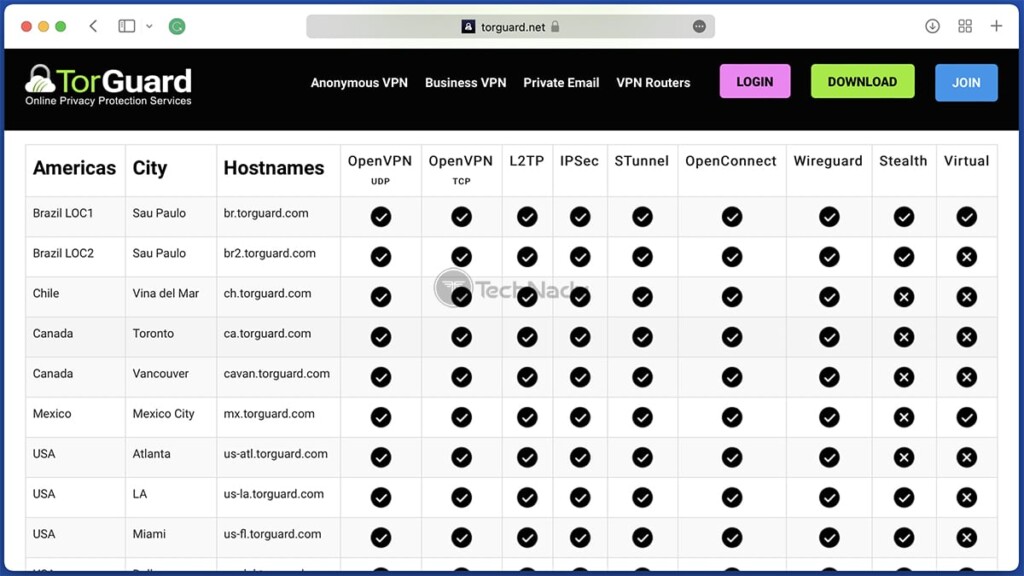 TorGuard comes with 3,000+ servers, which is a lot. However, those servers are present in only 50 countries, and a small group is virtual. Our Score: 6/10
TorGuard has often been praised for the size of its server network. So, let's talk about how many servers this VPN offers, in how many countries, and more.
Server Count Info
| | |
| --- | --- |
| Number of Servers | 3,000+ |
| Number of Locations | 60+ |
| Number of Countries | 50 |
| Specific Cities Selection | YES |
| Unlimited Switching | YES |
Having access to more than 3,000 servers means that you have a lot of freedom, no matter what you plan on doing online. That also means you'll easily find a nearby server that produces the lowest latency and relatively fast speeds. Of course, we're going to test the performance of this VPN later on in the review.
Among other things, this VPN's servers are found in 50 countries. In general, that's more than what the average home user would need. However, if you have specific needs and want an IP address associated with a particular country, we recommend checking TorGuard's list of servers before getting a subscription.
We should also mention that some of TorGuard's servers are virtual. More precisely, servers in the following countries present virtual server locations: Brazil (LOC1), Mexico, Greece, Russia, Turkey, Indonesia, and Taiwan. That means if you pick a server in any of those countries, you'll connect to a server that's not located in the chosen country (but you'll still get the desired country's IP address).
UI/UX Design & Ease of Use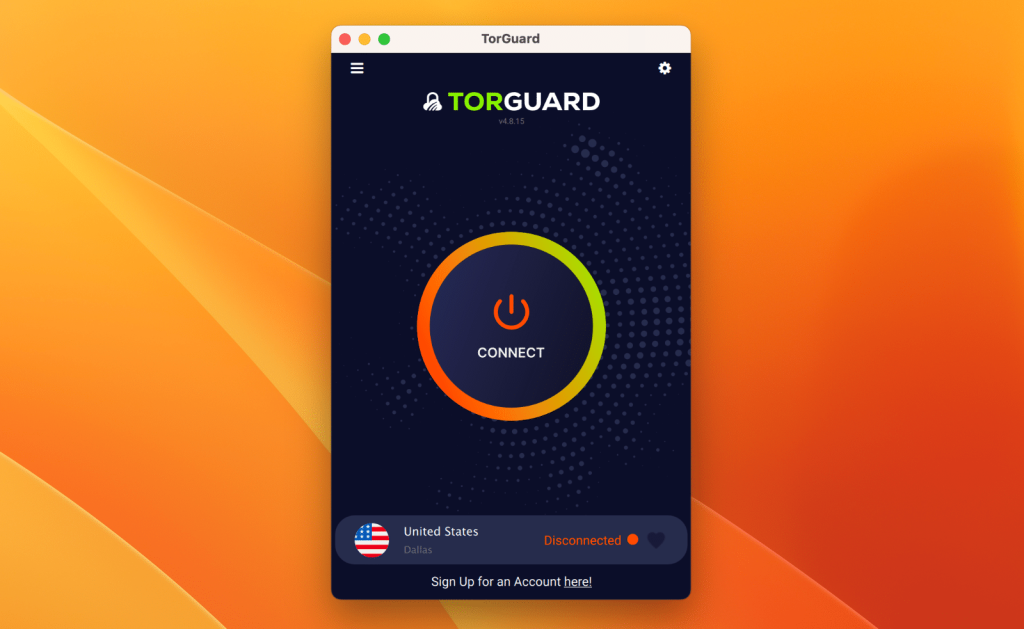 TorGuard brings an incredible level of customization, which is great for advanced users. Still, even complete beginners should now feel happy as TorGuard has recently redesigned and simplified its apps. Our Score: 8/10
As soon as you install TorGuard and launch its application, you'll see its home screen. This is now a redesigned home screen, which is a drastic departure from what was available in the past. The largest portion of the VPN's home screen is reserved for the ON/OFF switch, using which you can connect and disconnect from servers.
At the bottom of the home screen, you'll find a button that opens TorGuard's list of servers. You can filter the available servers in many different ways, letting you easily find a server that will support your planned online activities in the best possible way.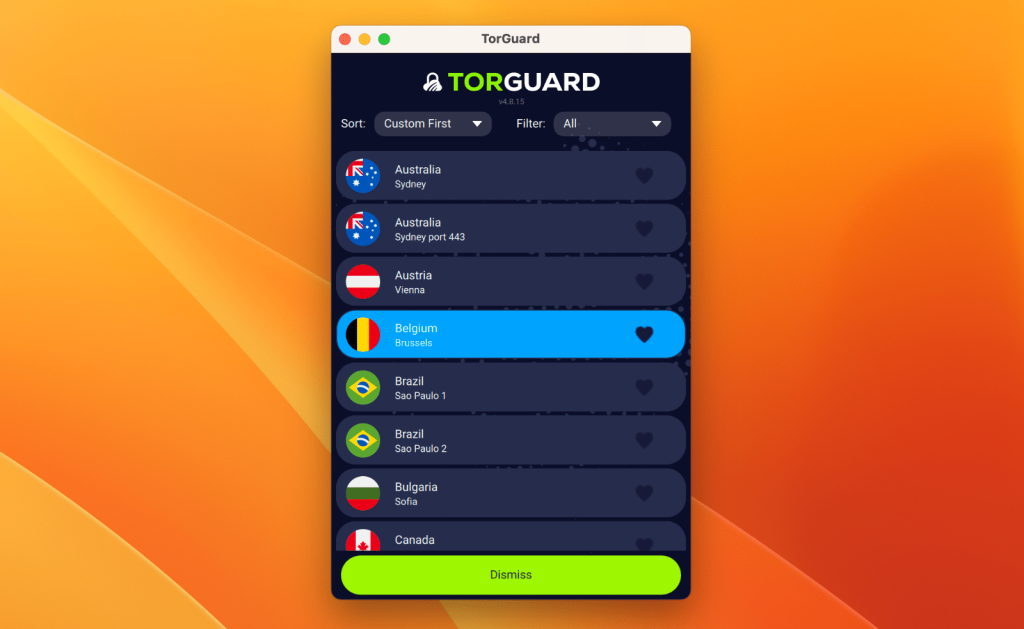 Once you return to the home screen, you'll see two important icons at the top. In the top-left corner, there's the hamburger button. That one allows you to switch between different VPN protocols without going into the application's settings. And in the top-right corner, you will see the cogwheel icon, letting you fine-tune TorGuard by launching its settings. Speaking of those, let's see what exactly you can fine-tune.
General: This tab lets you pick from a series of options that dictate how the VPN behaves. You can set the application to open on system startup, automatically connect to a specific server, refresh TorGuard's server list, manage the application's notifications, and more.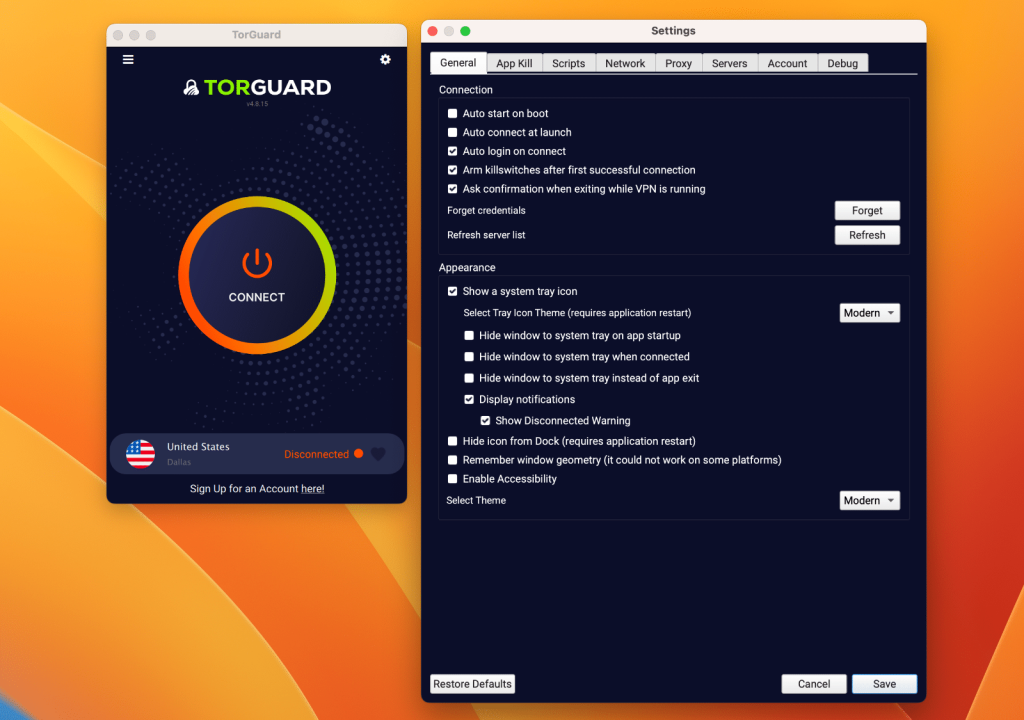 App Kill: As noted earlier, TorGuard comes with a built-in kill switch. This feature works by shutting down the Web traffic of selected applications when you lose your connection to a server. This tab allows you to decide which applications to cover for the kill-switch option.
Scripts: More advanced users can use scripts to automate specific actions. For example, you can instruct TorGuard to open a particular Web address once connected, quit certain apps automatically, play different notification sounds, and more.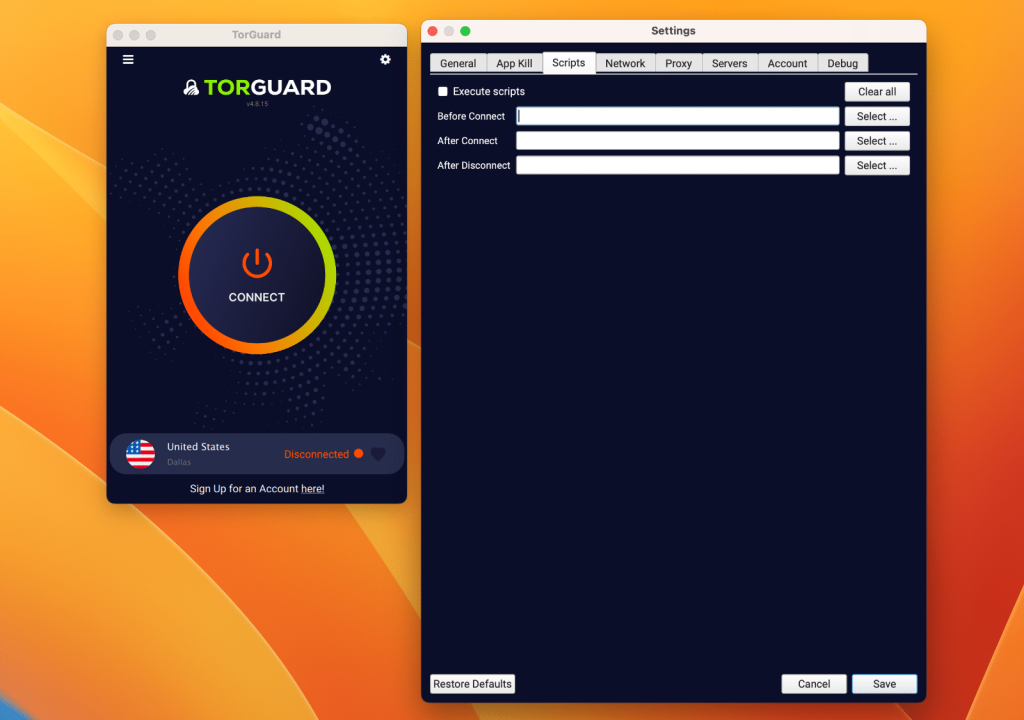 Network: Now, this is a highly interesting tab using which you can activate TorGuard's firewall, IPv6 leak protection, system-wide kill switch, and more. This is also where you can change the VPN's DNS-related behavior, including using a DNS that hides ads on the Web.
Proxy: In case you also need a proxy on top of your VPN, you can take advantage of TorGuard's offer. Proxies are useful for hiding your IP address, and as such, they are often used when downloading torrent files from the Web. Keep in mind that if you want to use a SOCKS5 proxy, TorGuard will give you a list of locations in Canada, the USA, the Netherlands, and Sweden.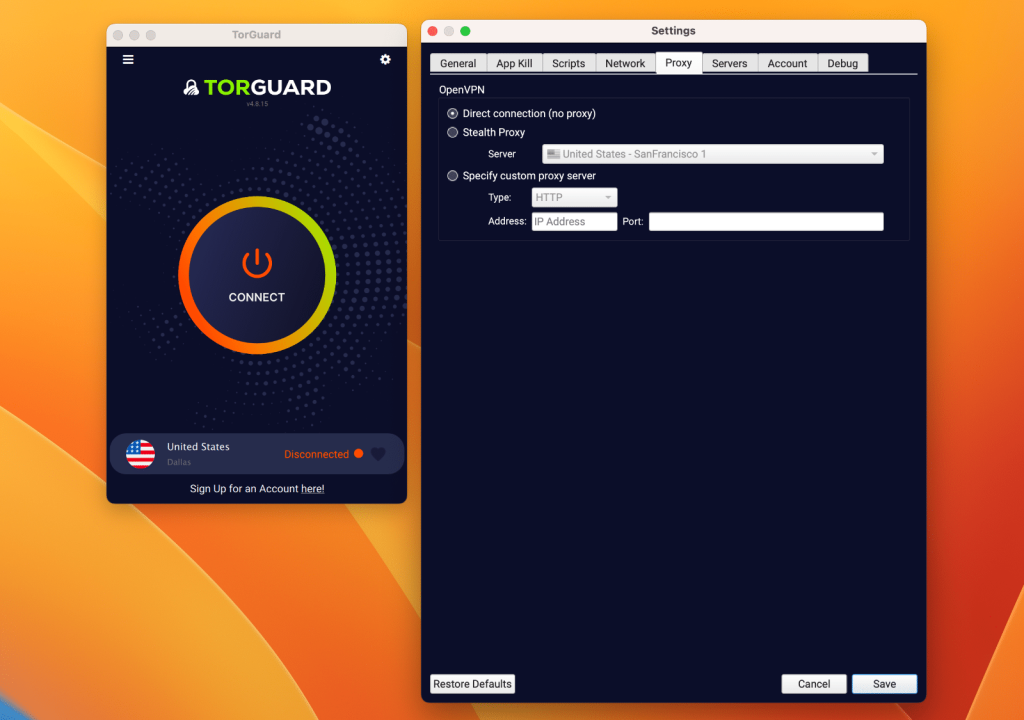 Servers: TorGuard allows you to use a dedicated IP, which can either come included in your plan, or you can buy one separately. You can use this tab to add those dedicated IPs.
Account: The "Account" tab serves a simple yet crucial purpose. It displays the status of your account and provides a quick reference to check if you are currently logged in or not. Also, this tab contains only one more feature that displays the next due date for your subscription, making it convenient for you to stay on top of renewals.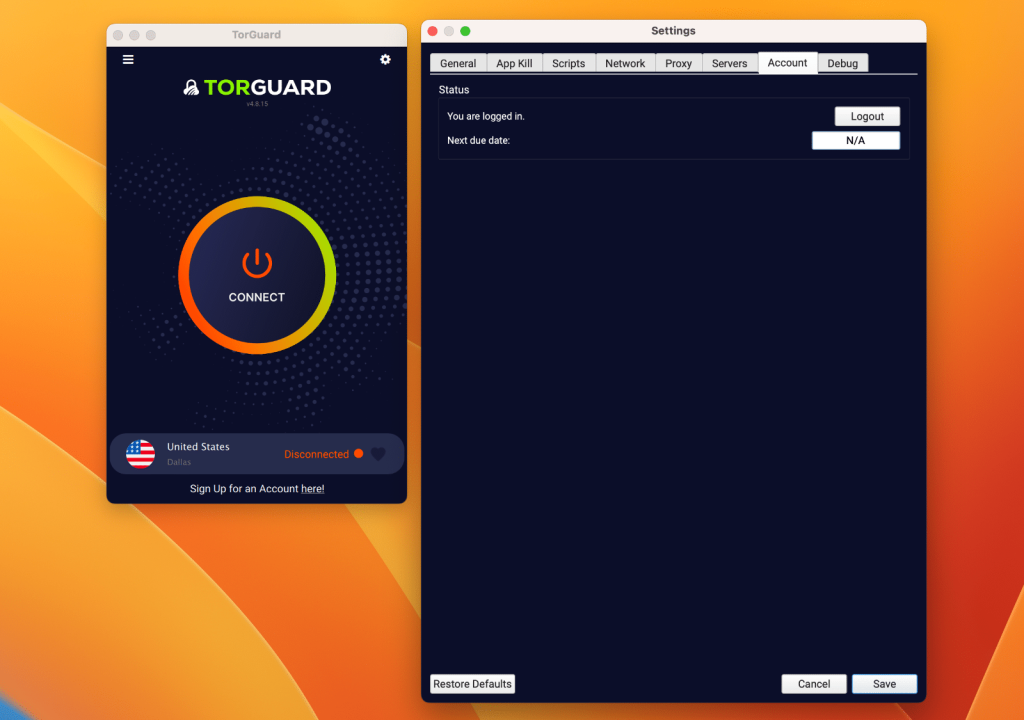 Debug: Finally, this tab lets you check where 'debug' files are stored. When contacting TorGuard's customer support, make sure to send them your log file to speed up the process of finding a solution to your technical issue.
We'd like to take a moment to talk about TorGuard's recently redesigned mobile apps as well. While its desktop apps have kept fragments of the VPN's old interface, that's not the case with its Android and iOS apps. These are now modern and easy to use, on par with what TorGuard's competitors currently offer.
On both Android and iOS, TorGuard comes with a simple home screen that looks identical to what you'll find on desktop platforms. In the center, there's the ON/OFF switch. And at the bottom, you'll find a nicely designed list of TorGuard's servers. There are many ways to filter the available servers as well as check their locations in relation to your physical location.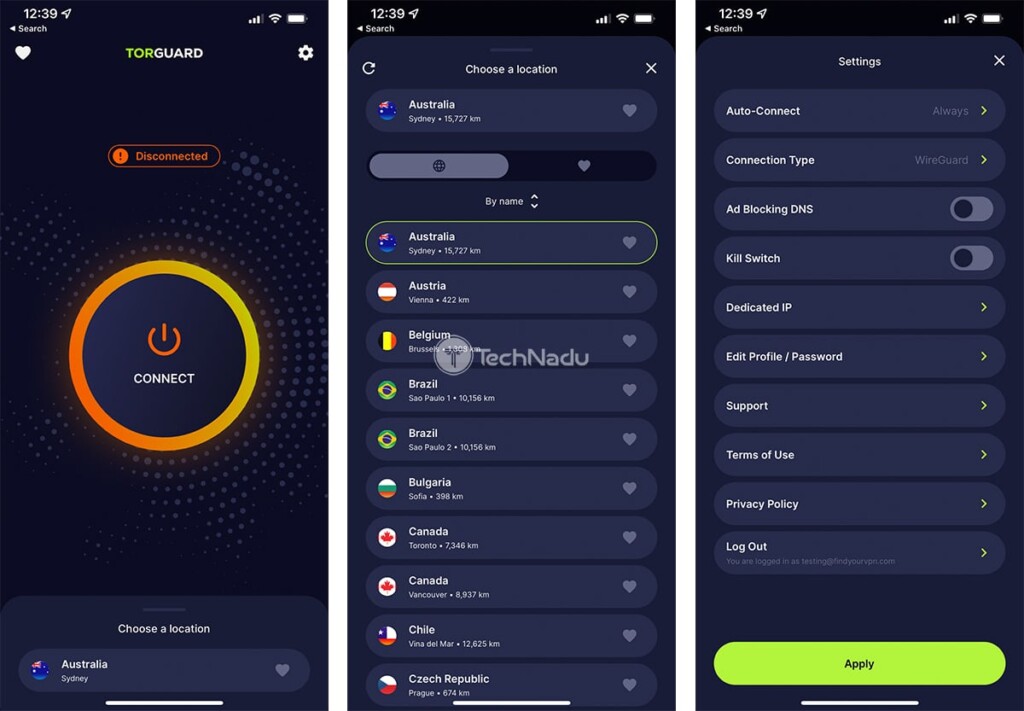 Also, don't forget to check TorGuard's settings, found behind the cogwheel/hamburger button in the top-right corner. That's where you can enable the kill switch, ad-blocking DNS, switch to another server, make use of a dedicated IP, and more.
Overall, we like the new direction TorGuard has taken. When it comes to its mobile apps, they really are highly polished. The VPN's desktop apps could use a bit more polishing, but even complete beginners shouldn't have a problem using them.
Media Streaming, Torrenting, and Gaming Support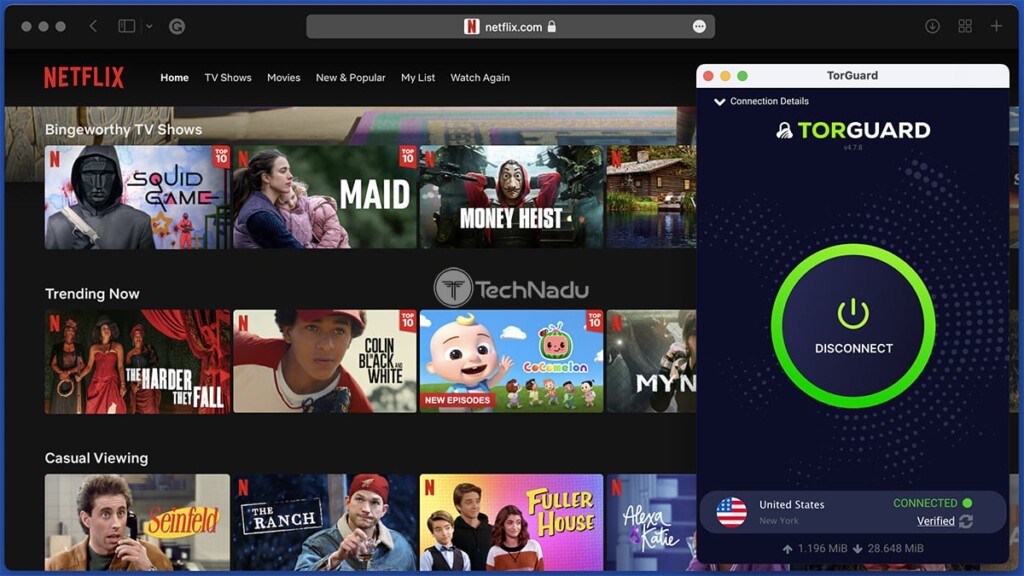 Even though there's some confusion regarding TorGuard's usability with media streaming, our experience was quite positive. Torrenting works well, while gaming over this VPN requires you to dive deep into its settings. Our Score: 9/10
You must be wondering if TorGuard works with Netflix and other streaming services. Well, we're here to test that for you. Check out the table found below for more information.
Media Streaming and Torrenting Support
| | |
| --- | --- |
| Netflix US | YES |
| Hulu | YES |
| Disney Plus | YES |
| Amazon Prime Video | YES |
| BBC iPlayer | YES |
| Torrenting (P2P) | YES |
First and foremost, know that TorGuard comes with two types of subscription plans. First, there are 'Anonymous VPN' plans ($9.99/month), used for securing your Web browsing. Also, there are also 'Anonymous VPN + Streaming Bundle' plans (starting at $21.98/monthly) that are also useful for media streaming. More on that later in this TorGuard review.
However, despite TorGuard's claims, we managed to unblock pretty much every streaming service we tested - using one of 'Anonymous VPN' plans. That means that despite not having a dedicated US IP address, we still got to unblock and stream Netflix, Hulu, Disney Plus, and Prime Video - without any buffering or other annoyances.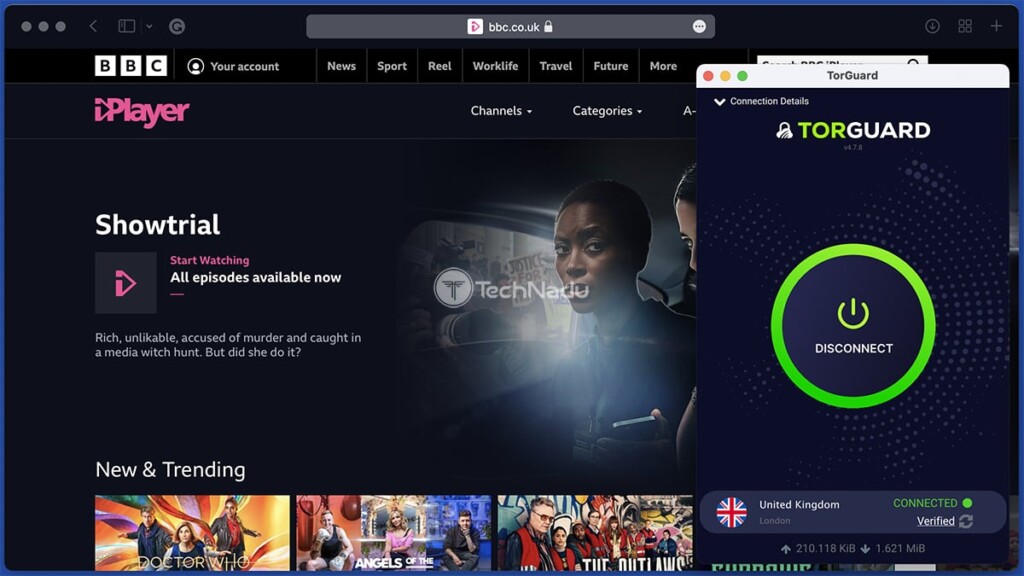 With that said, we recommend you to very carefully inspect TorGuard's options if you decide to subscribe. And also, we can't claim that what happened in our case will happen to you as well. Still, even if you don't get to use 'Anonymous VPN' plans for streaming, you can always upgrade (but that will cost you as 'Streaming Bundle' plans are pricey).
Moreover, know that TorGuard is a powerful ally when it comes to torrenting. You can protect your P2P traffic, which means that no one will track your online whereabouts. On top of that, this VPN allows you to use SOCKS5 proxies, obfuscating your IP address without slowing down your Web speed.
Lastly, TorGuard seems to be a good option for gaming as well. However, be prepared to dive deep into its settings. This VPN can't really handle your ping and latency out of the box, which is why you'll need to optimize it. So, gaming over TorGuard is an option for advanced users only.
Security & Privacy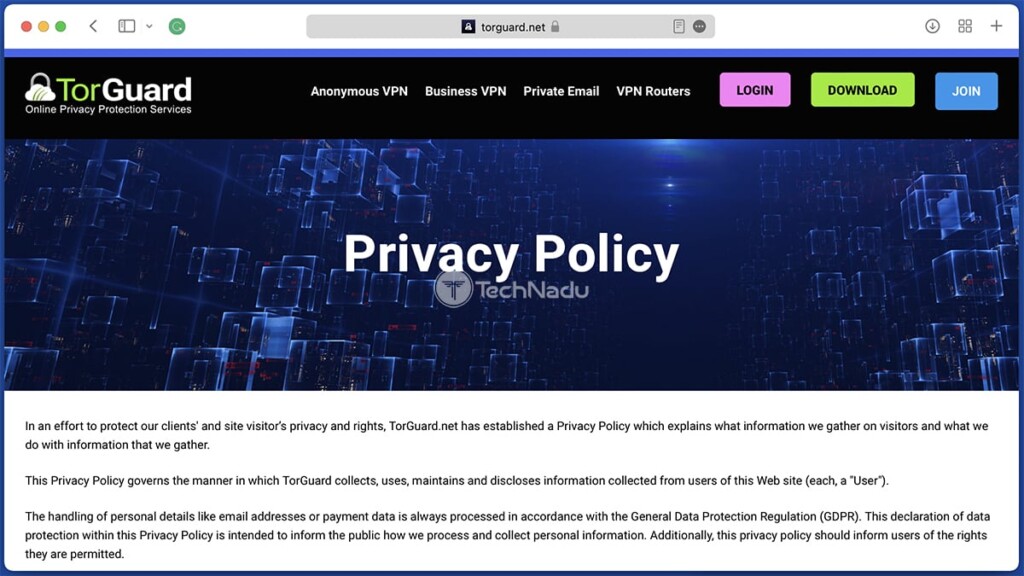 There's no reason not to trust TorGuard with your private data. It features strong encryption, capable VPN protocols, and provides a leak-free tunnel for your data. The only thing missing is an independent audit of its infrastructure. Our Score: 8.5/10
We're sure you'll want to know whether TorGuard can be trusted with your personal data. To answer that question, we'll check this VPN's encryption, protocols, logging policy, and we'll do a thorough DNS leak test.
TorGuard Protocols
In terms of encryption, you can count on everything from AES-128 up to AES-256 (GCM and CBC) with compatible protocols. And if you decide to use WireGuard, TorGuard will rely on ChaCha20 and Poly1305 for authentication, both of which are highly secure.
In terms of the available VPN protocols, you can rely on OpenVPN (UDP/TCP), OpenConnect, and WireGuard. L2TP/IPSec, SSTP, and IKEv2 are available but not via TorGuard's apps. That means that you'll need to configure those on your device manually.
Does TorGuard Log Private Data?
TorGuard states that it doesn't collect or log any data via its Virtual Private Network or Proxy services. That means that as you browse the Web with TorGuard enabled, everything you do is encrypted and deleted as you end your sessions. No data is kept whatsoever.
After checking TorGuard's history, we can say that we're happy to report that TorGuard was never involved in any data logging case. With that said, there's no reason not to trust this VPN, at least until proven otherwise.
Still, we need to note that TorGuard has an extensive section on its site about DMCA notices, saying that it respects the intellectual property rights of others. That might be problematic if you plan on downloading torrents, even though there are no reports of TorGuard users receiving copyright infringement notices. Still, that's something to keep in mind.
DNS Leak Test
To test the strength of TorGuard's VPN tunnel, we tested the VPN against a range of data leaks. So, check the image just below and then keep on reading to get to our explanation.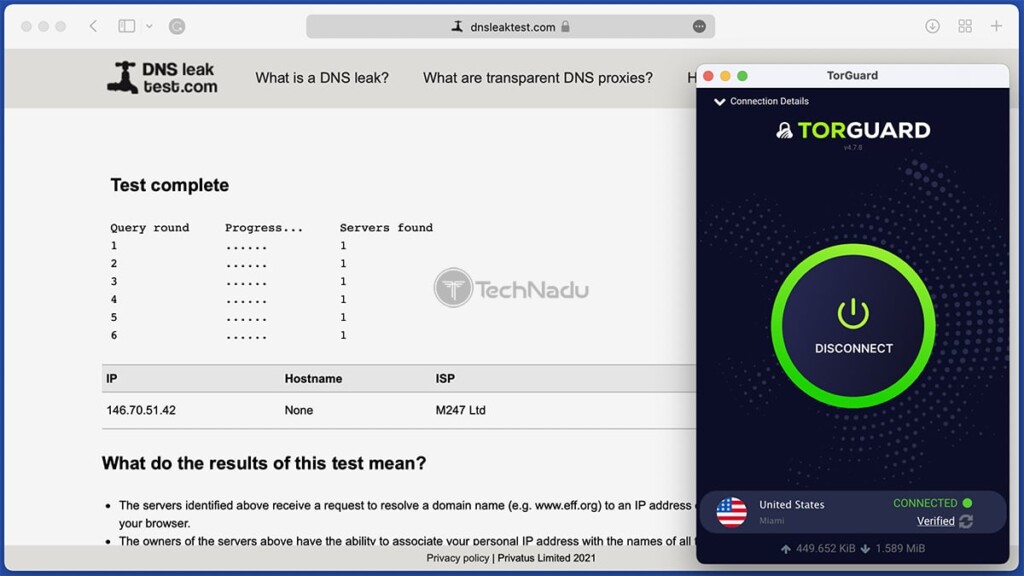 As you can see from the image above, it's all good here. No DNS leaks were detected. So, third-party websites will only see your virtual IP address and other information served by TorGuard. In other words, there's nothing to be worried about when it comes to TorGuard.
Speed & Performance
TorGuard isn't the fastest VPN service out there, but it does come with speedy performance. That especially applies to nearby servers, even though even remote VPN servers can be quite fast at times. Our Score: 8/10
The time has come to check TorGuard's speed and performance. For this purpose, we tested nearby and remote VPN servers, giving us an idea of what to expect from TorGuard.
We started by checking the speed of our barebones Web connection - without using TorGuard in the background. So, when it comes to our connection's baseline data, we managed to get 487.04 Mbps for downloads and 48.64 Mbps for uploads.

Then, we connected to a server in Italy. Keep in mind that we're located in Europe, so our focus was on nearby connections during this round of testing. As you can see below, we got 398.29 Mbps for downloads and 44.56 Mbps for uploads.
A server in the United Kingdom (another nearby VPN connection) provided us 304.73 Mbps for downloads and 52.08 Mbps for uploads. Interestingly enough, our upload speed ended up being higher than what we got without using TorGuard.
VPN servers in the USA are typically under heavier load as that "destination" is popular. Still, TorGuard managed to give us 462.08 Mbps for downloads and 44.41 Mbps for uploads. Those are truly remarkable numbers, especially for a remote connection.

Canada is yet another popular destination, but it looks like TorGuard is handling that just fine. While using a VPN server in Canada, we managed to get 392.92 Mbps for downloads and 43.08 Mbps for uploads.

A server in India managed to prove that TorGuard's performance is reliable. It gave us 328.06 Mbps for downloads and 38.26 Mbps for uploads. Based on our location, this is yet another remote VPN connection.

And finally, we also tested a very remote connection by using a server in Australia. During this final round of tests, TorGuard gave us 105.73 Mbps for downloads and 16.58 Mbps for uploads.

To make sense of the numbers displayed above, we placed them into the following table. So, let's check TorGuard's performance and draw some conclusions.
| | | | |
| --- | --- | --- | --- |
| | Download Speed | Upload Speed | Speed Reduction |
| Baseline Speed | 487.04 Mbps | 48.64 Mbps | 0% |
| Italy | 398.29 Mbps | 44.54 Mbps | 18.2% |
| UK | 304.73 Mbps | 52.08 Mbps | 37.4% |
| USA | 462.08 Mbps | 44.41 Mbps | 5.1% |
| Canada | 392.92 Mbps | 43.08 Mbps | 19.3% |
| India | 328.06 Mbps | 38.26 Mbps | 32.6% |
| Australia | 105.73 Mbps | 16.58 Mbps | 78.2% |
On average, TorGuard made our Web connection slower by 31.8%. Of course, those slowdowns were not as noticeable when using nearby servers. However, even some remote connections managed to perform quite admirably.
With that said, we conclude that TorGuard comes with speedy performance. Of course, keep in mind that every VPN will slow you down (here's how to speed up a slow VPN, by the way). So, the faster your Web connection is, the faster your VPN connection is going to be as well.
Customer Support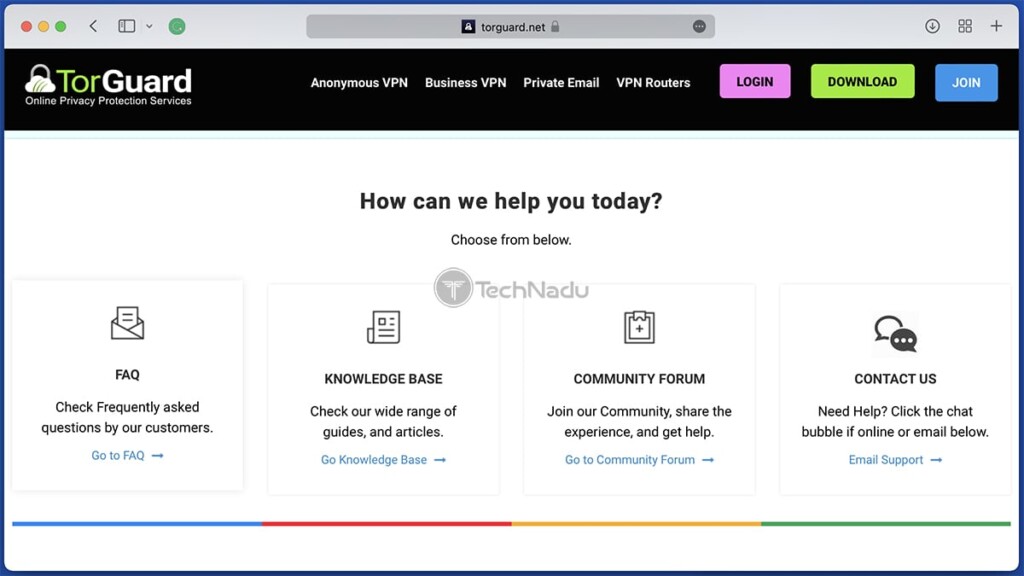 TorGuard doesn't offer live chat via its website, which is clearly a downside. However, it does offer plenty of other (highly useful) customer support resources. Our Score: 7/10
When having technical difficulties, you need to rely on support. And when it comes to VPNs, today's top-rated services bring different kinds of customer support channels. So, here's what kind of support you'll find if you become a TorGuard subscriber.
Email Support: TorGuard used to offer live chat, but that option is no longer available. Customer support is done over email now. The good news is that their reps are extremely helpful and responsive. We usually got a response within minutes of submitting a ticket.
Knowledge Base: TorGuard offers 100+ articles on installing this VPN on different devices, setting up different protocols, fine-tuning its options, and everything in between. We recommend this resource if you really want to get the most out of this VPN service.
FAQ: Even though this isn't the most comprehensive resource, this is where you'll find answers to some of the most commonly asked questions.
Video Tutorials: TorGuard runs a dedicated YouTube channel with plenty of useful and instructional videos. Make sure to subscribe to stay on top of the latest news and features.
Pricing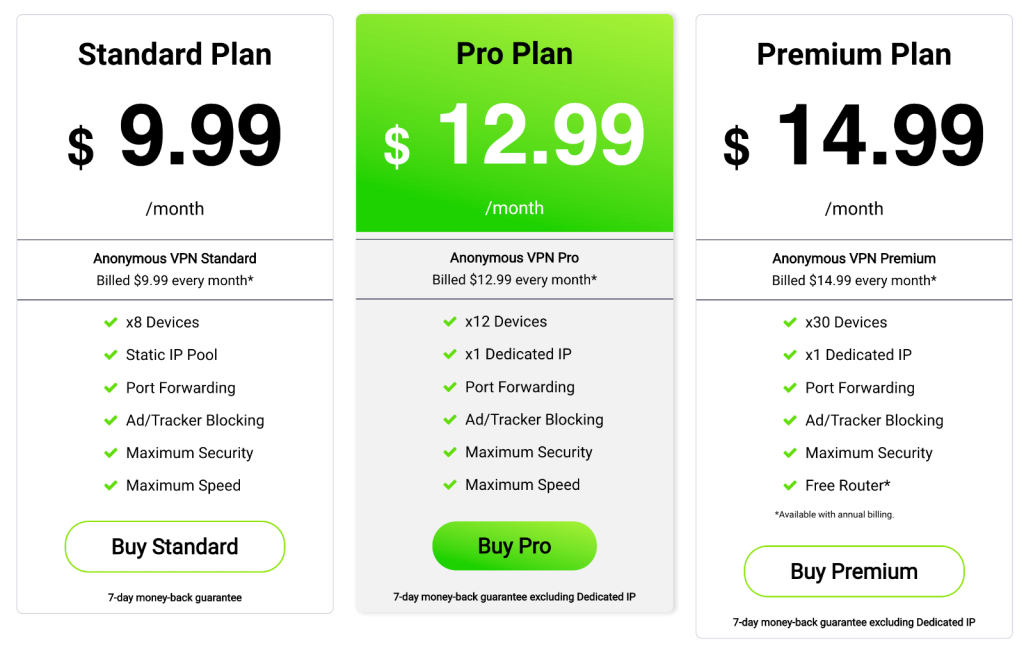 Although TorGuard's pricing structure is overly complicated, this VPN comes as a more affordable option when compared to its direct competitors. Our Score: 8.5/10
The truth is that TorGuard comes with overly complex subscription plans. That said, chances are that you'll be confused while signing up. So, we'll do our best to explain what to expect and how to pick the best possible plan per your needs.
What Types of Subscriptions Does TorGuard Offer?
Overall, TorGuard offers 4 different subscriptions on its website, catering to different types of users. Here's what's different about those types of subscriptions.
Anonymous VPN: This is TorGuard's basic plan for those who want to protect their digital privacy. Streaming isn't mentioned, but we managed to unblock any streaming platform out there (using this plan). You can decide between 'Standard' and 'Pro' plans. Those are different in their support for simultaneous connections (8 or 30), and 'Pro' plans also come with a single streaming IP included.
Anonymous VPN + PrivateMail Bundle: The Anonymous VPN service offers a secure and encrypted Internet connection, allowing you to browse the Web anonymously and maintain online privacy. On the other hand, the PrivateMail service gives you a secure and encrypted email account, letting you send and receive messages in private.
Anonymous VPN + Streaming Bundle: If you're into streaming, TorGuard allows you to get 2 streaming IP addresses, maximizing your chances of unblocking streaming apps. You'll get to choose from the following: the USA, the UK, France, Germany, Spain, and Japan.
Secure Business VPN: As its name implies, this subscription plan is for businesses that need to secure Internet connections from multiple users at once. You can choose from four plans, based on how many users you need to support.
Anonymous Proxy: With its fast and reliable connection, Torguard's Anonymous Proxy makes it easy to enjoy seamless, secure browsing. TorGuard's proxy allows you to mask your IP, torrent securely, and unblock websites. However, the range of countries offered is limited to around 20. TorGuard's VPN gives you access to 50+ countries.
Private Cloud: The Private Cloud allows you to securely link all your devices and share resources through an encrypted connection. You can self-host Web apps and servers, remotely access your devices, and access the Web as if you were at home. The service also offers firewalled self-hosting with dynamic IPs and the ability to limit access to ports.
How Much Is TorGuard?
We believe you'll want one of TorGuard's 'Anonymous VPN' plans. That said, here's how much you'll need to pay for this VPN.
| | | | |
| --- | --- | --- | --- |
| | Total Price | Price per Month | Savings |
| Standard - Monthly | $9.99 | $9.99 | 0% |
| Standard - Quarterly | $19.99 | $6.66 | 33% |
| Standard - Semi-Annually | $29.99 | $4.99 | 50% |
| Standard - Annually | $59.99 | $4.99 | 50% |
| Standard - Biennially | $99.99 | $4.16 | 58% |
| Standard - Triennially | $139.99 | $3.88 | 61% |
| Pro - Monthly | $12.99 | $12.99 | 0% |
| Pro - Quarterly | $34.99 | $11.66 | 10% |
| Pro - Semi-Annually | $69.99 | $11.66 | 10% |
| Pro - Annually | $119.00 | $9.91 | 23% |
| Pro - Biennially | $185.00 | $7.70 | 40% |
| Pro - Triennially | $249.99 | $6.94 | 46% |
Even though TorGuard's pricing plans are quite confusing, it all comes down to the following. If you want to pay monthly, you'll need to pay $9.99 for the 'Standard' plan or $12.99 for the 'Pro' plan. Savings are found in long-term plans only. With that said, the more you can pay right now, the lower TorGuard's price is going to be.
We'll also mention that TorGuard supports a wide range of payment options. Aside from using your credit card, you can use crypto-currencies and even gift cards. Those options are useful if you wish to keep your anonymity.
And also, know that you can count on this VPN's 7-day money-back guarantee. This isn't as generous as what you'll find offered by other VPNs. Still, that period should be enough for you to test the VPN and decide whether to continue being a subscriber.
Final Thoughts - Is TorGuard VPN Safe and Good?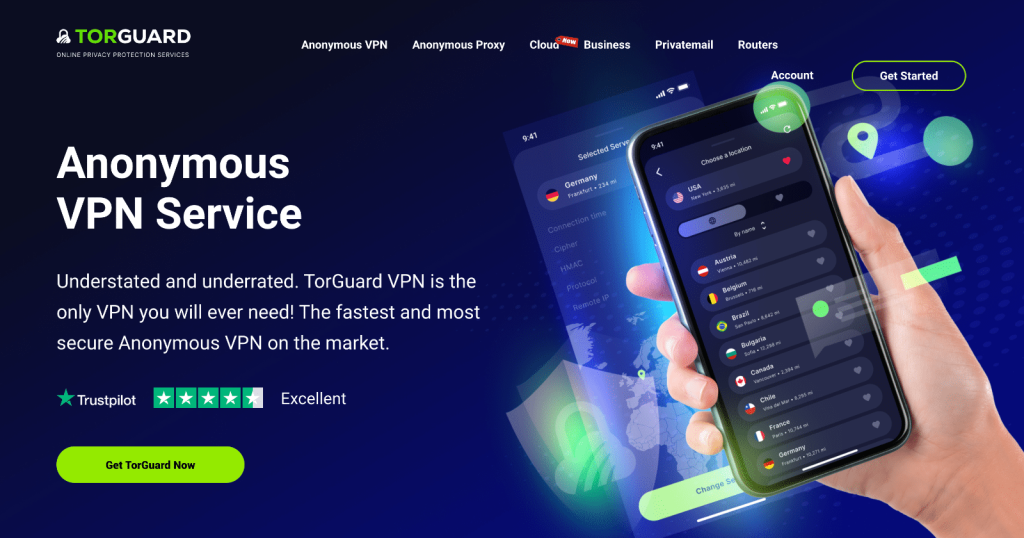 Yes, TorGuard VPN is safe and has a lot to offer. It packs quite a punch with lightning-fast speeds and a ton of security features, including encryption, zero-logs policy, ad-blocking, stealth mode, and more. 
With a vast network, it's also suitable for streaming and downloading. Its broad platform support, along with flexible pricing and an extensive collection of add-ons only add to the user's convenience.
However, if you're not tech-savvy, you might find TorGuard's advanced options a bit challenging. For example, don't expect it to unblock your favorite sites with ease. It's not exactly user-friendly, but if you know your way around VPNs, you'll find that TorGuard has some pretty impressive tricks up its sleeve.
Overall, TorGuard VPN is a great choice for anyone looking to protect their online privacy and security. So, we highly recommend it!
PROS
Robust encryption.
Zero-logs policy.
Ad-blocking.
Stealth mode.
Wide server network.
Fast connection speeds.
Email support.
Affordable pricing plans.
CONS
No free trial.
Susceptible to freezing.
May not be suitable for beginners.
Not the most polished interface.
Confusing pricing plans.
FAQ
What Is TorGuard?
TorGuard is a VPN service founded in 2012 by VPNetworks LLC, based in the United States and operating under US jurisdiction. 
Where Is TorGuard Based?
TorGuard VPN is based in Orlando, Florida, USA. That said, being located in the US raises some concerns about privacy and security. The US is subject to various laws, such as the Foreign Intelligence Surveillance Act (FISA), allowing for government surveillance.
Is TorGuard Free?
No, TorGuard is not a free VPN. It offers a range of subscription-based plans for its VPN services. That means you'll need to pay before you can use this VPN.
TorGuard VPN vs. Proxy?
TorGuard VPN offers two different services - VPN and proxy. The VPN service encrypts your traffic and routes it through a secure server, giving you anonymity and privacy. The proxy service only anonymizes your traffic and does not encrypt your connection.
Is TorGuard Better Than ExpressVPN?
Overall, ExpressVPN is a better choice due to its fast connections, user-friendly interface, and top-notch security features. However, if you're looking for more control over your VPN, TorGuard is a great option, too.  
Is NordVPN Better Than TorGuard?
NordVPN is the superior choice for many users, providing faster speeds, robust security, a user-friendly interface, and a more extensive server network. Furthermore, it is more affordable than TorGuard, making it a highly cost-effective option.