We have heard plenty of good things about TorGuard, both from regular VPN users, and cyber-security experts as well. Therefore, we felt quite excited to try this VPN once we got our chance and see if all those attractive claims will turn out to be true. After all, it has been on the market for a long time, and this is always a good first sign. Therefore, we'll use this review to present the findings of our hands-on testing and familiarize our readers with TorGuard. In the end, we'll see if this VPN is indeed a reliable solution, or perhaps it's all about clever marketing. With this said, we wish you a warm welcome to our hands-on TorGuard VPN review!
For starters, we're going to list the most important features of this VPN. The following table will let you review some of TorGuard's standouts and what kind of privacy and security-related features you can expect.
Based on what our readers are telling us, many of you rely on VPNs for website unblocking. And this means that we have a special segment in this review for TorGuard's media streaming capabilities. Here's what to know about this VPN.
Don't have the time to read this entire article? No worries! We've prepared one more table where you can see our conclusions. Here's what we think about TorGuard, after having tested the VPN service.
That would be it for our introduction. What follows is our full and hands-on review of TorGuard, so let's keep on going.
TorGuard VPN – TechNadu's Hands-On Review
We will walk you through a series of features and aspects of TorGuard. To learn more about how we score VPNs and all the ways we test their performance, we've prepared a dedicated article. So, here's how we review VPNs.
And also, we'd like to note that we've tested TorGuard on a macOS computer. However, all of the information you'll find below applies to TorGuard's apps for other platforms as well. And now, let's jump right in.
Background, Jurisdiction & Reputation
TorGuard comes from the USA, which isn't ideal. However, they've proven that they know how to keep your online privacy and anonymity intact. Our Score: 8/10.
Before you pick a VPN, you must know where it comes from, as this has further implications. With this said, here's what we've discovered about TorGuard.
Jurisdiction & Application Laws
Many VPNs (especially top-rated ones) are based in countries like Switzerland, the British Virgin Islands, and Panama. That's because those countries allow VPNs to avoid collecting and storing personal data, which has become imperative in today's digital world.
As you can see by visiting TorGuard's website, finding the location of its headquarters isn't easy. This is always a red flag and usually means that the VPN comes from a country that's less than ideal for this type of business. And upon further research, we've discovered that TorGuard comes from Orlando, Florida (the USA). And it also is a product of a company called VPNetworks LLC.
In case you didn't know, the USA is one of the founding members of the 5-Eyes Alliance. And we hope that we don't have to tell you about the highly publicized mass surveillance done by this country. As you can see, this puts TorGuard in a problematic situation. However, this doesn't mean that you can't trust this company, as there are ways for TorGuard to remain free of any data collection logs.
Previous Data Leaks
You will be happy to know that TorGuard comes free of any data leaks in the past. Even though they come from the USA, there are no records of this company cooperating with the authorities. It is why you can even find this VPN recommended by security experts and on the list of the best VPNs that don't log any data.
All in all, there's no reason not to trust TorGuard. It seems like this company is capable of protecting your identity and online anonymity. And since there are no previous data leaks, accusations, or problematic behavior in the past, we can easily recommend this VPN (at least when it comes to its reputation).
Supported Platforms & Devices
You can use this VPN on a wide range of desktop and mobile platforms, and also for routers. Our Score: 10/10.
VPNs usually offer several simultaneous connections, protecting several devices at once. Therefore, let's see on what devices you can use this VPN, and whether it offers native apps of manual configuration.
We can see that TorGuard has done a great job of supporting every popular platform. When it comes to desktop platforms, you can count on Windows, macOS, Debian, Arch, and Redhat Linux. And there are also Android and iOS apps for when you're on the go.
Aside from supporting Web browser extensions, you can also use TorGuard on several routers. To make this process as simple as possible, you can use router setup tools. Once installed on a router, you can connect pretty much any other device and get TorGuard's protection. It applies to consoles, media streaming devices, and any Web-connected device. Lastly, you can use TorGuard on Fire OS devices as well, including Amazon's highly popular Fire Stick devices.
Before we conclude this segment, you should also know that TorGuard comes with support for eight simultaneous connections. If you need to go over that limit, this VPN allows you to pay for that option.
Installation & Initial Configuration
You can get started with TorGuard in a matter of minutes. Download the application, install it, and you're ready to go. Our Score: 10/10.
The first step is to buy a TorGuard subscription, which will get you a username and password. You can download the VPN from its official website or a dedicated page or via your account page. Either way, you'll have the latest version of the application downloaded to your computer.
Double-click on the installation file, and you'll see a typical Installation Wizard, so you can proceed to install the app as you usually would. On macOS, you will also see the standard Installation Wizard where you need to go through a few steps, choose the installation directory, supply your local password, and that's about it.
Interestingly enough, TorGuard won't ask for your username and password when you open the application. Instead, you'll see a fully functional UI that lets you connect to a server. However, before this connection happens, you'll need to enter your credentials. This isn't something that we saw with other VPNs, but it's definitely not a major obstacle.
Prominent Features
TorGuard is offering just about any feature you would expect from a powerful VPN service. However, there's no split-tunneling here. Our Score: 9/10.
After spending quite some time testing VPNs, we've come up with a set of features that every capable VPN should offer. We consider these to be the basic features that provide some space for more advanced aspects as well.
It's evident that TorGuard meets all of our expectations. To keep your true identity protected online, it offers both DNS and IPv6 leak protection. Then, you can use a kill-switch by letting TorGuard know which applications should use this feature. If you add your torrent client to this list, for example, this VPN can shut down the Web traffic if your secure connection becomes compromised (so you don't get exposed via your P2P swarm).
We're also happy to say that TorGuard provides DNS servers specifically built to remove ads, and you can choose whether you want to use these or not. The application comes with granular control over every feature that it offers, giving you plenty of freedom.
When it comes to more advanced features, we were surprised to see that split-tunneling is still not offered. There are ways to achieve this via Command Prompt, and some workarounds are on offer, but TorGuard's native app is still missing this option.
On the plus side, you get plenty of obfuscation options with TorGuard. So you don't need to worry about VPN blocks and VPN throttling.
Server Count
With over 3,000 servers on offer, you can rely on TorGuard to take you to any corner of the world. Specific cities are on offer as well. Our Score: 8.5/10.
TorGuard has often been praised for the size of its server network. To tell you what you can expect in this aspect, we've taken a close look at TorGuard's secure servers.
We're happy to say that TorGuard is one of the VPNs with the highest server count. Having access to more than 3,000 servers means that you have a lot of freedom, no matter what you plan on doing online. This also means that you'll easily find a nearby server that produces the lowest latency and more than usable speeds. Of course, we're going to test the performance of this VPN later on in the article.
Among other things, this VPN's servers are found in 50 countries. Even better, you can connect to specific cities, which is excellent for region-based websites. And, needless to say, there's unlimited switching between the VPN's servers. It means that you're not limited in any way when it comes to jumping between different secure servers.
Ease of Use
TorGuard brings an incredible level of customization, which is great for advanced users (and not so great for average users looking for something simple). Our Score: 7/10.
As said earlier, as soon as you install TorGuard and launch the application, you'll see its home screen. Using your credentials is mandatory only after trying to connect to a server, and you have to supply your credentials only once (if you choose to save them). This might confuse some users, as other VPNs take a more straightforward approach. Nonetheless, this isn't a big drawback.
TorGuard has always been considered as a VPN solution for more advanced users, and their UI shows that. The home screen brings a series of options, which starts with selecting a server. To get started, click on 'Select Server,' and you'll see a list with individual countries and cities. Then, you get to pick a tunnel type (OpenVPN, OpenConnect). If you go with OpenVPN, which is the default value, you get to choose from UDP or TCP protocols. You are also free to select a port and encryption level. Then, all there's left is to use the 'Connect' button found in the bottom portion of TorGuard's UI.
To dive deeper into different options, you can click on 'More Settings' on the home screen. This opens a new window with several tabs, each of those bringing plenty of fine-tuning. To see what awaits you here, we'll explain what each of those tabs is offering.
General: This tab lets you pick from a series of options that dictate how TorGuard behaves. For example, you can open the application on system startup, automatically connect to a specific server, check TAP servers before connecting to servers, and more. In terms of the application's behavior, you can choose what happens when you quit the UI, use high DPI scaling, and similar.
App Kill: As noted earlier, TorGuard comes with a built-in kill-switch. This feature works by shutting down the Web traffic of selected applications when you lose the secure connection to a server. This tab allows you to decide which applications to cover for the kill-switch option.
Scripts: More advanced users can use scripts to automate specific actions. For example, you can instruct TorGuard to open a particular Web address once connected, automatically quit certain applications, play different notification sounds, and more.
Network: Now, this is a highly interesting tab. First of all, you can disable/enable WebRTC and IPv6 leak prevention. Then, you can set the VPN's kill-switch to work on specific network adapters and configure your Web connection to work only when TorGuard is enabled. Also, you can choose which DNS servers you'd like to use. For example, you can go with an ad-blocking DNS or input a custom address.
Proxy: In case you also need a proxy on top of your VPN, you can take advantage of TorGuard's offer. Servers that come with proxy functionalities are located in Germany and the USA. Of course, you are also free to use a custom proxy server.
Servers: You can also add extra servers, which is something that we don't see often. Select a country, add a new IP address, and input a comment as well. Then, your newly added server will appear on the list of available servers within the application.
Debug: Finally, this tab lets you check where 'debug files' are stored. When contacting support, make sure to send them a log to speed up the process.
It's clear that TorGuard is every advanced user's dream come true. We've reviewed dozens of VPNs so far, and we can say that TorGuard brings an unparalleled level of customization. It also means that average users who want everything to be automated might feel a bit overwhelmed.
Media Streaming & Torrenting Support
Even though TorGuard can unblock any media streaming website, this feature costs extra. However, you can unblock pretty much any platform imaginable. Our Score: 9.5/10.
You must be wondering if TorGuard works with Netflix. Well, we're here to test that for you. Check out the table found below for more information.
As you can see, TorGuard can be the perfect solution to media streaming. That's because this VPN isn't trying to unblock websites in the same way as other VPNs do. Instead, it offers dedicated and streaming IP addresses that eliminate the chance of a website detecting your real location.
Let's be clear about one thing: TorGuard can't unblock websites like Netflix and Hulu using a regular subscription. For this feature to work, you need a streaming IP, which costs extra. So, you have two options in front of you right now. You can either add a streaming IP for $7.99/month as an add-on for your subscription, or you can go for TorGuard's Streaming Bundle. This one is priced at $21.98/month – and includes everything that TorGuard offers via its standard subscription plans, as well as two steaming IP addresses (from the USA, UK, or Japan). You can also save some money by going for a long-term plan.
When it comes to torrenting, TorGuard is known for providing reliable support. You're free to use any torrent client and engage in P2P traffic without any issues. Of course, we recommend using the closest server to your actual location, as this should provide the best possible performance.
Security & Privacy
There's no reason not to trust TorGuard with your private data. It features strong encryption, capable VPN protocols, and has no DNS data leaks. Our Score: 10/10.
We're sure you want to know if TorGuard is to be trusted with your personal data? To answer that question, we'll check this VPN's encryption, protocols, logging policy, and we'll do a thorough DNS leak test.
Supported Encryption Protocols
As you know by now, TorGuard is all about customization and fine-tuning. And as you can imagine, this includes its encryption and VPN protocols as well.
In terms of encryption, you can count on everything between AES-128 up to AES-256 (GCM and CBC), or you can disable this feature altogether. And when it comes to the available VPN protocols, you can rely on OpenVPN (UDP/TCP), OpenConnect, and WireGuard. PPTP, L2TP/IPSec, SSTP, and IKEv2 are also available but only through manual configurations.
Please note that different platforms bring support for different VPN protocols.
Logging Policy
TorGuard clearly states that it doesn't collect or log any data from their Virtual Private Network or Proxy services. This means that as you browse the Web with TorGuard enabled, everything you do is encrypted and deleted as you end your sessions. No data is kept, whatsoever.
There's no reason not to trust TorGuard. It's been on the market for a while now, and it doesn't have any previous data leaks or indications that it collects data.
DNS Leak Test
Considering its numerous security-related features, we expect TorGuard to keep our 'true' information protected well. With this said, we're going to do a thorough DNS leak test to see if TorGuard safeguards our private data in the best way possible.
As you can see from the image above, it's all good here. No DNS leaks were detected. Moreover, third-party websites will only see your virtual IP address and other information served by TorGuard. In other words, there's nothing to be worried about here.
Speed & Performance
TorGuard isn't the fastest VPN out there, as some of its users claim. But we were still able to get decent speeds with nearby servers. Remote servers might cause some noticeable slowdowns, though. Our Score: 8/10.
The time has come to check TorGuard's performance. For this purpose, we're going to test both nearby and remote servers. Keep on reading to learn more.
First, we checked the speed of our Web connection without TorGuard running.
According to Ookla, we have a 582.11 Mbps connection and 218.18 Mbps upload speeds.
Next, we tested the speeds while connected to a TorGuard server in the same country as the tester (Romania):
We got 190.03 Mbps download speeds and 62.28 Mbps upload speeds. It might seem like a big slowdown, but it's really not. Those speeds were more than enough to enjoy HD streaming and smooth downloads.
After that, we tested a connection to a nearby server in Germany. These were our results:
189.80 Mbps download speeds and 114.71 Mbps upload speeds. Not bad. In fact, our upload speeds increased.
And four our final test, we checked out what speeds we'd get with a remote server (the US):

Well, we expected a slowdown, but the 40.15 Mbps download speeds took us by surprise. Funny enough, our upload speeds increased even more (157.31 Mbps).
All in all, we say an average of 40 to 190 Mbps speeds. TorGuard allowed us to enjoy smooth online browsing, though we did experience some noticeable slowdowns while using remote servers. It's not a deal-breaker for us, but it's something you should keep in mind.
Customer Support
If you ever get stuck along the way, TorGuard is here to help. While there's no live chat for now, email support is really good. Plus, there are video tutorials and a comprehensive Knowledge Base. Our Score: 9.5/10.
When having technical difficulties, you need to rely on support. And when it comes to VPNs, today's top-rated services bring different kinds of support channels. So, here's what kind of customer support you'll find if you become a TorGuard subscriber.
Email Support: TorGuard used to offer live chat, but it's been discontinued. Support is done over email now. But the good news is that their reps are extremely helpful and responsive. We usually got a response within minutes of submitting a ticket.
Knowledge Base: TorGuard offers 100+ articles on installing this VPN service on different devices, setting up different protocols, fine-tuning its options, and everything in between. We recommend this resource if you really want to get the most out of this VPN service.
FAQ: Even though this isn't the most comprehensive resource, this is where you'll find answers to some of the most commonly asked questions.
Video Tutorials: TorGuard runs a dedicated YouTube channel with plenty of useful and instructional videos. Make sure to subscribe to stay on top of the latest news and features.
Pricing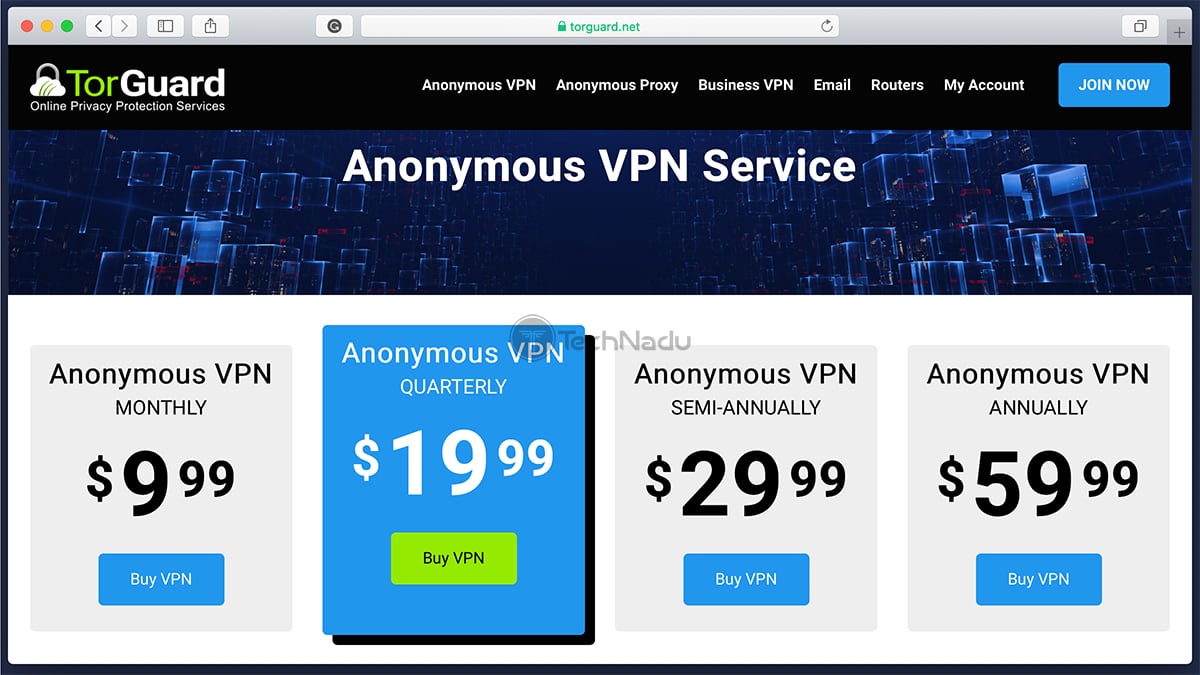 TorGuard is definitely more expensive than its competitors. However, we do believe that it provides plenty of value for its price. Our Score: 7.5/10.
Finally, the big question is: is TorGuard worth the money? Let's check this out by seeing how much you need to pay to use this service. Take a look at the table below.
The monthly price of this VPN is $9.99, which is pretty cheaper than what some competitors offer, but it's also pretty steep too.
However, there are plenty of savings in its long-term subscriptions. For example, subscribing to the annual plan saves you 50%, which means that the price comes down to $4.99 per month. Still, if we compare TorGuard's annual plan with what its competitors offer, we conclude that you can find lower prices elsewhere.
Plus, let's not forget to mention TorGuard's Streaming Bundle. It's an excellent choice if you want to unblock media streaming platforms, yes, but this plan brings you everything from the standard TorGuard subscription + you get two streaming IPs. The prices start at around $10.00/month if you pay for the full year ahead ($121.98 in total), and they go up to $21.98 when paying on a monthly basis.
Compared to many of its competitors who can unblock streaming sites at no extra cost, that's not such a great deal.
To make sure you're confident in your choice, TorGuard gives you a 7-day money-back timeframe. Not the best period (most VPNs offer 30-day refunds), but at least you are free to cancel your subscription if you're not 100% happy with the service, which means that you can try this VPN risk-free. And finally, keep in mind that you can pay via credit cards, cryptocurrencies, and other payment processors.
Do We Recommend TorGuard VPN?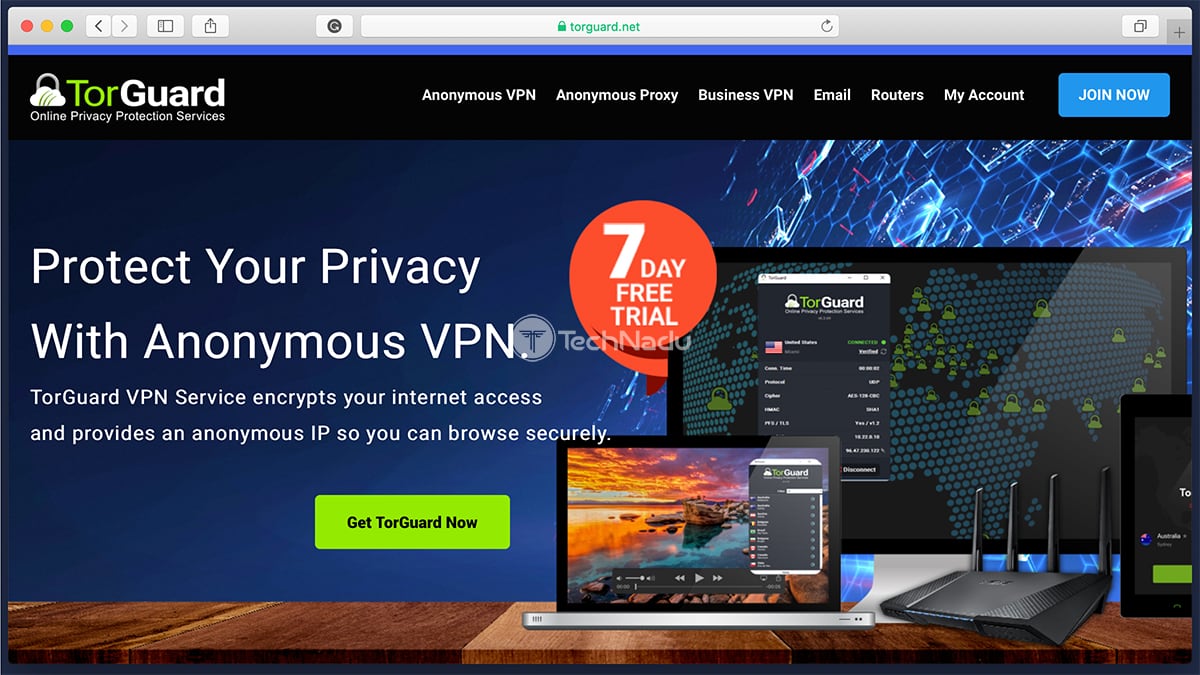 Based on everything said in this article, we can easily recommend TorGuard. It does have some quirks and it's generally oriented towards more advanced users, but pretty much anyone should feel comfortable using it. Most importantly, it can keep you 100% safe and anonymous online.
PROS: Easy installation; 3,000+ servers; Advanced online security; Unblocks media streaming websites; Speedy performance; Top-level encryption.
CONS: Aimed at more advanced users; Website unblocking costs extra.
OUR SCORE: 8.8 out of 10!
In case you think that TorGuard is the right choice for you, don't hesitate to subscribe today! If privacy and online anonymity is your biggest concern, TorGuard will align with your needs and priorities in the best way possible.