We're sure that Avast needs no introduction. Being on the market since the early days of consumer software, this company has built a reputation around effective security-related digital products. Among those product, Avast Antivirus is perhaps the most recognizable one. However, using antivirus applications is no longer the best way to protect your private data. In the wake of new cyber-threats, a new solution has appeared in the form of Virtual Private Network applications. And of course, Avast has joined this piece of the market by offering their own solution called SecureLine VPN.
After reviewing several dozen VPNs, it's finally time to check what Avast SecureLine VPN has to offer. Before we get to our full and hands-on review, we'll slowly introduce you to this solution. The following table highlights some of the most important features of this VPN, so let's take a look.
Using VPNs to unblock media streaming websites has become tremendously popular. In fact, a reliable VPN is the best way to unblock such websites and make use of their optimized servers. So, let's see if Avast SecureLine VPN can help us with this task.
And lastly, we understand that some of you don't want to read this entire article. That's why we present you another table that contains our findings after having tested this VPN. Here are the biggest strengths and weaknesses of Avast SecureLine VPN, as well as our final conclusion.
That would be it for our introductory segment. We'll now dive deep into everything this VPN offers, so stick with us for our full review of Avast SecureLine VPN.
Avast SecureLine VPN – TechNadu's Hands-On Review
As always, we dove deep into everything this VPN offers. We'll be inspecting it from different sides and aspects, allows you to get a complete view of its capabilities. And if you'd like to know how we review VPNs, please use the provided link to check our review guidelines.
Background, Jurisdiction & Reputation
Avast comes from the Czech Republic, which means it's under strict EU laws. There are no reports of any previous incidents of data collection reports. Our Score: 9/10.
Knowing where your chosen VPN is headquartered is more important than you think. This has further implications in terms of the privacy laws that affect you, as a user. And also, knowing a few things about the past of your chosen VPN can tell you what to expect in the future.
Jurisdiction & Applicable Laws
Avast was founded back in 1988, in the Czech Republic, where this company is still headquartered. Since this company is a member of the European Union, it shares plenty of laws with other member countries – and this applies to 'digital' laws as well.
The good news is that the European Union seems to be more concerned about digital privacy than the USA, for example. We've been heading plenty about GDPR in the previous months, as well as how Google and Facebook are facing legal consequences for not handling the private data of their users in the way that the new law dictates.
There's also a healthy dose of discussion inside the EU related to mass data collection. Last year, a number of campaign groups and NGOs have filed a series of complaints about bulk surveillance. It was discovered that mobile carriers and Internet service providers are forced to collect private information for several months or years, depending on local national laws. Interestingly enough, the EU's Court of Justice already ruled this practice unlawful – not once, but twice.
All in all, it's safe to say that you shouldn't worry about Avast collecting your private data. The Czech Republic might not be the very best place to base VPN operations, but it's far from problematic – at least for the moment.
Previous Data Leaks
The truth is that Avast SecureLine VPN hasn't been associated with any data leaks in the past. In addition, there are no reports of this VPN collecting data on purpose and exchanging that data with third parties. With all of this said, we can conclude that Avast stays true to its 'no-logs' policy.
In conclusion to this segment, we can say that there's no reason not to trust this VPN with your private data. After all, Avast is a highly reputable brand and we're sure that they understand the importance of serving their customers in the best way possible.
Supported Platforms & Devices
Avast SecureLine is available on a limited range of devices. You can't install it on routers or any other device aside from the selected few. Our Score: 5/10.
Before getting a VPN subscription, you need to know if your VPN covers all your devices. These days, you can expect to use a VPN on your computer, smartphone, tablet, and keep any other device under protection by using a VPN-enabled router. Now, let's see if Avast SecureLine meets these criteria.
As we can see, Avast SecureLine VPN is present on the most popular desktop and mobile platforms. When it comes to computers, you can use it on Windows and MacOS devices. And in terms of handheld devices, there are native apps for iOS and Android. And sadly, that's pretty much it.
You can't use this VPN on Linux, nor there are any Web browser extensions. During the last few years, we've also seen numerous VPNs being present on FireOS, but SecureLine isn't one of those. And surprisingly enough, you can't install nor use Avast SecureLine on routers, which is a major downside.
We're surprised that Avast doesn't offer a more comprehensive solution, especially since today's VPNs are racing toward covering pretty much any device available. In this aspect, Avast leaves plenty to be desired.
Installation & Initial Configuration
You can get started with SecureLine VPN within a few minutes of your time. The installation process is simple and streamlined. Our Score: 10/10.
Luckily for us, VPNs are no longer overly technical solutions. Instead, they've become incredibly simple to install and use. With this said, let's check out the installation process of Avast SecureLine.
The first step to using this software is to subscribe to the SecureLine VPN. You can do this on the official website, where you can pick a subscription model that suits your needs in the best way possible. Then, proceed to download the software from the official website.
Once the software has been downloaded, double-click on the installation file. You will see a familiar Setup Wizard that lets you select a directory to install the application. After a few moments, this VPN will be installed and ready to be used. You can launch the application, and you'll be greeted by its UI.
By default, SecureLine VPN gives you 7 days of trial. In case you're eligible for the trial, you can take advantage of it and once this period ends, you can enter your activation code. All in all, a very simple procedure.
Prominent Features
If you're not looking for high-end features, this VPN will meet your needs. It covers the basics well, but it misses a number of advanced options. Our Score: 7/10.
This VPN has been on the market for a few years now, which is plenty of time for it to receive a strong feature set. Let's check out what to expect from SecureLine.
In terms of its features, SecureLine VPN covers the basic well. There's a DNS leak protection and Avast also includes a kill-switch that keeps you secure in critical times when a secure connection drops. However, there's no IPv6 leak protection, as this protocol is disabled by default. This isn't a major downside as a number of top-rated VPNs haven't yet decided to support IPv6. By disabling this protocol, you 'downgrade' to IPv4 which still keeps all your data safe.
We have to say that more advanced users will probably be disappointed with this VPN. There aren't any advanced features like split-tunneling, router support, or fine-tuning. It's clear that this VPN is oriented toward average users who want everything to be automated.
Lastly, you should know that Avast SecureLine VPN imposes no restrictions. You are free to switch between different servers as many times as you want, and you get unlimited bandwidth and data. We can't say that these are major benefits, as the majority of today's VPNs come with no limitations.
Server Count
With only 50+ servers on offer, Avast SecureLine VPN disappoints. This is one of the smallest server networks we've seen so far. Our Score: 1.5/10.
We're sure you want to know how many servers this VPN offers. That's why we've taken a deep look at its server network, and here's what you need to know.
At the moment, Avast SecureLine VPN offers only 55 servers spread across 34 countries. We're surprised by this number, as this is perhaps the smallest VPN server network we've encountered so far. To put everything in perspective, VPNs such as NordVPN, Private Internet Access, and ExpressVPN all have between 2,000 and 5,000 servers each. You can see that Avast isn't even close to those numbers.
As said earlier, SecureLine VPN is created for average home users and this is reflected in its server count as well. There isn't much to pick from, and you can't choose from different servers or cities within one country (in the majority of cases). Instead, you pick a country and SecureLine will do the rest.
What's important to be said here is that top-rated VPNs offer several thousand servers more than Avast are these are not some overly expensive alternatives. In fact, many of those are more affordable than this VPN.
Ease of Use
First-timers are going to love that everything about SecureLine is automated. Advanced users won't be able to fine-tune the application in any way. Our Score: 7/10.
The home screen of this VPN is designed to be as simple as possible. You get to connect to a server by clicking on the 'Change Location' button, which opens a new slide-in window. The rest of the screen shows your true IP and notifies if your real location is hidden. Then, you can also see the duration of your current session. Each time you connect and disconnect, you'll see a pop-up notification on your screen, letting you know about the current status of your connection.
As said earlier, you can use the 'Change Location' button to browse the list of available servers. You can check them all at once, including an 'optimal location' which is the closest server to your physical location. Then, you can filter the list by different regions, and you can also choose from servers optimized for P2P and streaming. Everything is nicely explained and we're sure you'll find your way around this VPN with ease.
To dive a bit deeper into SecureLine VPN, you can click on the hamburger button in the top-right corner. This is where you can access the settings panel, check your license information, and review some general info about the currently installed software version. Now, here's what kind of settings you can adjust.
General: Using this tab, you can decide whether you want to receive notifications, launch the VPN on system startup, receive beta updates, and choose from a sizeable list of different languages.
Network Security: Then, we have this tab where you can choose to automatically connect to the Web. You can enable SecureLine to open on system startup, and then connect to a predefined server – which makes your Web connection secure at all times. Then, you can set certain connections to be excluded.
All in all, SecureLine comes with a nice UI design that's very intuitive and easy to use. Once again, we feel that average users will be more than happy with what's on offer. More advanced users are going to hate the fact that no fine-tuning is available. You can't even choose from different VPN protocols, as this application is highly automated.
Media Streaming & Torrenting Support
Avast SecureLine VPN unblocks Netflix and BBC iPlayer. Aside from unblocking those services, you can also use P2P-optimized servers for torrenting. Our Score: 6/10.
If your primary goal of using a VPN is to unblock media streaming websites, pay attention to this segment. We've done hands-on tests of SecureLine's capabilities, so here's how this VPN scores.
When checking out other reviews of SecureLine, you'll see polarizing information whether this VPN works with Netflix. In many cases, you'll read that it doesn't work. However, this doesn't reflect our experience. We've used a US-based server optimized for streaming, and Avast SecureLine VPN managed to play titles available only in this country. Also, we managed to unblock BBC iPlayer using a UK-based server.
Unfortunately, this VPN can't help you with Hulu and Amazon Prime Video, as both of those were able to detect that we were using a VPN. And lastly, SecureLine comes with a handful of servers that are optimized for P2P traffic. If you plan on downloading torrents, you can rely on these to overcome any throttling and make sure you download files as fast as possible.
Security & Privacy
Sadly, SecureLine supports only two VPN protocols. Nonetheless, it brings incredibly strong encryption and doesn't reveal your data to anyone. Our Score: 9/10.
In this segment, we return to what's most important about VPNs – and that's their ability to keep you protected online. With this said, we'll talk about Avast SecureLine's encryption, logging policy, and we'll do a comprehensive DNS leak test.
Supported Encryption Protocols
Avast SecureLine VPN features AES-256 encryption - considered to be the highest level of encryption offered via today's consumer software. On top of that, this VPN features two VPN protocols: OpenVPN (UDP) and IPSec, depending on which platform you're using.
In general, it could be said that SecureLine brings a nice combination or encryption and VPN protocols. By combining AES-256 with OpenVPN, you get the best possible protection for your Web-based data. However, we also wished to see more protocols as well as the ability to choose the one we want. Still, this is hardly a major downside.
Logging Policy
As noted earlier, SecureLine VPN is one of the VPNs with 'No-Logs' policies. This means that your private data is never collected, including any type of data that could reveal what you do online. And since there are no reports of Avast handing over data to third-parties, there's no reason not to believe this privacy policy.
Just like other VPNs, Avast can collect some data for 'diagnostic purposes'. However, this is nothing alarming as this type of data can't identify you or your online activities.
DNS Leak Test
Lastly, we wanted to check is Avast SecureLine leaks any data by checking its DNS. This test checks different types of information associated with your Web connection, and it also displays your IP address, your ISP, and more.
The result is clear – there are no DNS leaks here, whatsoever. Third-parties on the Web will be able to see your virtual IP address, along with a fake Internet Service Provider. In other words, this VPN truly keeps you anonymous on the Web.
Speed & Performance
In general, Avast SecureLine brings satisfactory performance. It's not the fastest VPN out there, but it's still highly usable. Our Score: 8/10.
On Avast's official website, we can see that SecureLine is being advertised as a speedy VPN. Of course, we are here to test those claims. So, here's what kind of performance you can expect.
First, we need to set our baseline stats. For this purpose, we've tested the speed of our Web connection, without having SecureLine enabled. We got 146.25 Mbps for downloads and 9.23 for uploads. Now, let's launch Avast and see what kind of speed it brings.

We've connected to an 'optimal' location by letting SecureLine check the closest server to our physical location. Upon running a speed test, we got 112.89 Mbps for downloads and 5.63 Mbps for uploads. As you can see, there's some throttling here.

Lastly, we also checked the performance of a remote server, located in the USA. This time around, we got 102.17 Mbps for downloads and 5.22 Mbps for uploads. To calculate everything and make sense of these numbers, we'll place them into a table.
On average, Avast SecureLine VPN made our connection slower by 26.5%. Therefore, be prepared to lose some speed if you opt for this one, which is something to be expected from any VPN. However, we also need to say that this isn't a bad result – even though there's a number of speedier alternatives.
Customer Support
Sadly, live-chat is not on offer. However, you can contact the company via phone, open a support ticket, or dive into solving your problem yourself. Our Score: 8/10.
Avast is selling a comprehensive range of digital products, which means that it comes with a reliable customer support system. With this said, here are all the ways you can get help.
Phone Support: Even though live chat is not on offer, you have the next best thing. You can contact this company via a phone number, toll-free. Even though we would have liked to see live chat included, and we hope to see this happen in the future, phone support is the speediest way to get help right now.
Support Tickets: The official support page offers a convenient way to contact the company. You can explain the problem you're experiencing, choose a suitable troubleshooting category, and then you'll need to wait for an official response. In general, this takes up to 48 hours.
Knowledge Base: If you want to dive into solving the problem yourself, there's a series of articles that might be able to help. To speed up this procedure, there's a search functionality built-in.
Frequently Asked Questions: Lastly, there's a segment with FAQs related to Avast SecureLine VPN. At the moment, a dozen questions and answers are present. It's not the most comprehensive but can be useful, nonetheless.
Pricing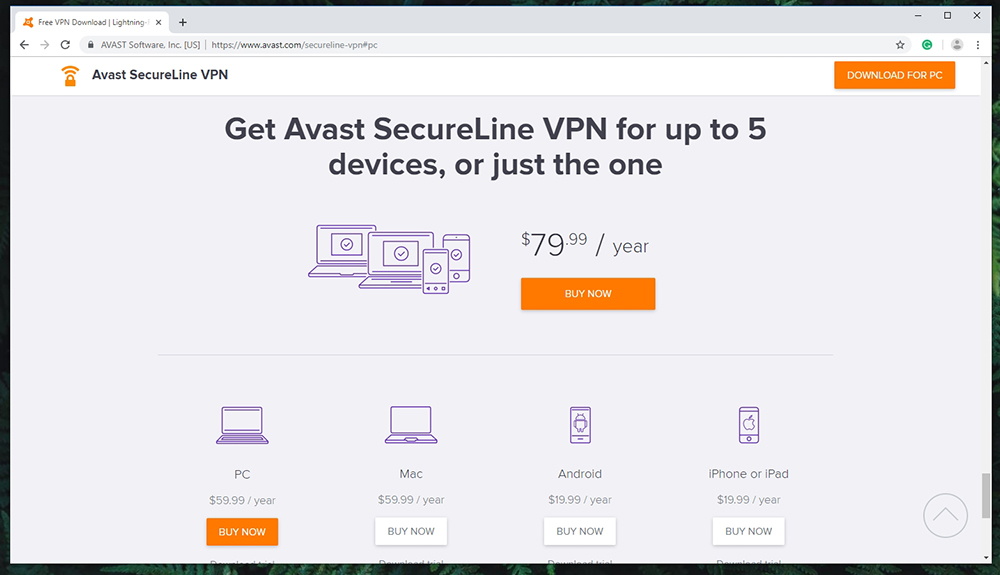 Avast is offering a different type of pricing in comparison to other VPNs. In conclusion, we can say that it's higher priced than its competitors. Our Score: 6/10.
Depending on how many devices you want to protect, Avast offers several subscription plans. To review your options, take a look at the table found below.
As you can see, Avast SecureLine comes with a bit different pricing scheme than most other VPNs. This company is selling subscriptions for individual devices. That's how you can subscribe to SecureLine for $59.99 per year if you have a Windows or Mac laptop. And if you want to protect your smartphone as well, this will cost you $19.99 per year, per one Android or iOS device.
The most attractive plan is priced at $79.99 per year and comes with 5 licenses. This means that you can buy SecureLine VPN for $6.66 per month, and protect all your computers, smartphones, and tablets within a single subscription. This is similar to how other VPNs are priced, but we must remember that Avast comes with a few notable downsides. All of its direct competitors offer router support, come with larger server networks, and many of them are capable of unblocking media streaming websites.
Do We Recommend Avast SecureLine VPN?
Avast has come up with a very interesting VPN service. However, after taking an in-depth look, we can say that there's plenty of room for improvement. At the moment, we can recommend SecureLine to average home users who need a fully automated VPN. If you want to unblock Netflix, you'll also find this VPN to meet your needs.
PROS: Polished UI; No previous data leaks; Tough encryption; Bulletproof VPN protocols; Unblocks Netflix; Supports torrenting; Speedy performance.
CONS: Overly simple for some users; Small server network; High priced.
OUR SCORE: 7.0 out of 10!
If you think that this VPN meets your needs, don't hesitate and subscribe to SecureLine VPN. More advanced users might want to look for alternatives, but let's remember that Avast has produced a fully-working automated solution that seems aligned with the needs of average home users. For more information, check out Avast SecureLine for yourself.
In the end, we would like to ask you to share this article online. And also, you can follow us on Facebook and Twitter, where we share our daily-posted stories and articles. Thanks!