Avast VPN assures you that hopping on its services means you get to enjoy "truly private browsing." If something about the VPN's name rings a bell, then this doesn't sound like an empty boast. After all, Avast is one of the most popular names in the Internet security industry.
The VPN service and its parent company share a headquarters in Prague, Czech Republic. It's in the European Union, which isn't exactly our favorite jurisdiction. On the other hand, the Czech Republic isn't a member of the 14 Eyes Alliance, an infamous intelligence-sharing group of countries. A plus in our book.
But is it enough? Avast SecureLine VPN offers a suite of basic security and privacy features that include industry-standard encryption for protecting your data. It also has a no-logs policy. Well, not quite. We found that the provider collects more information than we're comfortable with. 
Avast VPN has remained secure without any history of hacking or data breaches. That said, its parent company has disclosed user information to government authorities in the past. More on that later.
As for performance, expect fast speeds and stable connections strong enough for smooth, buffer-free streaming and downloads. It's not the best option for gaming, though.
All said and done, Avast SecureLine VPN doesn't do enough to make it onto our list of the best VPN services. Before we dive deeper into what it offers, here's a table with its most prominent characteristics.
| | |
| --- | --- |
| Jurisdiction | Czech Republic. |
| Logs | No logging - not independently audited. |
| Servers | 700+ in 36 countries. |
| Simultaneous Connections | 10. |
| Supported Devices | Windows, macOS, Android, and iOS. |
| Features | Kill switch, AES 256-bit encryption, leak protection, split tunneling, and more. |
| Protocols | OpenVPN, WireGuard, Mimic, IPSec. |
| Supports | Torrenting, Gaming, US Netflix, Disney+, and more. |
| Customer Support | Live chat, email, FAQ, and phone. |
| Price | From $4.39/month. |
| Live Deal | 46% OFF (3-year plan) |
| Our Score | 7.2 out of 10. |
As part of our in-depth Avast SecureLine VPN review, we'll run through different aspects of this service. This includes its jurisdiction, supported platforms, infrastructure, design, features, pricing, and more. To learn about our hands-on testing approach, check out how we review VPNs. 
Well then, let's get down to business.
Background, Jurisdiction & Reputation
Avast VPN operates from a friendly jurisdiction and has never leaked user data. However, it has handed over information to authorities and hasn't undergone independent audits. Our Score: 8/10.
It's easy to get caught up in the features and performance of a VPN. While they're certainly essential points to consider, here's another — the provider's background and history. 
Where Is Avast SecureLine VPN Based? 
Avast SecureLine VPN is based in the Czech Republic. On the one hand, that's a decent location, as the country itself has no strict data retention laws and isn't a member of the 5/9/14 Eyes Alliance. 
On the other hand, it's part of the European Union and operates using its privacy laws, which can be invasive. Still, it's a better jurisdiction than the United States, for instance. In addition, the EU has made steady progress in that area in recent years.
Avast Software s.r.o, the multinational cybersecurity giant, rolled out Avast SecureLine VPN in 2014. Avast also owns other VPN services like HMA (formerly HideMyAss) and AVG Secure VPN, securing them after it acquired AVG in 2016. While HMA is a separate entity, Avast SecureLine VPN and AVG Secure VPN share the same infrastructure.
Did Avast VPN Leak Personal Data in the Past? 
No, Avast SecureLine VPN has never leaked personal data in the past. However, that's not enough to put the VPN in the clear.
Avast VPN admits to disclosing user information to government authorities. In its Transparency Report, the VPN shows that it has handed over information to law enforcement over the years "when compelled by law." In 2017, its disclosure rate translated to over 31% of all requests. 
To be fair, the rate has steadily dropped since then, with the provider disclosing about 10% of requests made in 2023. We're glad to see that decline. Plus, not many VPNs show this level of transparency. Still, its cooperation with authorities points to having some data to hand over. 
In 2019, Mozilla removed Avast's antivirus Web browser extension for flouting its privacy rules. Early the next year, an investigation sensationally revealed that the head company, Avast, had harvested user data through its antivirus plugins. 
To be clear, this doesn't have any clear connections to Avast SecureLine VPN itself. Plus, Avast has since shut down Jumpshot and discontinued this practice. That said, there are valid concerns over an Internet privacy and security company carrying out those actions in the first place.
Is Avast VPN Safe?
We can't say for certain that Avast SecureLine VPN is safe enough to protect your online privacy. Here's why.
This VPN offers AES 256-bit encryption to scramble your data and keep it undecipherable to snoops. It also has a kill switch to prevent leaks, along with WireGuard, Mimic, OpenVPN, and IPSec protocols. 
That said, we're not entirely convinced because it maintains a policy of providing user information to government authorities. As far as we're concerned, that's not something a privacy provider should be doing. There's also the shady business its parent company conducted with third-party corporations involving private data. 
While it touts a zero-logs policy, the VPN collects and stores more logs than we see any legit justification for. It hasn't undergone an independent audit of that policy so far.
Supported Platforms & Devices
There are Avast VPN apps for both desktop and mobile devices. The VPN also offers two browser extensions and supports a few streaming devices. Our Score: 7/10
The top VPN services offer apps and support for a wide range of devices. That includes computers, smartphones, routers, streaming devices, and more. It's important, as it means you're not leaving some of your gadgets unprotected when you pay for a subscription. 
Here's an overview of how Avast SecureLine VPN fares in this area.
| | |
| --- | --- |
| Desktop Platforms | Windows, macOS. |
| Mobile Platforms | Android, iOS. |
| Web Browsers | Chrome, Mozilla. |
| Routers | N/A. |
| Other Devices | Android TV, NVIDIA Shield TV, Mi Box. |
The provider has apps for Windows and Mac computers. It also has the mobile phone section covered, with clients for the major platforms, Android and iOS. 
Plus, if you want to connect your Web browser to a VPN server, its Chrome and Mozilla extensions have that covered. They're basically remote controllers for the main VPN app, allowing you to change your IP address without leaving the browser.
Linux desktop systems are becoming increasingly popular. However, Avast VPN hasn't taken that into consideration so far. Moreover, it has no support for routers, which is a shame. Many VPNs allow you to set up a router, which extends protection to devices on your network that may be incompatible with a VPN.
In addition, Avast VPN doesn't support set-top boxes like Amazon's Fire TV Stick or game consoles.
Installation & Initial Configuration
It only takes a few minutes to install Avast VPN's native apps on your device. While it will encourage you to download sister products, it doesn't bundle them. Our Score: 10/10
In this section of our Avast VPN review, we'll guide you on how to get the VPN up and running on your device.
How to Setup and Use Avast SecureLine VPN?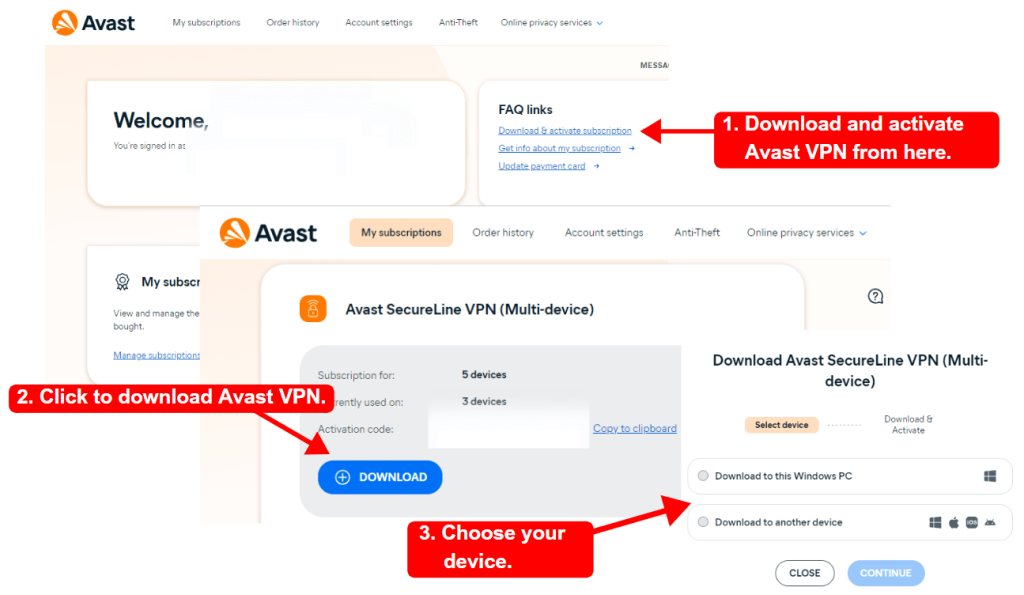 Installing and getting Avast VPN ready for use is a pretty straightforward process. Here are the instructions for desktop devices (they work the same on Windows and Mac computers).
Subscribe to Avast SecureLine VPN using a Web browser.
Return to the VPN product page and click "Account" near the top-right corner.
Type in your credentials to sign in to your account.
Click "Download & activate subscription" on the right side.
Click the download button and select your device.
Download the installation file and install the app.
Launch Avast SecureLine VPN and enter your credentials to activate the product.
To choose a server, click the "Change" button.
Click on any server to connect. That's it! 
Avast SecureLine VPN works without any additional configuration. It's an even simpler process for smartphones. Visit the Play Store or Apple App Store and search for Avast SecureLine VPN. Click the download button to install it on your mobile phone.
Prominent Features
Avast VPN covers the basics, but there's not much else. Even the advanced/extra features aren't present across the board. Our Score: 6.5/10
It wouldn't be accurate to say that Avast SecureLine VPN is bursting at the seams with features. It comes with functionality now considered standard in the industry, but there's little in terms of advanced or extra features. For instance, there's no dedicated IP or ad-blocker.
Leak Protection: Avast VPN prevents DNS leaks by ensuring that all your DNS requests go through its encrypted tunnel. However, the provider disappointingly acknowledges possible DNS leaks and suggests using its sister antivirus product for added protection.
Military-Grade Data Encryption: Avast SecureLine VPN uses high-level AES 256-bit encryption to protect your data. It's the encryption cipher used by governments and corporations around the world and is immune to brute-force attacks. It also uses Open SSL and certificate authentication.
Kill Switch: The provider's kill switch automatically blocks your Internet connection when the VPN experiences an interruption. It's an essential feature that reduces the chances of unwittingly leaking your IP address when there's an unexpected disconnection. This feature is available across all devices and is enabled by default. To toggle it on later, you must be in Manual VPN Mode.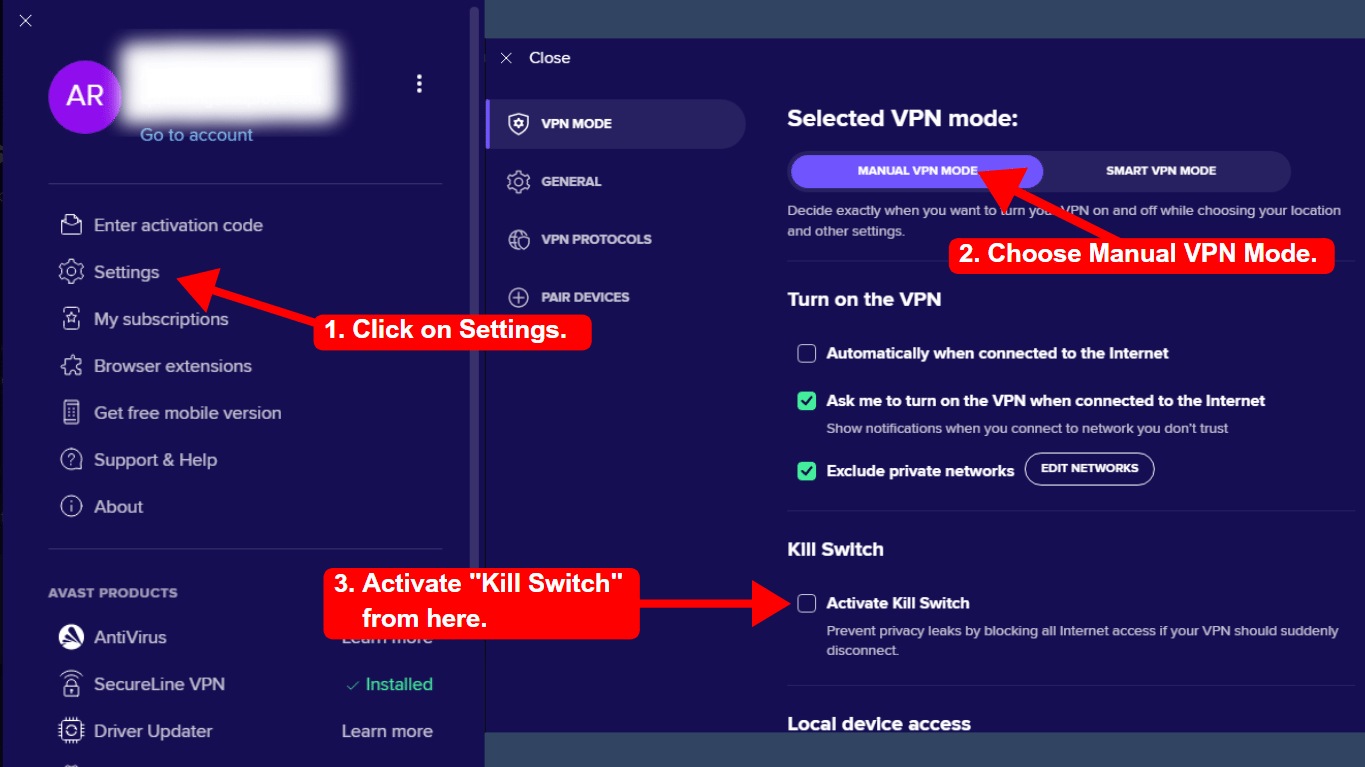 Smart VPN Mode: The intriguing feature allows the provider to take over your online security, automatically switching the VPN on and off and selecting servers to connect to itself. You can trigger it to turn the VPN on whenever you connect to a public network, use torrent sites, stream, or visit banking sites. Alternatively, you can add websites you prefer the VPN to auto-connect. This feature is only available on Windows computers.
Split Tunneling: This is a practical tool for using Avast VPN for some of your online activities but not all of them. The feature is only available on Android devices.
Wi-Fi Threat Shield: This solution is designed to reduce the risks associated with public Wi-Fi networks. The feature works even when the VPN isn't enabled, silently checking any new public connections for threats. If it detects any, Wi-Fi Threat Shield alerts you or automatically activates the VPN, depending on the severity of the threat. It's also only available on Android.
Local Network Bypass: Because your real IP is hidden when you're connected to the VPN, you may be unable to connect to some devices on your local network. This feature fixes that issue. This feature is available on Android.
Server Count & Infrastructure
While Avast SecureLine VPN's server network has grown massively over the years, it's not there yet in terms of size and spread. Our Score: 5/10
A good rule of thumb for VPNs is to have more servers, as it reduces the chances of congestion and resulting latency. Here's what Avast SecureLine VPN offers in this area.
| | |
| --- | --- |
| Number of Servers | 700+ |
| Number of Locations | 56 |
| Number of Countries | 36 |
| Specific Cities Selection | YES |
| Unlimited Switching | YES |
Avast SecureLine VPN manages 700+ servers in 36 countries. It's not the worst we've seen, but the VPN is nowhere near making our list of VPNs with the most servers. In stark contrast, NordVPN has a network comprising 5,500+ servers, and CyberGhost VPN has more than 9,500 in its collection.
To be fair, Avast VPN's current network size is a massive upgrade from only a few years ago, when it only had about 55 options.
Sheer size isn't the only thing that matters — the number of countries also does. Avast SecureLine VPN's presence in only 36 countries is disappointing. Depending on where you are, you may be forced to connect to servers that are too far away, potentially resulting in slower speeds.
As for the spread, the VPN strives to cover every continent. Still, the result is all too common. The United States and Europe snag the larger share of the pie, with most of the servers located there. In fact, there are more locations in the US (16) than in Africa, South America, the Middle East, and Asia Pacific combined (12).
Also, the VPN doesn't impose any restrictions on server switching. While there's a city-specific selection, it's limited. You can select the city in countries with multiple servers, including the US, UK, Spain, Germany, Canada, and Australia.
UI/UX Design & Ease of Use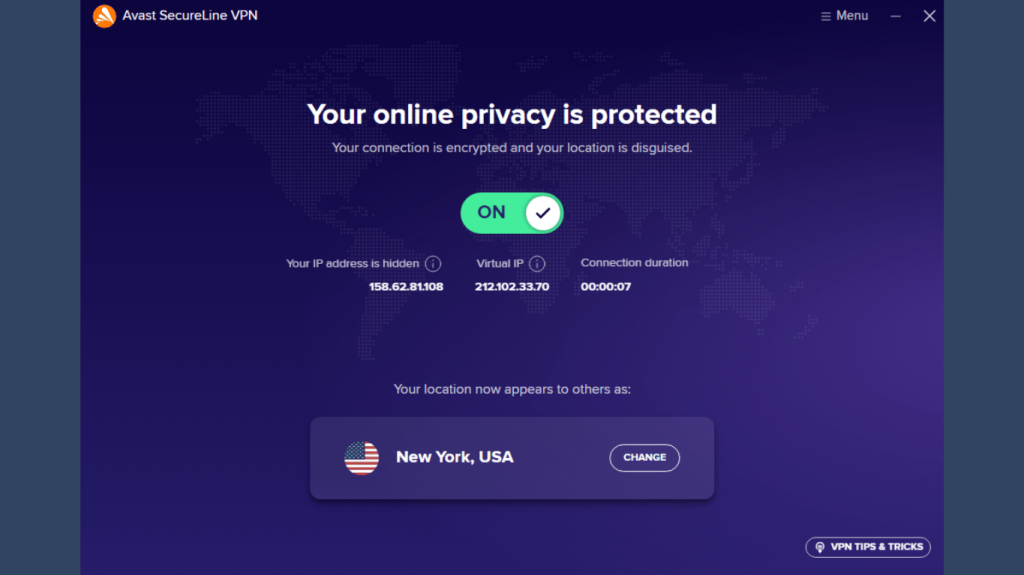 Avast VPN's desktop and mobile clients sport clean, modern designs. They're also easy to use and suitable for beginners. Our Score: 9/10
In this Avast VPN review segment, we'll closely examine its desktop and mobile apps. Since it also has browser extensions, we'll explore what's on offer there as well.
On desktop, Avast VPN ignores the current trend of a portrait-sized window in favor of a landscape. The result is ample real estate with a minimalist feel. It follows a purple theme that looks simple yet modern and sleek. What's more, the Windows and macOS apps practically mirror each other.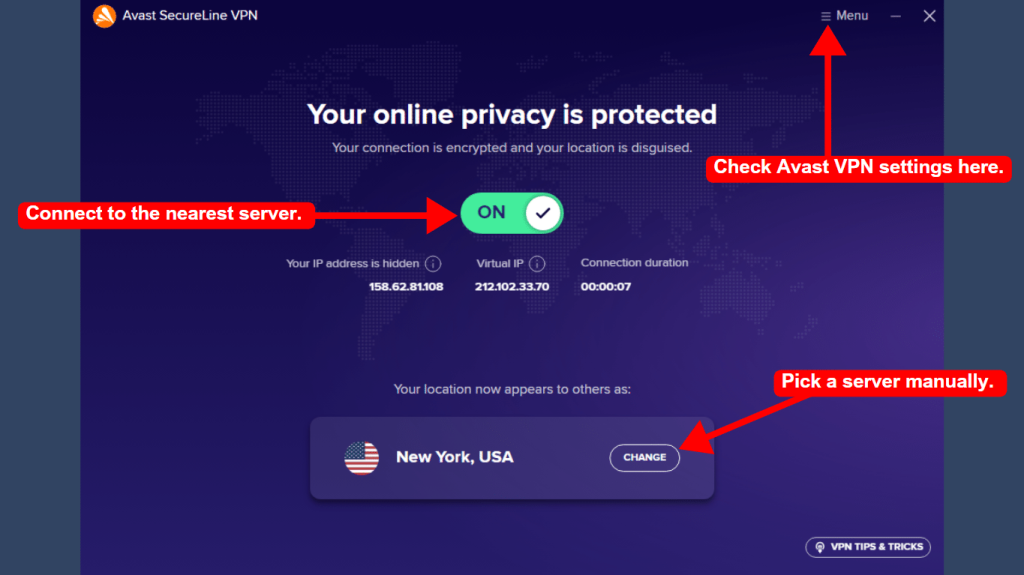 The home screen features a subtle backdrop with a pixelated representation of a world map. A toggle button takes center stage and makes it clear when the VPN protects your device and when it's deactivated. Beneath the connect button, a banner shows the current server and a button to switch servers.
Let's move on to the VPN's settings.
VPN Mode: Here, you can switch between the regular "Manual VPN Mode" and "Smart VPN Mode," which we discussed earlier. In manual mode, there are options for turning on the VPN and enabling (or disabling) the kill switch. You can also enable local access for devices like printers and shared drives.
General: This tab lets you tweak notification and startup settings. Avast SecureLine VPN supports more than 40 languages. You can switch between them here.
VPN Protocols: Avast VPN offers a choice between three protocols on Windows. Clicking the radio button beside any of the options will select it. It's set to "Automatic" by default, allowing the VPN to automatically choose and switch between protocols for optimal performance and security.
Pair Devices: This setting option allows you to activate the VPN on another device by pairing it with your current device. 
Like the desktop versions, Avast's mobile apps are pretty similar looking. They take the minimalist design a step further, with a connect button dominating most of the screen. 
Near the bottom, you can tap to select a server location. The only other element on the home screen is a settings cog icon at the top-right corner, which opens up the configuration options when you tap it.
Account: This category contains the subscription and device pairing settings.
Connection Rules: This is where you'll find the most settings to customize. It includes options for auto-connect, split tunneling, kill switch, Wi-Fi Threat Shield, local network bypass, and protocols.
More by Avast: Avast VPN markets a couple of its sister products here, urging you to install the mobile security suite and cleanup tool.
Troubleshooting: This includes the help section, where you'll find a line-up of FAQs to sort out any potential issues you may have. If that's not enough to solve the problem, a button directs you to the VPN's website. You can also access the Avast Forum from here.
General: You can leave the VPN a review here, manage your notifications, and share app-usage data to help improve it. Additionally, you can access Avast's Privacy Policy here.
The browser extensions are easy to set up and use. You can add them to your Chrome or Firefox browsers directly from the desktop app. It doesn't work like the common VPN extension, restricting a server connection to your browser. Instead, any actions you take here get implemented system-wide.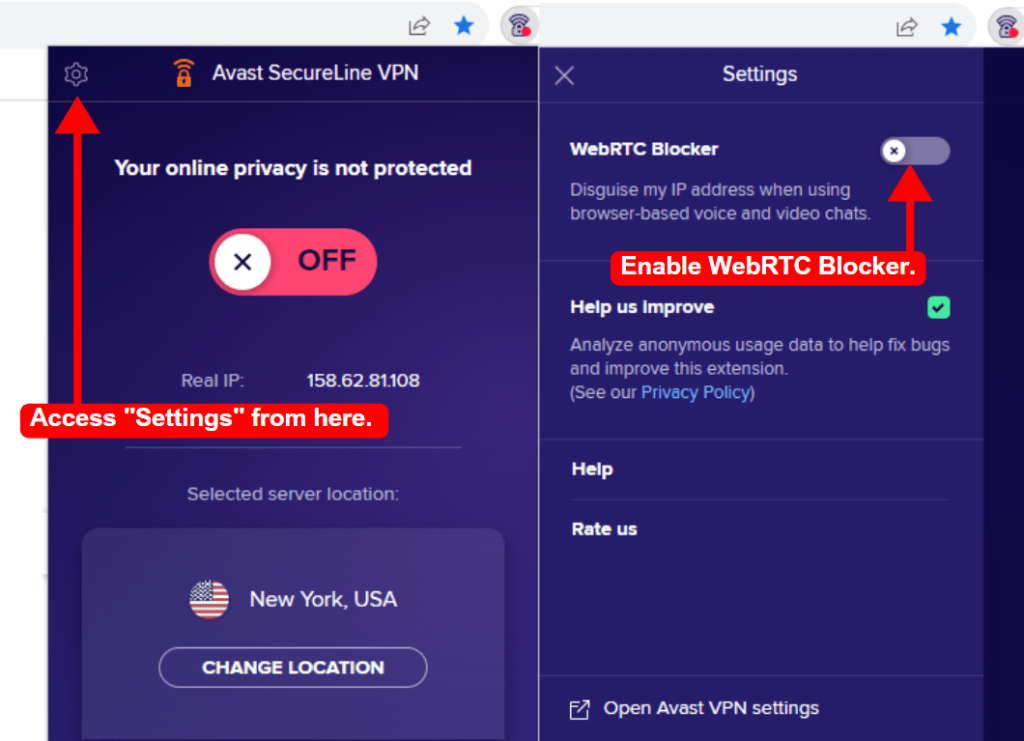 Here's what you can find on Avast VPN's Google Chrome and Mozilla Firefox Web browsers: 
WebRTC Blocker: When you enable this feature, it prevents your true IP address from being visible in Chrome and Firefox browsers, even when using a VPN or proxy.
Help Us Improve: With this setting, you can choose not to share anonymous usage data with Avast.
Help: Get quick answers and solutions from Avast SecureLine VPN's comprehensive FAQs.
Rate Us: This tab lets you share your feedback and rate the VPN.
Media Streaming, Torrenting, and Gaming Support
Avast SecureLine VPN isn't a top choice for gaming and streaming, as it fails to unblock many services. However, it handles torrenting well, especially on dedicated servers. Our Score: 6/10.
Many people use VPNs to access online content, from streaming libraries to torrent downloads and gaming. If you're wondering how well Avast SecureLine VPN holds up here, you're about to find out. 
Is Avast VPN Good for Streaming? 
No, Avast VPN isn't a great choice for streaming online content. The provider claims it can help you bypass geo-restrictions. However, it doesn't excel in this area.
During our tests, we evaluated its ability to unlock geo-blocks on a number of streaming platforms. Here's a table showing how it performed.
| | |
| --- | --- |
| Netflix US | YES |
| Hulu | NO |
| Disney+ | YES |
| BBC iPlayer | NO |
| Amazon Prime Video | NO |
| Max | YES |
| Paramount+ | NO |
Avast SecureLine VPN offers six servers optimized for streaming, with four in the United States and one each in Germany and the UK. We received mixed results when we tested them. For instance, the American server unblocked Netflix US, but the UK server didn't work with BBC iPlayer.
Is Avast VPN Good for Torrenting?
Yes, Avast SecureLine VPN is good for torrenting. The provider supports peer-to-peer sharing and even offers dedicated servers for that online activity. The servers are located in:
Czech Republic
France
Germany
Netherlands
The UK
The USA
Avast VPN's P2P optimized servers will grant you faster speeds for downloads, prevent throttling, and reduce risks. However, the VPN doesn't support port forwarding, a great feature for torrenting.
Is Avast VPN Good for Gaming?
No, Avast SecureLine VPN isn't a good choice for online gaming. The provider doesn't offer specialized servers for this activity. However, on its website, Avast VPN suggests that its dedicated P2P servers work for massively multiplayer online games (MMOs).
When it comes to using a VPN for gaming, it's ideal that the provider has a wide network of servers, specialized servers, and fast speeds. Avast VPN doesn't tick all these boxes with its average network size and lack of specific gaming optimization. 
That said, Avast SecureLine VPN's fast connection speeds bail it out here. You'll not experience significant lags while gaming, especially on nearby servers.
Security & Privacy
Avast VPN comes with a wide range of tunneling protocols and is leak-proof. However, we're uneasy about the extent of its data logging. Our Score: 6/10
Above everything else, a good VPN must be trusted to protect your sensitive data from snoopers and interception. 
Avast SecureLine VPN Protocols
Avast VPN has a range of tunneling protocols to choose from. However, they're not all available on each supported platform. Here's a snapshot of what to expect for your device when you install Avast VPN.
| | | | | |
| --- | --- | --- | --- | --- |
| | OpenVPN | WireGuard | Avast Mimic | IPSec |
| Windows | YES | YES | YES | NO |
| macOS | NO | NO | YES | YES |
| Linux | NO | NO | NO | NO |
| Android | YES | YES | YES | NO |
| iOS | NO | NO | YES | YES |
OpenVPN: This protocol is available on Avast VPN's Windows and Android apps. The open-source tunneling protocol is known for its strong security and flexibility. It's no slouch when it comes to speed. 
WireGuard: Still relatively new, WireGuard was designed to be simpler, faster, and more secure than existing protocols. It's based on the Noise protocol framework and uses the ChaCha20-Poly1305 cipher to encrypt data. Like OpenVPN, Avast SecureLine VPN implements WireGuard on Windows and Android platforms.
Mimic: The proprietary protocol was developed by Avast for its line of VPNs. The custom-made protocol duplicates the connection to all websites you visit, effectively disguising your traffic as normal. Mimic is available on all supported platforms.
IPSec: This isn't an insecure or obsolete protocol, but IPSec doesn't have the power of OpenVPN or the performance of WireGuard. It's set by default on Avast VPN's macOS and iOS devices.
Does Avast SecureLine VPN Keep Logs?
No, Avast SecureLine VPN doesn't store usage or activity logs. That means the provider doesn't retain user-identifiable information on its servers.
In its Privacy Policy, Avast SecureLine VPN states that it doesn't keep your originating IP address, DNS requests, browsing history, and transferred files. These are all data directly linked to a user, which could lead to identifying them. However, we're worried the VPN stores more data than is necessary. 
Avast SecureLine VPN collects connection timestamps and the amount of data transmitted. It says the data is necessary to plan concurrent active connections and network capacity. On top of that, it stores this data on its servers for 35 days before deleting it. That's besides the account data it collects at registration, including email addresses.
We're not fans of this. Our best no-logs VPNs manage to provide exceptional service without requiring this level of detail. And so far, Avast SecureLine VPN hasn't undergone an independent audit of its logging policy.
Does Avast SecureLine VPN Leak/Expose Your Private Data?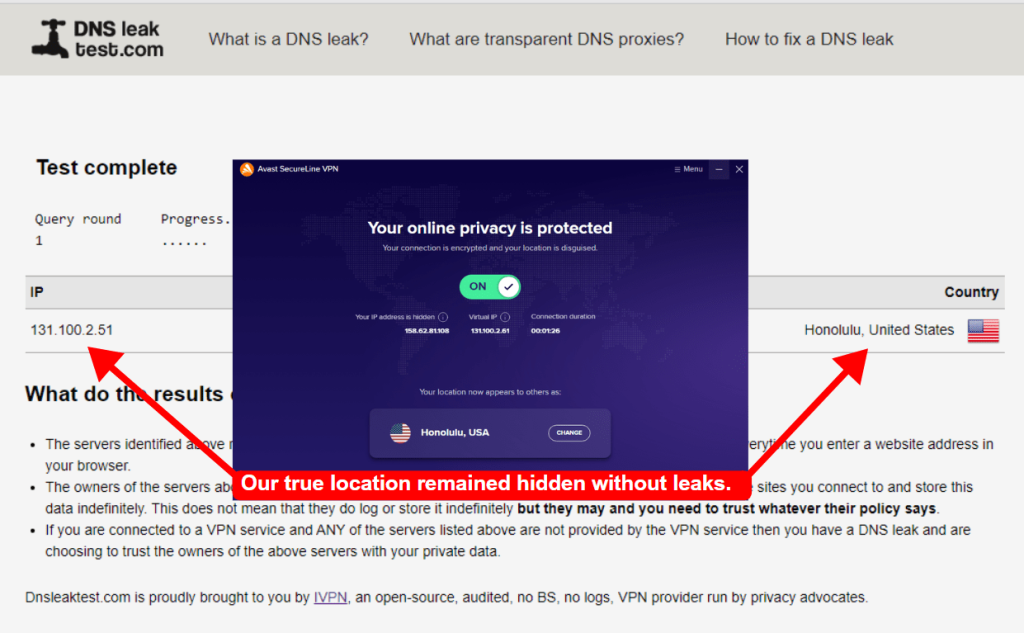 No, Avast VPN doesn't expose your private data. We ran a leak test on the VPN using an online tool. As you can see from the results below, the tool could only detect the VPN's virtual IP address. That's what websites and other online services will see.
Based on the results, our original identity remained hidden, even after we ran the provider through multiple IP and DNS leak tests. Clearly, Avast VPN is airtight and won't expose your data to prying eyes.
Speed & Performance
Avast VPN is a fast VPN. It comes with connection speeds that are fast enough to stream high-quality video and large files. Our Score: 8/10
An Avast SecureLine VPN review is incomplete without evaluating its speed, so let's see how the VPN will affect your performance. To begin with, we checked how fast our Internet traffic was without an active VPN connection in the background. 
Our baseline speed result returned 65.41 Mbps for downloads and 3.77 Mbps for uploads. Because of the extra step a VPN adds to your Internet traffic's journey to its destination, it's normal to experience slower speeds. Let's see how Avast SecureLine VPN holds up when connected to various servers.
US Server: The Miami location we connected to is far from our current location, so we expected a substantial drop in speed. We had a 26% speed reduction, as download and upload speeds dropped to 48.73 Mbps and 3.46 Mbps, respectively.
UK Server: Next, we switched to a London server, which happened to be the closest we tested. Compared to the initial results, the speed only dropped by 10% to 58.58 Mbps for downloads and 2.71 Mbps for uploads. This is impressive from Avast VPN.
Canada Server: The Toronto server was even farther away than the US server tested earlier. Unsurprisingly, it was a steeper drop in speed (37%), with the result returning 41.07 Mbps for downloads. The upload speed saw its biggest drop to 1.76 Mbps.
Taiwan Server: Moving in the other direction, we joined a server in Taiwan, the furthest away at that point. We were pleasantly surprised at the acceptable results we got, showing a 29% speed reduction of 46.33 Mbps for downloads. The upload speed even increased slightly to 3.91 Mbps.
Australia Server: The Melbourne server is really far away, and we expected the performance to tank. Sure enough, it was the only time the VPN lost over half its speed, with download and upload speeds plummeting by 61% to 25.35 Mbps and 2.15 Mbps, respectively.
Italy Server: Our final test was on an Italian server. Avast VPN delivered a faster connection, and the speed reduction improved to 33% less than the baseline. Our download speed was 43.77 Mbps, and the upload speed was 3.11 Mbps.
| | | | |
| --- | --- | --- | --- |
| | Download Speed | Upload Speed | Speed Reduction |
| Baseline Speed | 65.41 Mbps | 3.77 Mbps | 0% |
| USA (Miami) | 48.73 Mbps | 3.46 Mbps | 26% |
| UK (London) | 58.58 Mbps | 2.71 Mbps | 10% |
| Canada (Toronto) | 41.07 Mbps | 1.76 Mbps | 37% |
| Taiwan | 46.33 Mbps | 3.91 Mbps | 29% |
| Australia (Melbourne) | 25.35 Mbps | 2.15 Mbps | 61% |
| Italy | 43.77 Mbps | 3.11 Mbps | 33% |
Overall, Avast VPN's speeds dropped by 33% on average. This result confirms that the VPN is a pretty fast one. It doesn't beat ExpressVPN or NordVPN in this area, but it's way faster than many other providers we've tested.
Customer Support
Avast SecureLine VPN offers multiple channels for reaching customer support and getting answers. However, there's some room for improvement in its efficiency. Our Score: 8.5/10
With Avast's comprehensive line of products, we're not surprised at its array of customer support options, which include:  
Phone Support: The VPN maintains a phone line for users who want quick answers to their issues. This channel is only available to paying customers.
Live Chat: Avast has hopped on the AI train, now offering a chatbot for on-the-fly answers and issue resolution. Chatbots are the future, but Avast's isn't there yet. It frequently ran into a wall, even when we asked basic questions. Still, as it's a recent installation, it's safe to expect significant improvements in the future.
Email: If you're not in a hurry, you could email the company instead. As a heads-up, it's not the most straightforward process. There's no direct email link on the support page. Instead, it leads you through multiple other pages where you specify the product and issue you need help with. Also, email support is only available for paying users.
FAQs: There's also a page with answers to commonly asked questions. You can switch between tabs for multiple devices. The questions are also grouped into different categories to help you find what you need faster.
Knowledge Base: Finally, there's a knowledge base comprising articles, tutorials, and guides. In this section, answers to many FAQs contain links leading to resources.
Pricing
You can certainly get better bang for your buck elsewhere for what it takes to subscribe to an Avast VPN plan. Our Score: 5/10
Previously, Avast SecureLine VPN operated a complicated pricing scheme with licenses for individual devices. We're glad to see it has now scraped that. These are your current subscription options.
How Much Is Avast VPN?
Avast SecureLine VPN starts at $4.39/month, with three tiers of subscription packages available. The pricing depends on the duration of the plan you decide on. All three subscription plans work on up to 10 devices simultaneously on one account. 
Let's check out each plan:
1-Year Plan: The annual plan costs $4.59/month, with users billed $55.08 for the first year. 
2-Year Plan: The price decreases to $4.39/month if you opt for this plan instead. In total, it costs $105.36 for the first twenty-four months. 
3-Year Plan: The longest-term package runs for three years and also costs $4.39/month when broken down. You would be paying $158.04 for the first three years.
Opting for the two- and three-year plans will save up to 4% on the monthly cost of the annual plan. It's clear that Avast SecureLine VPN has set its plans to lock in users for the long term. There are no monthly, quarterly, or half-year subscriptions, all common options for VPN services. 
Payment channels include credit cards (MasterCard, Visa, and American Express) and PayPal. We would've liked to see more privacy-conscious options, like cryptocurrency.
Is Avast VPN Free?
No, Avast SecureLine VPN isn't a free provider. However, it lets you enjoy the service for limited periods with 7- and 60-day trials.
The week-long trial doesn't require any payment information. Simply install the VPN on your device and get started. It's limitless, with no data caps or restrictions on server use.
You'll need to submit payment information to get the longer 60-day trial. However, the VPN won't bill you until the period elapses.
On top of that, there's a 30-day money-back guarantee attached to each plan to give you even more time to make up your mind. However, it's not a "no questions asked" refund policy like some other VPNs offer. You must provide an explanation to receive a refund.
Final Thoughts - Is Avast VPN Good? 
Yes, Avast SecureLine VPN is a good VPN service, but not the best on the market. Sure, there are things to like about this VPN. For instance, it has excellent speeds, so you can be sure of stable and reliable connections. Plus, it offers an array of protocols, has a generous trial period, and is easy to use.
That said, there are several areas we're not fans of. The VPN has handed over user information to government authorities since 2017. Publicly documenting this doesn't make us feel better about it, especially as it collects more logs than is necessary. What's more, Avast VPN's toolkit covers the basics and a few extras but is missing many advanced features. 
If you're looking for a speedy VPN without all the bells and whistles, you could check out Avast SecureLine VPN. However, we don't recommend this VPN to a vast array of users.
PROS
Offers fast connection speeds.
Several protocols to choose from.
Bank-level encryption.
Supports torrenting with optimized servers.
Has browser extensions.
30-day money-back guarantee.
Polished user interface.
CONS
Not a true zero-logs VPN.
Supplies user information to authorities.
Small server network.
Few advanced VPN features.
No OpenVPN on Apple devices.
Not great at bypassing geo-blocks.
Refund policy is conditional.
FAQ
What Is Avast SecureLine?
Avast SecureLine VPN is a virtual private network provider owned by Avast, a Czech cybersecurity software company. It routes your Internet traffic through an encrypted, secure tunnel to a remote server, granting you online privacy and security.
Does Avast VPN Work with Amazon Prime?
No, Avast SecureLine VPN doesn't unblock Amazon Prime Video.
Is Avast SafeZone a VPN?
No. Avast SafeZone, now Avast Secure Browser, is a Web browser designed for online privacy and security. It comes as an optional package in the antivirus suite but is also available for download on the company's website.
How Fast Is Avast VPN?
Avast SecureLine VPN is a speedy service. The VPN dropped our connection speeds by 33% on average, which places it under only a few rivals.
Is Avast SecureLine VPN Worth It?
No, Avast VPN isn't worth the subscription fee. While the VPN offers standard security features, it doesn't justify its price. For the same price, you can pay for better services, such as those offered by Surfshark and CyberGhost.