Uphold is a cryptocurrency exchange that lets you buy, sell, and trade a plethora of cryptocoins (120+ available). Now, Uphold is continuously expanding and is currently available in 184+ countries. Unfortunately, that still leaves out a fair number of jurisdictions. The best way to gain access to Uphold and start trading is by using a capable VPN that can unblock the platform.
However, if you try to create an Uphold account from an unsupported region, you'll see this message instead: "We're not there yet! Sorry, we're not in your country yet. But check back regularly because we're always expanding."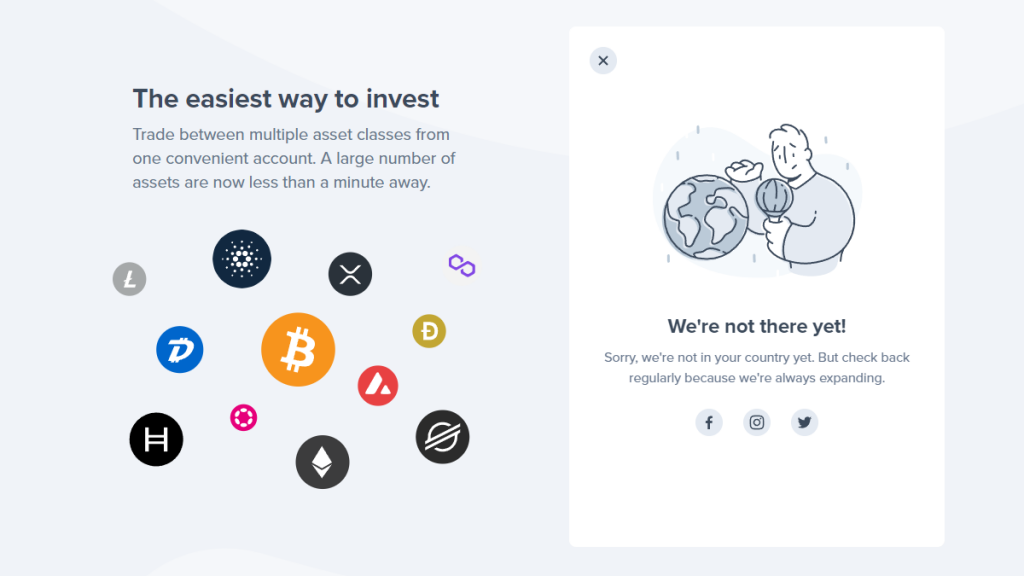 According to Uphold support, they do not offer services in the following countries: Anguilla, Antarctica, Armenia, Azerbaijan, Barbados, Bouvet Island, Cambodia, Central African Republic, Chad, Cuba, Eritrea, Fiji, French Southern Territories, Guinea, Heard and McDonald Islands, Iran, Lebanon, Liberia, Mali, Mauritius, North Korea, Palau, Samoa, Sudan, Syria, S. Minor Outlying Islands, Vanuatu.
Meanwhile, existing customers from the following jurisdictions may have their access limited or may be required to close their account:
Albania, American Samoa, Azerbaijan, Bangladesh, Belarus, Bosnia and Herzegovina, Bulgaria, Burundi, China, Congo (Democratic Republic), Congo (Republic), Crimea, Croatia, Equatorial Guinea, Georgia, Germany, Guinea-Bissau, Haiti, Indonesia, Iraq, Kenya, Kosovo, Libya, Moldova, Montenegro, Myanmar, Netherlands, North Korea, North Macedonia, Romania, Russia, Serbia, Slovenia, Somalia, Turkmenistan, Ukraine, Venezuela, Vietnam, Yemen.
Using a VPN is your best bet to continue using the platform if you live in any of these regions. Although, you'll most likely need a valid phone number from a supported country and may be asked to provide an ID as part of Uphold KYC.
How to Unblock Uphold with a VPN
You can easily bypass the Uphold geo-block message with a VPN. Here's what you need to do:
Sign up with a VPN that works on Uphold, such as ExpressVPN.
Download and install the provider's app on the device(s) you want to trade on.
Launch the VPN app and log in using your account details.
Connect to a VPN server in a country where Uphold is supported.
That's about it. Now you'll be able to proceed with the account creation process. Note that you'll need a valid phone number from the country you've selected above for verification. Also, keep in mind that Uphold may decide to impose KYC verification on your account at any time.
Keep your VPN on at all times while using the platform, and connect to the same server to minimize the chances of that happening. The same applies to existing Uphold users that wish to keep trading while traveling to an unsupported region.
Best VPN for Uphold
The best VPN for Uphold should provide impenetrable encryption, airtight leak protection, and a kill switch to prevent crypto exchanges from discovering your actual location in the event of a VPN disconnect. Ideally, the Uphold VPN should work in restrictive countries (like China or Russia) and have compatible apps for all major desktop and mobile platforms.
Based on years of experience in the world of VPNs, we believe these are the 5 best VPNs for Uphold right now:
1. ExpressVPN - Best All-round VPN for Uphold
One of the top industry titans, and for good reason. ExpressVPN comes with a fleet of powerful, RAM-based servers that immediately wipe any encrypted data passing through their network upon reset. Naturally, their no-nonsense no-logs policy guarantees that none of your online activity is stored anywhere on their systems.
With the help of the new Lightway protocol, ExpressVPN offer improved loading times without sacrificing security. Of course, you're free to choose from OpenVPN, IKEv2, or even L2TP/IPSec (not recommended for trading on Uphold or other crypto platforms due to lower security).
For security reasons, crypto platforms like Uphold, Kraken, Binance, and others are on the lookout for sudden IP address changes. Fortunately, the ExpressVPN package comes with a useful kill switch that will prevent your identity from leaking in case of unexpected disconnects. And, of course, the VPN has been reinforced against IPv6, WebRTC, and DNS leaks as well.
Other than that, ExpressVPN now comes with Threat Manager, which blocks most forms of online tracking. Not only will this boost your privacy by preventing ad networks from creating profiles on you, but you won't have to deal with potentially dangerous trackers either.
Feel free to consult our in-depth ExpressVPN review for more details about the provider and its features.
PROS
Beginner-friendly apps.
Fast speeds and max security.
No logs claim tested in real-world scenario.
Built-in tracker blocking.
Helpful 24/7 live chat support.
CONS
Small device limit.
Not very customizable.
2. NordVPN - Fast & Secure Uphold VPN
NordVPN is based in Panama, a jurisdiction with no data retention laws that is also outside the sphere of the Five and Fourteen Eyes. Both of these are excellent reasons to believe that their twice-audited no logs policy is legit. Their lightning-fast server network is also RAM-based, which is great news for privacy buffs worried about government seizures, potential rogue employee attacks, and similar threats.
Their Wireguard-based NordLynx protocol ensures fantastic connectivity, especially when compared to OpenVPN. Don't mind slower speeds for double the security? Then we recommend trying out their double VPN option to further cover your digital tracks when using Uphold and other exchanges. That extra layer of encryption and chaining VPN servers should come in handy.
Similar to ExpressVPN, NordVPN goes beyond default VPN functionality with its useful Threat Protection feature. For one, it blocks trackers and phishing or malware websites, as well as annoying and potentially dangerous ads. Plus, you can enable the option to scan email attachments and downloaded files for malware, deleting any threats before they put your data in harm's way.
Optionally, NordVPN users can apply for a dedicated IP address for an extra fee. Since it's not shared by anyone else, you minimize the chances of being blacklisted by Uphold or other crypto sites. Further details are in our NordVPN review.
PROS
Privacy-friendly jurisdiction.
Audited no logs policy.
Double VPN.
Dedicated IP option.
Built-in anti-malware.
CONS
Server network covers fewer countries than the competition.
3. Surfshark - Best VPN for Day Trading Crypto
Despite being a newer face on the VPN scene, Surfshark has proven to be a reliable provider with its industry-standard features. Impenetrable encryption (now with WireGuard support), double VPN, a helpful kill switch, and even private DNS servers. As before, Surfshark keeps no identifying user logs, ensuring your privacy while trading crypto and other day-to-day activities.
What makes Surfshark an attractive VPN option for Uphold users is the ability to link any number of devices to a single account. No need to deal with pesky device limit notifications when you just want to hop on to do some quick day trading. This also makes Surfshark a great fit for larger households with plenty of gadgets or sharing with your trading buddies.
Traveling to VPN-restrictive countries like China? Turn on Camouflage Mode to obfuscate your VPN activity and continue using the Internet as normal. And if that's not enough, you can block intrusive ads, malicious trackers, and phishing domains with the help of their CleanWeb option.
Head over to our complete Surfshark review to see what else the VPN has in store.
PROS
No device limit.
Strict no-logs policy.
Double VPN and private DNS.
Ad-blocker and anti-tracking.
Camouflage Mode.
CONS
Modest server fleet.
Decent speeds, but slower than competition.
4. CyberGhost VPN - Capable Crypto VPN with NoSpy Servers
With their RAM-only network spread across 90+ countries, there's no doubt you can find a reliable VPN server in a country supported on Uphold. It goes without saying that CyberGhost VPN keeps no logs, even providing transparency reports every few months to prove as much. The app kill switch is always-on, so you don't need to worry about turning the feature off by accident and exposing your identity.
For a small fee, you get to access CyberGhost VPN's high-performance NoSpy servers. What's the benefit to these specialized units? Well, for one, they are faster than the default option. Second of all, they are located in Romania, outside the Five and Fourteen Eyes. However, the real benefit is that the provider is fully in control of NoSpy servers - no dealing with third-party data centers, meaning fewer chances of breaches and other threats to your privacy.
To improve your security while trading on Uphold, the VPN comes with a built-in content blocker. As the name implies, this feature blocks ads, trackers, and other malicious domains, which is always welcome in the world of crypto. Finally, you can benefit from a dedicated IP if you're not put off by the extra cost.
Feel free to browse our CyberGhost VPN review for more about anything we haven't covered here.
PROS
Extensive server network.
Quarterly transparency reports.
Strong no-logs policy.
Self-owned NoSpy servers.
Dedicated IP option.
CONS
Unreliable in China and UAE.
As expected, PIA comes with RAM-based servers, military-grade encryption (with WireGuard support), and a kill switch. Their huge server network is mainly based stateside, making it perfect for crypto enthusiasts in the region. Of course, PIA is still a viable option for international users, as its network covers 78 other regions.
Now, despite being located in the US, a major player of the Five Eyes alliance, PIA has had their no logs policy proven in court twice so far. So far, we've seen no reason to believe the provider will log your data, which is reassuring.
PIA works on all major platforms and lets you connect up to ten devices on a single subscription. Fairly generous, especially if you want to quickly hop on any device to secure a trade on Uphold, Coinbase, or other exchanges. Speaking of which, you're welcome to get a dedicated IP at an additional fee and avoid the hassle of being blacklisted on Uphold for someone else's behavior.
Last but not least, the PIA MACE feature can block ads, trackers, and most known malicious domains. It's not the most effective blocker of the bunch, but since it's not the primary focus of a VPN, we'll let it slide.
See our Private Internet Access review if you're curious about the provider's background, specs, and other details.
PROS
Court-proven no logs policy.
Massive US-based server network.
Decent customization options.
Ad and tracker blocking.
Generous ten device limit.
CONS
Not the fastest VPN out there.
Five Eyes jurisdiction.
Final Thoughts
The right VPN will let you unblock account creation on Uphold, as well as secure your transactions and other online activity. However, you still need a phone number and valid ID from a supported Uphold region to get things up and running. Sadly, a VPN won't be able to help with that.
That said, the platform is continuously expanding, so be on the lookout for when it becomes available in your area. Even so, you should still use a VPN to avoid getting hacked, as well as prevent your ISP and the government from spying on your crypto activity. The Uphold VPN with the best track record for quality is ExpressVPN.
Still want to compare more options before making a decision? Then check out our list of the best VPNs where we cover ten extra providers - each with its own perks.
For any questions on using a VPN with Uphold, feel free to drop a comment below!