If you're using a simple and memorable password for your online accounts, you're making the most basic (and hugely common) mistake. There's no need to invite trouble into your life, especially since we have a number of very useful password managers out there. These applications can be used to store your passwords, automatically fill out appropriate forms on the Web, and even create highly secure (and tough to crack) passwords. The only thing you need to know is which one to use? We're here to help, so let's take a look at the very best password managers of 2018.
5 Best Password Managers to Consider Using in 2018!
Any good password manager should bring a carefully designed balance of complexity (in terms of features) and simplicity (in terms of its UI design). This is why we've taken a look at several dozens of currently available options and choose 5 best password managers that should suit the needs of different groups of users.
1. Dashlane – Best Overall Protection
Overview
Supported Platforms
Windows, Linux, Apple, Android, iOS
Authentication
Master Password, Email Verification
Prominent Features
Digital wallet, password manager/generator, password changer, security alerts
What's Missing
Single-point authentication (multifactor authentication is mandatory)
Price
Free (one device), $39.99/year (sync across any number of devices)
Visit
Dashlane
You can answer almost every security related question by using Dashlane as your password manager. Dashlane makes a fine attempt at the fusion of local password management and cloud service. All your passwords are securely stored on the servers of Dashlane. From there, you sync the same Dashlane account on various devices. This will sync the passwords stored in the cloud to all your devices as well.
While Dashlane allows you cloud sync, you can always go local as well. All you need to do is overlook the synchronization and store the passwords locally inside a vault. That choice completely rests with you. Even if you choose to use cloud sync, the master password will stay with you. In fact, this feature was rolled out by Dashlane way before some of its competition.
Dashlane does not store the master password on its servers. The master password is only used to encrypt and decrypt the data on a local device. The authentication itself is a two-step procedure. You will first need to key in the master password. Then, you will have to register the device you are using with the help of an email containing the device registration code.
With a free Dashlane account, you can use the application on one device. Going for a premium account costs you $39.99 per year. This also lets you synchronize various passwords across a number of devices.
2. 1Password – Smart and Cost-Effective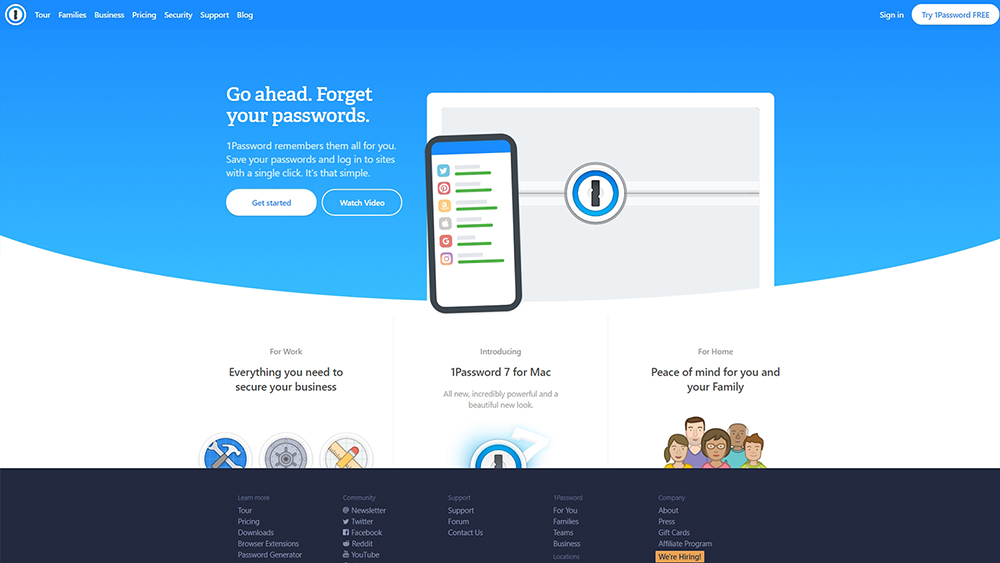 Overview
Supported Platforms
iOS, Android, Mac, Windows
Authentication
Master Keyword, Secret Key, Secure Remote Password
Prominent Features
Family and team accounts, automatic syncing, email support, 1GB storage
What's Missing
New vault creation can only be done through the web app
Price
Free Trial, $2.99/month (Personal), $4.99/month (Family)
Visit
1Password
1Password has been created by renowned MacOS developer, AgileBits. But it is one of the best password managers that support multiple platforms including Windows, Mac, iOS, and Android. For the longest time, 1Password has used one local file for storing encrypted passwords. At the moment, it also allows monitoring, synchronization, and some additional features with an optional cloud service. Password vaults can be synchronized using Dropbox for all platforms. You can do the same on iCloud for iOS and MacOS only.
You can also use the cloud for synchronizing passwords. Since the 1Password is contained in a single file, you can exercise total control over how vaults and even individual passwords are managed. However, there is a downside to new vault creation too. You can only create new vaults through the Web app.
1Password also allows you to securely share passwords with either team or family accounts. So much so, you can also choose which members get to change passwords. Besides getting access to shared password vaults, each member can also create new password vaults of their own. One minor downside is that you cannot share vaults with anyone with a 1Password account. They have to be on your team or family account.
3. KeePass – Best Open Source Password Manager
Overview
Supported Platforms
MacOS, Linux, Windows
Authentication
Master Password
Prominent Features
Open source password manager, transparent encryption standards, multiple user(s) keys
What's Missing
A tad low on convenience
Price
Free
Visit
KeePass
KeePass is a free password management tool for Linux, MacOS, and Windows. It natively runs on Windows and requires Wine or Mono for other platforms. Many benefits of the open source software project are available for KeePass. This includes the ability to port to another client OS, a plug-in ecosystem, and simple and comprehensive language support.
You can change the encryption algorithm with the extensibility that KeePass plugins give you. Apart from browser encryption, you may also go for (on-screen) keyboard integration and automate browser logins. If you are up for it, you can also run your own scripts against the password manager.
The designing of KeePass was done so that local copies of the password vault could be stored. You will need to use plugins for features like cloud backup and synchronization support. These can be done on Google Docs, OneDrive, Dropbox, or even your personal FTP server.
The good thing about a local password database like KeePass is that it is possible for a user to keep multiple databases with one another. You may share some with others and keep the confidential ones private.
4. RoboForm – Application-Based Login Support
Overview
Supported Platforms
Windows, Mac, Android, iOS, Microsoft Edge
Authentication
Master Password
Prominent Features
Supports application-based logins, can be used as a digital wallet
What's Missing
Limited sharing of passwords
Price
Free, $19.95 (for RoboForm Everywhere)
Visit
RoboForm
RoboForm works well both as a form-filler and a password manager. You might not get the features of some of the best password managers on it but the service is stitching those gaps quite fast. The premium version is called RoboForm Everywhere. It allows synchronization across a number of platforms. Besides, it also gives you the capability to share passwords, and use two-factor authentication.
You can further tighten security by registering your mobile number with the software. That will also allow you to use One Time Passwords to authenticate logins. But there are no multifactor authentication options here. While there are some limitations to the keys, sharing passwords is also supported by RoboForm.
On the positive side, you can share individual account records. You may either share passwords for an entire folder or manage credentials among the shared people. However, even here, sharing cannot be done through the web app. Furthermore, the people you are sharing your passwords with should have a RoboForm account in the first place.
RoboForm can handle application-based logins pretty well. Under the right mix, this could turn to be just the feature you asked for. If you are somebody that needs to manage to logins for a number of apps typically for use in corporate apps or cloud services, this is a must-have feature.
5. LastPass – Most Popular Password Manager
Overview
Supported Platforms
Windows, Mac, iOS, Android
Authentication
Master Password, Google Authenticator
Prominent Features
Free multi-device compatibility, dual-factor authentication (with Google Authenticator)
What's Missing
Odd browser plugin vulnerabilities have cropped up (quickly patched though)
Price
Free, $24/year
Visit
LastPass
LastPass is definitely one of the more popular password managers out there. That is generally because of its aggressive marketing and cross-platform support. Unlike KeePass, LastPass makes liberal use of cloud-centric assets. LastPass has its own cloud service that is used to store and sync large volumes of data.
But with increased popularity, LastPass has also become a very popular target for criminals. Those who have a combination of skill and malicious intent have caused multiple security incidents that have included compromise of password reminders and emails. However, the encrypted user vaults of LastPass have never been compromised. The latest security issues have stemmed out from browser plugin vulnerabilities.
There is one important consideration for any popular password manager. That is whether or not they are able to patch vulnerabilities after discovery. LastPass has scored well on that front.
LastPass is available both as a free and a premium service. You can buy the premium service for only $2 per month. Even the free version supports features like multifactor authentication. You can also do it with the help of the Google Authenticator app. Before some time, the mobile support was available for premium customers only. At the moment, it is also available for free users of the app. That means LastPass offers a lot of premium features to you for free.
What Else to Know About Password Managers?
To help you get the most out of this software type, we will include some helpful pointers and tips. So, keep on reading to learn more.
Why Do You Need a Password Manager?
In 2018, one thing is clear beyond further explanation. You cannot afford to have the same password for every account. Passwords for different sites of use should not just be different, but also be all of the following at the same time:
Difficult to guess: It cannot be the name of anybody in your family followed by @123. Any password has to go beyond the powers of normal guessing by people around you.
A mix of cases and characters: The strongest passwords have a mix of upper cases, lower cases, special characters, and non-intelligent words.
Long and strong: The longer the password is, the more difficult it is to guess it. Most password fields demand that you make the password longer than 13 characters. You should not mind if it allows you even up to 20 characters.
Securely stored: It does not matter how long, strong, or imaginative your password is if anybody can auto-fill it. Storing passwords securely is a non-negotiable part of the security challenge.
To be able to at once do all these manually and manage work, education, and art could be considered overwhelming. A password manager can do all of these for little or no cost. The best password managers 2018 are easy, secure, and comprehensive.
How to Find The Perfect Password Manager?
We went through password managers with a few basic criteria in mind. Almost every good password manager makes use of a master password manager. It should be totally up to the user whether or not they are willing to share the master password with the password manager.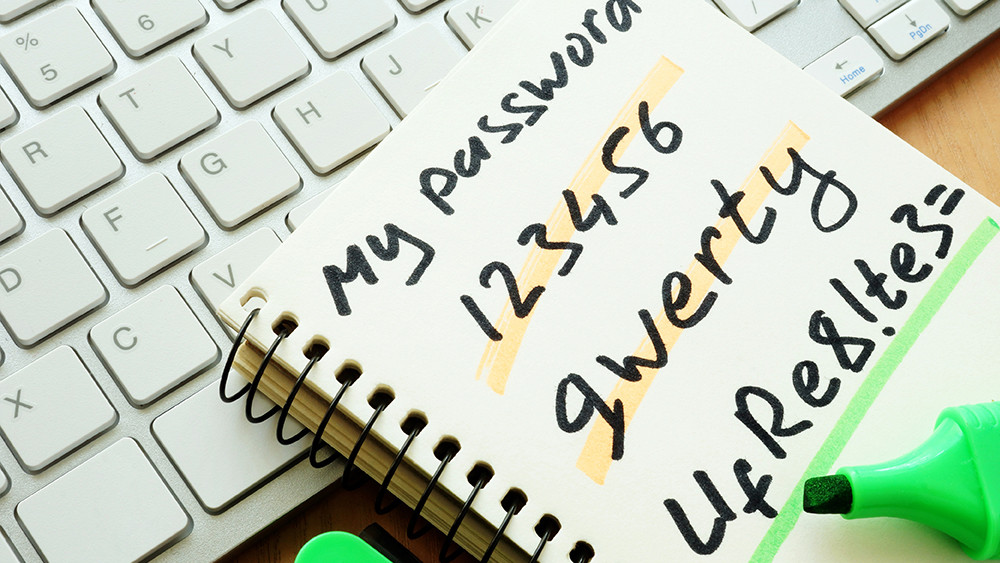 Furthermore, we access the same websites from our phones and PCs. And typing a password like '2#v%fgdt!!03fh' could be extremely difficult on the slim mobile keyword. So your password manager should be able to sync into different devices with the same account. In fact, some apps take it further and allow you to log in with the fingerprint instead of the master password. We selected the password managers based on the following features:
Cloud and local vault storage: It's clear that people vary in their choices when it comes to choosing between cloud storage and local on-device storage. It is always a plus when a password manager offers both options simultaneously.
The strength of encryption: This has to be among the two most important differentiators for any password manager. Invariably, almost every new and old service does remarkably well here.
Data safety: Many mistake data safety to be the same as encryption. At times, the master passwords have been compromised without any scratch on the encryption.
Free usage: Most password managers offer free usage even if that means a slash on the number of features. The ones that do not offer even limited free usage have failed to make the cut.
Physical authentication: Some password managers offer both a master password option along with physical authentication with the fingerprint. Such advanced authentication options always score big in our selection process.
How to Create a Strong Password That's Tough to Crack?
Finally, you should know that we have an interesting article on how to create a strong password. Even if you use a password manager, you always need to keep in mind the things that influence your security. So, make sure to take a look.
Final Thoughts
It's always wiser to be safe now than sorry later. The best password managers should not just keep your passwords safe – they also promise to save you lots of time when you consider the total time spent typing all those special characters on mobile keyboards.
Which free or paid password manager are you going to sign up for? Let us know in the comments. If you liked the article, give us a tip by sharing the article on your social network. And don't forget to follow us on Facebook and Twitter. Thanks!