Here's our overview of the 5 best free antivirus tools in 2020: 
Choosing an antivirus doesn't have to be a tedious process, even though it's true that there are hundreds of options out there. And also, all of those might seem the same at first. Still, there are ways to simplify your journey to finding the best free antivirus – and we're going to help you achieve just that.
One of the biggest online threats today is ransomware, locking your device and deleting all your data unless you surrender and pay. Then, there's malware infecting your system and keeping track of your online activity.
Phishing is also as active as ever. And all of this doesn't only affect Windows, as new breeds of malware for Android, macOS, and iOS have become highly aggressive as well.
A solution to this problem is an antivirus. In the best-case scenario, you'd go for one of the best premium-priced antivirus solutions. However, what if you don't want to pay? Can free antivirus applications protect you against today's ultra-powerful malware? Well, you might be surprised to know that they can!
Of course, free antivirus applications do come with certain limitations. And with this said, most of these limitations are bearable if you're an average home user. Or even better, if you're looking for a way to protect your devices proactively. These kinds of operations are supported by free antiviruses – which come with a varying degree of success.
To ensure you get all of the information you need, we'll be taking you through three equally important sections of this article.
As you can see below, we'll talk about what to realistically expect from an antivirus, before listing the best free antivirus applications in 2020.
What to Expect From Free Antivirus Software?
Just like with any free-of-charge types of software, you can expect certain limitations. However, it's interesting to note that these limitations aren't overly severe. Since the competition in this field is quite rough, this has produced numerous viable options to use.
We should also mention that non-demanding home users will benefit the most out of free antiviruses. This includes those who want to remove malware and make sure they're adequately protected in the future. More advanced users will undoubtedly miss many features, and they're advised to go for a premium-priced solution.
With this said, here's what to realistically expect from free antivirus software.
Robust Anti-Malware Protection: In most cases, you'll get the same level of malware protection as you'd get from a premium-priced tool. The limitation is that certain types of scans can be unavailable. High-end antimalware protection isn't typically found in free antiviruses (such as anti-ransomware shields, for example).
Anti-Phishing Mechanisms: This isn't a feature that's often advertised, but phishing protection is included in free antivirus plans. We're talking about the essential anti-phishing protection that should be sufficient enough for average home users who still exercise caution while using the Web or clicking on links in their e-mail messages.
Fully Automated Interface: Free options typically come with limited interfaces that come with fewer tools and features than their paid counterparts. In many cases, you'll get to rely on automated scans without any fine-tuning available. Paid antivirus tools can also offer fully automated interfaces, but they also meet power users' needs.
Limited Online Support: The good news is that antivirus makers typically have rich knowledge-bases and helpful tutorials. These are useful if you encounter an error, or if you want to learn more about the application you use. However, types of support via e-mail, live chat, or telephone are typically reserved for premium customers.
Occasional Extras & Goodies: As said earlier, the competition in the antivirus market is rough. Therefore, as a way to make their free antivirus stand out, some vendors offer extras like password managers or limited trials of premium features. This is where you'll find the most significant differences between free antiviruses.
Advertising & Nagging Messages: Keep in mind that free antivirus software is used as a way for antivirus vendors to persuade you into buying a subscription. Therefore, don't be surprised to see nagging messages with all kinds of offers. Even the best free antivirus software will do this – but not as often.
What NOT to Expect From Free Antivirus Software?
As you can see, a reliable free antivirus can keep you protected against malware. We're sure that many of you will be happy to hear this – especially if you're battling a malware infection right now. So, does that mean you don't have to pay for an antivirus?
Well, there's a reason why there are both a free and a premium antivirus subscription. And also, there's a reason why we're talking about subscriptions here instead of one-time purchases. It all comes down to how much effort is needed for antivirus vendors to ensure that viruses don't reach your devices.
Now, here are some of the things that you can't expect from a free antivirus.
High-End Proactive Protection: Free antivirus software will help you eliminate the most common types of malware. However, you'll still be exposed to highly sophisticated malware types, such as ransomware. Premium antiviruses come with all kinds of systems that battle against even the most advanced malware.
Parental Controls: These days, the majority of premium antivirus solutions come with parental controls. Using this tool, you can restrict how your children interact with their devices, both offline and online.
Unlimited VPN Protection: Some premium antivirus solutions come with VPNs bundled. In general, we recommend going for a dedicated VPN if you're looking for this type of privacy protection. However, there's no free antivirus with an unlimited VPN.
Identity Theft Protection: We've started to see this hugely helpful feature a few years back. That is when antivirus applications have begun to monitor the Web for stolen identity information. Today, these tools prompt you to take action if your username, e-mail address, or password is identified as being used by someone else online.
Faster Database (Signature) Updates: When it comes to malware signatures, both free and paid antivirus solutions are practically the same. This means that they have identical databases of malware signature. The difference here is that paid antivirus software will always get new signatures faster.
Better Cleanup Mechanisms: In terms of eliminating any malware traces, paid antivirus applications will always come with more advanced removal methods. This is especially true if a freshly released breed of malware infects your device.
Technical Support: Finally, know that being a premium customer will let you contact your antivirus vendor via e-mail, telephone, live chat, and you can always open a support ticket. This is something that free antivirus solutions will never offer.
Can You Really Trust Free Antivirus Applications?
Well, that's a tricky question. The truth is that antivirus applications can collect plenty of information about your device and your Web browsing. That's absolutely needed, as your antivirus needs to inspect your device to provide the best type of protection. However, it's essential to keep in mind that any information collected should be anonymized.
We'd like to remind you of a recent situation with Avast, which has been accused of spying on its users and making a profit by selling that information. Avast has also suffered a breach earlier this year, which hopefully didn't expose its users' private information.
This is a reminder that we need to think about our privacy when using any type of software. With this said, there are no indications that free antivirus software is designed to act as spyware. In other words, you don't have any reason for concern – but we recommend exercising caution.
In terms of being protected against malware, keep in mind that free antiviruses can be hugely helpful and beneficial. However, these are still free-of-charge options, which means that your cybersecurity will always be limited somehow.
With this said, it's always better to have some protection instead of being completely exposed.
The Best Free Antivirus Software in 2020 - Our Picks!
Finally, let's talk about some concrete recommendations. Based on our hands-on tests and plenty of research, these are the 5 best free antivirus picks in 2020.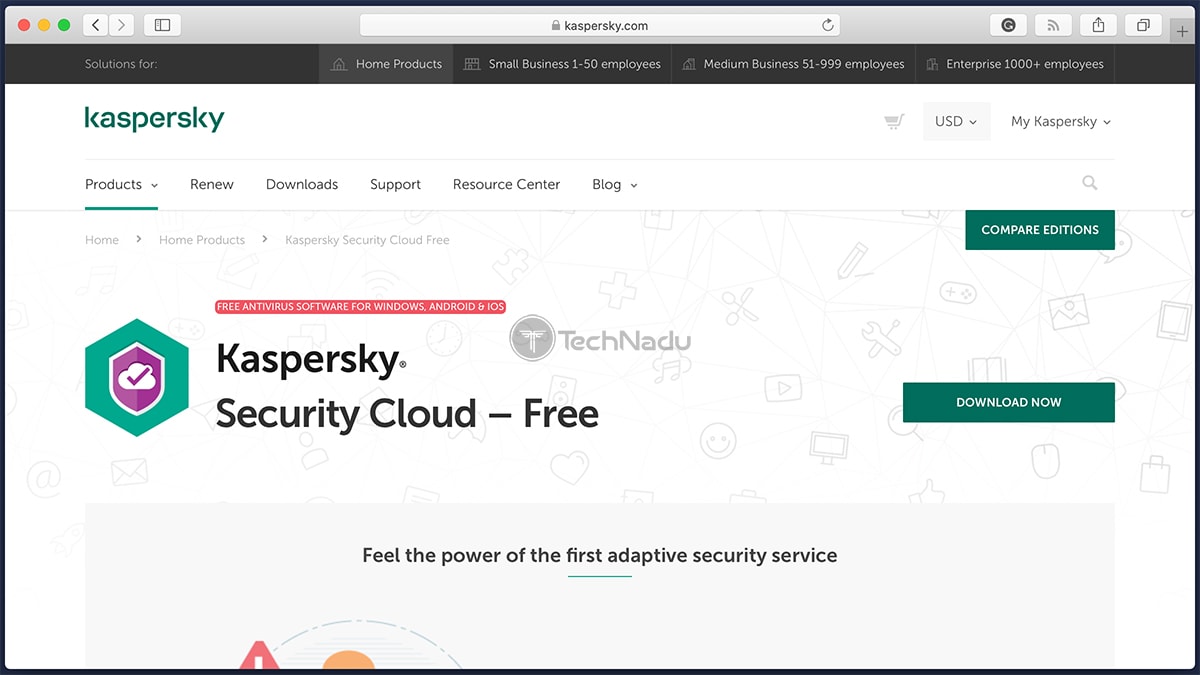 Product Overview
| | |
| --- | --- |
| Supported Platforms | Windows, Android, iOS. |
| Real-Time Antivirus Protection | YES (cloud-based scanning engine). |
| On-Demand Antivirus Scanning | YES |
| Anti-Phishing Protection | YES |
| VPN | YES (200 MB/day). |
| Password Manager | YES (15 entries). |
| Extras | Deep Web scanner; |
| Visit / Download | Kaspersky Security Cloud Free |
Kaspersky is a well-known name in the cyber-security software world, with an experience of 20+ years fighting against malware. Therefore, it's not surprising to know that Kaspersky has an incredibly wide range of products – with a free-of-charge antivirus on offer as well.
What's surprising here is how much you'll get from Kaspersky without having to pay anything. This company's free antivirus is called Kaspersky Security Cloud Free, and as you can guess by its name, it goes much beyond what a typical antivirus can do.
Of course, the core part of this antivirus is its cloud-based engine. Its primary role is to scan your device against its signature database and remove any identified malware type. This engine is also used to protect you against phishing. And most importantly, Kaspersky typically comes out on top when tested by independent labs.
Kaspersky Security Cloud Free really shines when it comes to extras. Interestingly enough, these extras aren't advertised on its website for some reason. However, you will get a VPN service, a password manager, and a "Dark Web Scanner." The VPN is limited to 200 MB/day, which is quite generous for a free VPN service. The password manager is capable of storing only 15 entries and the Dark Web Scanner checks your e-mail address against the database offered by "Have I Been Pwned."
Pros: Incredibly capable antivirus protection; One of the favorites of independent testing labs; Plenty of extras included; Not as many annoying "calls to action."
Cons: Direct tech support is missing.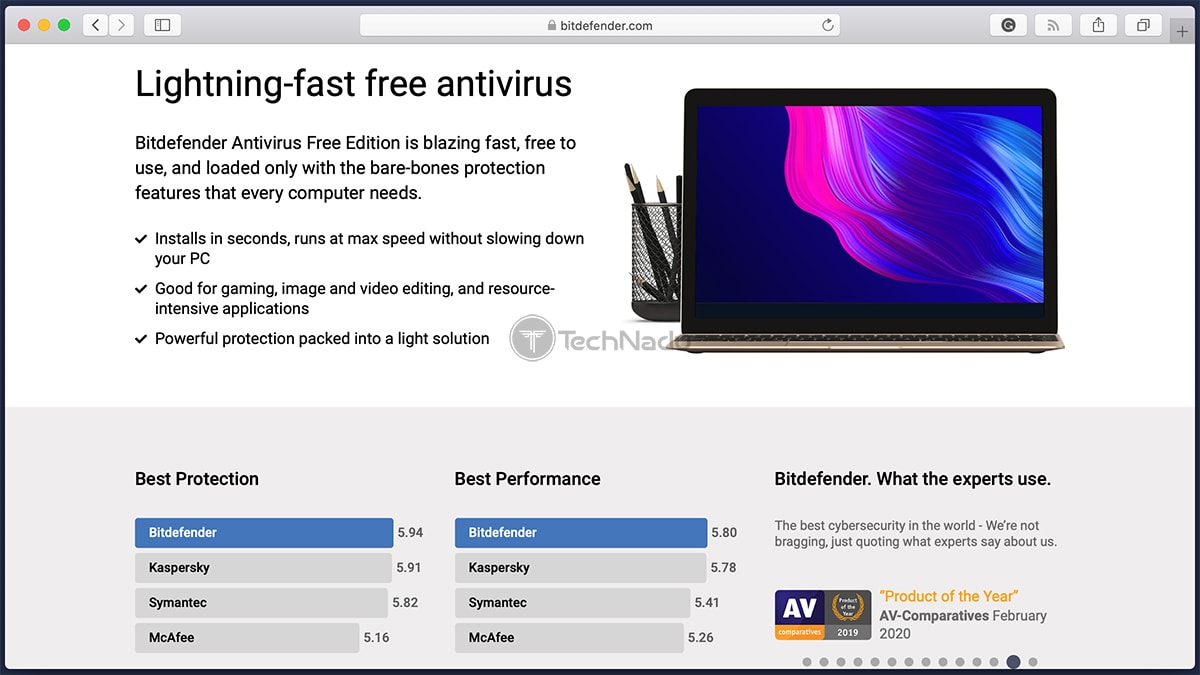 Product Overview
| | |
| --- | --- |
| Supported Platforms | Windows, macOS, and Android. |
| Real-Time Antivirus Protection | YES |
| On-Demand Antivirus Scanning | YES |
| Anti-Phishing Protection | YES |
| VPN | NO |
| Password Manager | NO |
| Extras | Protection against scam websites. |
| Visit / Download | Bitdefender Antivirus Free |
You've probably heard that antivirus software will slow down your computer's performance. Well, this might still be true for some hugely comprehensive cyber-security suites. However, when it comes to antivirus software, things have drastically improved over the years - and we have Bitdefender's free antivirus to prove that.
For several years now, Bitdefender has been slowly shifting its approach. Today, this is an incredibly "silent" antivirus that tries to do everything on its own. Once you install it, you'll only get to see it when an infection is detected. Of course, you're always free to bring up its interface – but its most prominent feature is that it's practically invisible.
This also means that Bitdefender Antivirus Free is incredibly light in terms of its performance. We recommend it especially to those who have entry-level computers.
With this said, keep in mind that we're talking about an antivirus made for Windows primarily. There's a free version for macOS and Android as well, but these are very barebones (good enough for essential antimalware protection, though).
Pros: Premium-level antivirus scanning engine; Reliable anti-phishing protection; Incredibly light on system resources; Requires minimal user input.
Cons: Missing extras; Made for Windows primarily.
3. Most Highly Optimized Free Antivirus - Panda Free Antivirus

Product Overview
| | |
| --- | --- |
| Supported Platforms | Windows, Android. |
| Real-Time Antivirus Protection | YES |
| On-Demand Antivirus Scanning | YES |
| Anti-Phishing Protection | YES |
| VPN | YES (150 MB/day). |
| Password Manager | NO |
| Extras | Multimedia/Game mode; System optimization. |
| Visit / Download | Panda Free Antivirus |
Panda isn't as famous as other antivirus vendors found in this article. However, we're sure that's about to change, as this company has managed to produce an incredibly robust antivirus. So, let's see why this is one of the best free antivirus solutions in 2020.
First of all, Panda claims high-end malware detection rates. There's no difference here between what you get with Panda's free and premium tools. You can also count on real-time protection, and you can also schedule periodic scans. All of this is powered by cloud technologies, which means you won't hear your computer's fan spinning.
Panda Free Antivirus also comes with USB protection, so you can automatically scan any USB drive you plug into your computer's ports. When it comes to extras, Panda is offering a limited VPN, where you get 150MB/day. Not quite generous, but it should be enough to protect quick Internet browsing sessions while connected to public Wi-Fi networks.
Finally, keep in mind that Panda comes with a comprehensive free antivirus for Android. You get to protect your Android device from malware, check various permissions of individual apps, optimize your device's battery life, and even track your family members and different devices on a map.
Pros: Incredibly powerful on Android; High-end malware detection rate; Smooth performance; Includes a free (limited) VPN; Enticing extras.
Cons: Not the most polished UI (still great for average home users, though).
4. Best Free Antivirus for Parental Controls - Sophos Home Free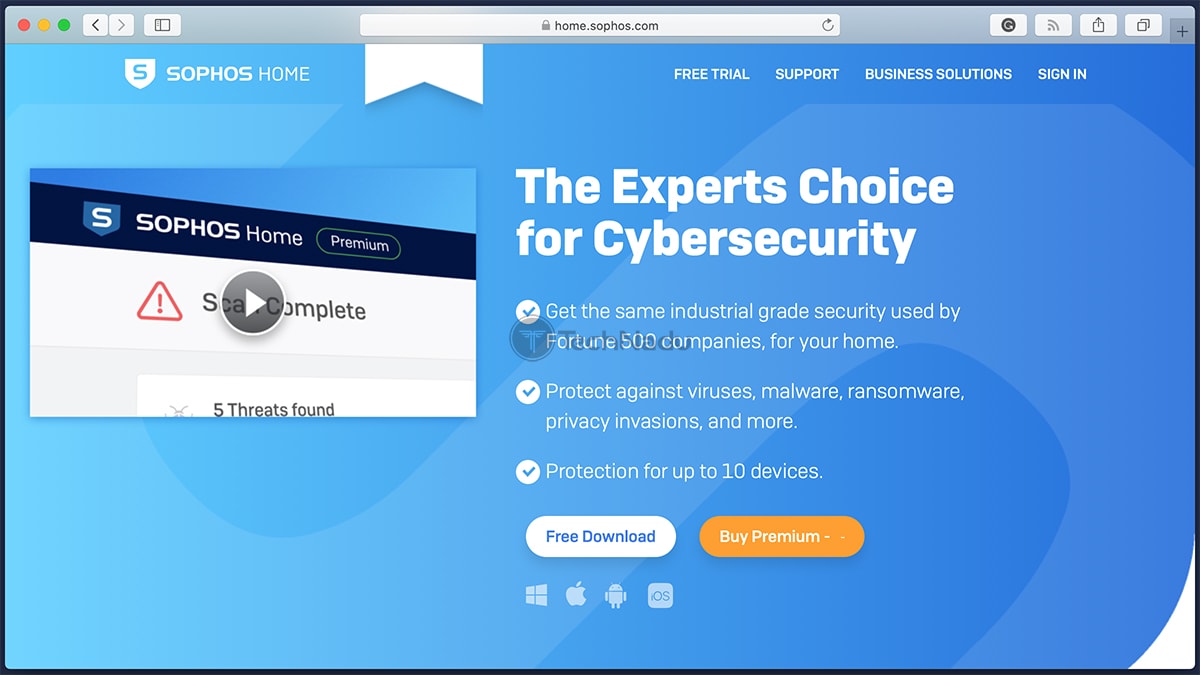 Product Overview
| | |
| --- | --- |
| Supported Platforms | Windows, macOS. |
| Real-Time Antivirus Protection | YES |
| On-Demand Antivirus Scanning | YES |
| Anti-Phishing Protection | YES |
| VPN | NO |
| Password Manager | NO |
| Extras | Parental controls; Remote management. |
| Visit / Download | Sophos Home Free |
As this antivirus's name indicates, we're talking about a suite of cyber-security tools here. Called Sophos Home Free, this antivirus is designed for both individuals and families, giving you plenty of options to protect your children.
When it comes to its antimalware protection, Sophos is known to be incredibly successful at identifying the latest threats. It might not have the best detection rates, but it should be more than enough to protect home users (and maybe even businesses). You get real-time scanning, AI-powered threat detection, and on-demand scans.
When it comes to extras, parental controls are what takes the win. Sophos Home Free can be used on up to three devices to impose restrictions and prevent your children from visiting problematic websites. Thanks to a Web browser extension, anti-phishing is included as well. Sophos even tries to prevent you from visiting scam websites by using the SophosLabs database of compromised and dangerous online locations.
Pros: Reliable antivirus protection; Incredibly strong anti-phishing mechanisms; Remote management included; Comprehensive parental controls.
Cons: Mobile devices aren't covered; Limited to three devices in total.
Product Overview
| | |
| --- | --- |
| Supported Platforms | Windows, macOS, Android, iOS. |
| Real-Time Antivirus Protection | YES |
| On-Demand Antivirus Scanning | YES |
| Anti-Phishing Protection | YES |
| VPN | YES (500 MB/month). |
| Password Manager | YES |
| Extras | Shopping extension; PC tune-up tools. |
| Visit / Download | Avira Free Antivirus |
Initially known as one of the best free antivirus tools in terms of malware detection rates, Avira Free Antivirus now offers a comprehensive cyber-security solution. Knowing that it's facing fierce competition, this antivirus has been adding plenty of features over the years, including some unique options.
For example, you get a robust set of security-related features. Avira is backed by cloud technologies, which makes it incredibly light on your system's resources. It's also known for having one of the smallest footprints in the industry. And you get on-demand and real-time protection against malware.
In terms of protecting your privacy, Avira Free Antivirus comes with a limited VPN service (500 MB/month), and you also get a limited password manager. There's also a tool that scans your privacy settings and recommends options to close any security holes in your software. And let's not forget that Avira also includes a mechanism for optimizing your Windows PC by removing junk files, speeding up your boot time, and more.
Lastly, let's not forget to mention that there are significant differences in various editions of Avira Free Antivirus – depending on the platform you use. The most feature-rich version is the one made for Windows. Mac users are going to miss plenty of privacy-related features. And Android/iOS versions are pretty powerful on their own, coming with a VPN with a traffic limit of 100 MB/day.
Pros: A comprehensive set of features; Polished UI design; Very lightweight; Powerful antimalware protection; Includes a VPN; Plenty of extras.
Cons: Discrepancies in versions for different operating systems.
FAQ
To help you resolve any doubt, we've answered some of the most prominent and frequently asked questions. Check them out below.
What's the Best Free Antivirus for Windows?
Does Windows 10 Need an Antivirus?
Windows 10 indeed comes with its antivirus – Windows Defender. However, any of the options found in this article will do a better job of protecting your PC. Using a dedicated antivirus from a reputable vendor will bring you a higher detection rate, along with plenty of extras such as a VPN, password manager, identity protection, and more.
Is Windows Defender Enough to Protect My PC?
It's better to use any antivirus than none – so it's good that Windows Defender comes pre-installed on Windows 10. However, we strongly recommend using a dedicated antivirus such as Kaspersky Security Cloud Free or Bitdefender Antivirus Free – as these come with extras that Windows Defender doesn't offer.
Which Free Antivirus Should You Use on a Laptop?
If you want to preserve the battery life on your laptop, we recommend using Panda Free Antivirus. Avira Free Antivirus is also an exciting option as it comes with lightweight performance and allows you to optimize your Windows laptop.
Which Free Antivirus Is Best for a Mac?
As per our hands-on tests, the best free antivirus for macOS is Avira Free Antivirus. It comes with a high malware detection rate, it's usable for use on laptops and includes exciting extras.
What's the Best Free Antivirus for Android?
Panda Free Antivirus comes as a highly enticing antivirus for Android devices. You get to protect your smartphone from the latest digital threats, and there's even a (limited) VPN included.
Which Free Antivirus is Best for an iPhone?
If you're using an iPhone, we recommend you consider using Avira Free Antivirus. You get a highly polished app capable of detecting all kinds of malware, and there's also a VPN service included (limited to 100 MB/day).
How Do I Get a Free Antivirus?
You can download a free antivirus by using the links provided in this article. They'll take you to various antivirus vendors' official websites, from where you simply download their installation files. If you're on Android or iOS, you need to visit your devices' App Store and download the chosen antivirus from there.
How Can I Get Premium Antivirus for Free?
Some antivirus applications include limited trials of their premium versions. For example, Sophos Home Free comes with a premium 30-day trial. Once the trial ends, you will be left with its free version, which is still more than capable of protecting you.
So, those would be the best free antivirus tools in 2020. In case you have any questions or doubts, don't hesitate to post your comment below. And of course, make sure to let us know about your pick.
Stay tuned to TechNadu for more interesting stories on protecting your device and your privacy on the Web!