VeePN is a relatively new yet truly impressive VPN service based in Panama. Notably, the company puts a strong emphasis on your privacy, so it doesn't store sensitive data when you use its service. 
Moreover, since it's based outside the 5/9/14 alliance jurisdiction, VeePN doesn't share your data with any government. And the cherry on top? VeePN has never been hacked and has successfully passed an independent audit. 
It also keeps you safe online with top-notch tunneling protocols like WireGuard and OpenVPN. And when it comes to streaming, VeePN shines. However, both gaming and torrenting performances are pretty basic.
Before we delve deeper into VeePN, here's a summary of its offerings.
| | |
| --- | --- |
| Jurisdiction | Panama. |
| Logs | No logging - independently audited. |
| Servers | 2,500+ in 56 countries. |
| Simultaneous Connections | 10. |
| Supported Devices | Windows, macOS, Android, iOS, Linux, routers, and more. |
| Features | Kill switch, DNS leak protection, NetGuard, Double VPN, split tunneling, and more. |
| Protocols | IKEv2, OpenVPN, WireGuard, and Shadowsocks. |
| Supports | Torrenting, gaming, Netflix, Hulu, Max, Amazon Prime, and more. |
| Customer Support | Support tickets, troubleshooting guides, live chat, and setup tutorials.  |
| Price | From $1.67/month. |
| Live Deal | 85% OFF (5-year plan) |
| Our Score | 8.4 out of 10. |
This VeePN review examines its ease of use, security, pricing, and more based on our tests. You can see our guide on how we review VPNs for more insight. 
Alternatively, you can check out our best VPNs or read our NordVPN review to see why we recommend them.
Background, Jurisdiction & Reputation
VeePN is a relatively new VPN provider, but it's privacy-conscious, keeps no logs, and is based in a safe jurisdiction. It also had a successful third-party audit. Our Score: 10/10
VPNs handle your sensitive data. In this section, we'll assess VeePN's background, privacy record, and data leaks to determine your trust in their service.
Where Is VeePN Based?
VeePN is based in Panama. Panama is a great location choice for VPN providers as it's privacy-sensitive and has no data retention laws. The country is also not a member state of the 5/9/14 Eyes Alliance. As a result, VeePN isn't obligated to release your data to any government.
Another good thing is that, besides VeePN's secure location, it also follows a strict no-logs policy. Its privacy policy is transparent, and it goes the extra mile by providing the company's full address on the website. This ensures full transparency, which is quite commendable. 
VeePN Corp privately owns VeePN, although its customer support couldn't provide more useful information about the company.
Did VeePN Leak Private Data in the Past? 
No, VeePN hasn't leaked private data in the past. VeePN adheres to a strict no-logs policy to assure you that your data isn't stored. Its robust privacy policy emphasizes that it doesn't retain personal logs. The provider only collects the necessary information for your account's functionality. 
Additionally, for promotional purposes, the company relies on anonymous bulk data. Thus far, it's reassuring to see that VeePN appears to be upholding this commitment by implementing stringent protocols to prevent unauthorized access to its servers. 
Recently, VeePN released a blog post confirming an audit by a third-party company, Cure53, in 2021. Cure53 is a German cybersecurity company that has audited more popular VPNs like Surfshark.
The Cure53 team's report identified only three security-related findings. Two qualify as security vulnerabilities, while the third is categorized as a general weakness with relatively low exploitation potential. 
The VeePN team promptly addressed all the issues, and Cure53 has thoroughly verified these fixes.
Supported Platforms & Devices
VeePN supports computers, mobile devices, browser extensions, routers, and other devices. It also lets you connect 10 devices simultaneously, which is why it scores so high. Our Score: 10/10
A good VPN should cover all the popular devices to protect your data. Here's a breakdown of how good VeePN is in this regard.
| | |
| --- | --- |
| Desktop Platforms | Windows, macOS, Linux. |
| Mobile Platforms | Android, iOS. |
| Web Browsers | Google Chrome, Mozilla Firefox, Microsoft Edge. |
| Routers | DD-WRT and Tomato. |
| Other Devices  | Apple TV, Smart TV, Android TV, Firestick, PlayStation, and Xbox. |
The table above highlights VeePN's extensive compatibility across various platforms and devices. VeePN device coverage is broad, with native apps for Windows, macOS, Linux, Android, and iOS devices. But it doesn't stop there.
VeePN offers VPN proxy extensions for Chrome, Edge, and Firefox browsers. Furthermore, if you have less common platforms, VeePN doesn't disappoint. You can also use VeePN on Android TV, Smart TV, Fire TV, and more.
Additionally, VeePN supports router installations, although you'll have to set them up manually. As long as your router supports OpenVPN, you can install VeePN on it. You can always contact VeePN's customer support or read their blog posts for directions. 
VeePN lets you connect to 10 devices at once for consistent protection across your browsing. This means that you can unblock websites and access geo-restricted content on many, if not all, of your devices. 
Installation & Initial Configuration
Setting up VeePN is as easy as it gets, with a streamlined process any non-techy user can follow. Our Score: 10/10
In this section, we'll evaluate how easy it is to download and install VeePN on popular devices. Here's what you can expect. 
How to Download and Use VeePN?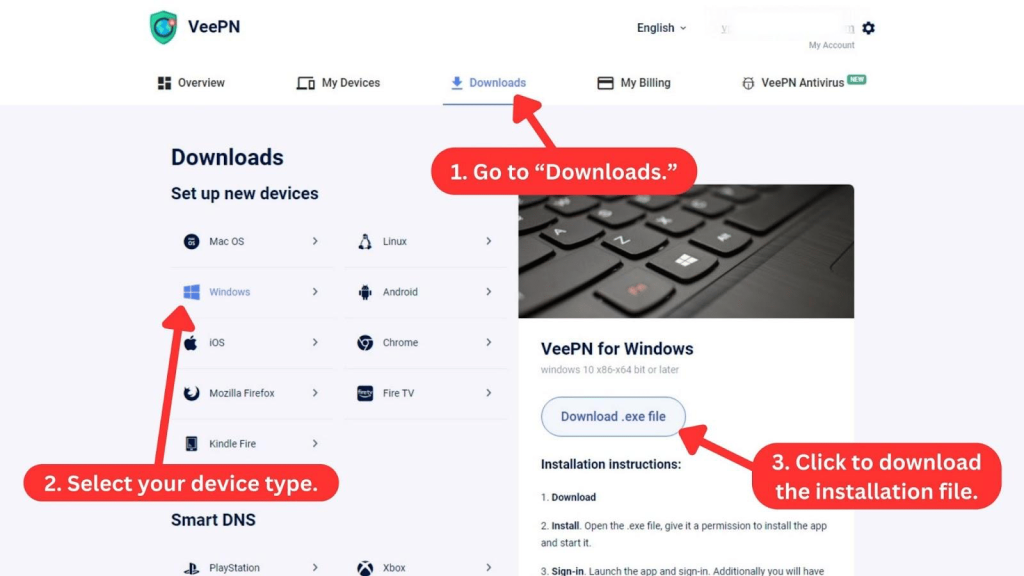 To download VeePN, start by subscribing to its service and creating an account. Then, download the installation file and install the app on your device. 
Here's a step-by-step guide to installing VeePN:
Subscribe to VeePN using any Web browser. 
Return to VeePN's website and log in using your account details.
Click "Downloads" and select your device's OS.
Download the installation file.
Follow the screen prompts and install the VeePN app.
Launch the app and log in using your credentials. 
Click on any server location to connect. That's it!
We also recommend activating the kill switch once you launch VeePN. To do this, simply toggle the kill switch button on the home page. The app will also ask how you want it to behave once you're connected to your Wi-Fi. You can set it to do nothing, connect to a server, or disconnect immediately. 
Now may also be a good time to activate its ad- or tracker-blocking features. You can turn those features on in Settings > VPN > Privacy.  
Prominent Features
VeePN offers a decent selection of basic and advanced features, which should cover most of your security and privacy needs. It also includes an ad blocker but doesn't offer dedicated IPs. Our Score: 8.5/10
VeePN has enough key features to protect you online, adding to the service's appeal. This section of our VeePN review will explore those useful features. 
Here's what you can expect from VeePN's features:
High-Level Encryption: You get the same level of security equivalent to the US government's standards through VeePN's advanced AES-256 encryption. When paired with its solid protocols, you're protected from hackers or data leaks.
Kill Switch: When turned on, VeePN blocks your device from connecting to the Internet if the VPN isn't active. If you unexpectedly lose your Internet connection, the kill switch ensures that none of your data is exposed. You can use the kill switch on Android, iOS, Windows, macOS, and Linux apps.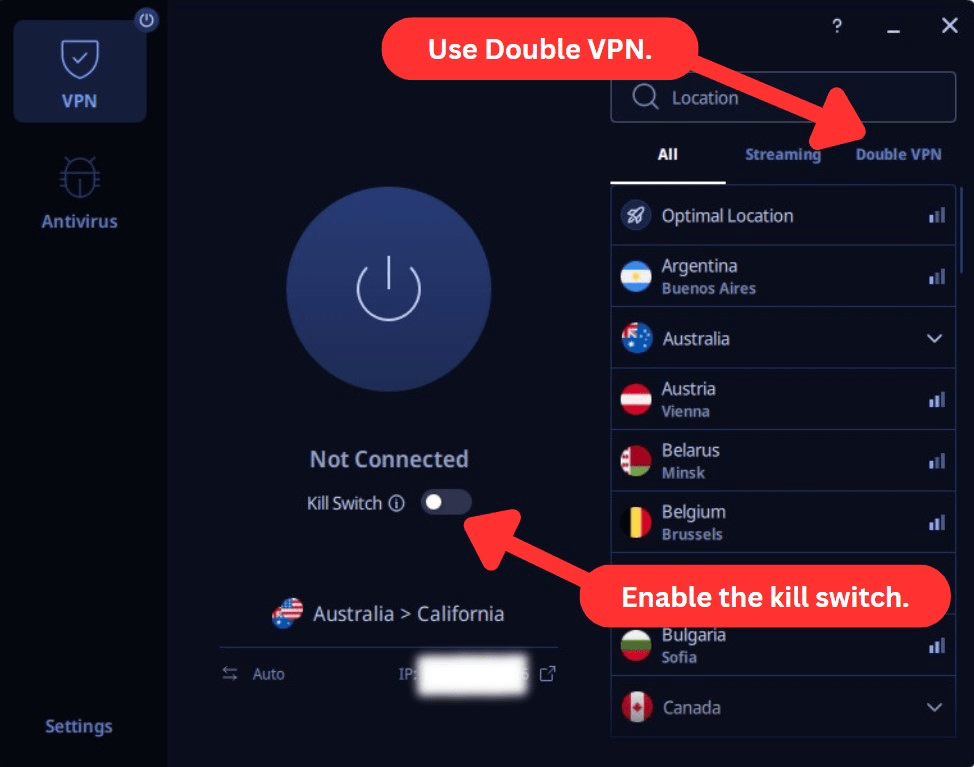 Double VPN: Once enabled, you'll route your Internet traffic through two servers, creating a double layer of encryption for enhanced security. 
Split Tunneling: VeePN allows you to decide which apps you want to use with your VPN. Other apps can connect to the Internet normally without a VPN connection. This feature is only available on Windows and Android apps. 

Auto-Connect: The app can automatically activate a VPN connection immediately after you launch it or when you connect to certain Wi-Fi networks. 
DNS Leak Protection: This feature ensures that your browsing activity is safe from your Internet service provider at all times. Otherwise, DNS leaks can expose your IP address and location to your ISP as if you weren't using a VPN.
Ad Blocker (NetGuard): VeePN lets you block ads and pop-ups on your device, and the app can also stop online tracking and block known malicious websites. 
Custom DNS: You can choose different DNS settings from the ones offered by VeePN if you think it's too slow, unreliable, or you simply have a preference. 
Server Count & Infrastructure
VeePN's relatively new service is off to a great start, with 2,500+ servers in 90+ locations across 56 countries. Our Score: 7.5/10
VeePN enables you to connect to many countries, providing access to diverse IP addresses. This means you're more likely to find a server or location that works for your needs. 
| | |
| --- | --- |
| Number of Servers | 2,500+ |
| Number of Locations  | 90+ |
| Number of Countries  | 56 |
| Specific Cities Selection  | YES |
| Unlimited Switching | YES |
VeePN has a broad server network consisting of over 2,500 RAM-only servers in 90+ locations spread across 56 countries. The VPN provider also allows you to choose servers at the city level, which grants you even more flexibility. 
Unfortunately, despite offering 2,500 servers, VeePN didn't make our list of VPNs with the most servers. This is because some of its competitors, like ExpressVPN, offer many more RAM-only servers in more locations. Also, VeePN doesn't have dedicated IPs. 
To its credit, VeePN has 11 streaming-optimized servers. These servers can get you faster speeds on streams and more access to geo-blocked content. Its double VPN feature also works on five servers, which means you can connect to two of those servers at once. 
Finally, VeePN doesn't use VPN virtual locations. VPNs that use virtual servers give you a virtual IP address in the location you selected, although you're physically connected to another location. All of VeePN's IP addresses are connected to physical servers. 
UI/UX Design & Ease of Use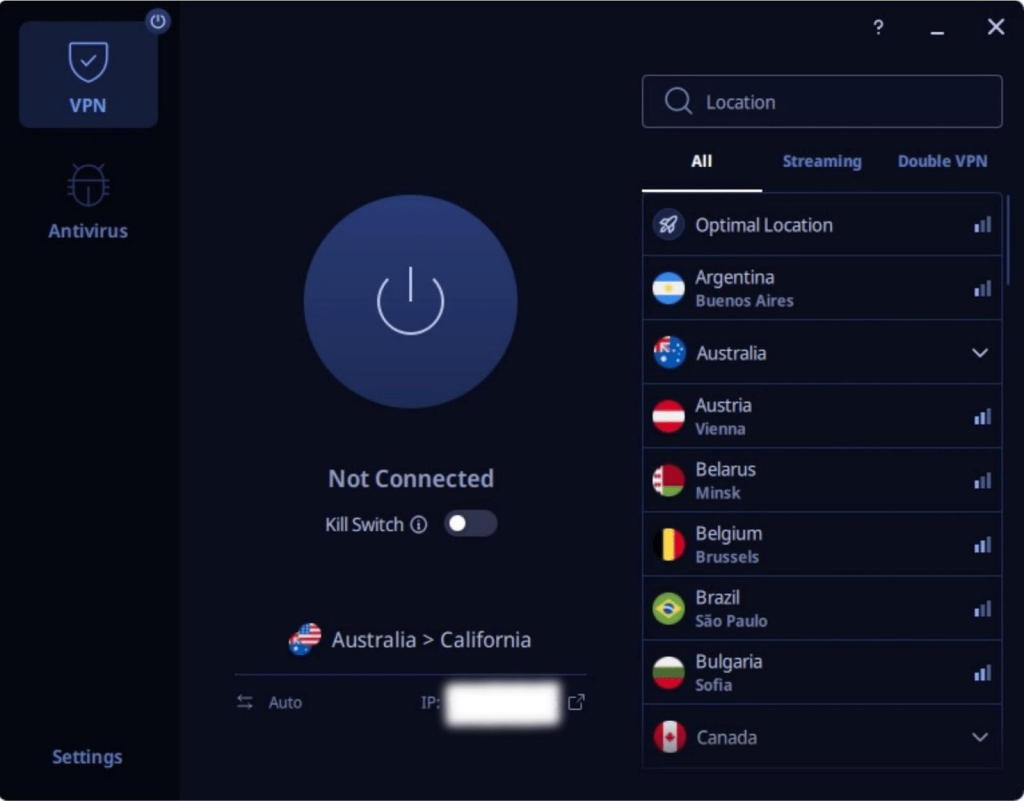 VeePN is easy to use and navigate, and newbies will have no problem using the app regularly. Our Score: 8/10 
In this section, we'll review the user interface and ease of use of VeePN for desktop, mobile apps, and browser extensions.
How Well Does VeePN Work on Desktop?
VeePN works very well on desktops. The main screen of the VeePN Windows app is centered around a prominent ON/OFF button. When you connect to a server, the button turns green, and a timer begins at the bottom, signifying that the VPN is now active. 
Below this ON/OFF button, you'll find the Kill Switch toggle button. On the right side of the screen is a list of server locations grouped into three categories: All, Streaming, and Double VPN. You can also manually search for server locations using the search bar above these lists.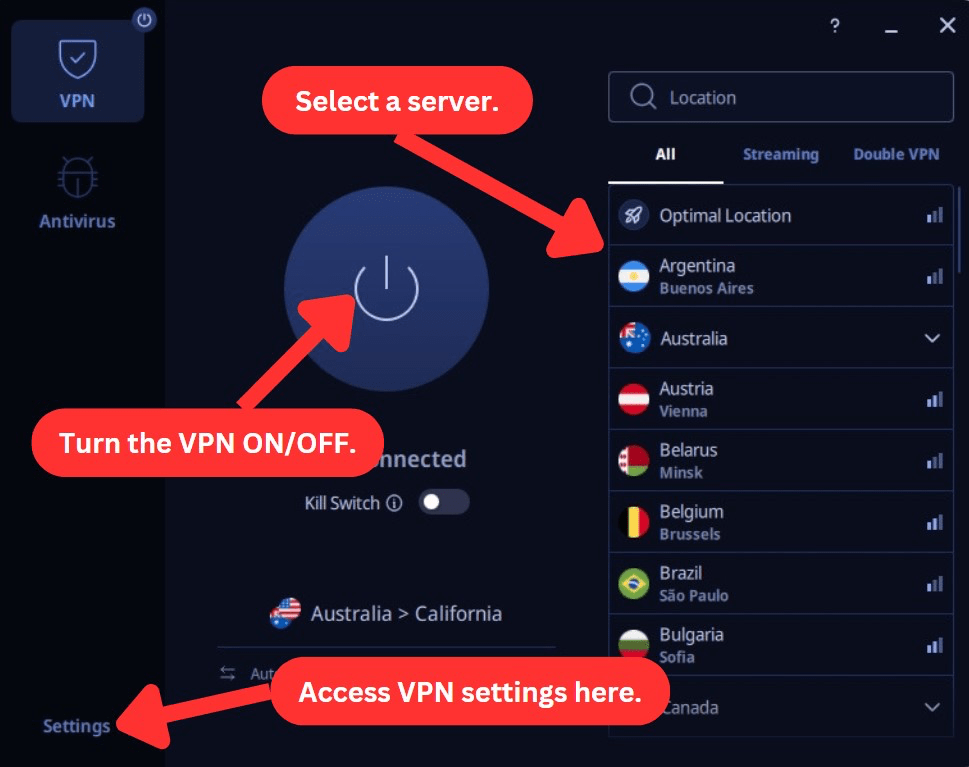 The left side of the window features three options: VPN, Antivirus, and Settings. The VPN option leads to the VeePN home screen, while the "Antivirus" button redirects you to VeePN's antivirus add-on sales page. Lastly, you'll find four tabs under "Settings."
Here's what you'll find on the settings page:
App: This tab shows you basic customization settings, including the theme, language, app window, notifications, and server list settings.
VPN: Here, you'll find two tabs. The "Connection" tab lets you choose VPN protocols, set auto-connect and network preferences, and activate split tunneling. Conversely, the "Privacy" tab is where you can block ads, online tracking, and malicious websites.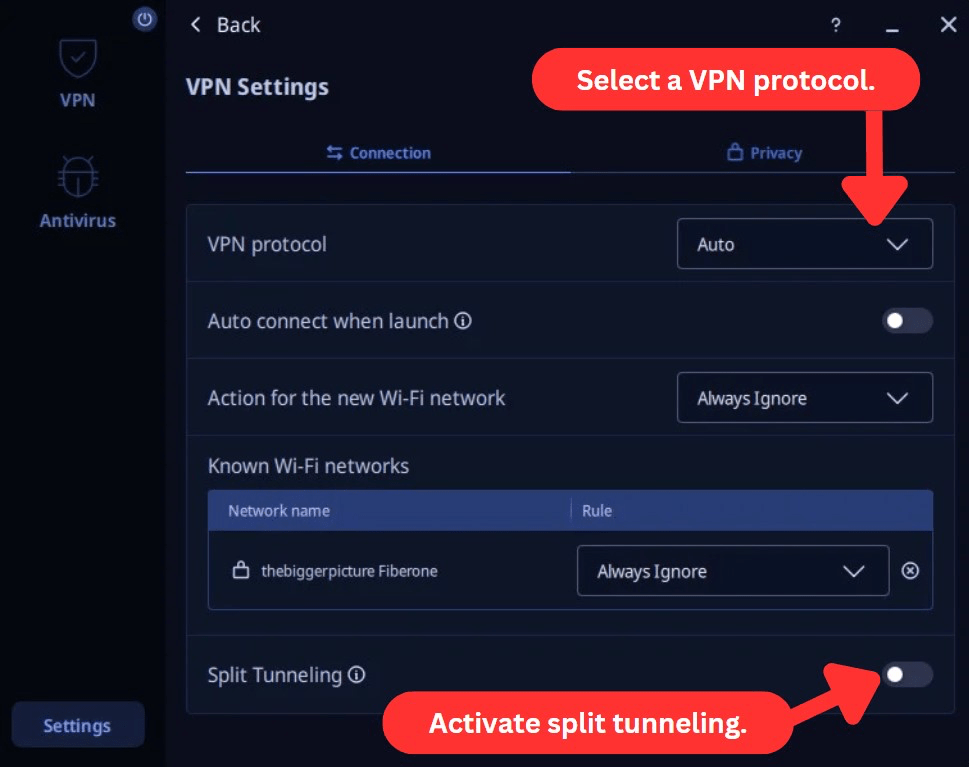 Account: This is where you manage your VPN subscription or buy the VeePN antivirus.
Help: You can troubleshoot the app, report problems, and get support links on this tab.  
How Well Does VeePN Work on Mobile Platforms?
VeePN for mobile platforms works excellently. Although the design of VeePN for Android and iOS is slightly different, they share many similar settings and features. The home page on both apps has a large, centered ON/OFF switch. Below it, you'll find the option to switch servers. 
However, the difference in the design is more noticeable once you go further into the app. The settings are differently arranged on the iOS app, which also has settings for "Bypasser" and ad blocking. 
"Bypasser" is like split tunneling, but for websites. It excludes pre-selected websites from your VPN connection when using Safari.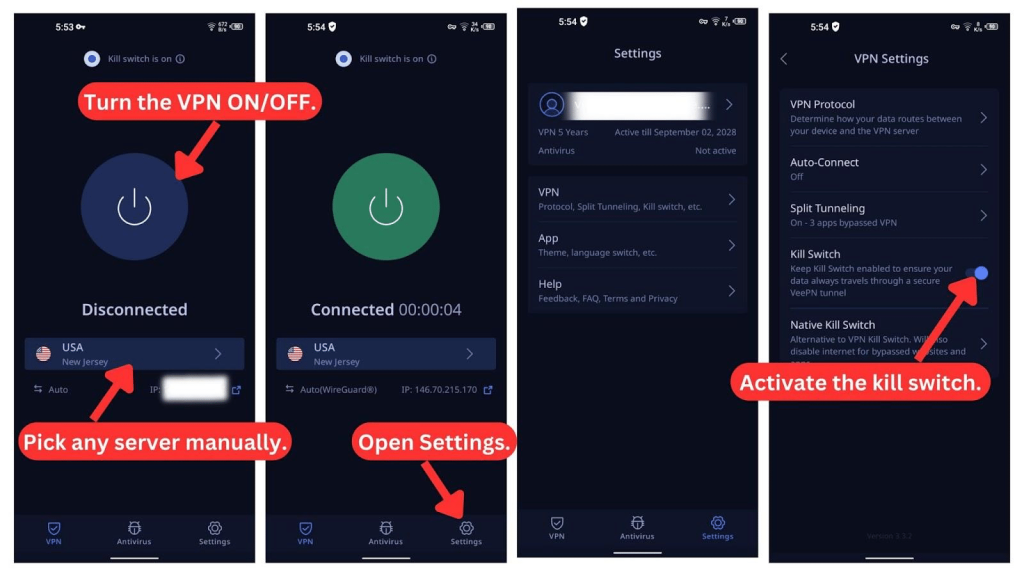 Here's a list of VeePN app settings on Android:
VPN: This section allows you to change protocols, turn on the kill switch and split tunneling, and set auto-connect options. 
App: You can change app themes, select your preferred language, or restore the app's default settings. 
Help: Here, you can get help through support tickets or access live chat in the FAQs section. You can also read the VPN's terms of service and privacy policy. 
How Well Do VeePN's Web Browser Extensions Work?
VeePN's browser extensions perform really well. The Chrome extension has the same design and functionality as the Firefox extension as well as the Edge browser extension. There's also a shortcut to access the two connection modes (i.e., Smart Locations and Exclude List) conveniently located on the upper right side of the extension.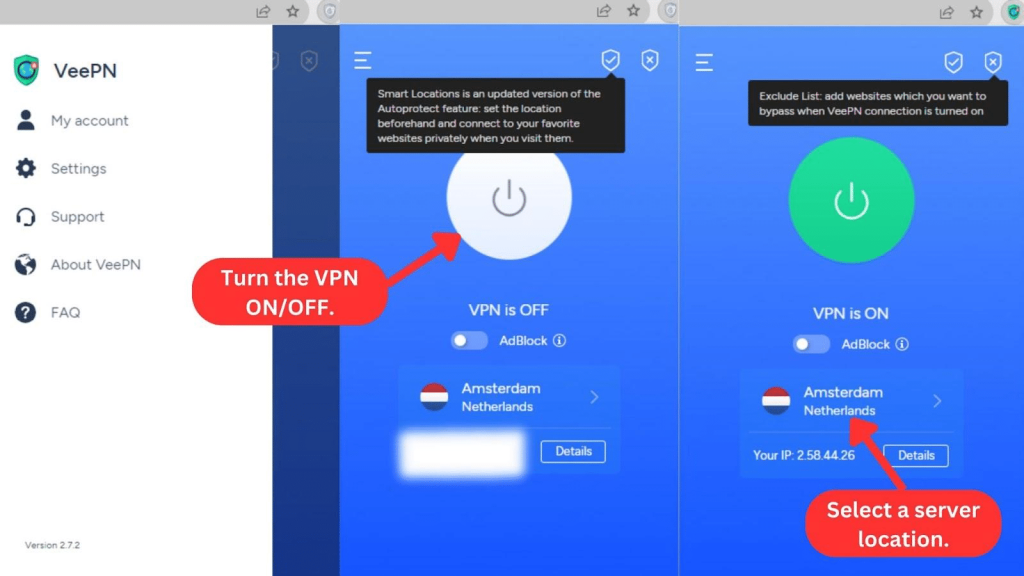 Here's a rundown of the menu items on the Firefox and Chrome extensions: 
My account: Here, you can access your VeePN subscription information. 
Settings: The extension allows you to customize security, privacy, and connection settings, amongst others.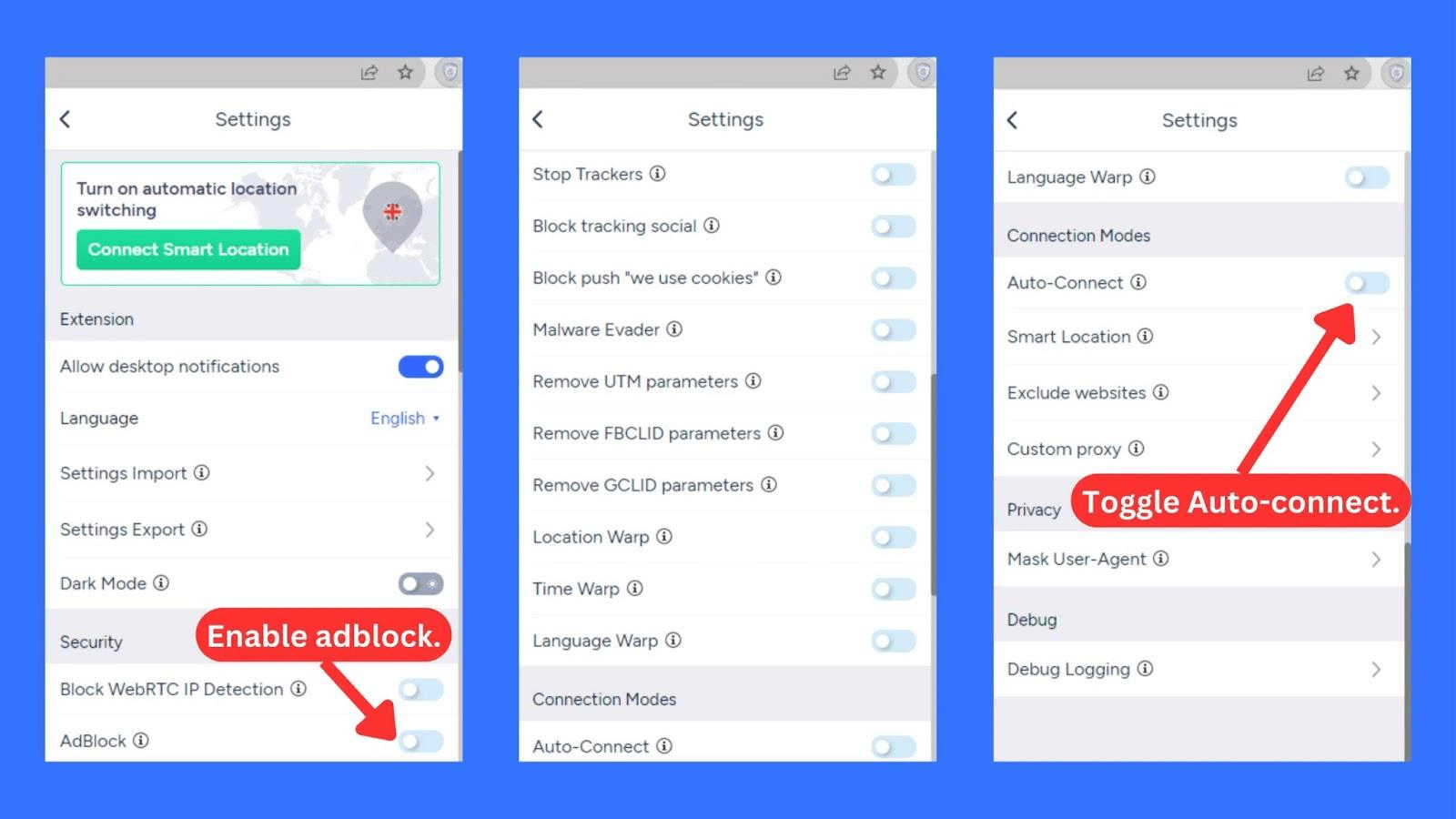 Support: Clicking this menu item redirects you to the Support page on VeePN's website.
About VeePN: This section provides links to VeePN's official website homepage, Privacy Policy, and Terms of Service. 
FAQs: The extension redirects you to the Troubleshooting page on the VeePN website once you click this link. 
It's also worth mentioning that the free VeePN extension allows you to connect to six countries. But if you get the premium, you'll have access to all server locations with unlimited speed and servers optimized for streaming. 
Media Streaming, Torrenting, and Gaming Support
VeePN bypasses geo-restricted content on numerous media streaming services, including Netflix US. However, its torrenting and gaming performance are average. Our Score: 6/10
The best VPNs ensure you can access online content smoothly. In this segment, we'll take a look at what VeePN has in store as far as streaming, torrenting, and gaming capabilities go. 
Is VeePN Good for Streaming?
Yes, VeePN is a good VPN for streaming. It's not on our best streaming VPN list, but our streams were smooth and stable, and we accessed geo-blocked content on many streaming platforms. 
We successfully unblocked US-based platforms like Netflix, Max, and Hulu during our tests. We also unblocked on-demand movies, TV shows, and live TV streams on non-US-based platforms. 
Here are some US-based streaming platforms that VeePN unblocks:
| | | |
| --- | --- | --- |
| Netflix | Max | Hulu |
| Discovery+ | Paramount+ | Apple TV+ |
| Prime Video | Fubo TV | DirectTV Stream |
| Sling TV | Disney+ | Crunchyroll |
When it comes to non-US streaming platforms, here are some streaming services that VeePN unblocked:
| | | |
| --- | --- | --- |
| ITVX (UK) | Channel 4 (UK) | CBC (Canada) |
| RaiPlay (Italy) | 9NOW Live (Australia) | CTV Live (Canada) |
| DSTV (S. Africa) | RTE (Spain) | Zattoo (Germany) |
| BBC iPlayer | GloboPlay (Brazil) | DSTV (S. Africa) |
You're welcome to select any of its 11 dedicated streaming servers for a seamless experience. Thanks to unlimited bandwidth, you can also stream unrestrictedly.
Is VeePN Good for Torrenting?
No, VeePN isn't good for torrenting - it's average at best. The vast majority of its servers allowed us to download torrents hassle-free. There are also no bandwidth limits or data usage, so we downloaded without restrictions. However, the speeds of our downloads were quite slow. 
Unlike the best VPN for torrents, VeePN lacks dedicated servers for torrenting. These servers are built specifically to improve access and speed when seeding and peering. Also, it doesn't have port forwarding or SOCKS5 servers, which improve P2P traffic. But you can rely on its kill switch to prevent IP leaks when you're torrenting. 
Is VeePN Good for Gaming?
Yes, VeePN is a good VPN for light gaming. You can use it as a gaming VPN, but you might get some lag on distant servers. A gaming-friendly VPN should have gaming-specific features like dedicated gaming servers, blazing-fast speeds, low latency, and lag-free connections. Unfortunately, these features are absent in VeePN.
However, VeePN's Double VPN feature allows you to optimize for faster speeds in general. Since you can connect through your routers, VeePN can also unblock games on your console. 
So, you can play casual games like "Among Us" or "Animal Farm" from any location you choose without issues. But we wouldn't recommend VeePN for competitive online games like "Call of Duty" or "Fortnite."
Security & Privacy
VeePN doesn't leak personal data and provides a sufficient protocol selection to guarantee security and privacy. Our Score: 8.5/10
This section of our VeePN review focuses on three critical factors when selecting a VPN: encryption protocols, logging policies, and IP/DNS leaks. 
VeePN Protocols
Although it's missing a few advanced features like dedicated IPs, VeePN has a solid range of VPN protocols on desktop and mobile devices. 
The table below shows which protocols are supported across VeePN's apps:
| | | | | |
| --- | --- | --- | --- | --- |
| | OpenVPN | WireGuard | IKEv2 | Shadowsocks |
| Windows | YES | YES | YES | YES |
| macOS | YES | YES | YES | NO |
| Linux | YES | YES | YES | NO |
| iOS | YES | YES | YES | NO |
| Android | YES | YES | YES | YES |
Shadowsocks: This impressive protocol was developed to bypass Internet censorship in countries like China. However, it has gained popularity and is used to access geo-restricted content all over the world.  
WireGuard: This is a leaner and faster alternative to OpenVPN. It's the newest protocol it offers but also the fastest, making it great for streaming content. VeePN provides Wireguard support on its apps for iOS, Android, macOS, Linux, and Windows. 
IKEv2: Available on Linux, Windows, Android, macOS, and iOS apps, this stable protocol is great if you switch between Wi-Fi and mobile networks often. It also offers a balance between speed and security.
OpenVPN: This popular protocol is best for protecting sensitive data, such as online transactions or when on public Wi-Fi. VeePN has two variations of this protocol: UDP and TCP. Basically, UDP is faster, while TCP is safer to use. OpenVPN is also the only protocol supported on VeePN router setups. 
Does VeePN Keep Logs?
No, VeePN doesn't keep logs. VeePN's privacy policy promises that your usage data and activity aren't collected, used, or shared. 
The provider doesn't retain sensitive data like session details, IP addresses, browsing history, or connection timestamps. Cure53, an independent cybersecurity auditor, has verified these claims. 
However, VeePN stores necessary information, such as email addresses and payment data, for subscription purposes. It also collects device data like sessions, hardware models, and OS versions. 
The good news is that VeePN Corp. assures that data isn't permanently linked to your device. They state that this information is only required to monitor the number of simultaneous connections and enable the optional antivirus addon. VeePN may also collect an advertising ID when you visit its website or use any of its apps.
Does VeePN Leak/Expose Your Private Data?
No, VeePN doesn't leak or expose your private data. To confirm its claims, we connected to its servers and ran a DNS leak test.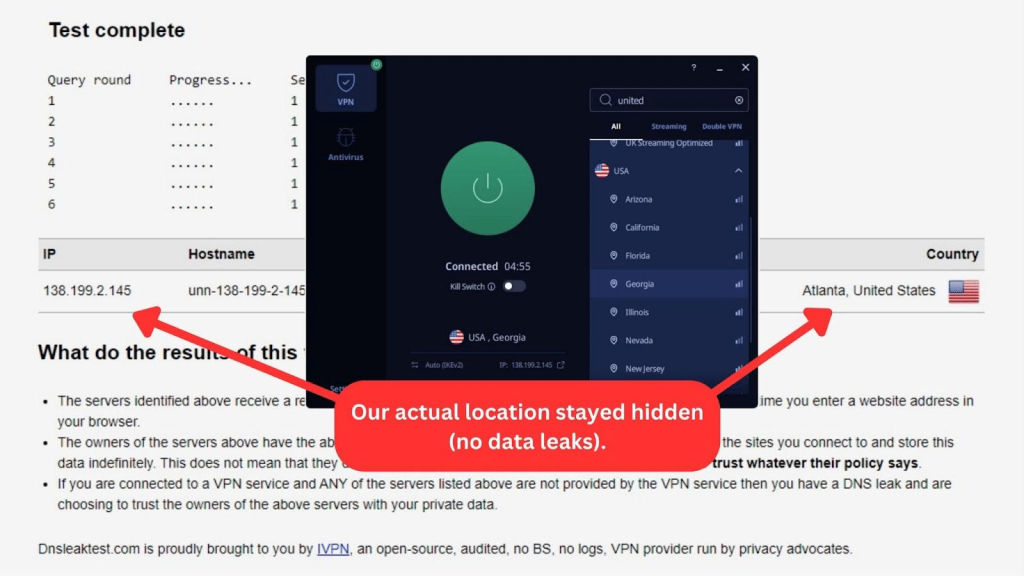 As you can see in the image above, our original IP address was totally hidden from ISPs, bad actors, or hackers. ISPs could only see our virtual IP address, which makes it difficult to track our online activities.
Speed & Performance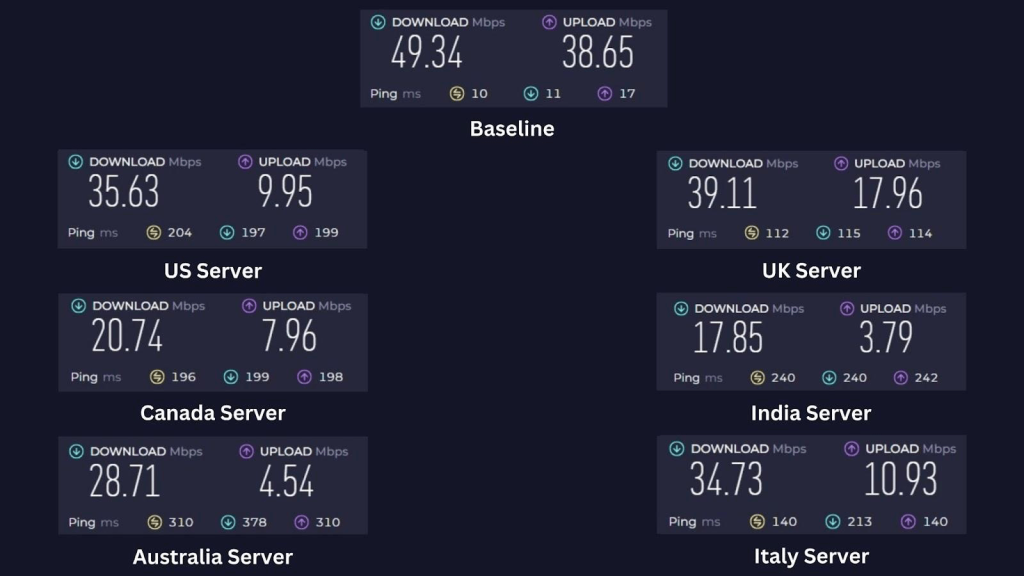 VeePN's speed test results were good enough for most activities, with a 41% drop in browsing speed on average. Our Score: 7/10
This VeePN review also shows how fast the servers are. We checked our speeds before and after turning on the VPN. 
Without a VPN connection, we record a baseline 49.34 Mbps download speed and a 38.65 Mbps upload speed. VPNs are expected to slow down browsing speeds due to their strong encryption and distance from servers. 
Here's how VeePN's servers performed:
USA Server (Chicago): VeePN gave us fast speeds on the US server. We experienced a small 28% speed reduction, which is pretty good considering the distance. Our download speed was 35.63 Mbps, and our upload speed was 9.95 Mbps.
UK Server (London): As anticipated, this server performed better than the US server. It was only 21% slower since it was closer. We downloaded at 39.11 Mbps and uploaded at 17.96 Mbps.
Canada Server (Toronto): The speed result displayed from this server was quite disappointing. We got a 58% speed reduction. Our download speed was only 20.74 Mbps, and our upload speed was just 7.96 Mbps.
India Server (Mumbai): Considering the distance from our current location, we didn't expect much from the server. Hence, the 64% speed reduction wasn't much of a surprise. Our download speed was 17.85 Mbps, and our upload speed was only 3.79 Mbps.
Australia Server (Perth): This server was far from us, and we thought the speed would drop significantly. But surprisingly, it performed better than the Indian server. We only had a 42% speed reduction, with a 28.71 Mbps download speed and a 4.54 Mbps upload speed.
Italy Server (Milan): Since this server was nearest to us, we expected it to be fast. We had a speedy and steady connection, with only a 30% speed drop. Our download speed was 34.73 Mbps, and our upload speed was 10.93 Mbps, which is acceptable.
| | | | |
| --- | --- | --- | --- |
| | Download Speed | Upload Speed  | Speed Reduction |
| Baseline Data | 49.34 Mbps | 38.65 Mbps | 0% |
| US Server | 35.63 Mbps | 9.95 Mbps | 28%  |
| UK Server  | 39.11 Mbps | 17.96 Mbps | 21%  |
| Canada Server | 20.74 Mbps | 7.96 Mbps | 58%  |
| Singapore Server | 17.85 Mbps | 3.79 Mbps | 64%  |
| Australia Server  | 28.71 Mbps | 4.54 Mbps | 42%  |
| Italy Server | 34.73 Mbps | 10.93 Mbps | 30%  |
Based on our tests, VeePN reduced our Internet speed by about 41% on average, which is just okay. This is still a significant decrease in our books. 
If you don't have super-fast Internet, you might want to look at our list of the fastest VPNs. Otherwise, you can use the service with impressive results on nearby servers.
Customer Support
VeePN offers great customer support with a troubleshooting page, setup tutorials, live chat, and support tickets. Our Score: 8.5/10
VeePN offers support tickets and live chat. You can also use its setup tutorials when installing the app or get suggestions on its troubleshooting page to fix issues. 
Here's an overview of each of those channels:
Troubleshooting Section: This section contains articles addressing various issues you might experience with the app. It also provides some valuable information about VPNs. Before getting in touch with a live agent, you can check these resources to see if they address your questions.
Support Ticket: Additionally, you can either email the support team or submit a ticket on the website. An agent replied to our ticket after about five hours. After that, we only got replies to our inquiries after about two hours. 
Setup Tutorials: Here, VeePN provides articles to guide you when downloading and installing the app on Windows, macOS, Android, iOS, Linux, and routers. 
Live Chat: We connected to an agent almost instantly through the live chat on the mobile app. The agent was knowledgeable and answered our questions satisfactorily. If no live agents are available, a bot named Jenny will respond to your queries. 
Pricing
VeePN offers an exceptionally low price for its extended five-year plan. While the other plans aren't quite as budget-friendly, they remain reasonably priced for the services they provide. Our Score: 8/10
A good VPN is well-priced for its features. In this section, we'll break down VeePN's pricing to see if it's a good investment. 
How Much Does VeePN Cost?
VeePN costs as little as $1.67 per month on its 5-year plan. It also has a yearly plan at $5.83 per month and a monthly plan at $10.99 per month. Hence, the 5-year plan offers the best cost savings for the VPN, followed by the yearly plan. 
All VeePN plans grant you access to all 2,500+ servers, 10 simultaneous device connections, and unlimited server switching. However, the 5-year and yearly plans have a 30-day money-back guarantee, while the monthly plan has a reasonable 14-day money-back guarantee. 
We also have to mention that you can only use VeePN for free by subscribing to the free trial on its mobile app.
Here's the essential information you should know: 
1-Month Plan: This subscription plan costs $10.99 monthly and has a 14-day money-back guarantee. This plan is billed per month, with a total cost reaching $131.88 per year.
1-Year Plan: At $5.83 monthly and $69.99 per year, this plan saves you 47% over the 1-month plan.
5-Year Plan: By paying only $1.67 per month and about $99.99 for five years in total, you save 85% on the regular monthly cost of this VPN.
VeePN only costs $99.99 for five years, which saves you 85% on its pricey monthly plan. You can pay for the plans with your credit card, PayPal, Google Pay, or cryptocurrencies, among others. 
Final Thoughts - Is VeePN Good?
Yes, VeePN is good. It's a solid VPN service that gets many aspects right. Our extensive VeePN review and testing uncovered numerous positive experiences, particularly in streaming.
VeePN strikes an appealing balance between affordability and quality. It offers access to over 2,500 servers, provides a commendable range of security features, supports up to 10 simultaneous connections, and proudly boasts a no-logging policy that has undergone a rigorous audit by Cure53.
Overall, VeePN stands as an impressive option, but it does come with some trade-offs. It's not ideal for torrenting and gaming, and its speed performance doesn't top the charts.
If these drawbacks are hard to ignore, you may want to explore other VPN providers offering superior speed as well as torrenting and gaming capabilities. In that case, we strongly recommend NordVPN.
PROS
No data logging.
Clean, modern user interface.
Supports multiple platforms.
10 simultaneous device connections. 
2,500+ servers in 56 countries.
RAM-only servers.
Good for streaming.
Money-back guarantee.
Decent customer service.
Affordable long-term plan.
CONS
Expensive short-term plan.
Average browsing speeds.
Slow connection time.
FAQ
What Is VeePN?
VeePN is a Panama-based VPN provider that lets you browse the Internet while protecting your privacy. It currently has over 2,500 VPN servers across 56 countries and works on many device platforms. 
Is VeePN Safe?
Yes, VeePN is safe. It has multiple encryption protocols, like WireGuard and OpenVPN. Also, it doesn't keep logs of its users' sensitive data. 
Is VeePN Free?
No, VeePN isn't free. VeePN is a premium service, but all plans have a money-back guarantee. The VPN provider also offers a 7-day free trial on its mobile app. You can check out our list of the best freemium VPNs if you need a free VPN service.
Is VeePN Legit?
Yes, VeePN is legit. Our in-depth testing and review prove VeePN to be a credible VPN provider. Despite being a newcomer, it delivers a top-tier service.
Is VeePN Safe to Use with Chrome?
Yes, VeePN is safe to use with Chrome. The service also has extensions for other browsers, like Mozilla Firefox and Microsoft Edge. 
Does VeePN Work with Netflix?
Yes, VeePN works with Netflix. One of VeePN's most outstanding features is its unblocking capabilities. It works with most streaming platforms, granting you access to a huge library of movies, series, and TV shows.