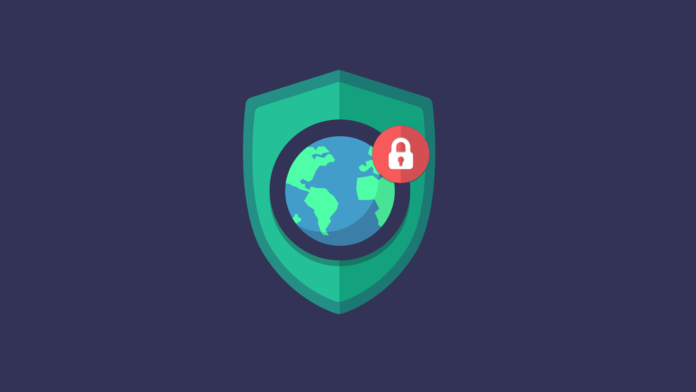 We know all about your troubles of finding that perfect VPN service. All of them seem to promise magnificent features, blazing-fast speeds, and total privacy protection. And sadly, not many of them fulfill those promises. However, that doesn't stop our editorial team from checking every VPN that comes our way. And today, we'll talk about one of the lesser-known VPN services, called VeePN.
Upon taking a quick glance at its website, it's clear that VeePN promises a lot (like all those other VPNs). It says that you can use it across numerous platforms, get access to the latest security-related technologies, and connect to any part of the world. However, are all those claims true? Can this be a hidden gem? Let's find out! Welcome to our hands-on review of VeePN!
We're not going to dive into our review right off the bat. We'll first take this chance to introduce you to this VPN by listing some of its most prominent features. So, let's get the basics out of our way.
Quick Facts
Jurisdiction
Panama
Logs
No activity logs; No connection logs.
Number of Servers
41 countries; 2,500+ servers.
Parallel Connections
10
Encryption Standards
AES-256; OpenVPN, IKEv2, Smart VeePN.
Speed Reduction
96% on average.
P2P Support
YES
Live Chat Support
YES (not 24/7)
Supported Platforms
Windows, MacOS, Linux, Android, iOS, Web browsers, routers.
Price
$1.67/month
Next, we've also checked whether this VPN supports media streaming and website unblocking. To check out the results, take a look at the table found below. And to learn more in-depth, make sure to keep on reading this review as we'll talk about media streaming in greater detail.
Media Streaming Support
American Netflix
NO
Hulu
NO
BBC iPlayer
NO
Amazon Prime Video
NO
Kodi
NO
And there's one more table for you. If you can't be with us until the end of this article, here are some of the most important highlights. Let's check out the pros and cons of using VeePN.
The Bottom Line
Pros
Sizeable server network; Compatible with numerous devices; Strong encryption and capable protocols.
Cons
Incredibly slow performance; Software-related issues; No advanced features; Can't unblock Netflix; Limited torrenting support; Overpriced.
The Final Verdict
At the moment, we can't recommend VeePN due to numerous performance issues. You can easily find a better alternative.
Our Score
4.2/10
That would be all for our introductory segment. Now, let's continue with our hands-on review, as we're about to dig in deep into everything VeePN offers. So, let's get started.
VeePN – TechNadu's Hands-On Review
We approach our every VPN review in a systematic manner. As you're about to see, we'll score each individual aspect of VeePN, which will give us the final score. To learn more about this process, here's our dedicated article on how we review/score VPNs.
Background, Jurisdiction & Reputation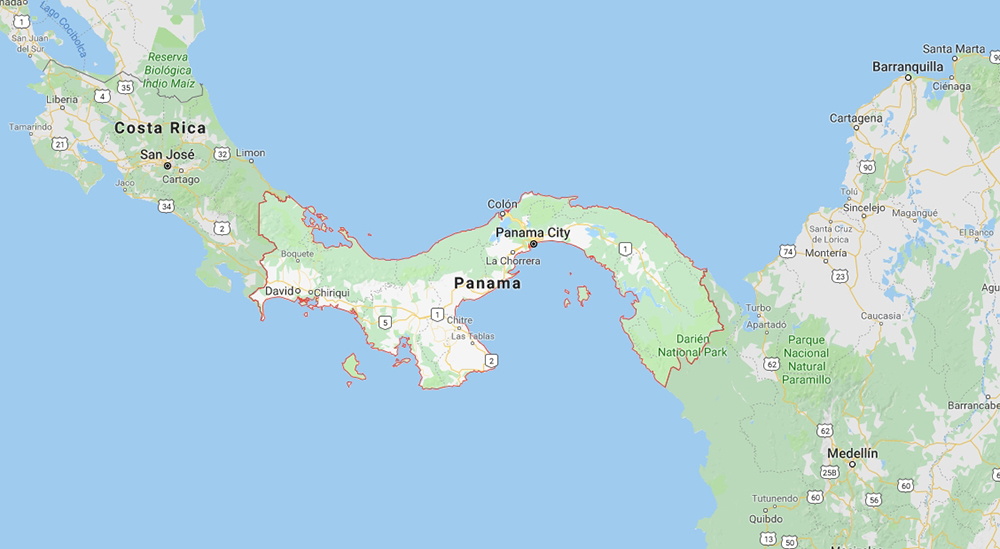 VeePN comes from Panama, which is considered to be a VPN-friendly location. In addition, this VPN has no data leaks in the past. Our Score: 10/10.
You'll want to find out where does VeePN come from, as its located can have certain consequences for your online privacy. We'll tell you more about its jurisdiction, applicable laws, and previous data leaks.
Jurisdiction & Applicable Laws
As noted on its official website, VeePN is headquartered in Panama. The most important piece of information at this point is that Panama is outside of the 14-Eyes Alliance. This is a group of highly developed countries that not only have mass-surveillance programs, but they also exchange it with other members of the Alliance. In its core, countries like the USA, UK, Australia, New Zealand, and Canada are leading the pack – and these are considered to be the worst places to base VPN operations.
When it comes to Panama, this country doesn't have laws related to mandatory data retention. Furthermore, this is an offshore jurisdiction without strict or overburdening regulations that could force VPNs to collect data on purpose. And more importantly, countries like the USA and UK don't have jurisdiction to compel a company from Panama to produce records on any kind.
Of course, everything we said so far is related to a benign use of this VPN. In case of any criminal activity, the company behind VeePN might be forced to produce records. Therefore, it's safe to say that VeePN has done a smart decision to base its operations in Panama.
Previous Data Leaks
We're pleased to say that VeePN is free of any data leaks from its past. There are no official or credible reports proving that this VPN has been leaking data at any point. And we'd also like to note that VeePN seems to be one of the VPNs flying under the radar. There isn't much talk about it online, mostly due to the fact that it's relatively new.
Later in the article, we'll do our own DNS leak tests – as we want to ensure that your data will be 100% safe online. But for now, it's safe to say that VeePN is a trustworthy VPN service.
Supported Platforms & Devices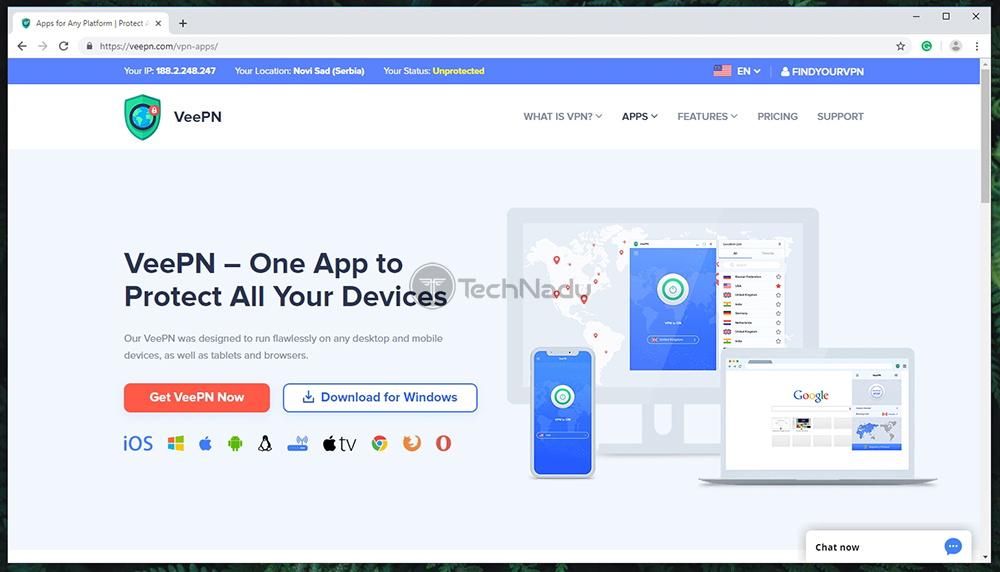 Aside from native apps for Android TV, Fire OS, and a few other popular devices, VeePN brings a range of applications for different operating systems. Our Score: 7/10.
It's imperative to choose a VPN with a nice range of native apps. This means that you'll get to cover and protect all your devices at once – instead of configuring the VPN manually on each device you own. Let's check what kinds of devices are covered by VeePN.
Platform Compatibility
Desktop Platforms
Windows, MacOS, Linux.
Mobile Platforms
Android, iOS.
Web Browsers
Chrome, Firefox, Opera.
Routers
DD-WRT, Tomato, PFSENSE, and more.
Other Devices
N/A.
In terms of desktop platforms, VeePN comes with native apps for Windows, MacOS, and Linux. You can easily find and download these from the official website, and then you can install any of those under one minute. The same applies to mobile platforms, where Android and iOS are supported.
In case you'd like to have a VPN extension for your Web browser, you can use VeePN if you're a user of Chrome, Firefox, or Opera. However, these are proxy extensions that might be able to unblock certain websites. We would always recommend you install the native app first, as this gets you all the benefits that VeePN is offering.
Lastly, VeePN is compatible with a broad range of routers. This means that by installing it on a router, you can protect your entire household at once. No matter how many devices you connect to the router, this will also count as a single device within your subscription.
And let's not forget to mention that VeePN can be used on 10 devices at the same time. In general, VPNs offer 3 to 5 slots, which means that VeePN is being quite generous.
Installation & Initial Configuration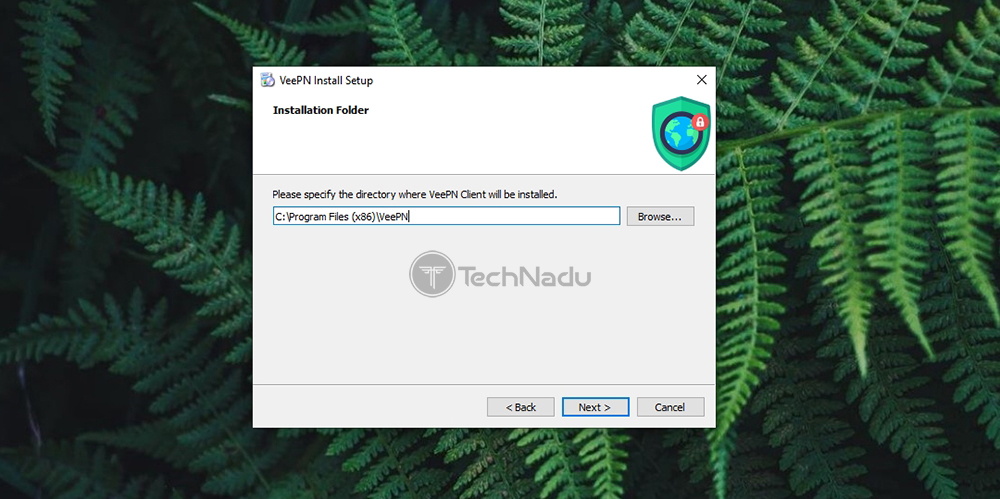 Even though the installation process went fine, we faced numerous technical issues with VeePN before we manage to actually use it. Our Score: 1/10.
Getting started with VeePN first includes getting a subscription. There are three plans available, which we'll talk about later in the article (in the 'Pricing' segment). During the sign-up process, you'll be asked to create your user account based on your email and password. As you can expect, there's no need to use your personal email if you don't want to do that – and you can pay with Bitcoin for complete anonymity.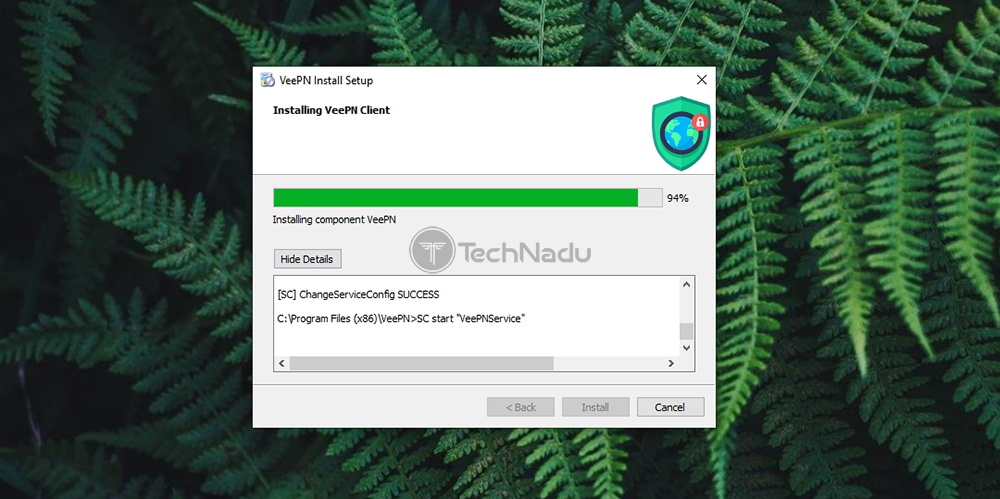 With your new username and password at disposal, continue to download the VeePN app for your platform of choice. On Windows, the installation file is around 45MB in size, so it's pretty lightweight. Double-click to initialize the installation, choose the installation directory, and that's pretty much it. All in all, the entire process takes only a few moments, and even first-timers won't encounter any problems. Even though the actual process of the installation went without any issues, it took us a while until we managed to use this app, and here's why.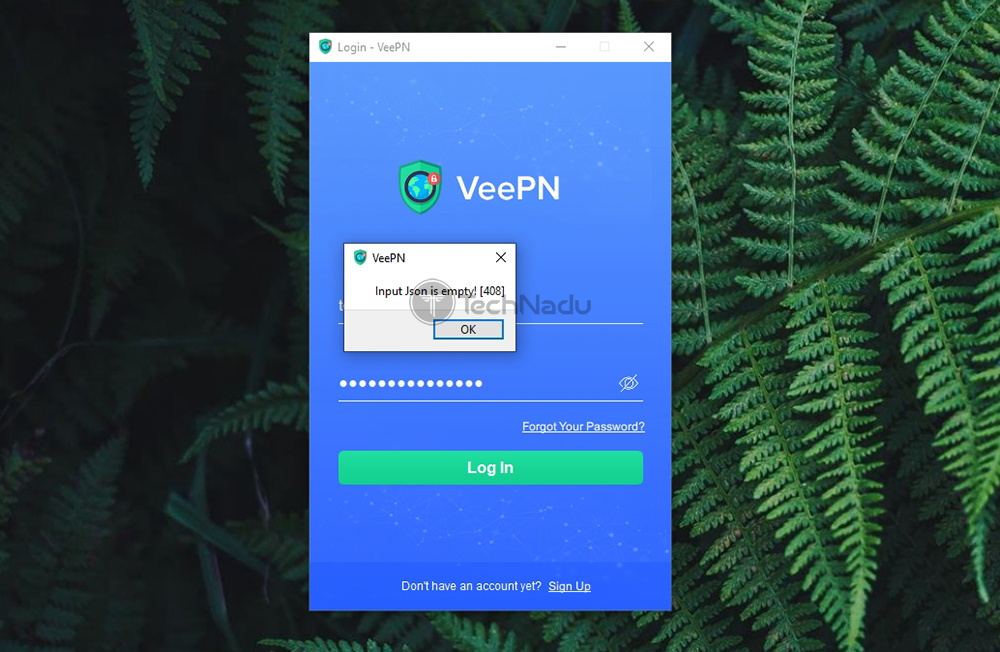 First, VeePN would immediately crash upon launch. After taking to the company's customer support team, we somehow managed to open the application after disabling Windows Firewall and Windows Defender (which left out machine exposed to numerous vulnerabilities). And even then, occasional problems would happen (as you can learn in the 'Ease of Use' segment of this review).
Prominent Features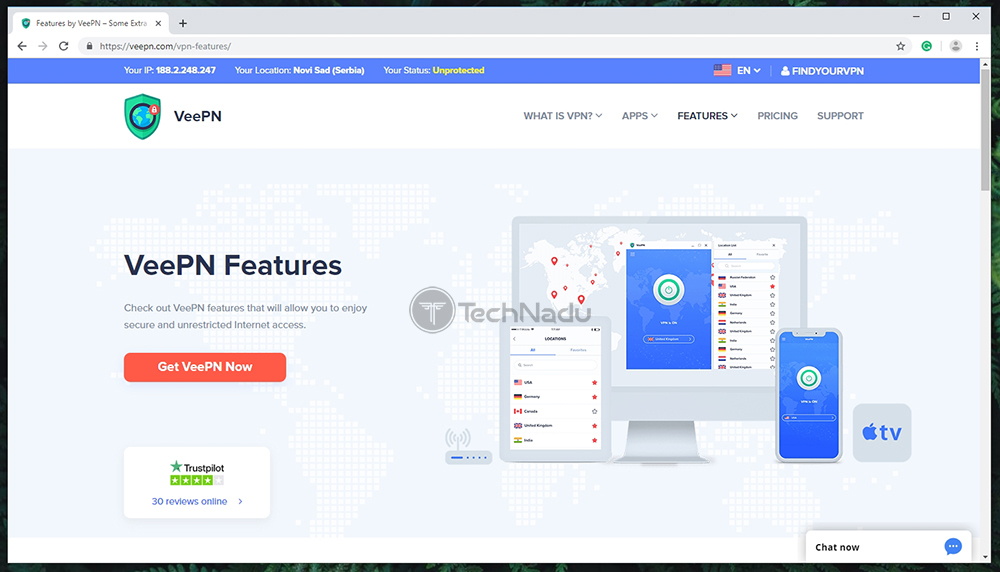 Even though it's being advertised as a highly advanced VPN, VeePN is more of a basic VPN. There are still a few nice extras as well. Our Score: 5/10.
Before we test all of VeePN's features, we'll first take a look at its feature set. This will give you an idea of what to expect, and we'll see whether this is a basic or more advanced VPN solution.
VPN Features Checklist
DNS Leak Protection
YES
IPv6 Leak Protection
NO
Kill-Switch
YES
Ad-Blocker, Anti-Malware
NO
Unlimited Server Switches
YES
Unlimited Bandwidth
YES
Unlimited Data
YES
As you can see, the basic features are covered well. To protect you against active leaks, there's a DNS leak protection. And to make sure your data doesn't leak in critical moments, you can use a built-in kill-switch. However, what's missing here are more advanced features.
Just like other newly released VPNs, VeePN doesn't support IPv6 yet. Instead, it asks you to disable this protocol and rely on IPv4 only. This certainly isn't a major downside as IPv6 is yet to be implemented on a wider scale. Still, it's important to note that you can find a number of highly capable VPNs (that are still affordable, nonetheless) that fully support the IPv6 standard.
Speaking of more advanced featured, VeePN can't fight against digital advertisements and their tracking capabilities. Also, there are no anti-malware features that some VPNs have started to offer. And lastly, split-tunneling can't be found here either.
To end this segment on a positive note, VeePN imposes no limitations to its subscribers. This means that you'll be getting unlimited server switches, bandwidth, and data.
Server Count
In terms of its server network, VeePN doesn't disappoint. It doesn't bring the biggest network, but you'll still have more than 2,500 servers at disposal. Our Score: 8/10.
Having plenty of servers at your disposal means having the ability to connect to a nearby server (no matter where you're located). In turn, this should provide you with fast speeds and unlimited Web browsing. Here's how VeePN ranks in terms of its server count.
Server Count Info
Number of Servers
2,500+
Number of Locations
53
Number of Countries
41
Specific Cities Selection
YES (for certain countries)
Unlimited Switching
YES
It's clear that VeePN has done a good job of covering all the strategic locations. There are servers throughout the entire world, with a heavier emphasis on countries like the USA, Canada, and the UK. In total, there are over 40 countries available, and as VeePN notes – over 2,500 servers are at your disposal.
The truth is that you'll find a few VPNs that bring more servers, up to 5,000. However, on a wider scale, VeePN ranks high by being one of the few VPN services with more than 2,000 servers. It's also important to note that you can connect to specific countries as well as to specific cities (but only in certain cases). For example, VeePN's servers in the UK allow you to connect to London and Manchester, while this VPN's servers in the USA allow you to connect to certain states such as California, Nevada, Arizona, and so on.
Ease of Use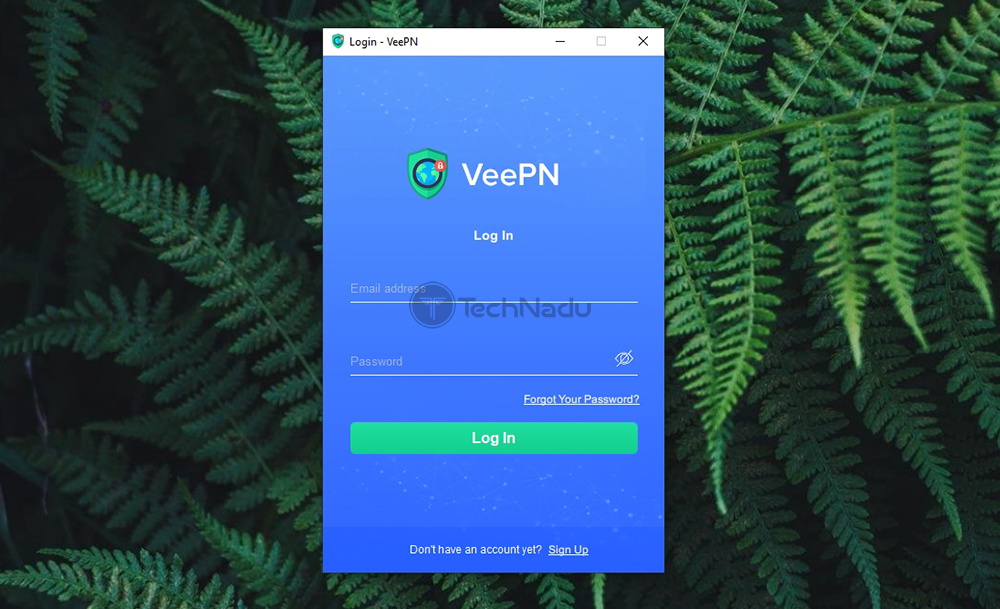 VeePN comes with a really simple and effective UI design. However, it's constantly crashing and producing all kinds of usability problems. Our Score: 1/10.
The Home Screen of VeePN is a true example of simplicity. What you'll see is the prominent ON/OFF button that takes all your attention – and you'll also see a dropdown menu below. You can use this menu to browse the list of supported countries and connect to individual servers.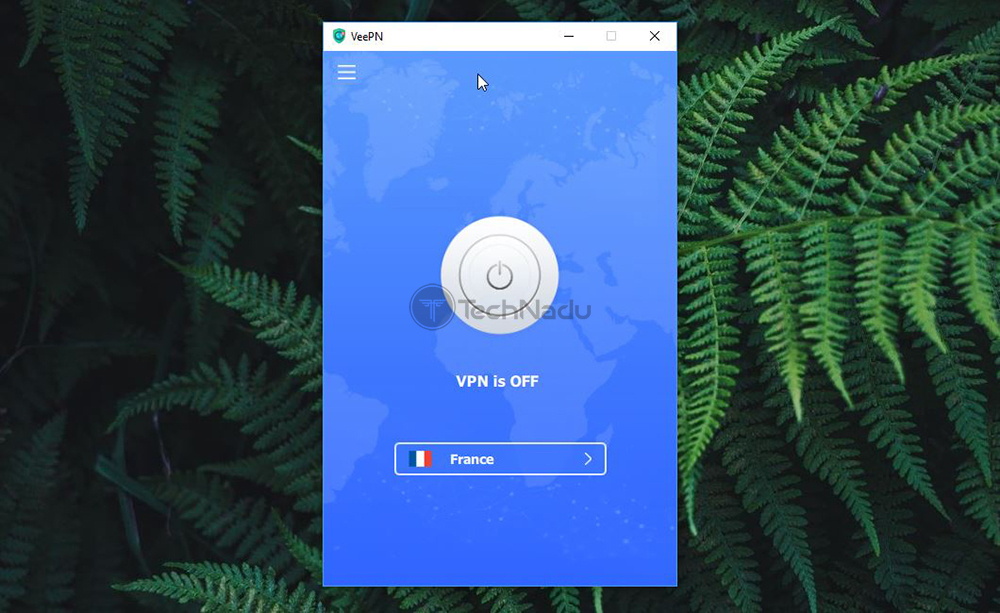 To find a suitable server, you can either browse the list manually or you can search for something specific. Once you start using the app, you'll find a few servers that you'll often use. Then, you can mark them as your favorites, giving you quick access to those particular servers.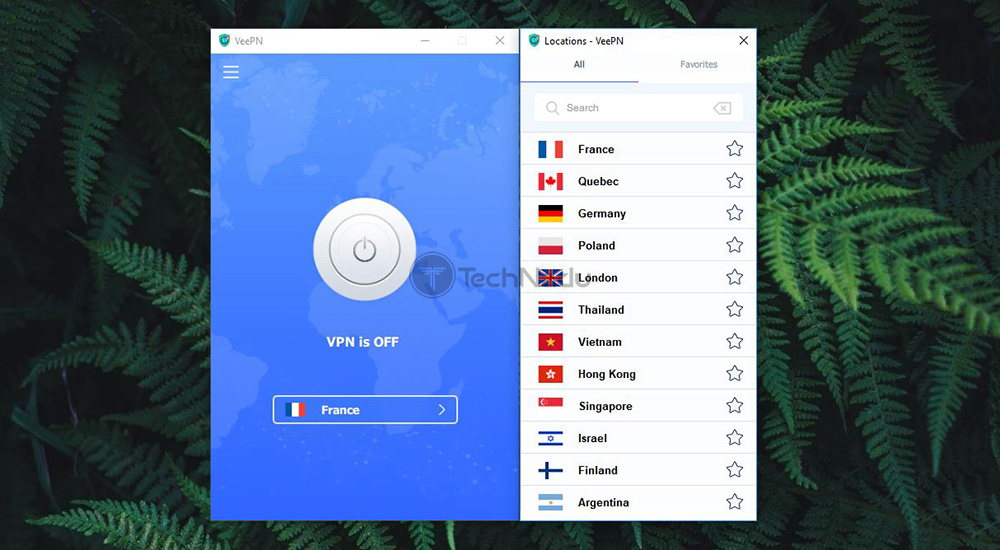 To dive a bit deeper into this application, you'll see a hamburger-style button in the top-left corner. Clicking on it reveals a set of additional options, where you can check your account details, upgrade your subscription, visit the official help section on the VeePN website – and this is where you can fine-tune this application's settings. To ensure this application works based on your need, we highly recommend you visit this segment of the app, and this is what you'll find here:
General: You can instruct VeePN to launch on system startup. However, there's no option to connect to a server of your choice which makes this option half-baked. You can also choose to enable/disable the application's notification, letting you know each time you connect and disconnect.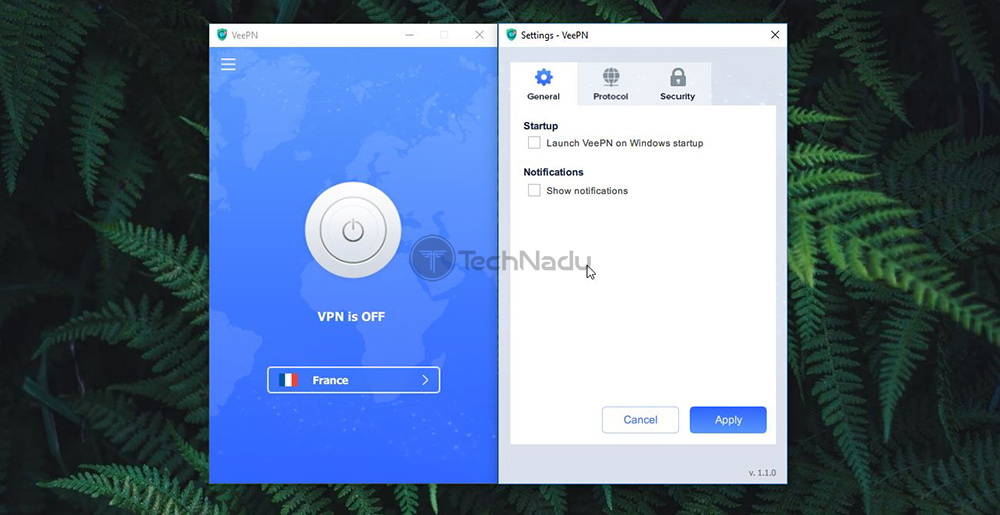 Protocol: Depending on your OS, you'll see that VeePN offers a different set of protocols. On Windows, you get to pick from OpenVPN, IKEv2, and VeePN's own protocol called Smart TCP and Smart UDP. If you want the absolute best security, you should go with OpenVPN.
Security: Finally, you can enable the VPN's kill-switch along with DNS leak protection. Our strong suggestion would be to enable both of these options.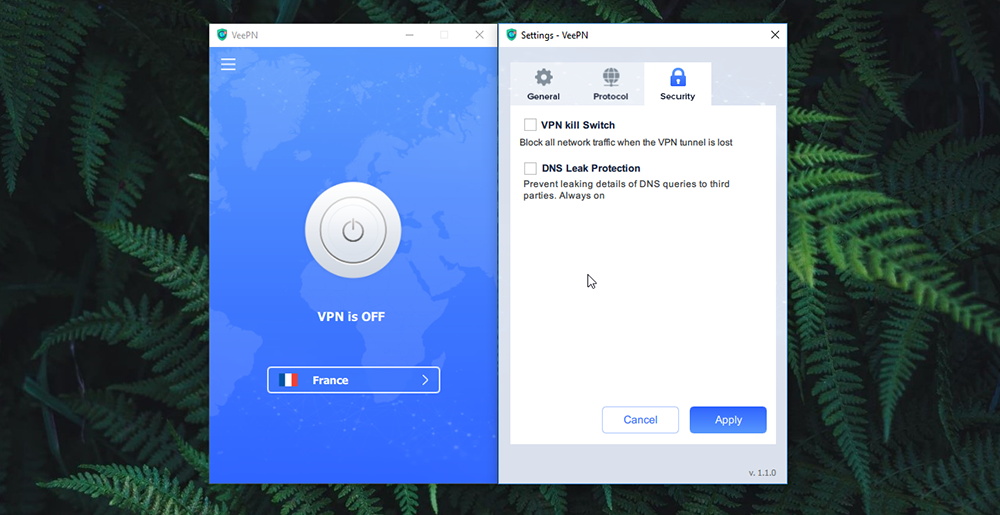 As you can see, everything we said so far points to VeePN being a nicely designed VPN. However, the problem is in its performance. We've tested this VPN on our Windows 10 PCs (both desktop and laptop) and faced numerous issues while using it.
First of all, the application would crash upon launch. Then, it would freeze without giving any error codes. It would also fail to connect to individual servers and sometimes its settings panel would come out empty. And even in those times when error messages were visible, they were quite comical in terms of their grammar. All in all, we really struggled to keep this VPN alive to finish producing this review.
Media Streaming & Torrenting Support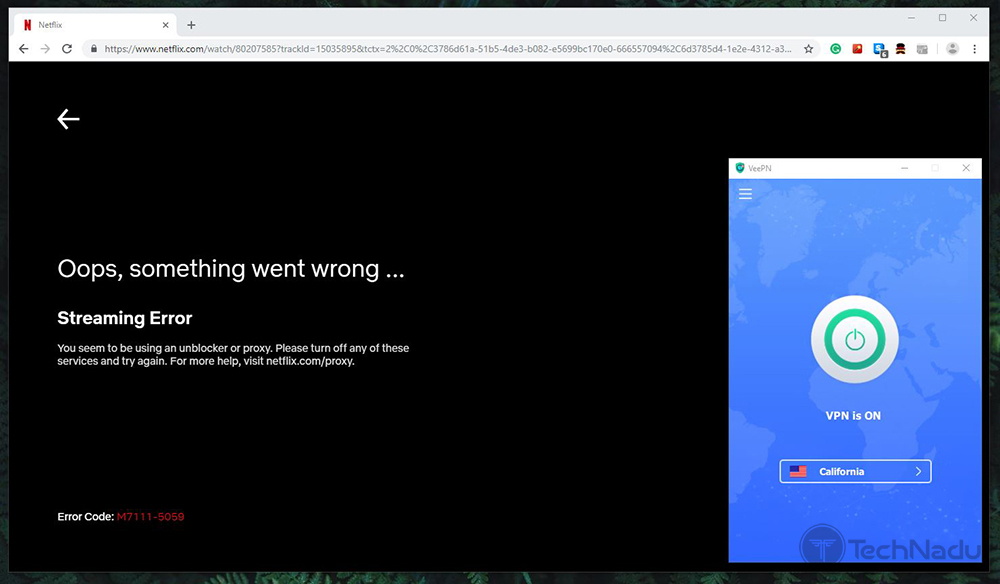 VeePN can't unblock any of the popular media streaming services. Also, it's far from being useful when downloading torrent files. Our Score: 1/10.
Want to stream Netflix or Hulu abroad? Plan on using VeePN to watch BBC iPlayer outside of the UK? If that's so, pay special attention to the table found below. We've tested VeePN against the most popular streaming services, and here are the results.
Media Streaming & Torrenting Support
Netflix US
NO
Hulu
NO
BBC iPlayer
NO
Amazon Prime Video
NO
Torrenting (P2P)
YES/NO
The official website of VeePN says that you count on unblocking Netflix outside of the US. However, we can't testify to those claims as our tests have revealed that Netflix remains blocked. We've tried all of the available protocols, as well as all of the available servers found in the USA. And none of those managed to unblock Netflix. The same applies to BBC iPlayer, Hulu, and Amazon Prime Video.
When it comes to torrenting, VeePN says that it doesn't block any specific type of Web traffic. In other words, it allows P2P file transfer – at least unofficially. However, downloading torrents using uTorrent proved to be a tedious task. We managed to get miserable speeds, indicating that our Web traffic was throttled on purpose. Therefore, don't count on torrenting while using VeePN.
Security & Privacy
All in all, VeePN is capable of protecting your online data. However, it doesn't seem to be the most trustworthy VPN out there. Our Score: 5/10.
In this segment, we'll talk about what matters the most about any VPN – and that is security. We will check out the supported encryption and VPN protocols, inspect this VPN's privacy policy, and more.
Supported Encryption Protocols
As per the official documentation provided by VeePN, it offers the high-end 256-bit encryption. We're talking about AES-256 which is considered to be the toughest encryption protocol available in commercial VPN services.
When it comes to protocols, you can count on OpenVPN, IKEv2, and Smart VeePN. OpenVPN is the industry standard, as it has no known vulnerabilities. However, average home users can also rely on IKEv2 as it brings reliable security mechanisms while providing fast speeds (in theory) as well. And when it comes to Smart VeePN, this protocol is advertised as being used for website unblocking.
Logging Policy
VeePN has a dedicated page on its website promoting all the ways it avoids logging any data. It says that information such as your IP address, browsing history, DNS queries, and your device's metadata are never logged. In addition, this page also says that VeePN doesn't store sensitive data and it never shares any data with third parties.
Of course, we've taken a deep look at its legal documents, which is where found plenty of interesting information. The VPN's Privacy Policy says that they don't collect data related to any user activities, except for the total amount of Web traffic for each session, along with session dates. It also collects 'common user statistics' for 'VeePN's websites' without explaining what this term means. And lastly, there's a sentence that says that VeePN may use non-personal user statistics for presentations to partners, reviewers, advertisers, and more.
All in all, it looks like this VPN is doing plenty to keep you safe online. However, it does collect some data which we can only hope is anonymous. With this said, we can't say this is a 100% no-logs VPN, which is something that can be proven only by an independent audit.
DNS Leak Test
As evident from the screenshot below, there are no DNS leaks present. This means that VeePN is capable of protecting you while browsing the Web, as third-parties won't be able to see your true data.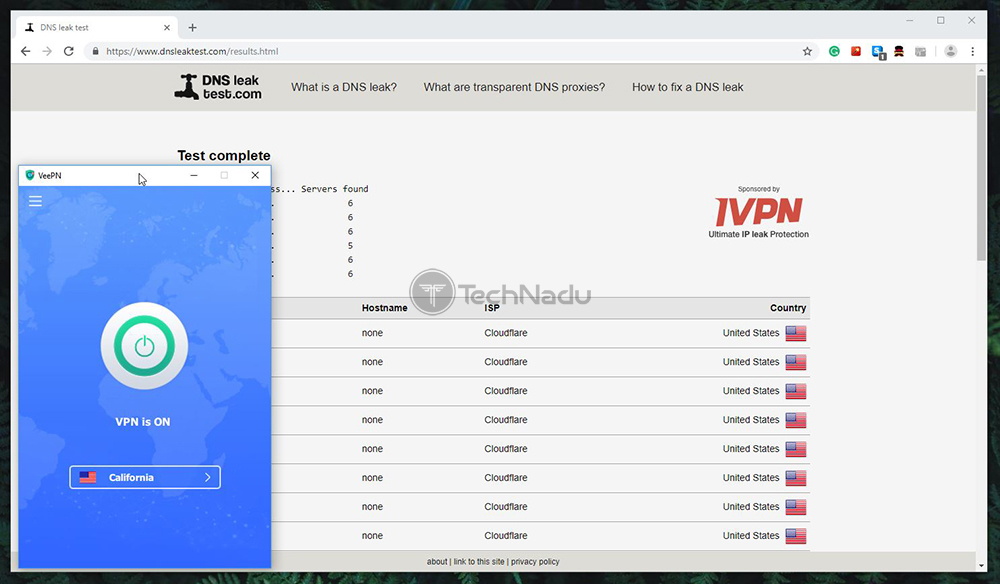 With everything said in this segment, we conclude that VeePN can be used to safeguard your private data. However, we do recommend exercising caution when using it, as we don't know if all the information it collects is anonymous. Anyway, you should always stay on the safe side of the law, avoid downloading copyrighted files and similar.
Speed & Performance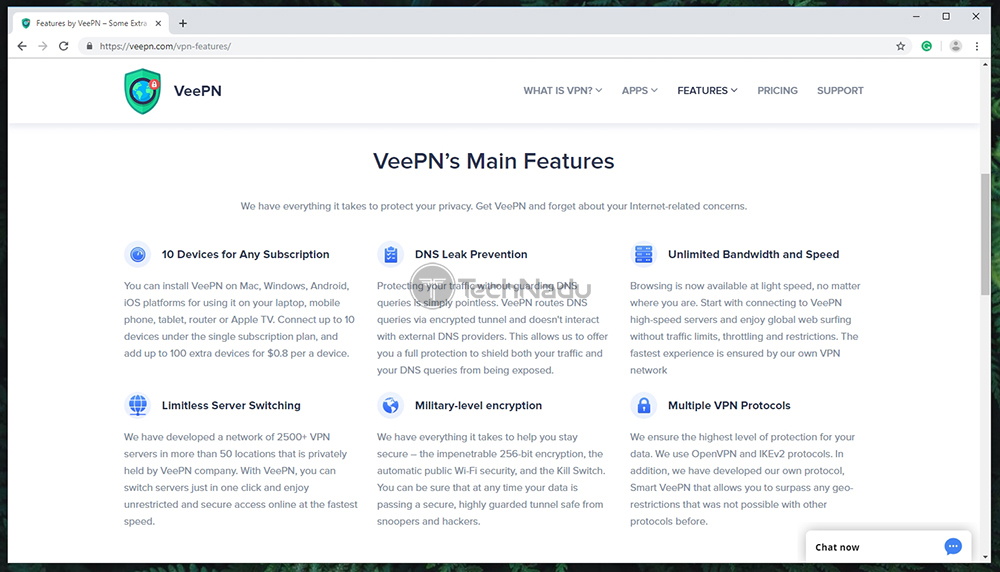 VeePN will bring your Web connection to a screeching halt. During our tests, it slowed our Web connection down by 96%. Our Score: 1/10.
To give you an idea of what kind of performance to expect, we'll test both nearby and remote servers offered by VeePN. But first, we need to establish some baseline data.

The image above shows the results of our first speed test. We've tested the speed of our Web connection without having the VPN enabled. And we got 131.10 Mbps for downloads and 10.06 Mbps for uploads. Now, we'll launch VeePN and connect to a nearby server.
We're located in Europe, where VeePN offers a nice selection of servers. Upon connecting to one, we proceeded to test its speed. We got 8.67 Mbps for downloads and 7.90 Mbps for uploads. This is perhaps one of the worst results we got in a while, as our Web connection lost pretty much all of its power.
Then, we proceeded to connect to a remote server. So, we picked a server in the United States, as this is often a highly popular VPN destination. This time around, the speed test results were even more shocking. We got only 1.57 Mbps for downloads and 1.55 Mbps for uploads. Now, let put all these numbers into a table to make sense of all that data.
| | | | |
| --- | --- | --- | --- |
| | Download Speed | Upload Speed | Speed Reduction |
| Baseline Speed | 131.10 Mbps | 10.06 Mbps | 0% |
| Nearby Server | 8.67 Mbps | 7.90 Mbps | 93.3% |
| Remote Server | 1.57 Mbps | 1.55 Mbps | 98.7% |
We conclude that VeePN made our Web connection slower by 96%, on average. This is by far the weakest result we've seen and we've reviewed dozens and dozens of VPN services.
Customer Support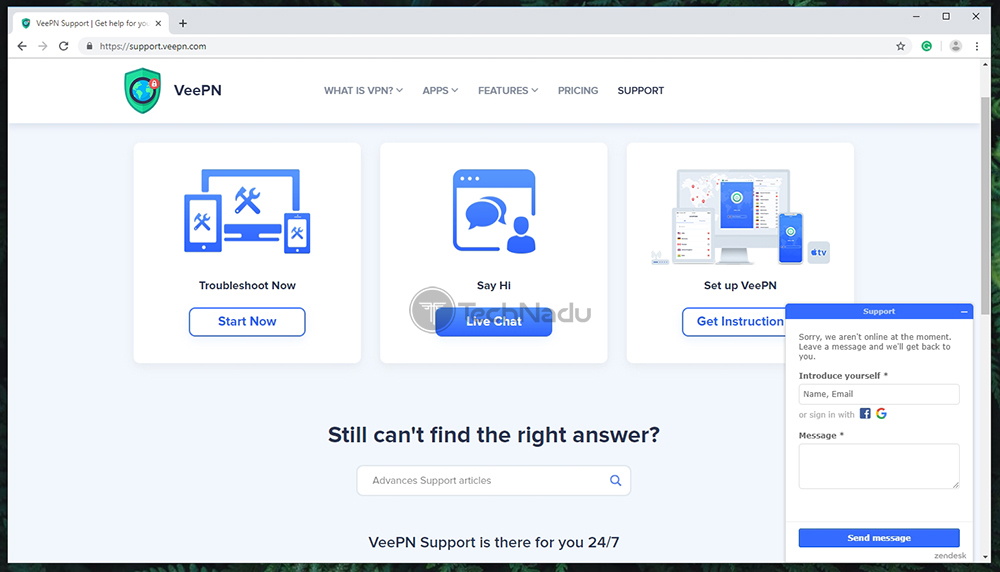 VeePN offers several communication channels. However, the entire customer support system seems half-baked and not as helpful. Our Score: 4/10.
In case of any questions, you'll want to have a supportive team watching your back. VeePN has developed several communication channels, as explained below:
Live Chat: This option can be useful if you want to solve your problem as soon as possible. However, in this case, live-chat isn't available 24/7. Furthermore, we've talked to the company's representatives on two occasions, and each time we were asked to wait until they come up with a solution. After some time, we were told that we'll get our answer via email. And even then, we were asked to submit plenty of information related to any antivirus software we might have, firewall settings, drivers, and so on.
Troubleshooting & Installation Guides: If you want to try to resolve your issue on your own, you can find a series of frequently asked questions. They cover a wide range of topics and they're nicely written, for the most part. There are also installation guides that you can use if you have problems installing one of this VPN's native apps.
Email & Support Tickets: Finally, you can always send a message to VeePN's team via email or by creating a support ticket. It usually takes up to 24 hours to receive a response, but you'll hardly fix your problem on a first try.
All in all, there are different ways to get help. However, this entire experience can be somewhat frustrating, especially if you don't have access to live chat. In case of any problems, be prepared to stop using VeePN for a while, until the problem gets sorted out.
Pricing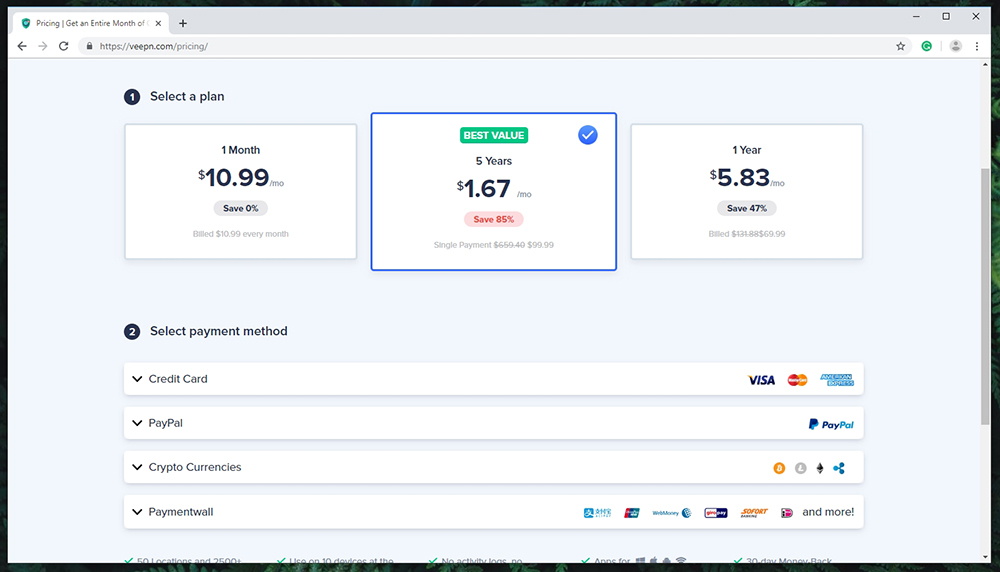 VeePN's monthly plan is overpriced, but you can save quite a but via long-term plans. Still, this means you'll have to commit to this service for up to 5 years. Our Score: 3/10.
VeePN offers three subscription plans. If you're ready to invest in this service's long-term plans, you can save quite a bit of money. Here's a handy overview.
| | | | |
| --- | --- | --- | --- |
| | Total Price | Per Month | Savings |
| 1 Month | $10.99 | $10.99 | 0% |
| 1 Year | $69.99 | $5.83 | 47% |
| 5 Years | $99.99 | $1.67 | 85% |
If you want to pay on a monthly basis, you'll need to pay $10.99 per month. Considering everything said in this review, we conclude that VeePN is somewhat overpriced. For that same amount, you can find VPNs that are easier to use, unblock a wide range of media streaming services, and even pack a few advanced features.
By choosing to subscribe to VeePN by going for its 1-year plan, you can save 47%. This brings the price down to $69.99, which comes down to $5.83 per month. And there's also its highly affordable plan which lets you save 85% – which is VeePN's 5-year plan. However, this certainly feels like a long time to commit and there are no guarantees how this VPN will develop in the future.
Among other payment-related information, you can pay by using credit cards, PayPal, cryptocurrencies and a number of other payment processors. There's also a 30-day money back period, which seems generous enough.
Do We Recommend VeePN?
No, we don't recommend VeePN. This VPN is plagued by software issues and numerous drawbacks that make VeePN one of the last VPNs that we could ever recommend. Even if you manage to avoid software issues, this VPN won't be able to unblock media streaming websites, it'll slow down your Web connection in a big way, and you'll encounter issues every step of the way. And on top of all of this, it comes overpriced.
PROS: Easy to use (when working correctly); Based in Panama; Doesn't collect personally identifiable data.
CONS: Software issues; Highly unstable and unpredictable; Can't unblock media streaming websites; Incredibly slow performance; Half-baked customer support; Overpriced.
OUR SCORE: 4.2 out of 10!
We hope to see this VPN service bring improvements in the future. With this said, make sure to check out VeePN on your own and do a bit of research before trying it out. And if you need more options, don't forget to read our dedicated article about the best VPN providers right now.
Lastly, we'd like to ask you to share this article online. And to stay on top of the latest VPN-related news, make sure to follow us on Facebook and Twitter. Thanks!