At the moment, HBO Max only works in the US and certain US territories. To watch HBO Max outside the US, you'll need to connect to a US VPN server before visiting the site.
Why the limited availability, though?
It's likely due to licensing agreements. But you don't need to let them get in the way of your fun when you're traveling abroad! In this quick guide, we'll show you how to easily unblock HBO Max anywhere in the world.
How to Watch HBO Max Outside the US in Just 5 Steps!
Pick a VPN from the list below and subscribe to it. If you'd like a suggestion, we recommend ExpressVPN.
Download the appropriate VPN app for your device, and install it.
Launch the app, and use it to connect to a US server.
Now head to HBO Max and log into your account.
Start binging your favorite series and movies!
Top 5 VPNs That Actually Unblock HBO Max From Anywhere
Finding the right HBO Max VPN can be hard, but we made it easy for you. After countless tests, we discovered that these are the best VPNs that can unblock HBO Max without any problems:
1. ExpressVPN – Best Way to Watch HBO Max Outside the US
Most people love this provider, and for a good reason! With ExpressVPN, you always enjoy fast speeds while binging your favorite movies and series on HBO Max. And their network is impressive, so you'll never have to settle for overcrowded servers.
What's more, ExpressVPN offers apps for most platforms – Windows, Linux, macOS, iOS, Android, you name it! Even better, all their apps have a very intuitive design, so you'll get the hang of them in no time.
Other things that make ExpressVPN a solid pick include their unlimited bandwidth, support for up to five parallel connections, and split-tunneling feature (which lets you fine-tune your VPN speeds). Even better, the provider is currently working on their own protocol (called Lightway), which is expected to offer very fast speeds and connection times (just a fraction of a second!).
And to top it all off, ExpressVPN has excellent customer care (24/7 through live chat), and a no-questions-asked 30-day refund policy.
If you'd like to read more about this provider, please check out our in-depth review.
2. Surfshark – Best Support for Parallel Connections
Have tons of devices and want to watch HBO Max outside the US on all of them? Want to save money or help out your friends and family by sharing your VPN subscription?
Surfshark is the perfect VPN for you then! The provider offers unlimited simultaneous connections, meaning you can set up the service on as many devices as you want.
On top of that, Surfshark also offers you everything you need for enjoyable streaming: fast servers (and lots of them), unmetered data, split tunneling, and easy-to-use apps that work on pretty much all devices.
Finally, with Surfshark, you get really affordable pricing, a 30-day money-back guarantee, and 24/7 support through live chat.
To find out more about them, follow this link to read our review.
3. CyberGhost VPN – Best Way to Get Optimized Streaming
If you're what some people might call a "streaming junkie," you'll be more than happy with everything CyberGhost VPN has to offer. With thousands of servers at your disposal, you'll be able to unblock HBO Max and any other platforms you want.
Best of all – this provider has dedicated streaming servers, each one optimized for a different site. That basically means you won't need to worry about the platforms detecting and blocking CyberGhost VPN. The optimized servers refresh their IPs more often, so they can easily avoid detection.
And if you want to be 100% sure that HBO Max won't catch you using a VPN, you can also use a private dedicated IP address. That way, you're the only one using it, so the website won't be as likely to think the IP belongs to a VPN.
On top of all that, CyberGhost VPN also offers unmetered bandwidth, fast speeds, cross-platform compatible apps, and a very intuitive design. And if you ever experience any issues with HBO Max, you can always turn to the provider's support reps for help. They're available 24/7 through live chat.
Oh, and with CyberGhost VPN, you get the most risk-free experience.
Why?
Because the provider offers a 45-day money-back guarantee (as opposed to the standard 30-day period) – if you get a long-term subscription, that is.
To learn more about CyberGhost VPN and how it performs, please read our hands-on review.
4. NordVPN – Most Secure HBO Max Unblocker
All the VPNs on this list offer high-end security. But here's what makes NordVPN a little different: the provider has tons of ways to secure your data and privacy.
For starters, NordVPN lets you use servers that are part of a colocated network (meaning only the provider runs and operates them). What's more, NordVPN supports Tor over VPN traffic and lets you obfuscate your traffic (to stop others from seeing you're using OpenVPN).
Also, you get a nice feature called CyberSec, which protects you from annoying ads and malicious domains. And you can pair up your NordVPN subscription with two of their other services: NordLocker and NordPass. The first is a file encryption solution, and the second is a password manager.
Other than that, NordVPN offers you all you need to watch HBO Max outside the US and enjoy it: lighting-fast speeds, a huge server network, unlimited data, 24/7 live chat support, and easy-to-use apps for all devices. And to top it all off, you also get a no-questions-asked 30-day money-back guarantee.
Want to find out more about this provider? Please check our NordVPN review.
Want to unblock HBO Max with a VPN that's based in the US? PIA is the right tool for the job! The provider has an excellent track record of respecting user privacy. Plus, they have a huge network, with thousands of US servers to choose from! Safe to say, you'll have no problem finding one that's close to your location (so that you'll enjoy fast speeds).
And speaking of speeds, PIA offers very fast connections. Also, the provider has split tunneling, meaning you can fine-tune your HBO Max speeds as much as you want.
Furthermore, you also get unlimited bandwidth, powerful security, user-friendly apps that work on the most popular platforms, and round-the-clock support (live chat is available, but only to existing users).
If you'd like to take a closer look at PIA, please follow this link.
How Do VPNs Let You Watch HBO Max Outside the US?
It's pretty simple – they route your traffic through a VPN server that sits between you and HBO Max, like so:
VPN Connection to HBO Max
You –> VPN Server –> HBO Max
That "tricks" HBO Max into thinking your traffic is coming from the VPN server instead of your device. Due to that, the site associates your connection with the VPN server's IP address.
As long as that IP is a US address, HBO Max will think you're connecting to it from the US. So, it'll whitelist your access and let you use its platform.
Can HBO Max Block VPNs?
Yes – the site does that pretty often, actually. It probably uses automated scripts to detect and block VPN IPs. When that happens, you'll keep seeing the geo-blocking/VPN error message whenever you visit HBO Max with that VPN.
To avoid that issue, VPNs need to refresh their servers' IPs very often. All the providers mentioned on this list do that, so you shouldn't encounter any issues. If you do, contact the support team to see how to solve the problem (they'll usually tell you which specific server to use to unblock HBO Max).
Other things you can try include:
Clearing your browser's cache and cookies.
Using incognito/private mode.
Watching HBO Max on a different device or in a different browser.
FAQ
Here's a quick look at common questions people have about HBO Max and VPNs. If you have more questions, just let us know in the comments below.
What Is HBO Max?
HBO Max is a subscription-based streaming service that lets you watch tons of HBO content alongside other TV series and movies.
To eliminate any confusion, HBO Max isn't the same as HBO Go and HBO Now. It's a stand-alone service. HBO Go will be discontinued, and HBO Now has been rebranded as simply HBO. So there are just two streaming options right now: HBO Max and HBO. Between the two, HBO Max has a bigger content library.
Where Is HBO Max Available?
At the moment, HBO Max is only available in the US (and certain US territories). If you try to watch HBO Max outside the US, you'll see a geo-blocking error like this one: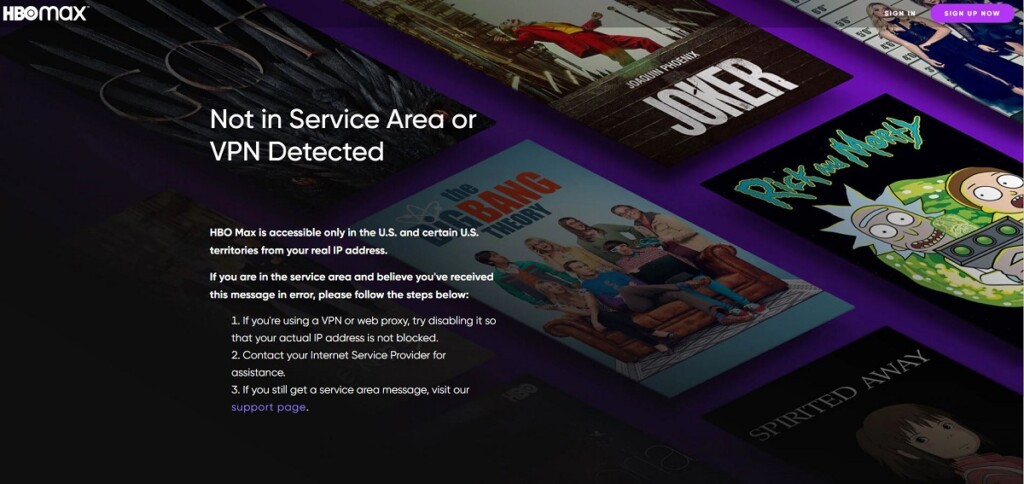 According to the head of HBO Max Global, the service will become available in Europe and Latin American by the end of 2021. But even then, many of you will probably still need to use a VPN. We're just speculating, but the European and Latin American versions of HBO Max will likely have less content than the US platform.
Is HBO Max Free?
No. HBO Max uses a subscription-based model – just like Netflix. You pay a fee each month to use the service and can cancel anytime you want. You also have the option to prepay for six months in advance to save some money.
What Can You Watch on HBO Max?
What Devices Can You Watch HBO Max On?
HBO Max on desktops through web browsers, and also offers apps for the following platforms:
iOS
Android
Fire OS
Amazon Fire TV
Apple TV
Roku
PlayStation (4 & 5)
Xbox (One and Series X|S)
Samsung TV
Xfinity X1 and Flex
Can You Unblock HBO Max With Free VPNs?
Probably not. Since HBO Max is pretty good at blocking paid VPNs, free VPNs likely don't stand a chance. They don't refresh their IPs fast enough to avoid detection, basically.
If you'd like to try your luck with a free VPN, though, please use our guide to find one that's actually good.
Are VPN Speeds Fast Enough for HBO Max?
As long as you get 50 Mbps or more, yes. HBO Max doesn't outright say what speeds you need to stream content, but this FAQ article about Wonder Woman says you need at least 25 Mbps (ideally 50+ Mbps) to get 4K quality.
Of course, if you don't care about 4K and are fine with HD or SD, even 5-10 Mbps will be enough.
And if you'd like to optimize your VPN speeds, be sure to use our guide.