At the moment, HBO Max works only in the United States and certain US territories. To watch HBO Max outside the US, you'll need to connect to a US VPN server before visiting the site or any of HBO's brand-new apps. Why the limited availability, though?
It's likely due to licensing agreements. But you don't need to let them get in the way of your fun, no matter if you're an existing subscriber or plan to subscribe. In this quick guide, we'll show you how to easily unblock HBO Max anywhere in the world.
Where Is HBO Max Available?
At the moment, HBO Max is only available in the US (and certain US territories). If you try to watch HBO Max outside the US (without a VPN), you'll see a geo-blocking error like this one: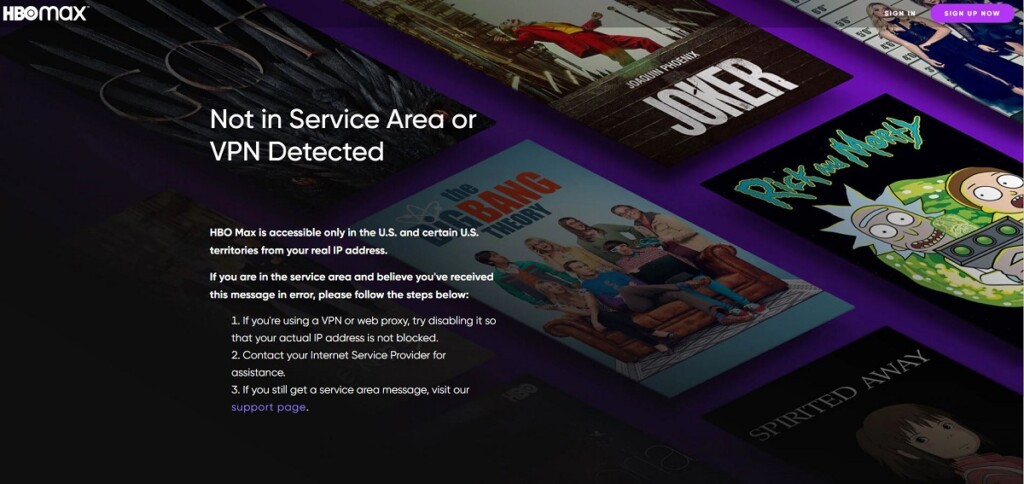 However, it's interesting to note that HBO Max will soon start reaching new countries. In late June 2021, the media streaming service will expand to 39 territories across Latin America and the Caribbean, replacing the HBO Go app currently offered in those markets.
Here's the complete list of territories where HBO Max will soon launch:
Anguilla
Antigua
Argentina
Aruba
Bahamas
Barbados
Belize
Bolivia
Brazil
British Virgin Islands
Cayman Islands
Chile
Colombia
Costa Rica
Curacao
Dominica
Dominican Republic
Ecuador
El Salvador
Grenada
Guatemala
Guyana
Haiti
Honduras
Jamaica
Mexico
Montserrat
Nicaragua
Panama
Paraguay
Peru
St. Kitts and Nevis
St. Lucia
St. Vincent
Suriname
Trinidad & Tobago
Turks and Caicos
Uruguay
Venezuela
We'd also like to note that a European launch is expected as well, across the Nordics, Spain, and Portugal - later in the year. And after that, HBO Max will reach Central and Eastern Europe.
How to Watch HBO Max Outside the US
So, you can watch HBO Max outside the US in 2021 - if you follow these steps:
Step #1: Find the Best-Working VPN to Unblock HBO Max
As you can already guess, HBO Max comes with sophisticated anti-VPN mechanisms. In other words, you need to be very careful about which VPN you'll pick, as only a small group is capable of unblocking HBO Max both via its website and apps.
After having tested more than 60 VPN services, we know which ones are suitable for media streaming. With that said, we have no doubt about which VPN to recommend - and that would be ExpressVPN.
3,000+ VPN servers in 160 VPN server locations in 105 countries, 8 Simultaneous connections, Fast and stable connection, No activity logs or connection logs, No bandwidth limits, Strong encryption, 24/7 live chat support, and 30-day money-back guarantee.
No matter on which device you plan to stream HBO Max, ExpressVPN won't disappoint you. It works flawlessly, every single time. You get plenty of servers in the US, the fastest possible speeds, several VPN protocols to choose from, and plenty more.
Of course, your options don't end with ExpressVPN. If you keep on reading, you'll encounter a segment about the best VPNs for HBO Max (feel free to use the provided quick-jump link), with five strong recommendations in total.
Step #2: Get Your VPN Subscription
Before you proceed any further, you need to have a VPN application active in the background. That means you should subscribe to a VPN right now. So, if you want to listen to our advice, go ahead and sign up for ExpressVPN.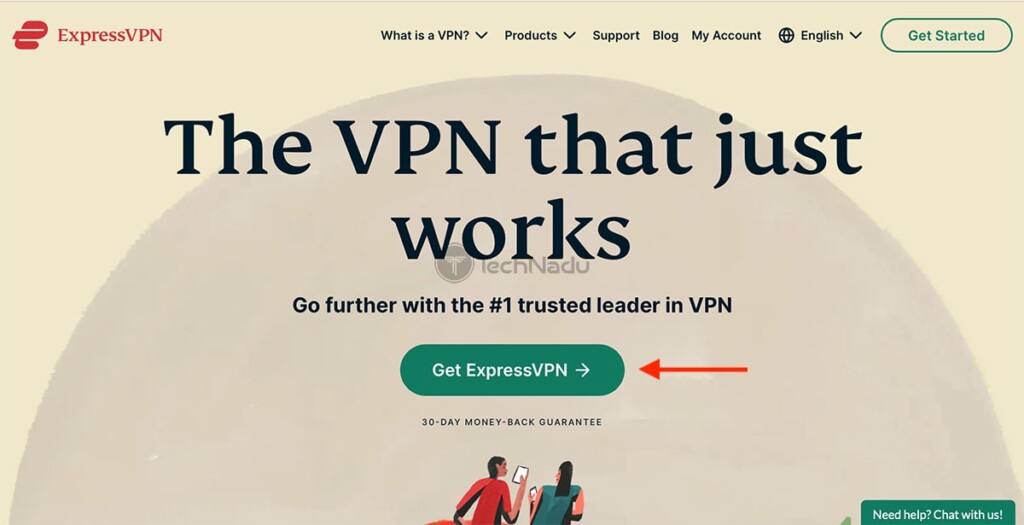 Once you find yourself on ExpressVPN's site, select 'Get ExpressVPN.' Then, pick a subscription plan - you'll have three options in front of you. Keep in mind that if you want to save money in the long run, consider getting a long-term subscription.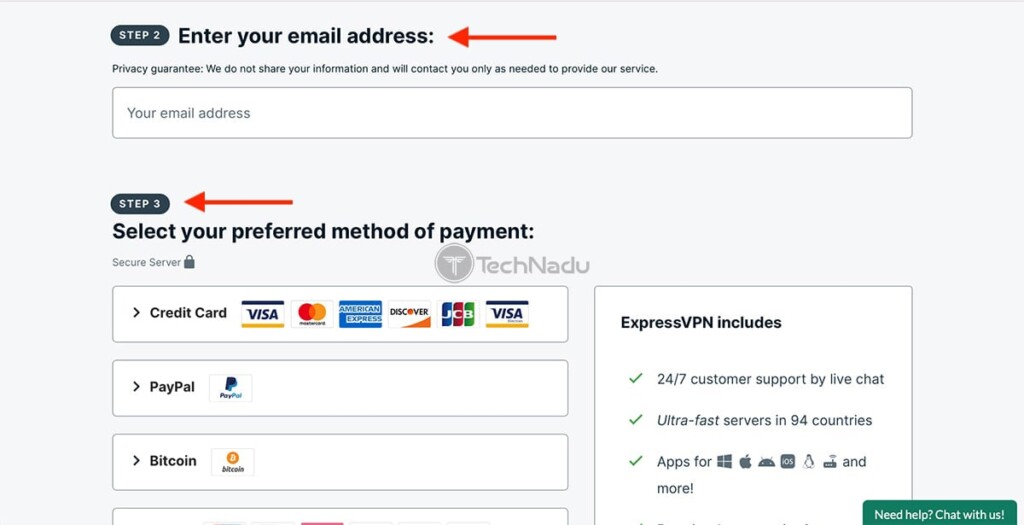 Once you pick a subscription plan, enter your email address and select your preferred method of payment. After you fill out the required information and pay, your VPN subscription should automatically activate. You'll get a confirmation email from ExpressVPN at this point, so feel free to check your email inbox.
Step #3: Download & Install the VPN on Your Device(s)
Now, you need to download and install ExpressVPN on your device(s). Before you do that, try to think of all the devices you'll use to access and stream HBO Max. Be aware that you will need to connect to a US VPN server each time you wish to access HBO Max. In other words, an instance of ExpressVPN needs to run on each of those devices.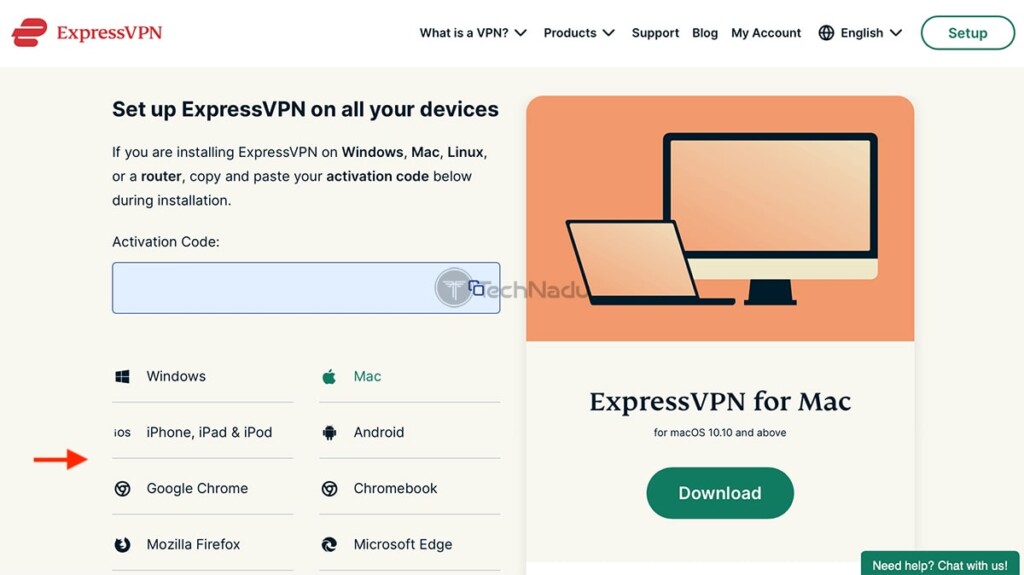 To help you get started, we've produced a comprehensive guide to downloading, installing, and using ExpressVPN. However, keep in mind that if you're not a subscriber to HBO Max, you can subscribe only on Android and iOS/iPadOS (if you're outside the US). So, here's how to install ExpressVPN on Android and iOS/iPadOS.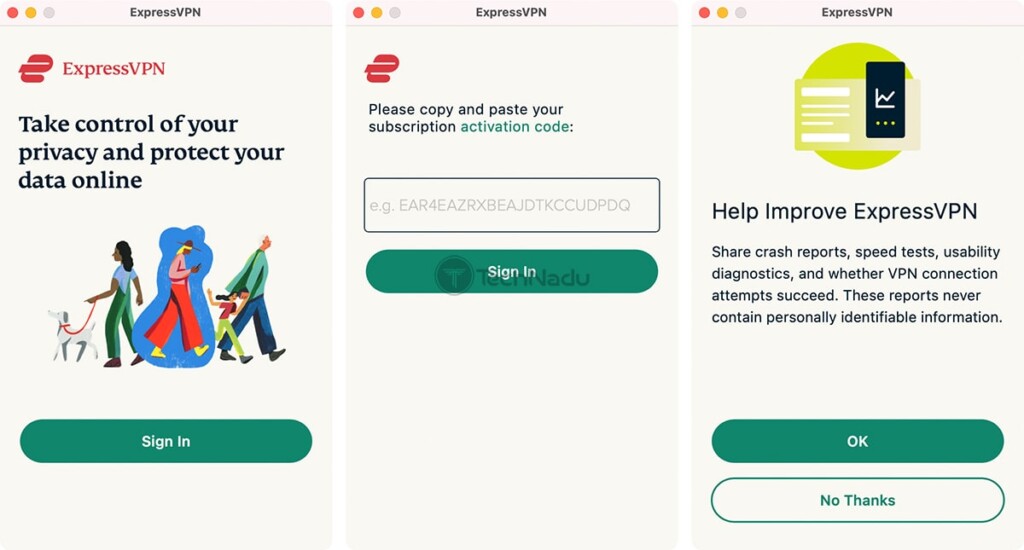 Once you install ExpressVPN, make sure to launch its app. You will need to log in to your account, as well as go through the initial setup. The VPN should be ready for use at this moment, and you should be looking at its home screen.
Step #4: Connect to a VPN Server in the US
No matter on what device(s) you plan to use ExpressVPN, connecting to a US server won't take more than a couple of seconds of your time. So, make sure that you're on ExpressVPN's home screen. The upper half of that screen should be red.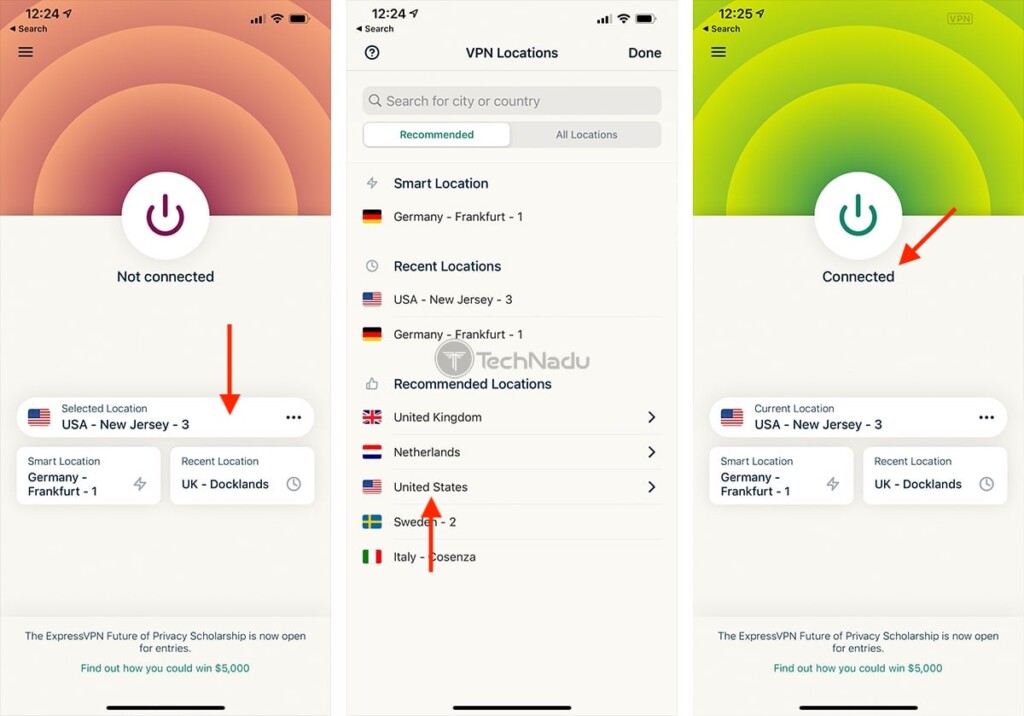 Now, select the button below the ON/OFF switch to reveal all of ExpressVPN's servers. Click on 'United States,' and then connect to any server you'll see there. ExpressVPN will take a couple of seconds to connect you, which is a process that you'll get to track on your screen.
Once your VPN session becomes active, the upper half of ExpressVPN's screen will turn green. From that moment on, your device will have a US IP address, so let's show you how to use it.
Step #5: Create a New (US) Google/Apple Account (And Log In)
Keep in mind that you'll need a Google or Apple account associated with a US address for two purposes - if you want to download the HBO Max app and if you want to subscribe to HBO Max. With that said, if you're an existing subscriber, feel free to jump to the final step of this procedure.
If you're yet to subscribe, you first need to acquire a new Google account or a new Apple ID. Don't forget to connect to a US server first. Then, pick 'United States' when asked about your region and input any US address (here's a handy address generator for that). Google probably won't ask about your country/region, so that's why it's crucial to have a VPN connection active.
Once you get a new account, it's time to log out of your existing Google/Apple account on your device. After that, make sure to log in to your new account (typically done via the Settings app).
Step #6: Buy & Redeem a Google/Apple Gift Card
To subscribe to HBO Max, you need a payment method associated with a US financial institution. We're sure that's an obstacle if you're not in the US. However, as a way to overcome that obstacle, you can add funds to your Google/Apple ID - and then use those funds to pay for HBO Max.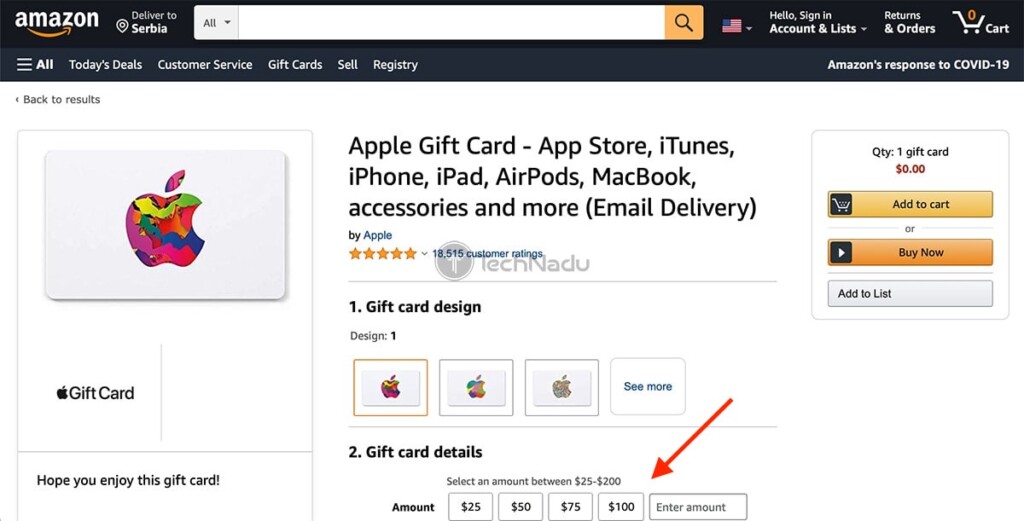 So, make sure to purchase a Google or Apple gift card. Don't forget that HBO Max comes priced at $14.99 per month. Even though you'll find Google/Apple gift cards everywhere across the Web, we recommend using Amazon, as you can have those delivered via email.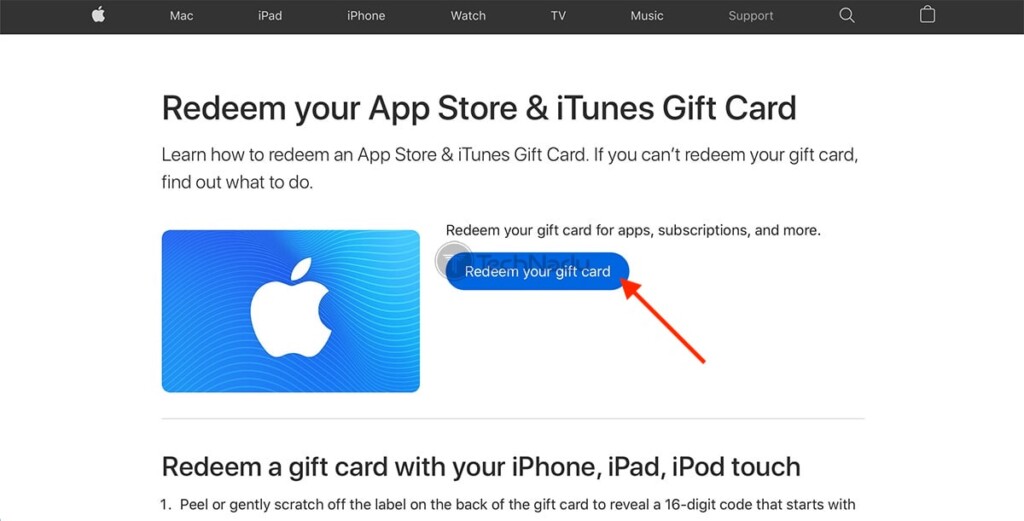 When you purchase a gift card, you'll essentially get a code. So, to add the funds to your account - here's how you can redeem Google gift cards and redeem Apple gift cards. This process requires you to paste the code you've received, making the funds available instantly.
Step #7: Download HBO Max & Get Your Subscription
Before you get to watch HBO Max outside the US, you need to subscribe first. So, go ahead and download HBO Max for Android or iOS/iPadOS. You can use Google's Play Store or Apple's App Store for that purpose.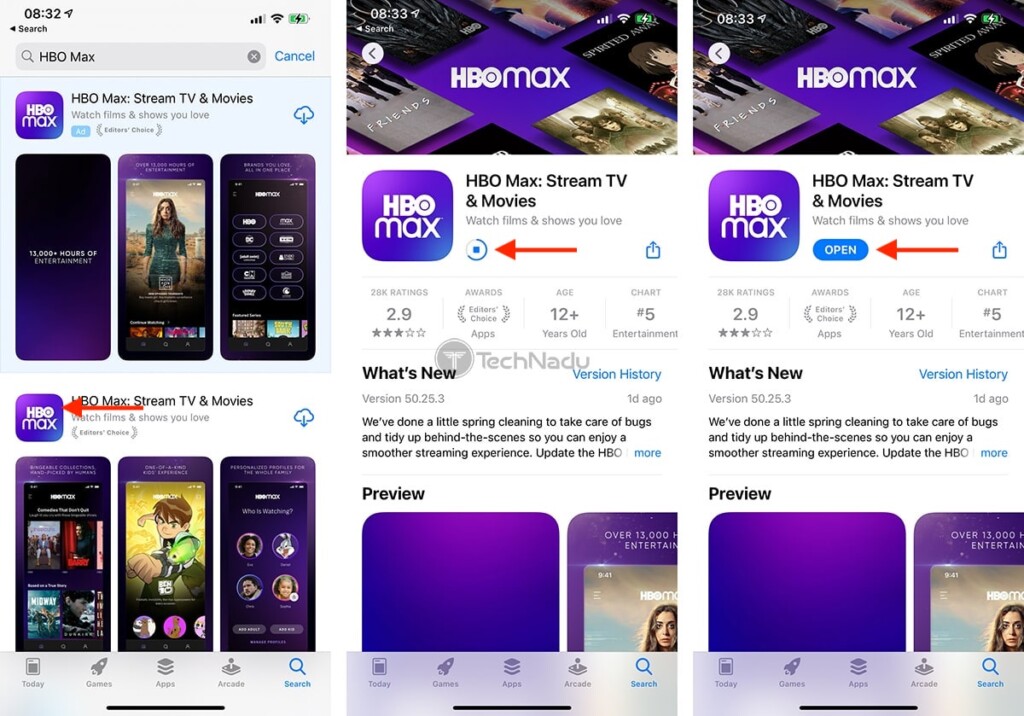 Once again, we remind you to have an active VPN session in the background. Then, launch the HBO Max app. Tap on the 'Account' tab and select 'Subscribe Now.' You will be asked to create a new account. As soon as you input the required information and agree to the terms of use, you will be asked to authenticate your purchase.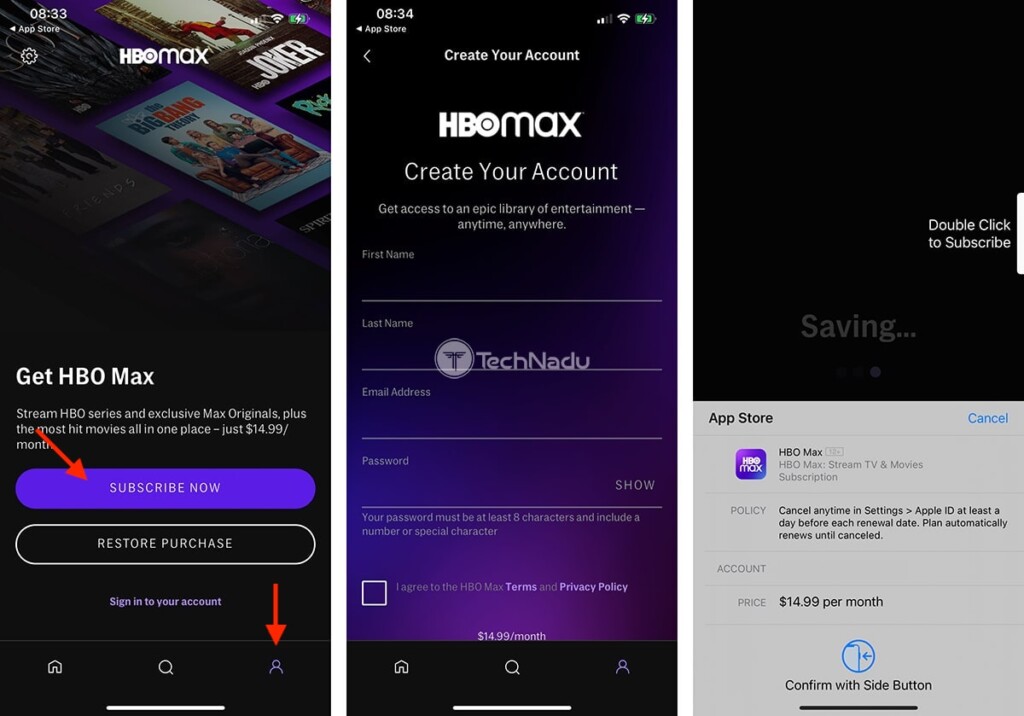 HBO Max doesn't offer a free trial, which means you'll be charged $14.99 immediately. You must have enough funds on your account for this procedure to end successfully.
Step #8: Unblock HBO Max from Anywhere in the World
That's basically it! As soon as you launch HBO Max, you will see that you can use it without any restrictions. At any moment, you can review the details of your subscription by tapping on the 'Account' tab (in the bottom-right corner of your screen). So, if you need to log in, that's where you can do that.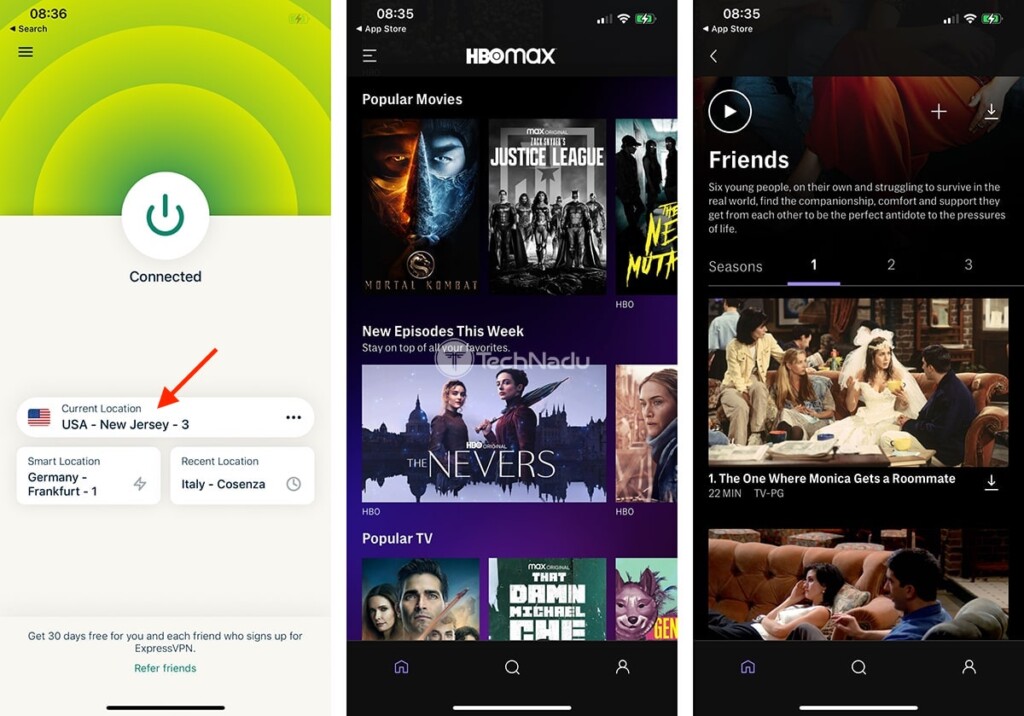 Lastly, know that you can watch HBO Max outside the US for as long as ExpressVPN is active on your device. This VPN comes with unlimited bandwidth and incredibly fast speeds, so there's no reason to disable it, actually.
What's the Best VPN for HBO Max in 2021?
Finding the right HBO Max VPN can be hard, but we made it easy for you. After countless tests, we discovered that the 5 best VPNs that can unblock HBO Max without any problems:
1. ExpressVPN - Truly the Best VPN for HBO Max
Most people love this provider, and for a good reason! With ExpressVPN, you always enjoy fast speeds while binging your favorite movies and series on HBO Max. On top of that, their network is impressive, so you'll never have to settle for overcrowded servers.
What's more, ExpressVPN offers apps for many platforms - Windows, Linux, macOS, iOS, Android, you name it! Even better, all their apps have a very intuitive and modern design, so you'll get the hang of them in no time.
Other things that make ExpressVPN a solid pick include their unlimited bandwidth, support for up to five parallel connections, and split-tunneling (which lets you fine-tune your VPN speeds). Even better, this provider has its own VPN protocol called Lightway, promising to offer very fast speeds and connection times (just a fraction of a second!).
And to top it all off, ExpressVPN has excellent customer care (24/7 through live chat) and a no-questions-asked 30-day refund policy.
If you'd like to read more about this provider, please check out our in-depth review.
2. CyberGhost VPN - Best for Optimized Streaming
If you're what some people might call a "streaming junkie," you'll be more than happy with everything CyberGhost VPN has to offer. With thousands of servers at your disposal, you'll be able to unblock HBO Max and any other platform you want.
Best of all - this provider has dedicated streaming servers, each one optimized for a different site. That basically means you won't need to worry about the platforms detecting and blocking CyberGhost VPN. The optimized servers refresh their IPs more often, so they can easily avoid detection.
On top of all that, CyberGhost VPN also offers unmetered bandwidth, fast speeds, cross-platform compatible apps, and a very intuitive design. And if you ever experience any issues with HBO Max, you can always turn to the provider's support reps for help. They're available 24/7 through live chat.
Oh, and with CyberGhost VPN, you get the most risk-free experience. Why? Well, because the provider offers a 45-day money-back guarantee (as opposed to the standard 30-day period) - if you get a long-term subscription, that is.
To learn more about CyberGhost VPN and how it performs, please read our hands-on review.
3. Surfshark - Best for VPN Subscription Sharing
Have tons of devices and want to watch HBO Max outside the US on all of them? Want to save money or help out your friends and family by sharing your VPN subscription?
Surfshark is the perfect VPN for you then! The provider offers unlimited simultaneous connections, meaning you can set up the service on as many devices as you want.
On top of that, Surfshark also offers you everything you need for enjoyable streaming: fast servers (and lots of them), unmetered data, split tunneling, and easy-to-use apps that work on pretty much all devices.
Finally, with Surfshark, you get really affordable pricing, a 30-day money-back guarantee, and 24/7 support through live chat.
To find out more about them, follow this link to read our review.
4. NordVPN - Most Secure HBO Max Unblocker
All the VPNs on this list offer high-end security. But here's what makes NordVPN a little different: the provider has tons of ways to secure your data and privacy.
For starters, NordVPN lets you use servers that are part of a colocated network (meaning only the provider runs and operates them). What's more, NordVPN supports Tor over VPN traffic and lets you obfuscate your traffic (to stop others from seeing you're using OpenVPN).
Also, you get a nice feature called CyberSec, which protects you from annoying ads and malicious domains. And you can pair up your NordVPN subscription with two of their other services: NordLocker and NordPass. The first is a file encryption solution, and the second is a password manager.
Other than that, NordVPN offers you all you need to watch HBO Max outside the US and enjoy it: lighting-fast speeds, a huge server network, unlimited data, 24/7 live chat support, and easy-to-use apps for all devices. And to top it all off, you also get a no-questions-asked 30-day money-back guarantee.
Want to find out more about this provider? Please check our NordVPN review.
Want to unblock HBO Max with a VPN that's based in the US? And also, want to stream HBO Max via a desktop Web browser? PIA is the right tool for the job! The provider has an excellent track record of respecting user privacy. Plus, they have a huge network, with thousands of US servers to choose from!
And speaking of speeds, PIA offers very fast connections. Also, the provider has split tunneling, meaning you can fine-tune your HBO Max speeds as much as you want.
Furthermore, you also get unlimited bandwidth, powerful security, user-friendly apps that work on the most popular platforms, and round-the-clock support (live chat is available, but only to existing users).
If you'd like to take a closer look at PIA, please follow this link.
How Do VPNs Let You Watch HBO Max Outside the US?
It's pretty simple - they route your traffic through a VPN server that sits between you and HBO Max, like so:
VPN Connection to HBO Max
You --> VPN Server --> HBO Max
That "tricks" HBO Max into thinking your traffic is coming from the VPN server instead of your device. Due to that, the site associates your connection with the VPN server's IP address.
As long as it's a US IP address, HBO Max will think you're connecting to it from the US. So, it'll whitelist your access and let you use its platform.
Can HBO Max Block VPNs?
Yes - the site does that pretty often, actually. It probably uses automated scripts to detect and block VPN IPs. When that happens, you'll keep seeing the geo-blocking/VPN error message whenever you visit HBO Max with that VPN.
To avoid that issue, VPNs need to refresh their servers' IPs very often. All the providers mentioned on this list do that, so you shouldn't encounter any issues. If you do, contact the support team to see how to solve the problem (they'll usually tell you which specific server to use to unblock HBO Max).
Other things you can try include:
Clearing your browser's cache and cookies.
Using incognito/private mode.
Watching HBO Max on a different device or in a different browser.
How Do I Pay for HBO Max Outside the US?
The easiest way to pay for HBO Max outside the US is by using a gift card. However, we're talking about Google Play Store and Apple gift cards (which you can find on Amazon).
That means that you need to have a US-based Google or Apple account, and you need to be logged in to that account on your Android device, iPhone, or iPad. Once you buy a gift card, you can redeem it and use those funds to pay for HBO Max.
In case you'd like a more detailed guide on how that is done, jump to our segment explaining how to pay for HBO Max from anywhere in the world.
FAQ
What Is HBO Max?
HBO Max is a subscription-based streaming service that lets you watch tons of HBO content alongside other TV series and movies.
To eliminate any confusion, HBO Max isn't the same as HBO Go and HBO Now. It's a standalone service. HBO Go is discontinued, while HBO Now has been rebranded as simply 'HBO.' So, there are just two streaming options right now: HBO Max and HBO. Between the two, HBO Max has a bigger content library.
Is HBO Max Free?
No. HBO Max uses a subscription-based model - just like Netflix. You pay a fee each month to use the service and can cancel anytime you want.
What Can You Watch on HBO Max?
What Devices Can You Watch HBO Max On?
HBO Max on desktops through web browsers, and also offers apps for the following platforms:
iOS
Android
Fire OS
Amazon Fire TV
Apple TV
Roku
PlayStation (4 & 5)
Xbox (One and Series X|S)
Samsung TV
Xfinity X1 and Flex
Can You Unblock HBO Max With Free VPNs?
Probably not. Since HBO Max is pretty good at blocking paid VPNs, free VPNs likely don't stand a chance. They don't refresh their IPs fast enough to avoid detection, basically.
If you'd like to try your luck with a free VPN, though, please use our guide to find one that's actually good.
Are VPN Speeds Fast Enough for HBO Max?
As long as you get 50 Mbps or more, yes. HBO Max doesn't outright say what speeds you need to stream content, but this FAQ article about Wonder Woman says you need at least 25 Mbps (ideally 50+ Mbps) to get 4K quality.
Of course, if you don't care about 4K and are fine with HD or SD, even 5-10 Mbps will be enough. And if you'd like to optimize your VPN speeds, be sure to use our guide.
That would be all on how to watch HBO Max outside the US. If you have any questions or doubts, make sure to use the comments section below. And lastly, thanks for reading!