Kodi's team has asked the community to come up with suggestions for the codename of Kodi 19.
We expect to hear about the upcoming v19 in early 2019, just like it happened with the previous major version earlier this year.
Kodi 18 Leia is expected to be officially released later this year (most probably sometime in November). 
It has only been a few days since the third beta version of Kodi 18 was released. As we're steadily progressing towards the final release, Kodi's development team is already thinking about the next major version of the world's most popular home theater software – Kodi 19.
The team behind this open-source project has posted a tweet asking for suggestions related to Kodi 19. More precisely, Kodi's team is ready to come up with a name of the upcoming major version, which should be publicly released sometime next year. For now, you can head over to the official Kodi forum to give your suggestions.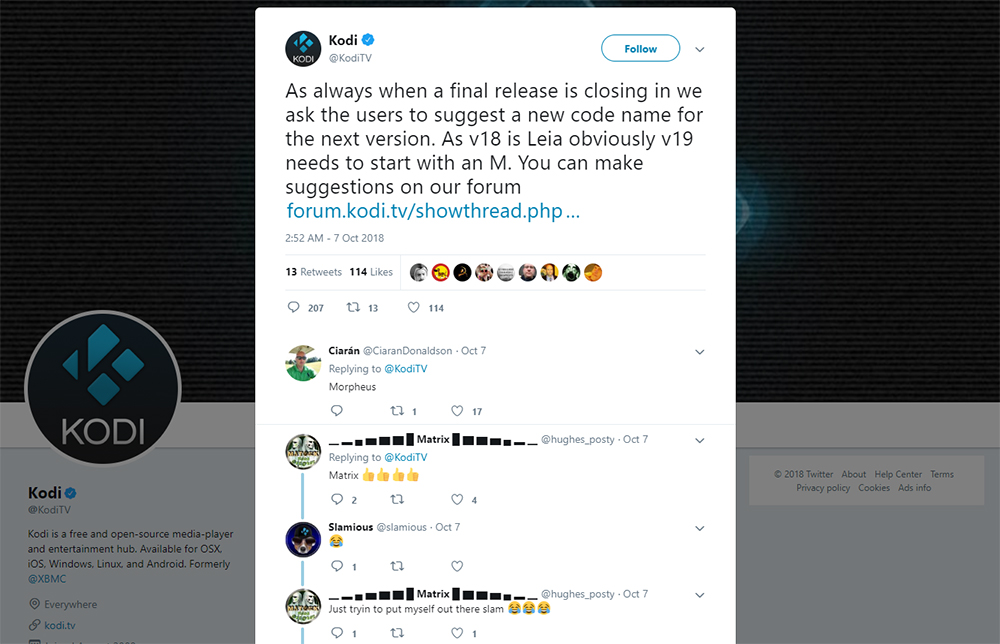 What's interesting to note is that the forum thread was created back in April, but this is the first time that Kodi's development team has officially acknowledged it. The initial message in the thread says that following the trend and history of releases, suggestions should start with the letter 'M'. Some of the previous versions were codenamed Leia, Krypton, Jarvis, Isengard, Helix, Gotham, and Frodo. As you can see, they are in alphabetical order. Another useful note – even though the community was asked to name the version which should appear soon (Kodi 18 Leia), a community suggestion wasn't used in the end. So, let's wait and see if this changes with Kodi 19.
We're also sure you want to know when to expect Kodi 19 to come out. To give you an answer, we need to take a look at previous releases. Kodi's numbered versioning corresponds with the calendar year it takes place in. So, Kodi 17 was rolled out in 2017, and Kodi 18 Leia will be introduced in 2018. We can also give you a more precise guess by taking a look at release dates of development builds. We've heard the first news about Kodi 18 back in January when we talked about Kodi supporting retro games, and then there was news that Kodi 18 comes with Google Assistant (which surfaced back in February). The first official announcement surfaced back in March, once it was revealed that Kodi 18 was officially under development. This leads as all the way to August of 2018, which is when the first beta version of Kodi 18 appeared.
We expect plenty of news related to Kodi 19 in the upcoming months, so make sure to stay tuned to TechNadu. As always, we will be the first to publish the latest announcements and keep you in the loop about your favorite home theater software.
We would love to hear your suggestions on the name of Kodi 19. So, feel free to express your creativity through the comments section below. And also, don't forget to follow us on Facebook and Twitter. Thanks!