McAfee Safe Connect is a product of the renowned cybersecurity company McAfee. Operating out of Silicon Valley in the United States, the choice of headquarters for McAfee Safe Connect raises serious concerns. The US is a key part of the 5/9/14 intelligence alliance, which means it can request your data from VPN providers like McAfee and share it with other countries. 
However, McAfee VPN doesn't keep logs, and it has had no public data leaks. McAfee Safe Connect VPN uses AES-256 encryption to safeguard your data and keep it hidden from prying eyes. It also offers its own version of the kill switch and a split tunneling feature on certain device platforms. 
We tested its streaming capabilities and found that it had average speeds for streaming, gaming, and torrenting. Hence, it doesn't work as well as VPNs that have special servers and features for those activities. 
But before we dive deeper into Safe Connect VPN's service and functionality, check out some of its key attributes in the table below. 
Paid 
Free 
Jurisdiction
United States.
Logs
No logs - independently audited.
Servers
48+ in 48 countries.
Simultaneous Connections
5
1
Supported Devices
Windows, ChromeOS, Android, and iOS.
Features
TCP Override, Safe Reconnect (kill switch), auto-connect, and App-level Protection (split tunneling).
Protocols
Catapult Hydra.
Supports
Torrenting, Gaming, Netflix, Hulu, Max, Amazon Prime, and more.
Customer Support
24/7 live chat and phone call, support community, in-app FAQs, Knowledge Center, and video tutorials.
24/7 live chat, support community, in-app FAQs, Knowledge Center, and video tutorials.
Price
From $3.99/month.
Free.
Live Deal
67% OFF (1-year plan)
Our Score
6.1 out of 10.
This McAfee Safe Connect VPN review is based on our extensive tests on every facet of the service. We'll explore its installation process, ease of use, safety and privacy features, browsing speed, streaming performance, pricing, and more. 
For additional insights into our VPN testing methodologies, please refer to our comprehensive guide on how we review VPNs. If you're looking for better alternatives to McAfee VPN, see our list of the best VPN services. 
Better still, you can visit our ExpressVPN review to see why we recommend it. 
Background, Jurisdiction, & Reputation
McAfee VPN is based in the United States, which isn't the best jurisdiction for privacy, but it has had no data leaks. Our Score: 8/10
No matter the appeal, a VPN that you can't trust isn't a good VPN. In this section, we'll dig deep into Safe Connect's background to explore its history of data leaks, jurisdiction, and relevant information about its parent company. 
Where Is McAfee Safe Connect VPN Based?
McAfee Safe Connect is based in the United States, a notably unfavorable jurisdiction for VPN services. It is a product of McAfee LLC, which raised our expectations as the company is a dominant force in the cybersecurity industry. McAfee acquired TunnelBear, which it acquired in 2018. You can learn more about TunnelBear in this TunnelBear VPN review.
McAfee Safe Connect VPN choosing the US as the headquarters for its VPN service is far from ideal. As a member of the 5/9/14 Eyes Alliance, the US government can ask Safe Connect to give up all the data it has about you. It can then share the data with the UK, Australia, Canada, New Zealand, France, the Netherlands, and seven other countries. 
It's disturbing to know that the US can enforce the Stored Communications Act (SCA) at any time. This legislation empowers the US government to seize a VPN user's data if such information has been retained. The only counteraction to this is that VPNs shouldn't store any data, but sadly, McAfee Safe Connect VPN does. 
Furthermore, McAfee falls under the purview of the US' extensive legal frameworks, including the well-known PRISM surveillance initiative. This enables the US government to monitor digital communications facilitated by US-based technology firms.
Did McAfee Safe Connect VPN Leak Private Data in the Past?
No, McAfee VPN hasn't leaked data in the past. While McAfee has encountered significant controversies in its history, such as the problematic antivirus update DAT 5958 in 2010, the technical glitch in one service may not directly impact the other.
Although this issue isn't directly related to McAfee's VPN's services, it can make users cautious about the brand. Good thing Safe Connect VPN maintains a strict zero-logs policy across all its VPN servers. 
However, note that you'll have to provide certain information when registering your account, such as your email and billing info. Additionally, other non-VPN McAfee products may also store some of your information, including personally identifiable information. 
Is McAfee VPN Safe?
Yes, McAfee Safe Connect VPN is safe and has successfully passed a third-party audit. By default, McAfee VPN uses robust AES 256-bit encryption. This encryption standard, utilized in banking security, would take several years for even a supercomputer to break. It guarantees the safety and security of data transmitted via McAfee VPN's tunnels.
Nevertheless, McAfee uses the Catapult Hydra protocol, which raises some eyebrows. It shares this protocol with some other VPNs, like Hotspot Shield. In 2018, an independent security researcher named Paulos Yibelo uncovered a significant security vulnerability within Catapult Hydra. 
This vulnerability exposed user information, including their country and Wi-Fi network name, to potential third-party access. While a prompt resolution was provided to address the security issue, the initial oversight underscores a broader apprehension surrounding Catapult Hydra. 
Supported Platforms & Devices
McAfee VPN has limited platform support and allows only 5 simultaneous connections, which is less versatile compared to other VPN services. McAfee VPN extension for browsers are also non-existent. Our Score: 3/10
VPNs that natively support many platforms and devices allow you to conveniently protect more of your data. The informative table below gives a quick summary of which platforms McAfee VPN supports with native apps.
| | |
| --- | --- |
| Desktop Platforms | Windows, ChromeOS. |
| Mobile Platforms | iOS, Android. |
| Web Browsers | N/A. |
| Routers | N/A. |
| Other Devices  | N/A. |
This VPN provider supports Windows, ChromeOS, iOS, and Android. It's a bit unfortunate that there's no McAfee VPN on Mac, including native apps for Linux, FireTV, and router apps. Plus, you don't get to have the McAfee VPN Chrome extension, including extensions for other major browsers.
The absence of a Smart DNS tool and the inability to configure Safe Connect VPN on a home router could also limit you. Consequently, there are no viable solutions for devices that can't support native VPN applications, such as gaming consoles.
Honestly, it's quite disappointing to see a paid VPN service with such limited compatibility across various platforms and devices. Its deficiency in this area is striking in an era where digital connectivity is crucial. 
On a positive note, McAfee Safe Connect VPN allows 5 simultaneous connections on paid plans and one device on the free plan. But once you've linked five devices to your account, you'll need to remove one manually to add a new one. So, if you have more than five devices at home, you'll find yourself signing in and out multiple times.
Installation & Initial Configuration
The installation and set up of McAfee VPN on mobile apps were easy and didn't require technical expertise. However, installing the Windows app was problematic for us. Our Score: 6/10.

In this section of the McAfee Safe Connect VPN review, we'll detail the installation and setup procedures for the VPN, while addressing specific challenges that may arise during this process.
In our firsthand experience, the installation process was buggy on Windows, crashing for no known reason. We tried many solutions to remedy this, including McAfee's own pre-install tool for prepping PCs for its apps. The McAfee Consumer Product Removal Tool (MCPR) also didn't help. 
We could only fix this after turning on another VPN service and redownloading the app multiple times. Even then, we had many failed server connections. 
On the other hand, installing and connecting to the iOS and Android apps was a breeze. Plus, McAfee VPN has no bundled apps upon installation, which is a good thing.
How to Download and Use McAfee Safe Connect VPN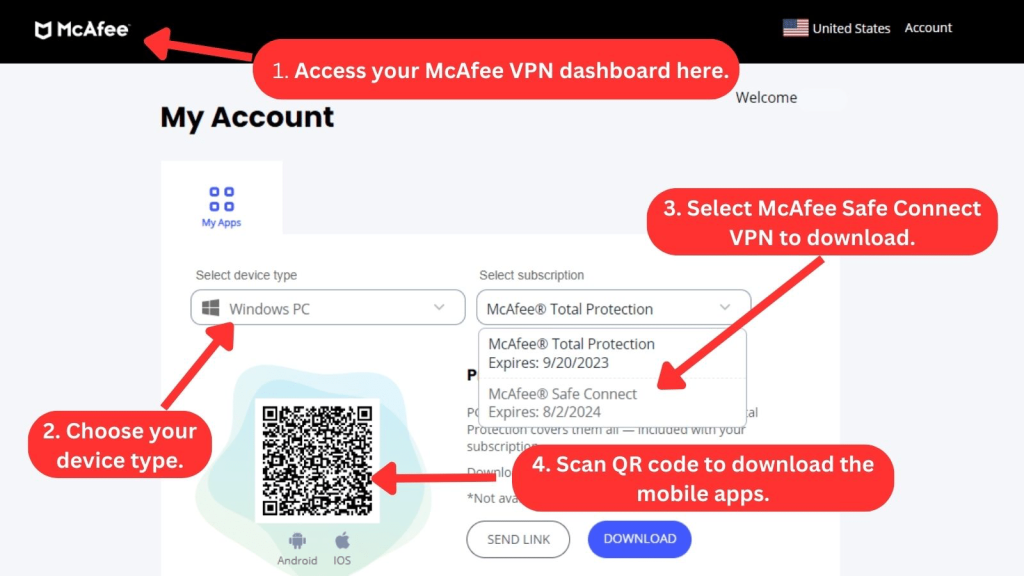 You need to get a McAfee VPN subscription to download and use Safe Connect VPN. Once you've registered, you can proceed to get the app and install the VPN on your preferred devices. 
To download McAfee VPN on mobile devices like Android and iOS, simply search for the app in your device's app store. Alternatively, you can scan the QR codes provided on the official website's download page. On Windows, the first step to accessing the installation file is the McAfee VPN login. 
Here's a step-by-step guide to downloading McAfee VPN on Windows:
Subscribe to McAfee VPN on any Web browser.
Return to McAfee VPN's website and click "Sign in" on the right side.
Log in with your credentials to access the McAfee VPN dashboard.
On the dashboard, click "Downloads & Devices" under the "My McAfee" section.
Select your device and choose the "McAfee Safe Connect" subscription.
Click "Download" to get the installation file.
Double-click the installation file and install the app.
Launch the VPN and sign in using your credentials or activation code.
Choose a server location in the upper right corner.
After installation, the McAfee Safe Connect VPN app presents an appealing user experience, given its straightforward design. We found the app's tutorial screen particularly commendable, as it carefully explains and points out the essential VPN features.
Prominent Features
McAfee VPN offers core functionalities similar to well-known VPNs, but its advanced features are restricted to specific devices. Notably, it lacks dedicated IPs and ad-blocking capabilities. Our Score: 6/10
McAfee VPN has a handful of security and privacy features like Safe Reconnect, app-level protection, and TCP override. These are great to have, but they are limited to certain devices. Advanced features like dedicated IPs or ad-blocking features are also missing. 
In this section of our McAfee VPN review, we'll cover all its features and how they work. Here's a breakdown of what to expect from McAfee Safe Connect VPN in terms of features.
Auto-Connect: You need to turn on this feature manually after installing Safe Connect. Once it's on, a VPN tunnel is automatically activated when you connect to the Internet. Unlike most other VPNs, you can be specific about the type of Internet connection that activates the VPN. The app allows you to choose between connecting automatically on WiFi only or WiFi/LAN.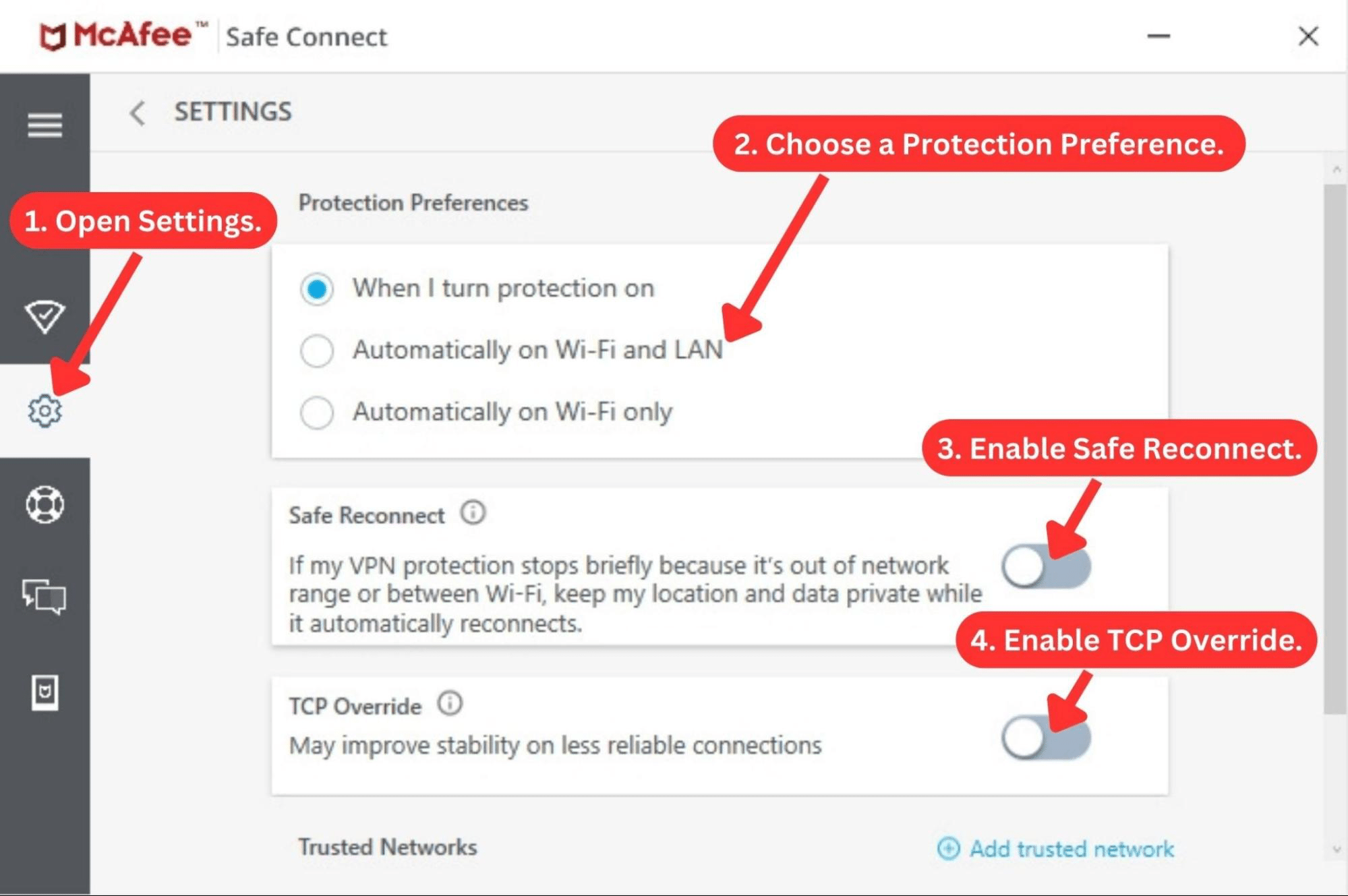 Safe Reconnect: Think of this feature like a kill switch. If the VPN loses connection, it helps it reconnect and keeps your data private. Safe Reconnect is only available in the Windows app. You can activate it manually on the Settings page of the app.
App-Level Protection: Similar to split tunneling, this feature lets you choose which apps use the VPN so your Internet connection works better. However, the feature is exclusively available to Android users.
TCP Override: This advanced feature is available on Windows. It swaps OpenVPN's standard connection (UDP) for a slower but steady one (TCP). Use it only as a last resort when you encounter frequent connection problems. 
Server Count & Infrastructure
McAfee VPN offers servers in 48 countries. However, McAfee didn't provide specific details regarding their VPN server locations or the nature of these servers, whether they're physical or virtual. Our Score: 3.5/10
A strong VPN's backbone is its server network. It ensures compatibility with various online tasks, such as unblocking websites or location spoofing. Here's the server information for McAfee VPN:
| | |
| --- | --- |
| Number of Servers | 48+ |
| Number of Locations  | N/A |
| Number of Countries  | 48 |
| Specific Cities Selection  | NO |
| Unlimited Switching | YES |
However, McAfee Safe Connect VPN has a relatively small server network in only 48 countries. This limited coverage is particularly underwhelming since it can't connect to servers at the city level, a feature commonly expected from reputable VPN services. It also doesn't disclose how many servers it has in total. 
Another thing worth mentioning is that, according to the McAfee website, switching between virtual servers is exclusively available to premium account holders. However, we were able to change location on McAfee VPN free plan. 
McAfee Safe Connect VPN also manages to maintain a server presence in popular countries across all continents despite its small network. The VPN has servers in Europe, North America, Asia, Oceania, and Africa. 
If you're looking for a VPN with the most servers, McAfee VPN isn't an option. But you can connect to the speediest server location by selecting "Fastest Location" in the server list. 
Does McAfee VPN Use Virtual Server Locations?
Yes, McAfee VPN uses VPN virtual locations. Eighteen of its servers are virtualized. The VPN assigns you an IP address matching the country you choose in the app. However, the server it connects you to is actually in another country.  
Initially, McAfee VPN offered servers in 50 countries. But in June 2022 and July 2020, the India server and Hong Kong virtual locations were removed, respectively. McAfee VPN cited security and privacy reasons for removing both servers from its offerings. 
Below is the full list of virtual server locations currently offered by McAfee Safe Connect VPN:
| | | |
| --- | --- | --- |
| Argentina | Indonesia | Portugal |
| Australia | Ireland | Romania |
| Austria | Italy | Serbia |
| Belgium | Japan | Singapore |
| Brazil | Kenya | Slovenia |
| Bulgaria | Latvia | South Africa |
| Canada | Lithuania | South Korea |
| Chile | Malaysia | Spain |
| Colombia | Mexico | Sweden |
| Cyprus | Moldova | Switzerland |
| Czech Republic | Netherlands | Taiwan |
| Denmark | New Zealand | UAE (Dubai) |
| Finland | Nigeria | Ukraine |
| France | Norway | United States |
| Germany | Peru | |
| Greece | Philippines | |
| Hungary | Poland | |
UI/UX Design & Ease of Use
McAfee VPN offers a user-friendly interface. You'll have no trouble using it, even if you're new to VPN applications. Our Score: 9/10
This section delves into the McAfee VPN applications designed for desktop and mobile platforms. Also, note that there are no browser extensions available for this VPN. 
The minimalistic design featured on the Windows home screen is consistent across McAfee VPN on iPhone and Android. It conveniently presents essential information with the "Start Protection" button right in the middle at the bottom of the app. 
The server list dropdown menu is located at the top right corner of the home screen. You can simply select "Fastest Location" in the list to connect to a server. Otherwise, you can scroll through the options to choose your preferred location. 
It does have an extra confirmation screen when you select a server, but it doesn't affect the experience much. The app also sometimes fails to connect to servers, requiring restarts, which is annoying.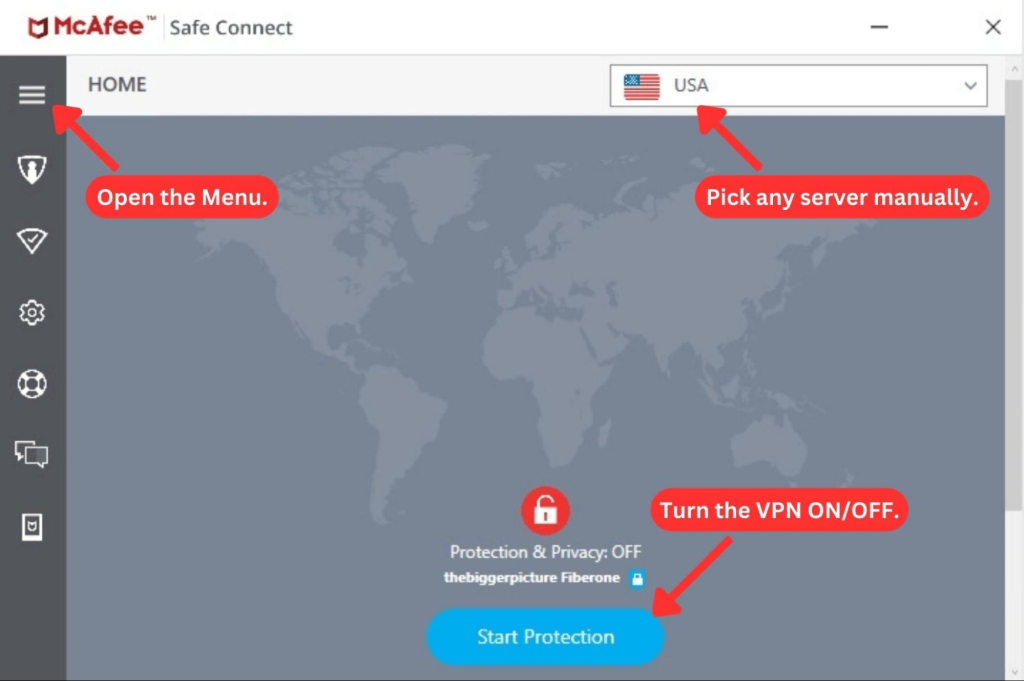 To the left, you'll find a sidebar with seven icons. The first icon in the top left corner is a hamburger button (three vertical lines). Clicking it expands the other six icons into tabs. 
The six menu options in McAfee VPN on PC are:
My Account: Clicking this tab shows your subscription and account details. Additionally, it shows the number of devices currently linked to your account. Here, you can rename or remove certain devices from your account or sign out on your current device.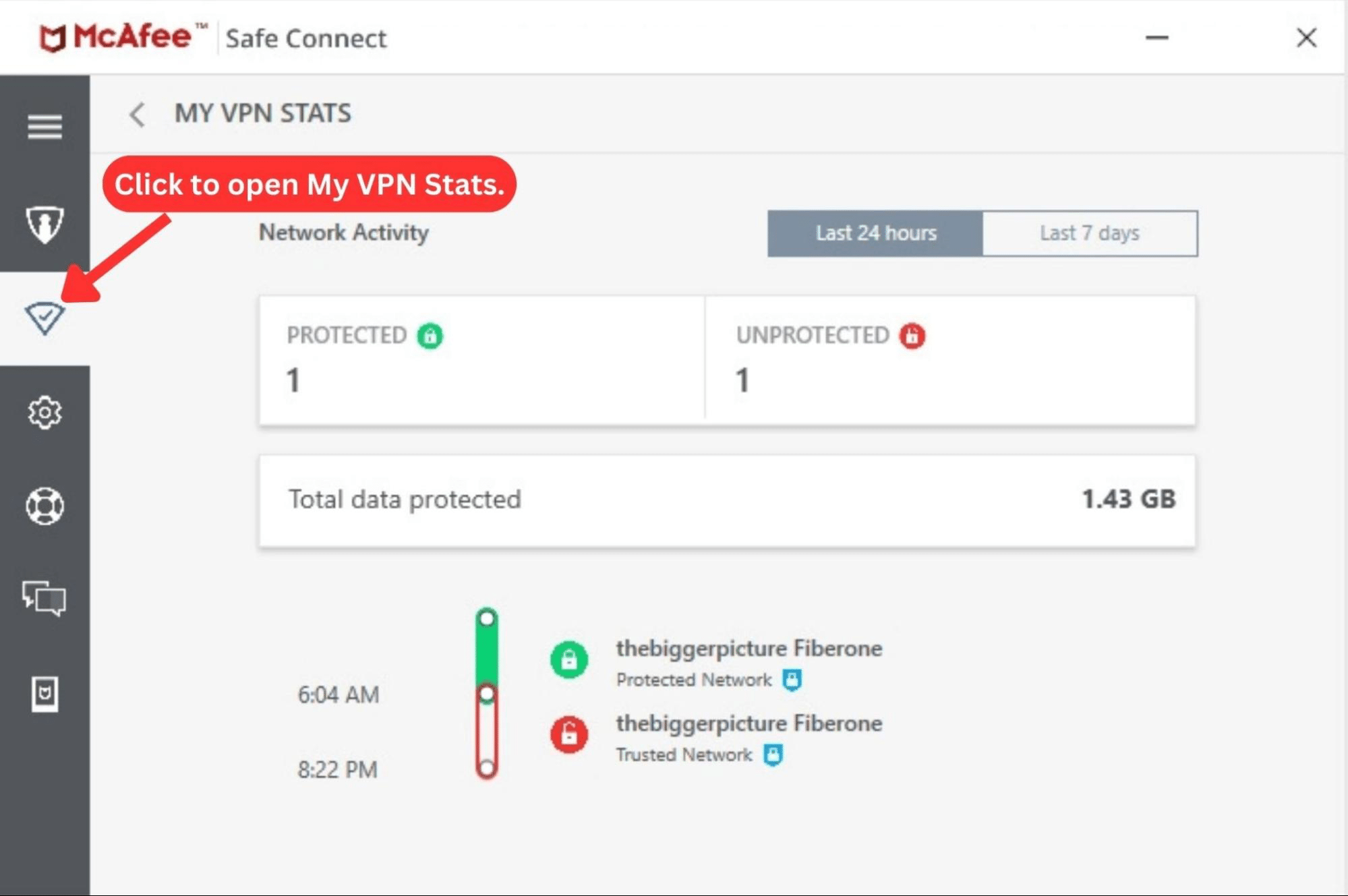 My VPN Stats: This option displays your network activities, showing protected and unprotected devices. You also see your network activities from the past 24 hours and the last seven days. Additionally, it shows you the Wi-Fi you've connected to, including connection times and duration.
Settings: There's a lot to do here. First, you can set McAfee VPN to auto-connect over certain types of Internet connections, such as WiFi or LAN. Next, you can turn on/off McAfee VPN Safe Reconnect, its own version of the kill switch. This is also where you turn TCP Override on. Finally, you can also add trusted networks to the VPN provider here.
Help: This section has answers to frequently asked questions about subscriptions, features, and connection problems. The questions are sectioned into General Questions and device-specific FAQs for PC, iOS, and Android. This can save you from unnecessary dialogue with customer representatives.
Feedback: You can leave a comment here telling McAfee VPN what you think they can do better to improve their services. Note that you'll need to add your registered email address when you give your feedback.
About: This section gives insight into the version of the McAfee VPN native app you're running. There are also links to its support, open-source licenses, privacy policy, and license agreement.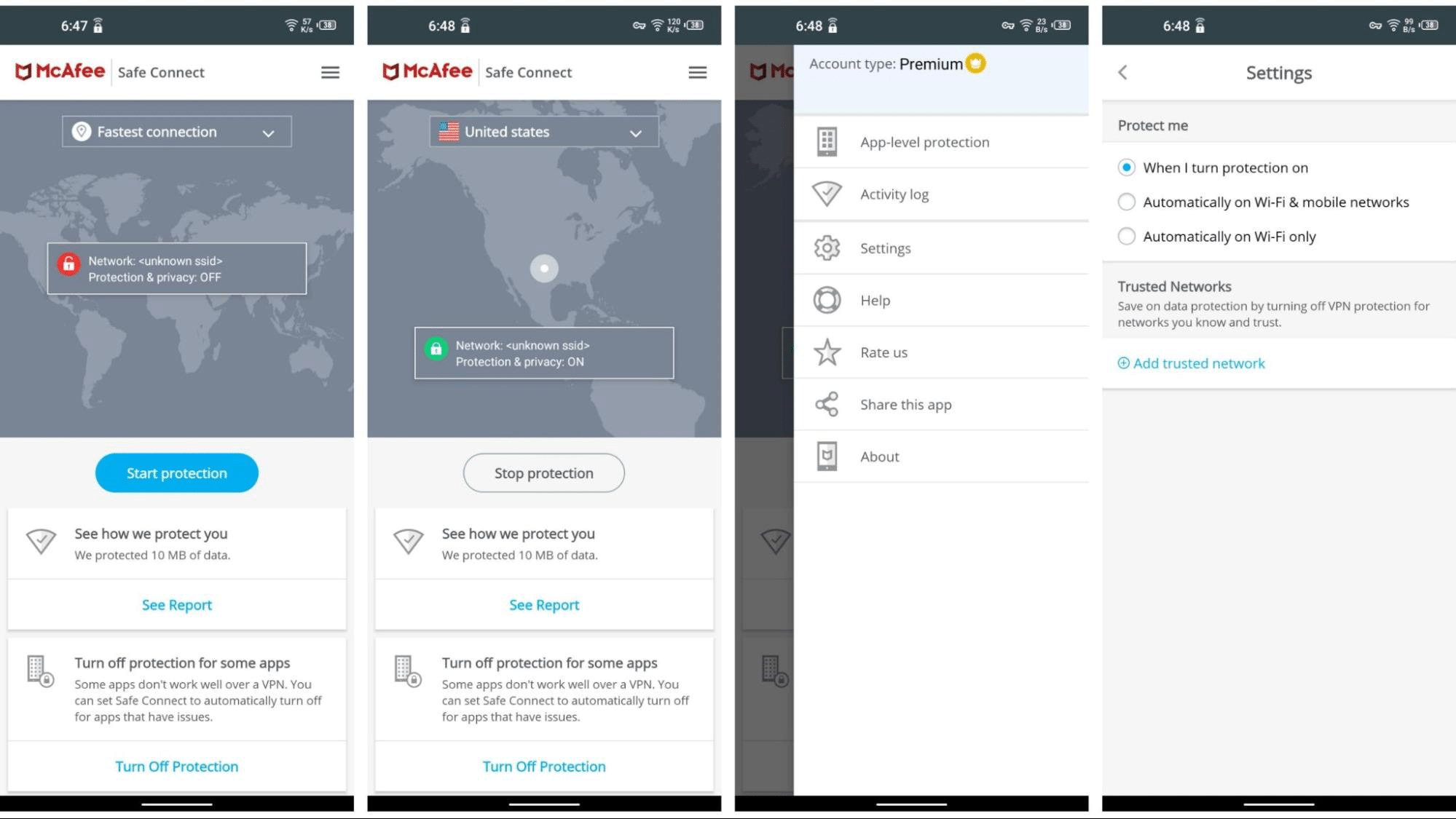 McAfee VPN's Android and iOS apps also offer a very simple user interface with almost the same icons as the Windows version. Both mobile apps have extra menu options to rate and share the app. However, McAfee VPN on Android has a unique App-level Protection feature, which protects specific apps on your mobile device. 
Media Streaming, Torrenting, and Gaming Support
McAfee VPN effortlessly bypasses restrictions on numerous media streaming services, including Netflix US. It supports gaming and torrenting as well.  Our Score: 8/10
If you use VPNs for streaming, torrenting, or gaming, it's important to see how well McAfee VPN handles these tasks. This part of our McAfee VPN review checks how the VPN performs in streaming, torrenting, and gaming.
Is McAfee VPN Good for Streaming?
Yes, McAfee VPN is a good VPN for streaming. It delivers solid performance by successfully bypassing restrictions on a wide range of streaming platforms like Netflix, Prime Video, Max, and Hulu. 
During our tests, it seamlessly provided access to TV shows, on-demand movies, and live TV streaming services on both US- and non-US-based platforms.
Below are some prominent US-based streaming platforms that this VPN can successfully unblock:
| | | |
| --- | --- | --- |
| Netflix | Max | Hulu |
| Discovery+ | Paramount+ | Apple TV+ |
| Amazon Prime Video | Fubo TV | DirectTV Stream |
| Sling TV | Peacock | AMC+ |
When it comes to international and non-US streaming platforms, here's a preview of what you can unblock with McAfee VPN:
| | | |
| --- | --- | --- |
| ITVX (UK) | Channel 4 (UK) | CBC (Canada) |
| RaiPlay (Italy) | 9NOW Live (Australia) | CTV Live (Canada) |
| DSTV (S. Africa) | RTE (Spain) | Zattoo (Germany) |
Although we weren't able to select servers at the city level, selecting servers by country was good enough to unblock most of the major streaming platforms. The only streaming sites we couldn't access were Disney+ and BBC iPlayer. With unlimited bandwidth, you can stream to your heart's content without issues.
Is McAfee VPN Good for Torrenting?
No, McAfee VPN isn't good for torrenting. The VPN does support torrenting at really decent speeds. However, it doesn't meet our expectations when it comes to privacy. 
Our test indicated that torrenting is allowed across all servers within Safe Connect. Its manageable upload speeds also facilitated stable peer-to-peer connections. However, McAfee Safe Connect VPN is located in the United States, which is a key player in the Five Eyes Alliance. 
Also, there's no port forwarding or SOCKS5 servers, which are useful P2P-friendly features. 
In light of this, McAfee VPN falls below the mark among the top VPNs for torrenting. If you want to use torrenting sites privately, then you should check out our best torrenting VPN list. Many alternative VPN providers offer a harmonious blend of torrenting features, exceptional speeds, and zero torrenting limitations.
Is McAfee VPN Good for Gaming?
Yes, McAfee VPN is a good VPN for light gaming. This recommendation is mostly based on its decent browsing speeds and low ping times. It also has servers in 48 countries, all of which will allow you to change your location at will. 
However, McAfee VPN isn't great for competitive gaming. Why? Because it could do better on all three aforementioned attributes. If its browsing speeds were faster, pings were much lower, and it had more servers in more countries, it would deliver a smoother gaming experience. It also doesn't have optimized servers for gaming. 
You can still enjoy games like Among Us and FIFA on Safe Connect seamlessly. But if you play FPS titles like Call of Duty or racing games that need pings lower than 50 ms, check out our best gaming VPN recommendation. 
Security & Privacy
Even with a basic encryption protocol, McAfee VPN guarantees no IP or DNS leaks. It also doesn't keep logs of your online activities. Our Score: 7/10
This section of our McAfee VPN review evaluates the security and privacy features of McAfee VPN. We'll shed light on its known protocols and data collection practices, then test the McAfee VPN service for leaks. 
McAfee Safe Connect VPN Protocols
Unlike other premium services with multiple VPN protocols, McAfee Safe Connect runs on a single and relatively unpopular protocol known as the Catapult Hydra. Developed by AnchorFree as a proprietary protocol, it supports modern VPN solutions like Hotspot Shield VPN, Kaspersky VPN Secure Connection, Bitdefender VPN, and Betternet VPN. 
Catapult Hydra: This protocol is based on OpenVPN and uses a TLS handshake, although it has been reworked to be faster. VPNs like Hotspot Shield also use Catapult Hydra, even though it's not as safe as other available options. In 2018, the protocol was found to allow third-party access to your personal data. The problem has been fixed, but it shouldn't have existed in the first place.
Unsurprisingly, McAfee VPN has been secretive about its use of Catapult Hydra. It doesn't mention the protocol in the app or anywhere on its official website. It took some research for us to uncover that it uses this protocol. This lack of transparency from McAfee VPN is a major red flag for privacy-conscious users. 
Does McAfee VPN Keep Logs?
No, McAfee VPN doesn't keep logs. In fact, it's the only app in the McAfee product suite that doesn't aggressively store your data. 
Other products store all your information, including personally identifiable info. But McAfee VPN servers don't snoop on or log your Internet activities. Hence, you might want to be cautious if you download the VPN as a bundle. 
The only data McAfee VPN stores about you is the info you provide when you subscribe to one of its plans. It has also been independently audited and found to be safe. 
Does McAfee VPN Leak/Expose Your Private Data?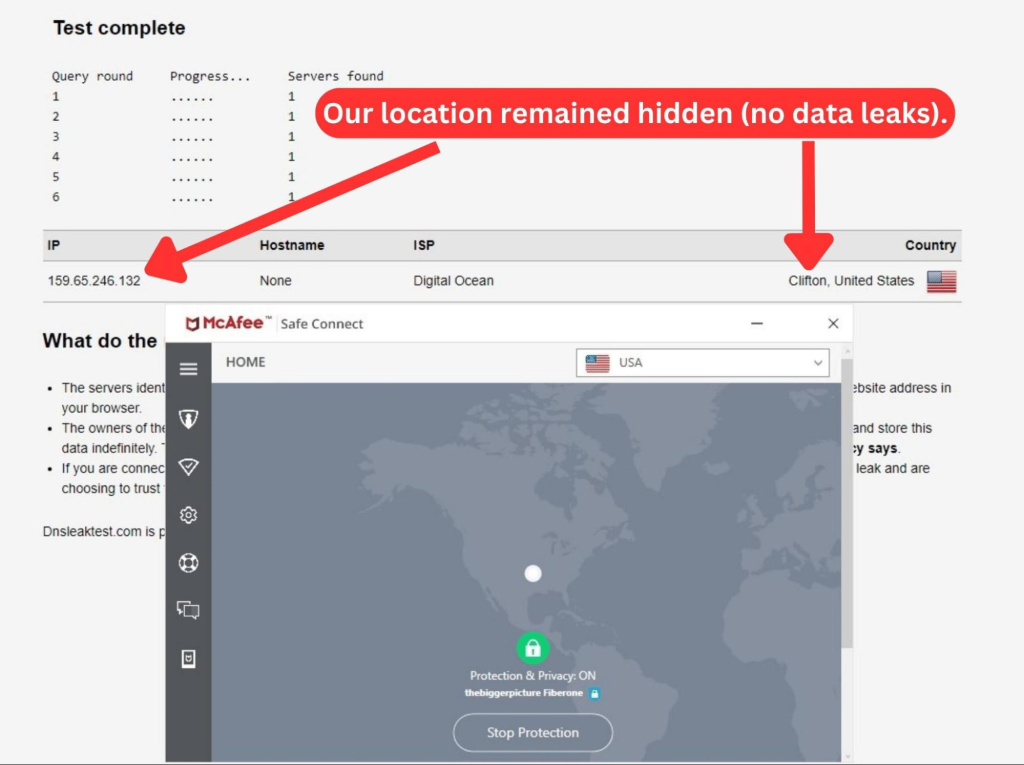 No, McAfee VPN doesn't leak or expose your private data. If you take a look at the image above, we found no DNS leaks in our extensive tests. Our online footprint remained concealed. The VPN effectively prevented websites from accessing our genuine IP address, displaying only our virtual address. 
Speed & Performance
During testing, McAfee VPN had average speed performance. With a Web connection slowdown of 53%, McAfee VPN isn't impressive enough. Our Score: 6/10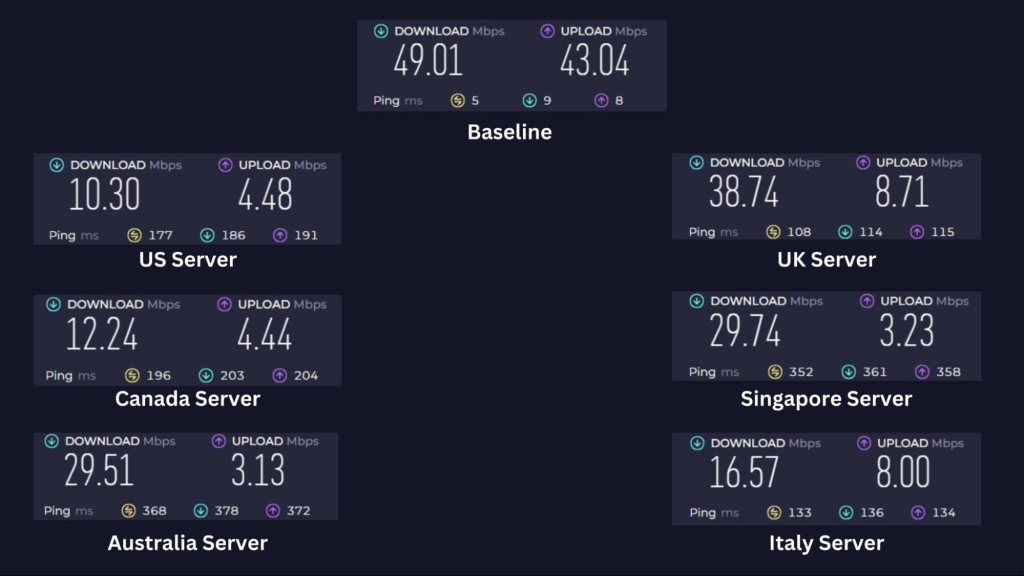 We tested McAfee VPN's performance by comparing Web speeds with and without the VPN. Our baseline speeds were 49.01 Mbps for download and 43.04 Mbps for upload. This review assesses the VPN's impact on speed relative to these results.
US Server (New Jersey): McAfee VPN couldn't deliver a blazing-fast US server, yielding 10.30 Mbps download and 4.48 Mbps upload speeds. This 79% speed drop is excessive for a VPN.
UK Server (London): McAfee VPN in UK showed decent results during testing, delivering 38.74 Mbps download and 8.71 Mbps upload speeds. The speed drop of around 21% implied a significantly closer download speed to the baseline.
Canada Server (Ontario): The Canadian server achieved 12.24 Mbps download and 4.44 Mbps upload. It had a notable 75% speed drop from the baseline.
Singapore Server (Singapore): This server displayed a 39% speed decrease. Tests indicated an average 29.74 Mbps download speed but a poor 3.23 Mbps upload speed.
Australia Server (Sydney): The peak performance of this server reached 29.51 Mbps download and 3.13 Mbps upload. This translates to a speed loss of around 40%.
Italy Server (Milano): Experiencing a significant 66% speed drop from the baseline, McAfee VPN achieved 16.57 Mbps download and 8.00 Mbps upload speeds.
It's worth noting that McAfee VPN in India and Hong Kong, unfortunately, had to be removed due to new cybersecurity laws and regulations.
| | | | |
| --- | --- | --- | --- |
| | Download Speed | Upload Speed  | Speed Reduction |
| Baseline Speed | 49.01 Mbps | 43.04 Mbps | 0% |
| USA (New Jersey) | 10.30 Mbps | 4.48 Mbps | 79%  |
| UK (London) | 38.74 Mbps | 8.71 Mbps | 21%  |
| Canada (Ontario) | 12.24 Mbps | 4.44 Mbps | 75%  |
| Singapore (Singapore) | 29.74 Mbps | 3.23 Mbps | 39%  |
| Australia  (Sydney) | 29.51 Mbps | 3.13 Mbps | 40%  |
| Italy (Milano) | 16.57 Mbps | 8.00 Mbps | 66%  |
McAfee VPN's speed performance, per our tests, is average. The VPN cut our Web speed by 53%, which is a notable drop. Unless you have high-speed Internet to counter the drops, explore alternatives. Otherwise, you should consider choosing one of the fastest VPNs available right now. 
Customer Support
You can get help through a number of options, including 24/7 live chat, phone support, in-app FAQs, and community forums. But some of these options could use some improvement.  Our Score: 6/10
McAfee VPN provides six round-the-clock customer support options: a 24/7 live chat, 24/7 phone support, in-app FAQs, video tutorials, Knowledge Center, and a support community. That's a lot of channels, but not all of them were accessible or useful to McAfee VPN users. 
Here's an overview of how helpful those support touchpoints are.
24/7 Live Chat: Communicating through live chat was slow but relatively straightforward. You have to fill out a long form requesting multiple details, including the phone number linked to your account. Once you're done, you can begin chatting with a support agent, although it takes at least one hour to connect to a human representative.
Phone Call: A telephone number is available on the official website for in-person requests and inquiries with customer representatives. The line is available 24/7 and isn't difficult to find on the support page. However, if you have the free VPN version, you won't have access to phone support.
In-App FAQs: You can quickly find answers to frequently asked questions on the Help Page of the McAfee VPN app. The FAQs are divided into different sections or device types. They address how to use McAfee VPN and subscription issues, and also provide help with troubleshooting. 
Video Tutorials: The Support page has three videos, but they do not focus on Safe Connect VPN. One is an installation guide for McAfee apps, the other is an installation troubleshooting guide, and the last one shows you how to manage your auto-renewal. 
Knowledge Center: Here, you'll find over 600 FAQs and support articles, although only 20+ are directly tagged to Safe Connect. Even when we isolated Safe Connect queries, we still didn't see any relevant or useful solutions. 
Support Community: This would be where you find answers to specific queries and seek assistance from fellow users, but the link doesn't work. The only way to access those solutions is through the Knowledge Center, where you can switch to Community topics. 
McAfee Safe Connect VPN shares its support framework with the wider McAfee product lineup. This means there's no specific support system for Safe Connect. 
Still, you can easily find the help you need as its support page is properly designed. You can specify which device you need assistance with and what type of assistance you need. You're then directed to one of the three support options. 
Pricing
McAfee VPN has different subscription plans depending on where you register. Still, its VPN plans tend to be overpriced compared to its direct rivals with better features. Our Score: 5/10.
McAfee VPN has three subscription plans on its website, but only two on its mobile apps. The pricing is also different for each platform. It will cost more if you buy through mobile apps than on its official website through a Web browser. 
How Much Is McAfee VPN?
McAfee VPN costs $3.33/month or $39.99 for the first year if you pay through the official website. It also has other plans with additional security and identity protection features. 
Here's an overview of the pricing for this VPN, so you can determine the McAfee VPN cost for yourself.
VPN: This subscription plan costs $3.33 monthly and allows you to connect up to 5 devices simultaneously. This plan is billed annually at $39.99 and offers only Safe Connect VPN without additional features. It renews for $47.99 for the second year. 
Essential: Also at $3.33 per month, this plan offers the highest cost savings compared to its regular price. Aside from 5 simultaneous connections, it also includes an award-winning antivirus, firewall, file shredder, and Web protection. This yearly plan currently costs $39.99 and renews for $119.99. 
Advanced: This subscription plan costs $6.67 monthly for 5 simultaneous connections. You get $1M ID theft coverage, Personal Data Cleanup, and all the features offered in the Essential plan. You also get identity features like security freeze, identity monitoring, assisted ID restoration, and a password manager. It costs $79.99 a year and renews for $199.99.
For the first year, you get a whopping 67% off on the Essential plan, which is the best cost savings you can get on the McAfee website. For modes of payment, McAfee accepts credit or debit cards, including PayPal, and offers a 30-day money-back guarantee on all plans.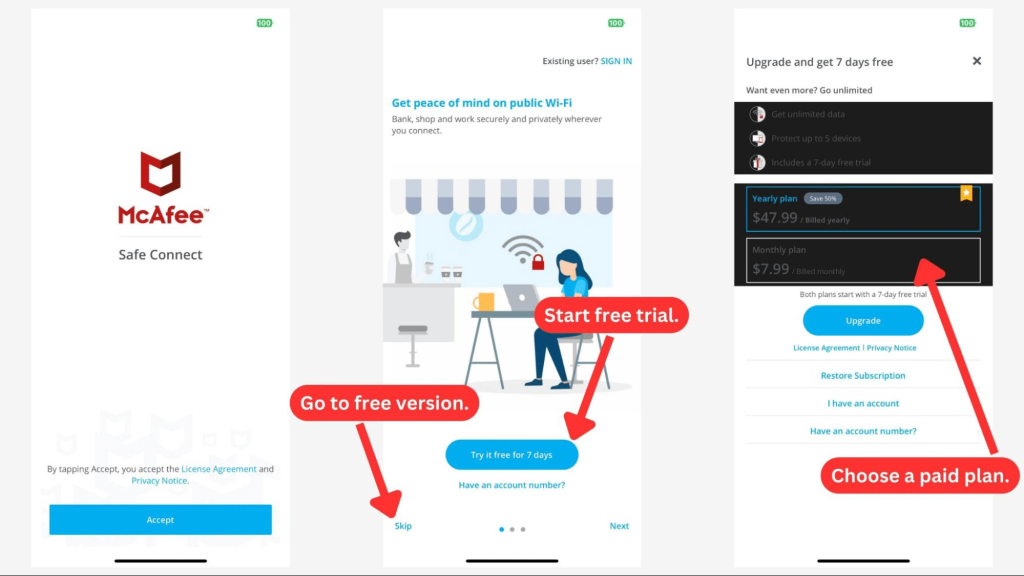 The McAfee VPN price on mobile apps is $7.99 monthly or $47.99 annually. Both plans start with a 7-day free trial period and only include the VPN. 
Here's a breakdown of McAfee VPN's plans on mobile devices. 
1-Month Plan: This monthly subscription plan is billed at $7.99 until you cancel or change your subscription. 
1-Year Plan: The yearly plan costs and renews at $47.99, which means you save 50%. 
Although more expensive than subscribing on the website, the annual plan on mobile apps gives you a whopping 50% discount. 
Getting the annual plan is also an advantage since the monthly mobile plan isn't eligible for a 30-day money-back guarantee. For payment, you can use the app store's payment methods.
Is McAfee VPN Free?
Yes, you can get McAfee VPN for free, but with certain limitations. The McAfee free VPN lets you connect to all its servers, but you only get up to 250 MB of VPN data protection. To use it for free, simply download Safe Connect VPN on Android, iOS, or Windows and skip the registration page. 
Alternatively, you can register for a McAfee VPN free trial on the website or in the mobile app. The official website offers a 30-day trial period with 500 MB of bandwidth if you're not on auto-renewal. Afterward, you'll be switched to the Essential plan, which costs $39.99. 
McAfee VPN FREE
McAfee VPN PAID
VPN Connections
1
5
Servers/Countries
48+/48
Server Switching
YES (Limited)
Unlimited
Performance/Speed
Limited
Unlimited
Protection Limit
250 MB/month
Unlimited
No-Logs Policy
YES
P2P Support
NO
YES
Media Streaming
NO
YES
Gaming
NO
YES
As shown in the table above, the free version only allows basic browsing. We must also mention that the free plan doesn't include 24/7 phone support. In other words, if you want to access all of McAfee's Safe Connect VPN features, you'll need the paid plan.
Final Thoughts – Is McAfee VPN Good?
No, McAfee VPN isn't good and could use a lot of improvement. It has certain positive aspects, such as strong AES-256 encryption, a relatively user-friendly interface, multiple support channels, and privacy features. It also performed well during our streaming unblocking tests on Netflix, Max, Hulu, and other platforms. 
However, McAfee VPN's Windows app is problematic to download and use. Its live chat was also slow to respond, and other support channels weren't enough. Moreover, it's not available on macOS or Linux and doesn't have browser extensions.  
Additionally, being based in the United States poses further risks to your data security. Despite its ability to unblock streaming platforms and facilitate gaming and torrenting, the limited server network and average speeds could be frustrating if you want a smooth and speedy online experience. 
In that case, it might be wise to look elsewhere for a VPN provider with better speed performance, many more servers, wider device coverage, and based in a more trustworthy country. As such, we recommend ExpressVPN.
PROS
Free trial available.
Offers a free version. 
Solid streaming and unblocking capabilities. 
User-friendly interface.
Solid AES-256 encryption.
No past data leaks.
CONS
US-based VPN.
Buggy Windows installation and connection. 
Patchy customer support. 
Average speed results.
Not available for macOS.
Small server network.
Obscure security protocol information.
Overpriced compared to competitors.
FAQ
What Is McAfee VPN?
McAfee VPN is a premium VPN provider based in the United States. It allows users to establish a secure and encrypted connection between their device and the Internet.
How Does McAfee VPN Work?
McAfee VPN works by providing a secure, encrypted connection between your device and the Internet. It hides your online activities and data from prying eyes, like hackers and snoopers. Aside from keeping your stuff private, it also helps you get around geo-restrictions.
Does McAfee LiveSafe Have VPN?
Yes, McAfee LiveSafe does include a VPN with unlimited access if you're enrolled in auto-renewal. If you're not, you only get 500 MB of VPN bandwidth.
Does McAfee Total Protection Include VPN?
Yes, McAfee Total Protection comes bundled with a VPN. You can use the VPN without restrictions if your plan is on auto-renewal. Otherwise, you get only 500 MB of bandwidth with the VPN. 
Does McAfee VPN Slow Down the Internet?
Yes, McAfee VPN can potentially slow down the Internet like any other VPN provider. The speed reduction is often caused by your data traveling through extra secure servers.