A&E has certainly changed a lot since its launch, as it used to focus on fine arts, dramas, and documentaries. These days, A&E is all about reality TV, true crime, and miniseries – which have found their place in close to 96 million American households. Still, those outside the country will have a hard time watching their favorite shows due to harsh geo-restrictions. So, the question is – how to watch A&E outside the US in 2021? 
When it comes to unblocking any website, a VPN is the best solution. And yes, that applies to A&E and other TV channels you can stream online. Here's all you need to know.
Where Is A&E Available? 
Initially, A&E was available as a basic cable TV station available across the United States. Today, it's available across the world. 
More precisely, A&E operates in Canada, Australia, Latin America, and Europe. However, each of those countries/regions has access to a different version of A&E. All those channels are owned by A&E Networks International, spreading their content over channels like Blaze, Crime & History, History, H2, Lifetime, and FYI. 
With that said, if you want to get everything A&E offers, you'll want to access its American version (available as an on-demand content service and an online TV channel). Make sure to keep on reading and learn how to unblock A&E from anywhere.
How to Watch A&E Outside the US? 
Finally, here are the 6 steps to watch A&E outside the US in 2021. 
Step #1: Find the Best-Working VPN to Unblock A&E
Keep in mind that this first step is the most important one, as you need a capable VPN service that can unblock A&E from outside the US. Based on our hands-on tests, you should go for ExpressVPN, which comes as one of the best VPNs available right now.
We'd also like to note that ExpressVPN will help you unblock a whole slate or other channels. That includes CNBC, beIN Sports, HGTV, FOX TV, Bravo TV, ABC, and more. Still, if you want to check other options, head over to our guide on the best VPNs for streaming.
Step #2: Get Your VPN Subscription
So, have you decided which VPN you'll use? If not, don't hesitate to subscribe to ExpressVPN. Once you land on the VPN's website, pick 'Get ExpressVPN.' Then, select a subscription plan but make sure to inspect your options very closely. That's because long-term plans come with major discounts.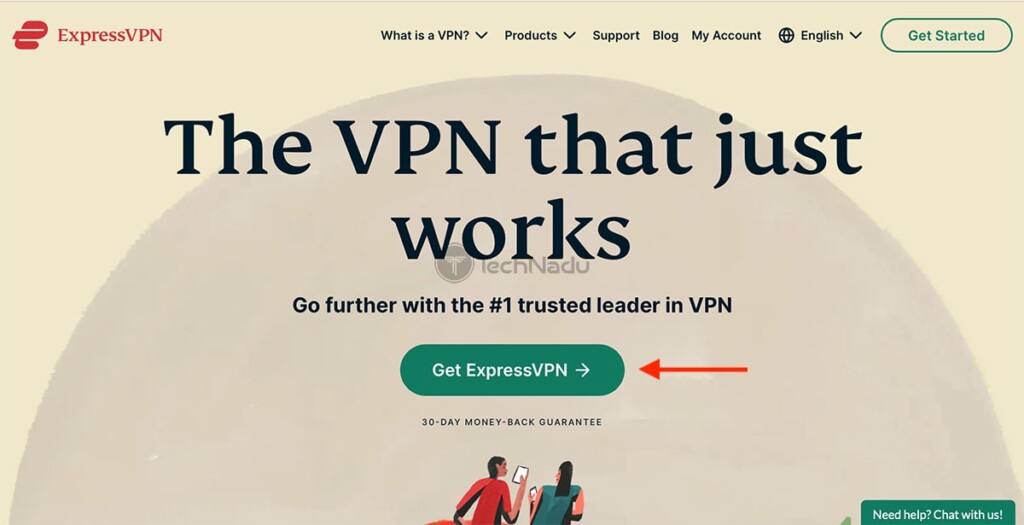 Then, provide your email address and pick a payment method. Once done, ExpressVPN will send you a confirmation email. So, go ahead and check your inbox. When you get the confirmation, proceed to the next step.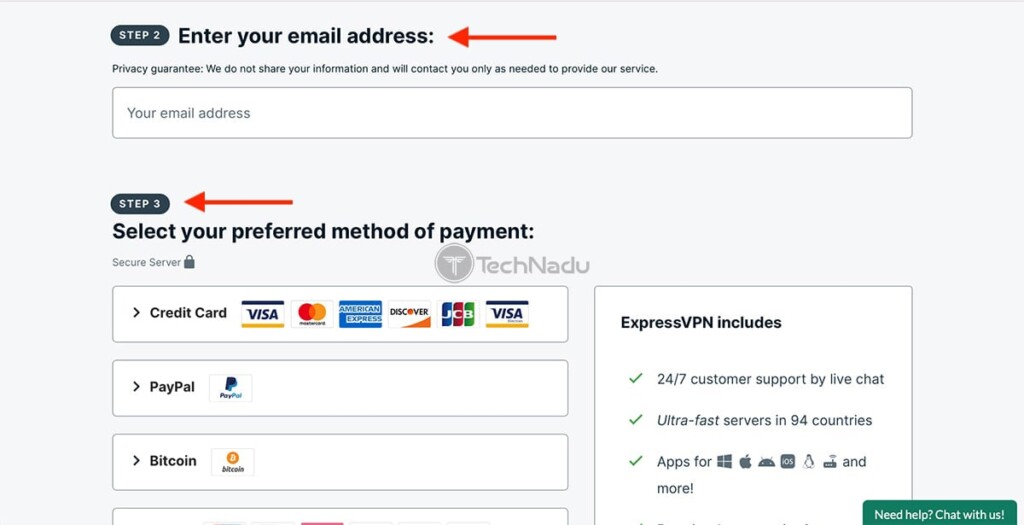 Step #3: Download & Install the VPN on Your Device(s)
We recommend ExpressVPN due to many reasons. However, one of the most important ones is the VPN's device compatibility. In our guide on how to download and install ExpressVPN, you'll find instructions for 60+ different platforms and devices. So, use the provided link, pick your platform(s), and then follow the steps you'll see there.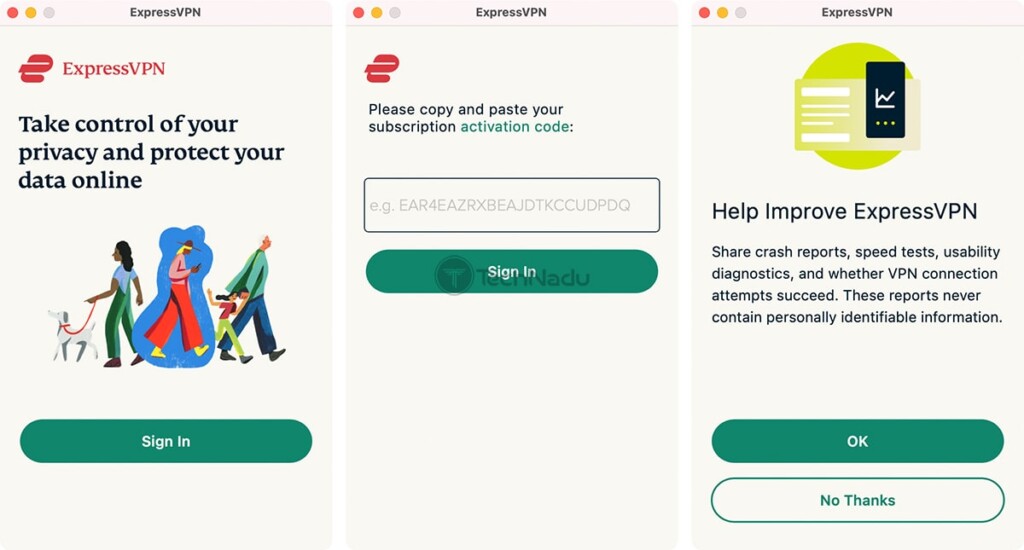 Once you install ExpressVPN, make sure to run it for the first time. You will need to log in to your account, for which you can use your ExpressVPN activation code. Complete the initial setup and continue to the next step once you reach the VPN's home screen.
Step #4: Connect to a VPN Server in the US
You've reached the step that will directly allow you to watch A&E outside the US. Using ExpressVPN's home screen, click on the button below the ON/OFF switch. A new window will open, presenting a sizeable list of servers. You need to use the top-placed search bar to look for 'United States.'
Then, there are two ways to proceed. If you double-click on the country's name, the VPN will find and connect you to the fastest available server. Still, you can always pick a server manually by expanding the list and double-clicking on any server's name. Wait until ExpressVPN's home screen turns green (the upper-third, that is).
Step #5: Unblock & Access A&E From Anywhere
Use any Web browser to access A&E's website. Then, feel free to browse the available videos via the website's home page or using the 'Shows' and 'Videos' menu items. Alternatively, you can click on 'Live TV' in the top-right corner, giving you access to A&E's live stream.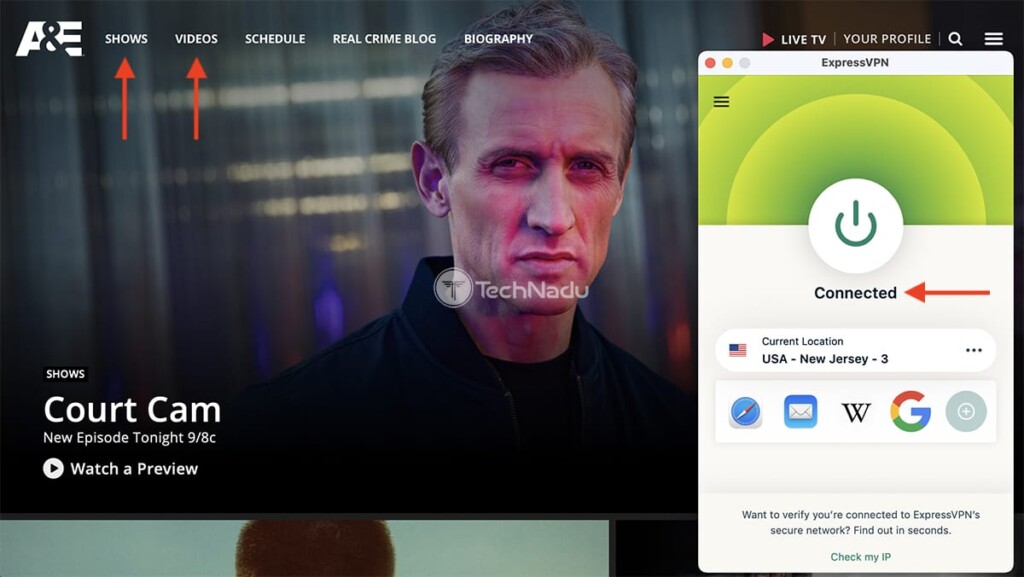 However, before you get to stream anything, A&E will ask you to "sign in to your TV provider." It means that even though A&E's content comes free, you still need to be a subscriber to a cable, satellite, or OTT service. To learn more, here's how to sign up for A&E.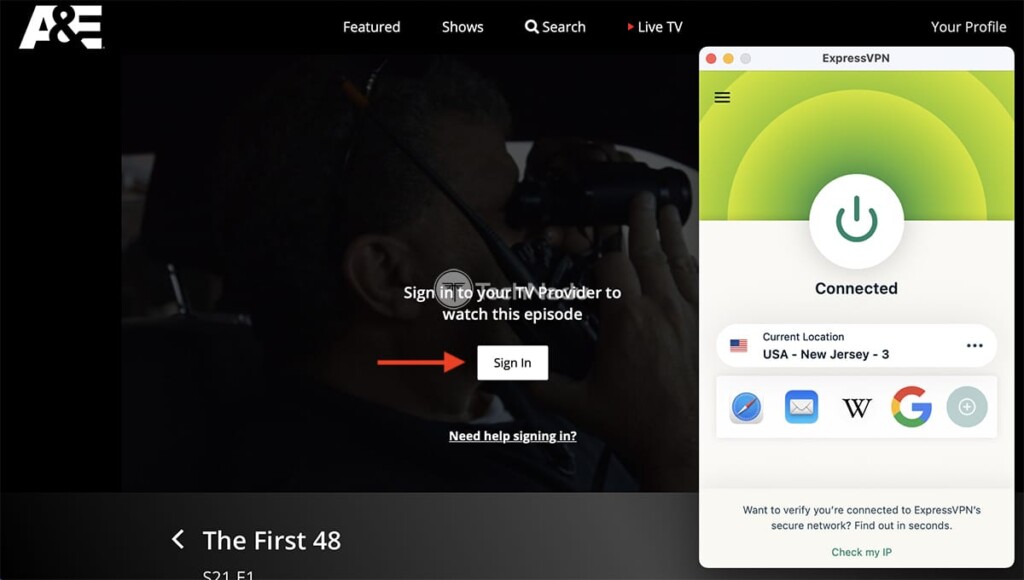 Step #6 (Optional): Get A&E on Other Devices
It doesn't come as a surprise that A&E is available on smartphones, tablets, and more devices. More precisely, you can download the A&E app on an iPhone, iPad, or Android, in addition to smart TVs and media streamers. However, know that your device needs a US-based Google or Apple account. 
If you don't have one, go ahead and create a new Google account or get a new Apple ID. You need to use a VPN while doing so. And also, pick 'United States' when asked about your country. If asked about your address, use this US address generator.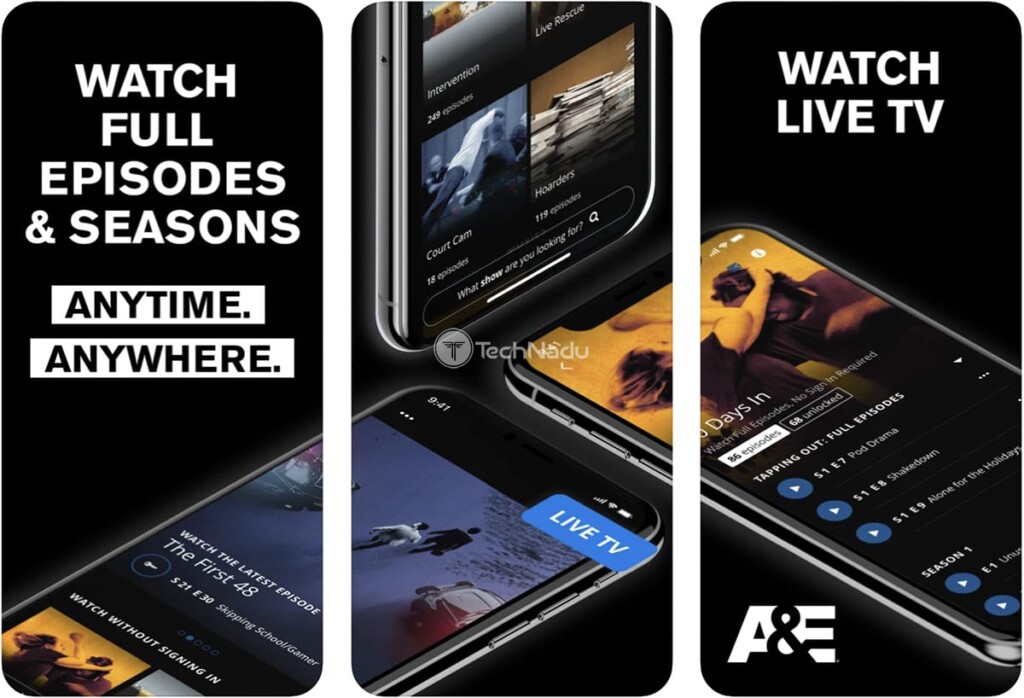 Then, log in to your new account on your smartphone or tablet (while logging out of your old account first). Once you do so, you'll get access to the US version of Apple's App Store or Google's Play Store, from where you can download the A&E app. 
How to Sign Up for A&E Outside the US? 
Since A&E requires valid TV provider credentials, you have a smaller set of options if you're looking to subscribe to A&E from outside the US. With that said, know that the following OTT services "play nice" with VPNs.
1. Philo
By far, Philo presents the most affordable way to watch A&E online, in addition to more than 60 other TV channels. It comes priced at $25/month, brings unlimited DVR while offering extras that bring on-demand content. Here's more information on Philo's packages and prices. And also, you can learn how to watch Philo outside the US. 
2. Sling TV
Sling TV offers two primary plans, and you'll be happy to know that A&E is included in both. There's Sling Orange ($35/month) with 30+ channels, and there's Sling Blue ($35/month) with 40+ channels. You can combine both of those for $50/month. Here's more information on Sling TV's packages and prices. Lastly, discover how to sign up for Sling TV from outside the US. 
3. Hulu + Live TV
Without any doubt, Hulu + Live TV is the most comprehensive option for watching A&E outside the US. This OTT streaming service is priced at $65/month and brings more than 70 channels. You also get access to Hulu's on-demand library, 50 hours of cloud-based DVR, and more. Here's how to get Hulu + Live TV outside the US. 
That would be all on how to watch A&E outside the US in 2021. If you have any questions for us, make sure to post them via the comments section below. And finally, thank you for reading!