As you probably already know, ABC covers pretty much any type of programming imaginable. It offers TV shows, sports programming, specials, and various types of daytime shows. Still, all that content is available only to those in the United States. You must already be aware of that, so we're sure many of you wonder whether it's possible to watch ABC outside the US? The answer is - yes, it's possible.
Thanks to today's highly capable VPN services, you can overcome pretty much any geo-block. That means you can watch ABC via its official website and apps, where full episodes and seasons are on offer, as well as live TV. As long as you get a capable VPN, you'll get full and unrestricted access to ABC's content.
So, if you've been looking for a way to watch The Bachelorette, Grey's Anatomy, Station 19, Mayans, and Good Morning America, you'll find those titles on ABC's website (with full episodes available free of charge). On top of that, you'll also find content from FX, National Geographic, and more (as all those companies are owned by The Walt Disney Company).
So, ready to learn how to unblock and watch ABC from outside the US? If you are - keep reading and show you everything you need to know!
Where Is ABC Available?
ABC (which includes its website and mobile apps) is only available in the United States and its territories (covering Puerto Rico, Guam, Saipan, American Samoa, and the US Virgin Islands).
Keep in mind that you can access ABC's site from pretty much any country in the world, where you can catch up on the latest news. However, if you try to stream any video, you'll be met with the following error message: "You appear to be outside the United States and its territories. Due to international rights agreements, we only offer this video to viewers located within the United States and its territories."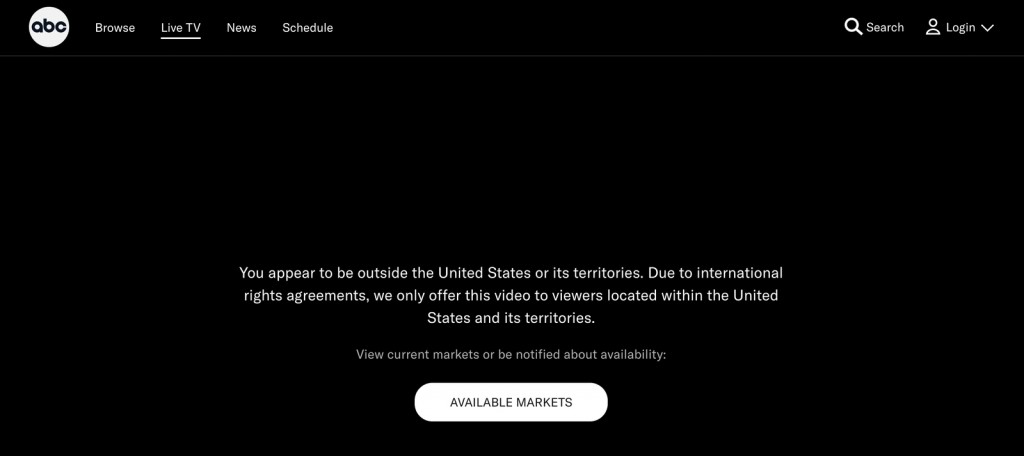 ABC's website and apps determine your location based on your IP address. That's exactly why you need a VPN, as a VPN will help you obtain a US IP from any country in the world. To learn how to make that happen, just keep on reading.
How to Watch ABC Live Outside the US (QUICK GUIDE)
In essence, unblocking and streaming ABC outside the US is a very quick process. The trick is to obtain a US IP address, done in the following way:
Sign up for a VPN that lets you unblock ABC, such as ExpressVPN.
Download and install ExpressVPN on the device(s) you'll use to stream ABC.
Open the VPN app and log in to access the app's home screen.
Connect to any server found in the United States.
Once your VPN session initializes, you can access ABC's site or app. That's it!
If you tried accessing ABC's site or app before, you might want to remove your cache or cookies. Doing that will force the site/app to re-read your location, helping you unblock it while you're connected to a US-based VPN server.
How to Watch ABC Outside the US from Anywhere (IN-DEPTH GUIDE)
Don't worry, we also offer an in-depth guide that explains all the steps you need to take in detail. So, here's how to watch ABC from anywhere:
Step #1: Get the Best-Working VPN to Unblock ABC
To watch ABC outside the US, your device's IP address should be a US IP address. That's how ABC will think you're in that country, letting you access its content. The only way to achieve that is by using a capable VPN service.
If you want the best possible streaming experience, our recommendation would be ExpressVPN. We have tested more than 60 VPNs so far, and as you can guess - not many work with ABC. That's not the case with ExpressVPN, the only VPN service that checks all the right boxes.
3,000+ VPN servers in 160 VPN server locations in 94 countries, 5 Simultaneous connections, Fast and stable connection, No activity logs or connection logs, No bandwidth limits, Strong encryption, 24/7 live chat support, and 30-day money-back guarantee.
Using ExpressVPN, you can change your IP in an instant. Since this VPN has thousands of servers in the US alone, you can also unblock Disney Plus, Netflix, Amazon Prime Video, Discovery Plus, fuboTV, Sling TV, and plenty more.
Of course, ExpressVPN isn't your only option (even though it's the best one right now). With that said, you might want to check the best VPNs for ABC.
Step #2: Get Your VPN Subscription
At this moment, it's crucial to pick a VPN and get your subscription. That's because every following step will require you to have a VPN connection active in the background. If you're willing to listen to our advice, subscribe to ExpressVPN.
As soon as you find yourself on ExpressVPN's website, select "Get ExpressVPN." First, you'll need to pick a subscription plan. Know that long-term plans come with hefty savings, so take your time to review your options.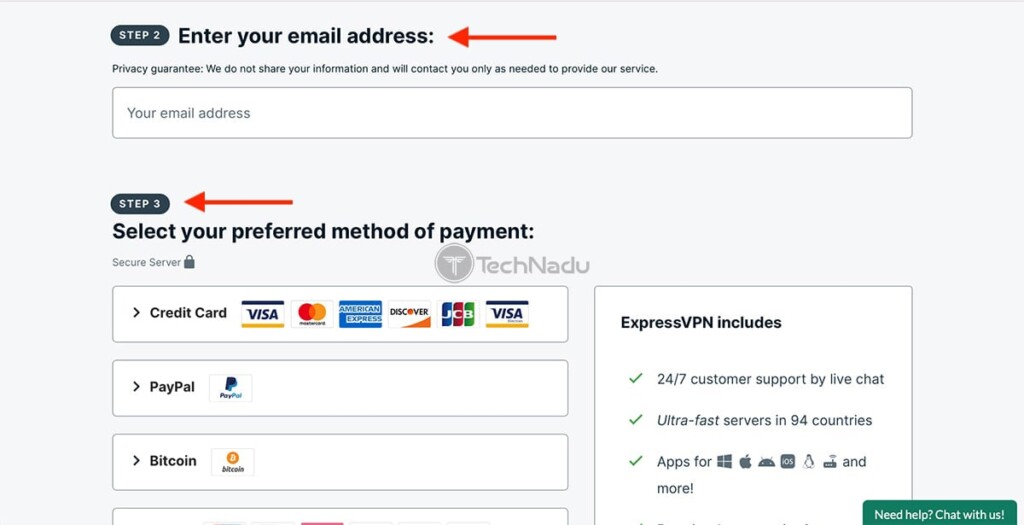 Also, provide your email address and select a payment method. Once you input your payment data, you will finalize the sign-up procedure. After a few minutes, you'll receive a confirmation email from ExpressVPN's team, so don't forget to check your email inbox.
Step #3: Download & Install the VPN on Your Device(s)
Now, it's time to take full advantage of your ExpressVPN subscription. That means you should download its app - depending on the device(s) you'll use to stream ABC. Don't forget that ExpressVPN must be active in the background as long as you want to access ABC, so install it on any computer, smartphone, or tablet you might own.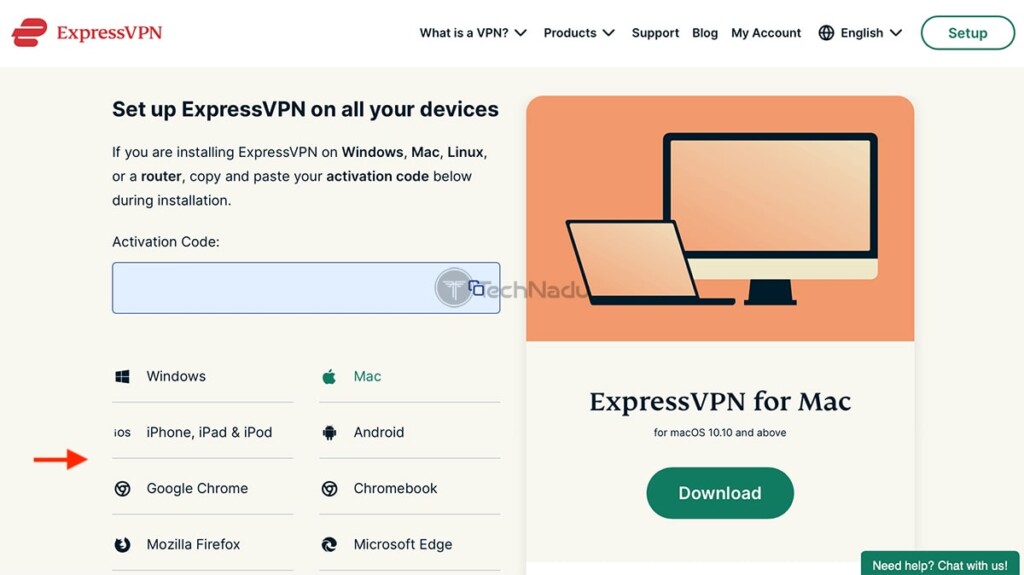 We've already prepared an in-depth guide on how to download, install, and use ExpressVPN. Use the provided link to check all of the possible devices that can run ExpressVPN.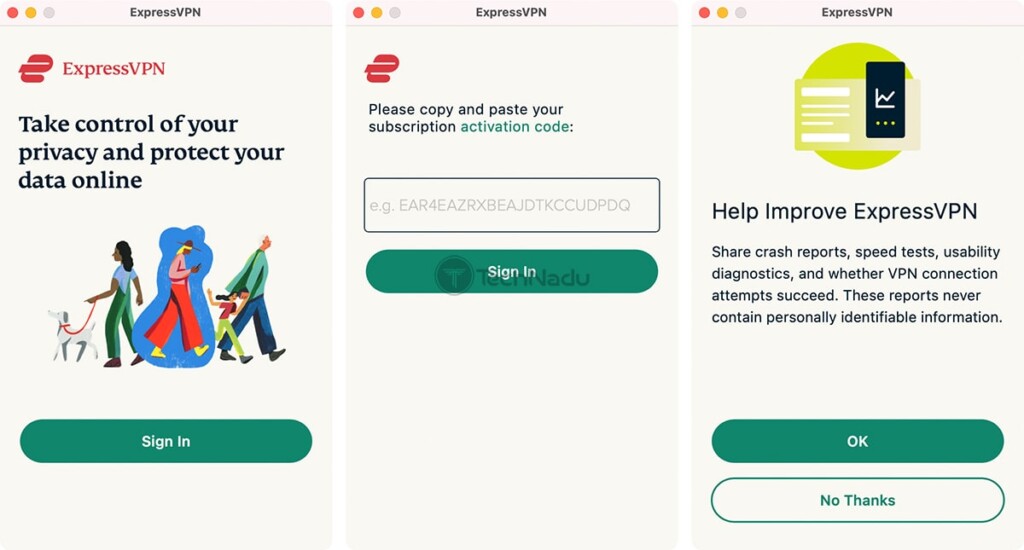 Also, one more reminder. Once you install ExpressVPN, make sure to open the app. Then, log in using your credentials and go through the initial setup. This will make the VPN ready for use, so you can proceed to connect to a server in the US.
Step #4: Connect to a VPN Server in the US
As mentioned above, the only way to watch ABC outside the US is by getting a US IP address. That's done by connecting to a server offered by ExpressVPN, so let's show you how that's done. Make sure to start from ExpressVPN's home screen.
Select the button just below the circular ON/OFF switch. A new window will open, letting you pick a country. Go with "United States," and then double-click on any server found in that country.
The upper half of ExpressVPN's home screen should turn green. Once that happens, know that your IP has been replaced by a US IP. In other words, all your Web data will now flow through ExpressVPN's secure tunnel.
Step #5: Unblock & Access ABC From Anywhere
You're only a step away from watching ABC outside the US. At this point, feel free to open ABC's website using any Web browser. To find something to watch, you can select 'Browse' using the website's main menu. Then, select any TV show.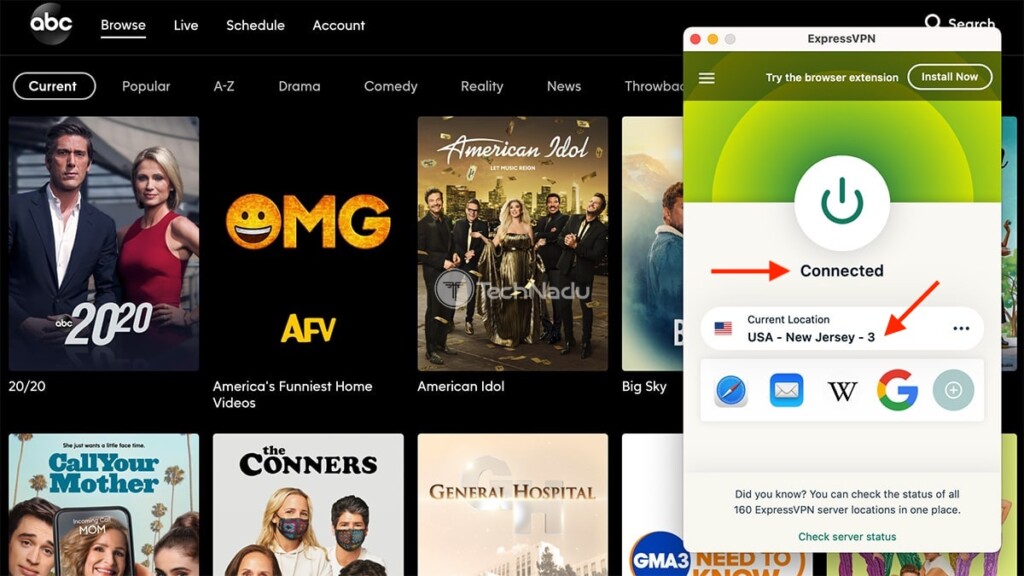 As you open any TV show's overview, you will see a list of episodes. If you take a closer look, you will see that some episodes have a lock icon in their top-left corners. To watch those episodes, you'll need to select your TV provider. If you don't have one, make sure to learn how to sign up for ABC outside the US.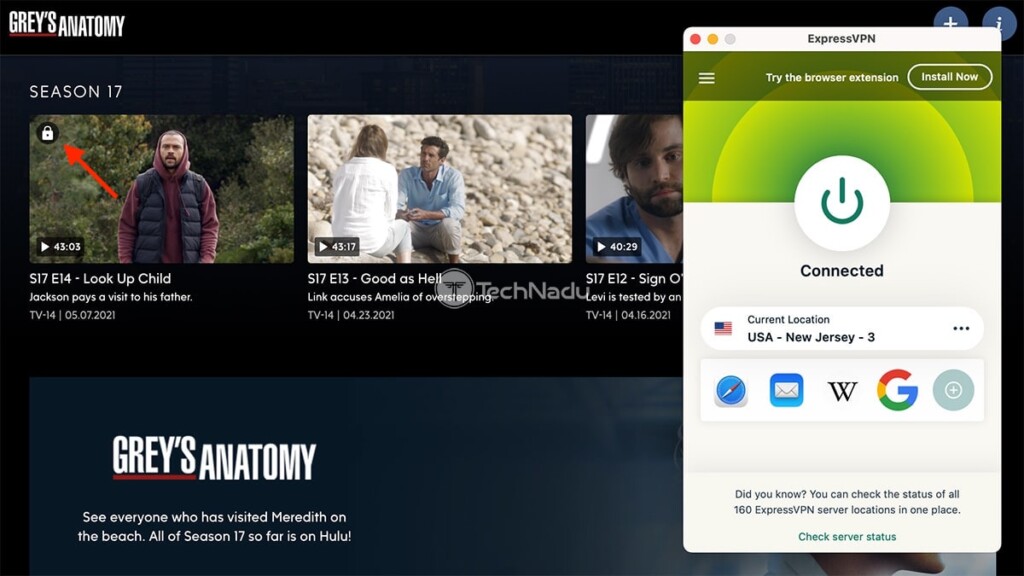 However, you'll also see plenty of episodes without the lock icon. Those are free to watch - and there's truly plenty of that kind of content. As soon as you click on a free episode, it will start playing after a short commercial.
Step #6: Get ABC on Other Devices (Optional)
As you can imagine, there are plenty of different ways to watch ABC outside the US. You can always access it via its website, but you can also download ABC's apps for Android and iOS/iPadOS. However, those apps are available only for Google and Apple accounts associated with a US address.
A way to overcome this obstacle would be to create a new Google account or a new Apple ID. However, make sure to use a VPN while signing up. And also, pick "United States" when asked about your country and use this random US address generator to supply an address. Google probably won't ask for your address, so it's crucial to use a VPN.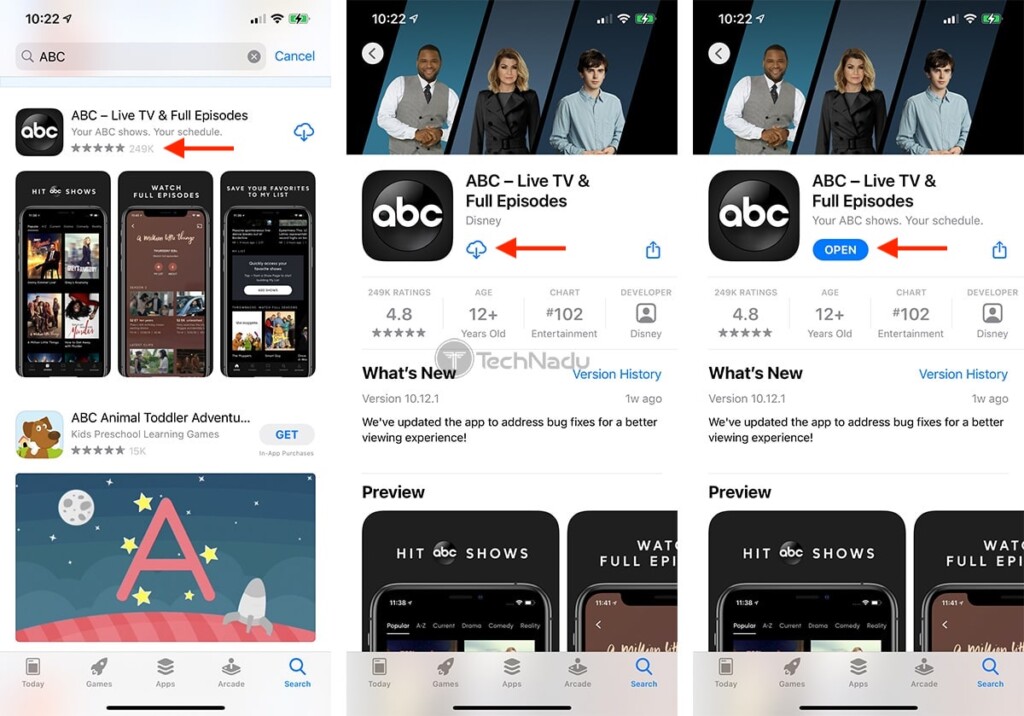 Then, log out of your existing Google/Apple account and replace it with your newly created account (you can log in via the Settings app, typically). That's when you can proceed to download ABC's apps and use them as if you were in the US. That's it!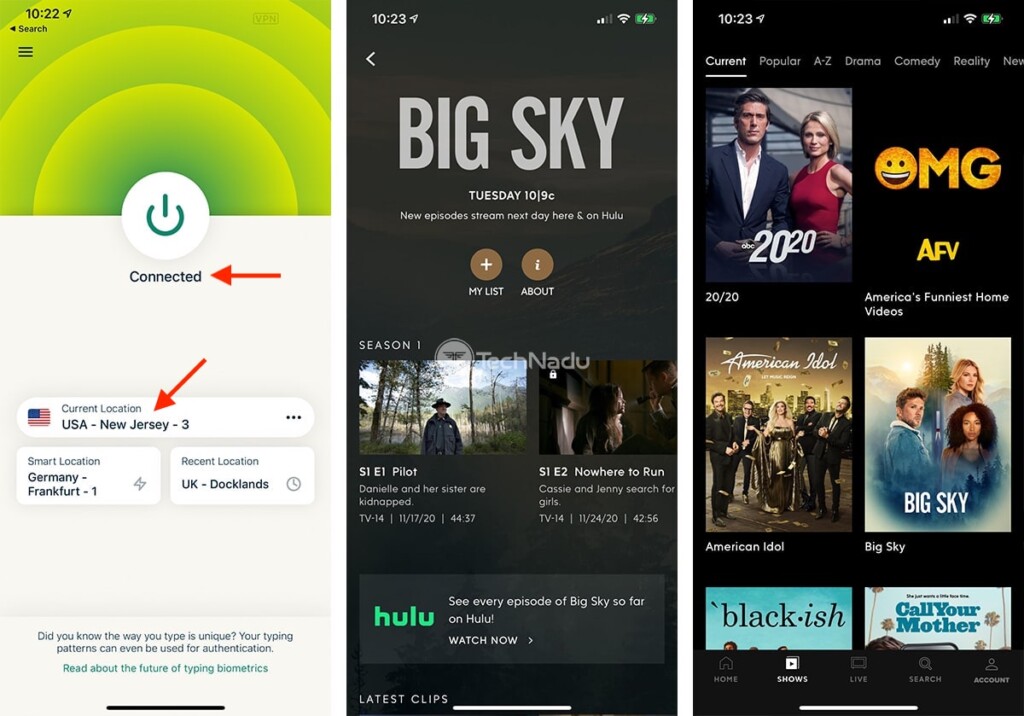 What's the Best VPN to Unblock ABC Outside the US?
The best VPN for ABC must be able to unblock the streaming platform from any country. It must also bring plenty of servers in the United States, as well as streaming-friendly speeds. Also, it would help to offer a user-centric interface.
Based on the criteria mentioned above, we managed to find a group of solid options. So, these are 5 best VPNs for ABC available on today's market:
1. ExpressVPN - Our #1-Rated VPN for Unblocking ABC
We never encountered any issues while unblocking ABC with ExpressVPN. We also got very fast speeds (and we were using OpenVPN). Also, we liked their new proprietary protocol - Lightway. Our team was able to connect to distant VPN servers in just a fraction of a second, and we experienced lightning-fast speeds.
Moreover, ExpressVPN's apps now come with a more polished interface, making them more enjoyable to use. Add to that a very user-friendly UI and cross-platform compatibility, and you can see why we like this provider so much.
Besides all that, ExpressVPN also offers split-tunneling, support for up to five simultaneous connections, 24/7 live chat support, and a consumer-friendly 30-day money-back guarantee. There's absolutely no catch - you just ask for your money within 30 days through live chat, tell a support rep why, and you'll get it back in a few business days.
If you'd like to see what else makes this VPN so popular, check our ExpressVPN review.
PROS
Highly polished interface.
Sizable server fleet.
Unblocks any streaming platform.
Quick to develop new features.
24/7-available live chat support.
CONS
No in-depth customization.
2. NordVPN - Best for Streaming + Privacy
If you want to watch ABC outside the US and secure your data on top of that, look no further than NordVPN. While other VPNs offer decent security, too, NordVPN really shines the most, in our opinion.
For starters, this provider has powerful encryption (like all the other VPNs), but they also offer other perks. For example, you get traffic obfuscation (hide your VPN usage), the chance to pair up your account with a password manager (NordPass) and a file encryption app (NordLocker), and servers that support double VPN connections.
And that's just scratching the surface! NordVPN's servers also support Tor traffic and are making a shift towards a colocated network that only this provider owns and operates.
As for streaming, NordVPN offers very fast speeds, user-friendly apps for most platforms, and lets you use their service on up to six devices at the same time. Oh, and you also get a 30-day refund policy and 24/7 live chat support.
If you're interested in reading more about this provider, please read our NordVPN review.
PROS
Polished UI and UX design.
Specialized VPN servers.
Quick to develop new features.
Trustworthy VPN brand.
24/7-available live chat support.
CONS
Not the most extensive server reach.
3. CyberGhost VPN - Best for Dedicated Streaming
Want a huge server network to make sure you can always find one close to you? Or one that's never near its load limit? CyberGhost VPN won't disappoint then. They have thousands of servers around the world, and 1,000+ of them are in the US alone.
Another thing that makes this provider stand out is its money-back guarantee. Unlike other VPNs, CyberGhost VPN offers a 45-day refund period. You need to get a long-term plan to qualify for it, though. Luckily, their subscriptions are pretty cheap. If you only get a monthly plan, you'll be covered by a 14-day refund (which is still pretty good).
Other than that, CyberGhost VPN has pretty fast speeds, easy-to-use apps for most devices, support for up to seven parallel connections, private dedicated IPs (makes it harder for ABC to block you), and 24/7 support (yes, live chat is an option).
To learn more about CyberGhost VPN, please read our CyberGhost VPN review.
PROS
Native software across the board.
Dedicated servers for streaming.
24/7-available live chat support.
Generous money-back policy.
CONS
Slower than its competitors.
 4. IPVanish - Best Multi-Device ABC Unblocker
Want to watch ABC outside the US on dozens of devices at the same time? Hey, we're not judging - you get more freedom that way!
Or maybe you're interested in sharing your subscription with everyone you know - friends, family, even work colleagues. Maybe you're just feeling generous or want to share the costs to save money.
Well, whatever the case, IPVanish is the right VPN for the job. This provider offers unlimited parallel connections, meaning you can use their service on as many devices as you want at the same time.
And IPVanish offers enjoyable streaming too. Their speeds are pretty good, their server count is impressive, and their apps are available for most platforms (unfortunately, the design isn't the most appealing). Also, they provide 24/7 support through live chat and have a 30-day money-back guarantee.
To see this provider in action, just follow this link to read our review.
PROS
Suitable for first-time VPN users.
Unlimited simultaneous connections.
Fast nearby connections.
Plenty of value overall.
CONS
Not the most polished interface.
Live chat not available 24/7.
5. Ivacy VPN - Best Budget-Friendly ABC Unblocker
Ivacy is a lesser-known provider, but that doesn't mean their service isn't as capable as the other VPNs on this list. The only problem we had with their VPN was the speeds - they were a bit slow compared to the other providers on this list. Luckily, ABC doesn't require fast speeds to begin with, so we didn't experience long load times or endless buffering.
Other than that minor drawback, everything else was pretty good. Ivacy easily unblocks ABC because it has a dedicated streaming server for it. That just means it refreshes its IPs more often to avoid getting blocked.
What's more, Ivacy offers a very cheap pricing plan if you buy a 5-year subscription. It is a pretty great deal if you plan on using a VPN in the long run and want to save money.
Their apps have a pretty outdated design, but it doesn't take long to get used to it. Plus, Ivacy has apps for most devices, which is always a welcome sight. Oh, and you get up to 10 parallel connections, meaning you can easily share your subscription with your parents or friends.
Finally, Ivacy has 24/7 support through live chat, and a 30-day refund policy.
Want to read more about Ivacy? Go ahead and check out our hands-on review.
PROS
Great device/platform coverage.
Incredibly simple to use.
10 simultaneous connections.
Plenty of value overall.
CONS
Slow to develop new features.
No unique VPN features.
How to Watch ABC Live Without Cable?
As mentioned earlier, you can unblock all of ABC's live content by having a TV provider. If you don't have an existing TV provider, you can subscribe to an OTT service - even from outside the United States. So, let's talk about the best options you have right now.
Live TV & Streaming In One Place With Hulu. Watch your favorite live sports, news, entertainment, and more. Plus, get unlimited access to the entire Hulu streaming library.
Hulu + Live TV and ABC belong to the same company, so it's no surprise that Hulu is the best place to keep track of ABC live and on-demand. This live TV streaming service gives you access to 75+ channels, customizable add-ons, and Hulu's on-demand library. Here's how you can watch Hulu + Live TV outside the US.
Watch Your Favorite Shows, Movies & Sports ON ANY DEVICE. ANYTIME. ANYWHERE. Watch and DVR the channels you love. No contracts, no commitment.
Another great option would be fuboTV. This OTT service offers ABC across several of its subscription plans, so first, make sure to check fuboTV's packages and prices. Then, check out fuboTV's full channel list. And lastly, learn how to subscribe to fuboTV outside the US.
85+ top channels of entertainment, news, live sports, & more. Recording without storage limits and 6 accounts included. No cable box, contracts, or hidden fees.
We'll also recommend YouTube TV if you wish to watch ABC live outside the United States. There is a way to subscribe to YouTube TV from outside the US using a Google gift card (which you can redeem from anywhere). Click on the provided link to learn more.
How Do VPNs Unblock ABC Outside the US for You?
VPNs let you watch ABC outside the US by hiding your IP address from the site. Basically, ABC will only see the VPN's IP. If it's an IP address from the US, it'll let you watch whatever you want. Nothing is triggering their geo-blocks, after all.
If you want to know exactly how VPNs "hide" your IP, here's the simplest way to think of it: the VPN acts as a middleman between you and ABC. It receives your connection requests and forwards them to ABC on your behalf. That tricks the site into thinking the VPN is the source of your traffic, not your device. Due to that, only the VPN's IP is visible.
Can ABC Block VPNs?
Yes, and they're really good at it! Whenever the site detects a proxy or VPN IP, it will blacklist it and display this message: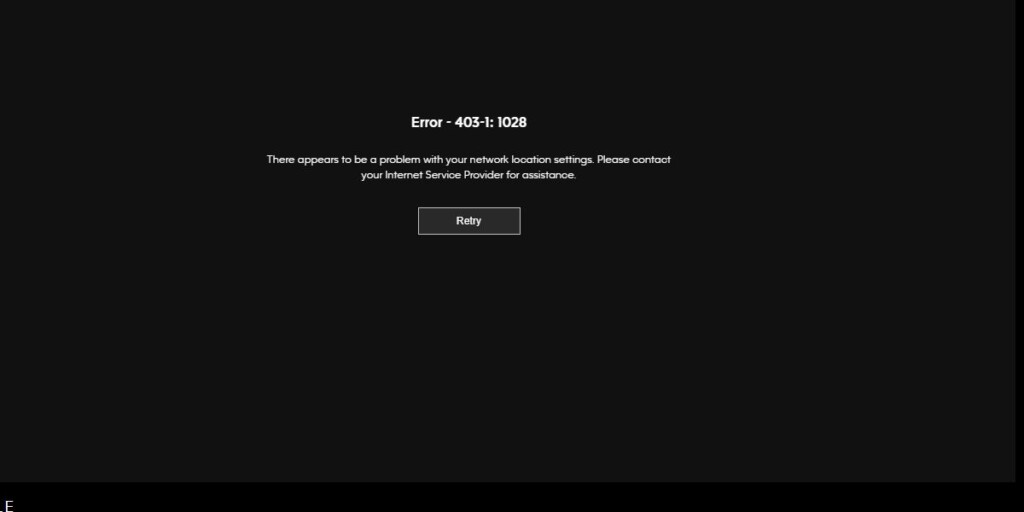 We're not sure how ABC blocks VPNs, but they might use services that offer them access to databases containing VPN and proxy IPs. They then use automated scripts to flag and block them. That said, all our recommended VPNs can easily bypass ABC's geo-blocks.
Why Isn't My VPN Unblocking ABC?
If you're still getting the geo-blocking message (or are seeing the proxy error) while using a VPN, here's what you can try to fix the issue:
Ask your VPN provider which server you need to use to unblock ABC.
Restart your VPN connection, app, browser, or device.
Use Incognito/Private mode. Also, clear your browser's cookies.
Make sure the VPN app is up-to-date.
Disable location tracking in your browser.
If you're using a different VPN than the ones we mentioned, you should also make sure it's not leaking your IP. Use our guide to find out how to do that.
Final Thoughts
If you want the most effective way to unblock and watch ABC outside the US, you should get ExpressVPN. Based on our tests, ExpressVPN is the only VPN that unlocks ABC every single time, on any device imaginable, all while providing you with streaming-friendly speeds.
However, as mentioned earlier, other options exist as well. So, if you'd like to learn more about those, here's our central guide to the best VPNs for streaming.
FAQ
What Is ABC?
ABC is one of the biggest TV networks in the US. ABC.com is its streaming service where you can watch live feeds and popular shows and check the TV schedule.
What Is ABC Go?
As far as we can tell, ABC Go was the old name of ABC's streaming service. Now, the company just refers to it simply as ABC.
Some online articles still call this service "ABC Go," but if you actually Google that keyword, the first result is, well, just plain old ABC.
What Can You Watch on ABC?
Some of the most popular shows and movies! Highlights include 20/20, Big Sky, Grey's Anatomy, Call Your Mother, The Hustler, The Connors, America's Funniest Home Videos, The Good Doctor, and Jimmy Kimmel Live!
What Devices Can You Watch ABC On?
You can use the site on desktop systems through various web browsers. Also, ABC has apps for the following platforms: iOS, Android, Kindle Fire, Amazon Fire TV, and Roku.
What Internet Speed Do You Need to Watch ABC?
Do Free VPNs Work With ABC?
Probably not. At least we weren't able to successfully unblock the site. Most of the time, we just saw ABC's proxy error. It's because free VPNs generally don't have the financial power to keep refreshing their IPs (so that they can avoid ABC's detection system).
If you really want to watch ABC outside the US without paying money first, try our list of the best free trial VPNs. Sure, they're not completely free, but you can see how well they work with ABC at no cost.
That would be all on how to watch ABC outside the US. If you have any doubts or questions, make sure to post them via the comments section below. Thanks for reading!