HGTV serves as the ultimate source of inspiration when it comes to architecture, interior design, and DIY projects. This TV channel produces a lot of high-quality content, and many of its shows are popular across the world. So, we know what you're wondering – is it possible to watch HGTV outside the US? Well, rest assured that your favorite HGTV shows are just a couple of clicks away!
In this guide, we'll show you how to unblock and watch HGTV outside the US. And yes, we'll use a VPN app for that purpose. So, here's which VPN to pick, how to set it up, and how to unblock HGTV from anywhere
Where Is HGTV Available? 
At the moment, HGTV is available in the United States, Latin America, Australia, Canada, Indonesia, Malaysia, Poland, Germany, Spain, South Africa, Italy, and the UK.
Therefore, we can see that HGTV has finally decided to expand to new markets. However, you should know that HGTV isn't the same everywhere, as each country has access to this channel in a different way. For example, some countries can only access on-demand content, while others have access to HGTV's live TV channel (which comes as a premium TV channel).
So, your best bet is to access the US version of HGTV, which comes with the most extensive content library and the freshest episodes available. So, let's show you how that is done.
How to Watch HGTV Outside the US
Finally, here are the 6 steps to unblock and watch HGTV outside the US in 2021:
Step #1: Get the Best-Working VPN to Unblock HGTV
Since HGTV lets you live-stream its content, you need to be very picky when choosing a VPN. That's because you need one that unblocks HGTV while also being fast enough to support streaming media live. With that said, know that our recommendation is ExpressVPN, which comes as the best VPN available at the moment.
We've tested more than 60 VPN services so far, and many of them are suitable for media streaming. However, ExpressVPN is the only VPN that checks all the right boxes, being equally useful for media streaming and protecting your digital privacy.
Step #2: Get Your VPN Subscription
Before we go any deeper into unblocking HGTV outside the US, you need to obtain a VPN subscription. If you want to listen to our advice, visit ExpressVPN's website and initialize the sign-up procedure by selecting 'Get ExpressVPN.' First, you'll need to pick a subscription plan, so make sure to take a good look and review your options.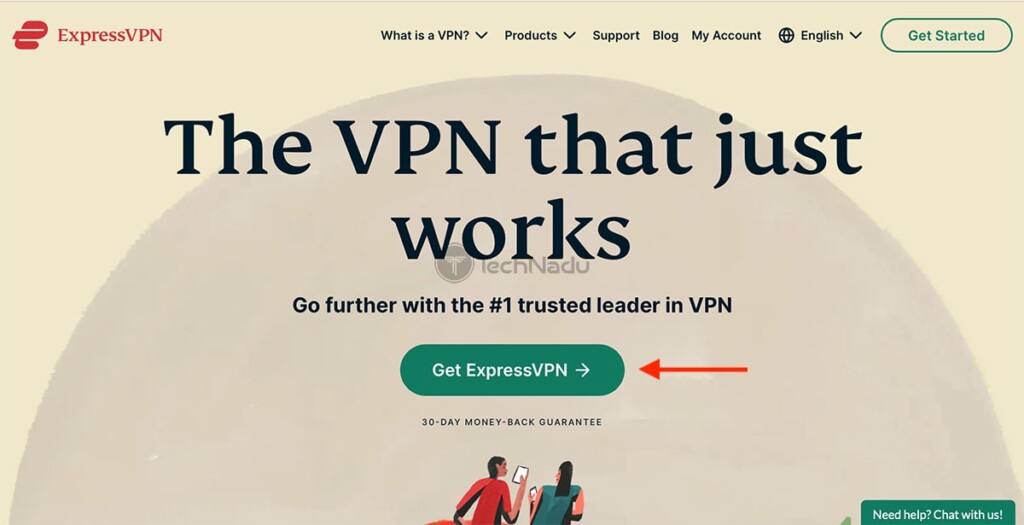 Then, provide your email address and select a payment method. Fill out the required info, and once done, expect to see a confirmation email from ExpressVPN's team. That's when you can proceed to the next step.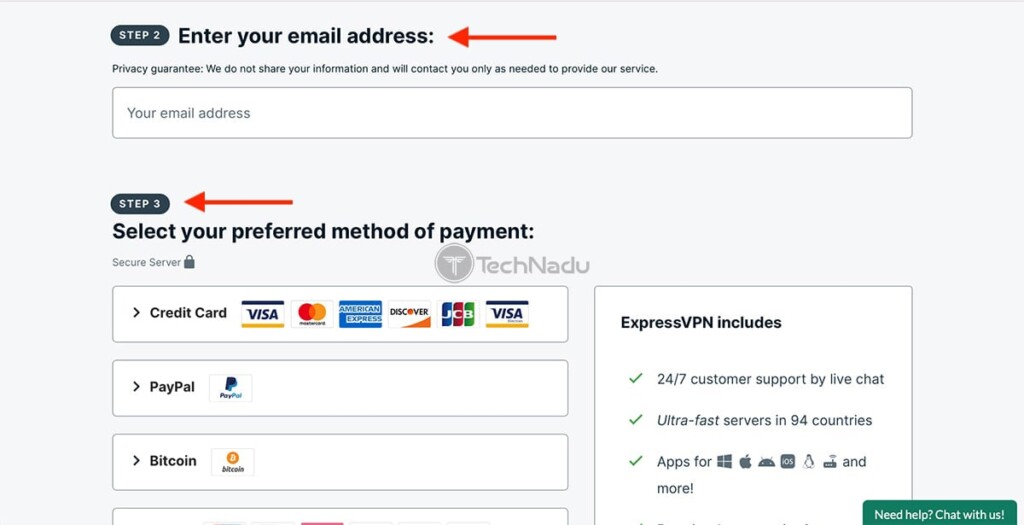 Step #3: Download & Install the VPN on Your Device(s)
You'll be happy to know that ExpressVPN works with practically any device and platform out there. So, to help you get started, we've produced a guide on how to download, install, and use ExpressVPN – covering more than 60 devices natively supported by this VPN. Use the provided link to learn more.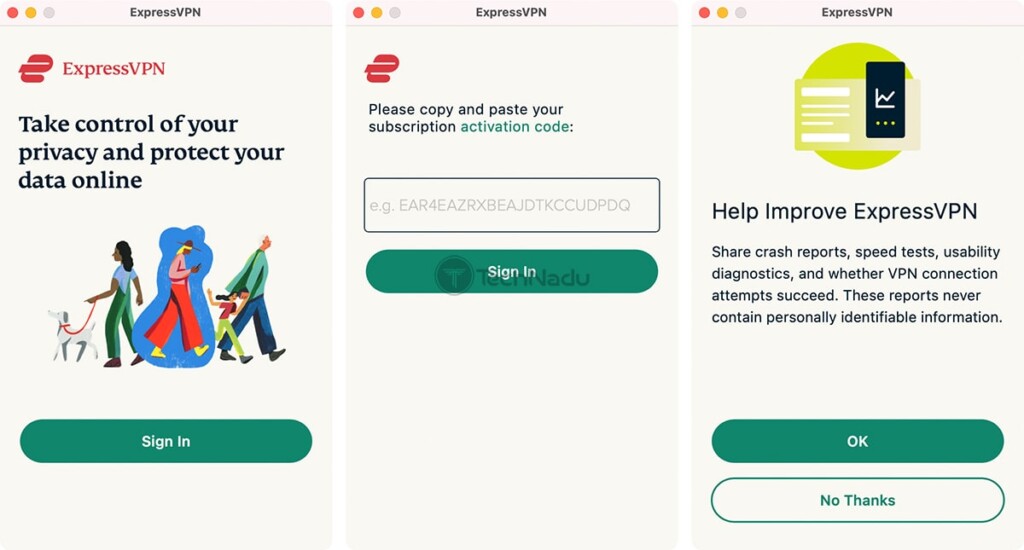 After you install ExpressVPN, launch the application for the first time. Use your ExpressVPN activation code if you're using Windows or macOS, and complete the initial setup. Before you get to the next step, you need to reach ExpressVPN's home screen.
Step #4: Connect to a VPN Server in the US
To unblock and watch HGTV outside the US, you need to first connect to a US VPN server. That's done using ExpressVPN's interface. More precisely, proceed to select the button just below the ON/OFF switch. This will open a new window, listing more than 3,000 servers that ExpressVPN offers.
Locate 'United States' manually or use the top-placed search bar. Then, select the country's name or double-click on any of the servers found there. ExpressVPN will now connect you to the chosen server. Once that happens, its interface will turn green, which means you can proceed to access HGTV's website.
Step #5: Unblock & Access HGTV From Anywhere
You've set everything up, which means that you can now proceed to HGTV's website (using any Web browser). As you'll see for yourself, HGTV will ask you to pick a TV provider. So, select 'Watch Now' and proceed as prompted on your screen. Keep in mind that HGTV supports a long list of cable TV, satellite TV, and OTT TV providers.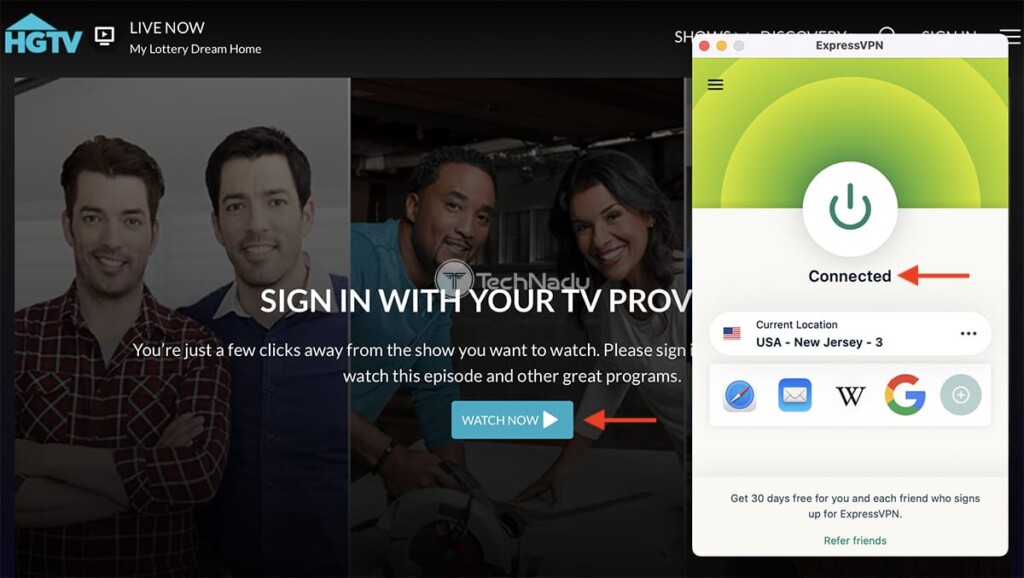 If you don't have a supported TV subscription, know that all hope is not lost. Later on in this article, we'll show you how to sign up for HGTV from anywhere (to watch the TV channel live). And if you wish to access HGTV's on-demand content only, use the provided link to jump to the segment where precisely that is explained.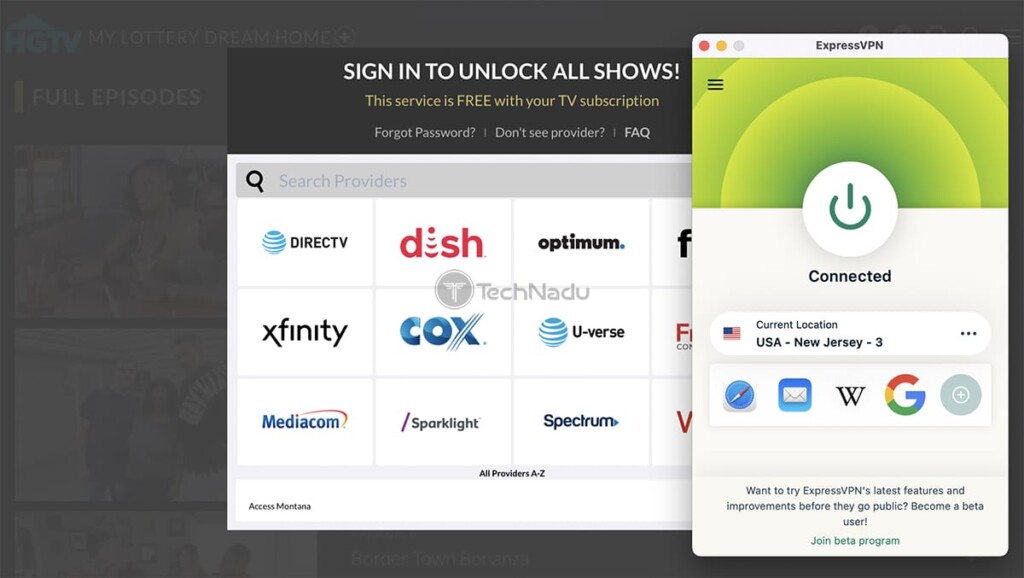 Step #6 (Optional): Get HGTV on Other Devices
So far, we've explained how to watch HGTV outside the US using a Web browser. However, know that HGTV also offers apps for iOS/iPadOS and Android. You can proceed to download those – but only if you have a Google or Apple account registered in the US.
If you don't have a US Google or Apple account, you're free to create one (simply by filling out an online form). Here's how to create a new Google account or get a new Apple ID. Make sure to use the VPN while signing up, as Google will try to detect your location based on your IP address. And when it comes to Apple, pick 'United States' when asked about your country, and use this random address generator to obtain a valid US address.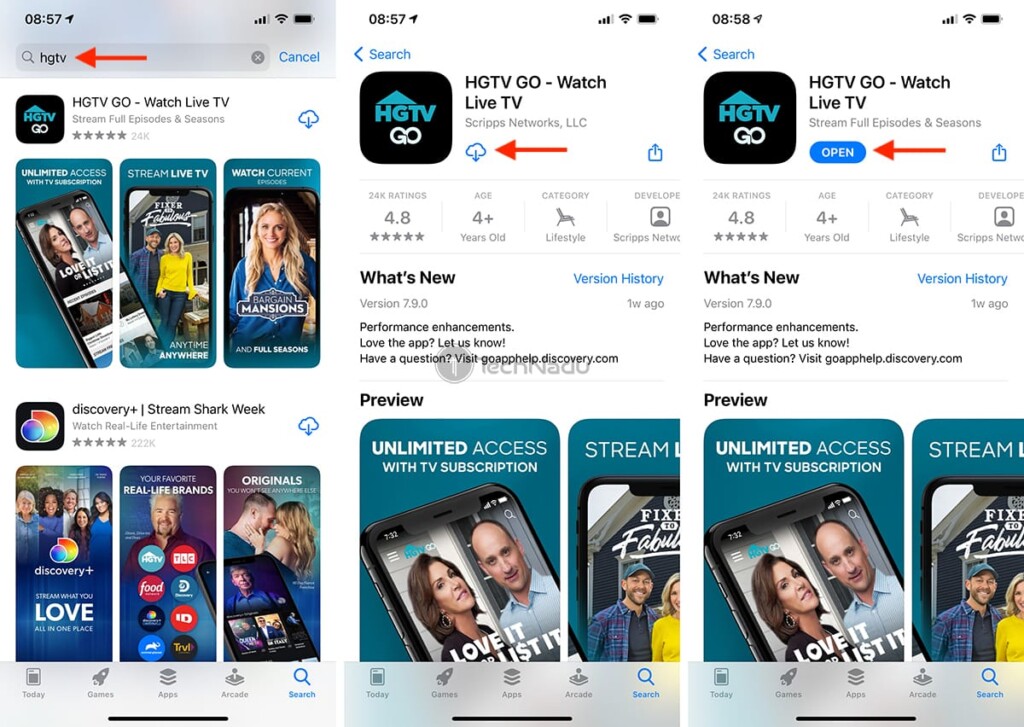 You now need to activate your new account on your smartphone or tablet. So, log out of your old Google/Apple account and then log in using the new one. Proceed to access Google's Play Store or Apple's App Store, and download the HGTV Go app. That's how you'll get access to both free and paywalled on-demand content (if you have TV provider credentials).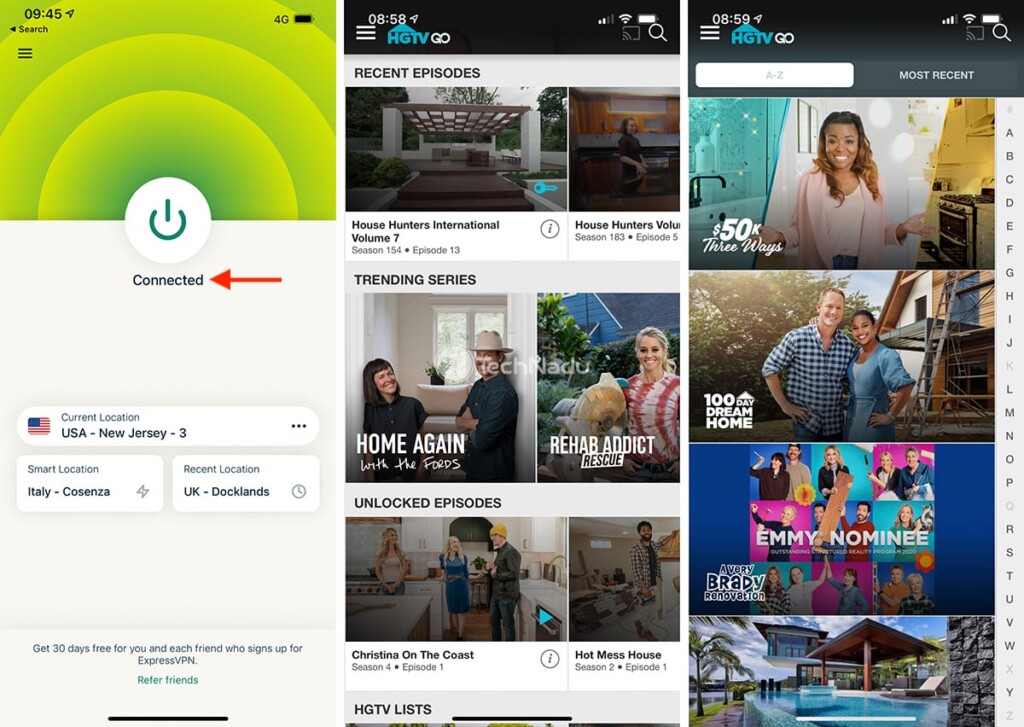 How to Sign Up for HGTV Outside the US (To Watch On-Demand)
If you don't have a TV subscription that includes HGTV, the easiest way to get to its on-demand library of content is via Discovery+. You can get started for only $4.99 per month or $49.99 per year, giving you full access to HGTV, Food Network, TLC, Discovery ID, Animal Planet, OWN, and plenty more.
We have some more good news. Even though Discovery+ is not yet available outside the US, you could use a VPN to bypass that obstacle. We've already produced a dedicated guide on how that's done, so here's how to watch Discovery+ from outside the US.
Lastly, keep in mind that Discovery+ will let you watch HGTV's content on-demand only. At the moment, this streaming service doesn't offer live streams of its TV channels. Instead, this is purely an on-demand library containing full seasons of TV shows and individual episodes.
How to Sign Up for HGTV Outside the US (To Watch Live)
If you want to watch HGTV live outside the US (in other words, if you wish to stream this TV channel live), you need to subscribe to an OTT service. However, you need to pick one that lets you use a VPN to subscribe, bypassing geo-blocks along the way. With that said, we recommend two OTT services – fuboTV and Sling TV.
Our first recommendation would be fuboTV, whose 'Starter' plan comes priced at $64.99 per month. This plan includes HGTV along with more than 100 other TV channels. To learn more, here's our guide to fuboTV's packages and prices, as well as fuboTV's full list of channels. Lastly, make sure to learn how to sign up for fuboTV from outside the US. 
YouTube TV also comes as a viable option to get HGTV outside the US. This OTT service is priced at $64.99 per month and brings more than 85 channels (without any surprise, HGTV is one of those). To learn more, here's how to get YouTube TV outside the US. 
That would be all on how to watch HGTV outside the US. If you have any doubts or questions, share them via us via the comments section below. And lastly, thank you for reading!