BeIN Sports, originating from Doha (Qatar), provides an ever-growing selection for sports fans, whether you enjoy watching football, boxing, motorsports, or practically any other discipline. Unfortunately, beIN Sports is only available in select countries.
To watch beIN Sports online from anywhere, you'll need a VPN to change your virtual location to one from a country where the TV network operates. So, want to keep up with your favorite teams or watch beIN Sports Arabic or any other beIN Sports edition while traveling abroad? All possible with a VPN.
This article will guide you through the full process of unblocking beIN Sports from your location. We'll also share the 3 best beIN Sports VPNs, which streaming services offer beIN Sports in their lineup, what content you can enjoy, plus answer some FAQs.
How to Watch beIN Sports Online with a VPN (Quick Guide)
To watch beIN Sports online from anywhere, download a VPN and connect to a beIN-supported region with the content you need. Here's a step-by-step guide:
Sign up for a VPN that works with beIN Sports (we recommend ExpressVPN).
Download, install, and open the VPN on your device(s).
Connect to a beIN Sports region (e.g., France for Ligue 1 matches).
Sign in with a local beIN Sports provider (e.g., Sling TV in the US).
Enjoy hundreds of hours of great content on beIN Sports!
Why Do You Need a VPN to Watch beIN Sports?
You need a VPN to watch beIN Sports because the channel is only available in select countries. Without a VPN that hides your original IP, you'll be met with a geo-block error such as - "beIN SPORTS isn't yet available for your location. Please visit one of our local editions."
This is when beIN Sports will provide a list of countries where the TV network operates. At the moment, those countries and regions are - the Middle East and Africa, France, Spain, Canada, the United States, Australia, New Zealand, Turkey, Indonesia, Thailand, Hong Kong, the Philippines, Malaysia, and Singapore.
Clicking on any of these regions will take you to the local chapter for beIN Sports, where you can watch some limited clips or highlights. However, you won't be able to stream full matches or even sign up for local online TV providers that have beIN Sports.
A VPN will change your device's IP address to one from your preferred country. This will allow you to access local streaming services and connect beIN Sports to your account.
Not all VPNs can unblock the service, though. Due to broadcast rights and licensing agreements, most streaming platforms block VPNs outright. Thankfully, premium VPNs can stay on top of such filters, whether by refreshing their IP tables or masking your VPN activity.
Best VPN to Watch beIN Sports from Anywhere
The best VPN for streaming beIN Sports should unblock the TV network with ease and come with blazing-fast servers in major supported regions (such as the US, Canada, Australia, and more). Moreover, the VPN should offer consistent performance regardless of the distance between you and their servers.
Their apps should be available on all major systems (Windows, Android, Linux, Mac, iOS, and more), with enough simultaneous connections for all your devices. They should also include obfuscation to hide your VPN activity on their site. Naturally, the VPN should offer a kill switch to prevent your IP from leaking during disconnects.
Privacy-wise, we expect the best providers to keep zero user logs and include top-notch encryption protocols for security without sacrificing performance. User-friendly apps are a must, as well as 24/7 live chat and a robust money-back guarantee for good measure. 
Based on the criteria above, here are the best VPNs that will let you stream beIN Sports without any restrictions: 
ExpressVPN is the best VPN to access and watch beIN Sports, as this VPN can easily unblock the TV network thanks to its widespread server network. With 3,000+ obfuscated servers in 94 countries, you'll have no trouble finding a fast server to stream your favorite events buffer-free. These include most beIN Sports supported regions (from North America to Australia).
Streaming speeds are fantastic as well (tested on the US and Australian servers), which is why we consider ExpressVPN the best VPN for streaming in general.
Their cutting-edge Lightway protocol offers impenetrable security while being a lightweight option for viewing live events and high-quality VODs on beIN Sports. The classic OpenVPN and IKEv2 options are included, as well as a working kill switch.
ExpressVPN works on all devices, including Windows, Linux, Mac, Android, iOS, and others. You can use it on up to 5 devices at the same time - slightly fewer than NordVPN (6) and CyberGhost VPN (7), but sufficient for most users.
Their service keeps no user logs, on top of using TrustedServer technology to protect your privacy. You can always count on their 24/7 live chat for help (e.g., server suggestions for beIN Sports), and all their plans are backed by a solid 30-day money-back guarantee.
PROS
Beginner-friendly apps.
Ultra-fast network in 94 countries.
Easily unblocks beIN Sports.
Proven no-logs policy.
24/7 live chat support.
CONS
5 simultaneous connections.
NordVPN is another great option for unblocking and watching beIN Sports online. This time, the VPN can unblock beIN Sports due to its advanced SmartPlay technology, which incorporates smart DNS to better hide your true location on the platform. That, and the fact that they have 5,500+ lightning-fast servers in 60 countries.
Their network covers fewer countries than ExpressVPN (90+) and CyberGhost (90+), but you still get servers in most beIN Sports regions, including the US, Australia, Singapore, and more.
We've had no trouble viewing live football matches or HD VODs on beIN Sports and other platforms. Adding to that, NordVPN offers an audited no-logs policy and a trusty kill switch to hide your IP in case of disconnects.
NordVPN also has obfuscated servers to mask your VPN usage and bypass pesky blocks in restrictive regions. You can use their service on up to 6 devices per account (both PC and mobile), which puts them right in the middle between our other 2 recommendations.
Finally, NordVPN's 24/7 live support teams always offer reliable info and tips whenever you need them. Plus, you get a generous 30-day money-back guarantee for any plan.
PROS
5,500+ high-performance servers.
Unblocks most streaming sites.
Audited no-logs claims.
SmartPlay technology.
Expert 24/7 live chat.
CONS
Not all servers have obfuscation.
CyberGhost VPN is an excellent VPN for media streaming fans, especially if you want to unblock and watch beIN Sports live or VOD format. They have a huge network of streaming-optimized servers for the job - for a total of 9,000+ servers in 90+ countries, including major areas where beIN is supported.
These servers let you unblock over 40+ other platforms from around the world, and the provider lets you use the VPN on up to 7 devices at the same time. However, unlike ExpressVPN and NordVPN, this VPN lacks obfuscation - so it will not work in countries like China or the UAE.
Otherwise, CyberGhost VPN apps are intuitive, have an always-on kill switch, and work on all major systems, from Windows to Linux and mobile. Performance-wise, the VPN is a bit slower than our other contenders but still fast enough for HD and 4K streams.
They've also recently implemented the fast and lightweight WireGuard protocol along with their usual OpenVPN and IKEv2 options. Naturally, the provider has an independently audited no-logs policy to maintain your privacy online.
As always, CyberGhost VPN offers a helpful 24/7 live chat service for any issues and includes the longest money-back guarantee available: 45 whole days on longer plans.
PROS
9,000+ servers in 90+ countries.
Works on 40+ streaming sites.
Always-on kill switch.
45-day money-back guarantee.
Use on 7 devices simultaneously.
CONS
Slower than our other picks.
Lack of obfuscation.
Where to Watch beIN Sports?
You can watch beIN Sports by connecting your account with local streaming services in supported regions. Here are some examples:
France - Canal+
Australia - Foxtel
Indonesia - VIDIO
United States - Sling TV, YouTube TV, FuboTV
Thailand - TrueVisions, AIS PLAY
Singapore - Singtel, StarHub
Malaysia - Astro, Unifi
Most streaming services will let you log in with Facebook, an Apple ID, or Google Account, although you'd need to create a region-specific account for that to work.
The easiest way is to use your VPN to connect to a country (e.g., Malaysia), register for a beIN Sports Connect account in your selected area, and start watching.
How to Watch beIN Sports Outside the US
And now, here are the 6 steps to watch beIN Sports outside the US in 2021:
Step #1: Find the Best Working VPN to Unblock beIN Sports
Broadcasters like beIN Sports come up with geo-restrictions that employ anti-VPN measures. So, you need to be careful about which VPN you'll pick. If you need our recommendation, know that ExpressVPN is our #1 pick.
3,000+ VPN servers in 160 VPN server locations in 105 countries, 8 Simultaneous connections, Fast and stable connection, No activity logs or connection logs, No bandwidth limits, Strong encryption, 24/7 live chat support, and 30-day money-back guarantee.
We've tested more than 60 VPNs so far, and we firmly believe that when it comes to media streaming, there's no better option than ExpressVPN.
Step #2: Get Your VPN Subscription
Before we go any further, know that you need to have a VPN installed on your device. So, if you're still in doubt about which VPN to pick, go for ExpressVPN. Once you land on its site, select 'Get ExpressVPN,' and then choose a subscription plan. 
Provide your email address and select a payment method. Once you complete the sign-up, expect to receive an email from ExpressVPN letting you know that your subscription is active. And now, let's show you how to use it. 
Step #3: Download & Install the VPN on Your Device(s)
To unblock and watch beIN Sports outside the US, you need to have a VPN session active in the background. That means you need to install a VPN on any device(s) you'll use to watch beIN Sports. With that said, here's how to download and installed ExpressVPN (on more than 60+ devices and platforms).
Once you install the VPN, don't forget to launch it for the first time. Log in to your account (you can use your ExpressVPN activation code) and complete the initial setup. You can proceed to the next step once you reach ExpressVPN's home screen. 
Step #4: Connect to a VPN Server in the US
Now, here's the crucial step that lets you unblock beIN Sports from anywhere. Using the VPN's home screen, select the button you'll see under the ON/OFF switch. This will open a separate window, showing you a list of ExpressVPN's servers. You need to look for 'United States' either by using the search bar or searching manually.
Then, double-click on any server found in the United States. ExpressVPN will take a few moments to connect. Once that happens, its interface will turn green (the upper portion of its home screen). That means your VPN connection is now active, so you can proceed to the fifth step, as explained just below. 
Step #5: Unblock & Access beIN Sports From Anywhere
Feel free to use any Web browser to access beIN Sports Connect. Once the page opens, select 'Sign In,' which should be present in the upper-right corner. You'll now see a grid of icons asking you to sign in with your TV provider.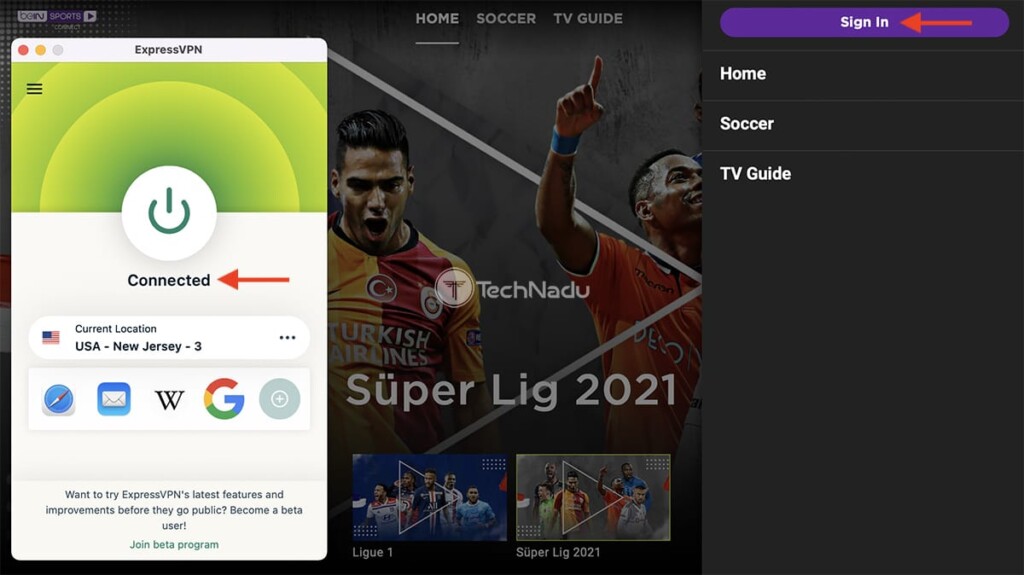 So, go ahead and pick your TV provider and enter your credentials to access and watch beIN Sports. As you can see, this step requires you to have a supported cable TV, satellite TV, or OTT TV subscription (which you can access from abroad using a VPN).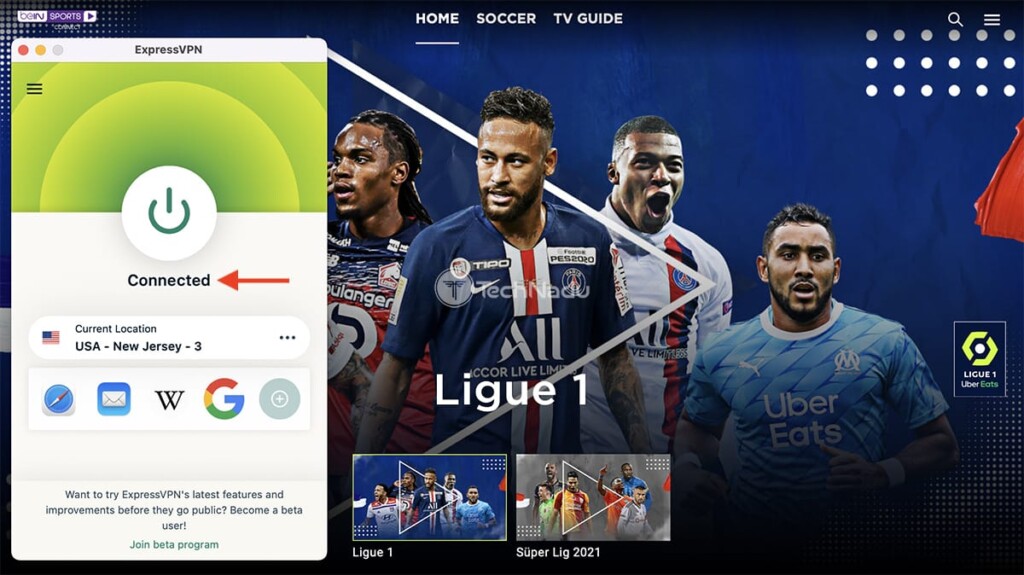 If you don't have a supported subscription, you can sign up for beIN Sports from outside the US. That's done by subscribing to a sports-focused OTT platform, which offers beIN Sports in its lineup of channels. Use the link we've provided in this paragraph to learn more.
Step #6 (Optional): Get beIN Sports on Android & iOS
Let's not forget to mention that you can watch beIN Sports on iOS/iPad and Android as well. To download those apps, you need a Google or Apple account registered in the US. So, if you have one, feel free to access the iOS App Store or the Google Play Store and download the app on your device.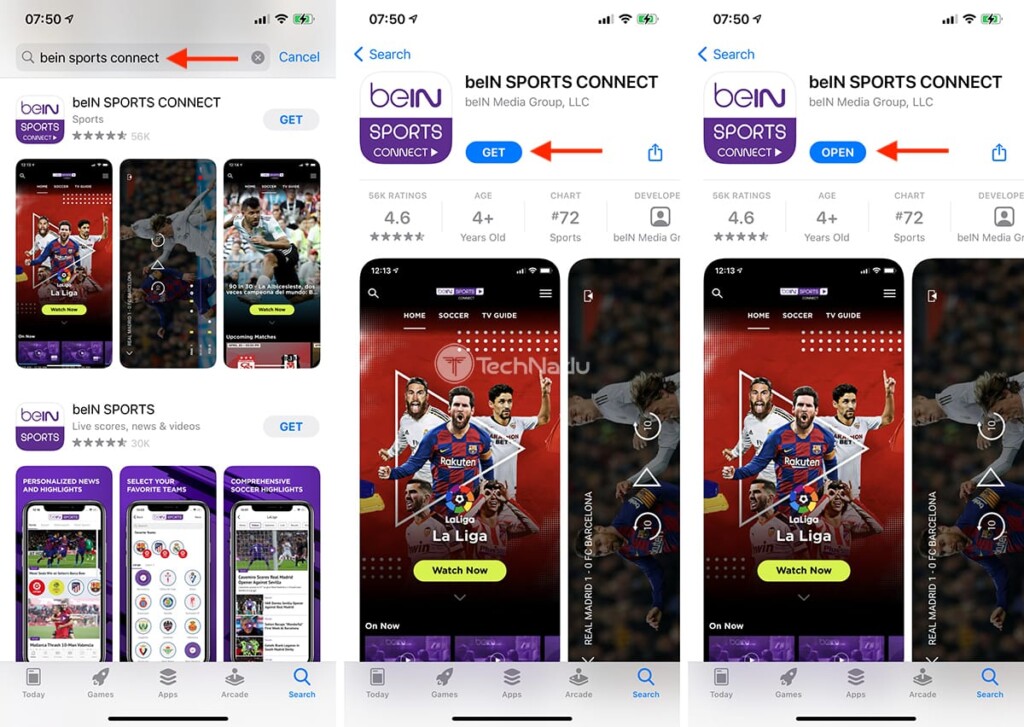 If you don't have an account registered in the US, proceed to sign up for a new Google account (if you have an Android device) or get a new Apple ID (if you have an iPhone or iPad). However, make sure to use a VPN while signing up. If asked about your country, pick 'United States.' And if asked about your address, use this handy US address generator. 
Then, log out of your existing account on your Android, iPhone, or iPad. Once you log in using your new account, you'll get access to the US version of the iOS App Store/Play Store. Proceed to download the beIN Sports Connect app and unblock its content after signing in. 
What Can You Watch on beIN Sports?
You can watch football, basketball, rugby, boxing, motorsports, volleyball, tennis, cycling, MMA, and more on beIN Sports. 
Here are some popular leagues and events you can follow:
| | |
| --- | --- |
| Event or League | Dates |
| Champions League | July 2, 2022 - June 10, 2023 |
| Europa League | August 4, 2022 - May 31, 2023 |
| Ligue 1 | August 5, 2022 - June 3, 2023 |
| Giro di Sicilia 2023 | April 11, 2023 - April 14, 2023 |
| F1 Australian Grand Prix | March 30, 2023 - April 2, 2023 |
| WTA Tour | December 29, 2022 - November 2023 |
| US Open | August 28, 2023 - September 10, 2023 |
| ATP Tour | December 29, 2022 - December 2023 |
| Tour de France | July 1, 2023 - July 23, 2023 |
| NBA Playoffs | April 16, 2023 - TBA |
Final Thoughts
You can use a VPN to change your IP and watch beIN Sports online from anywhere. However, some VPNs tend to get blocked by beIN Sports and other streaming sites - but a premium VPN provider will always get you there.
To keep up with all your favorite competitions on beIN Sports, we recommend ExpressVPN. Their fast, extensive worldwide network lets you access the full beIN Sports library. All their servers feature obfuscation, a kill switch, and leak protection to keep your location a mystery.
FAQ
Is beIN Sports Available in the USA?
Yes, beIN Sports is available in the USA on various providers, such as SlingTV, YouTube TV, and plenty more. 
How Much is beIN Sports in the USA?
You can get beIN Sports in the USA for a monthly subscription of $19.99 or an annual fee of $179.99.
How to Watch beIN Sports Without Cable?
Can You Watch beIN Sports for Free?
No, you can't watch beIN Sports for free. The TV network requires either a monthly/annual subscription for online streaming or a cable TV deal.
Why Is beIN Sports Connect Not Working?
There are several reasons why beIN Sports Connect might not be working, such as server issues, connectivity problems on your end, or your browser/device isn't up-to-date. The site also be undergoing maintenance, causing beIN Sports Connect to not work.
And there you have it. Sit back, relax, and with the aid of a VPN, enjoy streaming football, cycling, boxing, and more on beIN Sports, from anywhere in the world.