If you're after highly entertaining reality television and LGBTQ+ content, you probably already know that Bravo TV will meet your needs. Even though this is a US-based cable TV channel, you can also watch it online. Still, you need to know how to bypass its geo-blocks, so we're going to show you how to watch Bravo TV outside the US in 2021.
There are several ways to access and unblock Bravo TV, depending on if you have an IPTV subscription or if you're yet to subscribe. We'll explain both of those procedures, so let's dive right in.
Where Is Bravo TV Available?
Being a cable TV channel, Bravo TV is available only in the United States. You can now also watch it via IPTV (live TV streaming services), which are also restricted to the US only.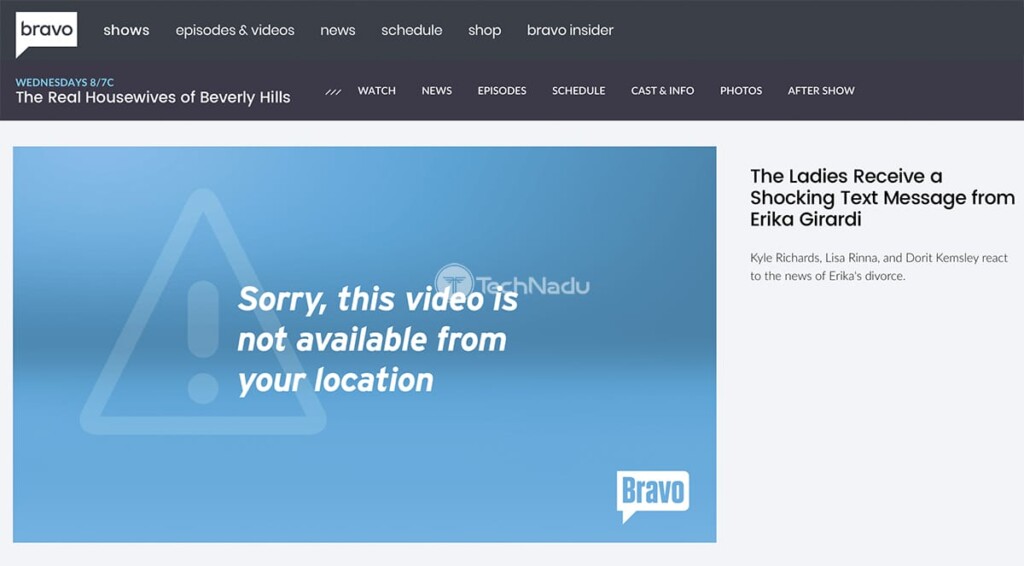 If you try to access the official Bravo TV website from outside the US, you'll see a message as shown just above – "Sorry, this video is not available from your location." That applies both to short clips (usually available for free in the US) and full episodes (which require you to sign in using TV provider credentials).
That geo-restriction can be bypassed using a VPN service. So, let's talk about which one to use, how to use a VPN to watch Bravo TV outside the US, and plenty more.
How to Watch Bravo TV Outside the US
Finally, these are the 6 steps to watch Bravo TV outside the US in 2021: 
Step #1: Get the Best-Working VPN to Unblock Bravo TV
Not every VPN lets you unblock Bravo TV, so you need to be careful when choosing one. To help you get started, we've produced a guide on the best VPNs for streaming. As that article will let you, we highly recommend going for ExpressVPN.
ExpressVPN works incredibly smoothly with Bravo TV, letting you unblock it in an instant. This is one of the best VPNs overall (we've tested more than 60 VPNs so far), providing thousands of servers (many of those are in the US), fluid performance, and ease of use.
Step #2: Get Your VPN Subscription
Now is the time to make up your mind, as you'll need a VPN subscription to proceed to any of the following steps. So, if still in doubt, go ahead and subscribe to ExpressVPN. Once you land on its website, select 'Get ExpressVPN' and pick a subscription.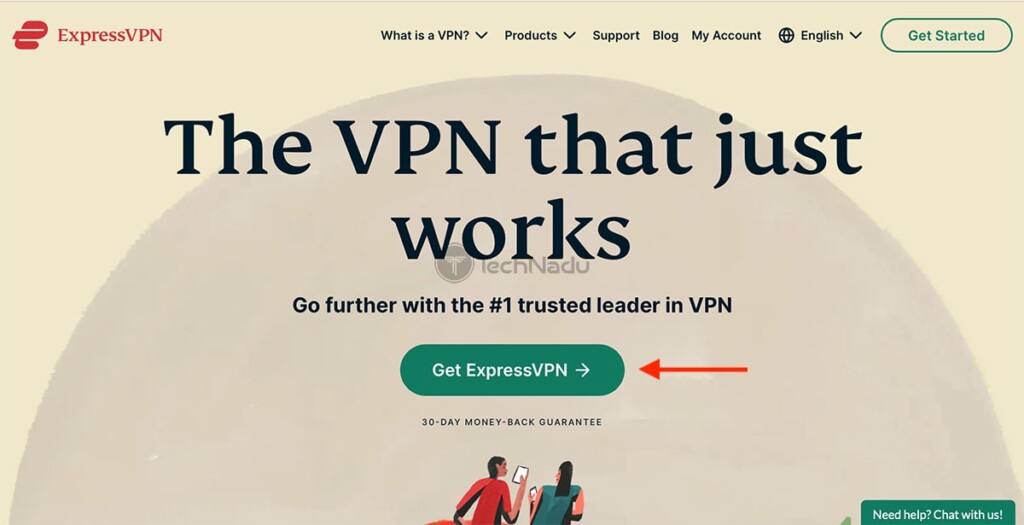 You'll also need to provide your email address and pick a preferred payment method (ExpressVPN supports a wide range of those). Once you pay for the chosen plan, ExpressVPN's team will send you a confirmation email. So, go ahead and check your inbox.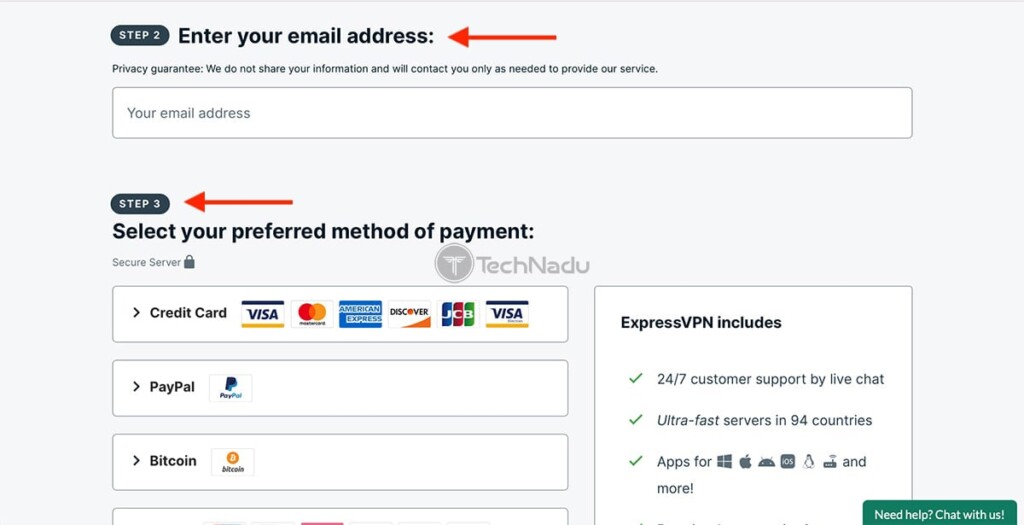 Step #3: Download & Install the VPN on Your Device(s)
Remember that to watch Bravo TV outside the US, you'll need to have an active VPN session running in the background. That means you need to set up a VPN on any device you'll use to watch Bravo TV. With that said, here's how to download and install ExpressVPN on any of its 60+ supported devices and platforms.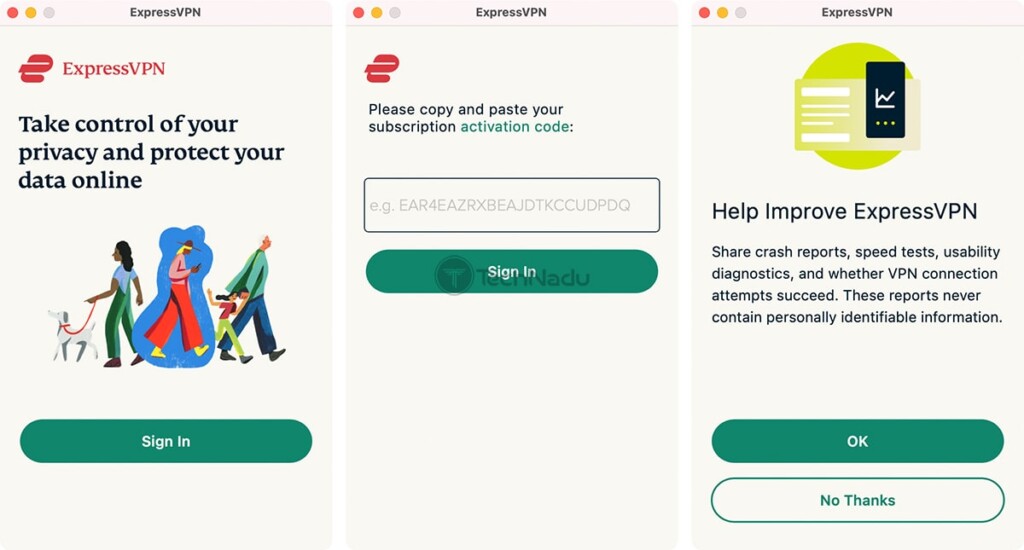 After you install ExpressVPN, make sure to prepare the application for use. Launch it for the first time and log in to your account (you'll need an ExpressVPN activation code if you use this VPN on a computer). Complete the initial setup and access the VPN's home screen.
Step #4: Connect to a VPN Server in the US
You can unblock, access, and watch Bravo TV outside the US only if you have an American IP. That's where VPN servers come into play, which means that you need to connect to one. So, launch ExpressVPN and select the button just below the ON/OFF switch.
A new window will now open. Find 'United States' there, and then double-click on any of the servers you'll see on that list. After a few brief moments, ExpressVPN will connect you. Once its home screen turns green, you can proceed to the next step.
Step #5: Unblock & Access Bravo TV From Anywhere
At this moment, you have two possible routes to take. If you already have a subscription that includes Bravo TV, go ahead and visit Bravo TV's website. Select any full-length episode, and you'll be asked to provide your credentials. Those could be cable TV or OTT provider credentials.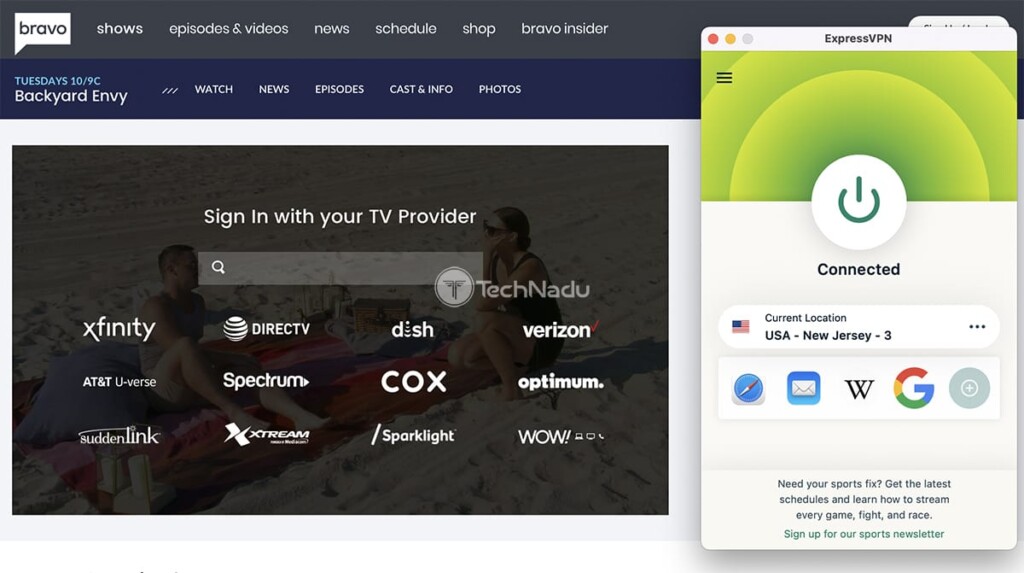 In case you don't have an eligible subscription, you need to get one. And yes, there's a way to subscribe to Bravo TV even if you're outside the US. So, click on the provided link to learn how that is done (you'll be taken to a separate section of this article).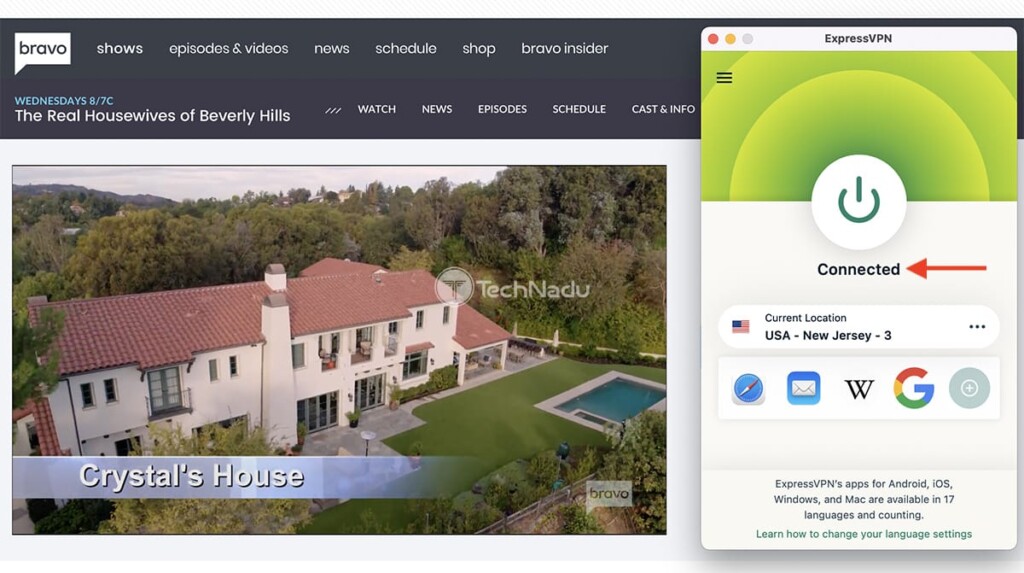 Step #6: Get Bravo TV on Other Devices (Optional)
Bravo TV offers dedicated apps for iOS/iPadOS and Android. So, feel free to download them to your device, and then use ExpressVPN (here's how to set it up on iOS/iPadOS and Android) to unblock and watch Bravo TV outside the US.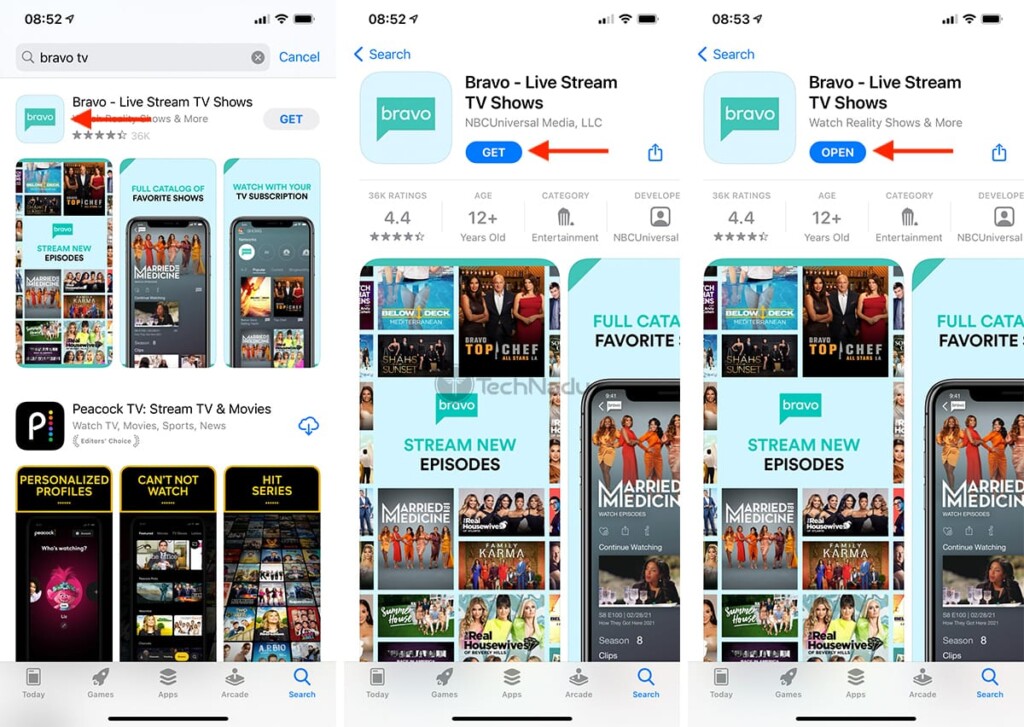 Keep in mind that you need a US-based Apple or Google account to access Bravo TV. If you don't have one, go ahead and create a new Apple ID or get a new Google account. Make sure to use a VPN while signing up. In case you're asked about a US address, use this tool for generating a random address.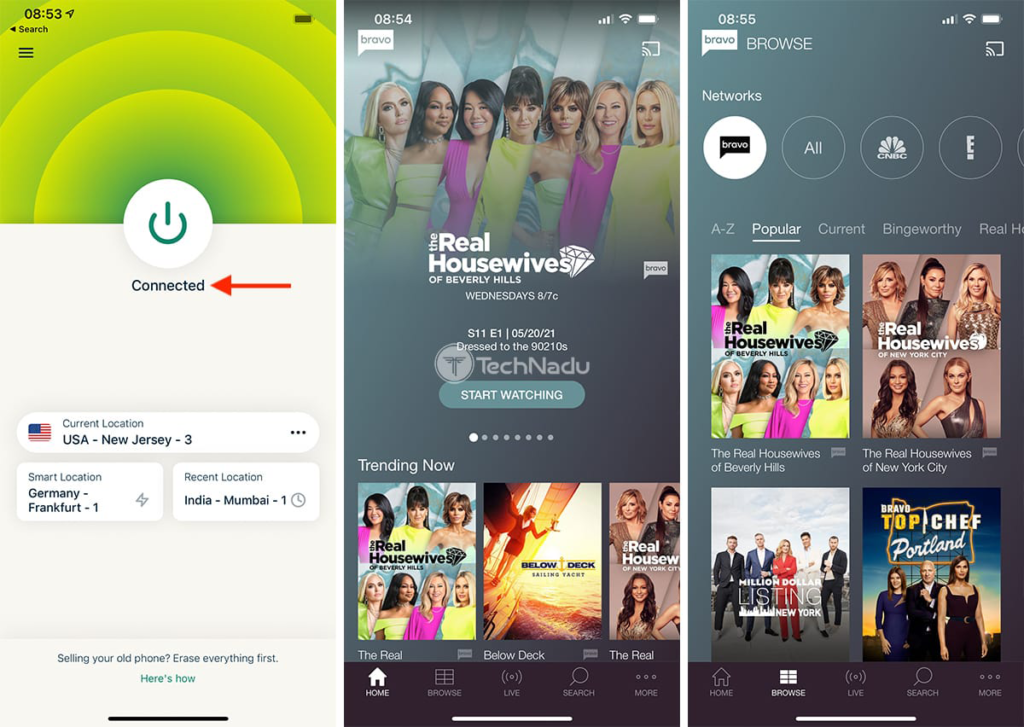 Once you get a new account, make sure to log out of your old account on your iPhone, iPad, or Android device. Then, log in using your new account, access the Play Store or iOS App Store, and download Bravo TV from there. That's it!
How to Sign Up for Bravo TV Outside the US? 
There's a way to sign up for Bravo TV from outside the US using OTT providers. These are live TV streaming services that have Bravo TV in their channel lineups. However, keep in mind that the following OTT services are restricted in the US, so you'll need a VPN to sign up. 
Sling TV is perhaps the most affordable way to get access to Bravo TV, as its 'Blue' plan (the one that offers Bravo TV) costs only $35.00 per month (if you need more info, here are all of Sling TV's packages and prices, in detail). Lastly, here's how to get Sling TV outside the US.
Then, you have YouTube TV at your disposal, which comes as an OTT service offering access to 85+ TV channels (and yes, Bravo TV is one of those). This live TV streaming service comes priced at $64.99 per month, and also – there's a way to get YouTube TV from outside the US.
And lastly, we'd like to recommend fuboTV, which offers Bravo TV even via its 'Starter' plan (priced at $64.99 per month). For more info, here are fuboTV's packages and prices, and also, here's fuboTV's full list of channels. Finally, check how to get fuboTV outside the US.
That would be all on how to watch Bravo TV outside the US. If you have any questions for us, make sure to post them via the comments section below. Thanks for reading!