The NBA League Pass is by far the best way to live stream the 2019-2020 season, which is poised to continue soon. However, the problem is that this media streaming service is also affected by the NBA's comprehensive blackout rules. Therefore, it's natural to expect that many of you will be searching for a way to bypass NBA League Pass blackout restrictions.
First and foremost, know that bypassing sports blackouts is possible. However, for this purpose, you will need to use a VPN application. And of course, not just about any VPN will help, as you need one with the power to evade detection mechanisms imposed by the NBA.
Know that TechNadu's team has tested more than sixty VPNs so far. We know which ones work as advertised (as well as which you should avoid), and we know which ones will get you the best possible NBA League Pass streaming experience.
Furthermore, we'll use this article not only to pinpoint specific VPNs. Instead, we're going to walk you through the steps of bypassing NBA League Pass blackouts, one step at a time.
How to Bypass NBA League Pass Blackouts? (Quick Guide)
To understand this procedure in the best way possible, we recommend reading this entire article. That's because we'll go far and deep into setting up a VPN for use with NBA League Pass. However, if you're in a rush, we'll cut to the chase.
Here's how to bypass NBA League Pass Blackouts by using a VPN service.
Get a VPN Service: Don't waste your time trying different kinds of VPNs. What you need to get is ExpressVPN (49% OFF). Not only does this VPN bring a fantastic price, but it can also bypass all kinds of blackout restrictions. It's also excellent for unblocking any other media streaming service out there, whether you're in the USA or some other country.
Set-Up a VPN on Your Device: Once you get your VPN subscription, you need to download and install the app on your device. Don't worry; this is a straightforward procedure. You can learn more about setting up a VPN on Windows, Mac, Amazon's Fire OS, Smart TVs, and more (make sure to search our website for additional guides).
Connect to a Specific VPN Server: Then, you use the VPN to connect to a server from a location where the game is available (where it's not blacked out). If there's a local blackout, you connect to a server located in another state. And if there's a national blackout, you need to connect to a server in a different country (Mexico, for example).
Purchase Your NBA League Pass Subscription: If you haven't done that already, make sure to subscribe to NBA League Pass. The prices start at $5.99 per single game, up to $39.99/year for NBA League Pass Premium. And yes, these have been drastically lowered due to the shortened season.
Why Does NBA League Pass Have Blackouts? How Do They Work?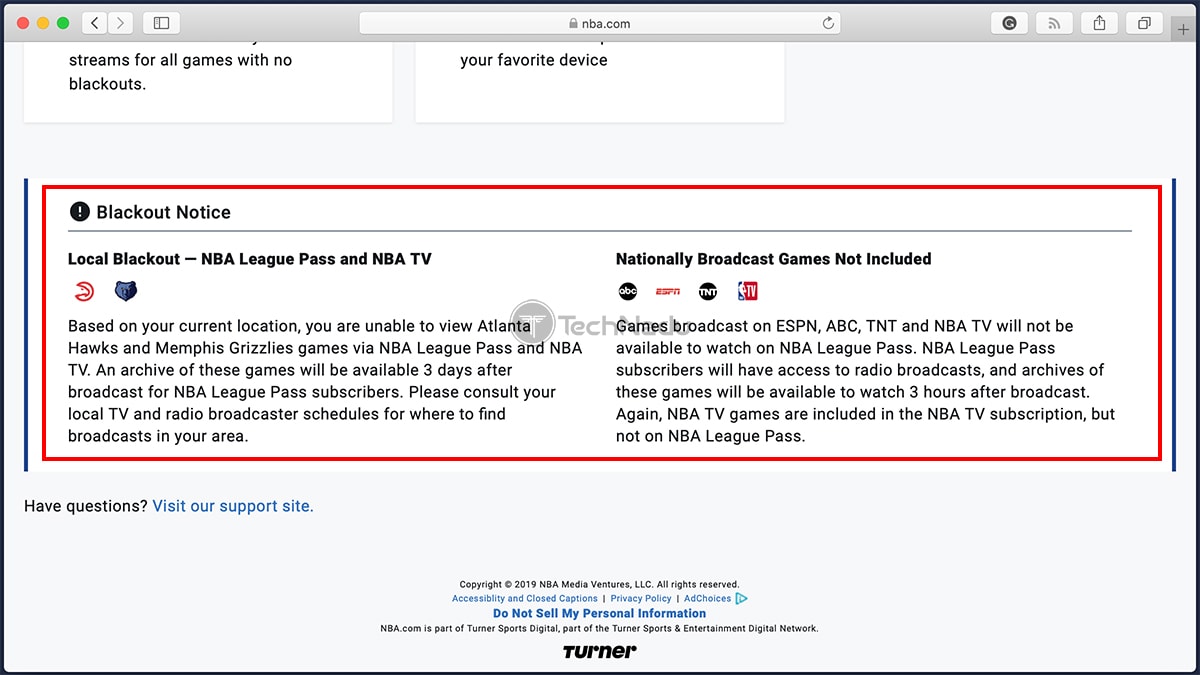 Blackouts are nothing new in the world of sports, most prominently being present in the United States. It means that before each NBA season starts, both national and local broadcasters are free to obtain exclusive rights to televise individual games. Even the NBA isn't allowed to offer those games on its official website or via League Pass.
When it comes to NBA blackouts, you should know that you can still use NBA League Pass to watch all the current season games. However, games that are blacked out in your region will be available on-demand only after they have aired. Therefore, you can still watch them at a later time – but let's admit it, nothing beats watching a game live.
Which TV Networks Have Acquired Exclusive Rights for the 2019-2020 NBA Restart Games?
All 2019-2020 NBA Restart games will be available via NBA League Pass. However, keep in mind that blackout restrictions are lifted only after each game ends. It means that several NBA Restart season games will be televised by regional sports networks and national broadcasters – including ESPN, TNT, ABC, and NBA TV.
More precisely, ESPN is the exclusive network of the Eastern Conference Finals. TNT has obtained exclusive rights for the Western Conference Trials. And finally, ABC will be airing the NBA Finals. All other games are subject to blackout rules based on exclusive rights acquired by regional sports networks.
How Do NBA League Pass Blackouts Work?
When accessing NBA League Pass on your computer, this streaming service will determine your location by checking your IP address. Certain games will be blacked out based on your location, no matter if we're talking here about regional or national blackouts.
Further Reading: How to Hide Your IP Address / These VPNs Are Found to Leak IPs
When accessing NBA League Pass on your Android or iOS devices, your GPS location will be checked. Considering that VPNs change your IP address primarily (and not your GPS information), bypassing NBA's blackouts on mobile phones can be very hard to achieve unless you have a powerful VPN.
Tip
It takes more than just changing your IP address to bypass NBA restrictions. This is precisely why we strongly recommend ExpressVPN, with a proven track record of unblocking websites with ease. Other VPNs might alter your IP, but that might not be enough to go over geo-restrictions imposed by the NBA.
What NBA Games Are Affected by League Pass Blackouts?
You're probably wondering if you have a way of knowing what NBA games will be blacked out in your area. The best way to check this is by using the NBA's Blackout Explorer. Click on the provided link, enter your ZIP code, and see which teams may be blacked out.
Another way to check this information is when subscribing to NBA League Pass. When you open this media streaming service's pricing page, scroll to the bottom. You will see two blackout notices there – one for local and one for national blackouts.
Tip
To make sure your VPN works properly, you can connect to a VPN server and then visit the NBA League Pass website. Scroll down and see what local and national blackouts apply. What you should see there shouldn't correspond to your actual (physical) location.
How Do VPNs Bypass NBA League Pass Blackouts?
There are three equally important sides to unblocking and accessing media streaming services when it comes to VPNs. What we're talking here are IP addresses provided by your VPNs, a leak-free VPN environment, and capable-enough VPN protocols.
First of all, know we're talking here about a highly sophisticated solution to re-routing your Internet traffic. However, VPNs have become incredibly simple to use. All it requires you to do is to connect to a server by clicking on its name. Your VPN will do the rest on its own.
Further Reading: How to Bypass Any Blackout Restriction
Once you click on a VPN server, your VPN application will start routing your Web traffic via that selected server. It means that you'll get a new IP address, pointing to a different location. Your data will also flow through a secure tunnel, which must be free of any leaks (not exposing your privacy and your location info). And finally, all of this happens based on a selected VPN protocol (there's usually at least a couple to choose from).
Tip
This is precisely the reason why ExpressVPN is the best pick right now. By default, it's powered by the OpenVPN protocol (bringing high-end encryption), meaning that ExpressVPN will change your IP, secure your Web traffic, and prevent any leaks. This is the reason why it's capable of bypassing NBA League Pass blackouts.
Can You Bypass NBA Blackouts Without Using a VPN?
We understand if you're hesitant about using a VPN. However, in all honesty, there's no better or more effective way to bypass blackouts imposed by the NBA. And if you're using NBA League Pass, you already have a fast-enough Web connection. Adding a VPN to this equation should not be a problem.
Of course, we want you to thoroughly understand this situation, so here's our detailed report on how to watch games that are blacked out on NBA League Pass, without using a VPN. As you'll see, you won't have too many options.
Is There a Different Way to Watch Blacked Out Games?
Blacked out NBA games are televised exclusively by either a regional sports network or a national TV network, such as ESPN, ABC, TNT, or NBA TV. This means you need to have a cable subscription or a sports media-streaming service that provides access to those specific channels.
Therefore, this solution is available to those who already have a cable or OTT subscription. On the plus side, many of these TV networks offer apps made for smartphones and media streaming devices. On occasion, NBA League Pass will try to redirect you to these apps.
Also, keep in mind that the audio of blackout games is available on NBA League Pass, and you might be able to listen to these games via local radio providers.
How to Watch Blacked Out Games After They Air?
If you don't care about watching NBA games live, you can rely on NBA League Pass. That's because this media streaming service gets new games after they air.
When it comes to nationally telecast games, these are available on NBA League Pass three hours after they have aired. Locally telecast games start appearing on NBA League Pass three days after they have aired.
Are "NBA Single Game" Purchases Affected by Blackouts?
Considering that you get to purchase individual games for $5.99 each, you might expect that no blackout rules apply in this case. However, keep in mind that broadcast rights apply to all NBA games. If you're not able to watch it live, you'll watch that game on-demand.
So using a VPN is still your best bet – no matter if you have an NBA League Pass subscription or plan on purchasing individual games.
Can You Use a Free VPN to Bypass NBA Blackouts?
There's no need to hide the fact that there are free-of-charge VPNs on the Internet. They advertise plenty of exciting features while promising that you won't have to pay for anything. So, you can see that this looks too good to be true, right? Well, that's precisely the case.
Free VPNs are useless when it comes to media streaming. That's because they come with limited bandwidth. Besides, they can't protect you against data leaks, and they're an easy target for geo-restricted websites. Trust us on this one – don't waste your time trying out free VPNs. Go only with proven solutions, such as ExpressVPN.
Tip
We highly recommend avoiding free VPNs, and not just if you want to stream NBA League Pass. In the past, these were proven to expose personal information, which means that using free VPNs can have grave consequences.
How to Go Around NBA League Pass Blackouts on Android and iPhone?
The NBA League Pass app works a bit differently than the desktop website. Instead of checking your IP address, the app checks for your GPS data – which can be provided by Android and iOS. Of course, there are some workarounds in this case as well.
You should know that certain apps allow you to spoof your GPS location on mobile phones. However, these require you to root or jailbreak your device, and they can be tedious to set up. Therefore, your best bet is to try using NBA League Pass on your phone (once you install and activate a VPN) via a Web browser (instead of using any app).
Tip
At the time of writing this article, ExpressVPN has presented itself as the best solution to watching NBA League Pass on Android and iOS phones. However, make sure to contact their customer support to get the latest information. You can also count on the VPN's 30-day money-back guarantee if you'd like to test it yourself.
What Devices Are Supported by NBA League Pass?
NBA League Pass is compatible with a huge range of devices and platforms. And even better, you don't have to have the latest device to access this media streaming service.
Check out the full list below:
iPhone (iOS 10.0 or later);
iPad (iOS/iPadOS 10.0 or later);
Android smartphones/tablets (5.0 or later);
Kindle Fire;
Roku (3 and above);
Apple TV;
Android TV;
Amazon Fire TV and Fire Stick;
Xbox One (S and X);
PlayStation (3 and 4);
VR devices (Samsung Gear VR, Google Daydream, Oculus Go/Rift, and more).
Of course, NBA League Pass works basically on any Web-connected device, so you can access it by using an Internet browser. This applies to both live streaming games and watching on-demand content. In this case, the maximum supported resolution will depend on your device's screen specifications.
Tip
If you plan on using a VPN to bypass NBA blackouts, your safest bet is to install your chosen VPN on your computer (Windows, macOS, or Linux) and then access NBA League Pass via its website. However, there are many other methods available, as today's VPNs are compatible with plenty of devices and platforms.
Should You Consider Getting an International NBA League Pass Subscription?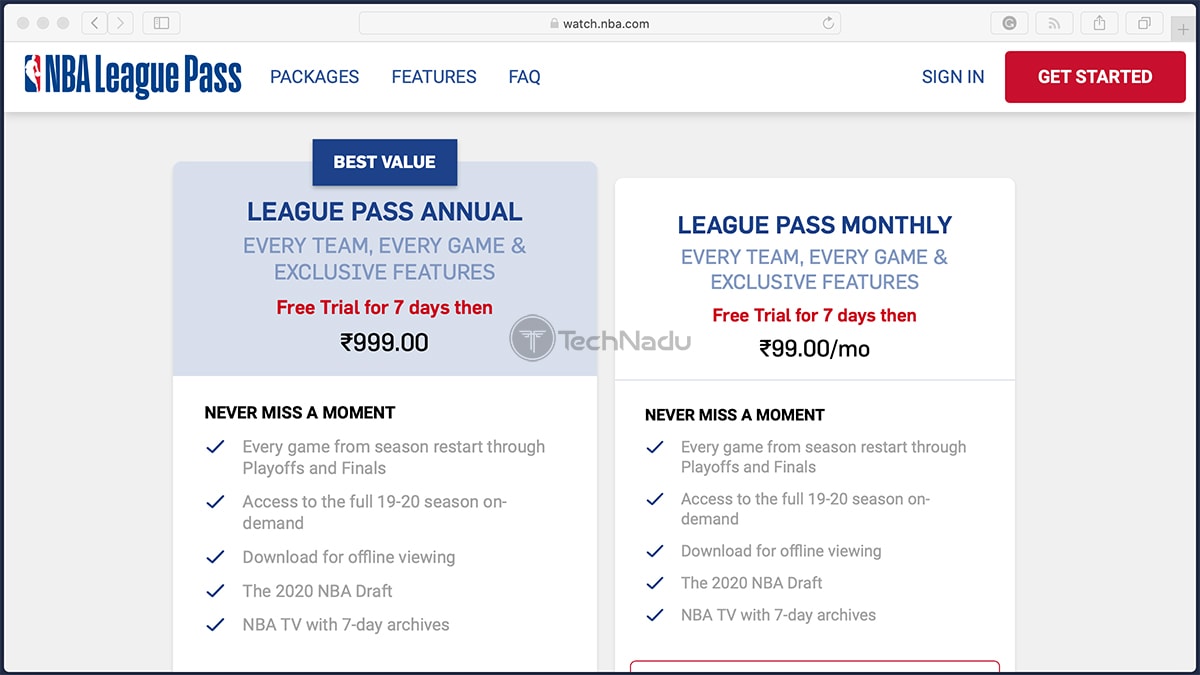 There are two types of NBA League Pass subscriptions based on whether you're located in the United States or elsewhere. However, no matter the location, you sign-up in the same way – by visiting the NBA's League Pass website.
Once again, we're talking about IP address detection here. The NBA website will detect your location and show you corresponding subscription plans. We're talking about differently priced subscription plans, as those outside the US can get the international version of NBA League Pass. Check out the table below for more information.
| | | |
| --- | --- | --- |
| | NBA League Pass (USA) | NBA League Pass (India) |
| Price (Monthly) | N/A | ₹99.00 ($1.32) |
| Price (Annually) | $28.99 | ₹999.00 ($13.37) |
| Blackout Restrictions | YES | NO |
As you can see, we have different prices here. However, it's essential to know that there's no single international subscription pricing scheme. Each country has its pricing, expressed in local currency. However, the most important thing to note here is that blackout restrictions apply to the US only.
Once you get a VPN, you're free to use all kinds of VPN servers – placed in many countries around the world. Therefore, this is how you can check the prices of NBA League Pass outside the USA. Make sure to check if you get other benefits as well, such as NBA TV.
Tip
If you decide to subscribe to an International NBA League Pass, you'll need to use a VPN each time you access the streaming service (connected to a server in the country you chose when subscribing). If you pick a country on the other side of the world, keep in mind that your Web traffic will need to travel more – which will slow down your Web connection.
NBA's 2020 Season Restart: When Does It Start & What Else to Know?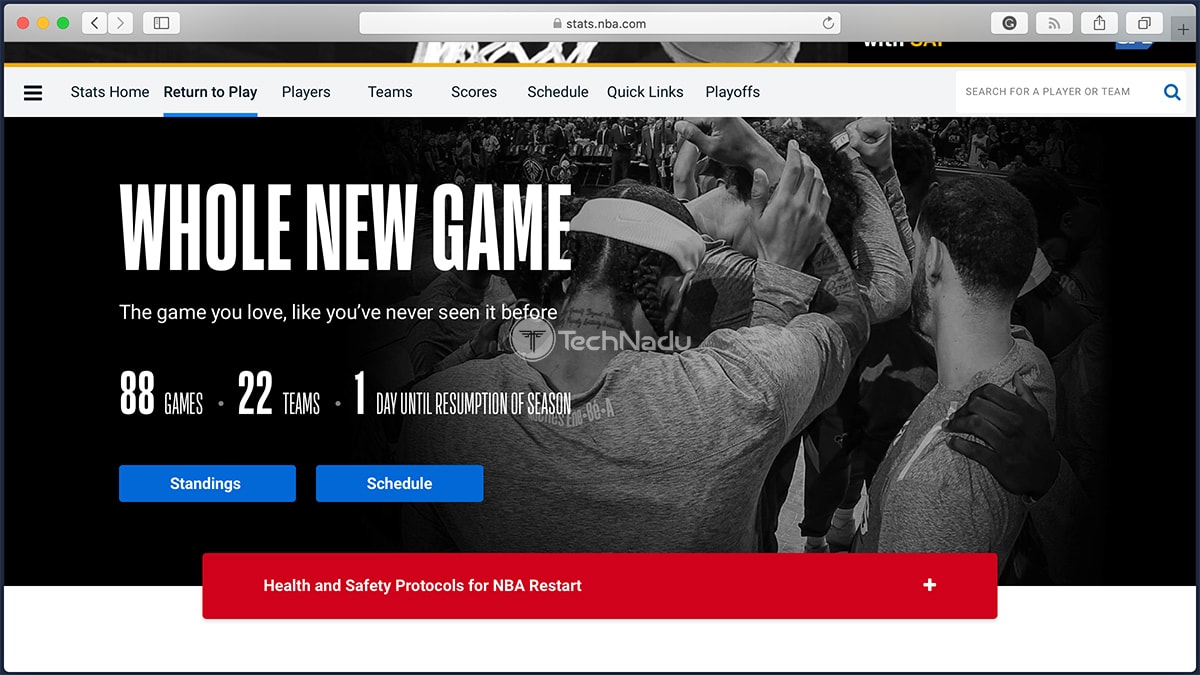 Finally, you'll also want to know what to expect from the rest of this year's NBA season. We're sure that many of you were wondering whether the 2020 NBA season will continue – and we're happy to let you know that we now have some official information.
Is the NBA Season Coming Back in 2020? When Does it Begin?
Yes, the 2019-2020 NBA season will continue on July 30, 2020. However, as many of us have expected, the rules have somewhat changed.
More precisely, the remainder of the 2020 season will be played in a 22-team format. And also, the Finals will end no later than October 13, 2020.
Which Teams Will Be Playing During the 2020 Season Remainder?
As decided earlier this month, a total of 22 teams will return to play the 2019-2020 season. We have nine teams from the Eastern Conference, and thirteen teams from the Western Conference. For more detailed info, check out below.
Eastern Conference
Milwaukee Bucks
Toronto Raptors
Boston Celtics
Miami Heat
Indiana Pacers
Philadelphia 76ers
Brooklyn Nets
Orlando Magic
Washington Wizards
Western Conference
Los Angeles Lakers
LA Clippers
Denver Nuggets
Utah Jazz
Oklahoma City Thunder
Houston Rockets
Dallas Mavericks
Memphis Grizzlies
Portland Trail Blazers
New Orleans Pelicans
Sacramento Kings
San Antonio Spurs
Phoenix Suns
What's the Timeline for the NBA 2020 Season Restart?
One thing is sure – we're in for a very exciting couple of months. Here are the currently planned timelines for the remainder of the 2019-2020 NBA season.
NBA Timeline
| | |
| --- | --- |
| July 7-9 | Teams Travel to Orlando |
| July 9-29 | Team Training Camps & Scrimmages |
| July 30 | Season Returns with Seeding Games |
| August 15-16 | Play-in Games |
| August 17 | NBA Playoffs |
| August 31 | Conference Semifinals Begin |
| September 15 | Conference Finals Begin |
| September 30 | NBA Finals 2020 |
| October 13 | Last Possible NBA Finals 2020 Date |
What's the Chosen Venue for the NBA 2020 Season Restart?
For the remainder of the 2020 season, the NBA has reached an agreement with Disney. This means that the rest of the season will be played at ESPN Wide World of Sports Complex at Walt Disney World Resort (Orlando, Florida).
The venues for all games will be inside the Arena, Field House, and Visa Athletic Center.
When Does the 2020-2021 Season Begin?
As per the current plans, the 2020-2021 NBA season should begin on December 1, 2020. Of course, we sincerely hope that the Coronavirus outbreak won't affect this, as it had happened with the current season, which went on hiatus in March.