So, you've decided to pair a VPN with your Kodi. That's a fantastic idea – letting you unblock Kodi, protect your privacy, and do more on the Web. However, you'll want to combine those two applications in the most effective way possible. So, let's start talking about how to use Kodi with ExpressVPN on your Mac. 
Note
Before we proceed, an important note. Keep in mind that ExpressVPN (or any other VPN) doesn't really "integrate" with Kodi. Instead, we are talking about two applications that work side-by-side. We've wanted to clear this confusion first, letting you understand the following process in a better way.
1. First, let's set up the VPN. Start by subscribing to ExpressVPN first. 
2. You'll land on ExpressVPN's website. Make sure to click on 'Get ExpressVPN.'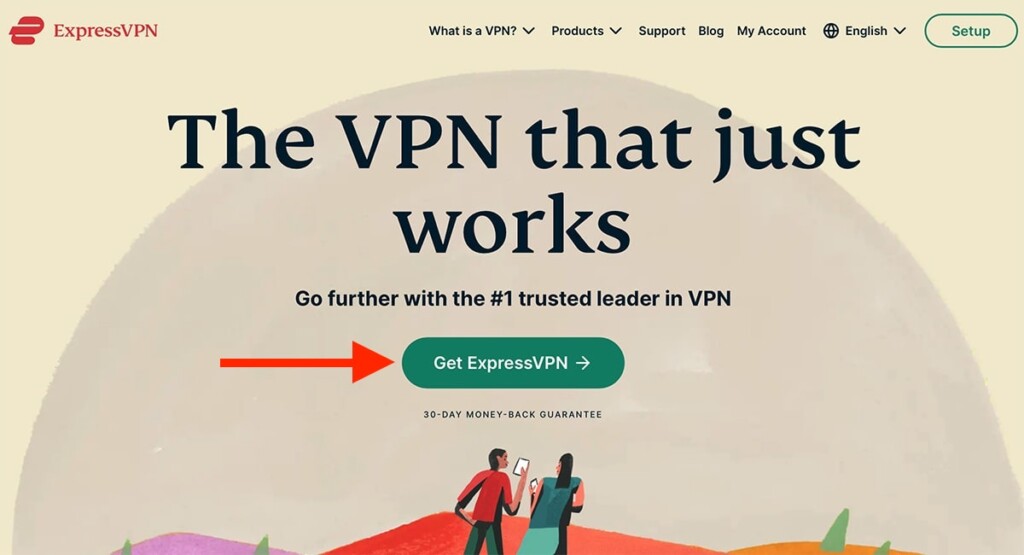 3. Now, pick a subscription plan (a long-term one will help you save). 
4. Provide your email address and complete the sign-up procedure. 
5. Once done, expect to see a confirmation email from ExpressVPN, so check your inbox.
6. Now, you need to set up ExpressVPN on your Mac. We've provided a link that'll take you to our detailed guide (with screenshots included), so make sure to use it. 
7. Then, proceed to install Kodi on your Mac – if you haven't done that already. Once again, the provided link will take you to our step-by-step guide, perfect for beginners. 
Tip
So far, you should have signed up for ExpressVPN, and you should have this VPN ready for use on your Mac. The same applies to Kodi. However, make sure not to open those applications right now, as you need to open them one by one – so, keep on reading. 
8. Now, feel free to launch ExpressVPN. You should see its home screen.
9. Use this VPN's interface to connect to a server of your choosing. 
10. If you want to pick a custom server, press the button just below the ON/OFF switch.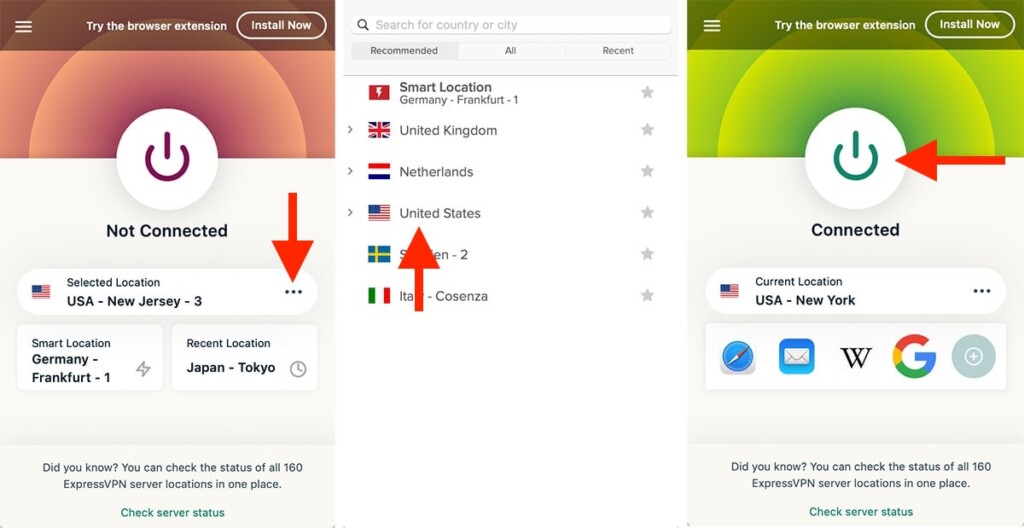 11. Then, cycle through the Recommended, All, and Recent tabs.
12. Double-click on any server or country name, and let ExpressVPN connect you. 
13. If that doesn't happen automatically, you can do it manually (use the ON/OFF switch). 
14. Make sure that your VPN tunnel is active. The application should turn green.
15. This is when you can feel free to launch Kodi. 
16. Let's install an add-on. Begin by going to Add-ons > Downloads > Video Add-ons. 
Tip
Kodi offers hundreds (if not thousands) of add-ons – and many of those are geo-restricted (so, you'll be happy to have chosen ExpressVPN). To see some of the best options right now, make sure to check our often-updated guide to the best add-ons for Kodi in 2021.
17. Select any add-on you'll see there by clicking on its name. Its overview will open. 
18. Use the 'Install' button in the bottom-right corner to install the chosen add-on. 
19. Then, launch the newly installed add-on by using the 'Open' button. 
20. That's it! ExpressVPN will now unblock the chosen add-on (if it was blocked previously), as well as protect and anonymize your Web traffic. Enjoy streaming via Kodi!
Important
To unblock new types of content in Kodi, make sure to pick the correct server first. For example, if a Kodi add-on is available only in Canada, you first need to connect to an ExpressVPN server located in Canada. And also, ExpressVPN must always run in the background for this process to work (as that's how your IP address gets changed). 
That would be all on how to use Kodi with ExpressVPN on a Mac. If you have any questions or doubts, we'll be glad to assist you. So, make sure to post your comment below. And lastly, thank you for reading!