We don't have to tell you that YouTube TV is one of the most popular OTT services. Especially due to its recent price cut, everyone wants to jump on board. However, the problem is that YouTube TV isn't available in the entire USA, let alone the rest of the world. However, this is something that can be easily corrected. So, let's talk about how to watch YouTube TV outside the USA.
5 Best VPNs That 100% Unblock YouTube TV Outside US
We like to think of ourselves as VPN experts. During the last year or so, we've tested dozens of hugely popular providers – and we know which are the most powerful ones. So, take a look at 5 best VPNs that can unblock YouTube TV outside US.
1. ExpressVPN
Each day, we hear about new hacks and data breaches. That's where ExpressVPN steps in. This VPN application uses military-grade encryption to keep your personal information safe. No one can see what you're doing online. ExpressVPN is also incredibly fast. When watching YouTube TV outside the US, you'll easily stream live network programming without any interruptions. This VPN application also provides support for Windows, Mac, Linux, iOS, Android, Apple TV, Kindle Fire, and more.
ExpressVPN, though, is one of the priciest VPNs on the market. However, this is definitely one of the best deals you can get right now, considering the value it brings. This especially goes for its long-term plans. For more information on the world's most-used VPN application, read our in-depth review of ExpressVPN.
2. NordVPN
NordVPN has over 5,100 servers around the world, including P2P servers to help your torrents fly. Plus, with hundreds of servers available in most countries, you'll enjoy watching YouTube TV outside the US without any interruptions. For privacy-minded users, NordVPN also provides a list of double VPN servers. Your traffic will go through another VPN server for added protection.
Like ExpressVPN, however, NordVPN isn't the cheapest VPN on the market. In addition, in our tests, emails sent to customer support took hours to arrive. The customer support team also offered vague responses to our questions. The built-in kill switch also doesn't support for adding operating system processes.
Want to know more about this VPN application, including performance-related information? Check out TechNadu's complete NordVPN review.
3. SaferVPN
Want a VPN application that will absolutely help you watch YouTube TV abroad? Meet SaferVPN. This VPN has specialized US and UK streaming servers that constantly cycle their IP addresses. Yet, depending on the time of day you watch YouTube TV while abroad, the streaming quality could become terrible. SaferVPN is also designed with simplicity in mind; children and grandparents could use this VPN application with ease. Yet, BitTorrent users will have to look elsewhere, as SaferVPN has emphatically blocked P2P traffic.
So, is SaferVPN right for you? Find out after reading our full SaferVPN review.
4. TorGuard
Like SaferVPN, TorGuard will help you unblock YouTube TV outside the US. How? If you're willing to pay up a little more per month, you'll have access to dedicated US IP addresses.
In addition, TorGuard comes with powerful and incredibly flexible security features for power users. You'll find AES128 encryption, high-speed virtual connection, and support for most routers. Newcomers may find this VPN application overwhelming, however, as it's not very user-friendly.
Want to find out more information about the pros and cons of this VPN application? Read TechNadu's complete TorGuard review.
5. StrongVPN
With over 650 servers in 20+ countries and a zero logging policy, StrongVPN wants to keep you protected online. Despite offering great encryption solutions, though, streaming performance can get pretty bad with this VPN.
This VPN offers average pricing. Most users will also have to bear with an off-putting desktop client, which feels clunky at times. Despite these problems, StrongVPN offers a decent alternative to watching YouTube TV outside the US. Want to know more about this VPN application? Then, check out TechNadu's in-depth StrongVPN review.
FAQ About YouTube TV
To get started, you need a VPN application. The best premium VPNs will trick YouTube TV into thinking that you're inside the US. You'll no longer be locked out of watching your favorite programs on demand while abroad.
What is YouTube TV?
Launched in February 2017, YouTube TV lets users stream their favorite live network programs whenever they'd like. Initially launched in only five major American cities, YouTube has slowly rolled out its over-the-top MVPD-style subscription service across the country, although the list continues to be quite short.
[youtube https://www.youtube.com/watch?v=lViKNnViMFc?version=3&rel=1&fs=1&autohide=2&showsearch=0&showinfo=1&iv_load_policy=1&wmode=transparent]
So, how successful has YouTube TV been? One week after its April 5th launch, the service had 147,300 downloads on the Play Store. After just nine months in the market, YouTube TV reached 2 million mobile downloads.
Where is YouTube TV available?
It's probably not going to come as a surprise, but as it happens with most over-the-top services and providers, you can't watch YouTube TV outside of the United States, which mostly happens due to licensing restrictions. Even if you live in the United States, you may not have access to YouTube TV, as the service is available only in close to 100 locations, such as New York City, Las Vegas, Shreveport, or Jacksonville. That does not mean it's impossible to watch live TV on your computer, smartphone, or tablet while traveling the world – you just need a VPN and a little code tweak.
On What Devices You Can Watch YouTube TV?
This is a service that comes from Google, so it might not be too surprising just on how many platforms YouTube TV works on.
You can watch YouTube TV content on Android TVs, Samsung and LG Smart TVs. Then, you can watch your favorite shows via Chromecast, Apple TV, and Roku, as well as Xbox One. There are, of course, also apps for Android and iOS smartphones and tablets.
What Can You Watch on YouTube TV?
The TV stations you can watch on YouTube TV actually depend on the licensing deals they have signed for the area where you live, or, to be more specific, the city that you choose on your VPN. But we'll get to that in due time.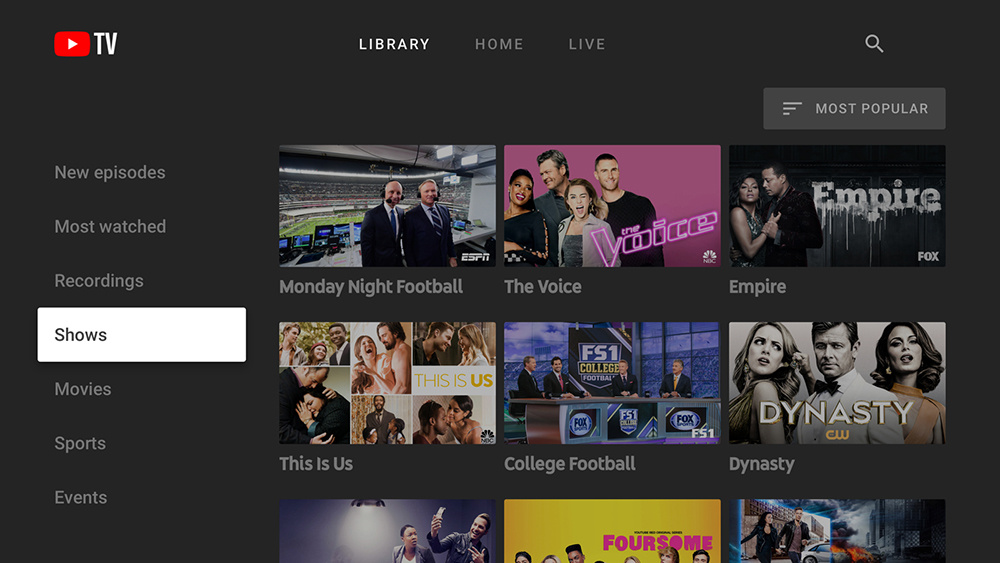 For New York City, for instance, you can watch ABC, Cartoon Network, CNN, TNT, FX, Telemundo, ESPN, Oxygen TV, National Geographic, ABC, BBC America, and so on. You can add the likes of Showtime, Starz, Shudder and more for extra monthly fees.
What Are VPNs, In The First Place?
VPN stands for Virtual Private Network, and it's a tool that can make it look like you're in one location, while you're actually in another. For example, you may be in Rome, and the VPN will make it seem as if you're in New York City. They're also great at making you invisible while you're online.
In case you'd like to learn more about this type of software, we have several interesting articles just for you. First of all, check out our article on what are VPNs, so you can get a general idea. Then, expand your knowledge by reading our article on how VPNs work.
How to Use a VPN to Access YouTube TV from Anywhere?
When it comes to YouTube TV, you need to take things a step further. Google has made sure to use plenty of restrictions if you're outside of covered cities and zones. Since YouTube TV isn't available in the entire US, there is an extra step that you need to take to use this service – fiddling with the Chrome Inspector feature.
So, open your VPN and connect to a city where YouTube TV is available. For example, you can connect to a server in San Francisco. Make sure to remember to which city you're connected to;
Then, use your Chrome browser to open YouTube TV;
Right-click just about anywhere and select 'Inspect'. At this point, Chrome Developer Tools should pop-up;
Take a look at the bottom, where you'll see a separate section that has a tab named 'Console'. Click on the icon represented by three vertical dots and click on 'Sensors';
Using the newly opened tab, select geolocation. You need to select the same city that you're connected to using your VPN. In this case, we'll go with San Francisco.
That's it! You can reload YouTube TV, sign up for a new account, and use it just like you normally would.
So, let's make a summary of what we've done. First, we have used a reliable VPN (which is ExpressVPN in our case) to connect to a server in the USA. More precisely, we've connected to a server in San Francisco (since this is where YouTube TV is available). Then, we've used Chrome's Developer Tools to trick the website into thinking we're in San Francisco. As the image above proves, the process is going well so far.

The final step is to sign up for the service. However, don't just go through this form since you'll need to meet a set of criteria. First and foremost, you need to a Google account registered in the USA. Then, you need to have a US-based credit card or PayPal account. Once again, this is where a VPN comes into play. You can use it to create a US-based Google account as well as a brand-new PayPal account.
With this list, you'll have the perfect guide to selecting the right VPN for you. We hope you found this article to be helpful. Feel free to post your comments below.
And of course, if this article has helped you, please share it across your favorite social networks. Also, don't forget to follow TechNadu on Facebook and Twitter. Thanks!