March Madness is closing in and looming over us, so it's about time we get excited about the spectacle the players are going to offer us as the tournament kicks off. So, if you're looking forward to watching the March Madness 2019 online, we know just where you should look.
Since we're in the era of powerful media streaming services, you have plenty of options in front of you. Maybe even too many, as the competition in the media streaming market has gotten tough. However, we're here to help you navigate your way through watching March Madness 2019 online. And of course, this article isn't only for those in the United States. If you live elsewhere, all you need is a powerful VPN such as ExpressVPN to overcome any geographical obstacle.
Let's get to the point. Here's when and how to watch March Madness 2019 via media streaming services, how to follow the games outside the USA and plenty more.
When to Watch March Madness?
According to the schedule released thus far, it all kicks off on March 19 and will end on April 8th. Here's the list of events that are to take place before these dates.
The final will take place at the U.S. Bank Stadium in Minneapolis, Minnesota, the fortieth venue to host the event. As a fun fact, on the site of the new stadium, there stood the Hubert H. Humphrey Metrodome which did host the Final Four in 1992 and 2001. Keep track of the official bracket for more updates.
Where to Watch March Madness?
Watching the game this coming March won't be too difficult to do because there are so many channels that you can watch on. In short, CBS Sports and Turner Sports are the networks that have broadcasting rights, which means CBS Sports, TBS, TNT, and truTV. The games are to be televised as such:
First Four - on truTV
First and Second Rounds - on CBS, TBS, TNT, and truTV
Regional Semifinals and Finals - CBS and TBS
Final Four - on CBS
Championship - on CBS
You may also watch over on the NCAA official website, which is pretty cool from their part.
How to Watch the 2019 March Madness Live Online from Anywhere?
The only way to stream March Madness from outside the USA is by using a VPN application. In their essence, they let you connect to a secure server (in the US, in this case), which gets you a new virtual IP address. Therefore, you'll get to access services not available before. Still, not every VPN will do the job, and we recommend sticking to ExpressVPN, which has proven to work with services you'll soon learn more about.
Before we get started with the explanation, you should know that the NCAA has partnered with CBS and Turner Sports for March Madness streams. This year, 21 games will be shown on CBS, while the rest will be available through Turner channels.
Stream CBS Games via the March Madness Live Website (Free)
Using the March Madness website, you'll get to stream 21 games - completely free of charge! So, here's what you need to know.
First and foremost, you must have an active subscription. Therefore, go ahead and sign up for ExpressVPN right now;
Install and launch the VPN application on your computer. Then, connect to a server in the USA. ExpressVPN comes with a handy tool for checking the speed of its servers, so you can easily connect to the fastest US location;
Using your Web browser, visit the NCAA's website. Please note that you'll be able to visit the website from anywhere. However, you need a VPN (connected to a US location) to stream the March Madness 2019 games;
That's it! You'll now get to use the website as if you're in the USA, which includes streaming the games as well.
Stream CBS + Turner Games via the NCAA App (Free)
You don't have to miss a thing even when you're on-the-go. The official NCAA app lets you stream all of the CBS games (21 in total) and you'll get three hours of Turner-carried games as well.
Once again, you need a VPN subscription. So, subscribe to ExpressVPN if you haven't done that already;
Now, download ExpressVPN on your iOS or Android device;
You also need to download the NCAA March Madness app on your iOS or Android device. Please note that if the app isn't available on your iOS device, you'll need to edit your App Store location (the app is available in the USA);
Launch ExpressVPN and connect to a server in the US;
Finally, open the NCAA app as well. That's it!
How to Watch March Madness Without Cable?
Nowadays, there are quite a few ways to watch basketball online. Finding these channels online is a breeze, although those live streams their sites feature may not help you at all.
The best way to get this part done, in our opinion, is to cut the cord and head over for an online live TV platform where you can check out dozens of channels. Unlike traditional cable, these platforms offer cheaper plans, you can customize them to watch only the things you actually like, and you can cancel them at any time, without having to wait for your contract to run out and to spend hours on the phone with the retention department. Plus, live TV platforms give people the opportunity to watch their favorite shows and movies and events wherever they may be, not just at home.
Basically, as long as you have an Internet connection and a compatible device, which can very well be your smartphone, you can start watching while you're on the bus home, or even at the office (just make sure your boss doesn't catch you!). Let's see what options you have to watch March Madness this month over the Internet!
1. fuboTV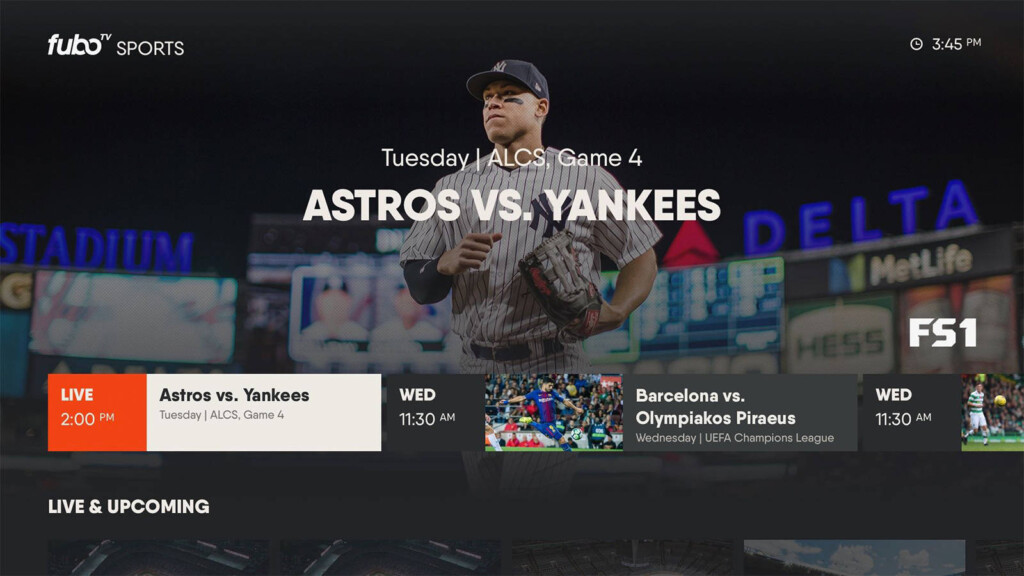 At the top of the list, we have fuboTV, a platform that was designed with sports fans in mind, given the dozens of sports channels available. You can choose one of two main bundles featured here - fubo ($44.99/mo) and fubo Extra ($49.99/mo). There are also plenty of channel packs and premium networks to increase the number of networks available.
Thankfully, fuboTV is home to all the channels you need to watch the March Madness on. You'll find CBS Sports, TNT, TBS, and truTV in both fubo and fubo Extra.
If you want to make sure you don't miss any of the games, you can set fuboTV to record it for you. Subscribers get 30 hours of cloud DVR storage space, with the possibility of expanding to 500 hours by paying $9.99 per month. On fuboTV, users can watch content on two devices at once, but adding a third stream can also be done if you'll pay a few extra bucks. Make sure to read TechNadu's fuboTV review to get all the details.
2. Sling TV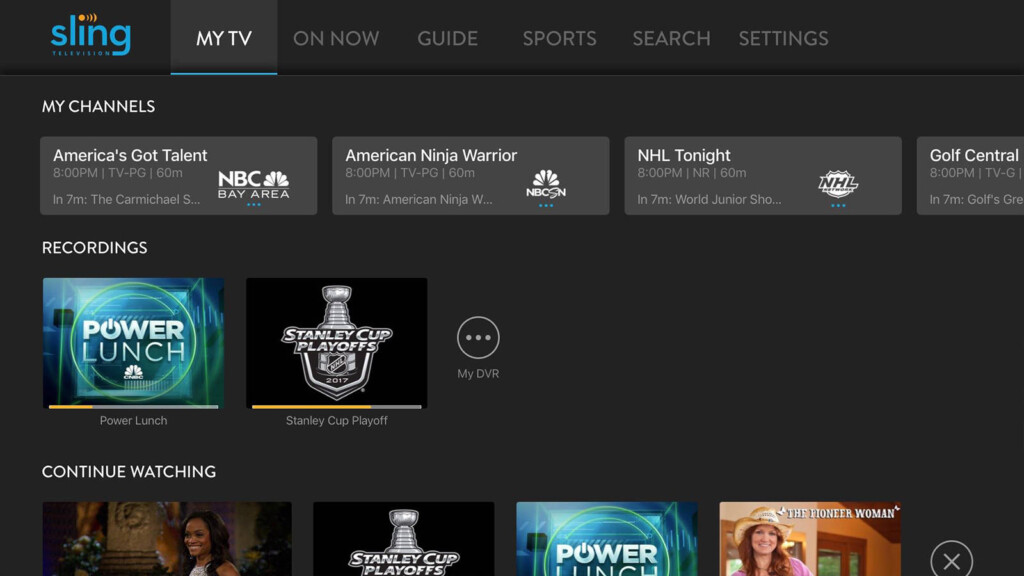 Next up, there's Sling TV, which is one of the platforms we loved because it offers so many customization options. You start by picking one of three bundles. This month, Sling TV is running a 40% price cut and offering Orange and Blue for $15 each, down from $25 per month, and Orange + Blue at $25 down from $40 per month. The prices are good for the first three months and then they'll return to the regular charge. You can then add quite a few premium networks or pick any interest-based channel packs you'd like.
While the platform doesn't host CBS, you can watch the rest of the channels. truTV is on Blue and Orange + Blue, while TNT and TBS are in all three bundles. If you want to watch CBS with Sling TV, you're going to have to get creative and subscribe for two months. In this way, you'll get a free TV antenna, which you'll be able to watch CBS with.
Sling TV offers no cloud DVR space with its subscriptions, so you're going to have to pay an extra $5 per month for 50 hours of recordings. You'll also have to be careful which bundle you pick because the number of simultaneous streams you're allowed to run depends on it. Orange subscribers get a single stream, while Blue subscribers get three, and Orange + Blue subscribers get four. Make sure to give our Sling TV review a read to get all the info you need.
3. Hulu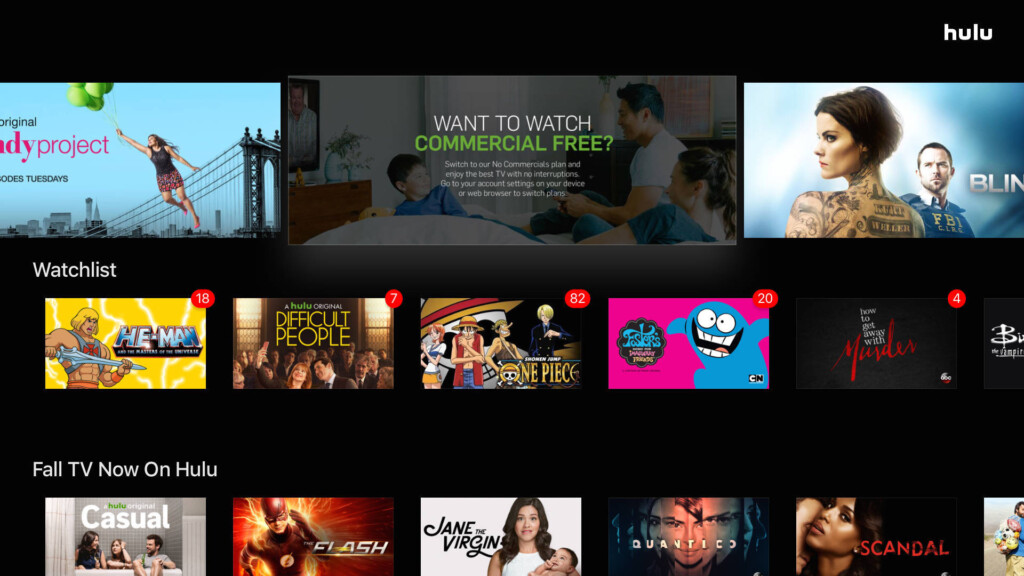 Another platform that features the channels you need to watch the March Madness games is Hulu. Better known for the video-on-demand service it's been offering for quite a while now, Hulu also has a live TV plan for $44.99 per month, which includes access to dozens of channels and the full VOD library. You can also customize your subscription a bit by adding premium networks or extra channel packs.
In the big bundle of channels Hulu offers, you'll find all four channels you need to watch the basketball matches this March - CBS, CBS Sports, TNT, TBS, and truTV.
Hulu also offers users the opportunity to record any content they want to the cloud, including 50 hours of cloud DVR space with each subscription. If you need more space, you can always pay an extra $14.99 per month to lift the cap to 200 hours. Live TV subscribers can watch content on two devices at once, but if that's not enough, there the "Unlimited Screens" option. This one costs $14.99 per month and allows an unlimited number of simultaneous streams while connected to the Home network, or on up to three devices while away. TechNadu's Hulu review is waiting if you want more info on what the platform has to offer.
4. YouTube TV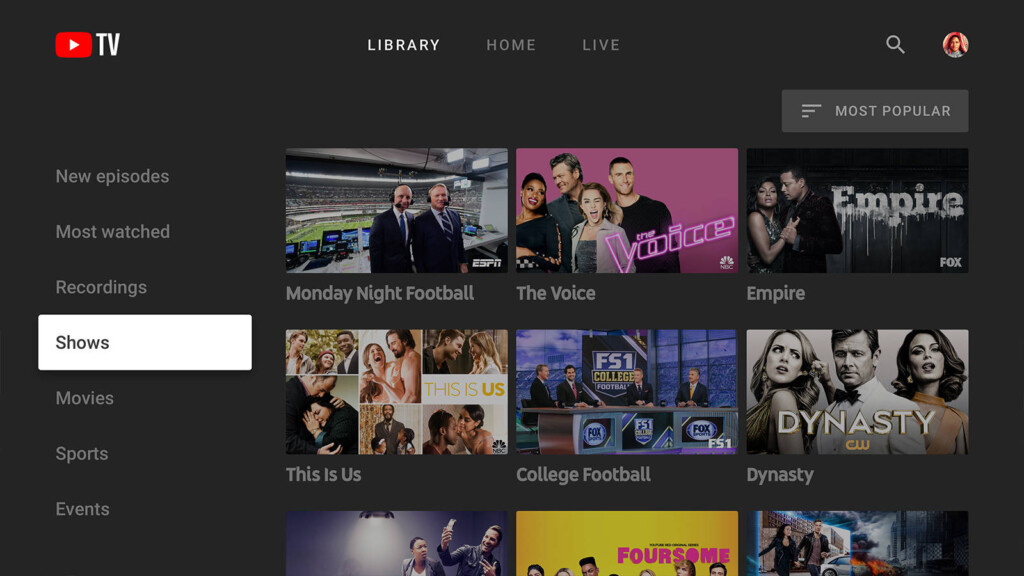 Coming straight from the Mountain View tech giant Alphabet Inc., YouTube TV is simple and easy to use. There's only one bundle of channels to work with and it costs $40 per month. The price includes dozens of channels and some pretty nifty perks. If you want to customize it in any way, you can only add premium networks.
YouTube TV's list of channels includes everything you need - CBS, CBS Sports, TNT, TBS, and truTV, so you're perfectly covered to watch all stages of the March Madness.
On YouTube TV, users get a lot of perks, starting with the fact that they get to enjoy unlimited cloud DVR space. Plus, the recordings have an expiration date set nine months into the future, so you can watch them at your own pace. When it comes to simultaneous streams, YouTube TV allows up to three devices to watch at the same time, which is quite a treat, especially when compared with other platforms where they need to pay for that third stream. Read the YouTube TV review if you want more details.
5. DirecTV Now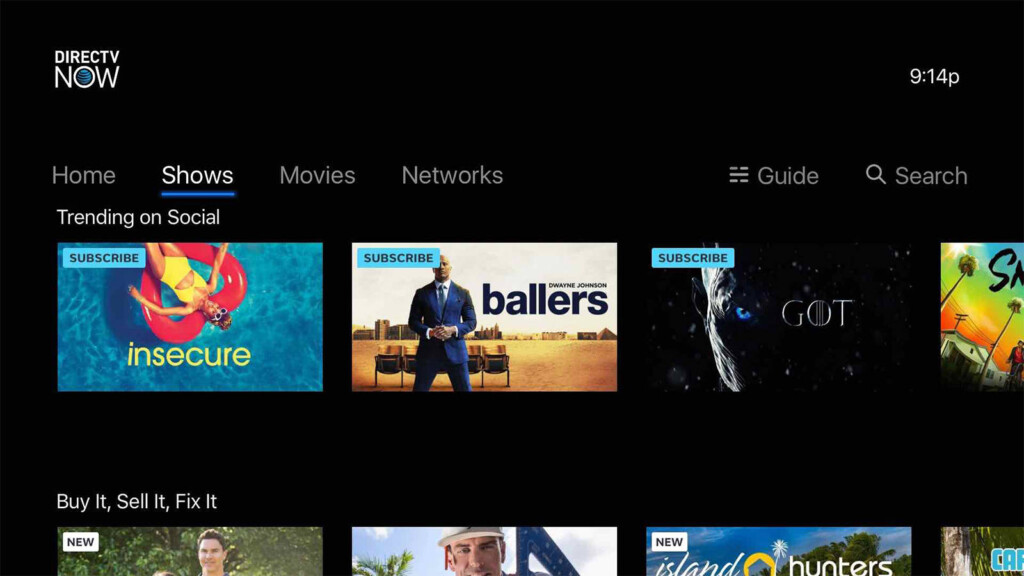 Up next, we have DirecTV Now, which is a great tool for those who want great service and a way to customize their subscriptions. There are now two bundles to choose from on DirecTV Now - Plus ($50/mo) and Max ($70/mo). Plus now comes with HBO included in the package, while Max features both HBO and Cinemax. Once you have this choice made, you can decide if you want to add any of the premium networks available here (Showtime and Starz, both available at $11 per month), or the extra channel packs. There are also three international bundles available if you need some local channels too.
When it comes to choosing which bundles you should get to watch March Madness, you have some options. TNT, TBS, and truTV, as well as the regular CBS, are present in both bundles, while CBS Sports only makes the list for Max.
On DirecTV Now, users only get to enjoy 20 hours of cloud DVR space, which means you don't get to record too much content. Nonetheless, it will hopefully be enough because there's no way to expand this limit. The service allows users to run two simultaneous streams, but a third one can be added for $5 per month. Make sure to read TechNadu's DirecTV Now review.
6. PlayStation Vue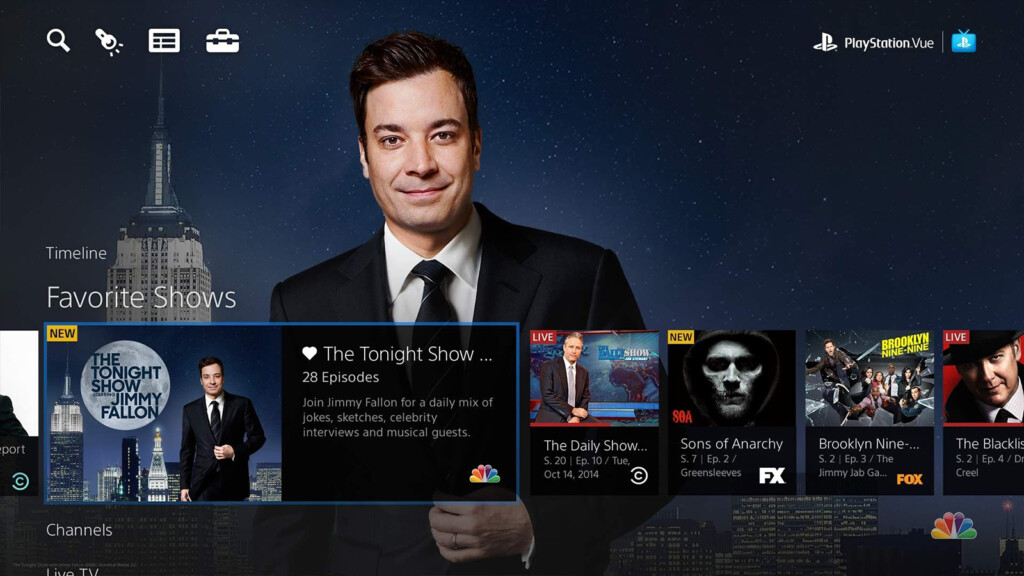 PlayStation Vue is another platform that you can use to watch March Madness. The service impressed us enough that it managed to get the highest score during reviews, for quite a few reasons. First, there are four bundles to start off with - Access ($44.99/mo), Core ($49.99/mo), Elite ($59.99/mo), and Ultra ($79.99/mo). Then, you can add a few extra channel packs, as well as premium networks.
On PlayStation Vue, you'll find that truTV, TNT, and TBS can be found in all four bundles, while CBS Sports is only in the last three - Core, Elite, and Ultra.
The platform enables users to record up to 500 programs to the cloud, which is quite impressive, but the recordings only stick around for a month. The service has another great feature, allowing users to watch content on up to five devices at the same time, for no additional cost. Plus, PlayStation Vue comes with a Split Screen feature that enables anyone to watch three programs at once, on the same screen. Read TechNadu's PlayStation Vue review for more info on the topic.
7. CBS All Access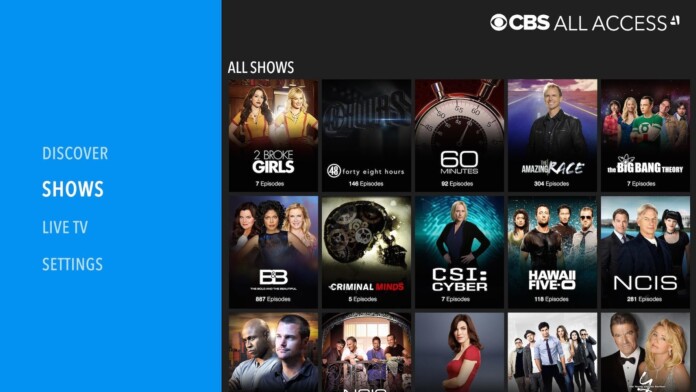 Finally, we have CBS All Access. Since some of the games will be broadcast over on CBS, we're also going to discuss this platform that they've been pushing for a while now - CBS All Access. The subscription here costs $5.99 per month for a version that does feature some ads or $9.99 per month for a version that comes without ads.
The platform enables people to watch CBS original content on demand, meaning dozens of cool TV shows. There is also a live stream of whatever they're broadcasting on TV, so you should be able to watch the game too. Check out TechNadu's CBS All Access review to better understand what this platform has to offer.
Can You Watch March Madness With a TV Antenna?
Well, yes you can, but only partially. The only channel from the bunch to broadcast over the air is CBS. TV antennas nowadays are these cool little boxes that fit in with the rest of your gadgets. They also come with some benefits like the fact that you only have to pay for the antenna, and then you'll watch TV for free. The downside is that there's only a bunch of channels available, nowhere near the hundreds of networks cable provides. But, they're free so you can't really complain given how much money you'd end up saving.
What you'll need to make sure of, however, before going out and buying one of these antennae is whether or not CBS is available over the air in the area you live in and how good the signal strength is. For this, you'll need to visit a site like TV Fool, put in your address, and they'll tell you exactly what channels work in your area and if they're close enough for you to watch TV in SD or HD.
March Madness is one of the most exciting basketball competition of the year, so we hope we've been helpful in getting you to watch the games online. Let us know which platform you chose in the comments section below, and please share the article online so others can find it too. Follow TechNadu on Facebook and Twitter for more tech news and guides.