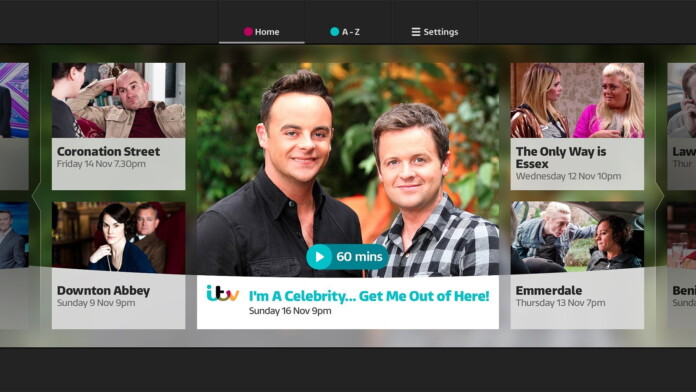 Quality content is hard to find these days and ITV is one of those channels that seems to have found the ideal combination if we're to judge by its popularity. The online platform associated with the TV channel is full of cool content, but it's not accessible abroad unless you have a VPN. In fact, VPNs are the only reliable solution to the question of how to watch ITV Hub outside the United Kingdom.
VPNs are really useful tools that will spoof your location to make it look like you're in the green zone for whatever service you want to access, while also protecting all your data by encrypting everything. Let's see what your best options are for watching ITV outside of the UK.
5 Best VPNs That Can Unlock ITV Hub Anywhere
We've put together a list of VPNs that will help you watch ITV outside of the UK anytime you want to watch your favorite shows. Go through the list and read the reviews of those that call out to you.
1. ExpressVPN
At the top of our list, there's ExpressVPN, a tool that has been widely acclaimed thanks to the flawless way it works and the fact that it can be figured out by anyone, regardless of how good they are with computers.
The VPN takes security seriously, so on top of the military-grade encryption protocols it comes with to protect your data, it also comes with extra features, such as a kill switch. This means that if the server you're connected to fails for any reason, none of your data trickles back to the ISP.
ExpressVPN works on multiple platforms, including Windows, Mac, Android, and iOS. If you're interested in finding out everything there is about ExpressVPN, click on the provided link to read our review.
2. CyberGhost VPN
CyberGhost is another great option when you're looking for VPNs. Not only does it use top-notch encryption protocols to protect data, but it also comes with built-in anti-malware software to keep you away from cyber threats, and it also features an ad-blocker. As you can see, this is an all-around security solution.
CyberGhost also comes with a zero logs policy, which means it won't hold onto any of your traffic logs. There's also a kill switch, so none of your data gets back to your regular ISP. Finally, this VPN works on Windows, Mac, Android, iOS, and more. We have a detailed review of CyberGhost VPN if you want to make an informed decision.
3. PrivateVPN
Next up on our list of recommendations is PrivateVPN, a tool that uses 256-bit encryption to secure connections. Keeping to its name, PrivateVPN promises to keep no traffic logs on its users. Another cool feature that PrivateVPN brings to the table is the protection it offers users when connected to public Wi-Fi hotspots.
On the other hand, there are only over 80 servers to pick from, scattered across 56 countries. This can be both a pro and a con – if there are fewer servers, they're easier to manage and more likely to be in tip-top shape, but the number might be too low for the pickier users.
PrivateVPN works on Windows, Mac, iOS, and Android. We have a full PrivateVPN review so you can get all the details.
4. SaferVPN
Next on our list is SaferVPN, a tool that promises to keep you safe online. Not only does it come with a zero-log policy so none of your data is kept on the company's servers, it also allows users to keep their Internet speeds even after they've routed their connection through overseas servers.
SaferVPN comes with over 700 servers to pick from, spread through 30+ countries. You should keep in mind, however, that SaferVPN doesn't support P2P so if you're planning to also use BitTorrent, you will have to look some more.
The tool works on Windows, Mac, Android, iOS, routers, and more. Check out our SaferVPN review for all the details.
5. NordVPN
The last recommendation we have for you today is NordVPN, a tool that uses 256-bit encryption protocols to secure your data. There are also several additional features in place to offer you protection, such as the double-VPN which hides your identity behind a couple of servers, instead of just one. There's also the CyberSec feature which will flag any dangerous websites you may want to explore.
The most impressive part about NordVPN, however, is its ever-growing server network, which has added hundreds of new servers in just a few weeks, now reaching over 4,800 of them. NordVPN works on Windows, Mac, Android, iOS, and routers. Read our NordVPN review to find all the details.
FAQ
By now, you are aware of the best VPN providers that will unblock ITV Hub no matter where you are. However, we advise you to read the rest of this article to learn more about how VPNs work and what to expect from ITV.
Do VPNs Keep You Secure Online?
VPN stands for Virtual Private Network and it's a tool that makes it appear as if you're connected to the Internet from a different location than you actually are. So, you may be chilling in Ibiza, but you'll appear to be within the United Kingdom. Here's how VPNs work.
They change your IP address. The first thing VPNs do when you connect with them is to change your IP address to match those in the area where the selected server is located.
They secure your data. VPNs use encryption to protect data and cover your online whereabouts from any trackers.
What's the Deal With Free VPNs For Unblocking Websites?
We should also warn you about the so-called 'free VPNs,' which we definitely can't recommend. There are many reasons why we can't do this, starting with the fact that they're free for limited bandwidth, after which you're asked to pay for use.
Then there's the security issue with many of them keeping traffic logs on users, which means your privacy is not complete. There are, of course, many other issues, but we're not going into those right now.
Is Watching ITV With a VPN Even Worth It?
ITV is a commercial TV channel in the UK that's a clear competitor to the likes of BBC. With a history going back to the 50s, ITV is a serious contender to British hearts. Over the years, it has managed to not only broadcast programming from other countries but also to create plenty of quality shows of its own.
ITV is home to loads of content. On top of being focused on current issues, like the royal wedding, they're also into shows like Bear Grylls: Mission Survive, Britain's Got Talent, Celebrity Juice, The Cube, Coronation Street, Family Guy, Fort Boyard: Ultimate Challenge, or Hell's Kitchen, to name a very few.
Where is ITV available?
ITV's online platform is only accessible to viewers from within the United Kingdom. Therefore, if you're planning on visiting abroad and can't live without your favorite shows, or you actually live abroad and are adamant about checking out ITV's content, you'll need a VPN.
On What Devices Can You Watch ITV?
ITV works on countless platforms, including connected TV devices like Samsung TV, Apple TV, LG Smart TVs, Amazon Fire TV, Now TV players, Roku players, and more. Games consoles are also supported, like Xbox One, Xbox One S, and Nvidia Shield, plus the regular iOS and Android apps.
To learn about how to download all these apps, here's a helpful support page on ITV's official website. Take a look.
We hope you found the guide quite useful and that you'll use it the next time you're planning to check out ITV when abroad. Please, let us know what you think in the comments section below, and share the article online with friends and family so they can find their way around too.
Finally, we would like to ask you to follow us on Facebook as well as on Twitter. Thanks!