Spain is one of the most popular destinations for tourists from the UK. Seeking warmer weather, every year an army of Brits comes to Spain. However, since the UK is no longer a part of the European Union, Brits can no longer access digital services available in their home country. So, if you're looking for a way to watch ITV Hub in Spain for free, know that you'll encounter a Web roadblock.
More precisely, ITV Hub is no longer available outside the United Kingdom. No matter if you use its website or app(s), your location will be checked upon each visit. You'll still get to read the latest news and watch video clips. However, you won't be able to use ITV Hub.
That means if you're currently in Spain, you'll most likely encounter the following geo-block message: "Sorry! We've detected that you're outside of the UK. Live TV and Catch Up are only available for viewing in the UK, as of December 31st, 2020. If you are an ITV Hub+ subscriber, you can watch already downloaded content."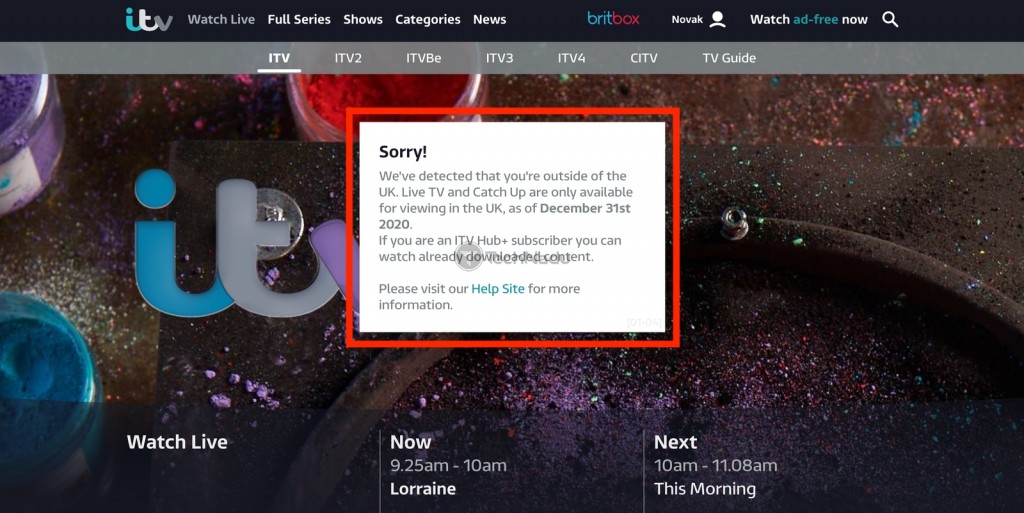 However, all hope is not lost. You can still bypass that roadblock and stream ITV live and on-demand in Spain. You just need a powerful VPN app.
So, join us for the rest of this article – as you'll get to learn which VPN to use and how to use it. Let's get started, shall we?
Do You Need a VPN to Watch ITV Hub in Spain?
Yes, you definitely need a VPN to watch ITV Hub in Spain. There's no other way to bypass that Internet roadblock, so you don't have any other option.
Every time you access ITV Hub (via its site or apps), that streaming service will determine your location based on your IP address. Every country has a range of IP addresses available, making it easy for ITV Hub to see your location.
More precisely, your Spanish IP address (which you get by connecting to any network in Spain) will reveal that you're not in the UK. So, the trick to unblock ITV Hub is to obtain a UK IP address, which is exactly what VPNs are designed to do.
Keep in mind that not every VPN is the same. We've tested more than 60 VPNs, seeking the best one specifically for unblocking ITV Hub. As per those tests, our #1 recommendation is ExpressVPN, which works every single time.
ExpressVPN is compatible with any device (computers, phones, tablets, and more), comes with 5 simultaneous connections, provides fast performance, and unblocks practically any UK-based streaming service. Try ExpressVPN risk-free for 30 days!
How to Watch ITV Hub in Spain for FREE?
You don't need any technical knowledge to unblock and watch ITV Hub from Spain. As you're about to see, that's an easy procedure. Here's what you need to do:
1. Subscribe to ExpressVPN, the best option available for unblocking ITV Hub.
2. Download and install ExpressVPN on any device(s) you'll use to stream ITV Hub.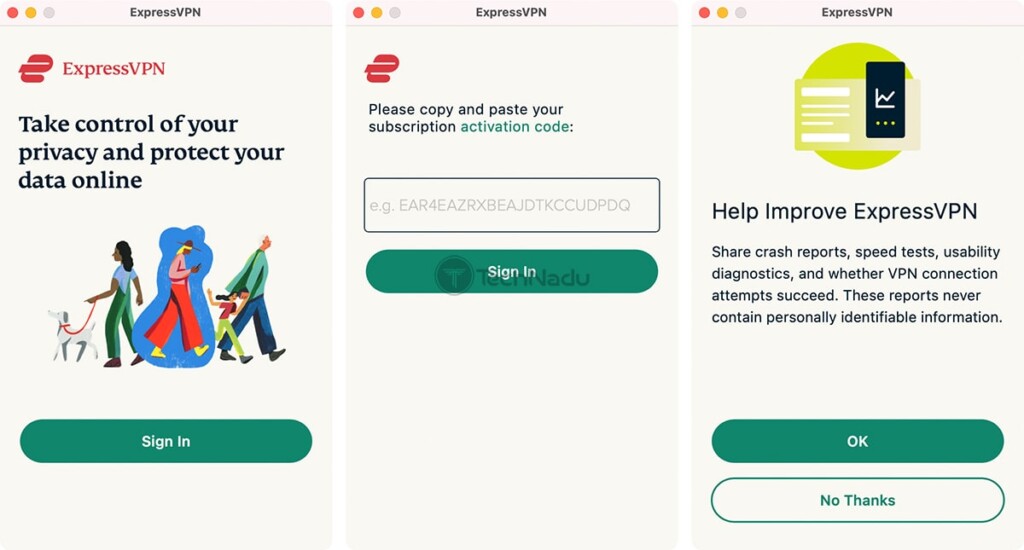 3. Launch the VPN and access its home screen using your credentials.
4. Connect to any server found in the United Kingdom.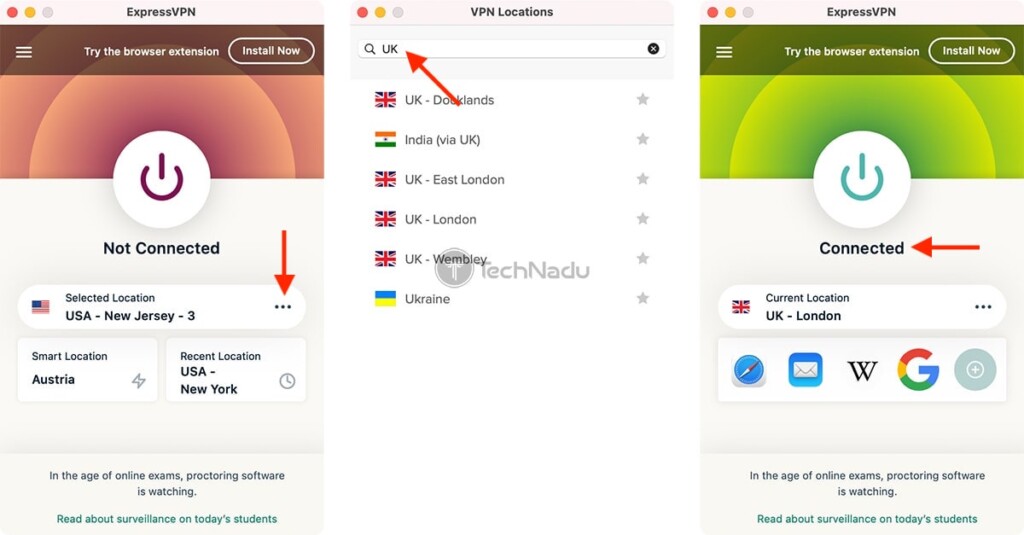 5. Wait until ExpressVPN's interface turns green, meaning your session is now active.
6. Open your Web browser and visit ITV's website.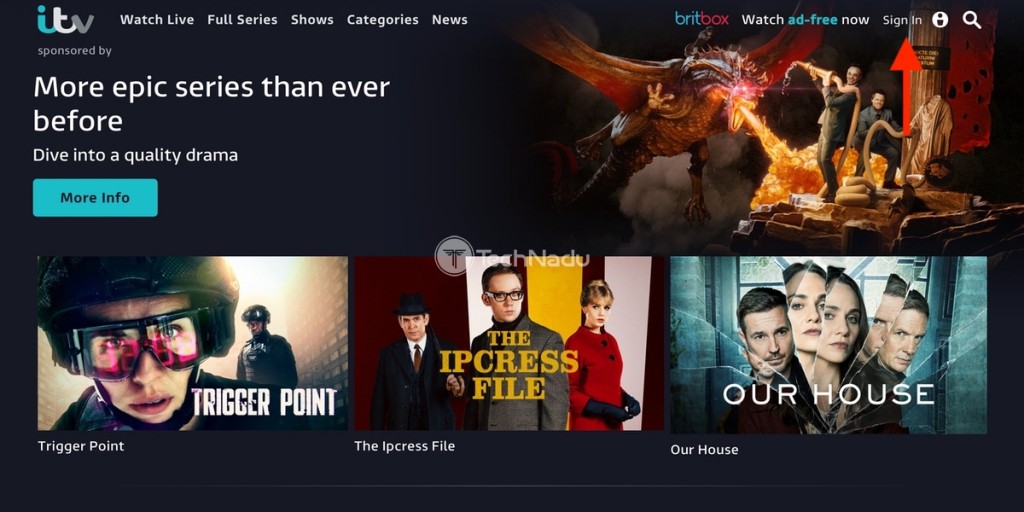 7. Access your account by clicking 'Log In' or create a free ITV account.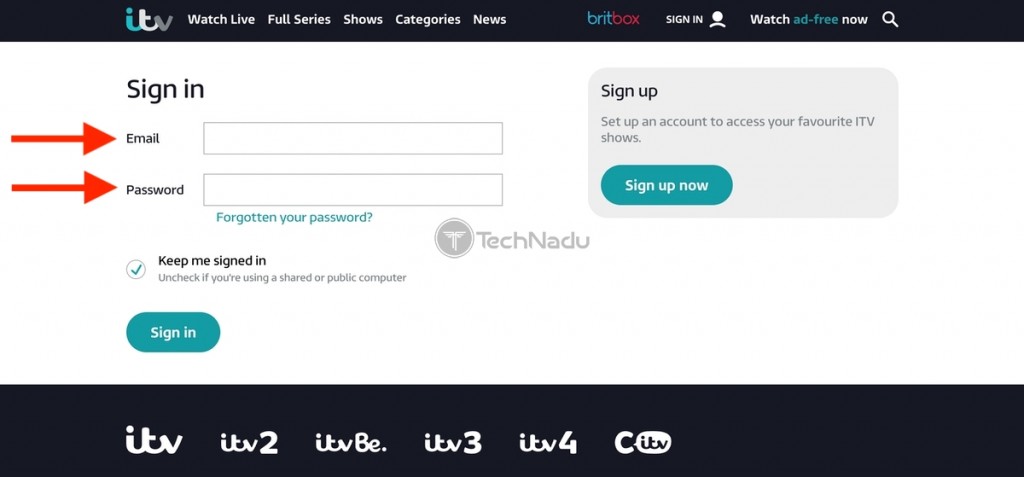 8. You'll now return to ITV's home screen.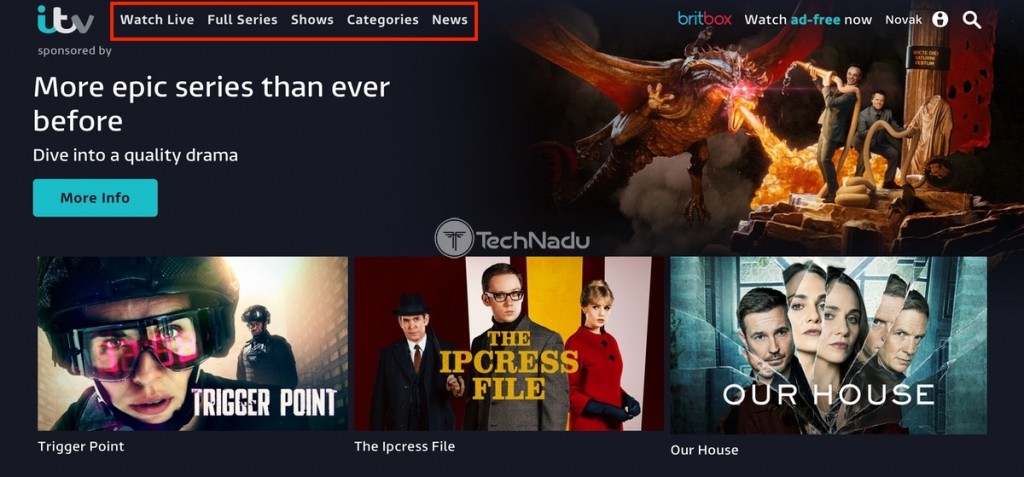 9. Pick any title you'd like to watch. That's it!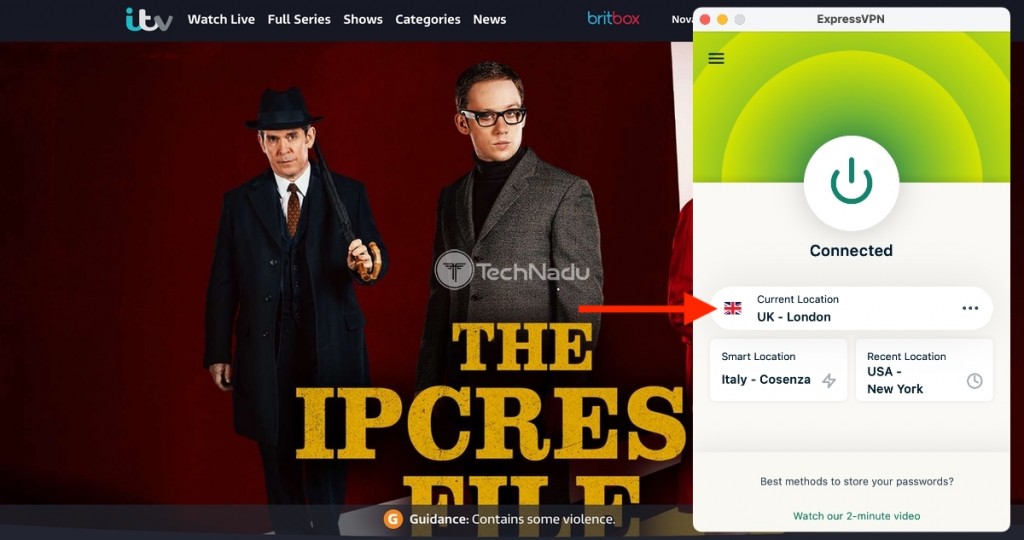 If you need more detailed info, check our central guide on how to watch ITV Hub outside the UK. You'll find additional tips there as well, helping you take full advantage of your ITV account.
What Can You Watch on ITV Hub?
ITV Hub is a source of free TV shows, live TV channels, movies, and sports content. On top of that, new content arrives regularly, as soon as it airs on ITV.
When it comes to live TV channels, ITV Hub gives you access to all ITV-branded channels. So, you can watch ITV1, ITV2, ITV3, ITVBe, ITV4, and CITV. All those live streams are available 24/7. You need a free ITV account to access those, so they're not behind a paywall.
Then, ITV Hub is home to a high-quality library of TV shows. Some of the most popular titles right now are The Ipcress File, Our House, The Tower, Hollington Drive, The Durrells, Prime Suspect, and more. However, you'll also find popular American TV shows, so there's a bit of everything here.
We also have to note that on-demand movies are available. However, only a handful of movies are available, even though ITV's library is nicely curated. So, there aren't too many titles, but they're all worth watching.
Lastly, there's some sports-focused content as well. ITV isn't a sports-first broadcaster, but it does have exclusive rights to All Elite Wrestling and the British Touring Championship.
Can't Access ITV Hub in Spain with a VPN? – Try This!
If you're struggling to access ITV Hub in Spain even while using a VPN, there's a series of quick actions to try. With that said, here are some recommendations.
Step #1: Connect to Another VPN Server
If you're not careful when choosing a VPN server, you could end up using an overcrowded one. Those servers typically have limited performance, and they might not work reliably. So, you need to be careful about which UK-based server you'll use for ITV Hub.
Don't let your VPN determine the best server. Instead, take that matter into your hands. Look for an occupancy indicator. If there's no way to see the occupancy of individual servers, scroll down and pick one from the bottom of your VPN's list of servers.
For more information, check our guide to switching servers in ExpressVPN.
Step #2: Connect Through Another VPN Protocol
Unless you've changed your VPN protocol, you probably use OpenVPN. That's overkill when it comes to streaming ITV Hub, as OpenVPN is a tough protocol that makes your Web connection slower. Instead, switch to another protocol by visiting your VPN app's settings.
We recommend trying out WireGuard. You can also go with IKEv2 or L2TP/IPsec. Some VPNs have proprietary protocols, like ExpressVPN's Lightway. Experiment with different protocols a bit, which will let you take full advantage of your VPN connection.
Step #3: Delete Your Browser's Cookies
Your browser's cookies are often the reason why VPNs can't unblock websites. That data can pinpoint your actual location, helping ITV see you're in Spain. Therefore, our recommendation is to remove your browser's cookies, forcing ITV to turn to your VPN connection.
We have an additional tip. There's no need to remove your history, credentials, or other files stored by your Web browser. Instead, remove your cookies only.
Step #4: Use Your Browser's Incognito Mode
You have another trick up your sleeve if clearing the cookies doesn't help. Your browser has a Private/Incognito/InPrivate mode which prevents ITV Hub from storing any data locally. Using that mode, you can force ITV to read your VPN location instead.
Every Web browser has a Private mode (and a different name for that mode). So, do a quick Google search based on which browser you use, which will reveal additional instructions.
Step #5: Contact Your VPN Provider
Finally, we'll remind you that every VPN provides customer support. For example, you can send an email asking your VPN for instructions on how to watch ITV Hub in Spain. However, the best VPNs out there, such as ExpressVPN, offer 24/7-available live chat.
We also recommend consulting our central guide to troubleshooting VPNs. You'll find plenty of possible solutions there, so why not take a quick look?
Final Thoughts
In the end, we'll say that anyone can watch ITV Hub in Spain – but not without a VPN. With that said, our strong recommendation is to pick ExpressVPN, the best option available right now.
However, if you'd like to keep your options open, here's our guide to the best VPNs for streaming. You'll find more streaming-friendly VPNs there, all of which offer UK-based VPN servers.
FAQ
Is ITV Hub Available in Spain?
No, ITV Hub is not available in Spain. It used to be available, but since the UK is no longer a part of the EU, ITV Hub is once again limited to its home country only.
However, as this guide shows, it's still possible to unblock ITV from elsewhere. All you need is a reliable and streaming-friendly VPN.
How Can I Watch ITV Hub in Spain?
You can watch ITV Hub in Spain using a VPN. More precisely, you need to connect to a VPN server in the UK, which will get you a British IP address.
We'll remind you that our #1 recommendation is ExpressVPN. All of its UK-based servers work with ITV Hub. They also perform great and unblock various other streaming services.
Can I Get ITV Hub in Spain on an iPhone?
You can download ITV Hub in Spain on your iPhone if you have an Apple ID registered in the United Kingdom.
That's because ITV Hub's app for iOS and iPadOS is available only on the British version of Apple's App Store. If you have a Spanish Apple ID, use Safari or another browser to stream ITV.
Can I Get ITV Hub in Spain on Android?
To download ITV Hub on your Android device in Spain, you need a Google account registered in the United Kingdom. That's how ITV Hub will appear in your Play Store.
However, you can always sideload ITV Hub. More precisely, download its APK file from APKMirror and install the app manually on your Android device.
Is It Legal to Watch ITV Hub in Spain with a VPN?
Yes, it's legal to watch ITV Hub in Spain with a VPN. However, keep in mind that you'll still be breaking ITV's rules – but without legal consequences.
ITV's Terms of Service prohibit access to the streaming service from abroad. However, if your Spanish IP address gets detected, you'll see an error message – and that's all. Your ITV account won't be in any danger.
Is ITV Hub Free to Watch in Spain?
Yes, you can watch ITV Hub in Spain free of charge. You'll need an ITV account for that, which you can sign up for from anywhere (you only need your email address).
You should also know that ITV Hub+ exists, letting you get rid of advertisements. However, you can only sign up for that premium tier from the UK.
That's all on how to watch ITV Hub in Spain. If you have any questions or doubts, let us know via the comments section below. Thank you for reading!