If you're looking for highly entertaining (and often quite shocking and eye-opening) content, know that FX will meet all your needs. However, that's true only if you're in the United States, as FX's on-demand streaming service comes geo-restricted. So, you're probably wondering if this obstacle can be bypassed, right? Can you watch FXNOW outside the US in 2021? 
The answer is – yes! As long as you have access to a capable VPN service, you'll have unrestricted and unlimited access to FXNOW. So, here's everything you need to know. 
Where Is FXNOW Available? 
FXNOW is available across the United States and its territories. That includes Puerto Rico, Guam, Saipan, American Samoa, and the U.S. Virgin Islands.
You should also know that FXNOW isn't a standalone media streaming service. Instead, it requires you to be a subscriber to a supported cable TV, satellite TV, or OTT platform. With that said, it depends on its distribution and revenue partners. That's also the reason why FXNOW will hardly ever expand beyond American borders. 
Tip
At the moment, FX's content is being transferred to Hulu, where a standalone "hub" exists that focuses only on the content produced by FX. Currently, Hulu hosts around 40 FX series (1,600 episodes), which includes both past and the latest episodes. 
If you don't have access to FXNOW, it's worth considering getting a Hulu subscription instead. With that said, here's how to sign up for Hulu from outside the US.  
How to Watch FXNOW Outside the US? 
And now, here are the 6 steps to watch FXNOW outside the US in 2021:
Step #1: Find the Best-Working VPN to Unblock FXNOW
FXNOW comes with strong anti-VPN measures, blocking your access if you're not physically in the US. With that said, be careful about which VPN you'll pick. If you need our advice, we won't hesitate to recommend subscribing to ExpressVPN, the best VPN for the job at the moment.
3,000+ VPN servers in 160 VPN server locations in 94 countries, 5 Simultaneous connections, Fast and stable connection, No activity logs or connection logs, No bandwidth limits, Strong encryption, 24/7 live chat support, and 30-day money-back guarantee.
ExpressVPN works incredibly smoothly with FXNOW, unblocking the streaming service without a hitch. Also, if you decide to unblock any other streaming service, know that ExpressVPN will help you do just that. Still, other options exist as well, as noted in our guide on the best VPNs for streaming. 
Step #2: Get Your VPN Subscription
Know that before you proceed any further, you need an active VPN subscription. So, if still in doubt, go ahead and get your ExpressVPN subscription. Once you find yourself on the VPN's site, select 'Get ExpressVPN.' Then, pick a subscription plan based on your budget (keep in mind that long-term plans come with steep discounts).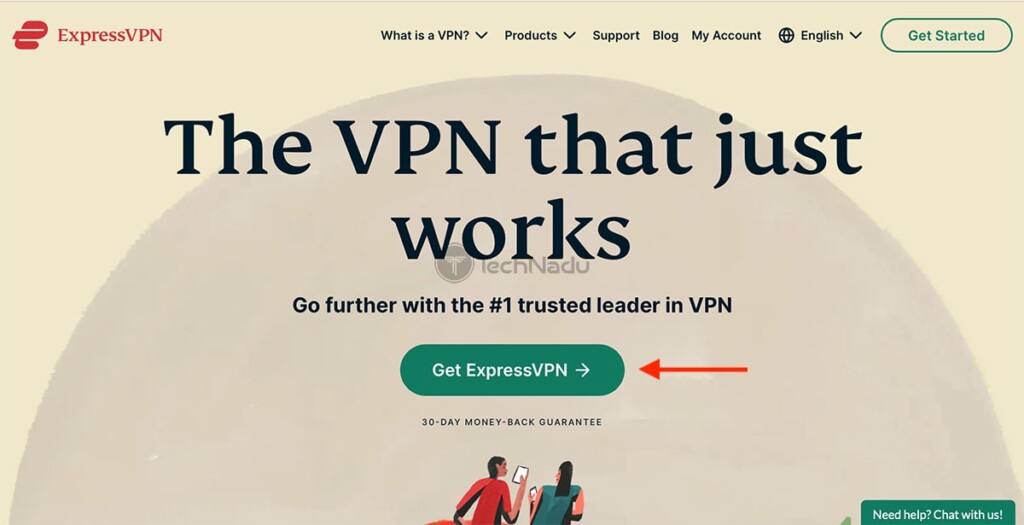 ExpressVPN will ask for an email address, and then you'll need to pick a payment method. As soon as you're done, expect to receive a confirmation email. Go ahead and check your inbox. And after that, keep on reading this guide.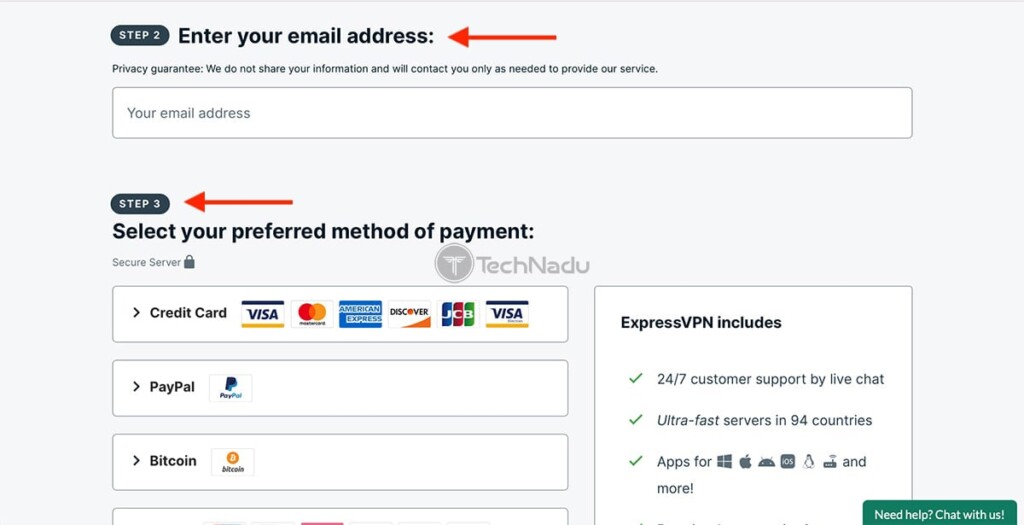 Step #3: Download & Install the VPN on Your Device(s)
ExpressVPN supports 5 simultaneous connections while bringing apps for more than 60 platforms and devices. So, to learn how to download and install ExpressVPN, make sure to use the provided link. Pick your platform and then follow the steps you'll see there.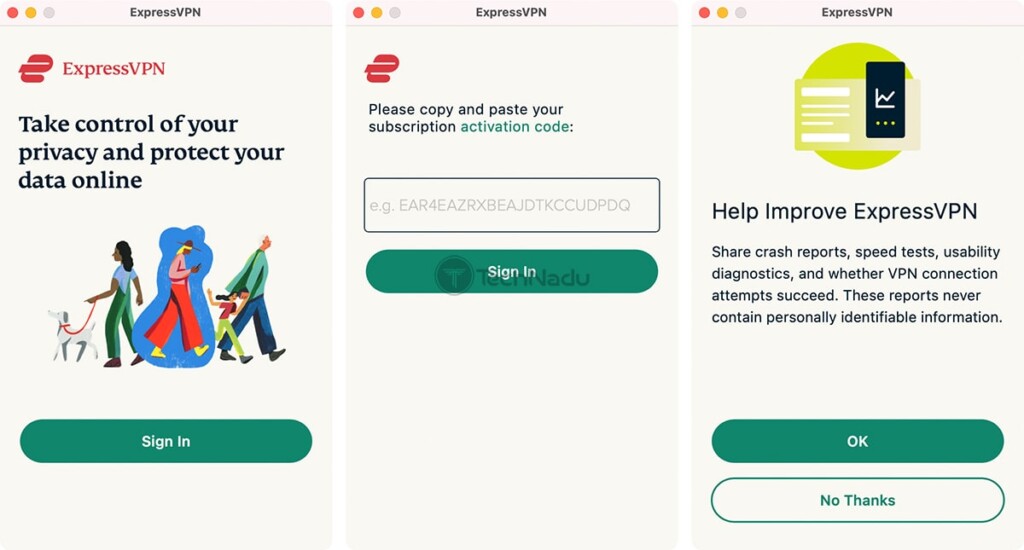 Once you install ExpressVPN, launch your brand-new VPN app for the first time. Supply your credentials (or use ExpressVPN's activation code if you're on a computer), and then follow the prompts you'll see on your screen. You can proceed to the next step once you reach ExpressVPN's home screen.
Step #4: Connect to a VPN Server in the US
Now, make sure to pay close attention to this step. That's because it will directly allow you to watch FXNOW outside the US. So, start from ExpressVPN's home screen. Select the button you'll see just under the ON/OFF switch. At this moment, you'll see the full list of ExpressVPN's servers – all 3,000+ of them.
Navigate to servers located in the United States, either manually or using the top-placed search bar. Then, double-click on the country's name to connect automatically (ExpressVPN will pick the fastest server, based on your physical location). You can also pick any server manually by double-clicking on its name.
Step #5: Unblock & Access FXNOW from Anywhere
You are now free to use any Web browser to access FXNOW. Before you start streaming the latest episodes or watching FX live, make sure to select 'Account' using the website's main menu. Then, pick 'Sign In' on the left-hand side.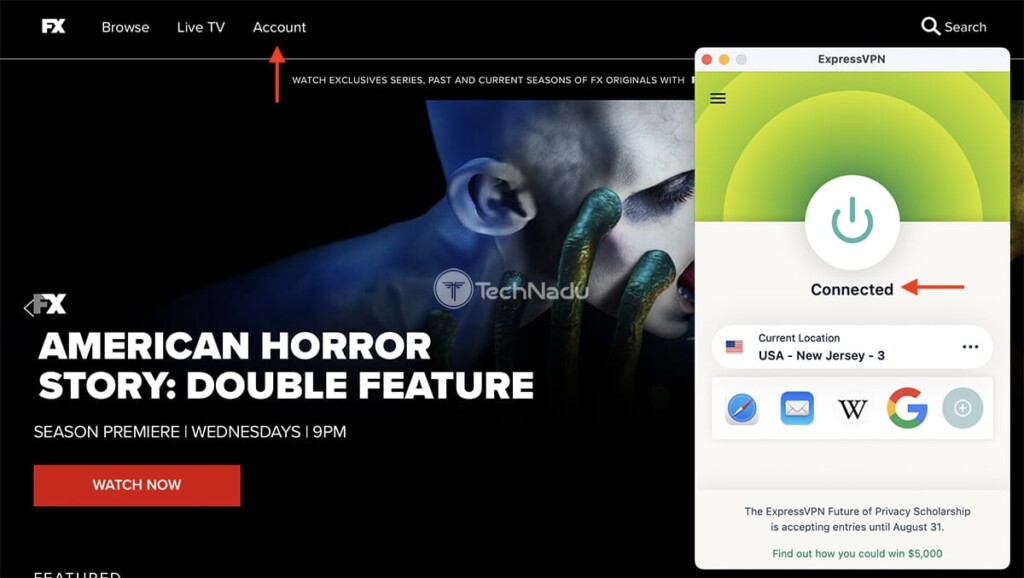 FXNOW will ask for your credentials based on the TV provider you use. As you'll see, a long list of cable, satellite, and OTT providers are supported. However, if you don't have an account, there's still a way to sign up for FXNOW outside the US.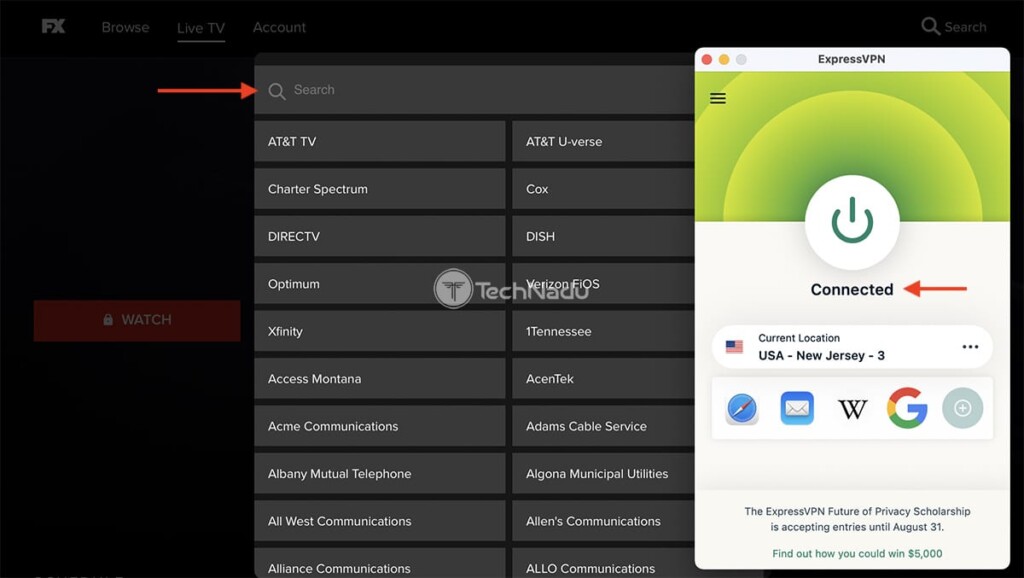 Step #6: Get FXNOW on Other Devices
You'll be happy to know that FXNOW is available on a wide range of devices. With that said, you'll probably want to install it on your iPhone, iPad, or Android device. However, that's possible only if you have a US-based Google or Apple account. 
At any moment, you're free to sign up for a new Google account or get a new Apple ID. You need to use your VPN while signing up. Also, don't forget to pick 'United States' when asked about your country. And if asked about an address, use this random address generator. 
Once you log in to your account on your iPhone or Android device, you'll get to access Apple's App Store or Google's Play Store. From there, download FXNOW. Log in to your account and stream the latest episodes or watch FX live – even outside the US, while using a VPN. 
How to Sign Up for FXNOW Outside the US? 
To access FXNOW (no matter if you're in the US or not), you need a subscription to a supported OTT (live TV) streaming service. With that said, we've prepared the 4 best options for you, all of which can be unblocked outside the US using a VPN. 
1. Hulu + Live TV
Live TV & Streaming In One Place With Hulu. Watch your favorite live sports, news, entertainment, and more. Plus, get unlimited access to the entire Hulu streaming library.
Here we have one of the best live TV streaming services overall, priced at $64.99/month after a 7-day trial. For that price, you get 75+ channels, Hulu's on-demand streaming library, a highly polished interface, and plenty more. And yes, you also get access to FXNOW. To learn more, here are Hulu + Live TV's prices and plans. And here's how to use Hulu + Live TV outside the US. 
2. fuboTV
Watch Your Favorite Shows, Movies & Sports ON ANY DEVICE. ANYTIME. ANYWHERE. Watch and DVR the channels you love. No contracts, no commitment.
Even though fuboTV started out as a sports-focused streaming service, this is now an incredibly versatile digital service. Starting at $64.99/month, you could get access to 200+ TV channels (based on where you're located or which VPN server you use). Make sure to learn more about fuboTV's plans and prices. Lastly, here's how to sign up for fuboTV outside the US. 
3. Sling TV
Sling is the live TV you love for less. Customize your channel lineup and watch TV online with no setup, hidden fees or long-term contracts.
This constantly evolving streaming service is known for its affordable price. To get access to FXNOW, you'll need to pick Sling TV's Blue package, priced at $35.00/month. For that price, you get 50 hours of Cloud DVR and 3 simultaneous streams. Learn more about Sling TV's plans and prices, and check how to watch Sling TV outside the US. 
4. YouTube TV
85+ top channels of entertainment, news, live sports, & more. Recording without storage limits and 6 accounts included. No cable box, contracts, or hidden fees.
And finally, we have YouTube TV, priced at $64.99/month. Based on your location, you could access 100+ TV channels. On top of that, you get unlimited Cloud DVR and 3 simultaneous streams. To learn more, dive into how to sign up for YouTube TV outside the US. 
FAQ
What Is FXNOW?
FXNOW is an on-demand streaming service that brings content produced by FX cable channels, available to select cable TV, satellite TV, and OTT subscribers. 
What Can I Watch on FXNOW? 
Some of the most popular titles on FXNOW are Family Guy, The Simpsons, Archer, It's Always Sunny in Philadelphia, The Aftermath, Alien: Covenant, and more.
How Much Does FXNOW Cost a Month?
FXNOW comes free of charge. However, you'll need to be a subscriber to a supported cable TV, satellite TV, or OTT streaming service. 
Can I Watch FXNOW Without a TV Provider?
At the moment, it's not possible to watch FXNOW without a TV provider. In that sense, the most affordable way to watch FX's content would be via Hulu. 
Can I Use a Free VPN to Unblock FXNOW Outside the US?
Unfortunately, there's no free VPN that will let you unblock FXNOW. All of them come with restrictions that make media streaming an impossible task. 
Trust us; you need a capable VPN for FXNOW with a proven track record of unblocking media streaming services. That's why we recommend ExpressVPN. 
That would be all on how to watch FXNOW outside the US in 2021. If you have any questions for us, let us know via the comments section below. And lastly, thanks for reading!