We completely understand the reason behind the massive popularity of Popcorn Time. Once you install this software on your computer, it takes merely a second to access its huge video library. However, you're probably aware that Popcorn Time is illegal, as this is nothing but a medium for torrents that break international copyright laws. Unsurprisingly, that's why filmmakers are suing Popcorn Time in the USA, and the same happened to similar services before like Terrarium TV and Showbox. So, it's just a matter of time when Popcorn Time will join the ranks of non-functional services. With this said, we're proud to present you with our article on the best Popcorn Time alternatives in 2021.
What you need to know is that the following recommendations are 100% legal. They allow you to watch publicly available content, even though some of those can be used in other ways as well. However, we strongly recommend you stick to watching the content you own (or that you paid for), to make sure you're on the safe side of the law.
So, let's get to the point. Here are the 10 best Popcorn Time alternatives in 2021. Read the following quick descriptions, and choose which one you'd like to try.
1. Kodi - Unlimited Streaming via (Free) Add-ons
The first option on our list of the best Popcorn Time alternatives is Kodi. This is perhaps the most popular home theater application out there, allowing you to both store and organize your library of media files (movies, TV shows, photos, music, and more). Most importantly, it comes with a whole slate of legal Kodi addons that you can install in a matter of seconds.
We'd also like to add that TechNadu's team has been using Kodi for a long time now. With that said, know that we've produced plenty of guides that are available on our website. In terms of watching free content, make sure to check our guides on the best Kodi add-ons for movies, TV shows, live sports, documentaries, and music.
If this is your first time encountering Kodi, we have numerous helpful resources for you. First, we recommend reading our article on what's Kodi, and then you can proceed to our 'Beginner's Guide' to Kodi. Once you learn the basics of installing and using this application, the next step would be our 'Ultimate Kodi Guide' that will turn you into a pro user.
2. Plex - Free Live TV + On-Demand Content
Plex initially started as a home theater application. In that sense, it's similar to Kodi, which is Plex's biggest competitor. However, we've seen plenty of interesting developments in the last year, which made Plex a true media streaming service. And in many ways, we believe Plex to be a much better option than Popcorn Time ever was - and here's why.
First, Plex gives you access to live TV channels for free. Those are online-based TV channels such as IGN, AFV Family, Motorvision TV, Fight Network, Sportswire, Reuters, USA Today, and more. Then, you'll find on-demand movies and TV shows, Web series, and podcasts. And yes, all of that is 100% legal, as well as free of charge.
Lastly, know that you can try Plex using your Web browser. However, you can also set it up on your computer, smartphone, media streaming device, smart TV, gaming console, and more.
3. Duckie TV - For Watching P2P-Based Content
Duckie TV is an open-source app that helps you find your favorite TV shows and movies. The app is built to satiate the needs of TV show lovers. It gives you a dedicated and personalized TV show calendar. There is also an independent and integrated Duckie P2P client. This is a handy feature that can connect your local torrent client to Ducky TV.
Moreover, users can stay updated on the progress of the download without any need for switching applications. This alternative of Popcorn Time supports a number of torrent clients like uTorrent, Vuze, and qBittorent, among others.
And finally, Duckie TV allows you to watch your favorite movies and TV shows in your preferred language. If you are using the Duckie TV app, you get the subtitle feature in up to 15 different languages.
4. Jellyfin - For Watching Locally Stored Content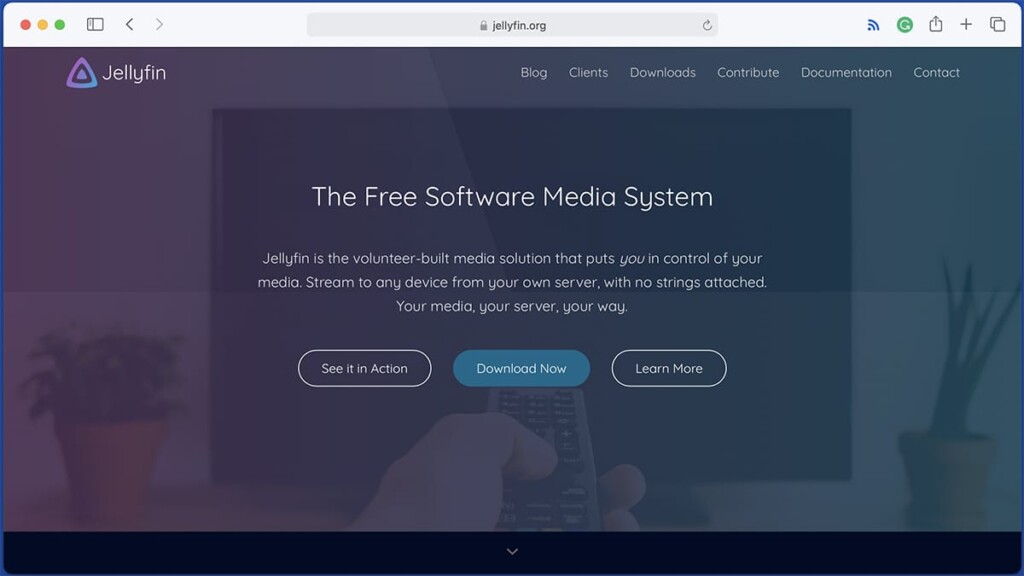 In many ways, Jellyfin is quite similar to other Popcorn Time alternatives we've mentioned throughout this article (such as Kodi and Plex, for example). With that said, know that Jellyfin is not a media streaming service, as it won't give you access to online-based movies and TV shows. However, it gives you a framework to organize your own library.
That means that with Jellyfin, you'll need to create your own Popcorn Time-like streaming service. First, add your locally stored movies and TV shows to your Jellyfin library (using your computer, for example). And then, you can access that library on pretty much any device imaginable. That includes smartphones, media streaming devices, smart TVs, and Web browsers.
In many ways, Jellyfin is more capable than Popcorn Time, even though it requires a bit of work on your part to set everything up properly. However, it's worth the extra effort.
5. Rox Player - For Those Sticking to Windows Only
There are very few media players that support a large number of file extensions. At the moment, Rox Player supports quite a few, including IPTV, DHT, and P2P. The platform allows you to stream audio and video on a number of platforms. Plus, Rox Player has a large repertoire of HD content.
The interface of Rox Player is clearly designed to be as simple as possible. It maximizes everyday usage to create a welcome experience for returning users. Unlike most other Windows-focused media players, this platform does not bum you up with problematic codecs.
Still, Rox Player is not the complete Popcorn Time alternative. First off, you can only explore the full potential of the platform from a Windows device only. Then, it might not always offer you your favorite shows the day after their release. So, if you can negotiate around these, you will manage to spend some great time using Rox Player.
6. CouchPotato - Easy Search for P2P Movies
If Rox Player was more inclined toward Windows, here is something that supports both Windows and macOS. And also, it plays movies and TV shows in high-quality formats. With the same ease, you can also go ahead and use an auto-download option to download stuff while checking out Couch Potato for the latest content.
There is a cool subtitle feature as well. While most languages are covered, Couch Potato also misses out on some. The platform is especially great for macOS users where it shows its true speeds and colors.
Couch Potato is also a great platform to stream torrents and Usenet files. There is also a "Want to Watch" feature where you feed the platform what you want to watch. The site will independently scan the Web for the best possible match for the same content.
7. Stremio - For Discovering New (Legal) Content
If you wish to make the most of the latest shows and movies, welcome to Stremio. The best thing about Stremio is that you can play movies on it almost instantly. Moreover, there is huge merit in Stremio's features like multiple languages and subtitles.
Where does Stremio source videos from? The app gets content straight from sites like YouTube, Amazon, and Netflix. As far as support for platforms is concerned, Stremio supports platforms like Windows, macOS, Linux, Android, and iOS.
If you want to bypass copyright and geo-restrictions, you can choose a good VPN for streaming video content. For this purpose, you can check out the best VPNs right now.
8. VUDU - Free Movies & TV Shows Every Week!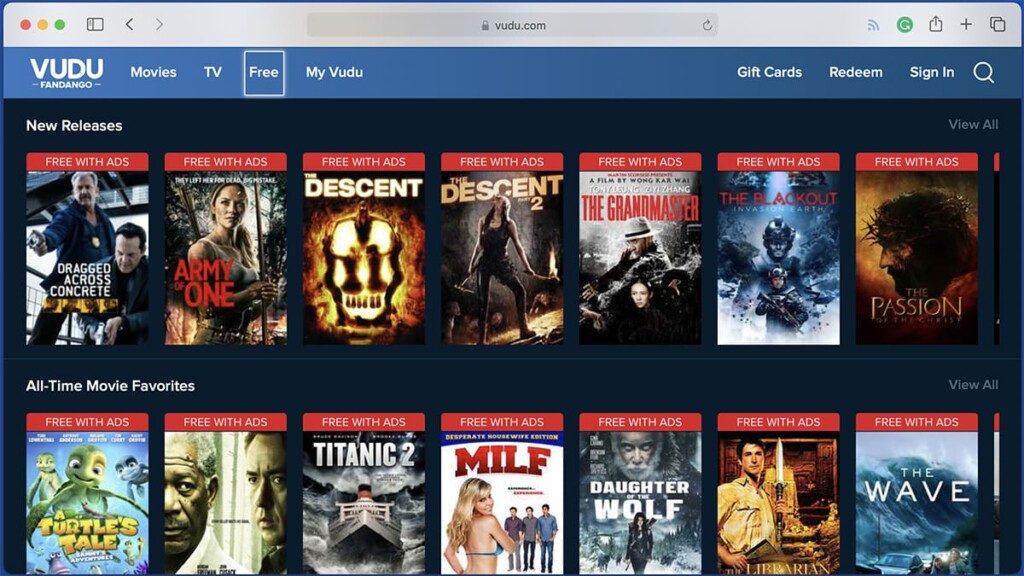 As you already know, Popcorn Time gives you instant access to movies and TV shows - many of which are copyrighted and illegal to stream that way. With that said, know that VUDU comes with a similar premise, but there's nothing illegal about it. This is a highly popular streaming service that requires you only to register an account.
Don't worry, as VUDU won't ask for your payment information or anything similar. Once you create an account, you'll get to visit VUDU's free section, where movies and TV shows await. Some of the most popular options right now are Dragged Across Concrete, The Descent, Empire State, The Founder, Beyond the Lights, The Soul Collector, and more.
Lastly, you'll be happy to know that VUDU works on any Web browser. On top of that, it offers native apps for smartphones, computers, streaming devices, and game consoles.
9. Crackle - Free Content + Exclusive Originals
Crackle is among the best movie streaming apps out there, being a gateway to a sizeable list of movies and TV shows. Furthermore, Crackle has recently started offers exclusives, cementing its position as a proactive streaming service that is here to stay for a long time.
Among the most popular titles on Crackle, you'll currently find Django Unchained, Maggie, The Legend of Bagger Vance, World Trade Center, Noah, and plenty more. On top of that, let's not forget to mention that Crackle is a legitimate media streaming service previously owned by Sony. So, there's nothing illegal here - which, as you know, can't be said for Popcorn Time.
In the end, know that Crackle is available on pretty much any device out there. And also, you can also access it via any Web browser. It requires you to register an account.
10. Tubi - Curated Selection of Free Movies & Shows
Our list of the best Popcorn Time alternatives wouldn't be complete without Tubi. This is a really cool media streaming service that brings movies and TV shows free of charge. All you have to do is register an account, and you'll access one of the most interesting free-of-charge streaming libraries out there.
For example, Tubi lets you watch movies such as The Village, The Last of the Mohicans, House of Wax, Signs, Black Rock, Midsomer Murders, Die Hard, Cop Out, Troy, and more. There really is plenty to watch here, and we guarantee that you'll be surprised by what Tubi offers. And of course, we briefly mentioned movies here, but know that Tubi offers TV shows as well.
Just recently, Tubi started rolling out a dedicated 'News' category, focusing on national (US) and global news, which is a sign that Tubi is here to stay.
That would be all for our list of the 10 best Popcorn Time alternatives. If you have anything to add, make sure to use the comments section below. And lastly, thanks for reading!