We completely understand the reason behind the massive popularity of Popcorn Time. Once you install this software on your computer, it takes merely a second to access its huge video library. However, you're probably aware that Popcorn Time is illegal, as this is nothing but a medium for torrents that break international copyright laws. Unsurprisingly, this is why filmmakers are suing Popcorn Time in the USA, and the same happened to similar services before like Terrarium TV and Showbox. It's just a matter of time when Popcorn Time will join the ranks of non-functional services, so it's time to check out other options. With this said, we're proud to present you our article on the best Popcorn Time alternatives in 2019.
What you need to know is that the following recommendations are completely legal. They allow you to watch publicly available content, even though some of those can be used in other ways as well. However, we strongly recommend you to stick to watching the content you own (or that you paid for), to make sure you're on the safe side of the law.
Disclaimer: TechNadu understands that while P2P sharing is perfectly legal, this file transfer method is often used to share copyrighted material. Therefore, it is important to note that TechNadu does not condone any kind of copyright infringement. In the past, content creators have taken action both against websites and individuals who consume copyrighted content illegally. 
So, let's get to the point. Here are the 5 best Popcorn Time alternatives in 2019. Read the following quick descriptions, and choose which one you'd like to try.
1. Kodi
Overview
| | |
| --- | --- |
| Prominent Features | Hugely popular; Broad platform support; Huge selection of addons; Highly polished UI; Easy to install. |
| Supported Platforms | Windows, macOS, Linux, Android, iOS, Apple TV, Android TV, Raspberry Pi, and plenty more. |
| Web Browser Extension | Not available. |
| Visit | Kodi |
The first option on our list in Popcorn Time alternatives is Kodi. This is perhaps the most popular home theater application, allowing you to easily store and organize your library of media files (movies, TV shows, photos, music, and more). Most importantly, it comes with a whole slate of completely legal Kodi addons that you can install within seconds of your time.
If this is your first time encountering Kodi, we have numerous helpful resources for you. First, we recommend reading our article on what is Kodi, and then you can proceed to our Beginner's Guide to Kodi. Once you learn the basics of installing and using this application, the next step would be our Ultimate Kodi Guide that will turn you into a pro user. You'll see, this is surely one of the best Popcorn Time alternatives, and we're 100% sure you're going to enjoy using Kodi.
2. DuckieTV
Overview
| | |
| --- | --- |
| Prominent Features | Covers plenty of content; Supports P2P clients; Multi-lingual subtitles; Polished UI; Personalized TV show calendar. |
| Supported Platforms | Windows, macOS, Linux. |
| Web Browser Extension | Yes – Google Chrome. |
| Visit | DuckieTV |
Duckie TV is an open source app that helps you find your favorite TV shows and movies. The app is specially built to satiate the needs of TV show lovers. Duckie TV gives you a dedicated and personalized TV show calendar. There is also an independent and integrated Duckie P2P client. This is a handy feature that can connect your local torrent client to Ducky TV.
Moreover, users can stay updated on the progress of the download without any need of switching applications. This alternative of Popcorn Time supports a number of torrent clients like uTorrent, Vuze, and qBittorent among others. Also, DuckieTV allows you to watch your favorite movies and TV shows in your preferred language. If you are using the DuckieTV app, you get the subtitle feature in up to 15 different languages.
3. Rox Player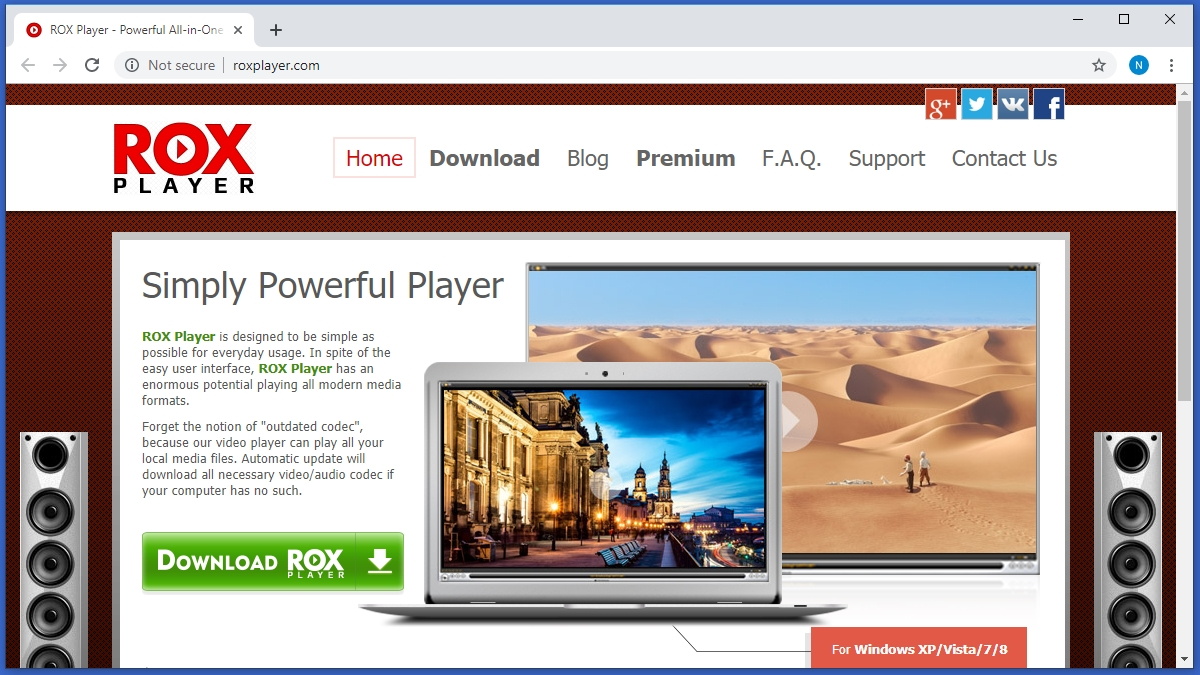 Overview
| | |
| --- | --- |
| Prominent Features | Integrated network modules; Supports plenty of video formats; Supports plug-ins. |
| Supported Platforms | Windows. |
| Web Browser Extension | Not available. |
| Visit | RoxPlayer |
There are very few media players that support a large number of file extensions. At the moment, Rox Player supports quite a few including IPTV, DHT, and P2P. The platform allows you to stream audio and video on a number of platforms. Plus, the site has a large repertoire of HD content.
The interface of Rox Player is clearly designed to be as simple as possible. It maximizes on everyday usage to create a welcome experience for returning users. Unlike most other Windows-focused media players, this platform does not bum you up with problematic codecs. But Rox Player is not the complete alternative for Popcorn Time. First off, you can only explore the full potential of the platform from a Windows device only. Then, it might not always offer you your favorite shows the day after its release. If you can negotiate around these, you will manage to spend some great time on Rox Player.
4. CouchPotato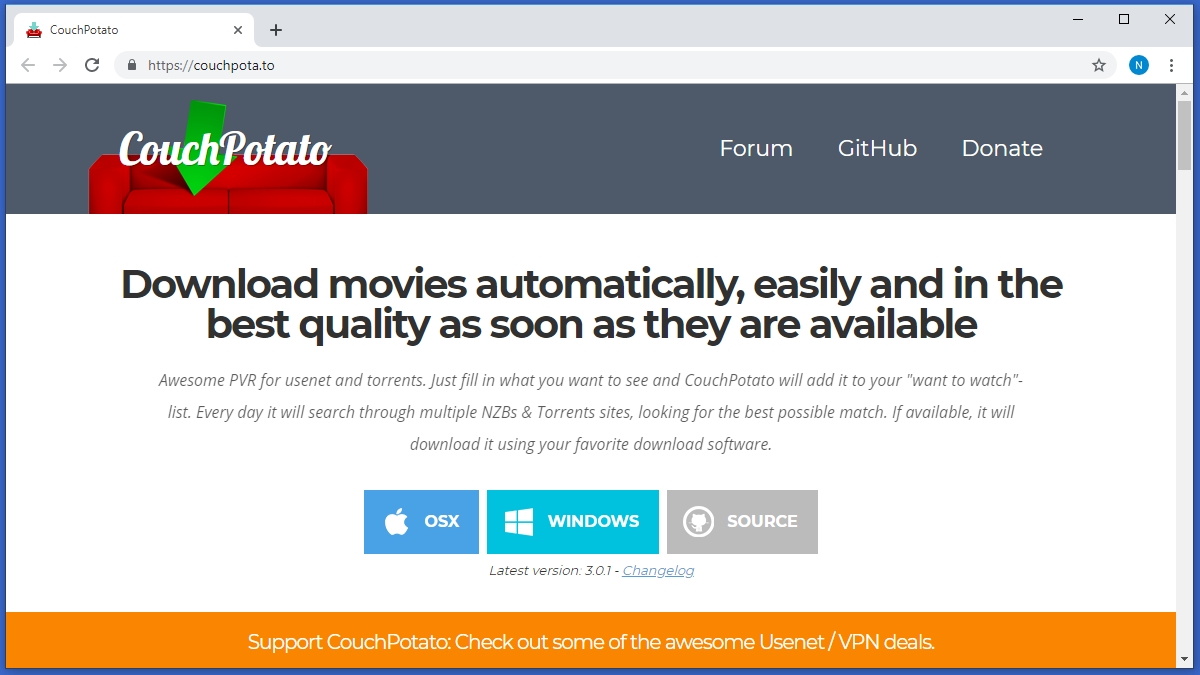 Overview
| | |
| --- | --- |
| Prominent Features | Helpful search features; Supports P2P files; Supports Usenet files; PVR-like functionality; Open source. |
| Supported Platforms | Windows, macOS. |
| Web Browser Extension | Yes – Chrome, Firefox, and Safari. |
| Visit | CouchPotato |
If Rox Player was more inclined toward Windows, here is something that supports both Windows and Mac. And also, it plays movies and TV shows in high-quality formats. With the same ease, you can also go ahead and use an auto-download option to download stuff while you are watching it on the website.
There is a cool subtitle feature as well. While most languages are covered, Couch Potato also misses out on some. The site is especially great for macOS users where it shows its true speeds and colors. That does not mean Windows users cannot come here and watch their favorite stuff too. Couch Potato is also a great platform to stream torrents and Usenet. There is also a "Want to Watch" feature where you feed the site what you want to watch. The site will independently scan the Web for the best possible match for the same content.
5. Stremio
Overview
| | |
| --- | --- |
| Prominent Features | One-stop entertainment hub; Online and offline playback; Highly polished UI; Really easy to use. |
| Supported Platforms | Windows, MacOS, Linux, Android, iOS. |
| Web Browser Extension | Not available. |
| Visit | Stremio |
If you wish to make the most of the latest shows and movies at one place, welcome to Stremio. The best thing about Stremio is that you can play movies on it almost instantly. Moreover, there is huge merit in Stremio features like multiple languages and subtitles.
Where does Stremio source videos from? The app gets content straight from sites like YouTube, Amazon, and Netflix. As far as support for platforms is concerned, Stremio supports platforms like Linux, Android, and Windows. But the app feature is exclusively reserved for Android users. That means the entire library of videos is right inside your pocket. If you want to bypass copyright and geo-restrictions, you can choose a good VPN for streaming video content. For this purpose, you can check out the best VPNs right now.
If this worked for you, it will work for your friends, too. Share this article with your friends on social media. And also, like us on Facebook and follow us on Twitter to stay on top of our latest articles. Thanks!