Is there anyone in the world who doesn't love free content? Well, Tubi TV is one of those platforms that delivers exactly that! While Tubi TV is available from all corners of the world, most content is only accessible from the United States due to licensing deals. Therefore, if you want to really enjoy Tubi TV, you're going to need to have a VPN to fully unlock its content. So, let's talk about how to watch Tubi TV outside the US!
5 Best VPNs For Unblocking Tubi TV Outside the US
Maybe you're wondering why you should trust us? Well, you should know that we've tested almost every popular VPN and beyond, with dozens of published reviews. And we're about to present you 5 of the best VPNs that can unblock Tubi TV from just about anywhere.
1. ExpressVPN
ExpressVPN is easily one of the most appreciated VPNs in the entire world. The tool provides some tight security options, including 256-bit encryption, as well as split tunneling, zero-knowledge DNS, and a kill switch so that none of your data trickles back to the ISP if the server stops working. The company also doesn't log any user activity, but it does collect some info about users' choice of location and how much data was used.
ExpressVPN has a wide network of servers in 94 countries, counting over 2,000 servers. The tool comes with multiple platform support, including Windows, Mac, Linux, iOS, Android, AppleTV, Amazon FireTV, Xbox, and PlayStation. If you want all the details, we have a detailed review of ExpressVPN.
2. SaferVPN
Up next on our list is SaferVPN, a tool that will help you check out all the Tubi content your heart desires. With over 700 servers in 34 countries, SaferVPN may not be as versatile as other VPNs, but for common users, you don't exactly need thousands of servers or an extremely wide country network.
Users' data is completely encrypted, and they even have an IP hiding feature. On the other hand, SaferVPN keeps some detailed logs of what users are doing. There's also the fact that the company's headquarters are in the US, which has some pretty shady view of privacy (being a member of the 5 Eyes Alliance). On the other hand, the company offers some pretty great customer support, so if you ever have any issues, they're there to handle it. You can read our full review of SaferVPN and get your own mind made up about it.
3. StrongVPN
StrongVPN is our next recommendation, a VPN that's been around for a while. From the start, we're going to point out that the company's headquarters are in the United States, so you may want to weight in whether you want that or not, given the country's tendency to demand customer logs even if they are stored abroad.
The VPN provides users with over 650 servers in 20 countries, which is a rather small list compared to other competitors. However, the company does take privacy seriously and it uses some of the tightest encryption we've seen in VPNs – 256-bit, more specifically, which is military grade. It also promises not to hold any user logs whatsoever. This provider works on Windows, Mac, iOS, and Android. TechNadu has a detailed review of StrongVPN ready for you.
4. IPVanish
IPVanish is our next suggestion, a tool that comes with an intuitive interface that's particularly easy to figure out even if it's your first time using such a tool. The VPN provides users with over 1,000 servers to pick from, located in some 60 countries, which should be more than enough to get you through whatever blockade you want.
IPVanish takes security seriously, using 256-bit encryption to protect user data and connections. They also have a strong zero logging policy, so not even the company knows what you're doing. The VPN works on Mac, Windows, Ubuntu, iOS, Android, Windows Phone, Chromebook, and various routers. You can read all about it in our IPVanish review.
5. NordVPN
Finally, at the bottom of our list, we have NordVPN today, one of the most versatile tools in its category. More specifically, NordVPN offers over 5,100 servers from countless countries around the world, including the United States which you'll need if you want to watch any of the Tubi TV content.
NordVPN uses strong encryption protocols to protect users, provides a CyberSec shield, and a kill switch. There are also no logs kept by the company. We have a detailed review of NordVPN is you want to get a full picture.
FAQ
We want you to know all there is to know about Tubi TV. That's the reason why we'll answer some commonly asked questions, so keep on reading.
What is Tubi TV?
Tubi TV was launched in the spring of 2014 and it provides free (ad-supported) content from Paramount Pictures, Metro-Goldwyn-Mayer, and Lionsgate. After starting out with some 20,000 TV and film videos, they've now reached about 50,000 with more being added weekly.
The platform is completely free to use, without any type of subscription available. It's also accessible from anywhere in the world, with the caveat that the US gets all the good content, while the rest of us get the scraps. For instance, without a VPN on, my Most Popular list contained three pre-1990 movies and a documentary, while the US version had films with actors you actually know about, like Paul Walker, Clive Owen, Marion Cotillard, Christopher Walken, and Mila Kunis. They might not have been fresh out of cinemas, but they were clearly higher quality movies.
Where is Tubi TV Available?
Well, the platform works anywhere in the world, but good content is restricted to the US market due to licensing issues. We're sure you'll find something to watch if you dig deep enough, but do you really want to?
What Devices Can You Watch Tubi TV On?
You can watch Tubi TV straight on your Web browser by pulling up the website. Alternatively, you can get special apps for iOS, Android, Roku, Amazon Fire, Chromecast, PlayStation, Apple TV, Xbox, as well as smart TVs. Here's a list of all supported devices by Tubi TV.
What Can You Watch on Tubi TV?
As mentioned, Tubi TV has plenty of content to scan through and you'll certainly find something cool to watch. Everything is put in more than a dozen categories, like comedy, horror, thrillers, family movies, kids shows, romance, documentaries, reality TV, classics, crime TV, stand up comedy, indie films, or content just for preschoolers.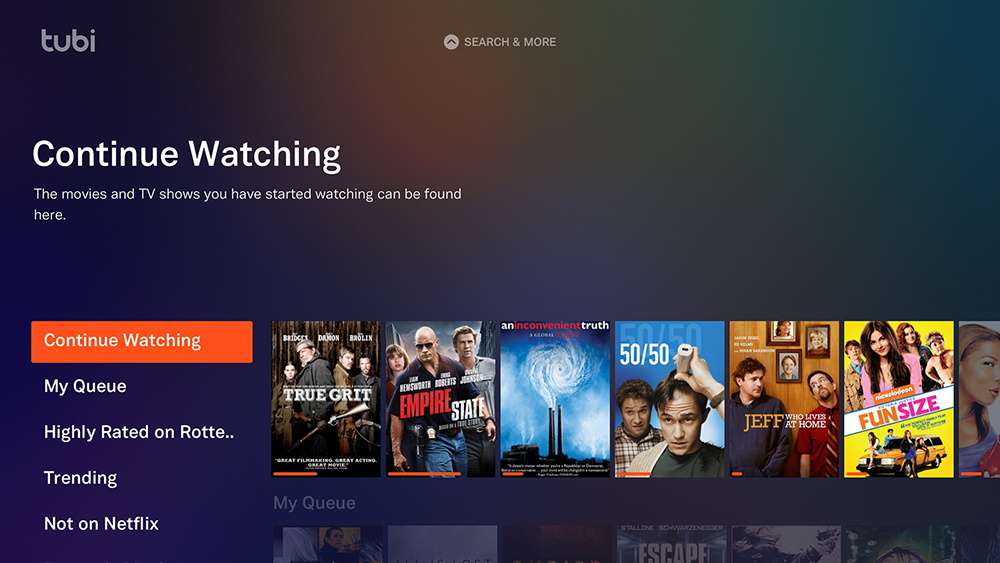 You can check out movies like Child 44, Empire State, Survivor, Blood Ties, or watch series like Duck Dynasty, Dance Academy, or Merlin. As you can see in the attached picture, the content with and without the VPN on is very different, so getting one of these little tools is worth it.
How to Watch Tubi TV Outside the US?
If you want to be able to enjoy all the content on the platform, then you'll need a VPN. But first, let's explain a bit about VPNs.
Virtual Private Networks, or VPNs, are tools that allow users to connect to the Internet anonymously. They change your IP address to reflect the chosen destination and secure your data with the help of various encryption protocols. In general, these are quite easy tools to use. They are intuitive and if you don't feel the need to fiddle with the settings, you should be more than ok. Even so, we're going to help you out a bit.
Launch the ExpressVPN (or any VPN of your choosing), and sign in using your credentials.
Select a US-based server and tap 'Connect', then wait a few seconds. The app will tell you when the connection has been established.
Load Tubi TV in your browser, or launch the app. Enjoy your favorite shows!
Regardless of what corner of the world you live in, Tubi TV can be a great tool to watch some nice movies. The fact that it's also free is a great bonus. And this is why we hope that you now know how to watch Tubi TV outside the USA.
Feel free to let us know what you thought in the comments section below. Please share the article online if you found it useful and don't forget to follow us on Facebook and Twitter!