When it comes to free movie streaming apps, Tubi TV has positioned itself as one of the leaders. Thanks to partnerships with Hollywood movie studios and other streaming services, it has a Netflix-like content library. And yes, it comes free of charge. The only obstacle is that you can't watch Tubi TV outside the US. However, that's an obstacle you can overcome.
By employing a VPN service, you will get to access, subscribe, and watch Tubi TV from any country in the world. We're here to guide you every step of the way, so let's jump right in.
Where Is Tubi TV Available?
Tubi TV is available in the United States, Canada, Mexico, Australia, and New Zealand. You might be able to visit the website from some other countries, but your access will be blocked upon trying to stream anything.
Also, know that significant differences exist between the currently available versions of Tubi TV (we're talking about country-based versions). For example, the US version has the largest catalog of titles (by far), and it's available on pretty much any device out there. If you're not in the US, you'll encounter a limited content library, and you'll have a lesser number of compatible devices and platforms.
Therefore, your objective should be clear. If you want to get everything that Tubi TV offers, you'll want to access its US version. So, let's see how you can achieve just that.
How to Watch Tubi TV Outside the US
To access and watch Tubi TV outside the US, you need to do the following:
Step #1: Get the Best-Working VPN for Unblocking Tubi TV
Even though Tubi TV isn't that hard to access and unblock outside the US, not every VPN can do that job. Since we're talking about an online activity that requires a lot of bandwidth, you need a VPN suitable for media streaming.
After testing over 60 VPN services (you can find all those VPN reviews on our website), we know exactly which one to recommend. So, if you're after the easiest way to watch Tubi TV outside the US, you need to subscribe to ExpressVPN.
3,000+ VPN servers in 160 VPN server locations in 94 countries, 5 Simultaneous connections, Fast and stable connection, No activity logs or connection logs, No bandwidth limits, Strong encryption, 24/7 live chat support, and 30-day money-back guarantee.
ExpressVPN has thousands of servers while offering apps for an incredibly wide range of devices, and it works great for unblocking websites. And also, it's suitable for both total beginners and experienced VPN users. However, if you need additional options, jump to our segment on the best VPNs for Tubi TV.
Step #2: Get Your VPN Subscription
Before we proceed any further, know that you must have a VPN running in the background. So, the time has come for you to subscribe to a VPN. If you want our advice (as already explained just below), go for ExpressVPN.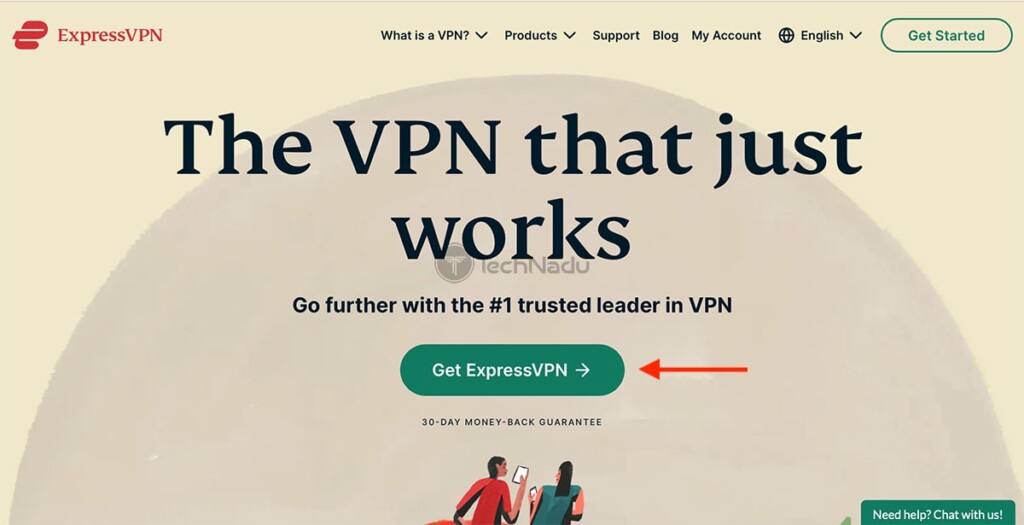 Getting an ExpressVPN subscription is quite easy. Once you land on the VPN's website, click on 'Get ExpressVPN.' Then, pick any of the currently offered subscriptions - but keep in mind that long-term ones come with significant savings.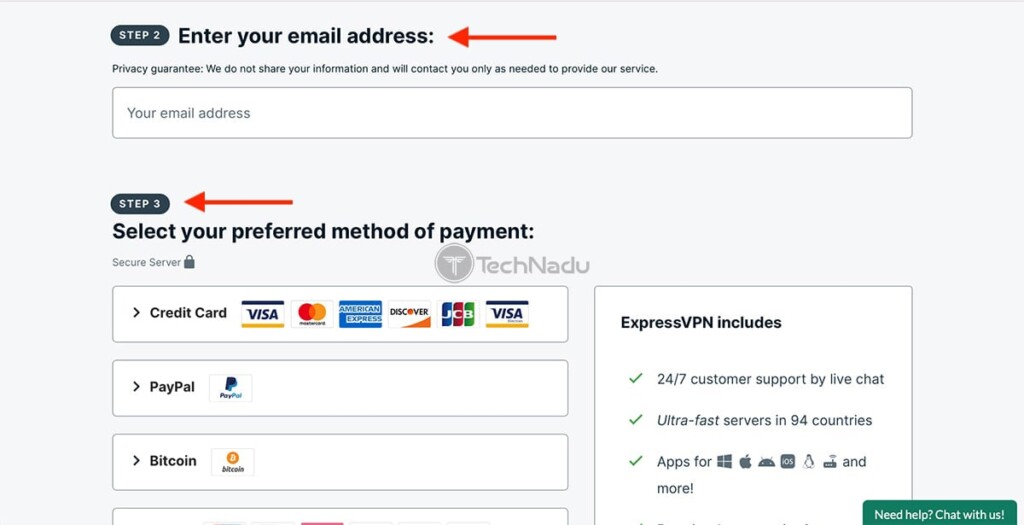 Once you enter your email address, you will need to pick a payment method. So, fill out the required information and finalize the sign-up process. Expect to see a confirmation email from ExpressVPN once done, indicating that your account is now active.
Step #3: Download & Install the VPN on Your Device(s)
Getting started with ExpressVPN is easy since this VPN offers native apps for any platform or device. However, keep in mind that ExpressVPN will always need to run in the background, as long as you want to stream Tubi TV. So, install it on any device you'll use to access this media streaming service.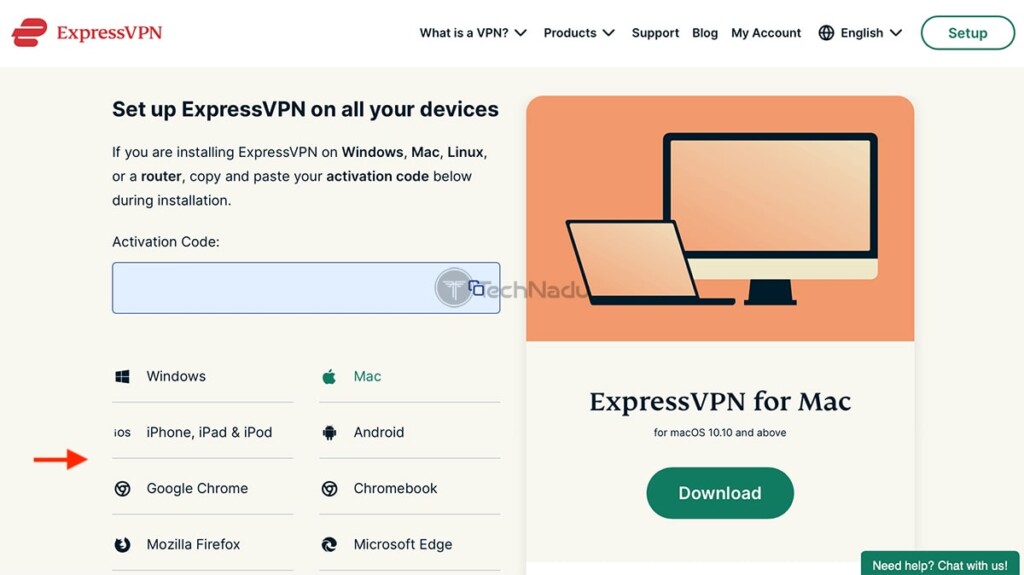 To learn how to download, install, and use ExpressVPN, make sure to click on the provided link. You'll be taken to our in-depth guide, listing pretty much all of the platforms and devices supported by this VPN.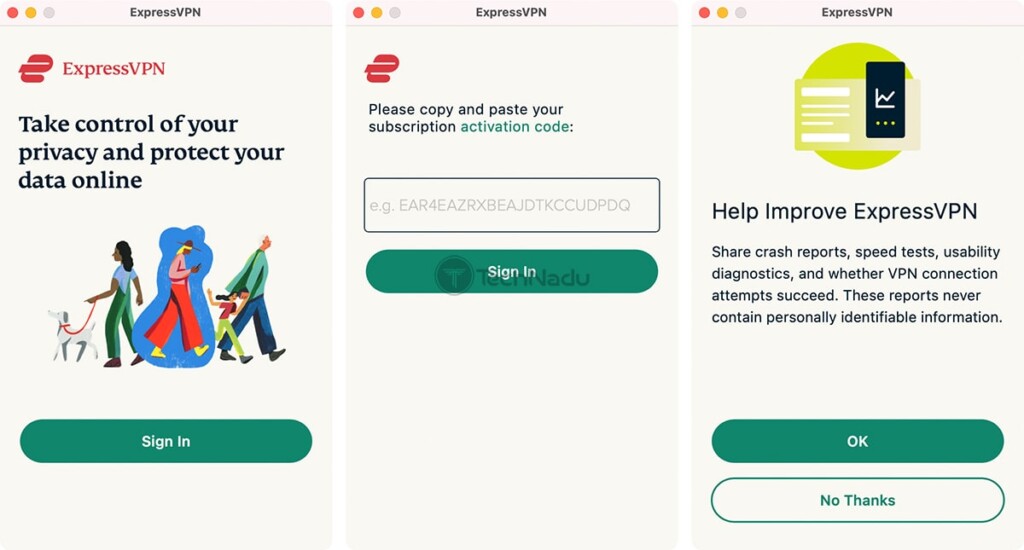 We'd also like to remind you to prepare ExpressVPN for use. Once you install it, launch the application and log in to your account. Go through the initial setup and proceed once you see ExpressVPN's home screen.
Step #4: Connect to a VPN Server in the US
Now, it's time to connect to a US server using ExpressVPN. You will need to do that every time you wish to unblock Tubi TV. Also, know that ExpressVPN comes with unlimited bandwidth, so you can leave it enabled all the time (especially if you want to protect your digital privacy).
So, launch ExpressVPN. You should be looking at its home screen. Select the button just below the ON/OFF switch, and a new window will appear. Pick 'United States,' to reveal more servers. And then, double-click on any server found in that country.
Connecting to a server should not take more than a few seconds. Once you connect, the VPN's interface (the top half) will turn green. It means that from this moment, you'll have a US IP address associated with your device (replacing your previous IP).
Step #5: Sign Up for Tubi TV & Access the Service
Now, it's time to unblock and access Tubi TV (via its website, using your Web browser). Since you're connected to a US server, you should have no problem accessing Tubi TV. Click on 'Start Watching' to reveal Tubi's content library, pick any title, and start streaming.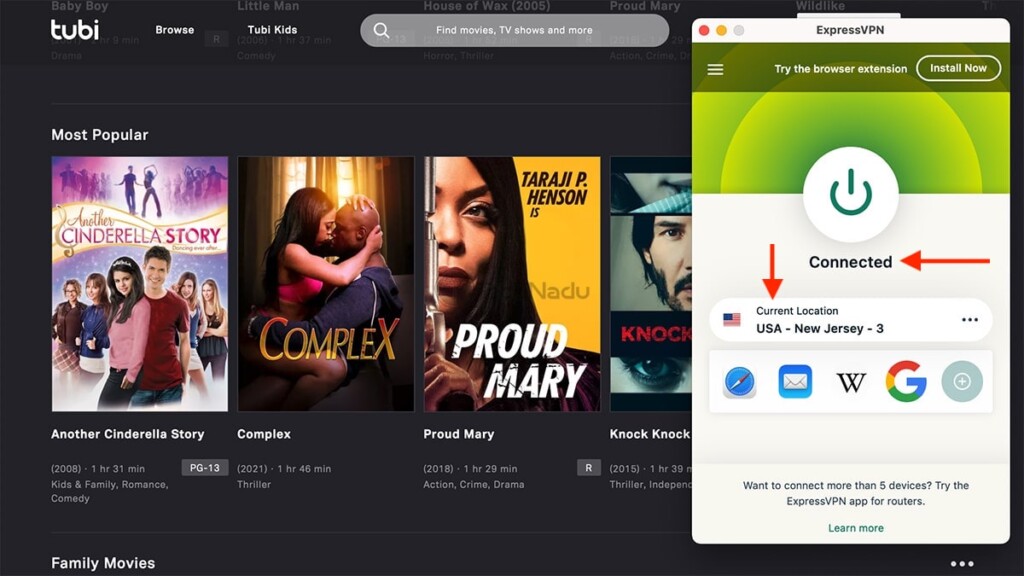 Since Tubi TV comes free of charge, you can play any title as soon as you launch its website. You don't even have to register. However, to keep a list of your favorites and to continue streaming across different devices, you need an account.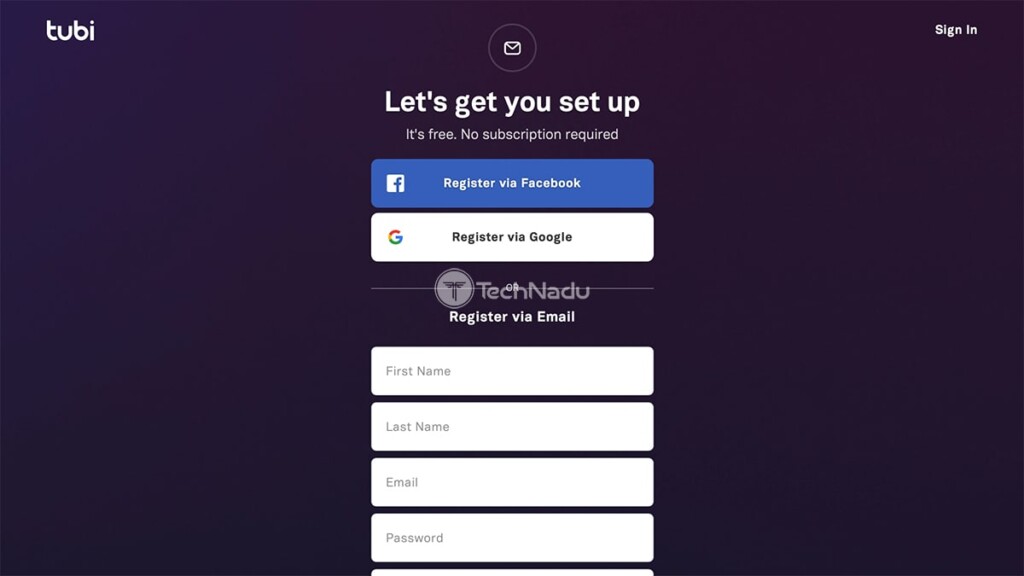 To create your account, tap on 'Register' on Tubi's website (in the top-right corner). Input the required information and click on 'Register' once again. That's it!
Step #6: Get Tubi TV on Other Devices (Optional)
The instructions above apply to watching Tubi TV outside the US - by accessing the US version of this media streaming service. With that said, you can access Tubi TV via its apps as well (besides accessing its website on any device).
To download Tubi TV's app for Android and iOS/iPadOS, you need to have a Google account or an Apple ID associated with an address in the United States. If you don't have one, create a new Google account or a new Apple ID. However, make sure to use a VPN while signing up, which needs to be active in the background (connected to a US server).
While signing up, make sure to pick the United States as your country. Also, input any US address (if you need help with that, here's a handy random address generator). Google might not ask for an address, which is why you need to have the VPN running in the background.
Lastly, make sure to log in to your new account on your device (done via the Settings app). Once you do that, visit Google's Play Store or Apple's App Store and download Tubi TV from there. As soon as you open the app - you will get unlimited access to Tubi's library.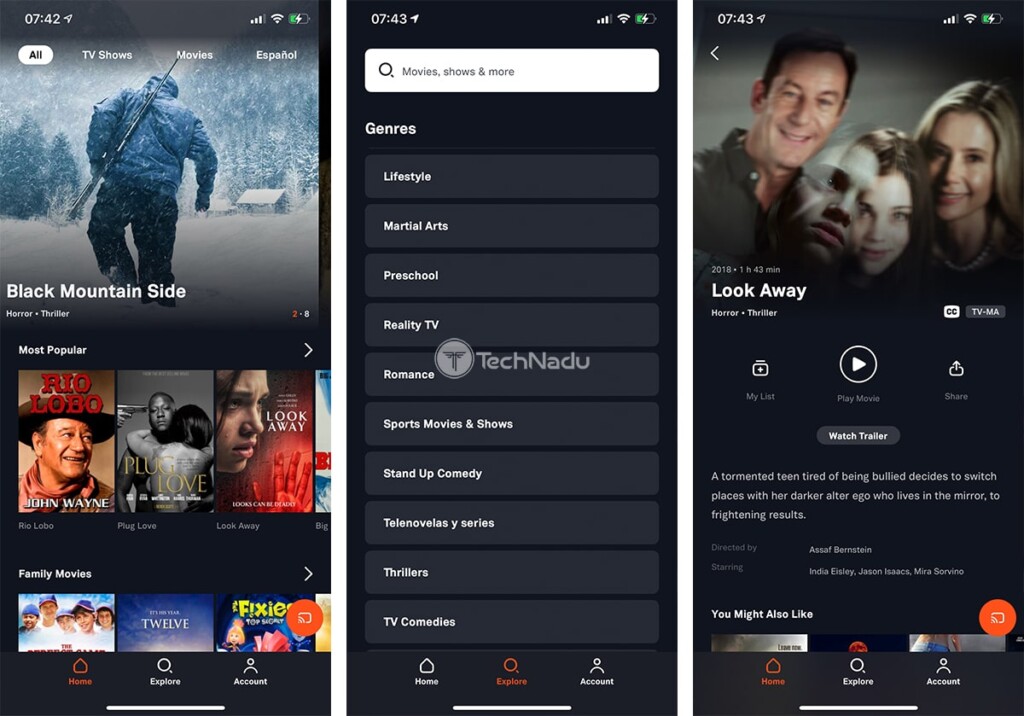 What's the Best VPN for Tubi TV in 2021?
We want to make using a VPN a hassle-free process for you. That's why we spent dozens of hours testing the top provides to see which one works best with this site. According to our results, these are the best five VPNs to watch Tubi TV outside the US with:
1. ExpressVPN - Best Tubi TV VPN
ExpressVPN has the fastest and most stable speeds we saw when testing VPNs with Tubi TV. It's mostly due to its brand-new protocol, called Lightway. There are barely any slowdowns, and connecting to any server happens in a fraction of a second!
Besides that, we also like ExpressVPN's apps. They have a modern design that is both user-friendly and pleasing to look at. Not to mention you can use this VPN service on up to five devices at the same time, so you can watch Tubi TV outside the US anywhere in your home.
What's more, ExpressVPN offers split-tunneling - a neat feature that lets you pick what the VPN encrypts and what it doesn't. If you make it only route Tubi TV traffic, you'll get even faster speeds.
And if you experience any issues, ExpressVPN's support team is just a few clicks away. They offer 24/7 support through live chat, and their reps are always very friendly and helpful.
Finally, when you sign up, you're covered by a 30-day money-back guarantee.
To find out more about ExpressVPN, please read our review.
2. CyberGhost VPN - Best for Dedicated Streaming
CyberGhost VPN is good at unblocking Tubi TV outside the US, and it has decent speeds too. Plus, its apps have a very intuitive design, so you never feel like you need help finding out what each feature does.
But this VPN is particularly good at streaming. It has a very large server network, so you can easily unblock streaming sites from any part of the world.
What's more, some of their servers are specifically optimized for different streaming platforms - like Netflix, HBO Max, and Crunchyroll. Basically, they refresh their IPs more often, meaning CyberGhost VPN has an easier time unblocking those services.
Besides that, this provider offers up to seven parallel connections, 24/7 support through live chat, and a 45-day money-back guarantee (it's only 14-day if you get the monthly plan).
To see how well CyberGhost VPN performs, please read our hands-on review.
3. NordVPN - Best for High-End Security
NordVPN unblocks Tubi TV without any issues, and it offers pretty high speeds. Its apps aren't as user-friendly as ExpressVPN's VPN clients, but they're still easy to get the hang of. On the plus side, you get up to six parallel connections.
Where this provider really shines is the security department, though. If you want to protect your data while also unblocking Tubi TV, you have everything you need. Besides offering powerful encryption, NordVPN has double VPN servers, support for Tor traffic, and a powerful adblocker that can also stop connections to malicious domains (CyberSec).
NordVPN also lets you hide your VPN traffic through obfuscated servers. That comes in handy if your ISP throttles your VPN traffic. The provider also started making a shift towards colocated servers (owned only by them), so you'll get even better privacy with NordVPN in the future.
And before you ask - yes, NordVPN also has 24/7 live chat support and a 30-day refund period.
If you'd like to learn more about this provider, just read our review.
4. Ivacy - Best Budget-Friendly Option
Ivacy is good at unblocking Tubi TV and offering a pleasant streaming experience too (split tunneling, up to 10 parallel connections, dedicated streaming servers, etc.).
True, the user experience isn't as good as it is with other VPNs since their app design feels a bit clunky. Also, the speeds aren't the best. Though it's not that bad in this case since Tubi TV doesn't require very fast speeds to begin with.
Ivacy also provides 24/7 support through live chat and a 30-day money-back guarantee.
But why do we consider Ivacy a good "long-term" deal?
Because they're one of the few VPNs that have a five-year plan, and it's dirt-cheap! If you're looking to save money and not have to worry about a recurring subscription for a long time, you can't go wrong with Ivacy.
In case you'd like to familiarize yourself more with this VPN, please check out our Ivacy review.
5. IPVanish - Best for Multiple Devices
Most VPNs let you use their service on up to seven devices at the same time. Well, with IPVanish, there are no limits!
That's right - they support unlimited parallel connections, so you can watch Tubi TV outside the US on as many devices as you want (at home, work, or even while traveling). That also means you can save money on your VPN subscription by sharing the costs with your friends or family.
Other than that, IPVanish has a decently-sized server network, okay speeds, a 30-day refund policy, and 24/7 live chat support. Unfortunately, the design of their apps feels a bit outdated.
Want to find out more about IPVanish? Just follow this link to read the full review.
How Does a VPN Let You Watch Tubi TV Outside the US?
The easiest way to describe that is to think of the VPN as someone who sits between you and Tubi TV. Whenever you want to watch something on Tubi TV, you ask the VPN to retrieve it for you. Once the VPN has the requested content, it sends it back to you.
To Tubi's servers, it will look like the VPN wants to watch the show or movie, not you. If the VPN has a US IP address, Tubi TV won't geo-block its access since the platform is available there.
If you're having trouble picturing how that works, here's a quick schematic:
VPN Connection to Tubi TV
You --> Your ISP's Network --> VPN Server --> Tubi TV
Have you managed to unblock and access Tubi TV outside the US? Let us know via the comments section below. And lastly, thank you for reading!