During the last couple of years, cord cutting has been on the rise. This isn't as surprising considering how popular media streaming services have become. You no longer need a TV to watch live TV programs. Instead, you can go for on-demand entertainment. Watch any movies anytime you want, on pretty much any device you want. This is where media streaming devices come into play since they serve as the most convenient gateway to entertainment. Let's take a closer look at the best media streaming devices of 2018.
Media Streamers: Why You Need One?
If you're reading this article, we are sure you're not happy with the amount you pay for your cable TV. By cutting the cord, you can save a lot of money while getting access to the latest content at the same time. Actually, this might be the only way to watch movies everyone is talking about. Companies like Netflix and Hulu are producing their own content and winning all kinds of prestigious awards for that. It is no wonder why these services have millions of active subscribers all around the world.
Media streaming devices are very simple devices that integrate with your TV. Instead of watching cable television, you have a selection of applications in front of you. You can decide which services you'd like to use – and when. In other words, you can fine-tune monthly expenses and pay the amount you're comfortable with. Finally, you can also unsubscribe from these services at any time – without any penalties. What's not to like here, right?
The Selection Process
Before we dive deeper into our list of the best media streaming devices, you need to know a thing or two. There are dozens of popular options out there, making it somewhat hard to pick the perfect one. They come with different specs and provide access to different apps and services. On top of that, media streamers can be both quite affordable or very expensive. So, keep your budget in mind.
Despite their differences, media streaming devices work in the same way. We'll provide an overview of what's in common for all of them. Hopefully, this will be of use when comparing several devices. Continue reading to learn more about TechNadu's selection process and the aspects that are worth your attention.
Platform Support: Some media streamers come with proprietary operating systems, while other use open-source software. For example, Roku uses their own system that works without making connections to other devices. You can also find numerous Android-powered streamers that can be used with both iOS and Android devices.
Available Storage: In general, media streamers come with built-in storage that ranges from 8GB up to 16GB and more. This isn't the most important thing since these devices are used to stream, not to store the content. Still, you need to have plenty of space when it comes to installing apps and games. All of the devices found in this article provide plenty of space and support a large number of installed apps.
Design and Installation: Media streamers typically come with a very simple design. This is because they are designed to be 'invisible' which is exactly the thing you need. However, the simplest streamers look like USB drives, which is a great thing if you want to completely hide them behind your TV.
Streaming Capabilities: Do you want to stream in HD or 4K? If your TV can play 4K videos, does it support both of the dominant HDR standards? You need to know these things since only a selected few streamers support 4K (and HDR).
Media Streaming Services: It would be wise to know which service you plan to use in the future. For example, only a few streamers support Amazon's Video apps. If you're a Prime subscriber, your best bet is to look at this company's own media streaming devices. The same applies to users of Apple devices.
9 Best Media Streaming Devices to Buy in 2018
Finally, it's time to see which streamers are worth your attention. We will provide short overviews with the basic information. To learn more about each of our suggestions, you will find links that lead to our full and in-depth reviews. Let's take a look at the best media streaming devices of 2018.
Option #1: 

Roku Express – The Best Barebones Streamer
Roku understands that there are many cord cutters who don't want to spend lots of money on a new streamer. On top of that, not everyone wants 4K streaming or different kinds of bells and whistles. So, the company made a barebones streamer for those who want to keep their costs as small as they can possibly be.
The Roku Express is an affordable streamer that still comes with 1080p streaming. The installation takes only a few minutes of your time. Connect the device to your TV and join a couple of media streaming services, and you're ready to go. You have a choice of thousands of apps, where every popular option is covered. To control the device, you have Roku's basic remote. If you think about this system for a second, you'll see that it brings just about everything you need.
Check out why the Express is one of the best media streaming devices by reading our Roku Express review.
Option #2: 

Google Chromecast 2 – The Best Android-centric Streamer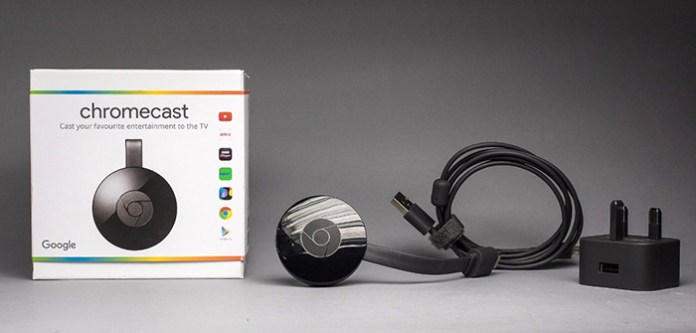 Google Chromecast is a very peculiar device. While some users are going to love it, others will hate it. That's because this isn't a typical streamer but instead a very smart extension to your smartphone and/or tablet. The good news is that not only Android users can use it – it is compatible with iOS as well.
The perfect customer for this device is someone who's doing all their streaming on their phone. This includes having Netflix or Hulu (or any other service) installed. However, instead of watching the content on your phone – you can cast (send) it to your large-screen TV. This way, you get to continue using your phone like you normally would. As you can see, this process requires you to have a certain technical knowledge which means that cord cutting newbies might opt for a something simpler.
Don't forget to check out our Google Chromecast 2 review where you'll find answers to all your questions.
Option #3: 

Amazon Fire TV Stick – The Best Amazon Streamer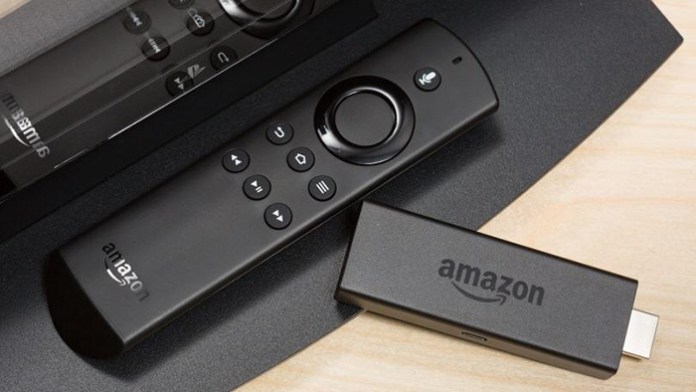 Affordably priced, the Amazon Fire TV stick is the perfect media streaming device for many potential users. After a highly successful first generation, the company did a good job of redesigning the device, bringing up-to-date internals, while keeping the device attractively priced. The most prominent (and perhaps the only) limitation is that the Fire TV Stick streams content in up to 1080p.
Just like with other Amazon products, you'll reap all the benefits if you join the company's Prime subscription service. The Amazon Video app brings an incredibly large content library – with lots of interesting original programming. However, you're not limited by the choice of available apps. Almost every streaming service that offers on-demand videos and live TV channels is included.
Don't forget to read our Fire TV Stick review to learn all the important details.
Option #4: 

Roku Streaming Stick – The Best Budget Streamer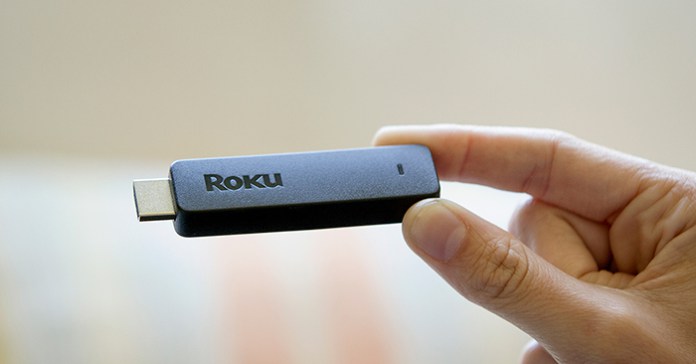 Roku's Streaming Stick is the most popular product by this company. As you can imagine, there are numerous good reasons for that. This is basically a USB stick that hides behind your TV. You can install and set it up in a couple of minutes – and start streaming without any hassle.
Just like other Roku devices, you will get to use the company's media streaming platform. The company doesn't have a proprietary streaming service and therefore relies on third-party services. Apps like Netflix, Hulu, HBO NOW, and dozens of live TV streaming apps await. On top of that, you can stream videos in 1080p – and you'll be surprised by how well this works. Videos start playing after few seconds and there aren't any resolution drops along the way. It's easy to see why we placed the Streaming Stick on our list of the best media streaming devices. We feel you're going to love it!
For more information about this interesting device, read our Roku Streaming Stick review.
Option #5: 

Amazon Fire TV – The Best All-In-One Streamer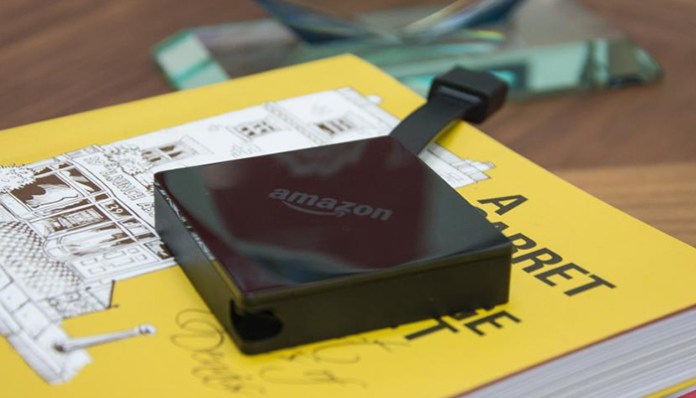 Amazon is one of the companies that really pushed the entire media streaming industry forward. Thanks to their affordable media streamers, it became easy to cut the cord. Simply plug in the device to your TV, set it up, and you're ready to go.
The Amazon Fire TV is a very small device, much smaller than its predecessor. Thanks to all-new internals and a completely overhauled design, the current generation brings major improvements. The device is powered by Fire TV OS, which looks highly polished and performs without any issues. You can rely on the Amazon App Store for thousands of apps – where every popular media streaming platform is included. Naturally, you can count on the company's own Prime Video app which brings tons of 4K HDR content. Therefore, this can be an excellent way to cut the cord if you are already a Prime subscriber.
You can find more details by reading our Amazon Fire TV review.
Option #6: 

Google Chromecast Ultra – The Best Google-Made Streamer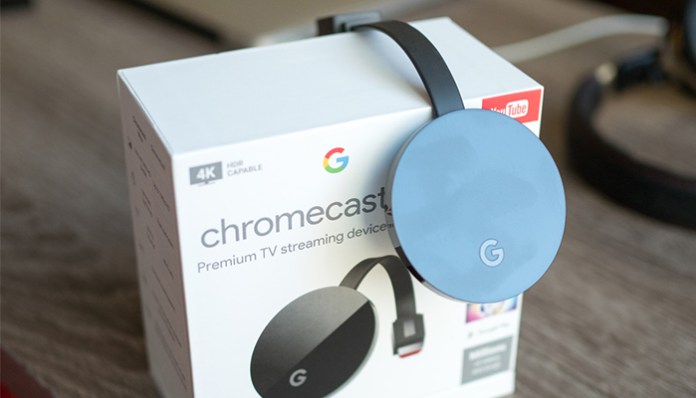 This year, Google has decided to up their game and start competing with 4K streamers. However, this option couldn't be included in the company's most affordable Chromecast. This is why a completely new product was introduced, named Chromecast Ultra.
The biggest difference between Google's two streaming devices is the support for 4K and HDR. While the basic Chromecast offers 1080p streaming, the Ultra model goes beyond that. However, this is still primarily a casting device – not a full-featured media streamer. Therefore, it seems like a perfect solution for those who already use their smartphone and tables to access media streaming applications.
Continue reading our Chromecast Ultra review to a detailed and in-depth look at this device.
Option #7: 

Roku Ultra – The Best Roku-Made Streamer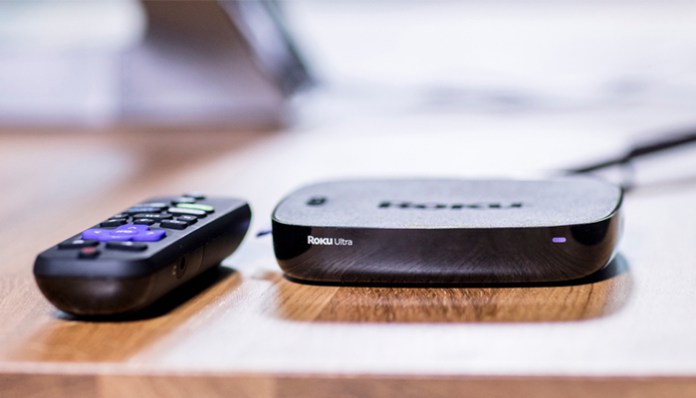 As you probably know, Roku offers a wide range of devices. However, we feel that with the Ultra streamer, the company made the wisest choice. It is pricier than the Fire TV but more affordable than Apple's streamer. It sits somewhere in the middle – attracting potential buyers with its very interesting and capable features.
The Roku Ultra offers 4K streaming where HDR is included as well. You get a nicely designed device that is easy to set up and which unleashes its potential as soon as you power it on. Thanks to integration with third-party services, you'll have a rich library of 4K content. Most notably, services like Netflix, Amazon Video, and YouTube are included. The device uses Roku's own system which comes with thousands of apps – all of which can be easily installed and used. On top of that, you will get the most powerful Roku remote with voice control and private listening.
If you'd like to know more about this device, read our Roku Ultra review.
Option #8: 

Apple TV 4K – The Best High-End Media Streamer
You know how they say – slow and steady wins the race. Even though we waited for Apple for quite some time to come up with a 4K streamer, the company didn't disappoint. Backed up by highly capable internals, the Apple TV 4K is a highly polished device that supports the latest streaming standards.
As you can expect, those of you who already use Apple products are in for a treat. All of the company's products work together, and that's the case here as well. You can cast videos, use your phone as a remote, and more. In addition to that, the Apple TV has a brilliantly designed UI on its own. Thanks to 4K, even the smallest details look amazing. There are numerous ways to navigate the available content and find something interesting to watch. The only downside is its high price – but this is something we have come to expect from products made by this company.
Learn all you need to know about Apple's media streaming device by reading our Apple TV 4K review.
Option #9: 

Nvidia Shield TV – The Best Advanced Tech Streamer
In case you want only the best, the Nvidia Shield TV got you covered. This is a two-in-one device with two equally powerful components. First, this is a very capable media streamer powered by Android TV. On top of that, this is one of the rare streamers that comes with fully-featured Amazon Video app with 4K content. Then, you can use the Shield TV for gaming. However, we're talking about Android games. Thanks to the GeForce Now ($7.99 per month), you can dive into the world of 4K games with hundreds of titles included in the subscription.
It can be very hard to find a downside to this product. As you can imagine, all this power comes at a price – which still sounds reasonable considering how many amazing option Nvidia has built-in.
We have recently published our Nvidia Shield TV review, so go ahead and check it out.
Final Thoughts
We hope that you found our list of the best media streamers of 2018 to be helpful. Even though there are numerous other choices out there – buying any of the recommended devices from this article is a bulletproof decision. We have tried to cover different types of users and budgets, so hopefully, you've found something of interest. In case of any additional questions, don't hesitate to post a comment below.
In case you think this article might others, why not share it on social networks? Thanks!