The original Chromecast made quite a stir in the community of media streaming enthusiasts. However, it also came with several important limitations. The most prominent one was the lack of content. Luckily, Google made a significant effort when preparing the next generation. The new Chromecast isn't only radically redesigned but brings improvements over all areas. To learn more, keep on reading our full Google Chromecast 2 review.
Before diving deeper, we'd like to provide an overview of the basic information. Take a look at the table found below to learn more about Chromecast's specifications.
Overview
| | |
| --- | --- |
| Product Name | Google Chromecast (2) |
| Video Output | HDMI |
| Video Resolution | Up to 1080p (1920 x 1080) |
| Notable Features | Streams content from other devices; Easy installation; Large app ecosystem; Wide platform compatibility. |
| Accessories | USB power cable; Power adapter. |
| Warranty | Up to a 2-year warranty (retailer dependent). |
| Price | $35.00 |
| Where to Buy | Buy on BestBuy |
Next, it's time to take a look at the biggest advantages and disadvantages of the Chromecast. This will further allow you to quickly skim the basics.
Verdict
| | |
| --- | --- |
| Pros | Nicely designed; Noticeably faster than before; The all-new Chromecast app; Affordable. |
| Cons | Relies on computers or mobile devices. |
| Final Verdict | Made for tech-enthusiasts, the Chromecast isn't the most straightforward streaming device. Still, potential buyers are going to love what the device offers. |
| Our Score | 9.2/10 |
Interested in knowing more about this device? Continue reading our Google Chromecast 2 review, where we'll go through the specifics. Let's jump right in.
Google Chromecast 2 Review
We will begin with the device's design and installation, and then we'll cover topics like how to use and what to expect from the Chromecast. Hopefully, you will know all you need to know by the end of this article. Let's start with our first segment.
Hardware / Design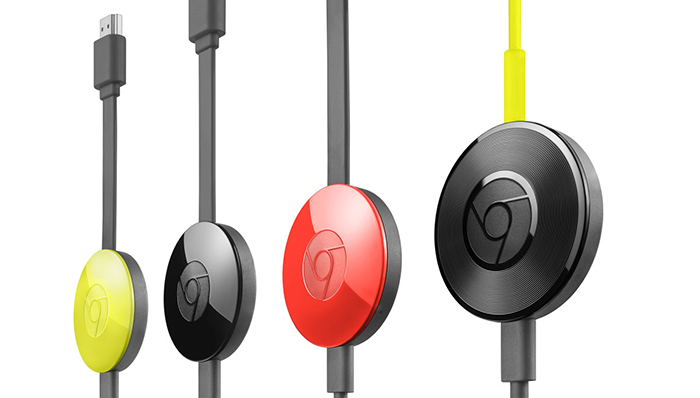 The all-new design has pushed the Chromecast 2 into an all-new direction. The second generation is beautifully designed – even though you'll probably keep it hidden. Our Score: 9.5/10.
The first generation of the Chromecast was a very simple-looking stick with a circular handle. The Chromecast 2 took things in a completely different way. This is now a circular device that is around 2 inches in diameter and only third an inch thick. Needless to say, it's unbelievably light. On top of that, Google has decided to bring some interesting colors. You can pick an all-black model, or you can go for yellow or red ('Lemonade' and 'Coral', as Google calls them). However, you should know that the Chromecast will sit on the back side of your TV – which means that you won't even notice it. Therefore, the device's design isn't the most important topic here.
Since the Chromecast connects to your TV with an HDMI cable, you will find a 4-inch HDMI cable already attached to the device. It folds nicely against the back of the device when not in use. In addition, you will also receive a 5 feet long power cable, which is a welcome change. No matter how far a nearby power outlet is, you won't have a hard time providing power to the device.
Installation Process
The process of installation takes only a few minutes of your time. Connect the hardware and then use the user-friendly Chromecast app to finish the setup. Our Score: 9.5/10.
Google has done a marvelous job of keeping the installation incredibly simple. First, you need to set up the hardware, and then you need to activate the device. The first part consists of connecting the device to your TV (via HDMI) and providing a power source as well. You can provide power by plugging it into a USB port or to a nearby wall out.
Next, you need to download the Chromecast app on your phone or tablet. The official app is available for both Android and iOS devices. This is when you'll see the Installation Wizard. The app will ask you to use the appropriate HDMI port on your TV. Then, you'll provide a name and connect to your home Wi-Fi network. You can also decide whether you'd like to allow guest to join the fun.
When it comes to using the Google Chromecast 2, things haven't changed. As you watch something on your smartphone or tablet, press the Cast button to transmit the video to your Chromecast (TV). Then, you can continue using your phone normally – write messages, check email, or anything else. The video will continue playing on your TV. As you can see, this can be a great way to use media streaming services like Netflix or Hulu.
Interface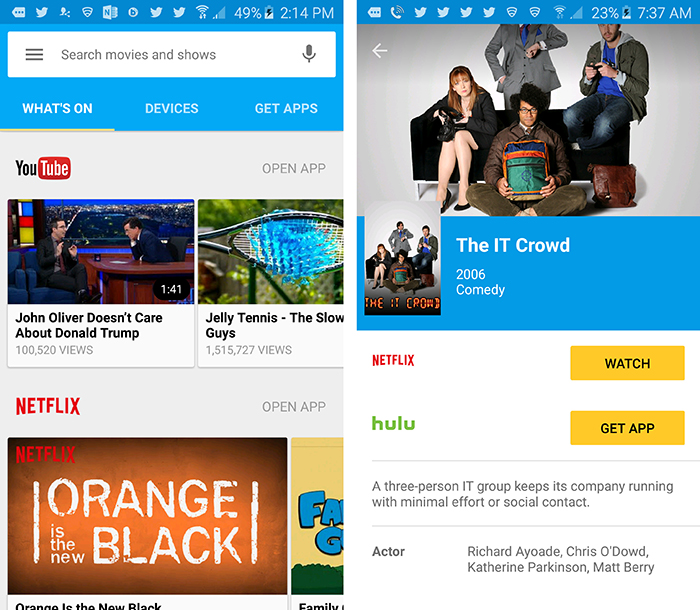 The Chromecast app is the central point of the entire system. It is nicely designed, very easy to use, and brings tons of helpful information. Our Score: 9/10.
What's important to highlight is that the Chromecast is a different type of media streaming device. This means that it completely relies on your computer, smartphone, or tablet to cast the content to your TV. Once you open the HDMI port on your TV that has the Chromecast plugged it, you will only see an image telling you to cast something from your other device.
This is where the Chromecast app comes into play. Thanks to a massive new update, the app now serves as a programming guide. Launch it, and you will see trending content from Chromecast-compatible devices you have on your phone/tablet. Let's say that you've installed YouTube, Netflix, and WatchESPN. You can use these apps on their own and use the Cast button to transmit the video to your TV. Or, you can use the Chromecast app and find something interesting to watch. The application is nicely designed and it's limited to apps you already have on your phone/tablet. When you install something new (like Hulu or HBO Now), you will see the available content within the app.
Remote Control
The remote for your Chromecast is the Chromecast app on your phone/tablet. This is where you will find the needed content, playback controls, and more. Our Score: 9/10.
Unlike other media streaming devices, the Chromecast 2 doesn't have a dedicated remote. That is because you use your smartphone/tablet for that purpose. This was a good call by Google since this arrangement provides plenty of different and useful options, all in one place.
The Chromecast app, as said earlier, serves as a programming guide. As you install and sign up for different streaming services, this is where you'll see highlighted content. This serves as a gateway to those apps. In other words, when you click on a movie found in the Chromecast app, you will be taken to the appropriate app, from where you can cast the content. Also, you can search for specific things using the search tool – which is an easy way to find something specific. In addition, you can use voice-enabled search as well.
When it comes to playback control, you can find them within specific apps. For example, if you cast something from Netflix, you can use the Netflix app to play/pause or rewind.
Content and Apps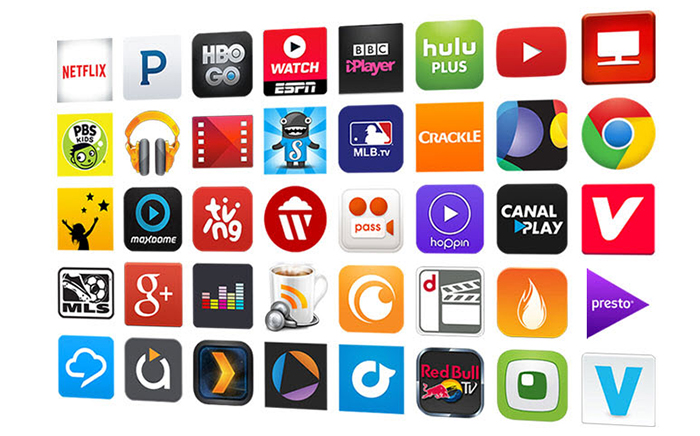 The Chromecast is built upon the existing ecosystem of Android and iOS apps. Pretty much every popular streaming service is included, in addition to other apps. Our Score: 10/10.
You must be wondering what kind of ecosystem exists for this device. Well, as it turns out, there is an endless array of compatible apps. All of these are Android or iOS apps that have the support for Google's casting technology. This means that you need to download apps from Google's Play Store or iOS App Store – and keep them installed on your device.
When it comes to on-demand videos, you can count on pretty much every popular service. This includes HBO Now, Netflix, Hulu, CBS All Access, and more. Live TV programming is also supported thanks to Sling TV, DIRECTV Now, Vudu, and more. However, you can also use this device to cast other types of content. This applies to music (Spotify, Pandora…), images (Google Photos), and web browsing (Chrome browser). As Google says, there are more than 200,000 TV shows and movies, and 30 million songs that are waiting to be played.
Performance
Despite being somewhat slower than comparable devices, the Chromecast provides reliable HD streaming. Our Score: 8.5/10.
To ensure smooth streaming performance, the Google Chromecast 2 supports 802.11ac wireless connectivity. Since the device can play HD videos (not 4K), this should work without issues with most Wi-Fi networks. In other words, once you start to stream – you can count on Full HD streaming without any drops in resolution.
The only problematic thing about this device is the waiting time needed for a stream to begin. Once you tap on the Cast button, it might take up to 10 seconds for a video to come to your TV. This is why numerous apps already support a Fast Play feature, which provides faster load times. Nonetheless, the Chromecast 2 is somewhat slower than comparable media streaming devices. Please note that we are talking several extra seconds of waiting – which isn't the most annoying thing in the world.
The Verdict
If you own the previous generation, we can't say that buying the latest Chromecast will give you a massive jump ahead. Even though it's speedier and comes with a nice design, you can still take advantage of the Chromecast app using an older device. However, there is still the market for this device. If you don't need a full-featured media steamer and if you don't want to spend a lot of money, the Google Chromecast 2 might just be the right decision.
PROS: Minutes-long installation; New and improved Chromecast app; Plenty of streamable content.
CONS: Missing 4K streaming; Oriented towards tech-enthusiasts.
FINAL SCORE: 9.3 out of 10.
Buy at Best Buy
If you already use your smartphone or tablet to stream movies, why not make the jump and cast them to your TV? Priced at $35, this device offers everything a tech-enthusiast needs. You can buy the Chomecast 2 at Best Buy.
Additional Resources
This is a budget device – aimed at those who don't want to spend too much money. Still, there's a lot of competition when it comes to this price range. Here are other interesting products.
In case you don't want to spend too much money but still need a full-featured streaming device, check out our Roku Express review;
For a few more dollars, you can buy the Roku Streaming Stick – a highly reliable 1080p streamer. For more information, check out our Roku Streaming Stick review;
Finally, we should forget to mention Amazon's streaming devices. Here's all you need to know about the Fire TV Stick – who is a direct competitor to the Chromecast 2.
Final Thoughts
We sincerely hope that this article brought you answers to all of your questions. In case you've decided to buy the Google Chromecast 2 – we are more than sure you'll enjoy what it has to offer.
If you have additional questions, feel free to use the comments section below. Also, we'd really appreciate if you could share this article online. Thanks!