The original Chromecast was released more than 4 years ago. When it comes to today's technology and its rapid development, this is a huge period of time. During the last 4 years, many of you have made the jump of purchasing a 4K TV. In other words, your choices have never been wider. Aside from the traditional cable TV providers, streaming services have upped their game as well. High-resolution streaming is a common thing these days, and it has never been more affordable to join the bandwagon. This is where Google's lineup of streamers comes into play. Continue reading our Google Chromecast Ultra review to learn more about the company's most capable streaming device.
For starters, let's take a look at the basic information about this device. This will give you a glimpse of what to expect.
Verdict
| | |
| --- | --- |
| Product Name | Google Chromecast Ultra |
| Video Output | HDMI |
| Video Resolution | Up to 4K (3840 x 2160) |
| Notable Features | High-performance streaming; Simple & elegant design; Easy setup; Google Home support; Screen mirroring. |
| Accessories | Power cable; Power adapter. |
| Warranty | Up to 2-year warranty (retailer dependent). |
| Price | $69.99. |
| Where to Buy. | Buy on BestBuy |
Next, we will take a look at some of the biggest advantages this device offers. Aside from that, we'll also list some drawbacks. This will provide an overview of the biggest benefits and limitations.
Verdict
| | |
| --- | --- |
| Pros | Affordable; 4K HDR streaming supported; Easy to set up; Easy to use; Ethernet connectivity. |
| Cons | Only used for casting; |
| Final Verdict | Being a niche device, the Google Chromebook Ultra has a limited range of users. If you want to expand your TV's capabilities or to avoid using a media streaming device, this is your best bet. |
| Our Score | 8.8/10. |
Finally, let's dive into specifics, shall we? Continue reading our full Google Chromecast Ultra review and learn in-depth information.
Google Chromecast Ultra Review
It would be a mistake to call this device a media streaming device. Even though it allows you to stream videos from your favorite apps like Netflix or Hulu, this is a separate product category. If you have any doubts whether purchasing the Chromecast Ultra is the right decision, keep on reading.
Hardware / Design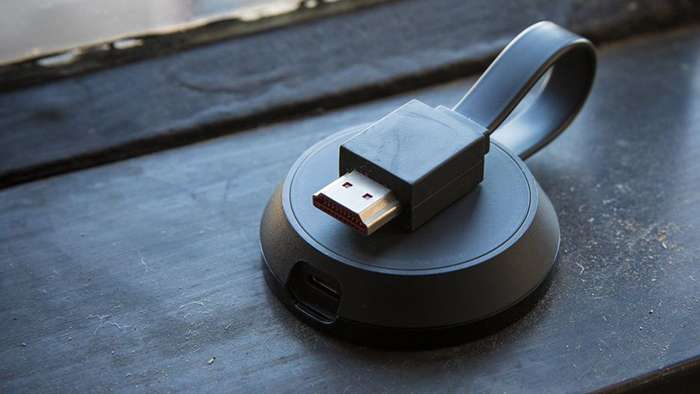 Drastically improved over earlier models, the new Chromecast Ultra is incredibly small and light. Once you set up the hardware, you can pretty much forget about it. Our Score: 9.5/10.
For 4K streamers, the Chromecast Ultra is as simple as possible. This is basically a small piece of plastic, round in shape. It's made of very glossy plastic which easily scratches and gathers dust incredibly well. However, these things should be of any concern. Once you set up the device, it will sit on the back side of your TV – which means you'll never get to see it.
In contrast to the previous generation, the Chromecast Ultra brings several important changes. First, there's an attached HDMI cable, which means that the device will hang from the back side of your TV. Then, there's the mains power adapter which absolutely has to be used. In case you use some other power adapter, you will be warned that the device will stream up to 1080p, not 4K. Interestingly enough, the power supply also has an Ethernet port, which is a good thing. After all, you need to make sure that your Internet connection is strong enough to handle high-resolution video streaming.
Installation Process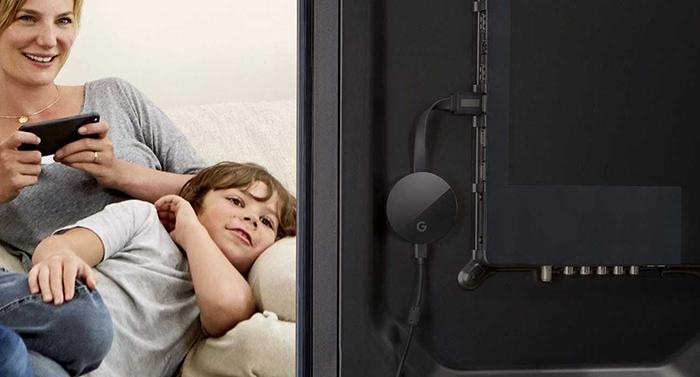 The entire process of setting up the Chromecast Ultra takes less than 5 minutes. First, you need to set up the hardware, and then use the Google Home app for the software. Our Score: 9/10.
Even if this is the first time you're encountering a media streaming device, we are sure you won't have a hard time setting up the Chromecast Ultra. When it comes to hardware, you need to do two things. First, connect the device to your TV using the provided HDMI cable. Then, provide power to the device using the mains power adapter. Once you power ON your TV and select the appropriate HDMI input, you will be greeted by the welcome screen.
The Chromecast Ultra can't do anything on its own. This is because this is a screen mirroring (casting) device, not a full-featured media streaming device. In other words, you will need to install the Google Home app on your iOS or Android device. The application will detect the new hardware and then you can continue setting it up. Connect to a Wi-Fi network, use your Google account to sign in and you're ready to go. From there on, you can cast video from any compatible app on your smartphone or tablet.
Interface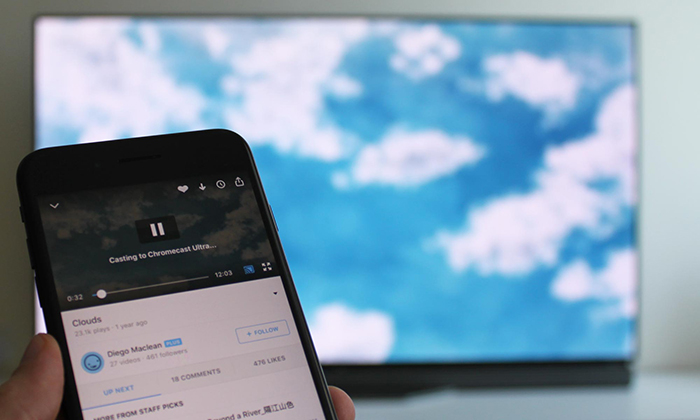 The Chromecast Ultra doesn't have any interface on its own since it completely relies on your smartphone or tablet. However, Google did a good job with their Home app. Our Score: 8/10.
When it comes to the interface, it should be said that the Chromecast Ultra doesn't have an interface on its own. Once you switch to the HDMI port that has the device plugged in, you will see colorful wallpapers on your TV in addition to a few useful information. The device completely depends on your smartphone or tablet to stream videos. In fact, you will most probably use the Google Home app that serves as a gateway to different media streaming services.
When it comes to the Google Home app, we have to say that it's nicely designed. The company understands that it might be hard to find 4K content on a smartphone. After all, the majority of smartphones don't have ultra-high-resolution screens (aside from today's flagships). Therefore, the application highlights content present on the apps you've already installed on your smartphone. In addition, you will see suggestions for non-installed apps which help you to get the most out of the Chromecast Ultra.
An additional way to cast the content is by using compatible apps. For example, you can open YouTube or Netflix and click on the Cast button. This will send the video to your TV via Chromecast Ultra.
Remote Control
There is only one way to control the Chromecast Ultra remotely – and that is by using your smartphone or tablet. A dedicated remote wouldn't hurt in this scenario. Our Score: 8/10.
As you can see by now, you control the device using your smartphone or tablet. This can be done via Google Home, or you can do it via specific apps. No matter which way you choose, your smartphone will be your remote.
Once you decide to watch a video, you click on the Cast button – and your Chromecast Ultra will take it from there. What's important to be said is that you don't have to have a powerful smartphone. Even if it can only stream HD content, the Chromecast will take over 4K and stream it on your TV. Still, this means that you need to have a valid subscription. When it comes to Netflix, 4K streaming is included in the top-tier plan. So, make sure you can actually stream 4K. When you start playing a movie, you can continue using your phone as usual. This means that you can make calls, browse the Web, respond to emails, and more. At any moment, you can pause or do any kind of playback control.
Since the Ultra model is priced at $70, we wonder if a dedicated remote could be a good idea. This isn't the most affordable device of this kind – where a remote could make the whole system a bit more attractive and easier to use. As of now, you simply need to have your smartphone by your side when using the streaming device.
Content and Apps
Despite the lack of Amazon's apps, the current ecosystem will satisfy your needs for 4K content. However, this usually means having the top-tier plan of services like Netflix. Our Score: 8.5/10.
During the last couple of years, numerous apps were updated to bring compatibility with Google's casting standards. When it comes to on-demand movies and TV shows, you can count on Netflix, HBO NOW, Hulu, and pretty much any popular streaming service. It is up to you to check out their 4K library and if it's worth signing up for the top-tier plan. As you can expect, you can also stream 1080p (Full HD) content – which is useful when streaming live TV programs. Thanks to applications like DirecTV NOW, Sling TV, and PlayStation Vue, you can completely eliminate your cable operator.
The biggest problem with the current app ecosystem is the lack of Amazon applications. Amazon's Prime Video has an incredibly rich selection of 4K content. However, this tech giant has a very problematic relationship with Google (and vice versa). If you're an avid fan of Amazon's Prime services, this shouldn't be your go-to media streaming device.
It is also worth saying that the Chromecast Ultra works with other types of apps as well. You can browse the Web on your TV thanks to the Chrome browser, or take a look at your photos by using the Google Photos app. Not to mention, Spotify can be used to stream music to your TV.
Performance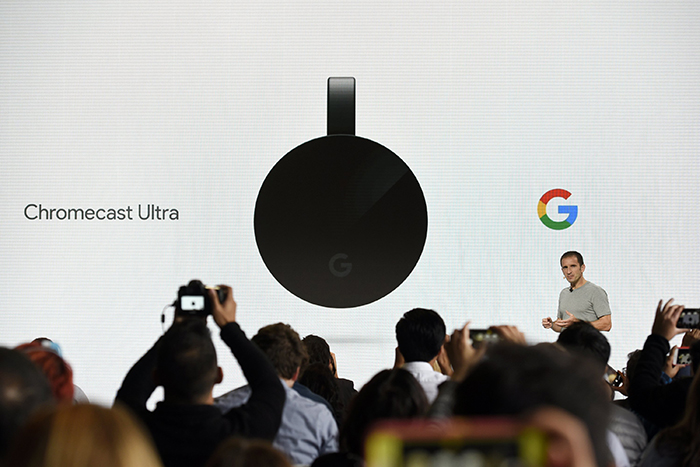 The Chromecast Ultra handles 4K videos with ease – with support for both major HDR standards. Flawless performance awaits. Our Score: 10/10.
Thanks to its powerful internals, the Chromecast Ultra handles 4K HDR streaming with ease. It usually takes a few seconds until videos start playing on your TV. In addition, they go up to 4K incredibly fast, without any resolution drops. When it comes to performance, there's nothing to be worried about here.
It is also worth noting that the Ultra model brings support for both versions of HDR – HDR10 and Dolby Vision. Your best bet to take full advantage of these standards is by using the Netflix app. However, you can also rely on Google Play Movies, YouTube, and Vudu. On the other hand, you need to make sure that your 4K TV also supports HDR. So, before buying the Chromecast Ultra, make sure that your TV meets the requirements.
Finally, let's not forget about the Google Home standard. If you have one of the smart products made by Google (such as the Google Home smart speaker), you can use it to control the Chromecast Ultra. This is a very important advantage – but only applies to those living in the Google ecosystem of apps, services, and devices.
The Verdict
The Chromecast Ultra is a niche device. This isn't a full-featured media streaming player. This means that it's made for those who do the streaming on their mobile devices and simply want to send those videos to their TVs. In addition, this isn't the right product for those who have capable smart TVs. For example, Android TV can do everything this device does and even more. The ideal customer is someone who owns a 4K TV with a semi-capable operating system, and who uses a smartphone to stream Netflix videos.
PROS: Easy installation; Flawless 4K streaming; Support for both HDR standards; Rich app ecosystem; Support Google Home standards.
CONS: Lack of Amazon Prime Video apps; Niche product.
FINAL SCORE: 8.8 out of 10.
Buy at Best Buy
In case you have decided to buy the Google Chromecast Ultra – we have to say that you've made the right decision. If you don't need a full-featured media streaming device or if you enjoy using Google's ecosystem of apps and device, go ahead and buy the Chromecast Ultra at Best Buy.
Additional Resources
Before we let you go, here are a few interesting articles you'll find on TechNadu. Hopefully, these will be of use if you want to compare the Chromecast Ultra with other devices.
If you're using Amazon's Prime Video to stream movies and TV shows, take a look at our Fire TV review. This is a full-featured media streaming device with capable specs. If you don't need 4K streaming, there's no reason not to take a look at the Fire TV Stick.
In case you want a 4K streaming in addition to a few other useful features (includes a dedicated remote), Roku's Ultra streamer is an interesting option. Here's our review of Roku Ultra.
Final Thoughts
There you have it, folks! We gave our best to bring you an in-depth Google Chromecast Ultra review. If you have any additional questions, feel free to post a comment below.
As always, we'd like to ask you to share this article online if you enjoyed reading it. Thanks!